After a tour of the Haa Valley, a beautiful high altitude hike to the Kila Nunnery, and a wonderful tour of Drukgyel Dzong with our host and caretaker, Dhamey, we flew from Paro to Bumthang, toured Jakar, and enjoyed a wonderful puja at Kencho's uncle's home and a tour of Phomdrong.
This page covers our trip to Bumthang and two afternoon tours of Jakar. Other pages cover the Ura and Tang Valleys, the Ogyen Choling Museum and a wonderful puja and tour of Phomdrong. There is also a page devoted to the Jambay Lhakhang Festival in Jakar.
From our Paro Hotel, a nice one but with really noisy floors, the sunrise was great looking both east and west as seen in these images.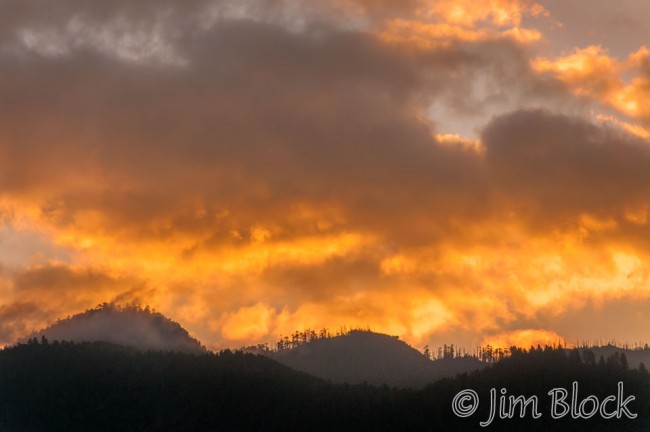 Stephen had a rocky night and decided to skip breakfast. I ate alone as early as I could (7 am), and by 7:15 I was heading to town on foot. I had until 9 am to explore as much of what I could of downtown Paro and return for our ride to the airport. The ride would not be with Kencho and Lackey — they left the previous afternoon for an all night drive to Bumthang to meet out plane there!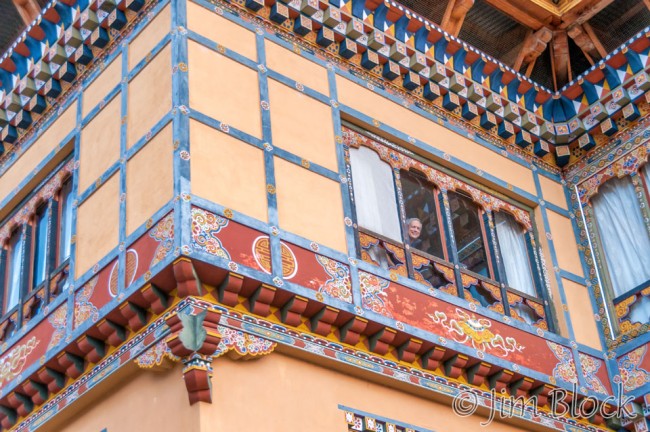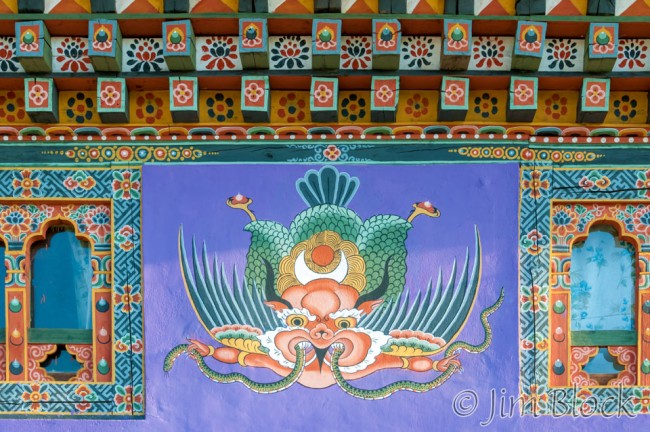 In town it was evident that cows and dogs shared the village. Also both men and women wore "skirts" but the women's were longer. I will post more photos from these two hours in Paro on my Paro page when I make time to create it.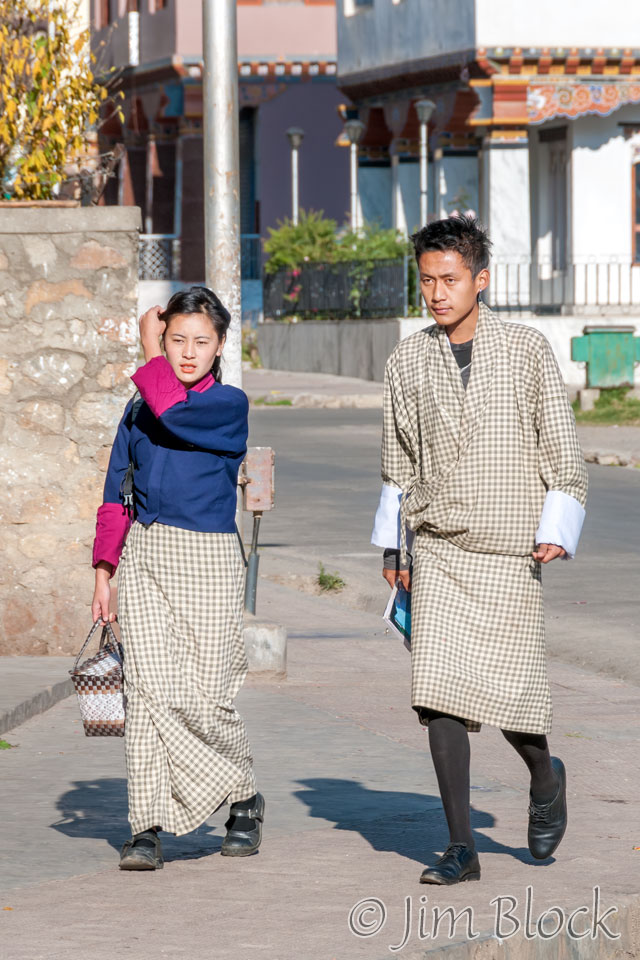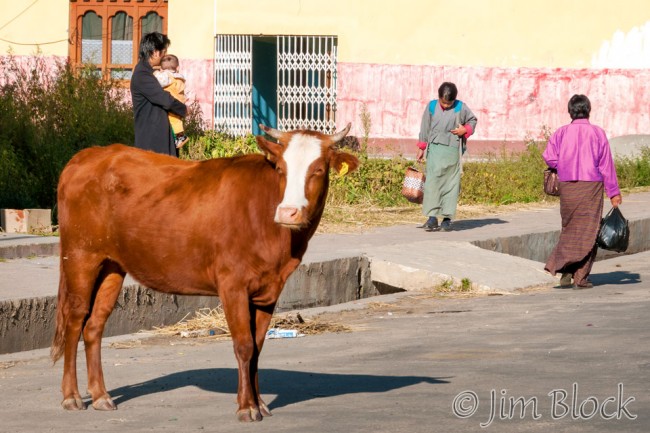 Below are two photos of the Paro Valley shortly after we took off. The photo on the left shows the area well south of town. In the middle back of the photo on the right you might be able to make out the airport.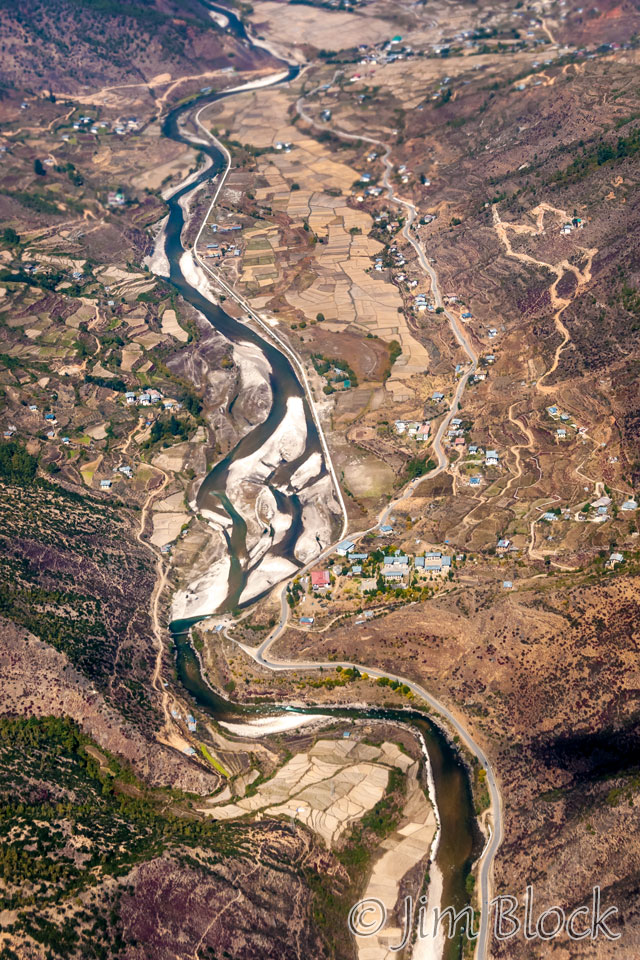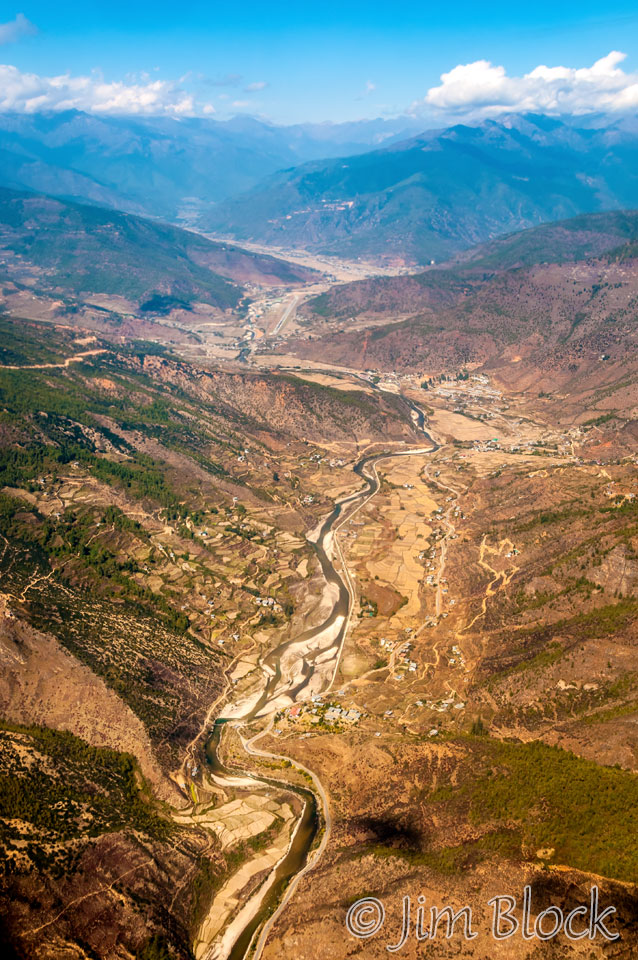 Along the way I was able to get some photos of Thimphu, the capital of Bhutan. We would visit Thimphu later in the trip.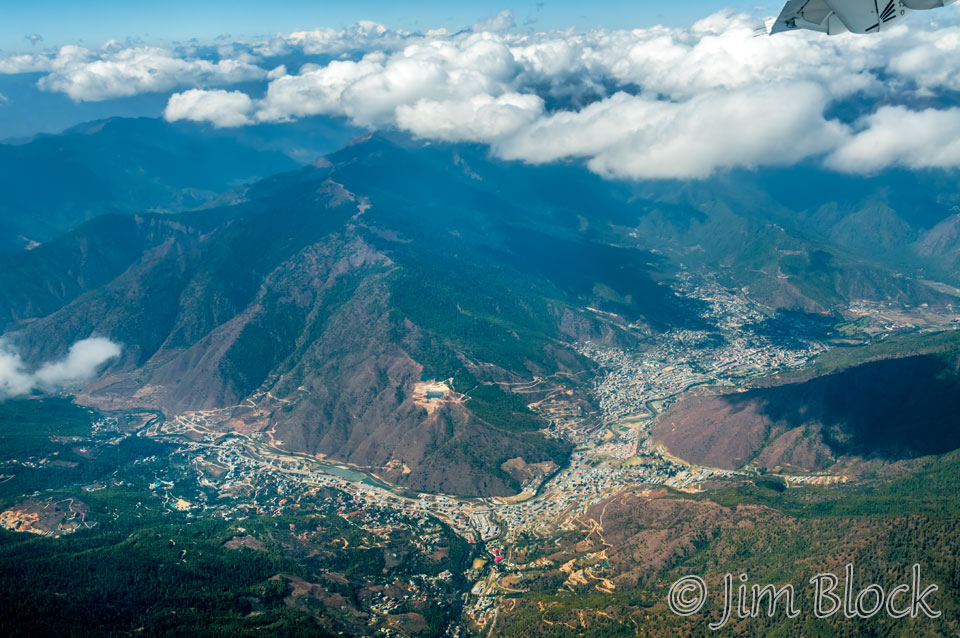 We landed in Bumthang at the Bathpalathang airport just across the Bumthang Chhu (river) from Jakar. The next afternoon we would visit the Jambey Lhakang temple seen in the photo below. Then in 5 days we would attend a festival there.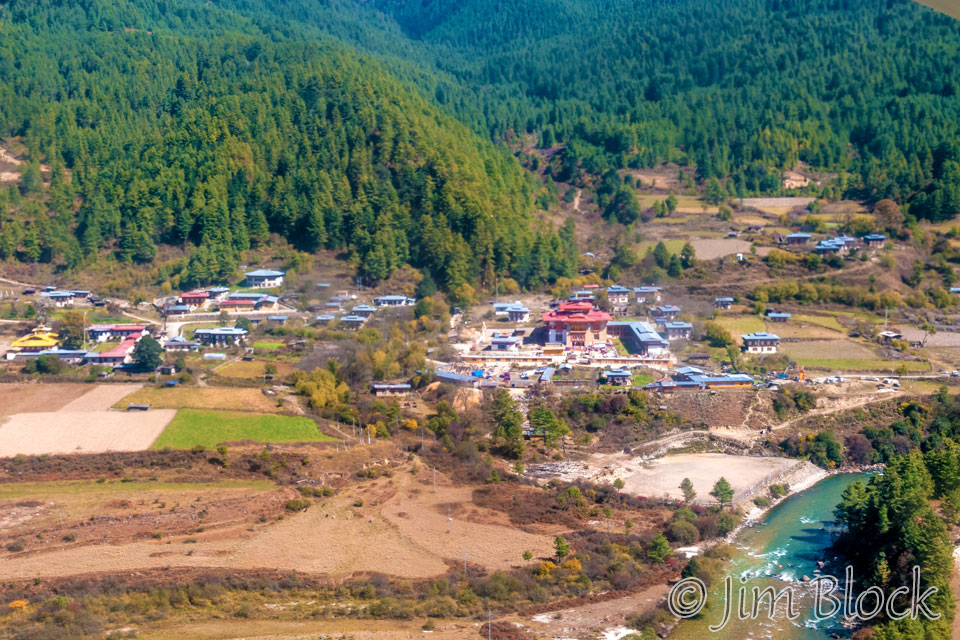 This was a fully-equipped airport ready for anything, almost. Luggage delivery was by truck bed conveyer.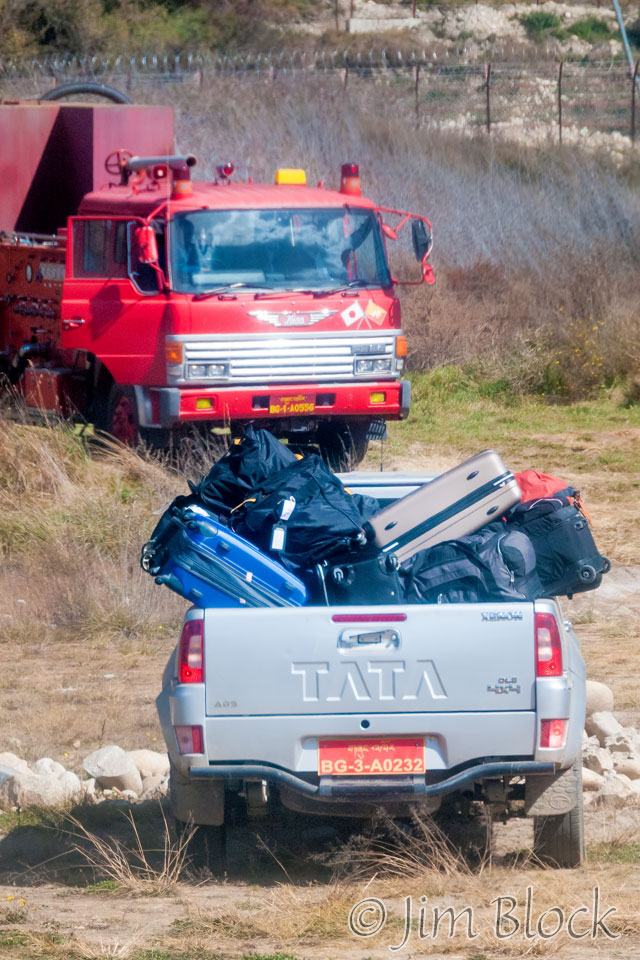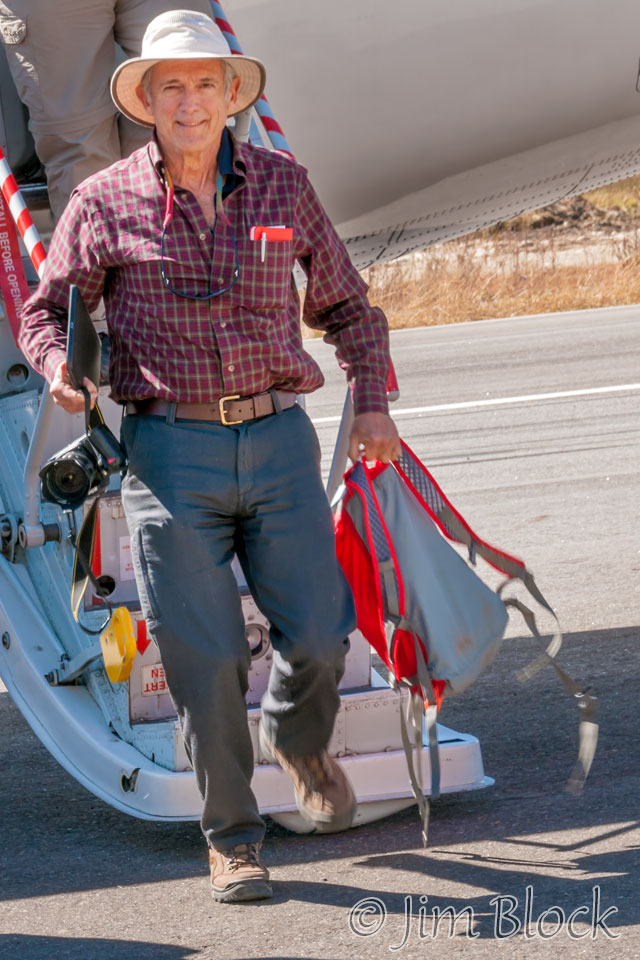 Below is a Google Earth view of Jakar with some of the key spots we visited labeled.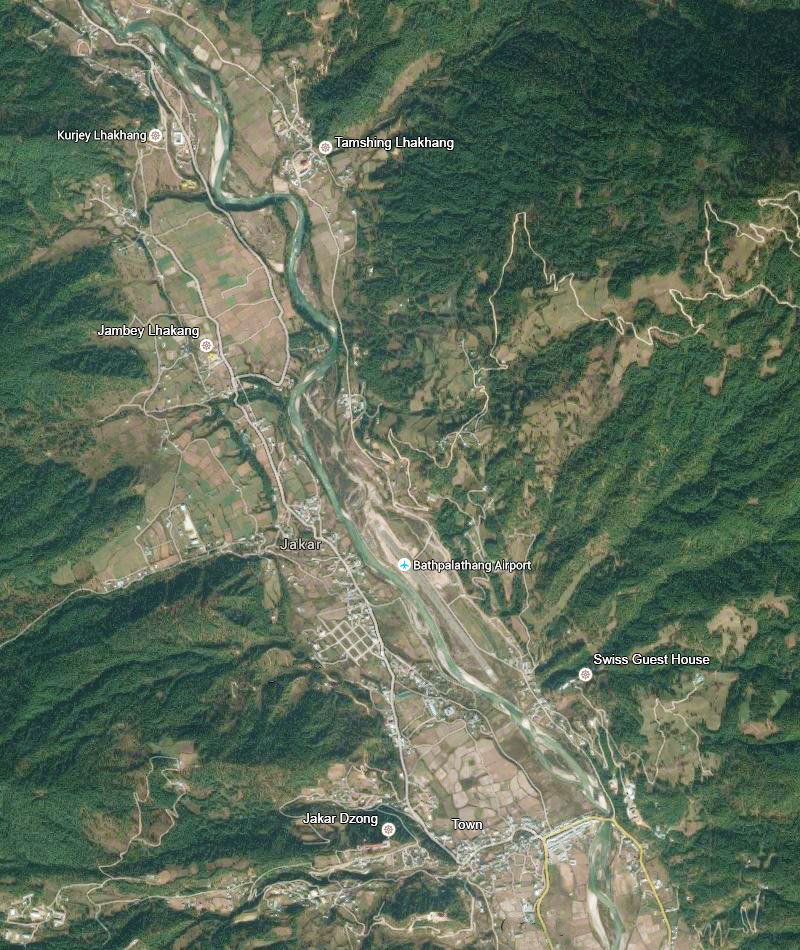 We were to stay for two nights at the Swiss Guest House shown below.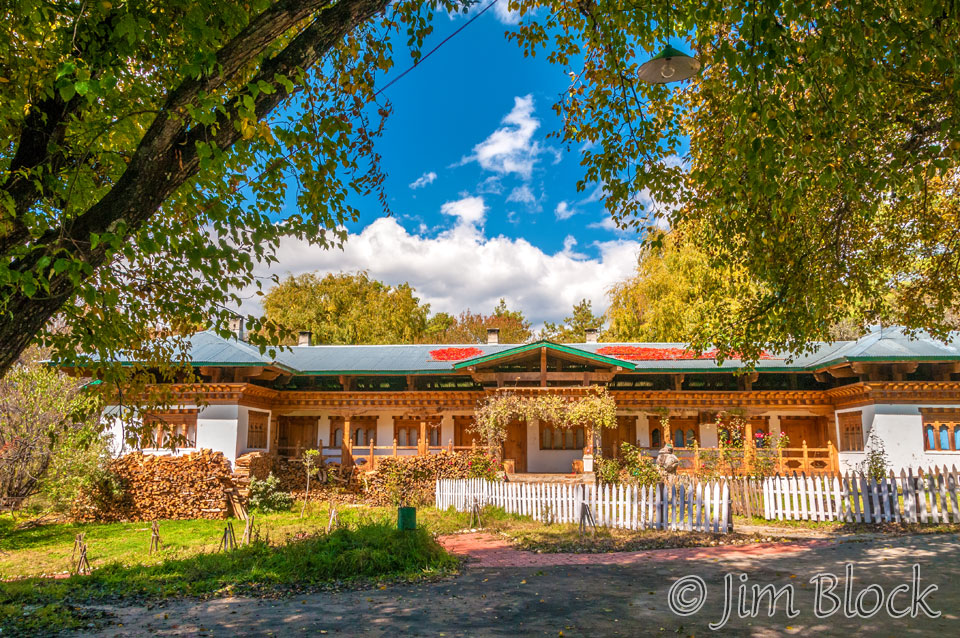 In the afternoon we visited a few temples, but since photography was not allowed I have little to show, and I don't remember much of things I haven't taken a photo of.
We visited Kurje Lhakhang, a 17th century temple that holds the imprint of Guru Rinpoche, who brought Buddhism to Bhutan. I bought a painted stone outside this temple. We then crossed a suspension bridge to another temple, Tamshing Lhakang.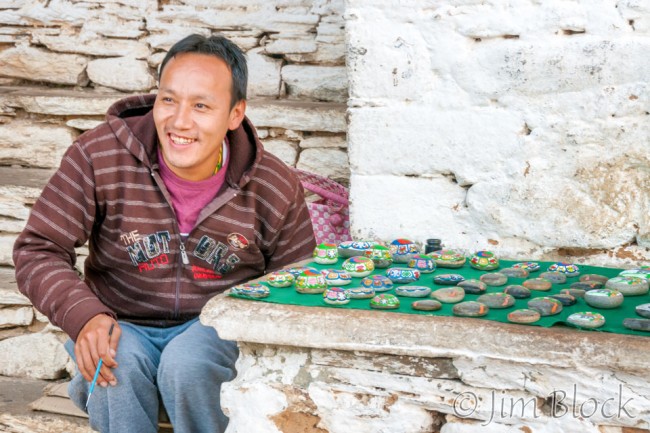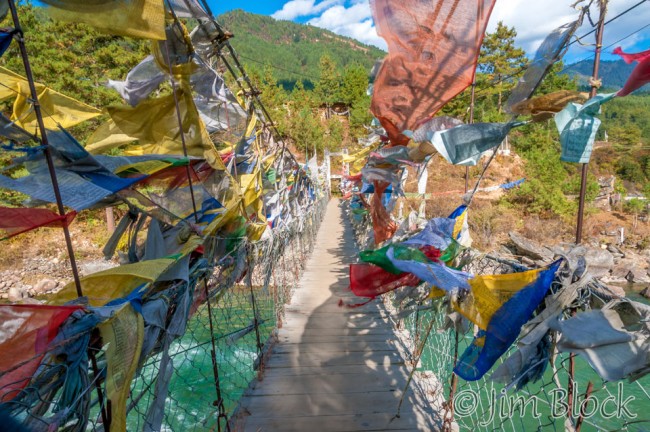 From the Tamshing Lhakang, we got a nice view back across the river at Kurje Lhakhang with some great light.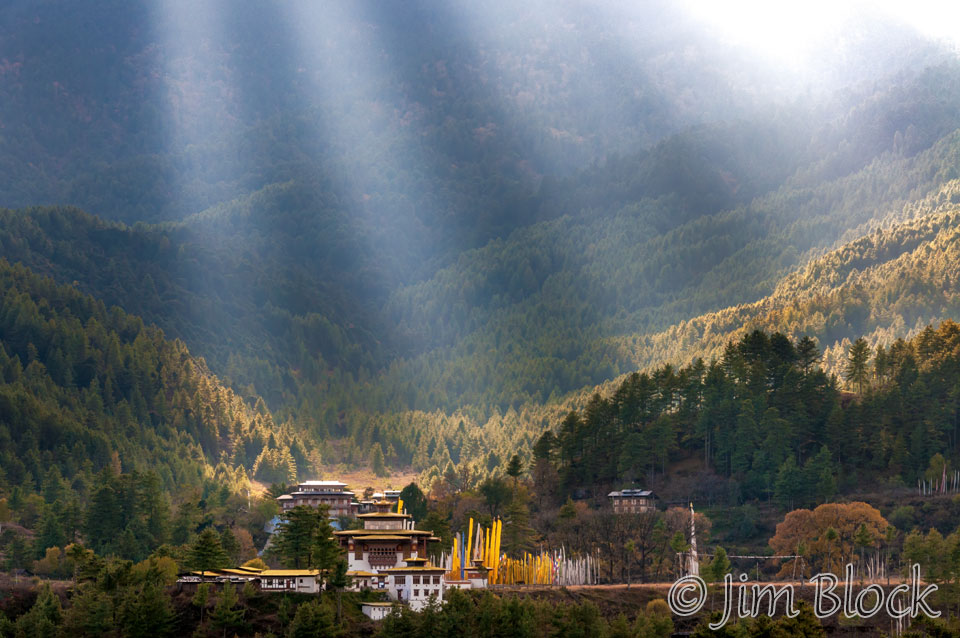 I could photograph the courtyard of the temple. And inside the temple, which contained very old wall paintings, I set down my hat rather than carrying it since no one was around. When I returned to get it, a cat had taken up residence in it.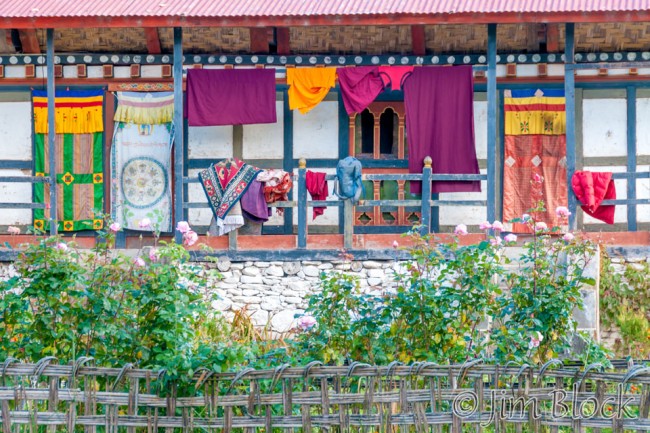 That evening I attended a puja at Kencho's uncle's home in Phomdrong. That event and the ad hoc tour of Phomdrong the next morning were certainly two of the real highlights of the trip to Bhutan. While we were walking around Kencho's village of Phomdrong I commented that "this is better than 10 temples". By the time we had looped the village, others had raised the rating to 25 temples. We were certainly glad Dhamey allows his tour guides to deviate from the carefully-planned itinerary and ad lib when opportunities present.
That afternoon we visited the Jakar Dzong, the Jambey Lhakang (temple) and the Wangdichholing Palace. Below is a fanciful 6-shot panorama with a very wide angle lens outside the Dzong.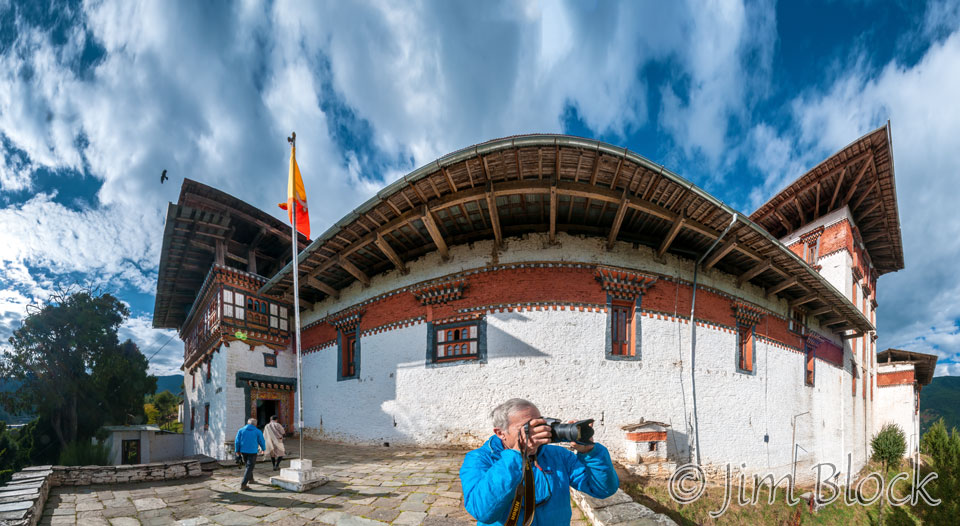 Like other dzongs in Bhutan, this one was split in half — monks on one side and government on the other. And it had very thick walls and small ports for weapons.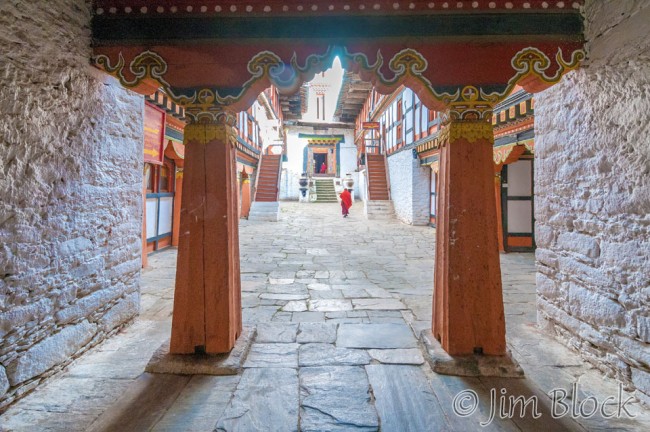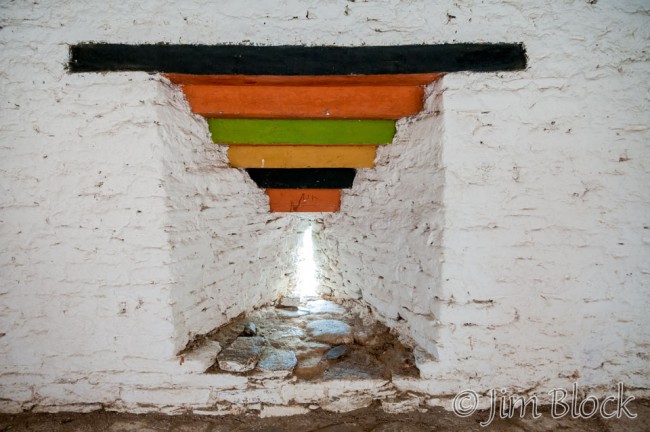 Here are two photos of the monk side of the dzong.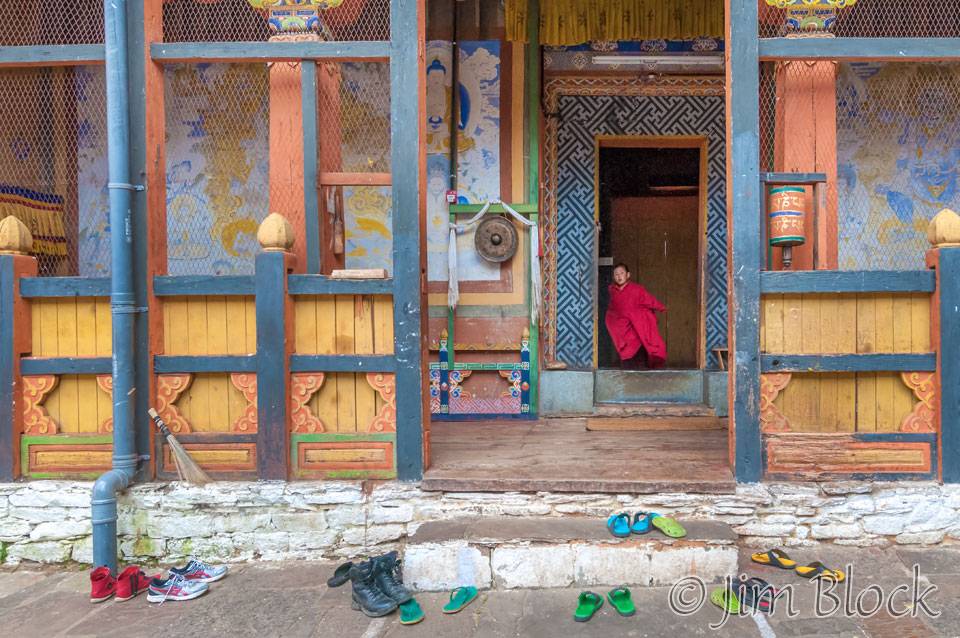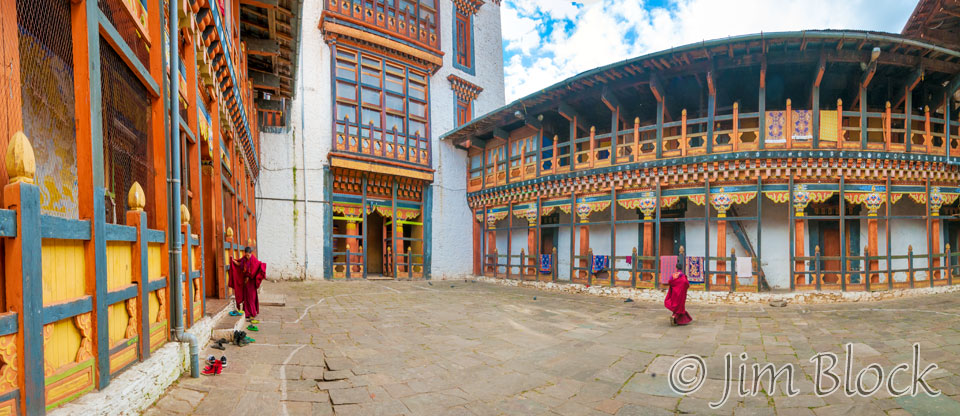 Next was Jambey Lhakang down the road a piece. An interior courtyard had an interesting stove. And outside I photographed a cow through a doorway in a wall.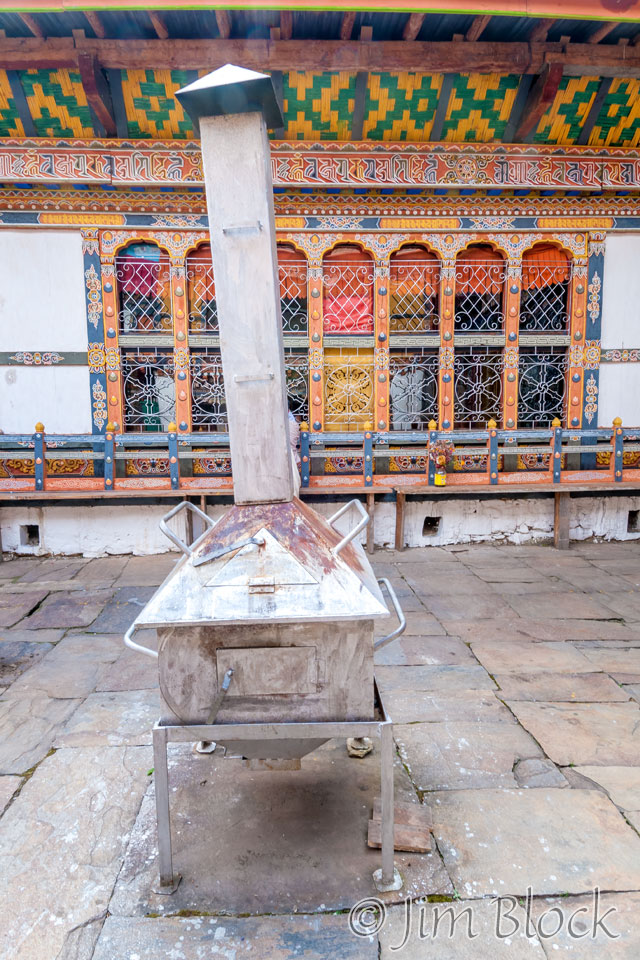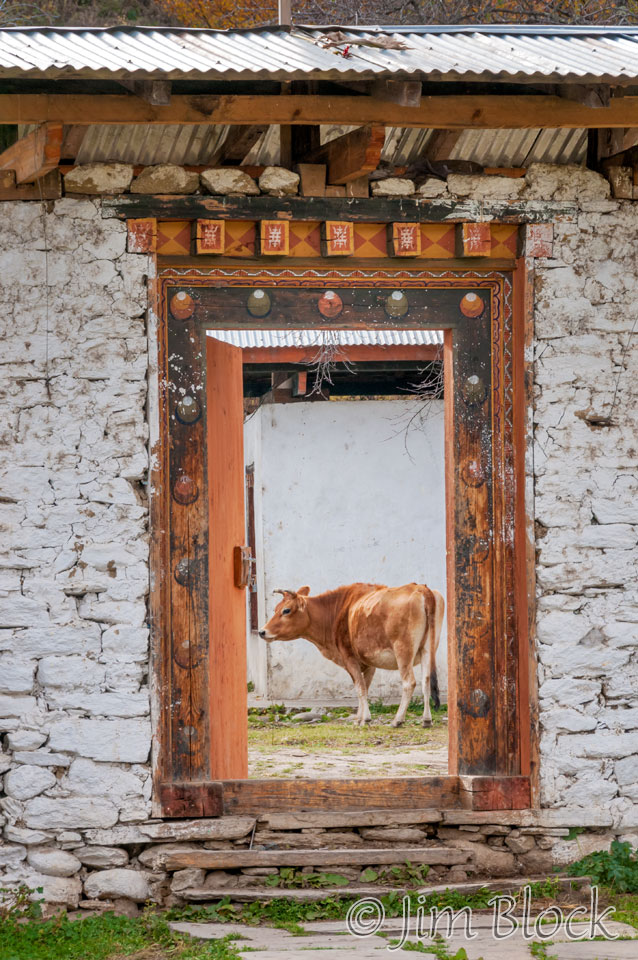 The real treat photographically here was seeing the worshipers circling the temple with their shadows.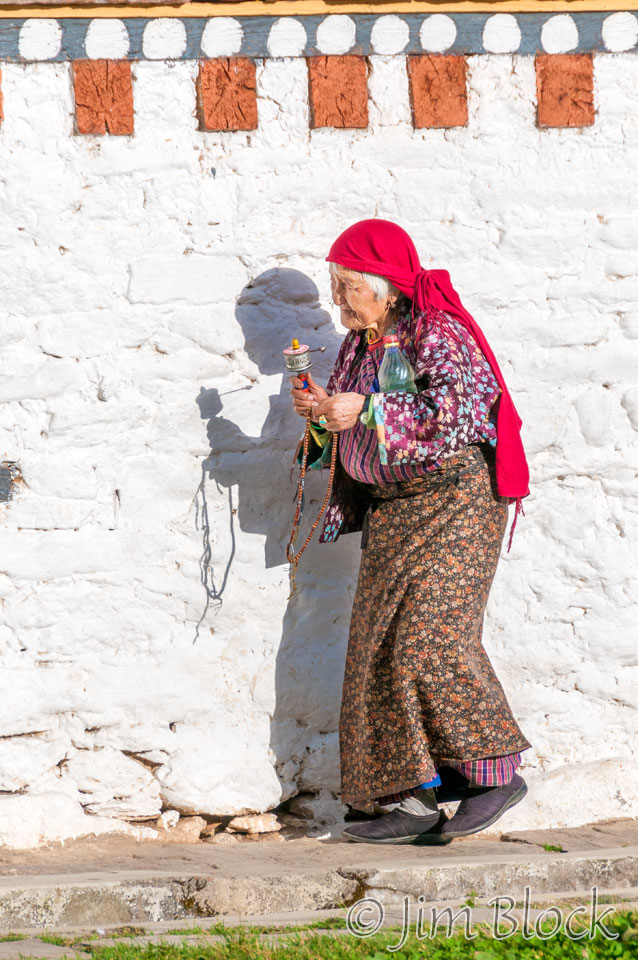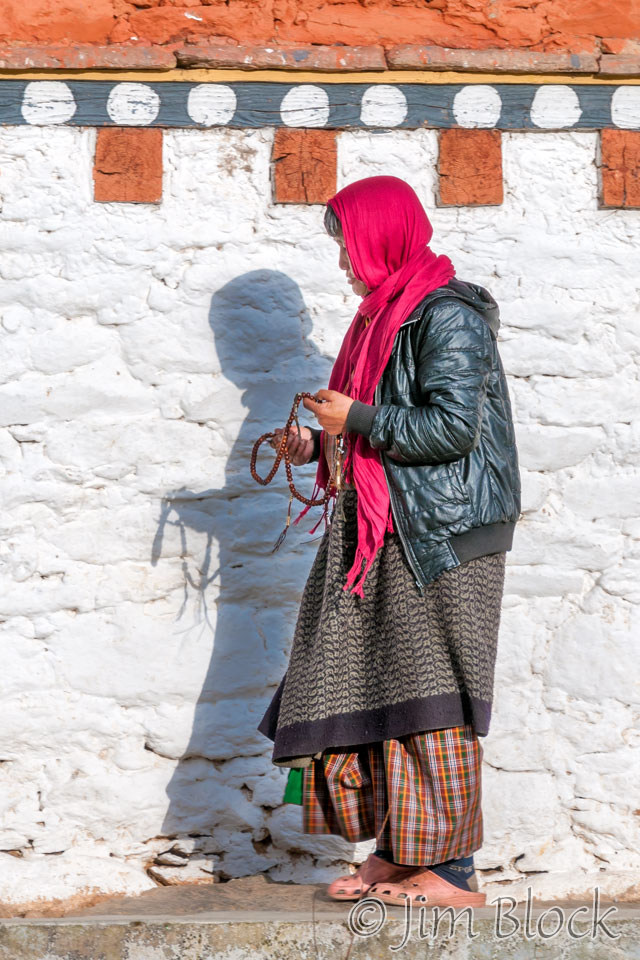 Here is another fanciful photo of a woman spinning prayer wheels.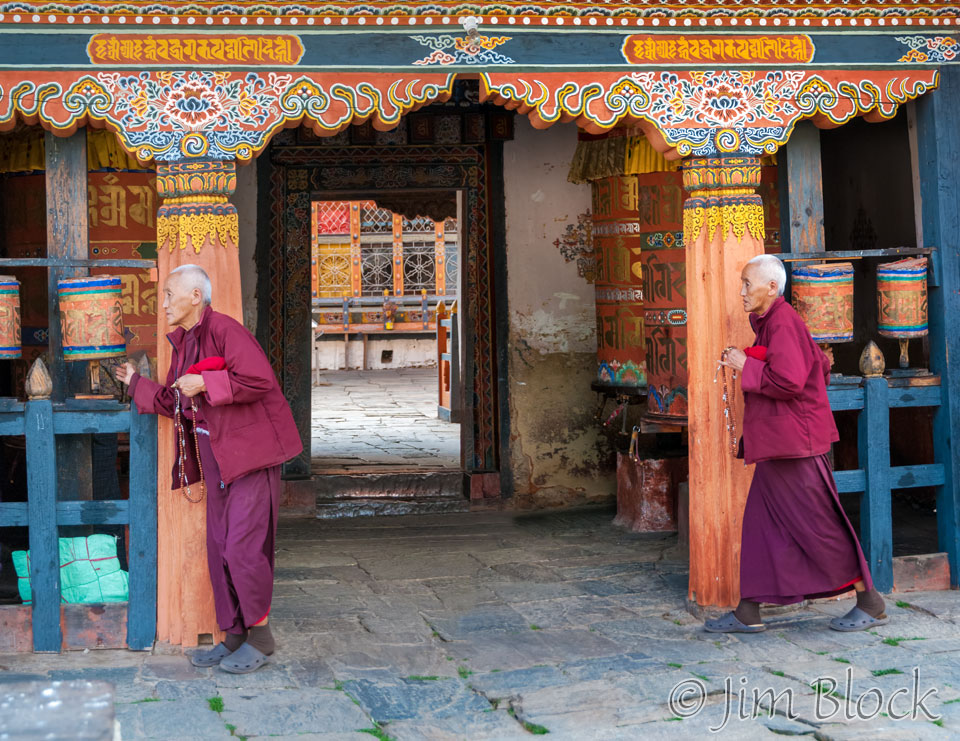 We next headed to the Wangdichholing Palace, a surprisingly interesting place. Wangdichholing was built in 1857, on the site of the battle camp of the Trongsa Penlop Jigme Namgyel, father of the first King of Bhutan, who was also born here. It was the first palace in Bhutan that was not designed as a fortress. Both the first and second king adopted Wangdicholing as their main summer residence.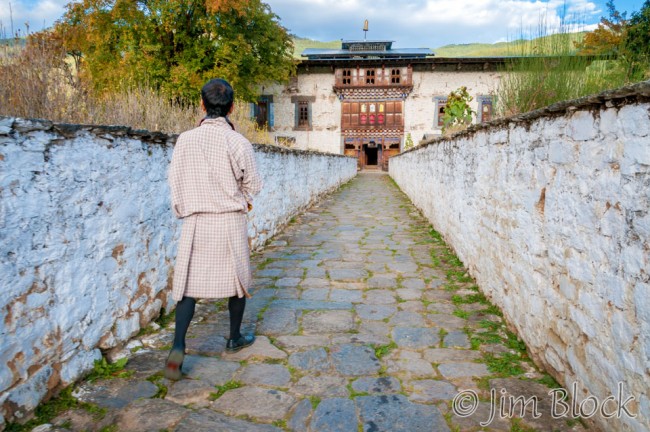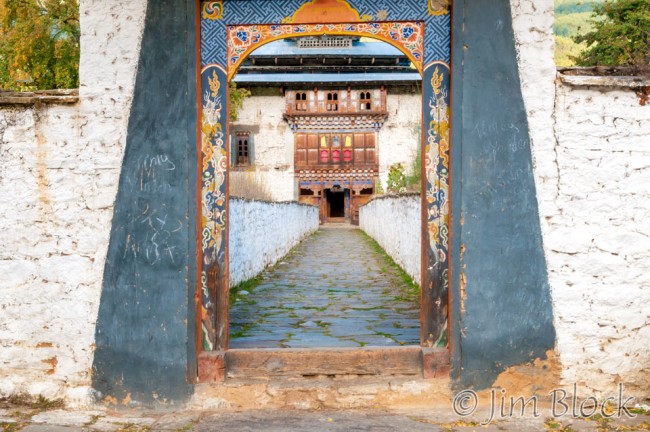 The two photos above and the two below show us entering the palace as we move closer and closer to the interior.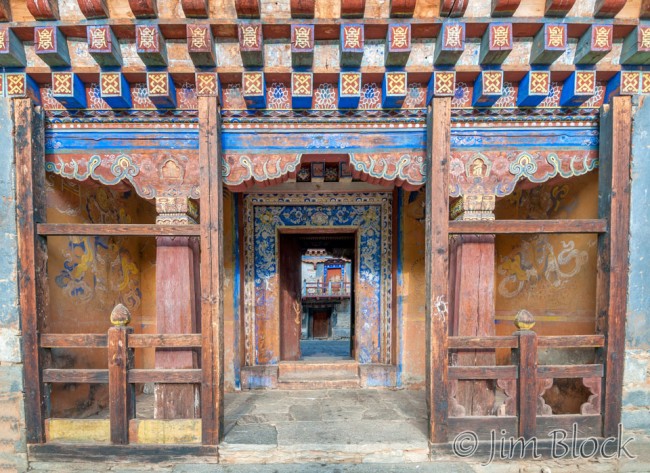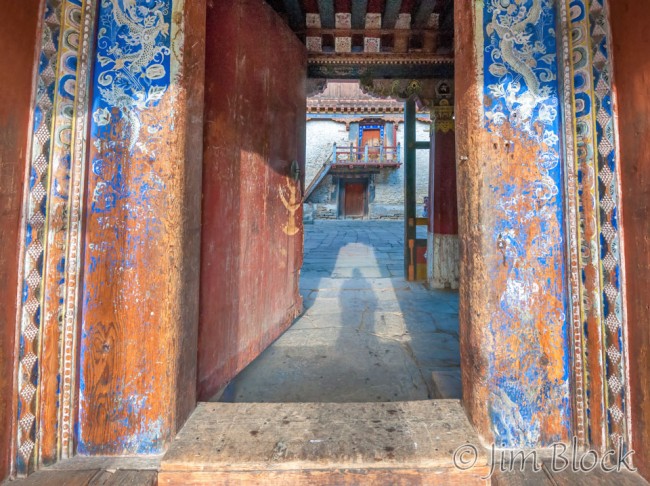 There seemed to be interesting staircases everywhere.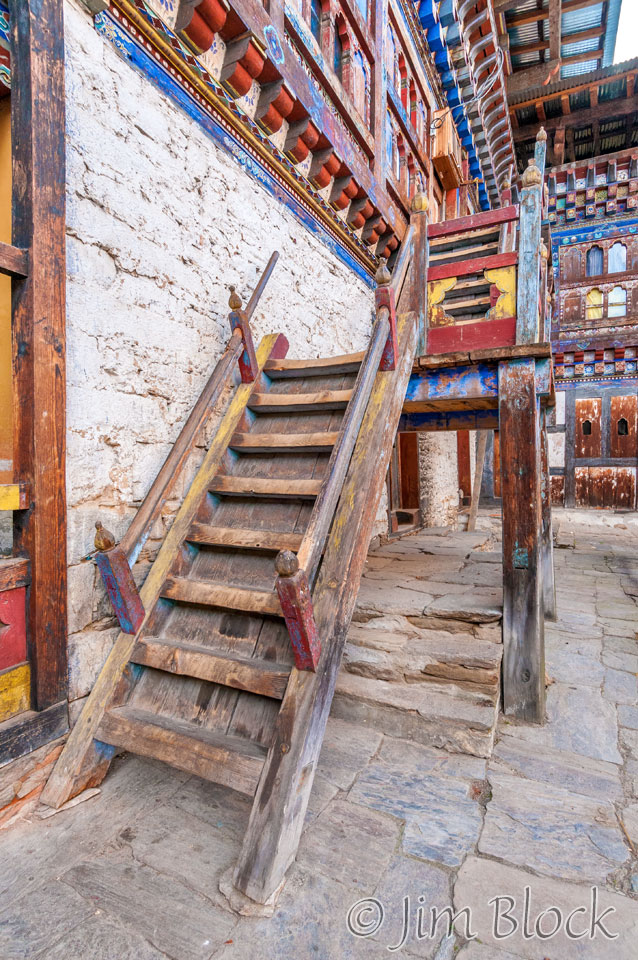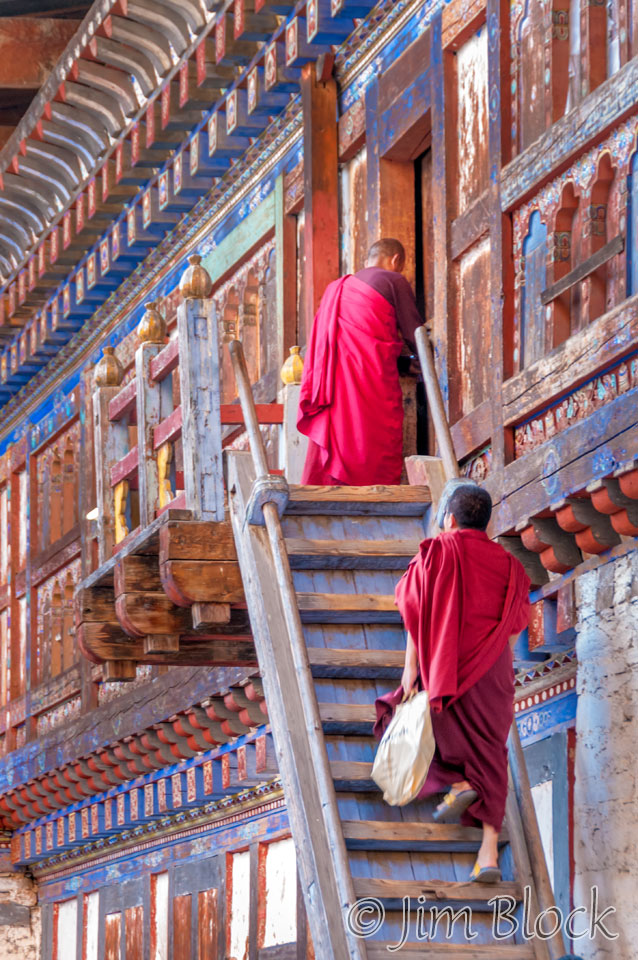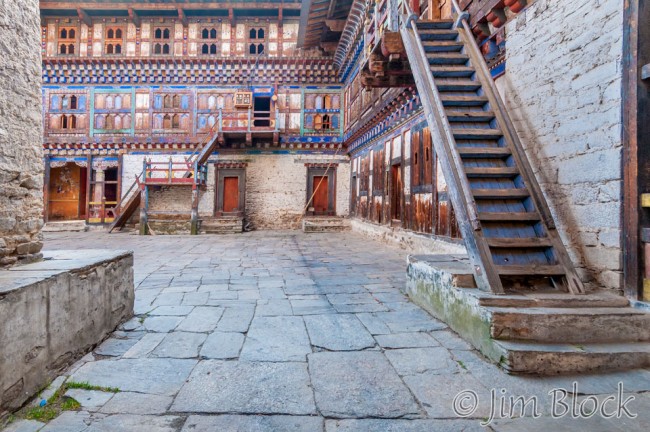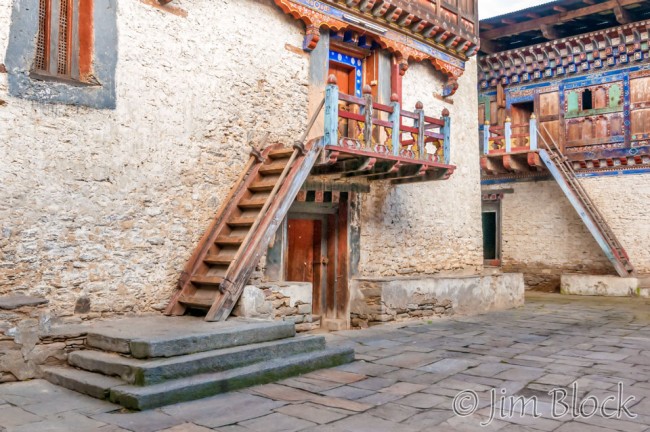 Stephen and Lackey were hard at work taking photos.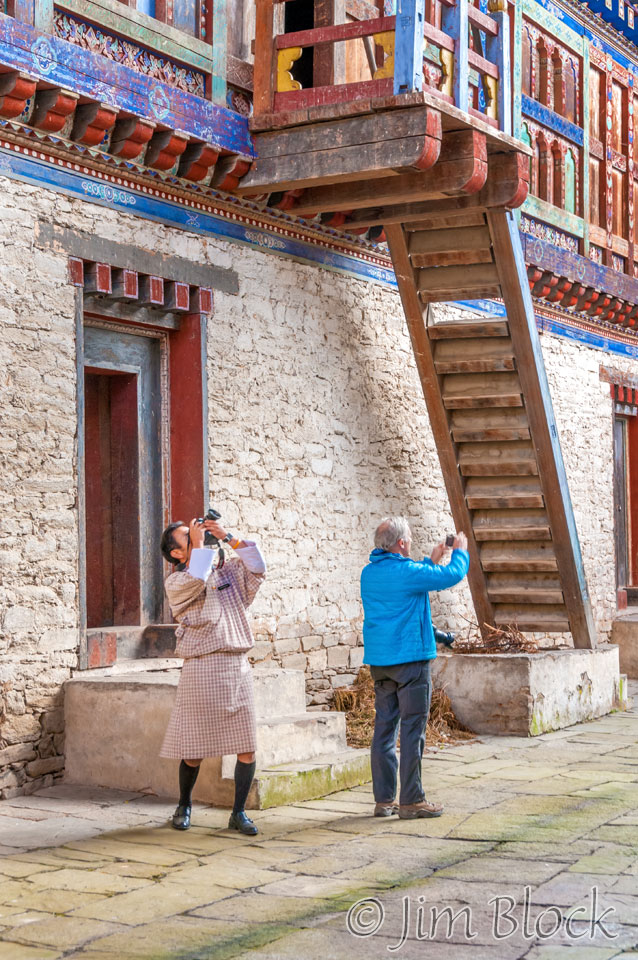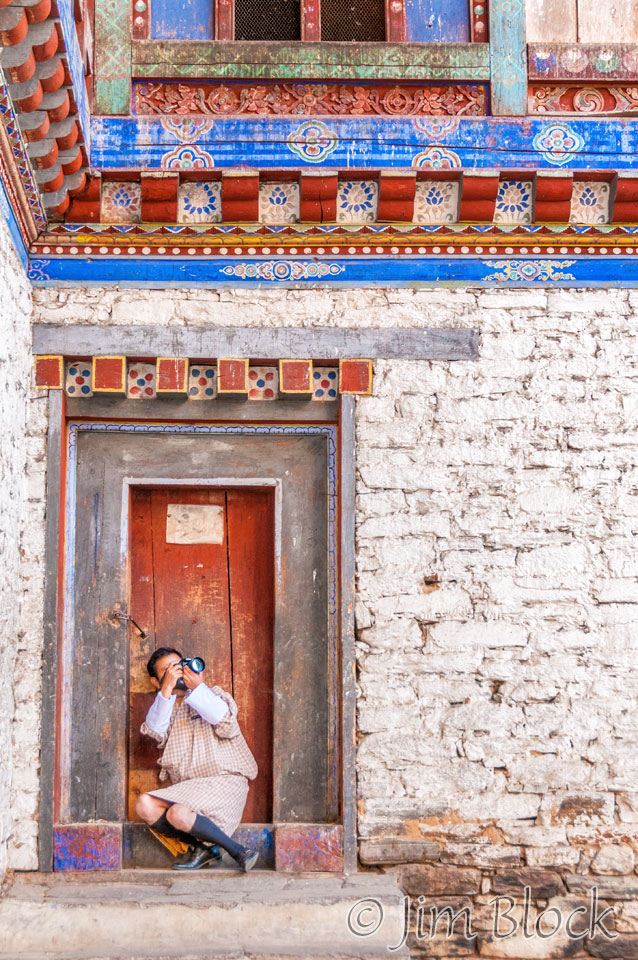 We headed into Jakar town where phallus symbols proclaimed fertility and gave testament to the Divine Madman.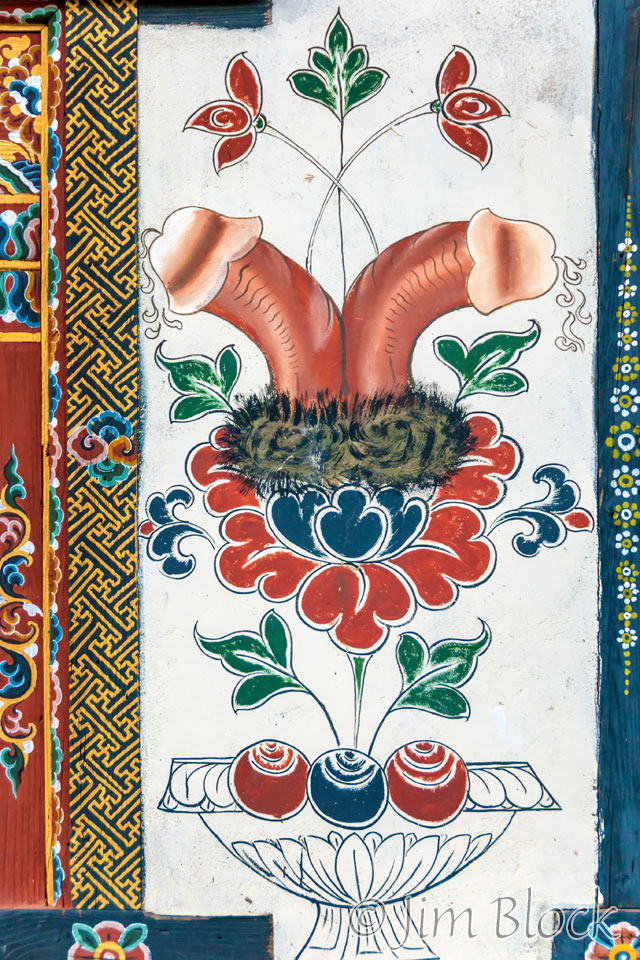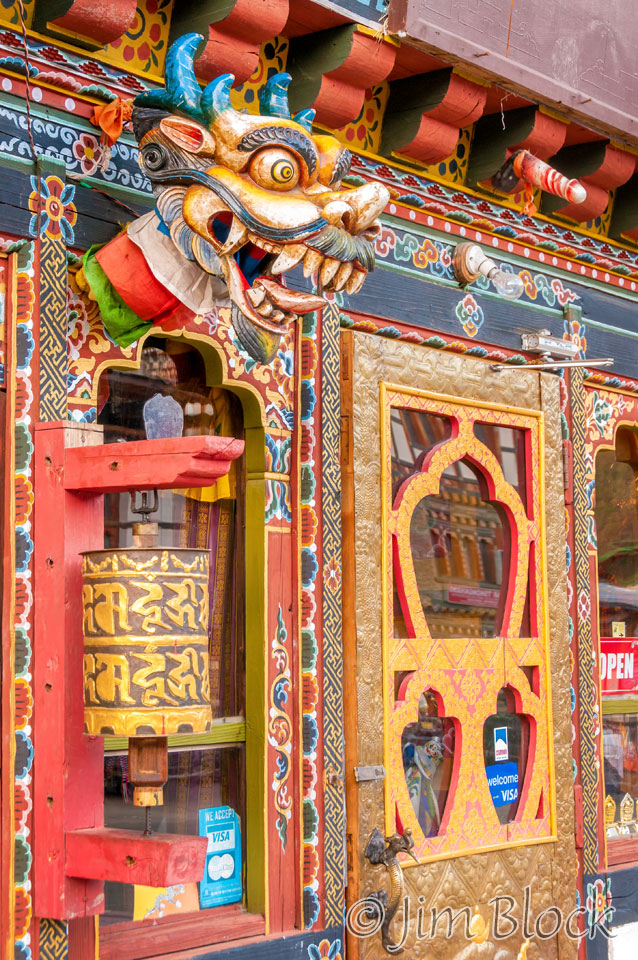 I trusted a small boy with my camera. I was confident he would not run off with it. If he did I had his sister for ransom.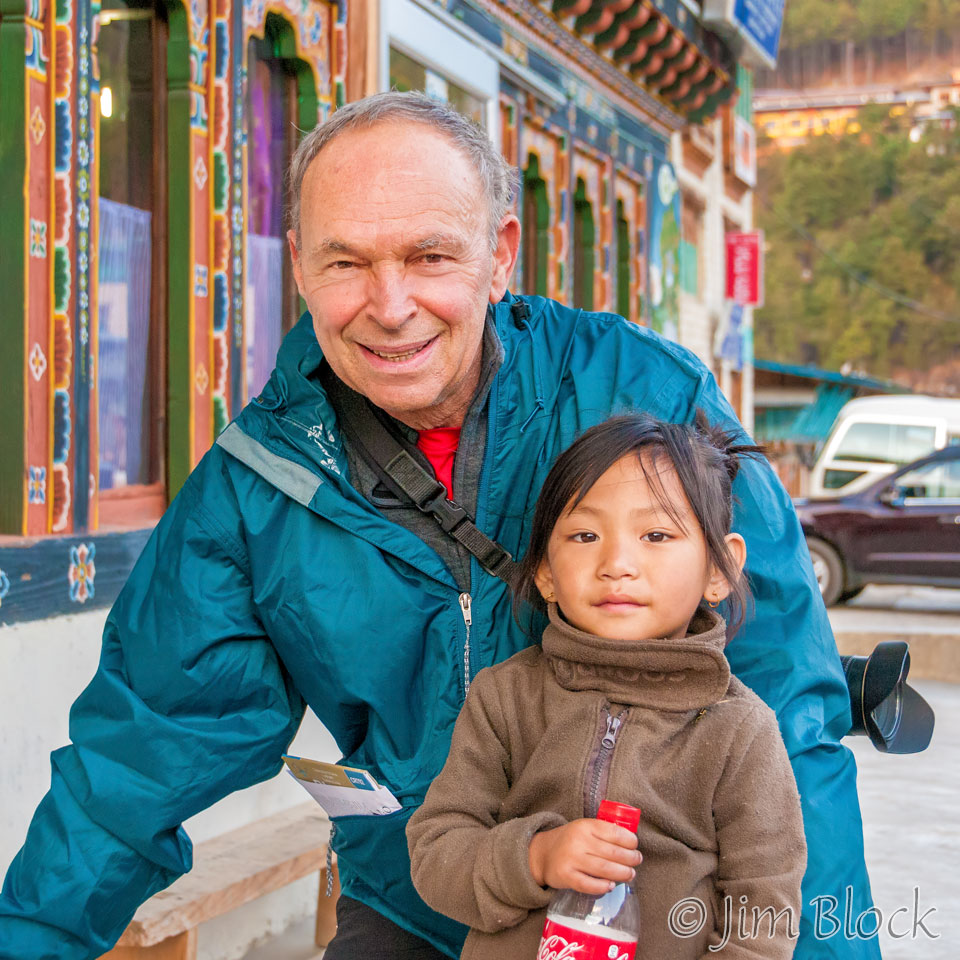 Here are a few photos of the two kids. Like most kids in Bhutan, they were a pleasure to meet and get to know, if only briefly.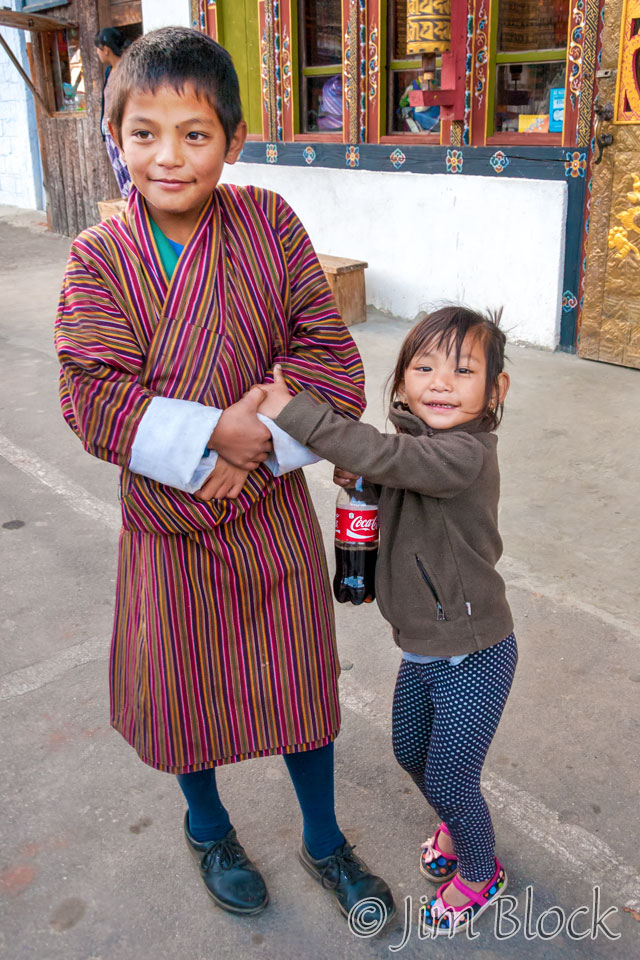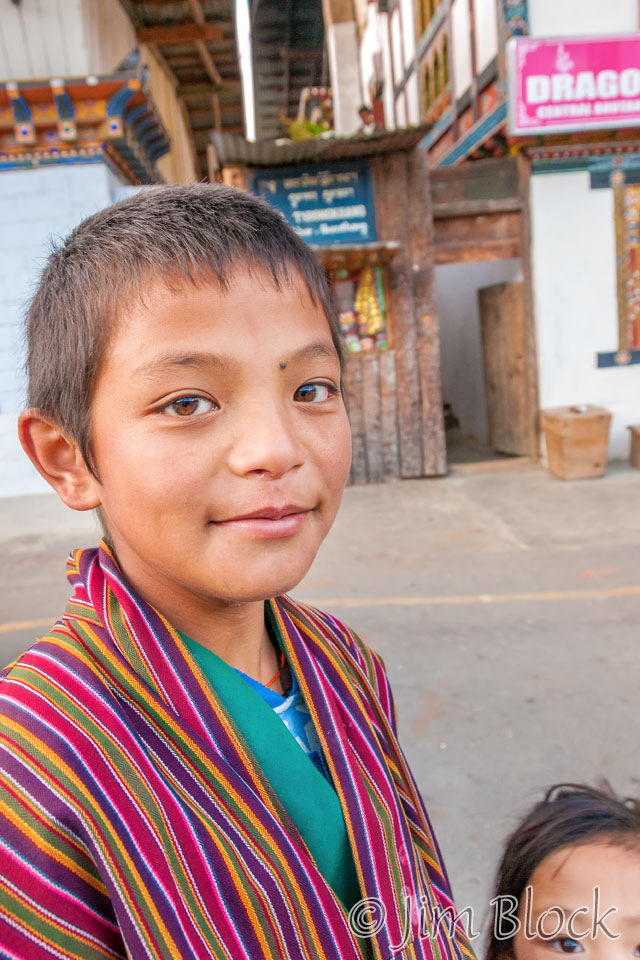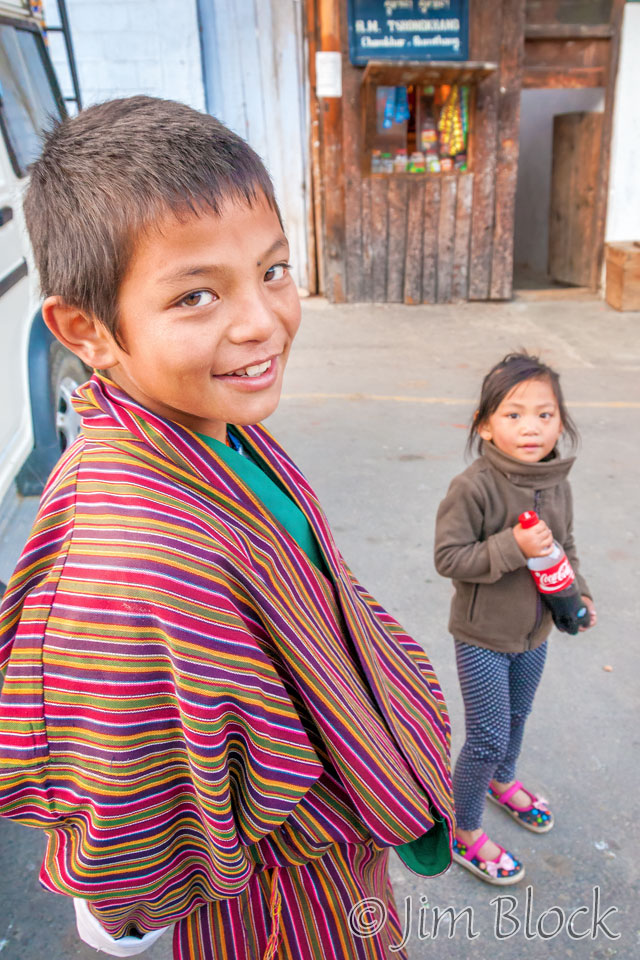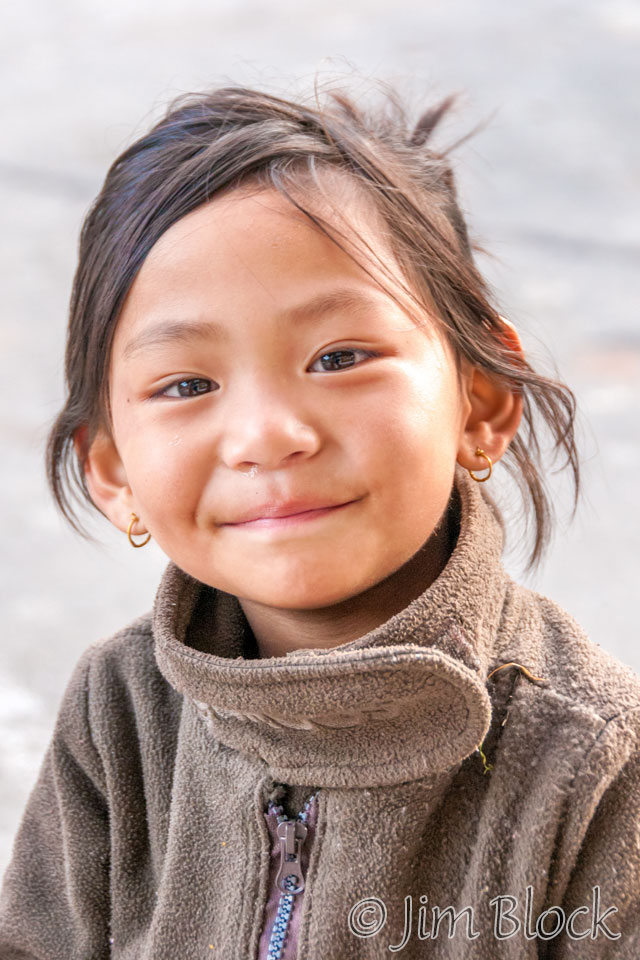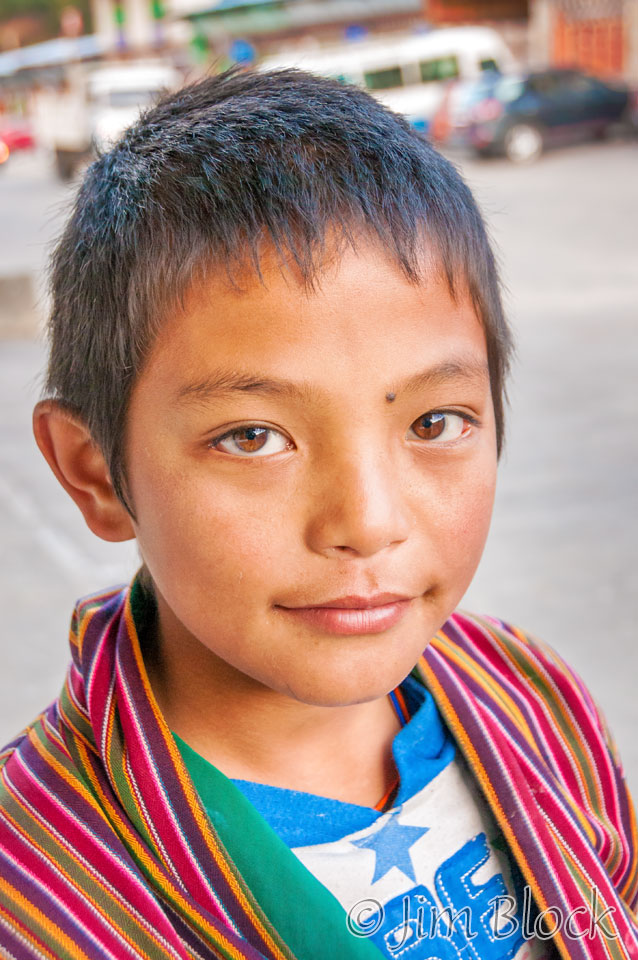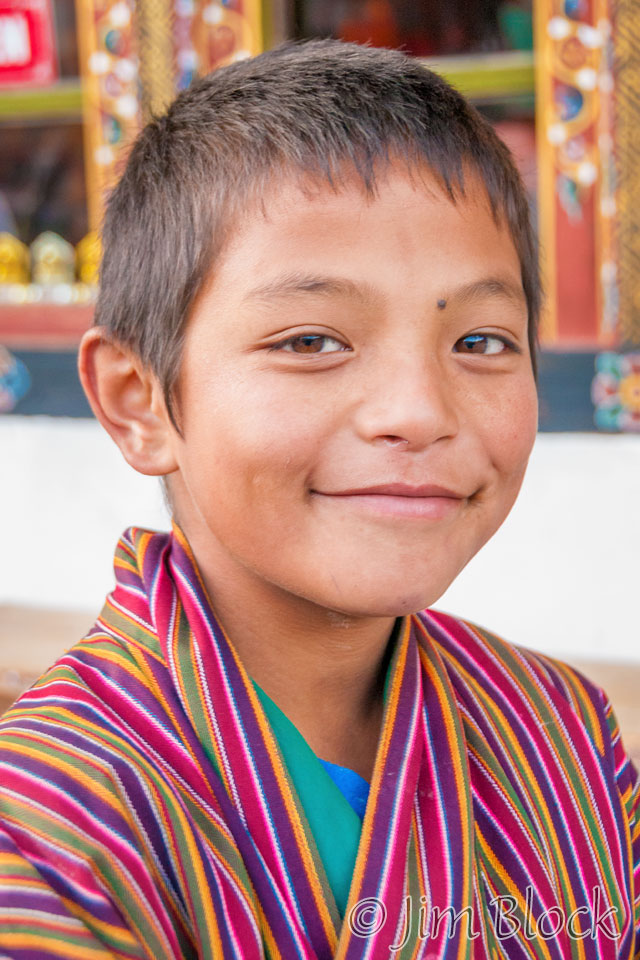 Their mother worked in a shop nearby as seen here.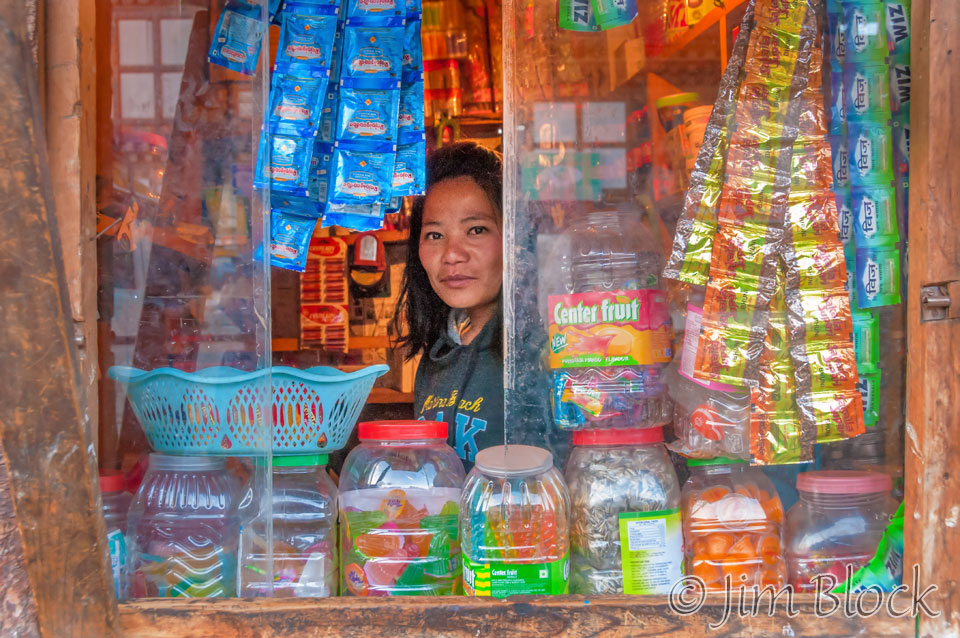 A group of schoolkids in their uniforms walked through town.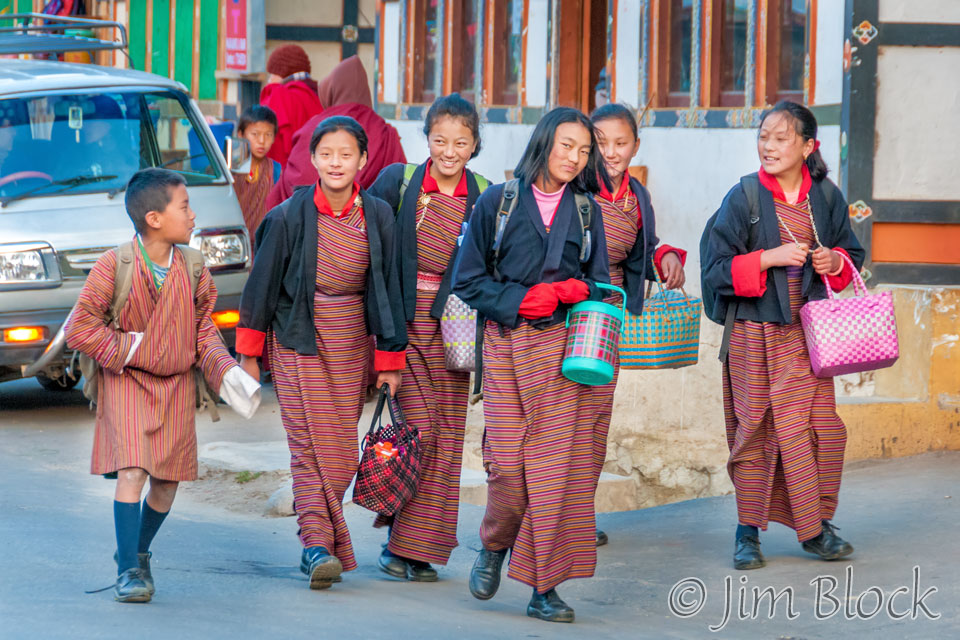 The gate near the Swiss Guest House framed a late afternoon sky. In our room we needed a professional to show us how to light our stove with a burning pine cone as the starter.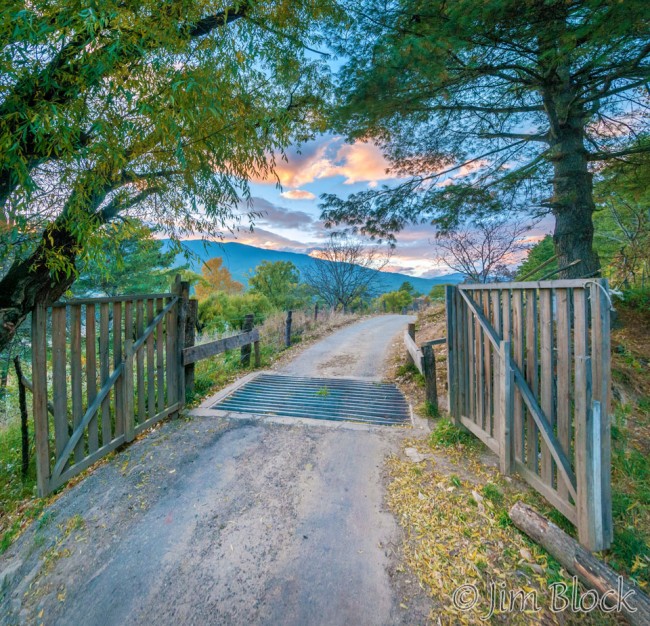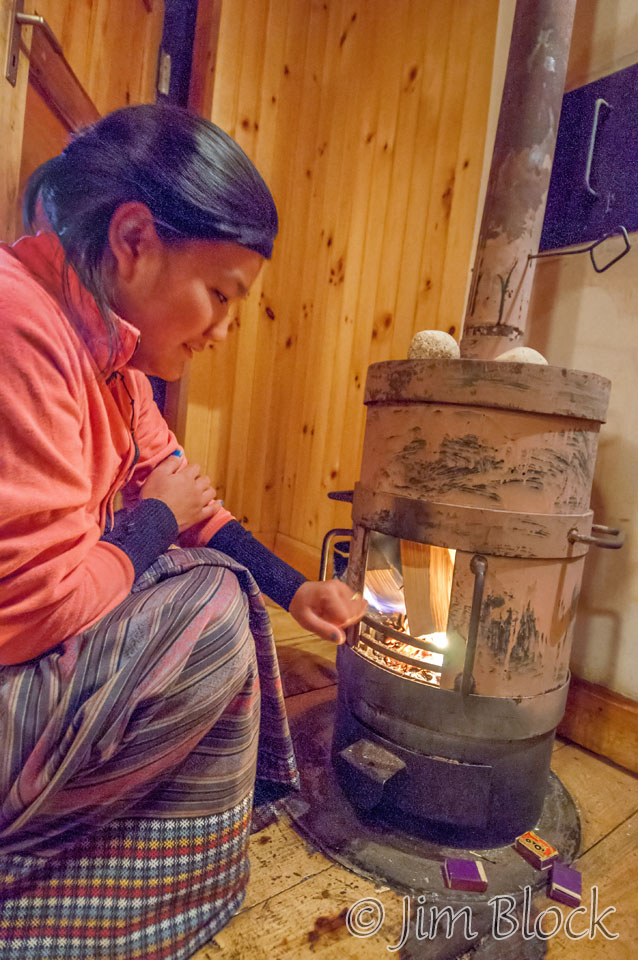 This was the evening of the full moon, so I got a shot as it rose over the hills to the east.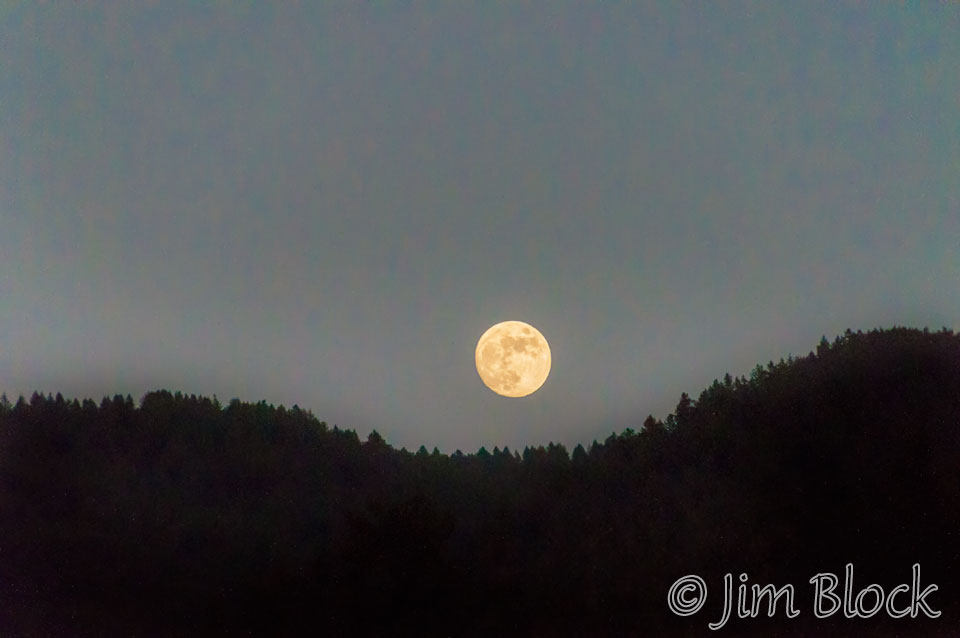 The Swiss Guest House was founded by Fritz Maurer. Both he and his son, Tshering, who now runs the inn with his Bhutanese wife, were trained as cheese makers. Although there are certainly fancier and more modern hotels in Jakar, the Swiss Guest House is considered THE place to stay.
We had their famous cheese fondue at dinner and treated ourselves to a rare beer — locally brewed Red Panda on draft. Apparently this is the only place in Bhutan where one can get Red Panda on draft. When this photo was taken we had consumed most of the fondue. Dessert was ice cream with chocolate sauce and mint.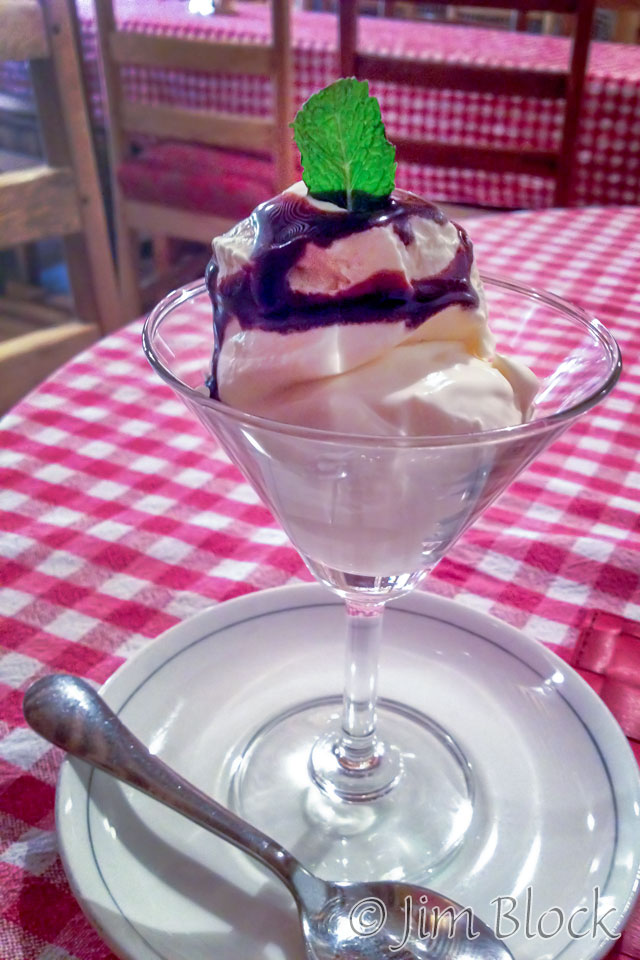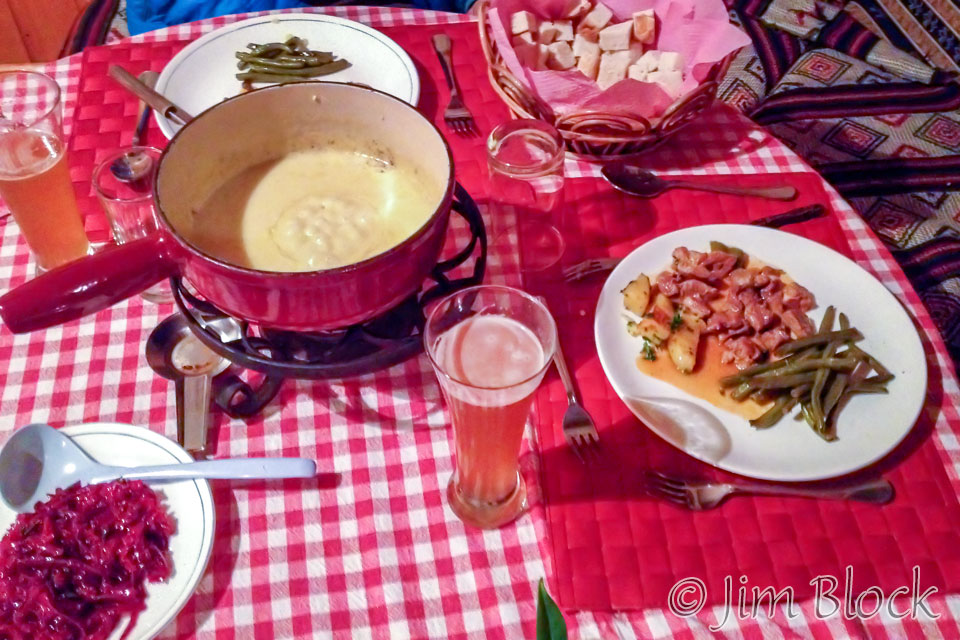 Here are more of the photos I took in Jakar during our first visit there. We would return 4 days later and attend a festival at Jambey Lhakang.