November 1, the first day of our trip to Bhutan. It would take less than 4 hours to gain 13,000 ft of altitude from Delhi, India to the Chele La pass. Those last two words are redundant since "La" means pass.
Lakey, our guide, and Kencho, our driver, met us at the airport. Soon we were travelling up a narrow winding road over Chele La to the Haa Valley for two nights. But before we did much climbing we stopped for a traditional tea break, even if one of us had coffee. We got a nice view of the fields of Bongdey Village which lie in a westerly extension of the Paro Valley.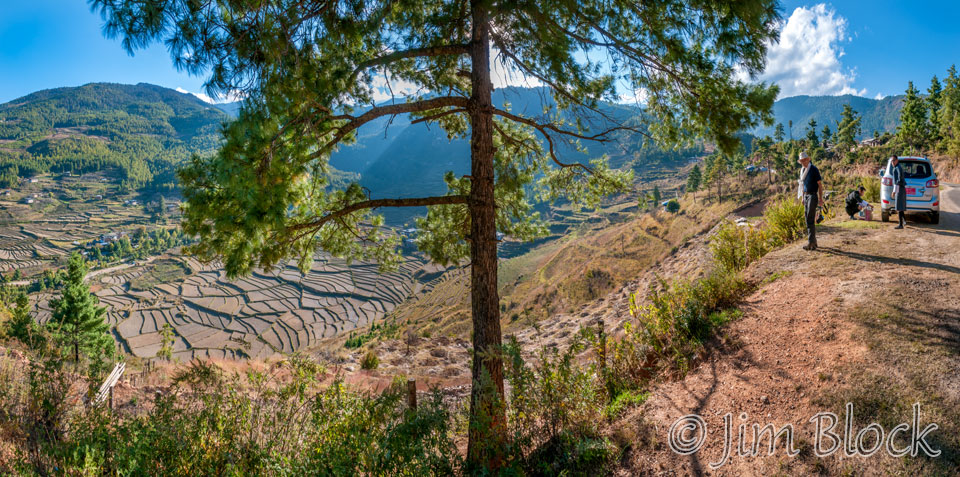 Except for a few spots around Timphu and the road between Timphu and Paro, the roads in Bhutan are basically one-and-a-half lanes wide and almost constantly curving. The approaching cars seem about to collide before they each dive onto the shoulder. Eventually one gets used to it, and we developed a lot of confidence in Kencho's driving. The two photos below perhaps convey a feel for the roads. The tree in the background is a larch, sometimes called tamarack in the US.
We bumped along for 90 minutes before we saw the prayer flags of Chele La. By the time we arrived at the pass the sun was setting. We got a view of Jomolhari and Jichu Drakye, a pair of mountains we would see up close during our trek in two weeks. They are above the lower poles at the right end of the set of prayer flags in the photo below.
You can see more photos from Chele La HERE.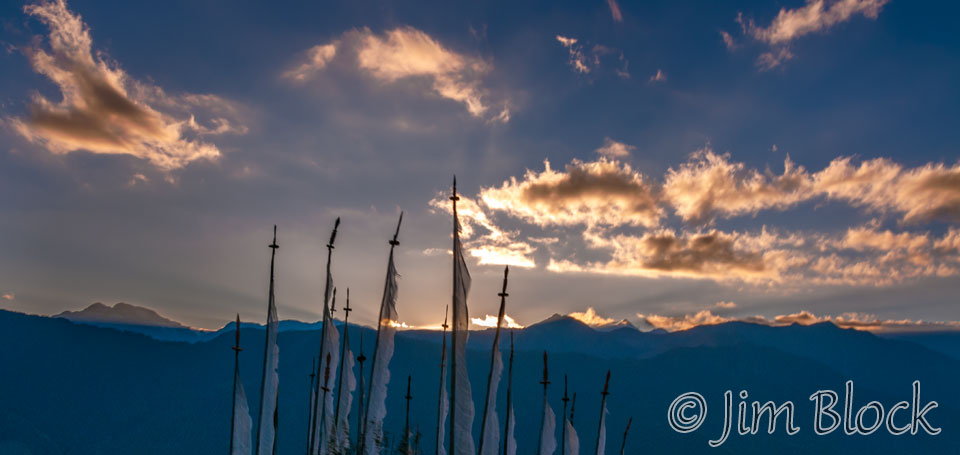 The Google Earth view below shows our trip from Paro to the Haa Valley. We stayed at the Lechuna Lodge and in the morning hiked to Yangtho Goemba. The 68 km drive (about 40 miles) from Paro to Haa took over three hours.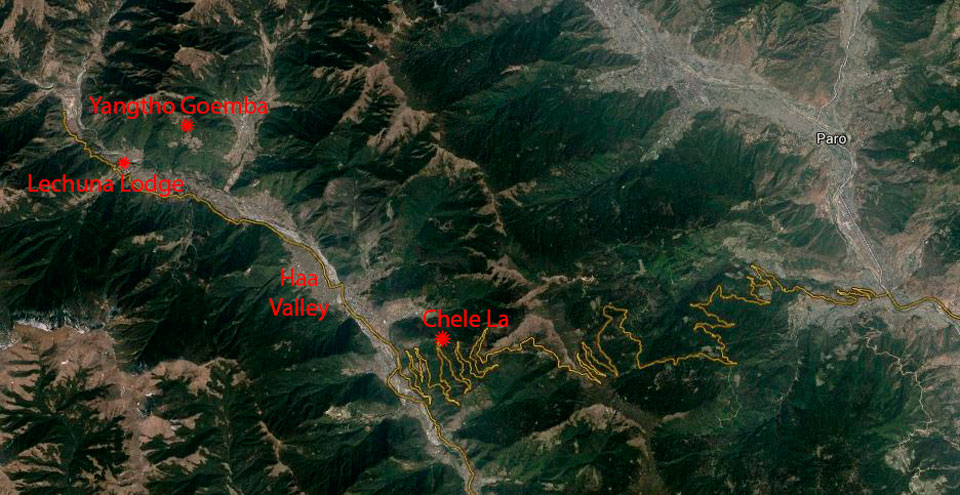 We arrived in Lechu Village well after dark and turned down a short, steep, narrow "road". We were greeted at the end of the path that led to the Lechuna Lodge by several young women. They carried our bags and guided us along the uneven path with flashlights.
Lechuna Lodge is a very solid old farmhouse with an interior courtyard. Our second floor room, which was actually two flights up, was small but comfortable. The dining room was across the courtyard at ground level through the door on the far left below. I took several photos of the courtyard before our 7:30 PM dinner. It was 5:30 AM – breakfast time – back home.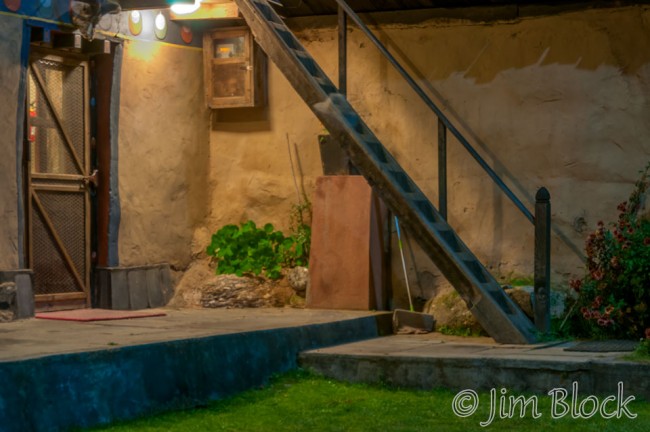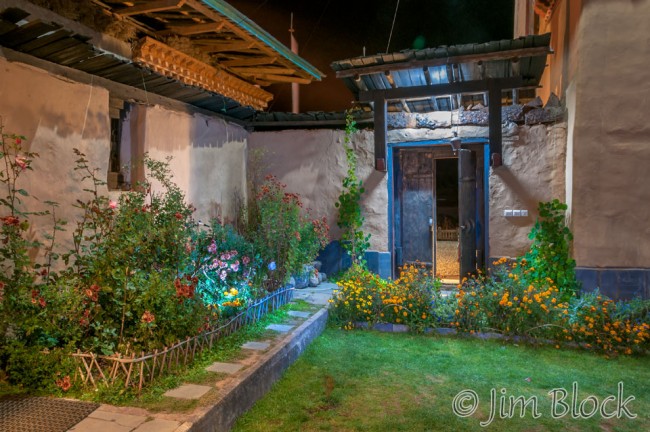 After another night of poor sleep (plane, Delhi, and here) I was awake at 4:30 AM and headed out before 6 AM for an hour of photography before breakfast. Below are photos of an umbrella rack inside our lodge and a rose growing in the courtyard at 9000 ft in November. I do not recall a drop of rain our entire trip.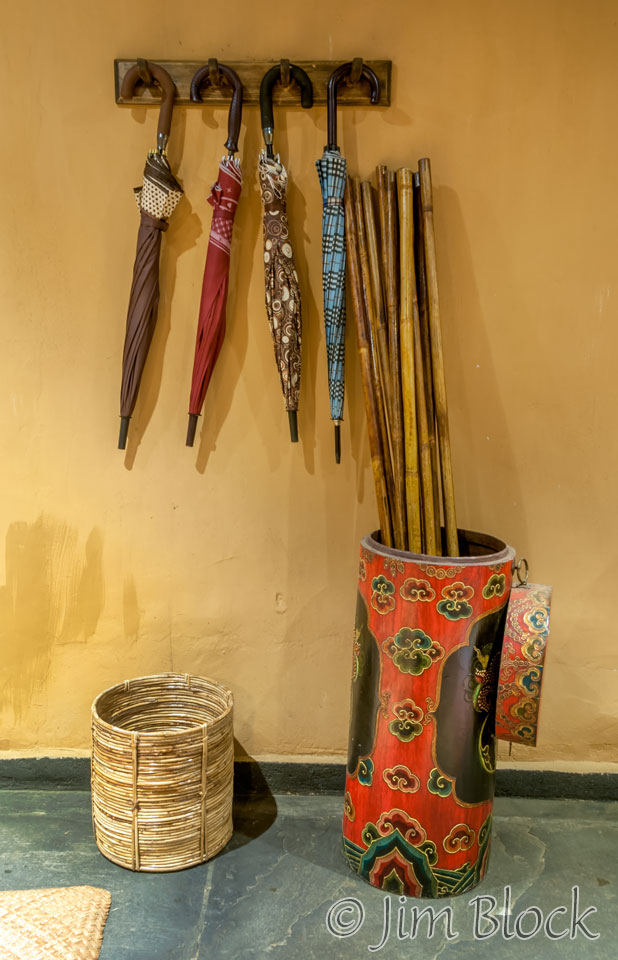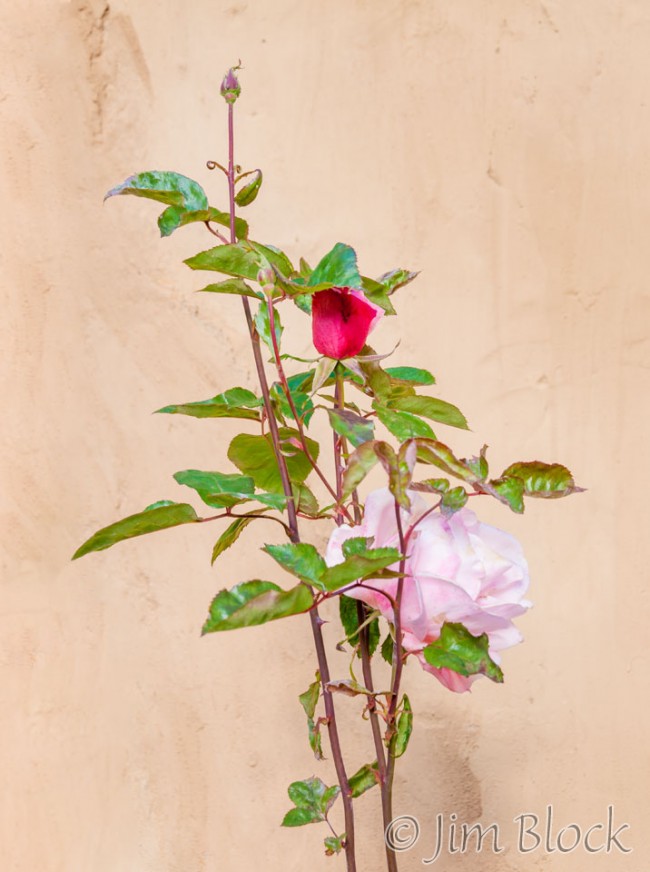 I wandered back down the path we had taken the night before and beyond it across a small stream.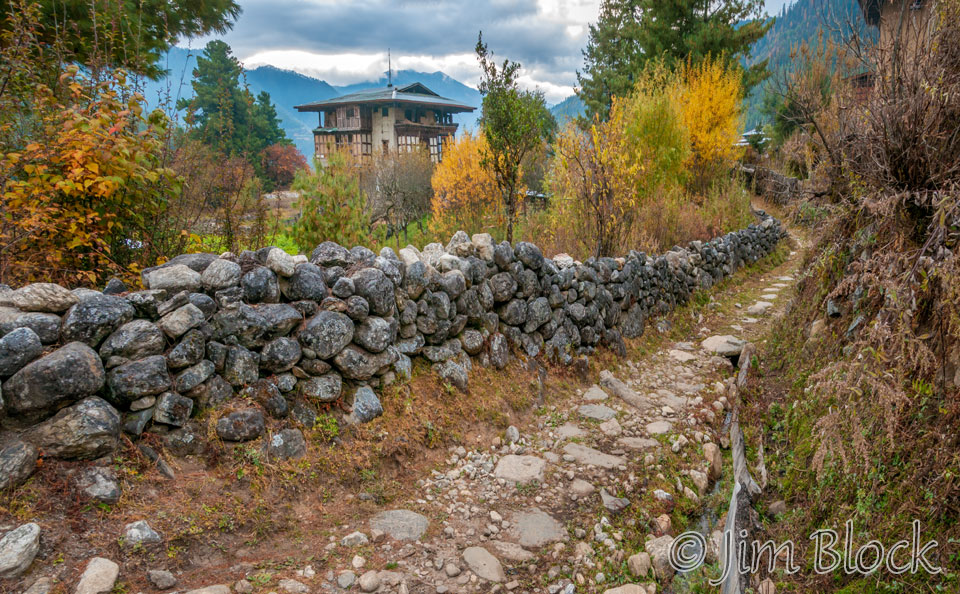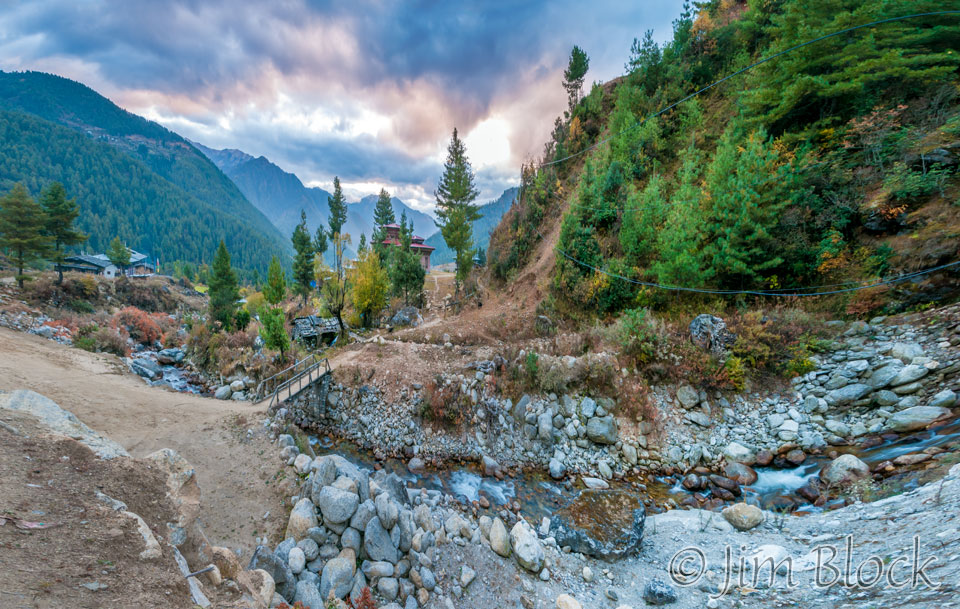 The photo below shows a fairly typical house design in Bhutan. The lower level is used for food, grain, and livestock. The second level is where the people live, and the third level is open to the air for drying grain. This house is less ornate than many.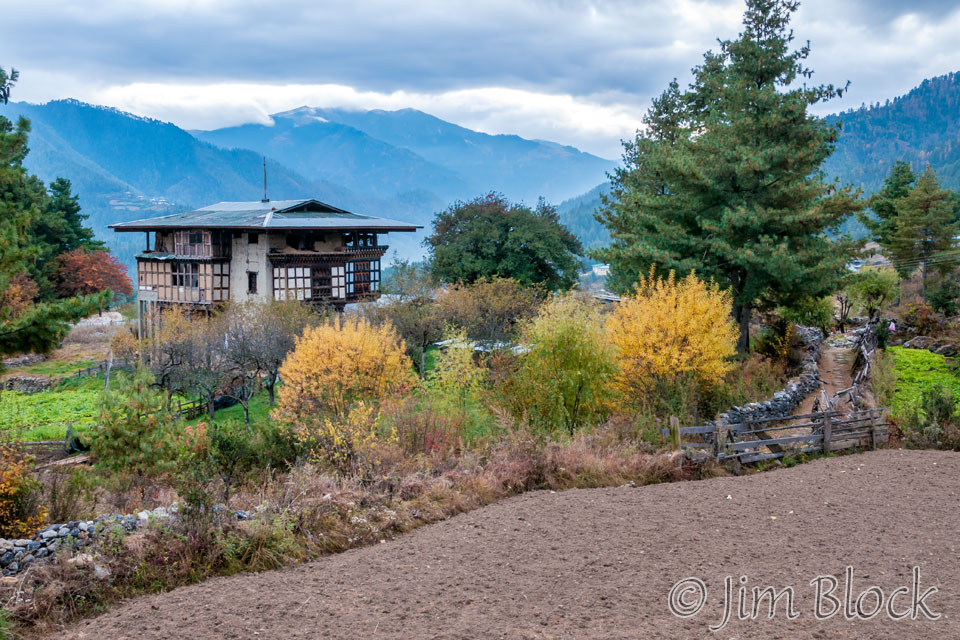 The villagers were waking up, starting their wood stoves, and burning incense with their morning prayers. This filled the valley with smoke which made for interesting atmospherics at sunrise.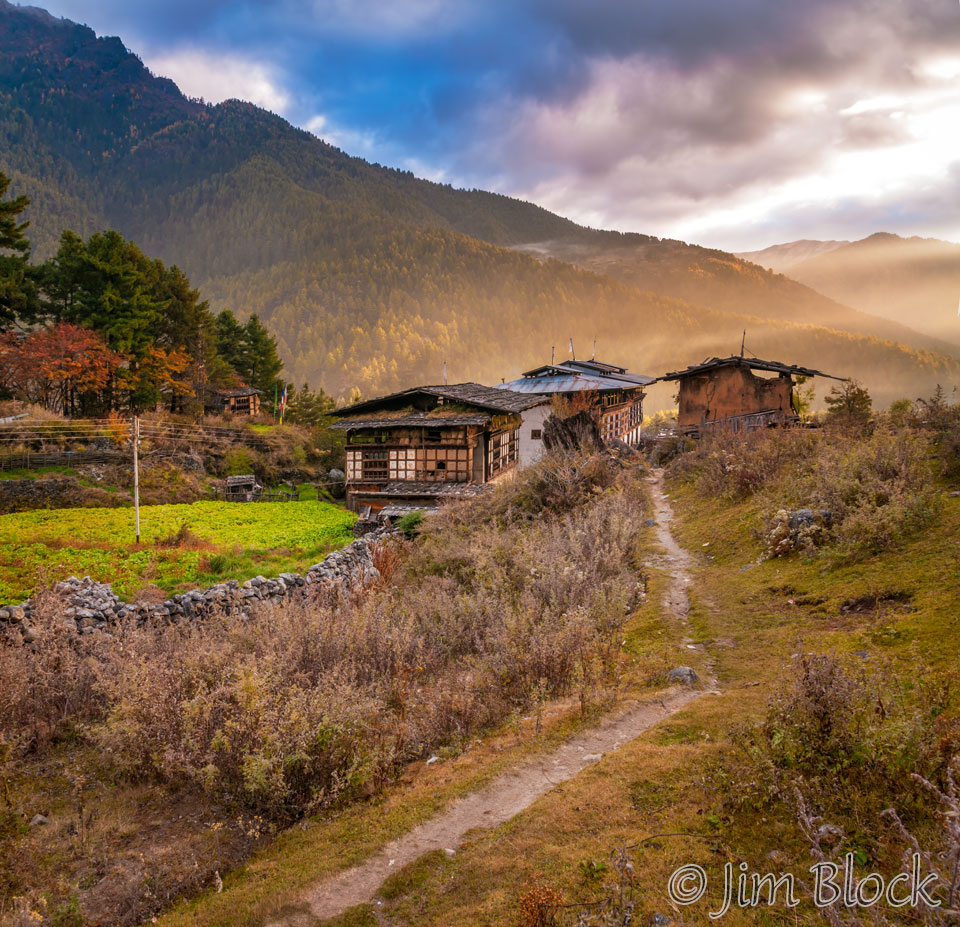 After breakfast we would hike this path down to the Haa Chhu (river) and up to a monastery.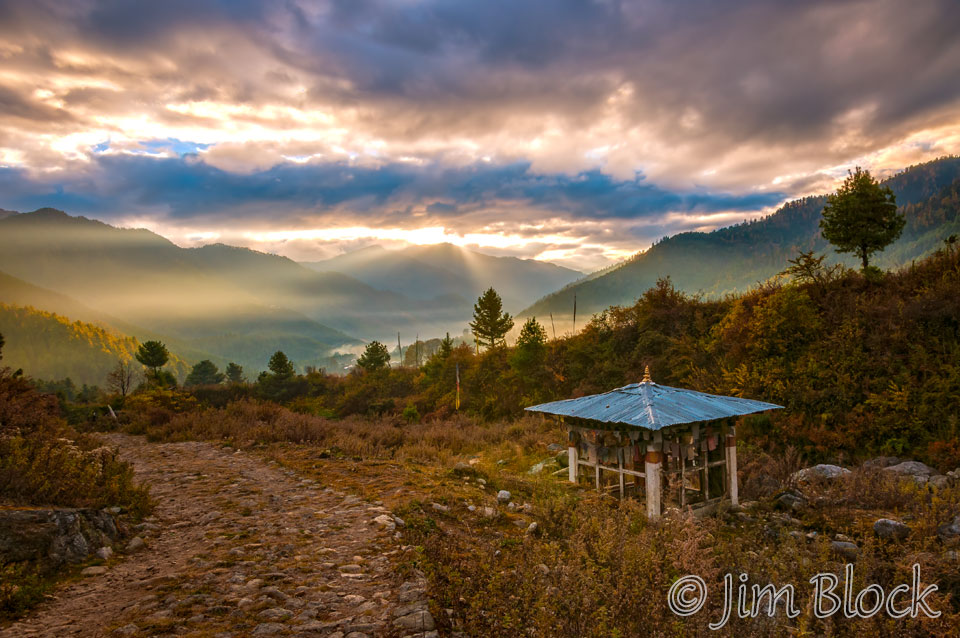 Back at the lodge for breakfast, I made a couple of photos of a wooden ladder carved from a tree. I am fascinated by this type of ladder which is often seen in parts of Nepal and Bhutan.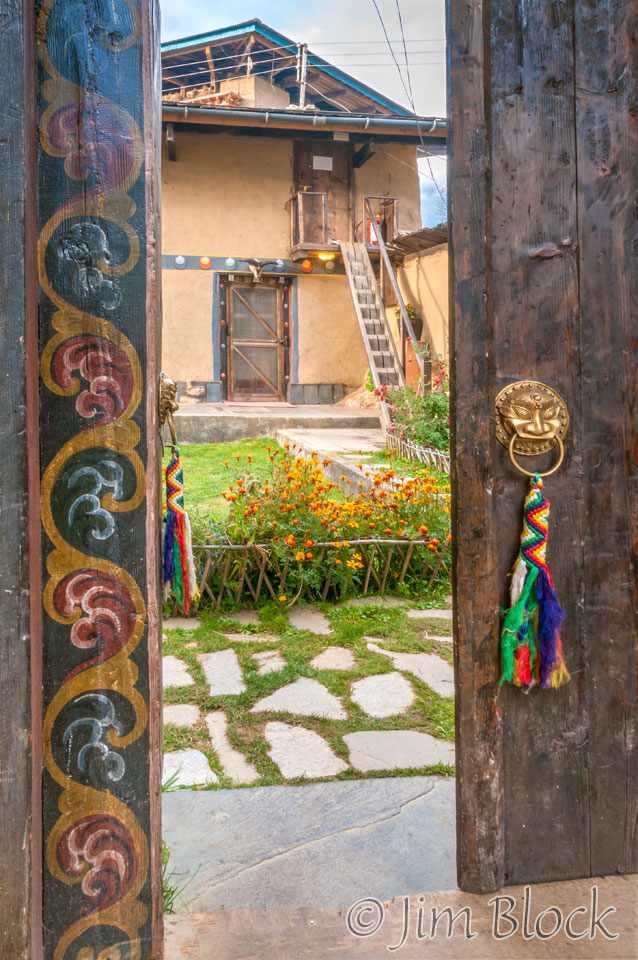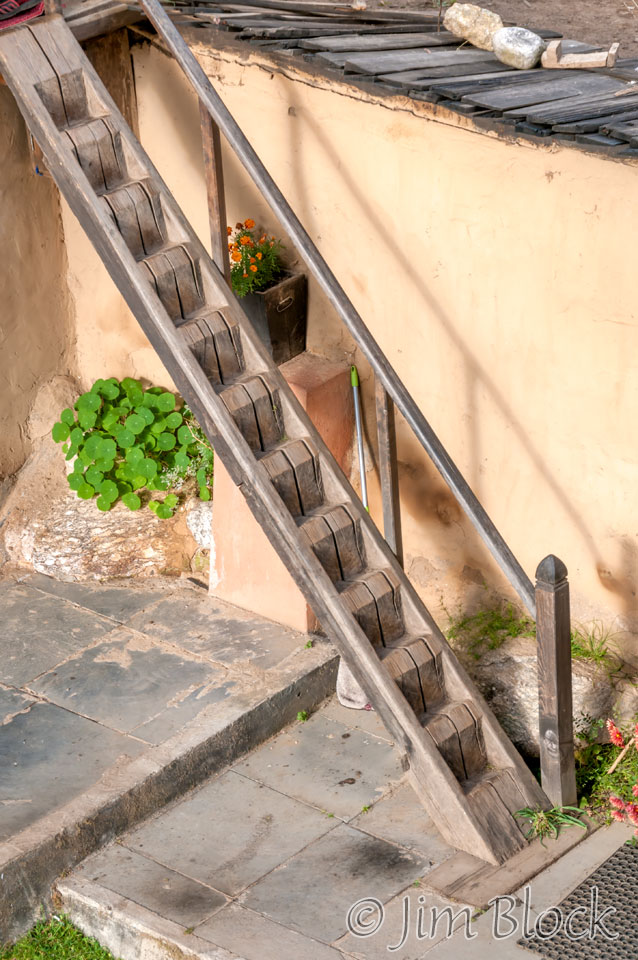 After breakfast we took what turned out to be a fairly strenuous hike down across the Haa Chhu and then up and up and up to the Yangtho Goemba monastery. Our first full day and a 3-hour uphill hike at around 9,000 ft! I was breathing very heavily on the way up, and my legs hurt on the way down. I was very glad I would have two weeks to get in better shape for our trek. We passed some barberry along the way up.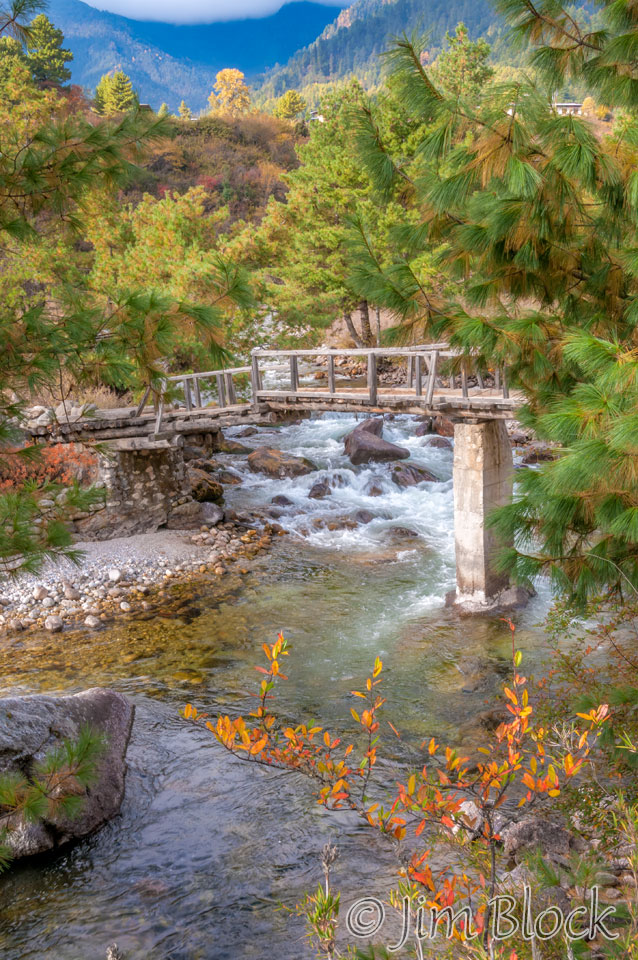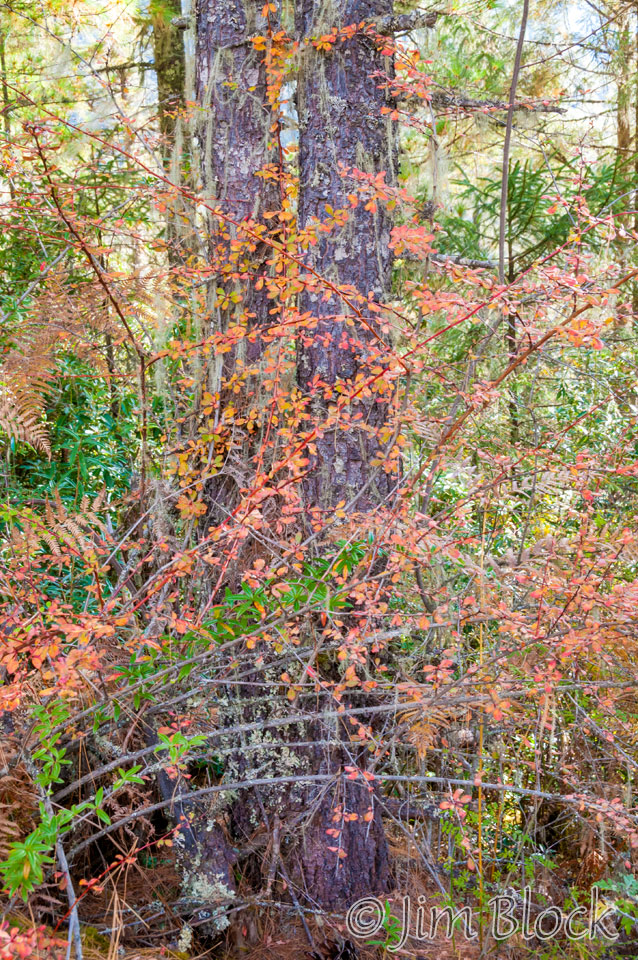 Shortly before arriving at the monastery, I photographed a woman whose lips were red, not from lipstick but from chewing doma. I photographed her home with another interesting ladder leading to the open air top floor.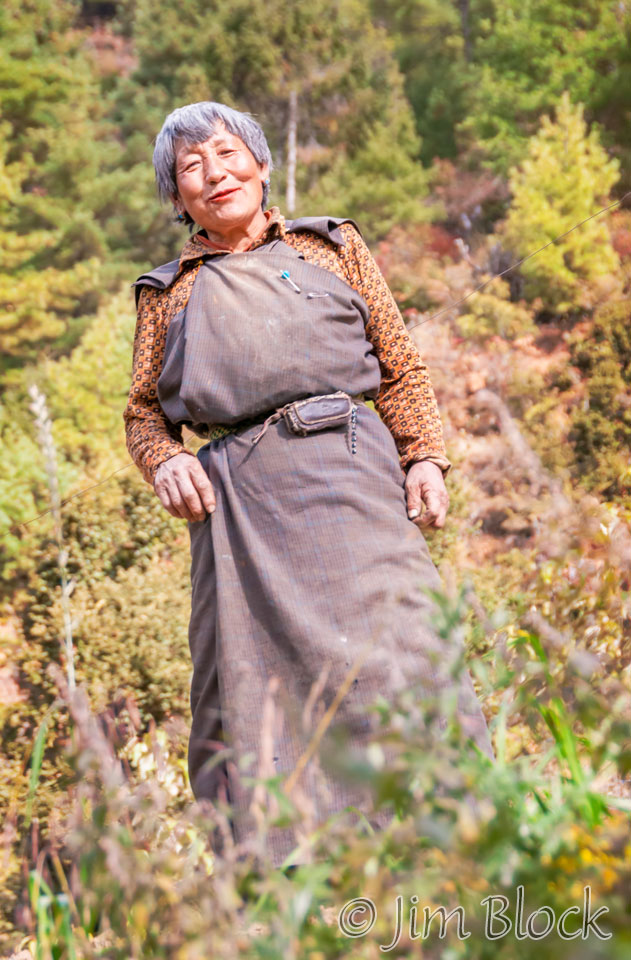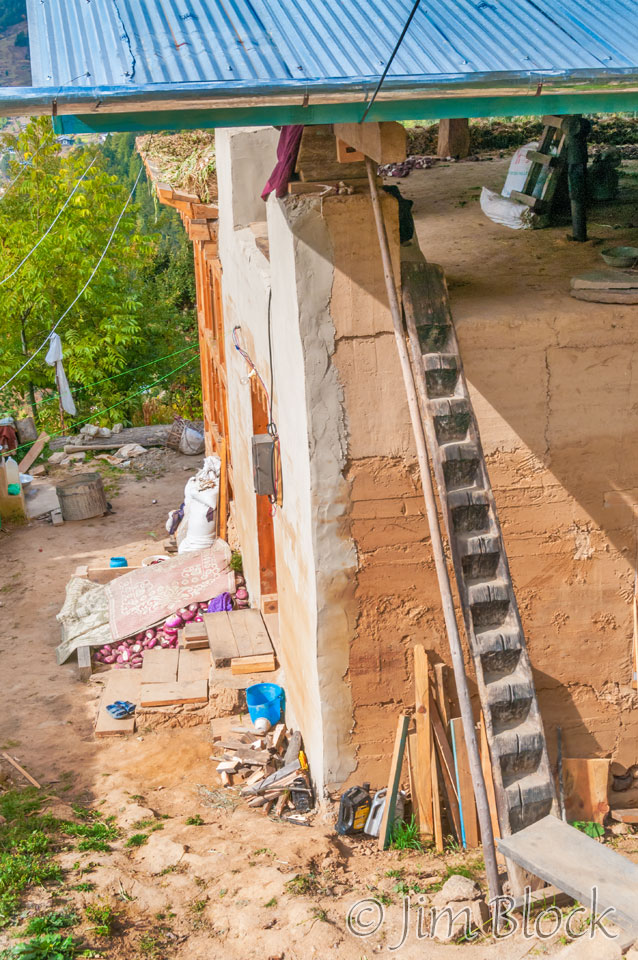 Below is a view of the Yangtho Goemba. The slideshow at the bottom of this page has photos from inside the monastery and of several of the young monks we met there.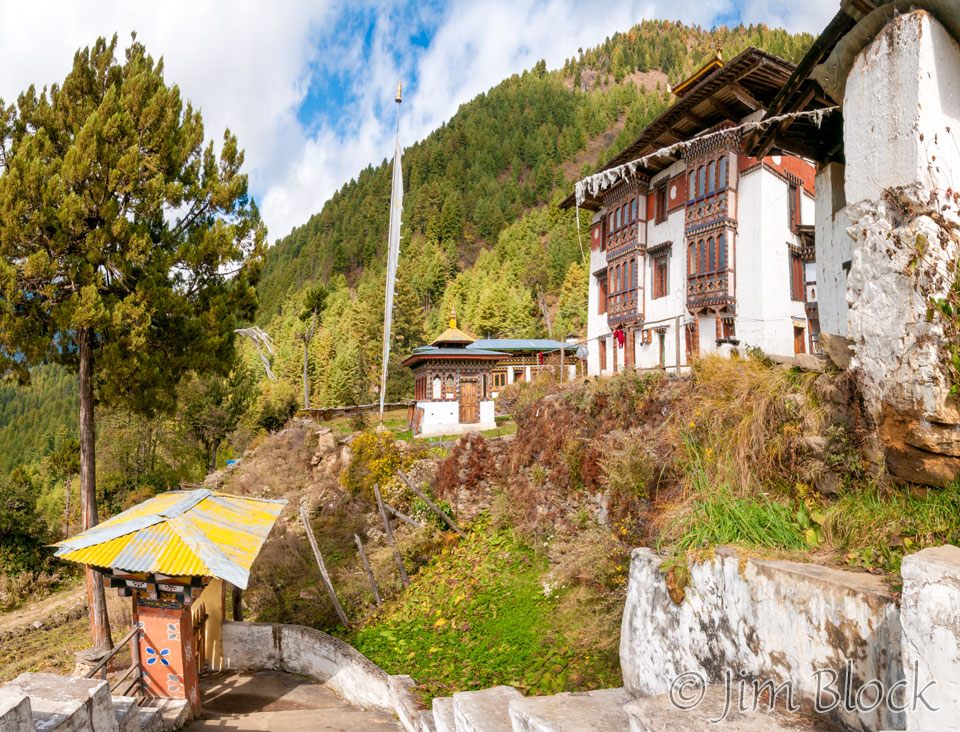 On our hike down we got a nice overview of Yangthang Village. The main Haa Valley is below it to the right.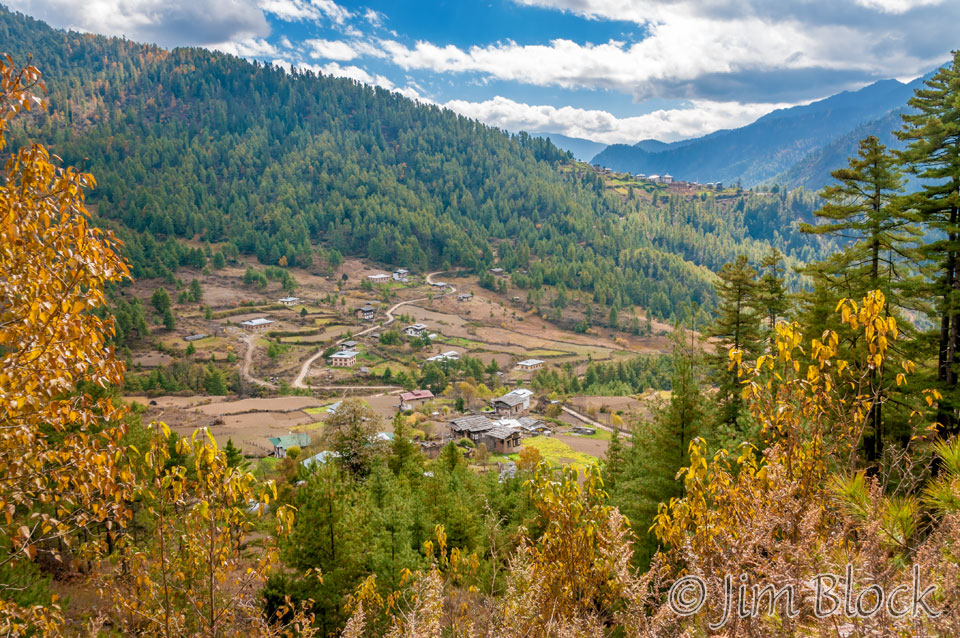 I met a woman and two young children who were gathering dry ferns, presumably to feed their livestock.
Here is a photo of Yangthang Village that has a very strong leading line. Love those S-curves.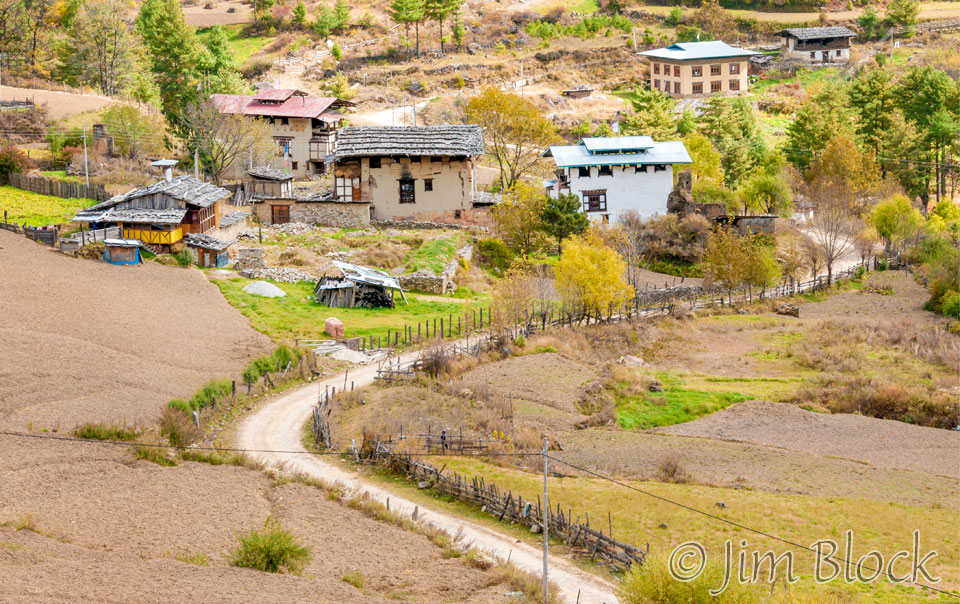 After lunch we had a very pleasant walk through Haa Village. Below are two photos from the village. There are a few more in the slideshow at the bottom of this page.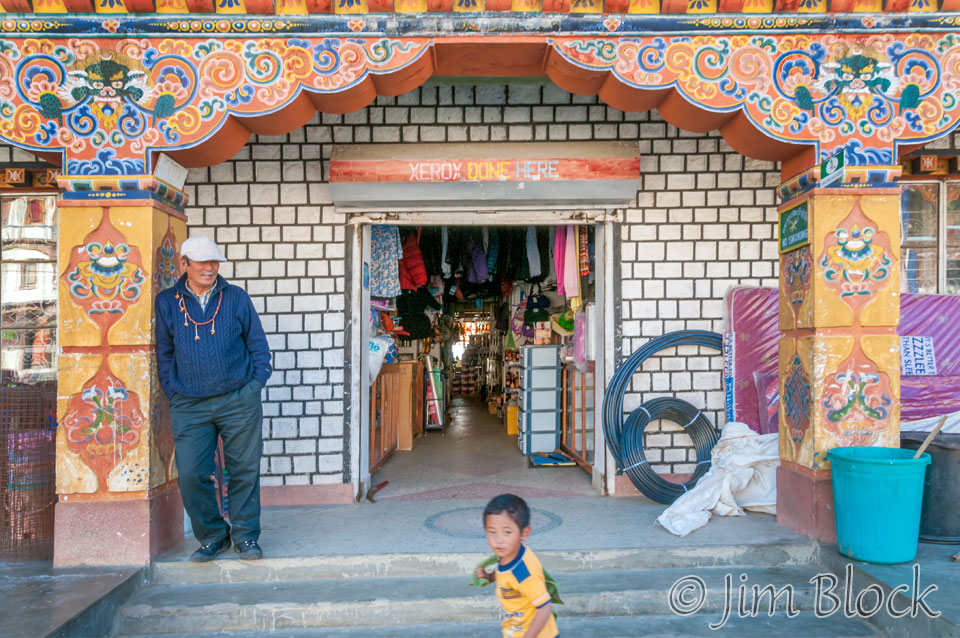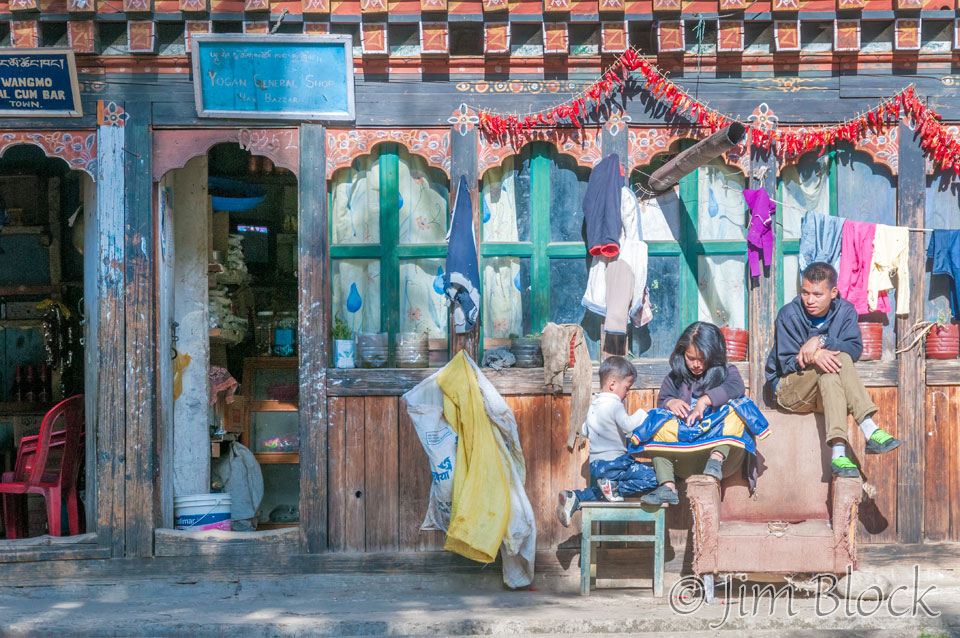 We heard cheering from a field and thought we might witness the national sport of Bhutan, archery. But it was a close second – a spirited match with darts. These darts are thrown 50 meters at a tiny target.
When a contestant hits the bull's-eye he gets a colored scarf to hang around his waist. At the end of the contest the person and with the most scarves wins.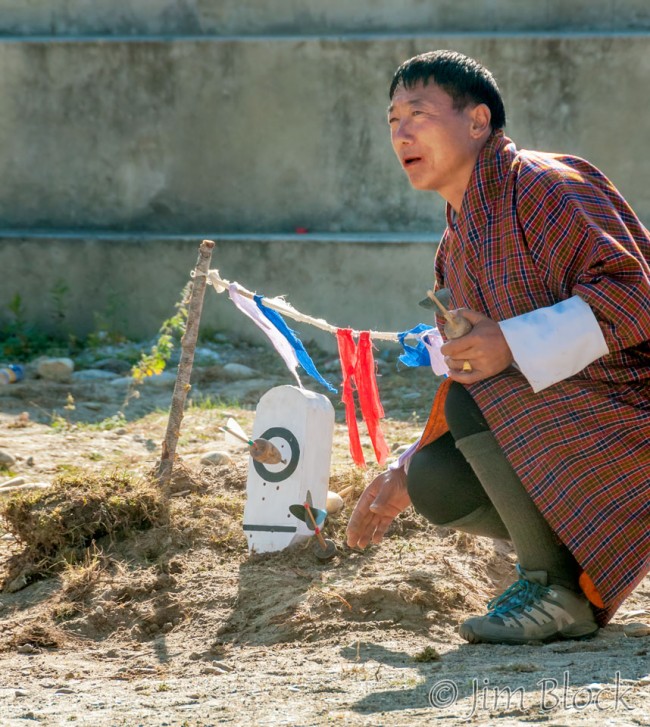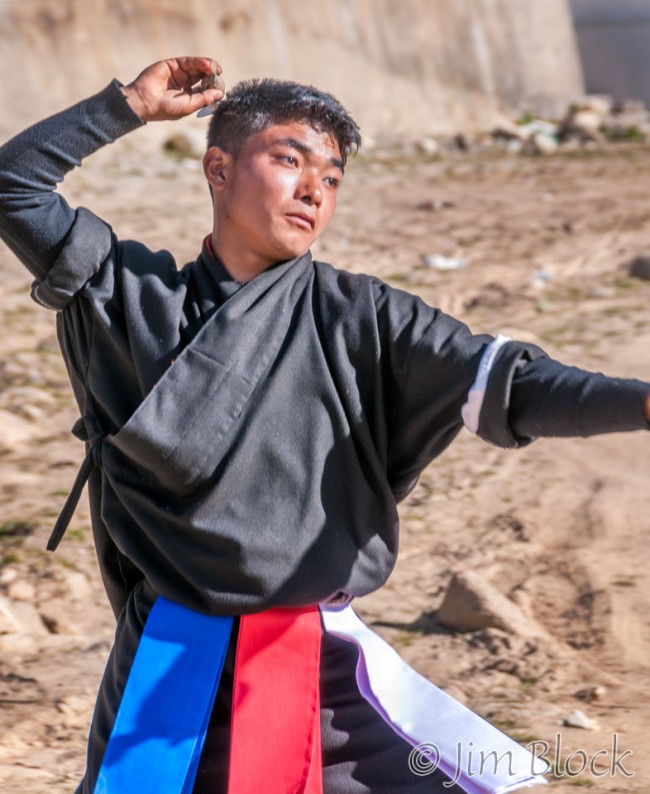 The daytime temperatures in Paro and Haa were very pleasant – upper 60s. But as soon as the sun disappears behind the mountains the temperature drops fairly dramatically. Nonetheless, I took a late afternoon walk around Lechu Village and met some interesting children. One of the young girls ran to get a puppy thinking that would be cute for a photo. No sooner did I take her photo then a boy ran over and grabbed the puppy for a photo. This was typical throughout Bhutan. The boys were bold and pushy, and the girls were generally shy and reserved.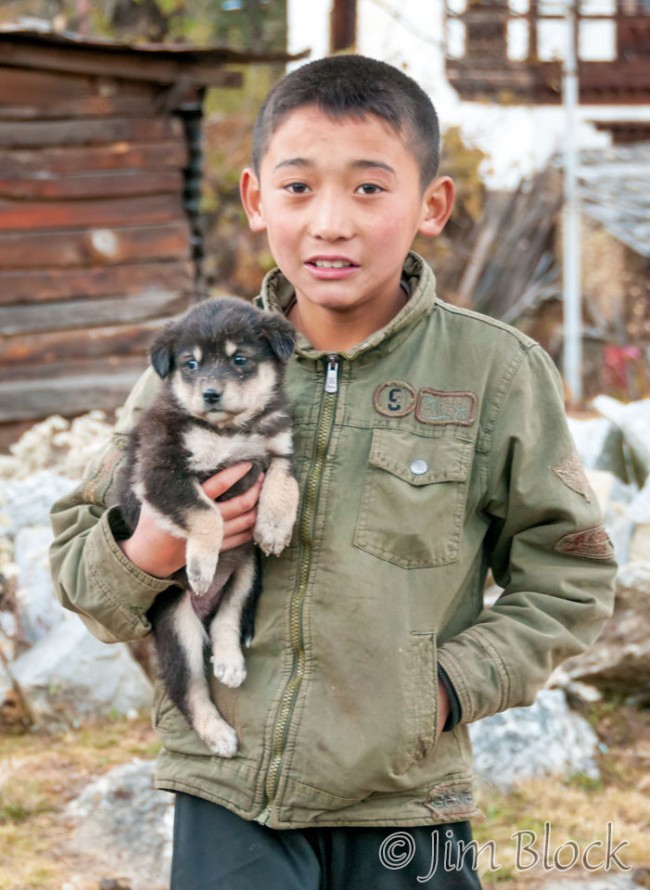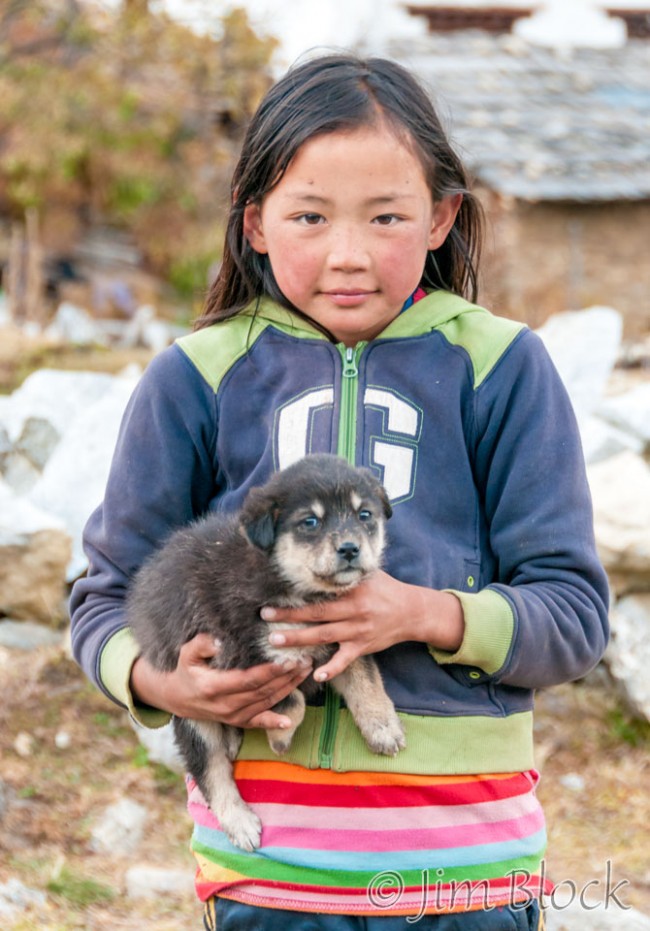 Soon more children arrived to get their photos taken. Then some ran off and came back with even more puppies. Bhutan certainly does not have a shortage of either dogs or cute children.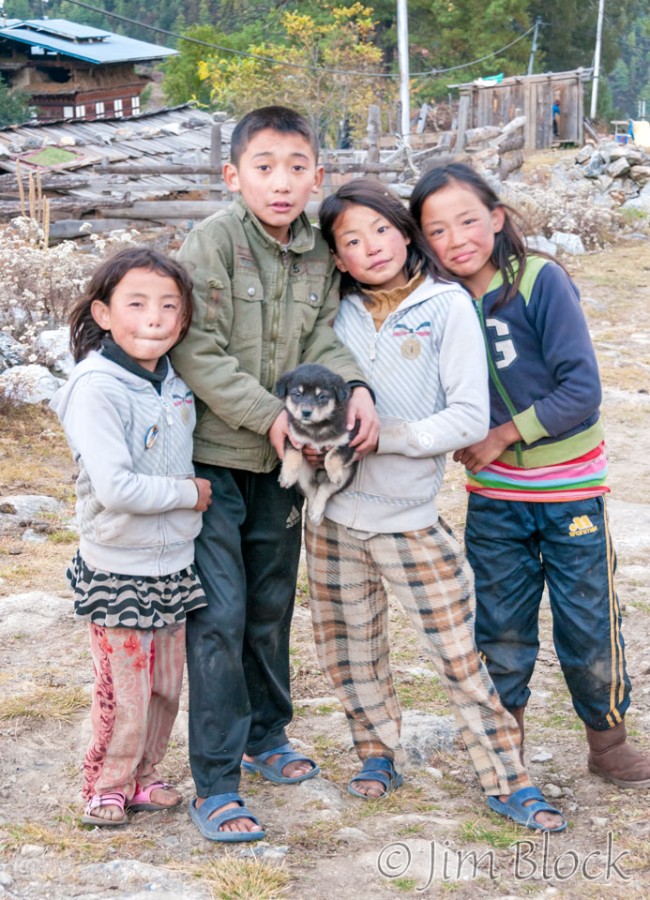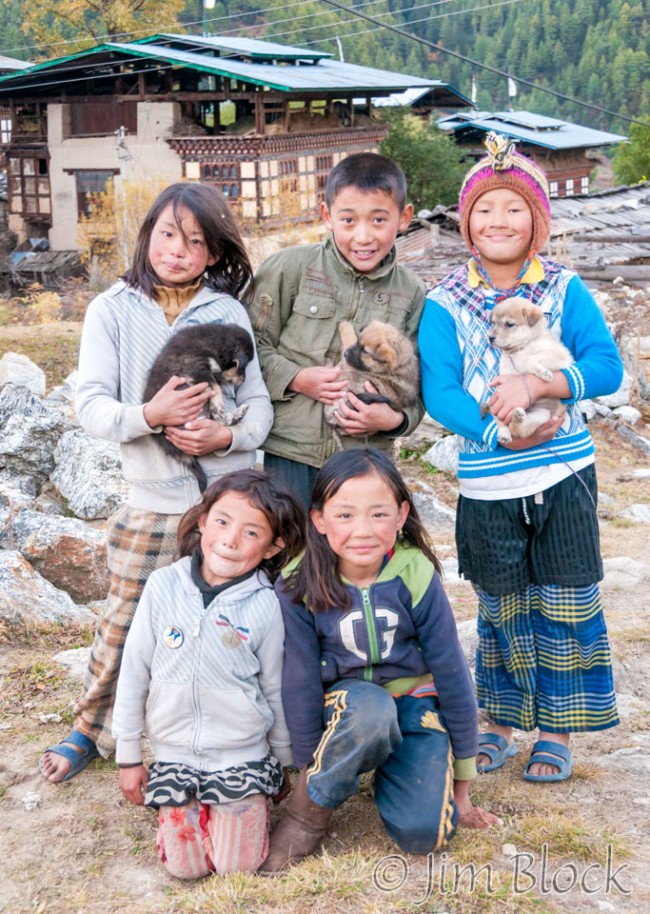 The slideshow that follows has more photos that I took during our brief stay in the beautiful Haa Valley.
My notebook records, "Exhausting day, I should be able to sleep tonight." Tomorrow I would wake up at 4:15 after another poor night's sleep, but the best yet. We would have a 6 AM breakfast and drive to Chele La for a hike at 13,000 ft to the beautiful Kila Nunnery.