Before breakfast we hiked a short distance from our room at the Swiss Guest House down the entry road where we came upon a disturbing sight. A horse had gotten stuck in the cattle guard and was struggling in vain to free itself. The local dogs were not helping matters; they seem to be taunting the horse.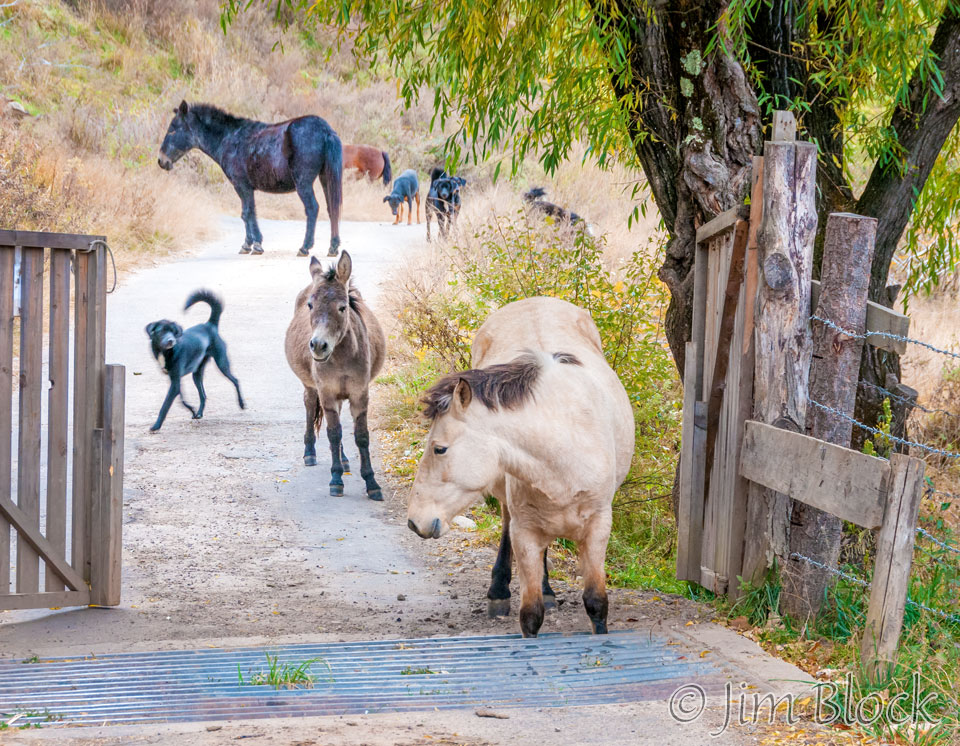 I stayed to make sure no car tried to cross through the gate, and Stephen headed back to the inn to get help.
The first attempt with a crow bar was unsuccessful. By now the horse had been stuck for at least 20 minutes and had tried many times to lift its legs free. You might be able to tell that in the two photos below the horse's legs are in different gate openings.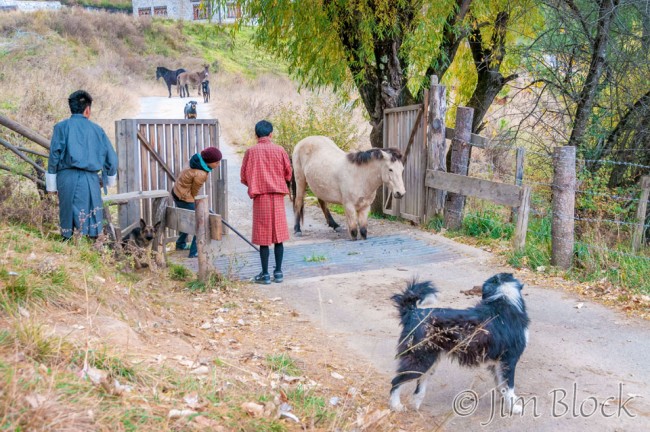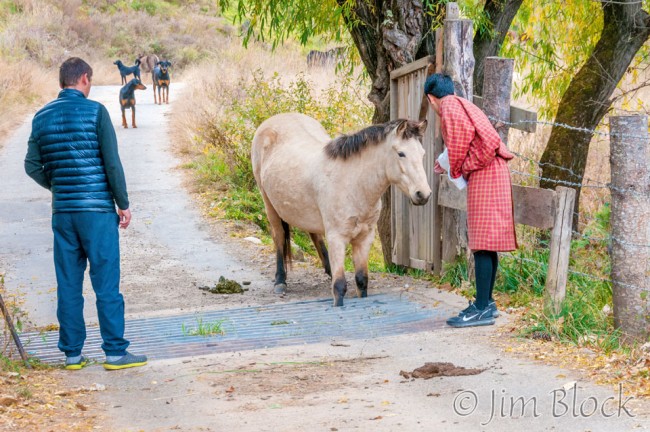 Finally a man came with a rope.  I'm not sure what his plan was, but it didn't matter.  The horse saw the rope and immediately bolted free. It appeared to be no worse for wear.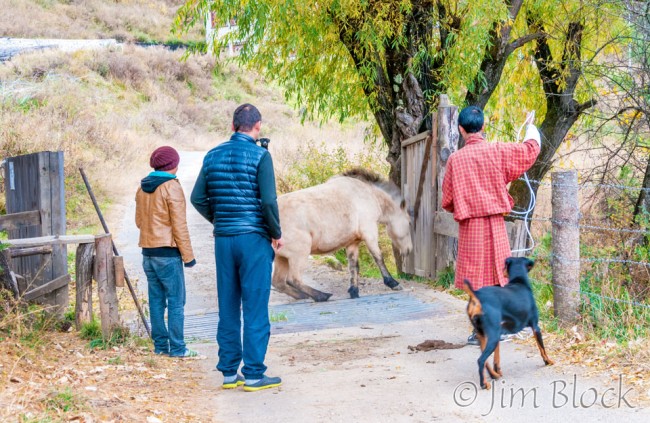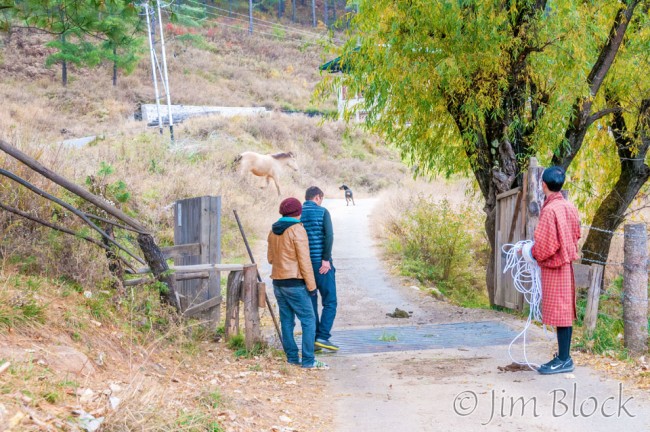 Back at the lodge I photographed some dogs and roses after breakfast while waiting for Lakey and Kencho to pick us up.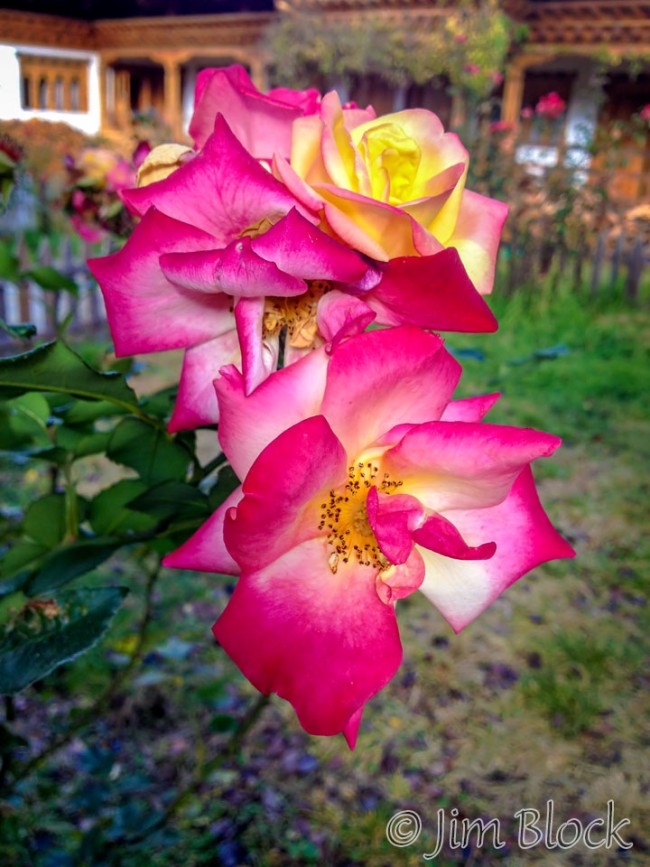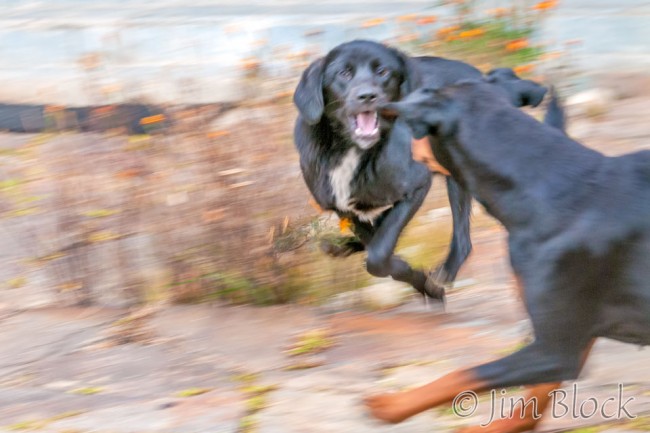 When Lakey and Kencho arrived they introduced us to Dhamey's Tour Director and only full-time employee, Jamyang, who was also there leading a tour. He took this photo of us with my camera.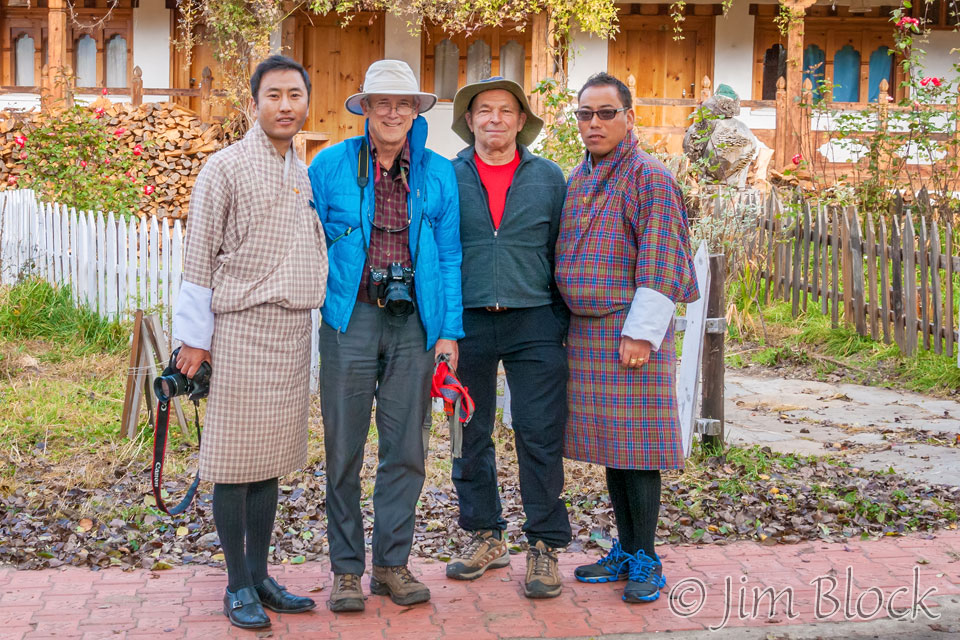 Heading down the road to Ura, we passed Kencho's beautiful village of Phomdrong and soon ran into a fact of life in this part of Bhutan — at least for the next few years — road building.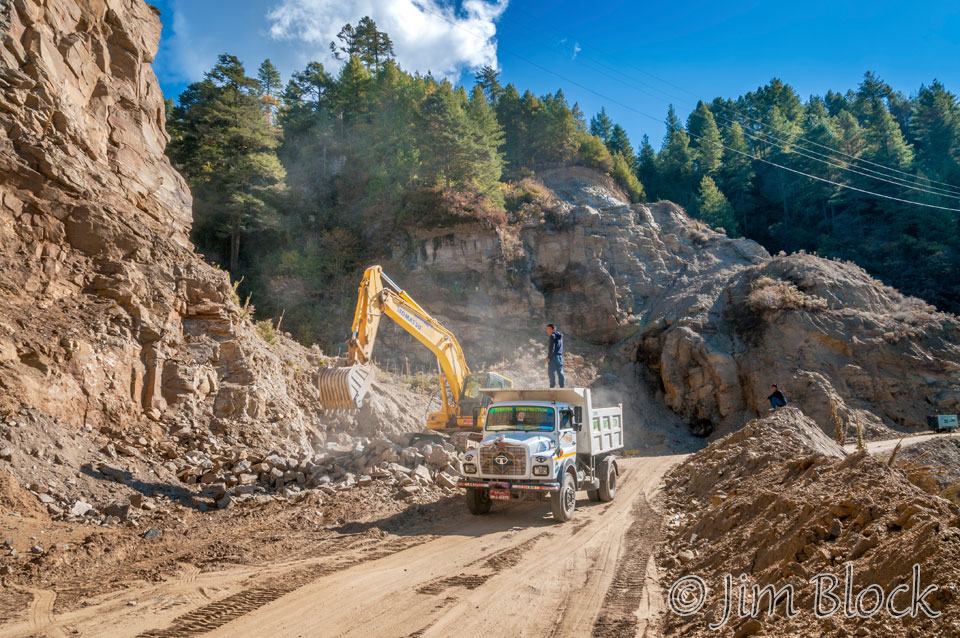 The drive to Ura was quite beautiful. I wish I would have yelled "stop" a few times for a photo. However, when we were a few miles from our destination, Lakey kicked us out of the car and made us walk the rest of the way with him. It was a great walk. We got to approach the village of Ura from above and photograph the wonderful patterns in the fields. Here is a brief slide show taken along our walk in.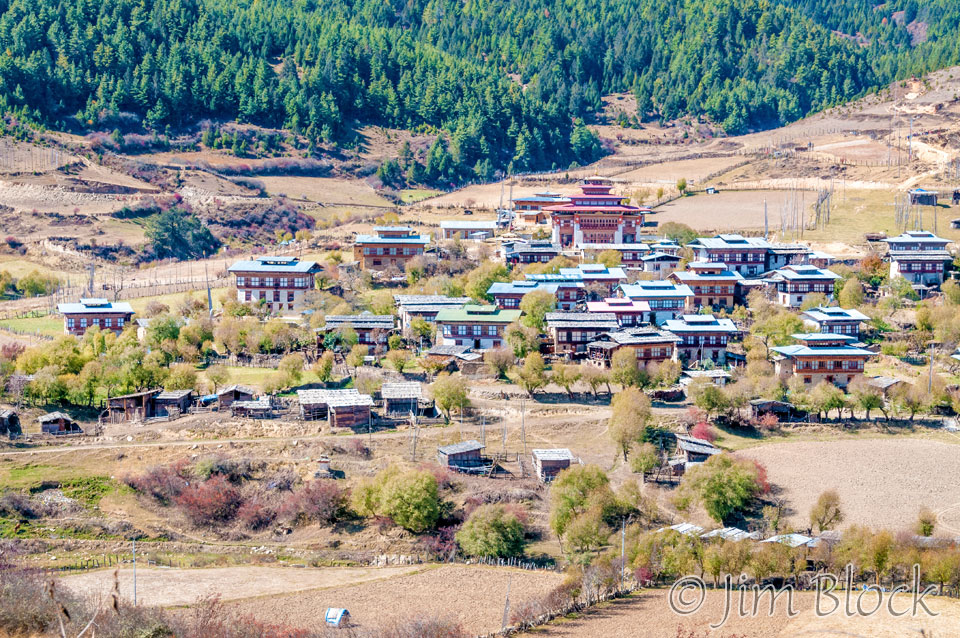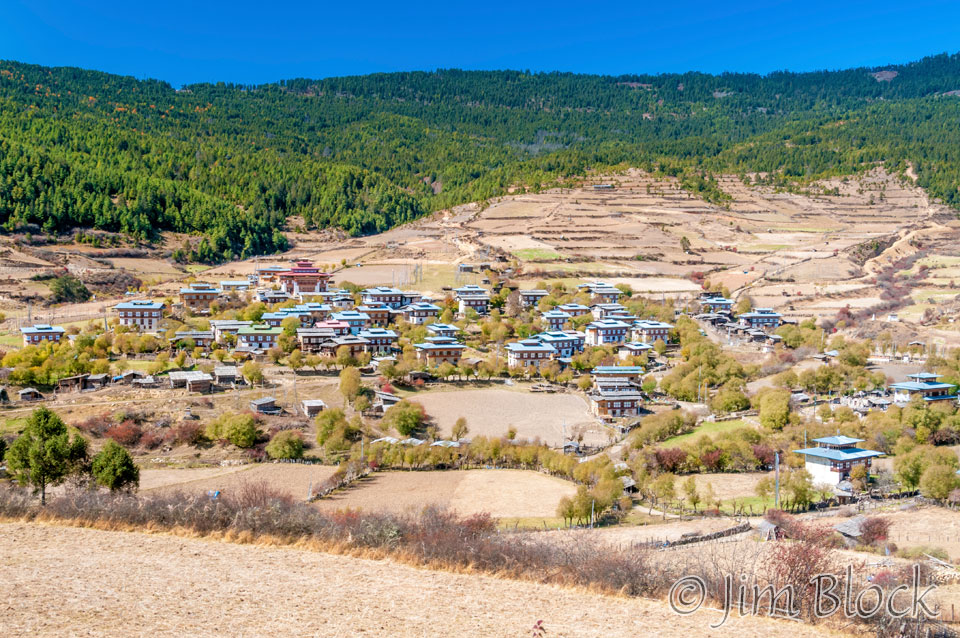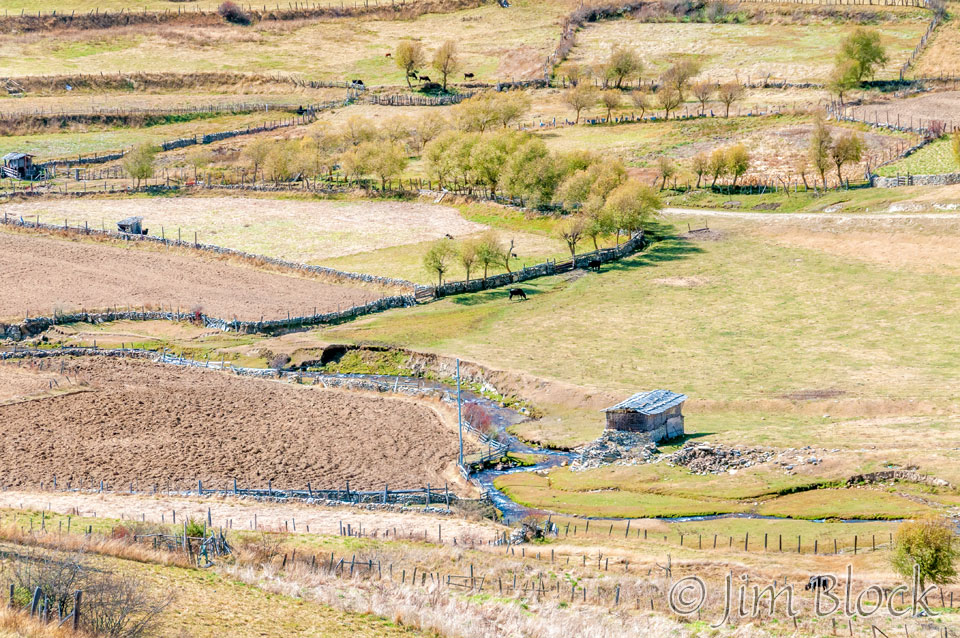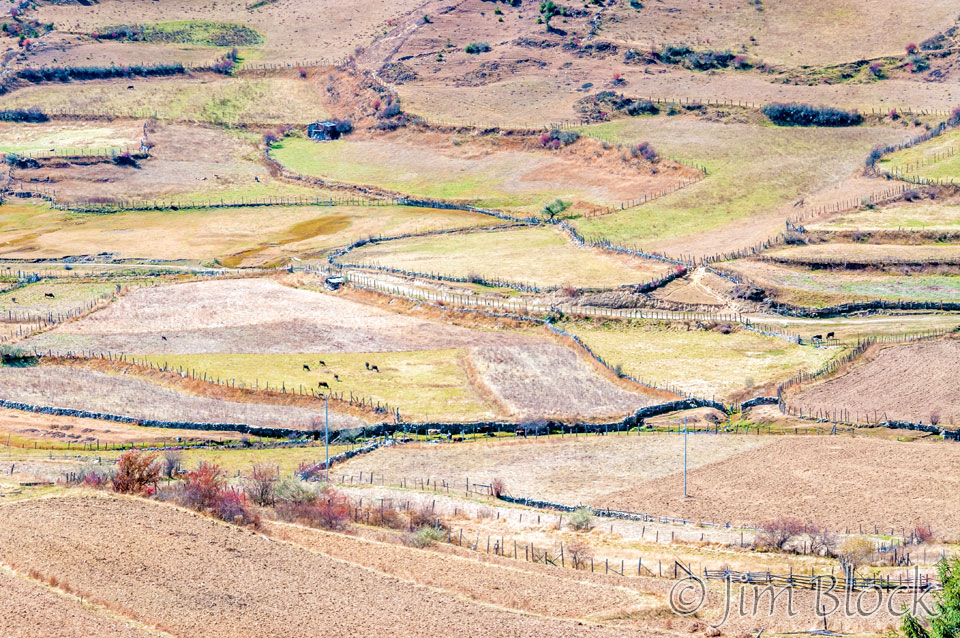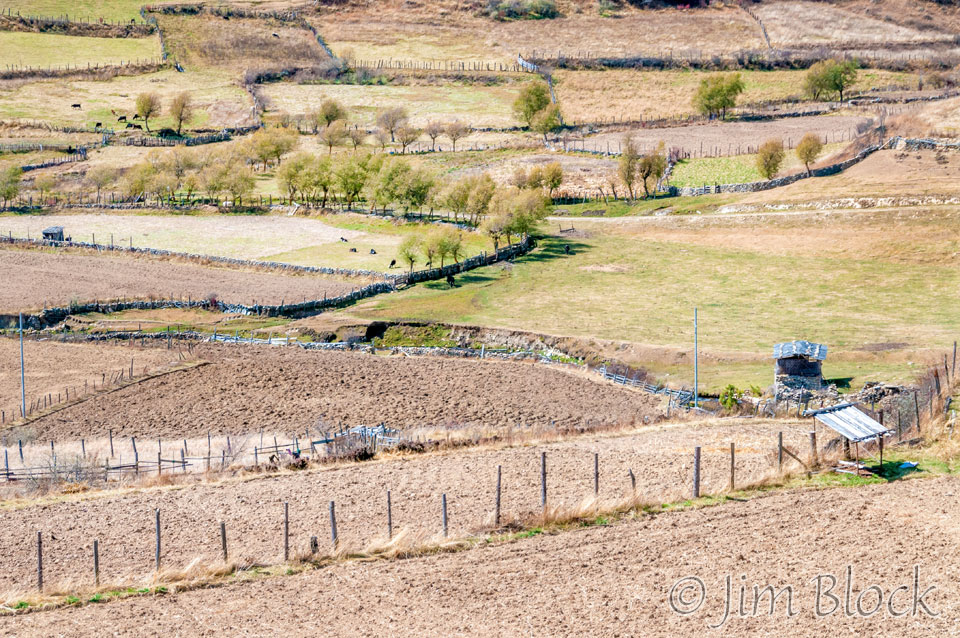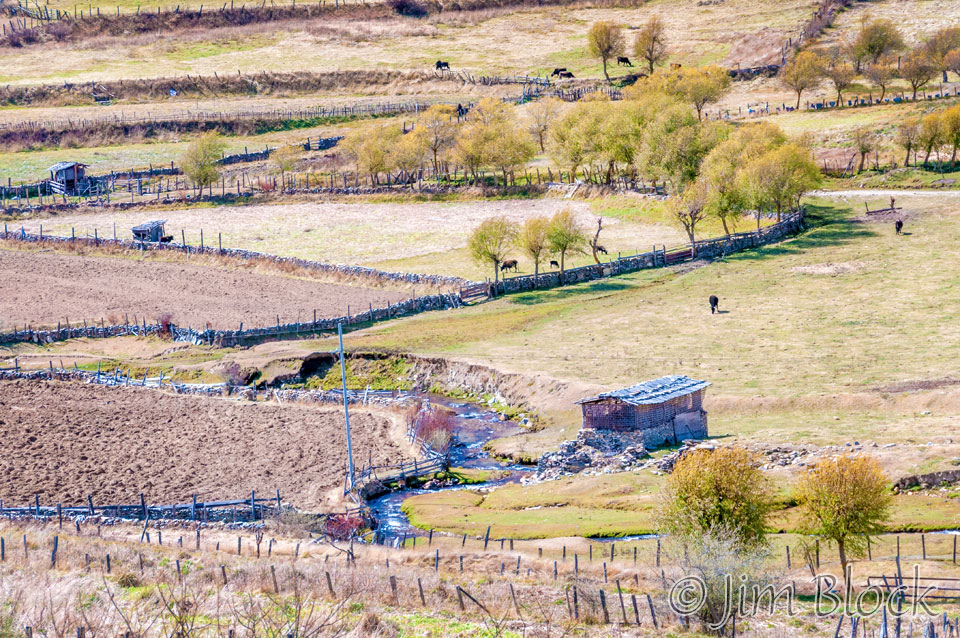 Below is one of my first views of Dr. Karma's Farmhouse's main room. You can see, left to right, Stephen, Lakey, Uggyen Haden, and her mother, Tshentrin Wangmo.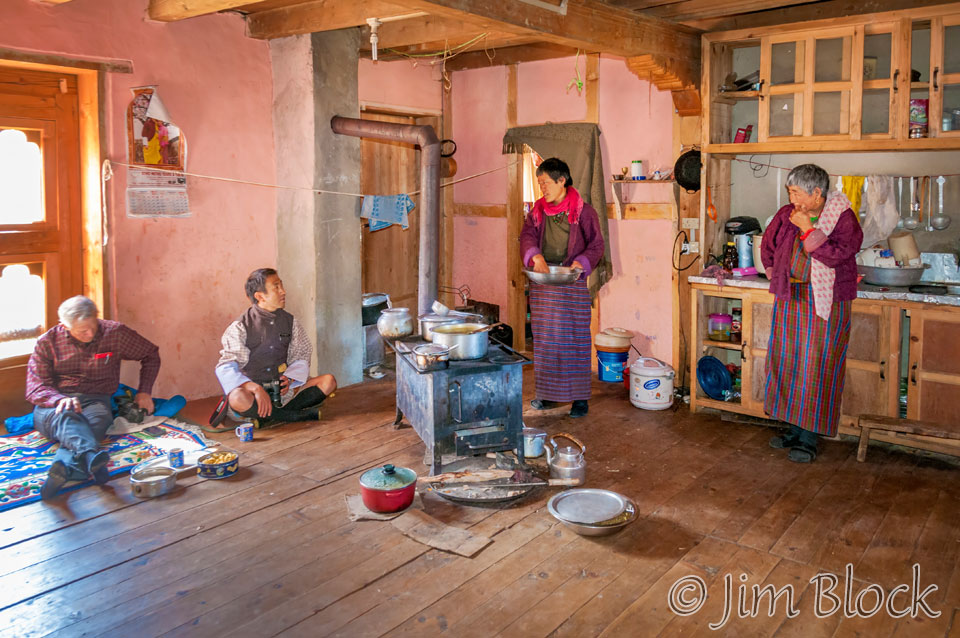 Here is lunch being served. Lakey tells me most of the people in Bhutan eat while sitting on the floor.
Lunch consisted of buckwheat noodles, rice, chili & cheese, and delicious wheat cookies. Chili & cheese is a traditional Bhutanese dish. It is sometimes quite hot, as it was at Dr. Karmas. I loved it. We later learned that buckwheat is a real staple for this family; they seem to have it in different forms each meal. Rice is a special treat; it is not local.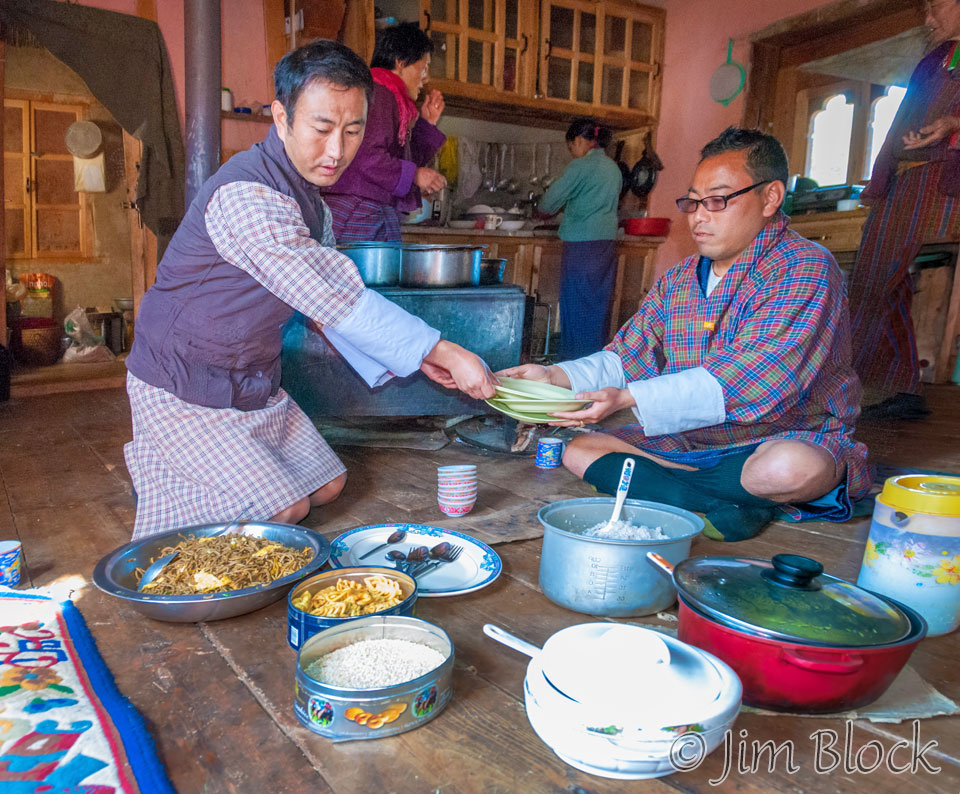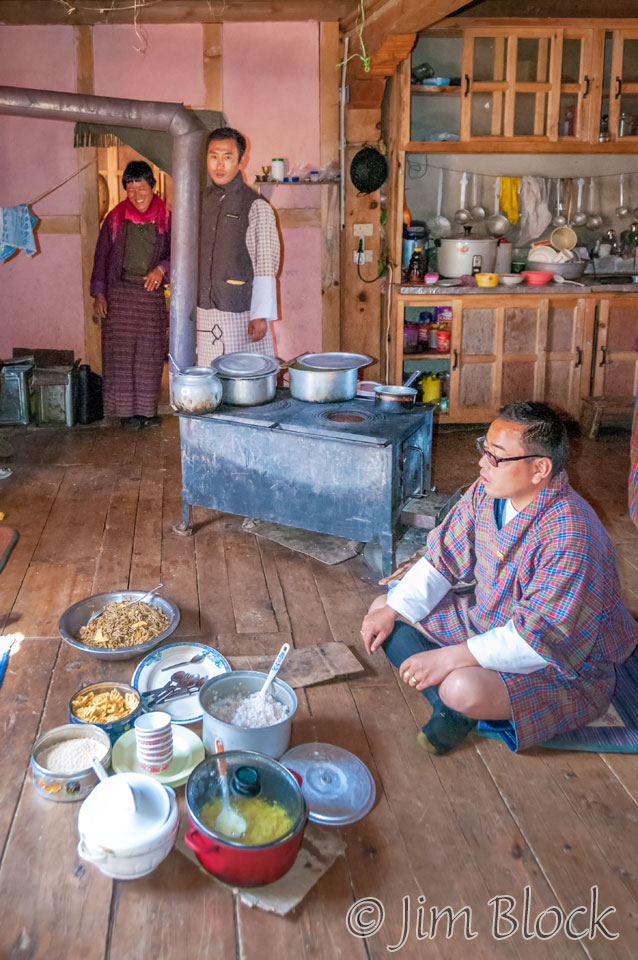 During lunch I got one of my favorite photos of the trip, the young boy playing with a few found toys.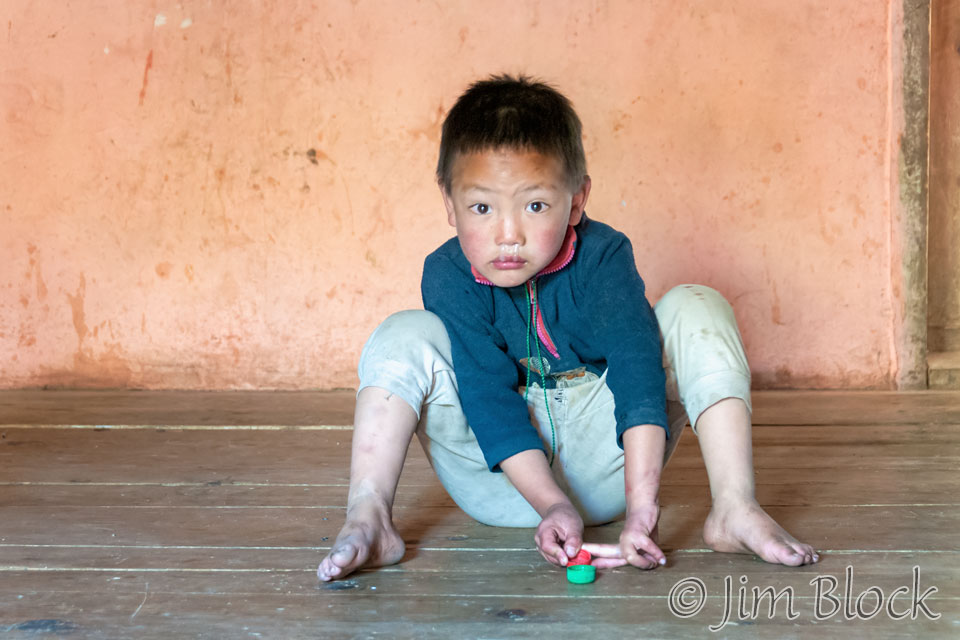 After lunch we took a hike down the valley south of the village. As we departed I took these two photos. On the left is piece of Dr Karma's Farmhouse and on the right is the building next door.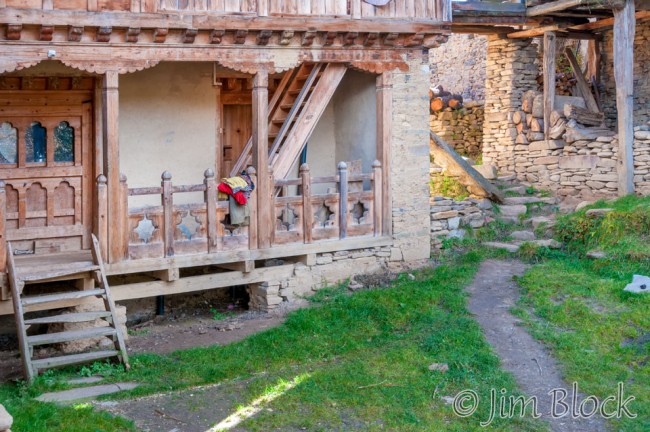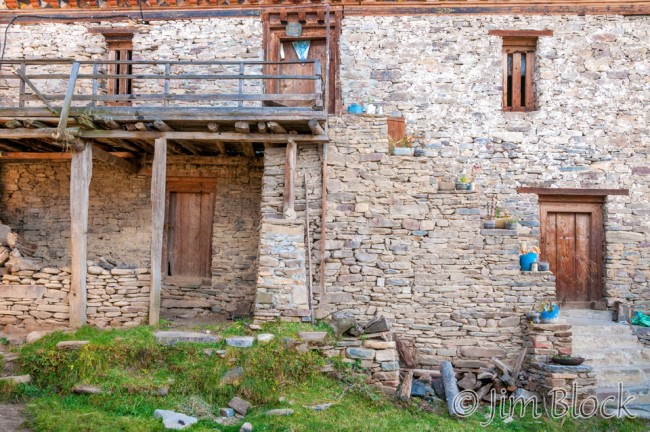 As we left the village we met a woman with a heavy basket and many cows. In fact there were cows wandering almost everywhere in Ura.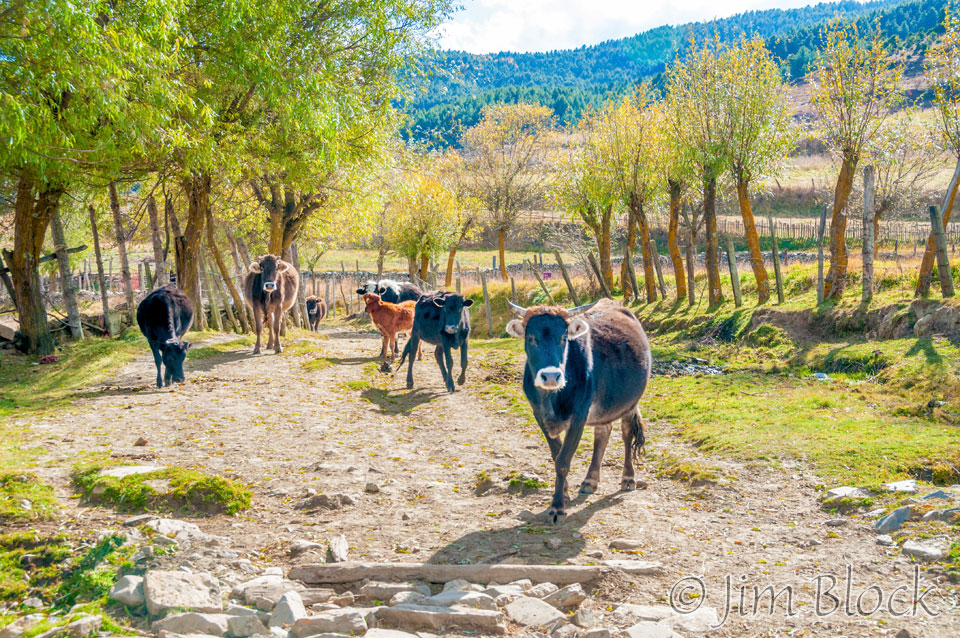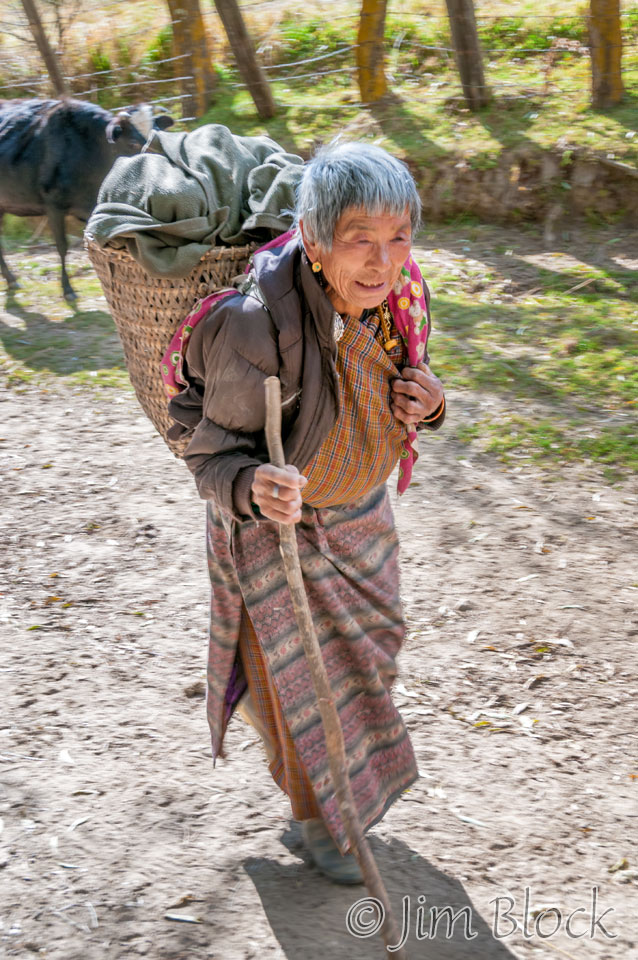 The patterns and textures in the fields were fascinating to me.  Here is a brief slide show from the hike.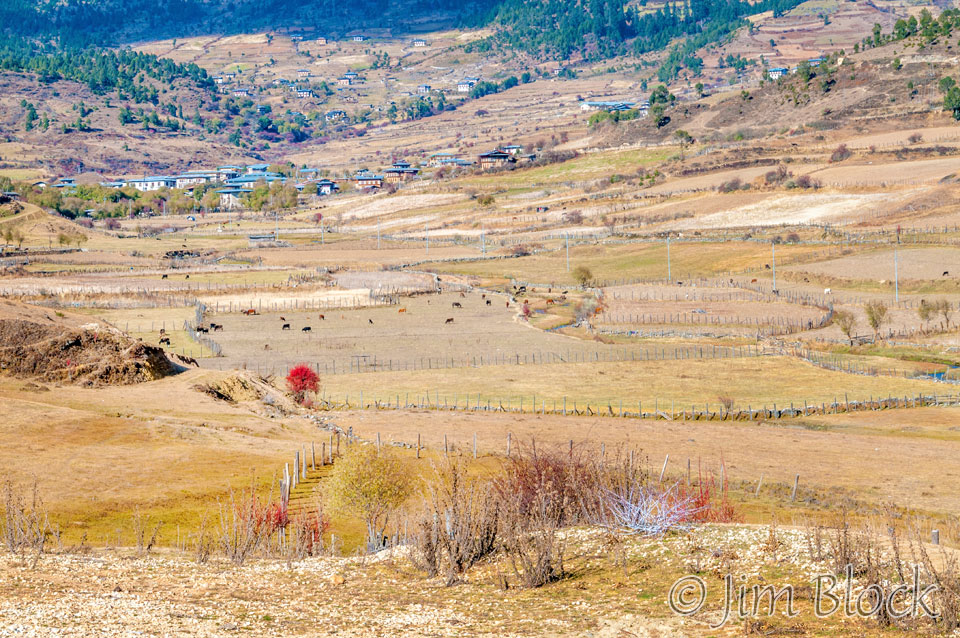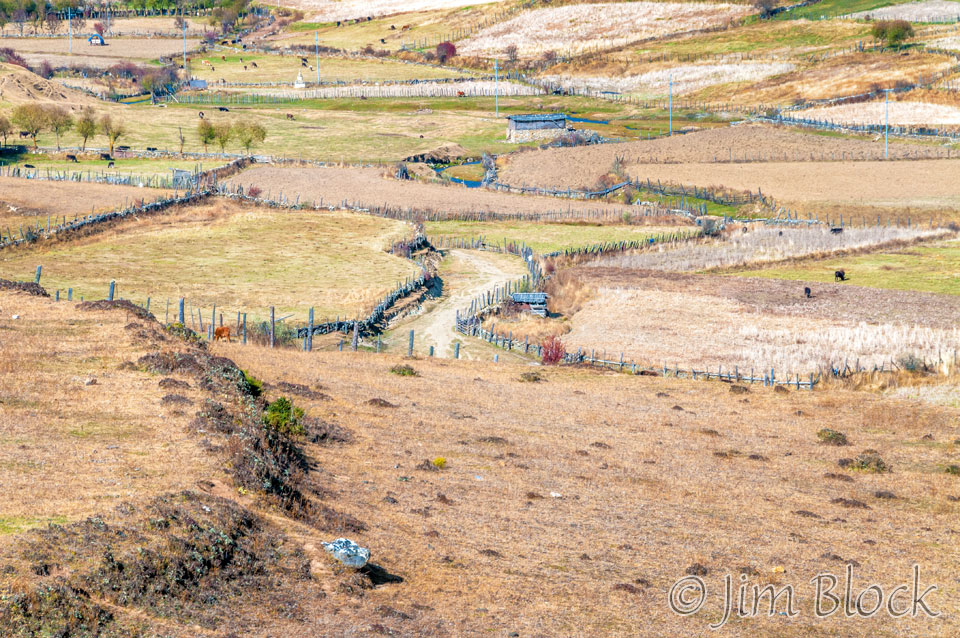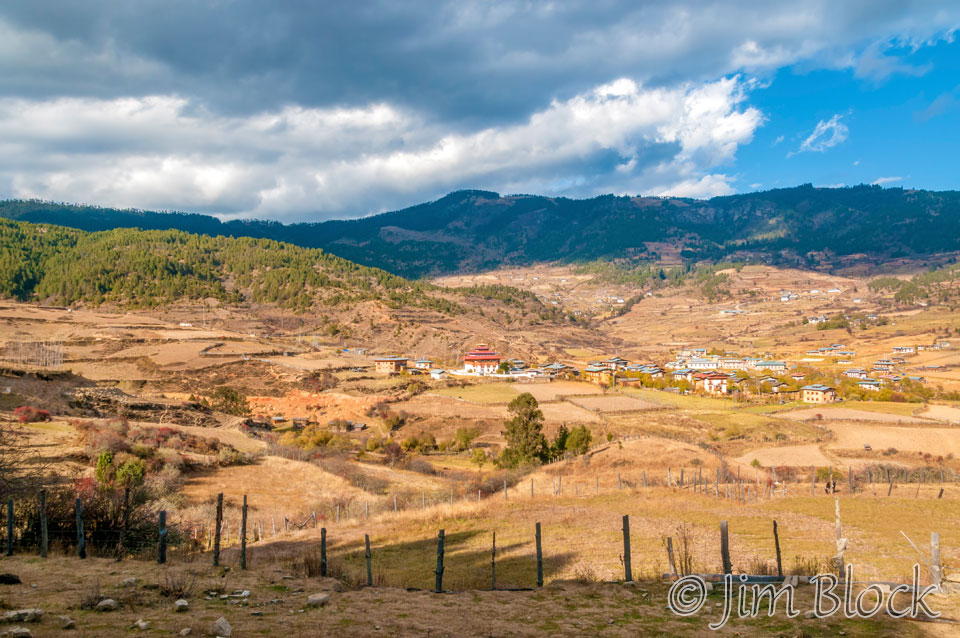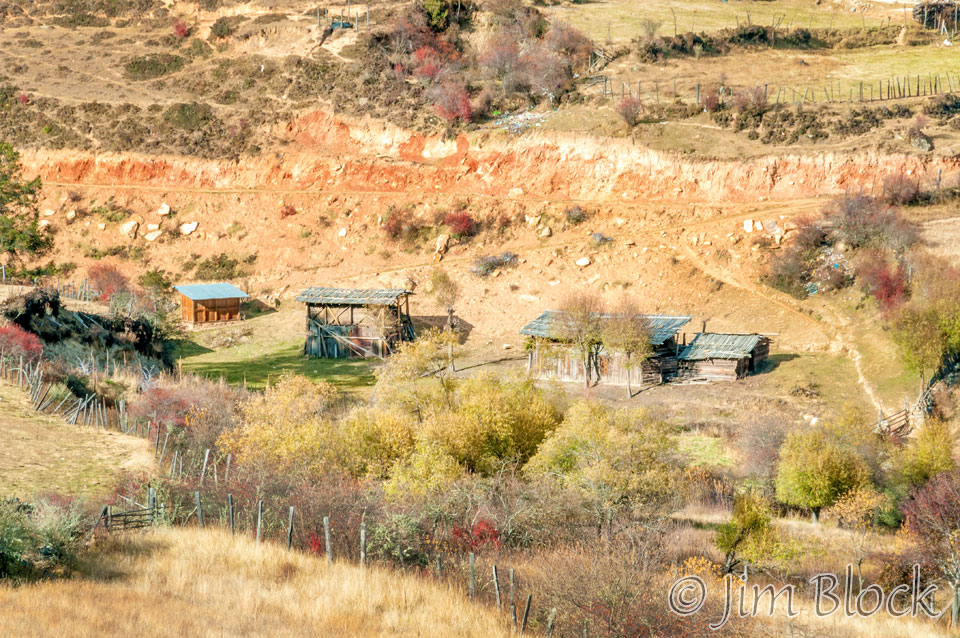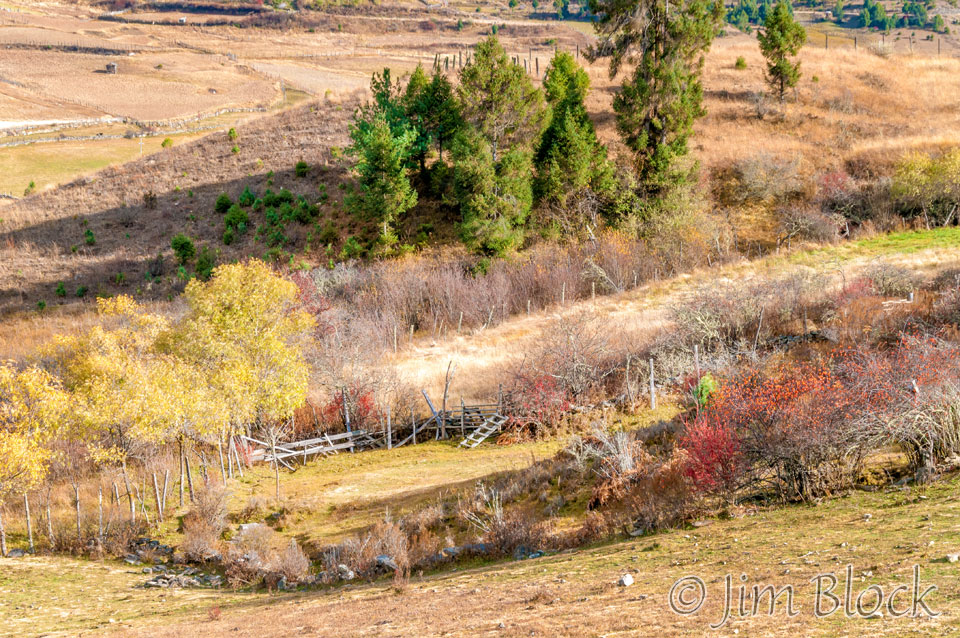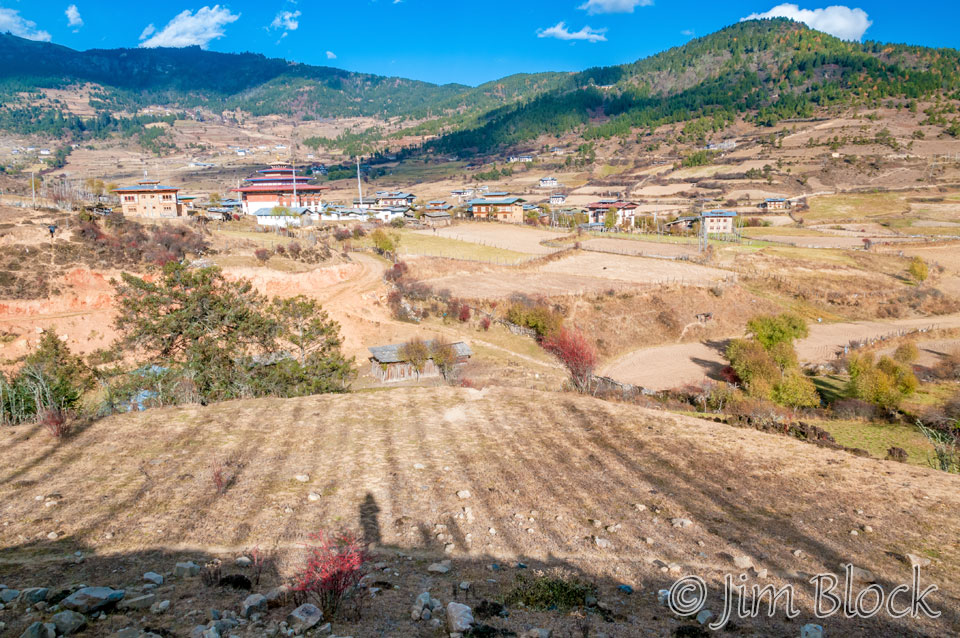 As we headed back to the village, group of cows were walking the opposite way. There were a number of mothers with young calves. One calf got scared and hung back, getting separated from its mother.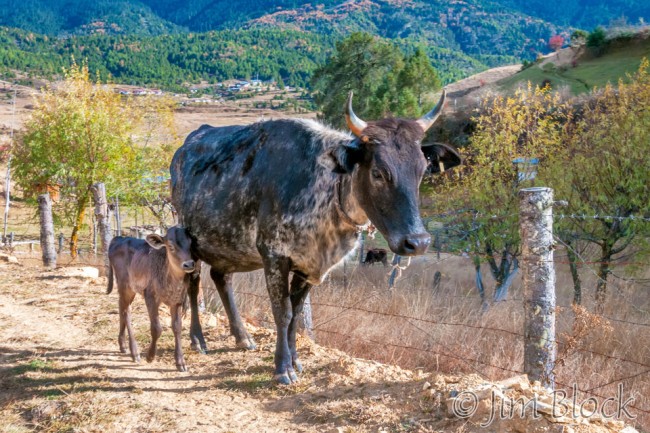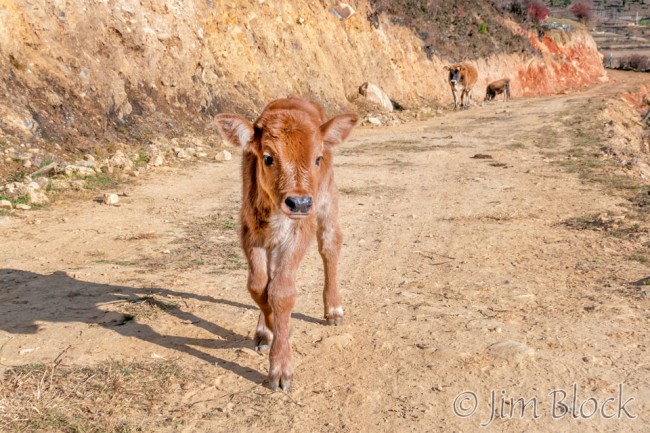 Kencho nicely tried to help the calf by picking it up and carrying it toward its mother. The mother took one look at what was happening and charged Kencho. He quickly dropped the calf that you can see in the photo on the right with its angry mother.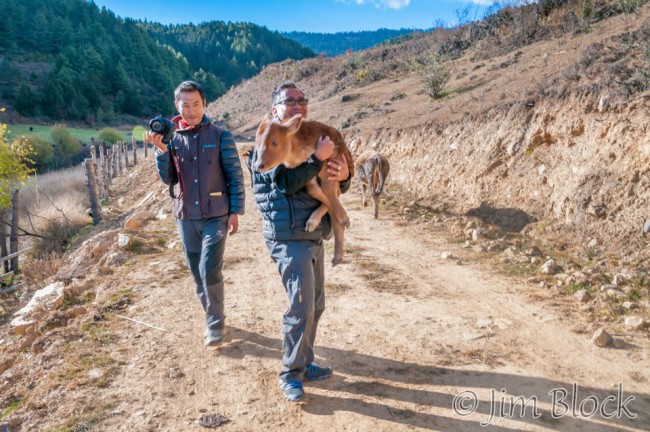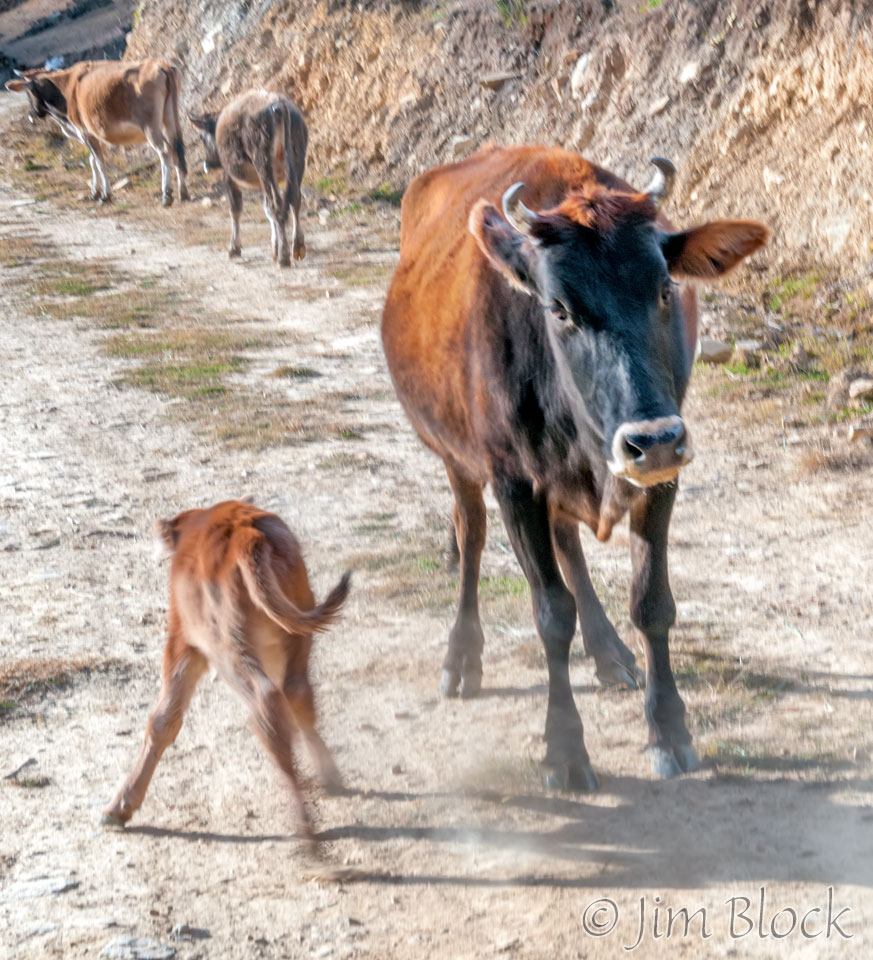 As we reached the village we were serenaded by groups of kids singing, "We are fine, we are good, we are wonderful."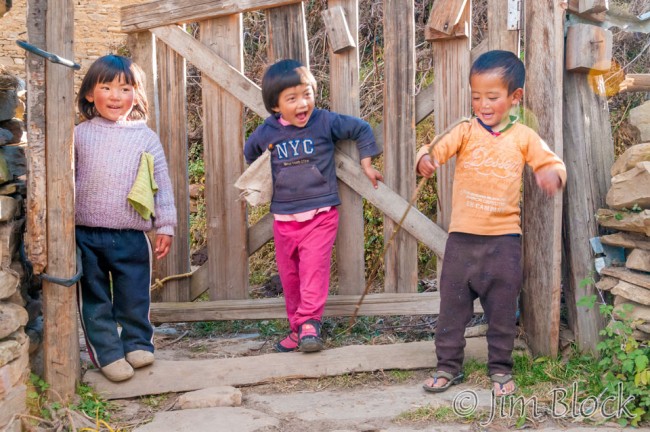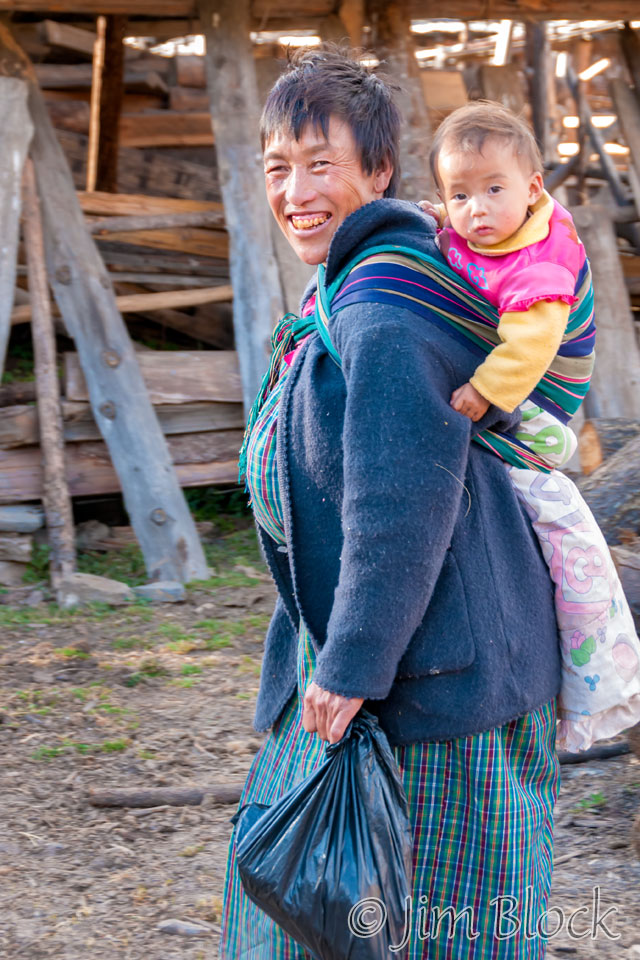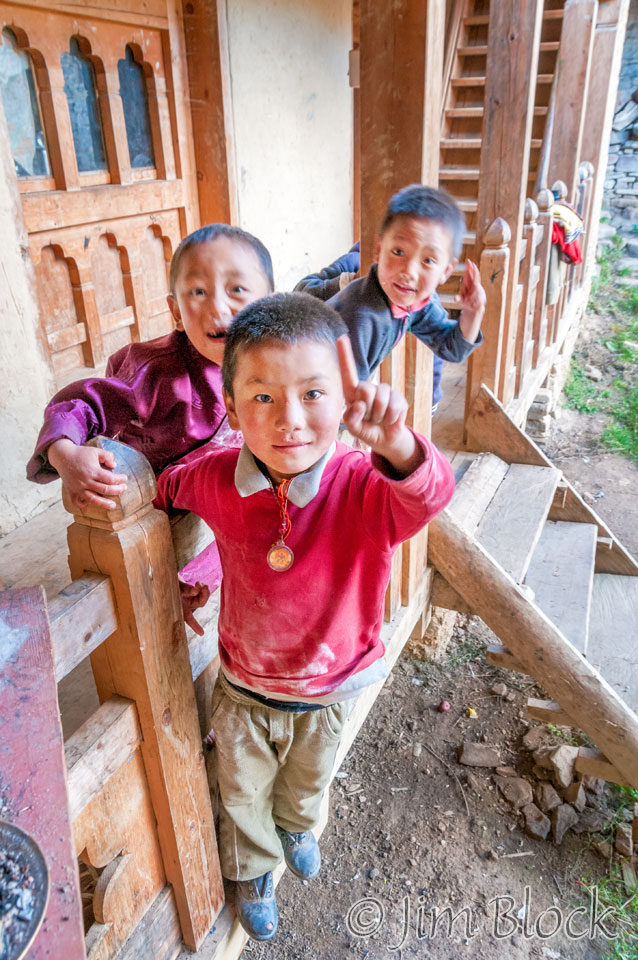 We returned to the farmhouse at 3:30 and by 4:00 Stephen and I had set out to explore the village of Ura on our own. The village had winding lanes, lots of wood, and stone walls everywhere. In the photo on the right below you can see the ladder that allows people but not cattle to enter the area beyond the stone wall.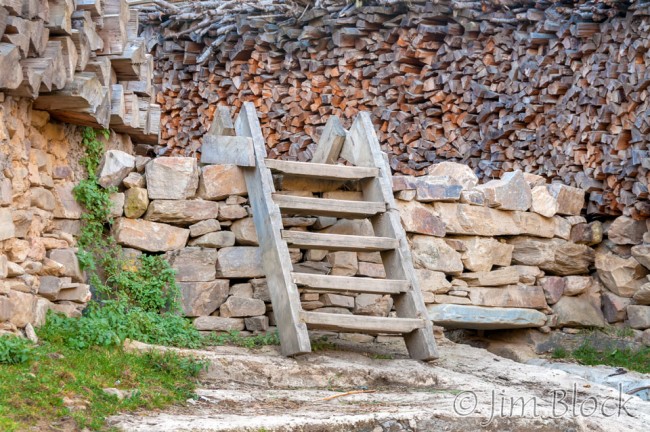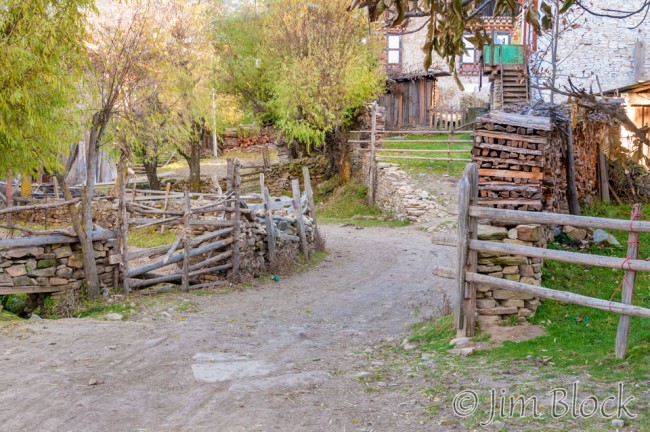 We met I woman doing her wash at the local laundry. No coins needed here.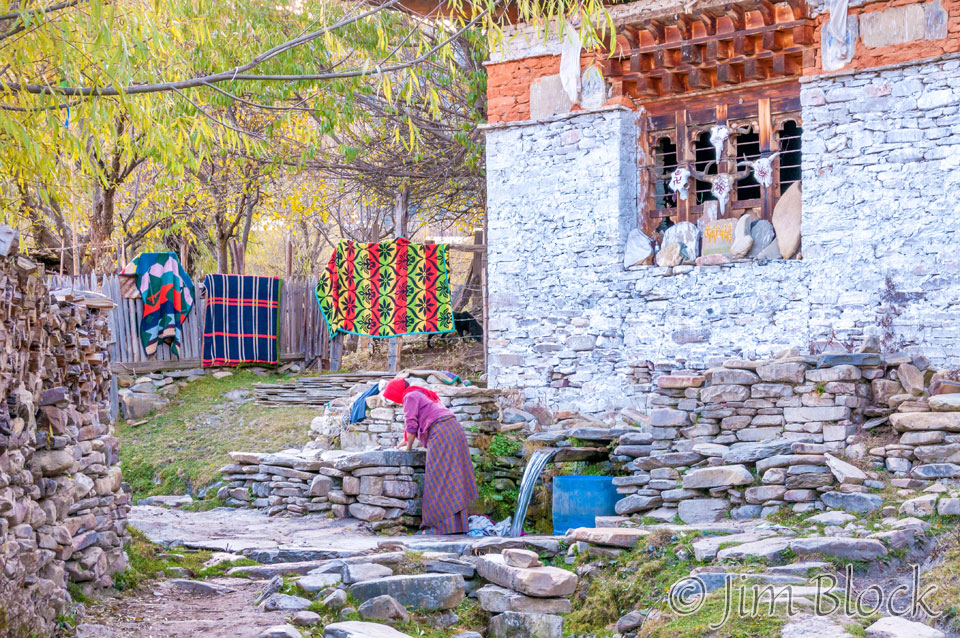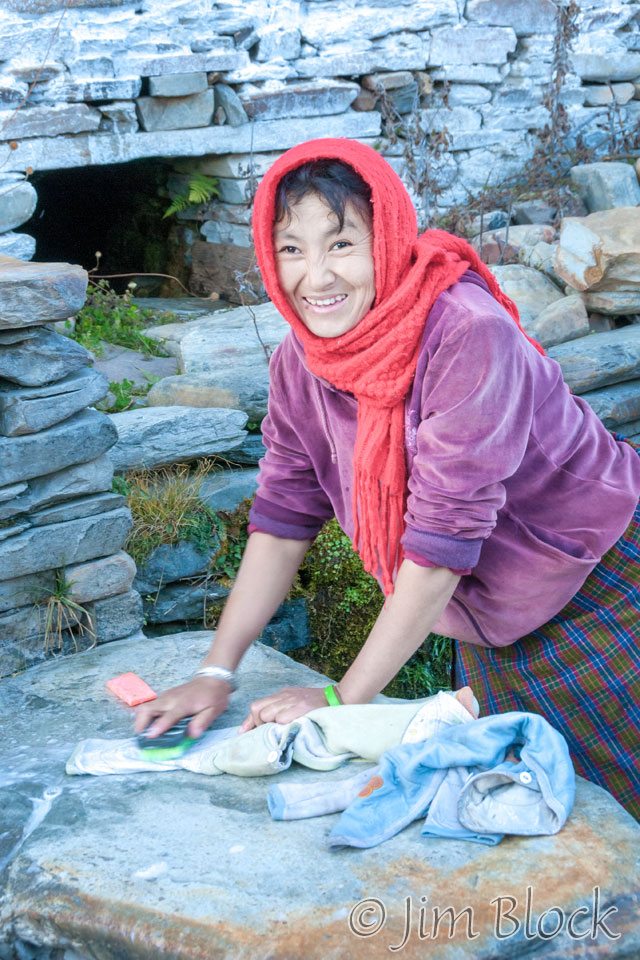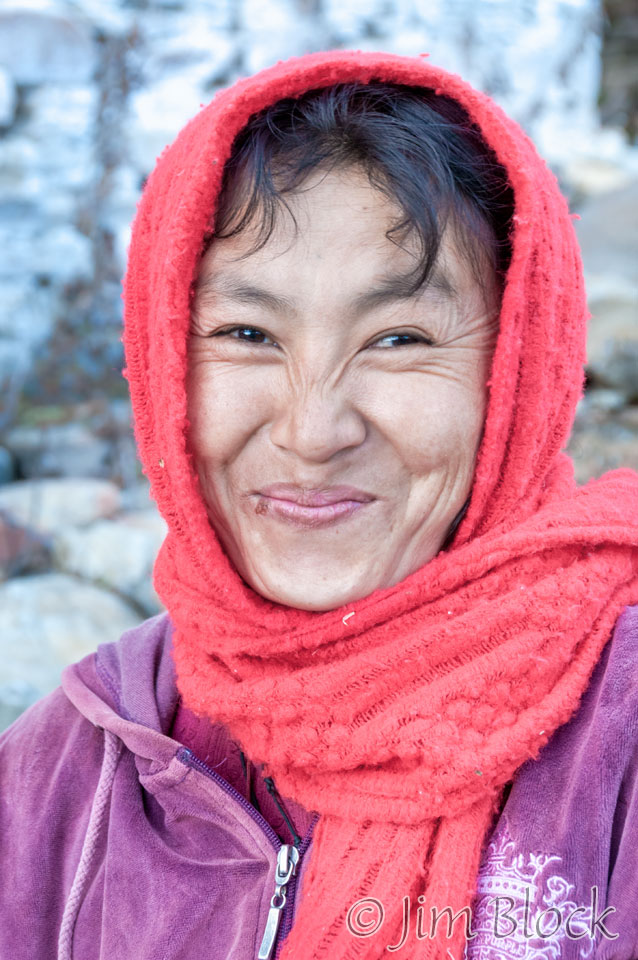 There is a beautiful stream running through the village. It must be spectacular in spring.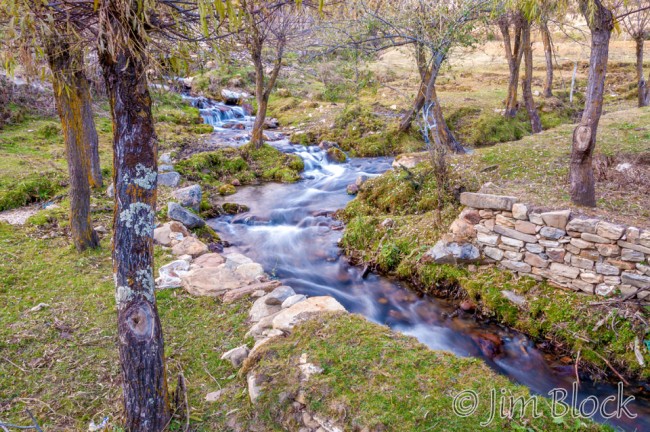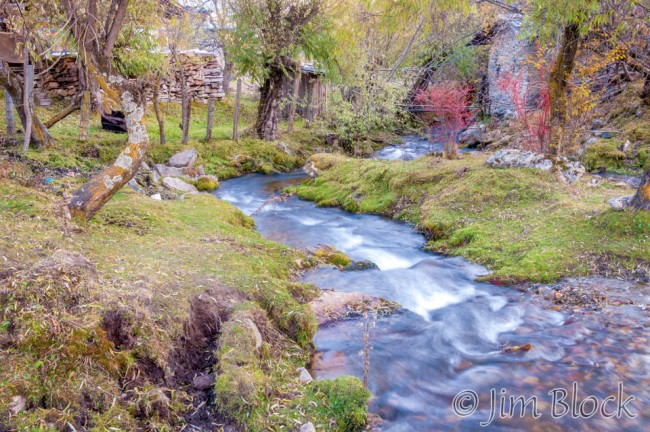 School was letting out (at 4:30!!!) so the village was filled with schoolkids.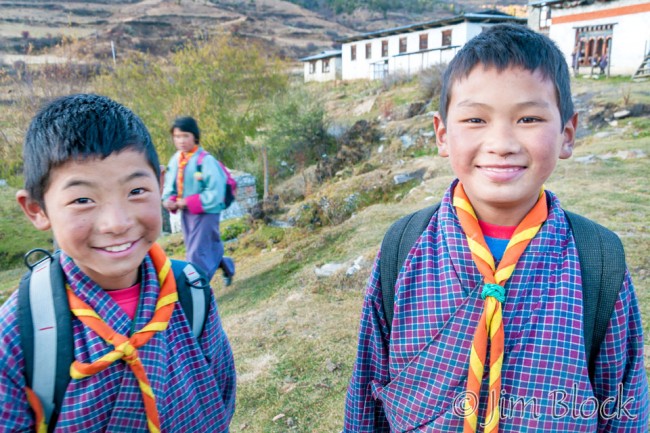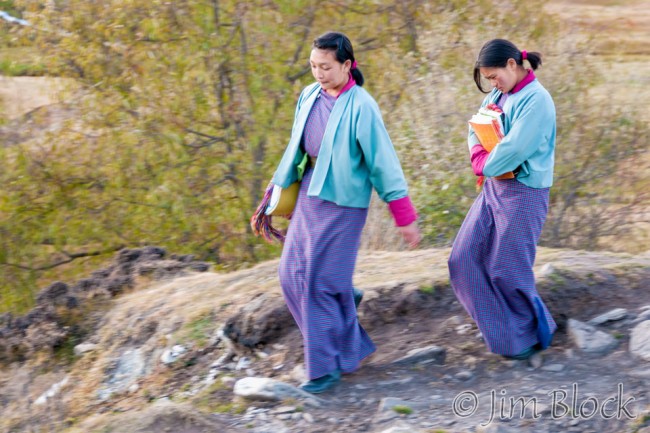 We met a group of friendly school boys who wanted to practice their English on us. Stephen examined an anatomy or biology text book, if memory serves me right. These are subjects he is pretty good at.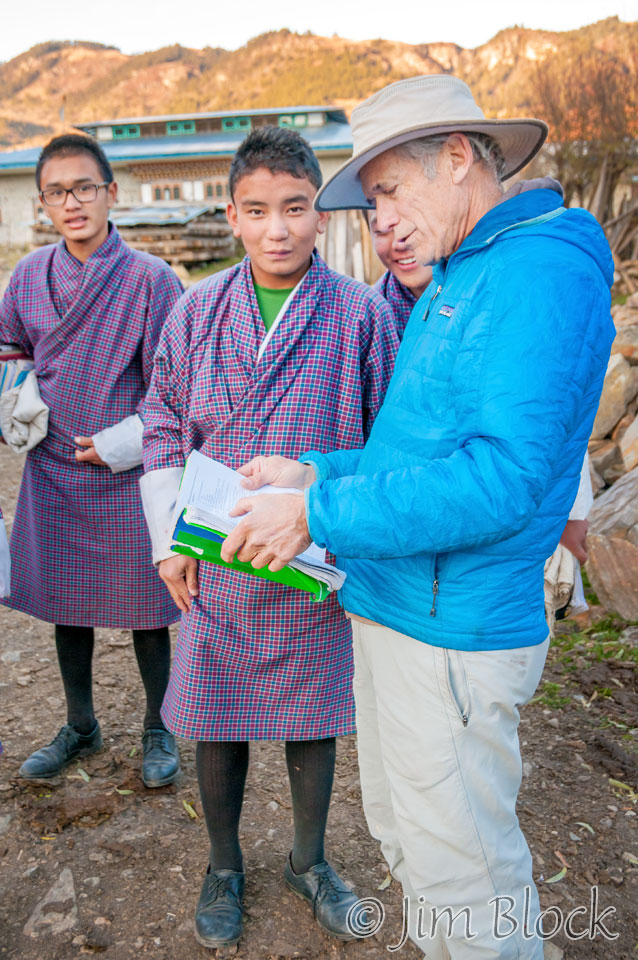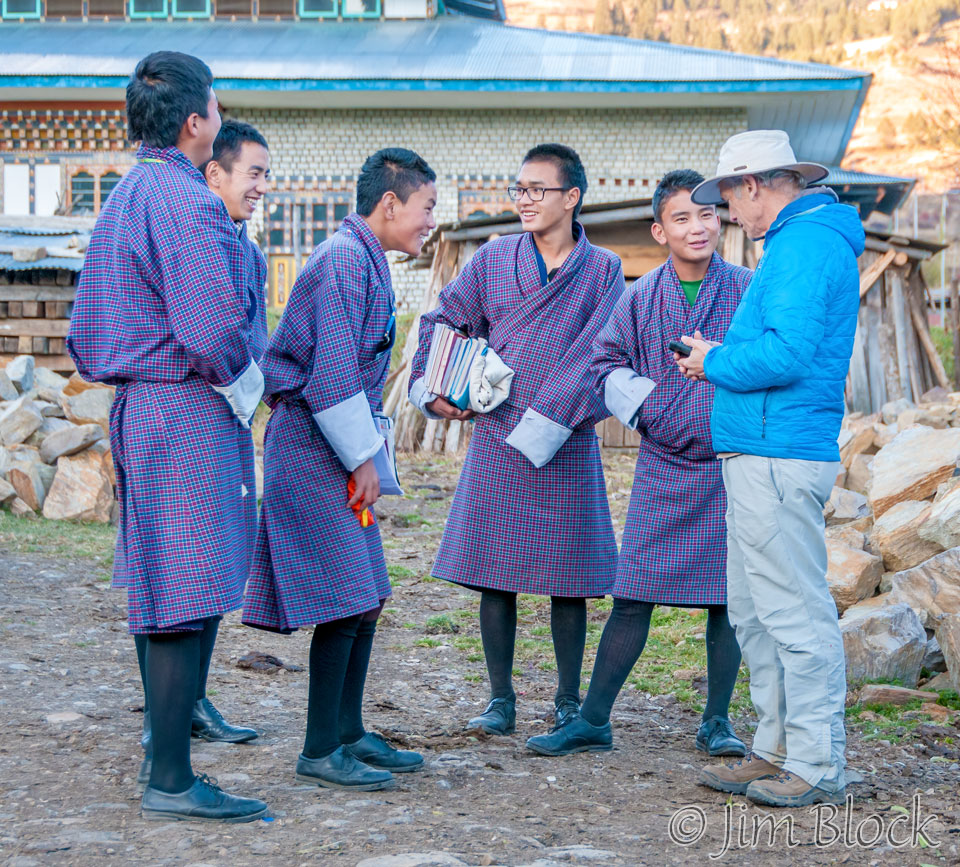 Back at Dr. Karmas for dinner, I took many photos with my iPhone. It seemed a bit less intrusive than my DSLR.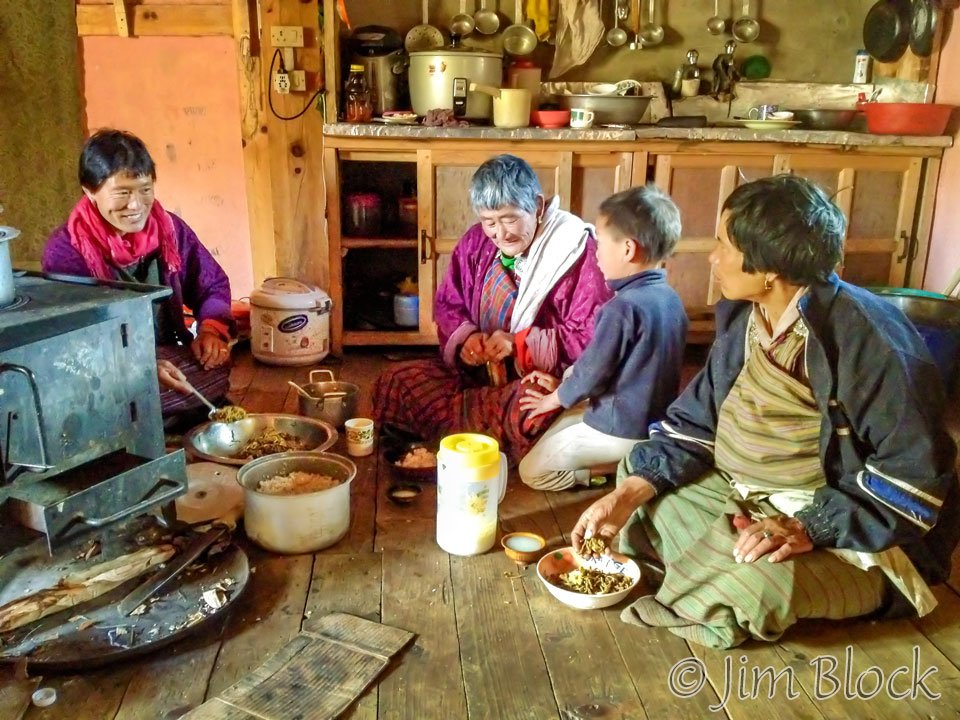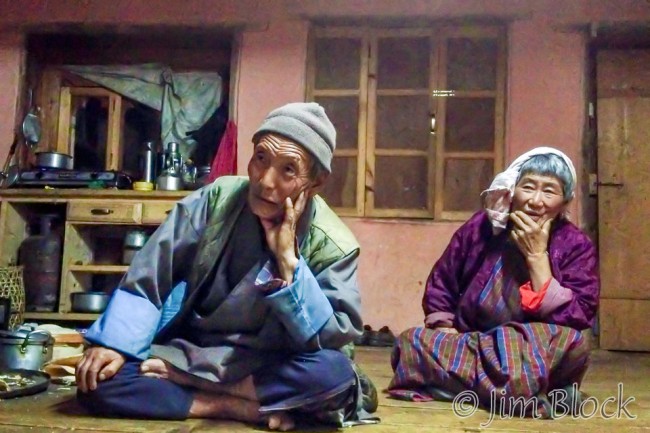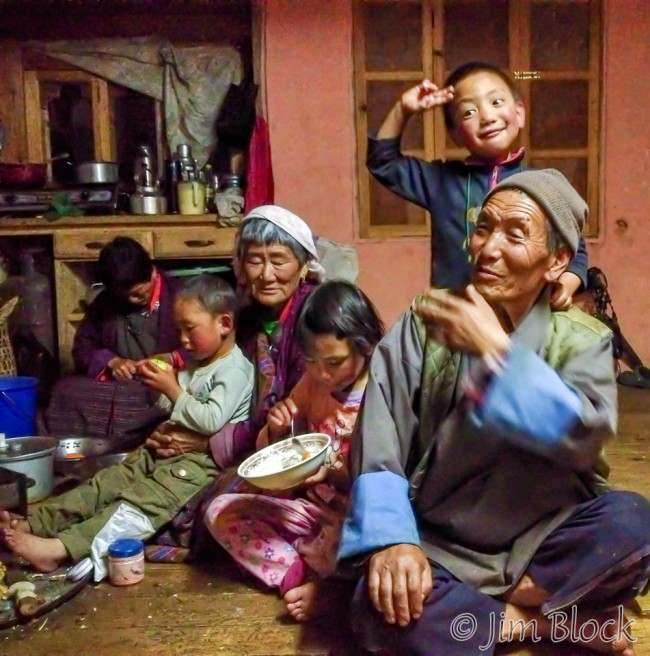 Dinner was buckwheat pancakes, cooked carrots, rice, spinach with something hot and spicy, and butter. Ara was also served. We were told they brew 4 liters of it every few days, and up to 4 times that much on special occasions.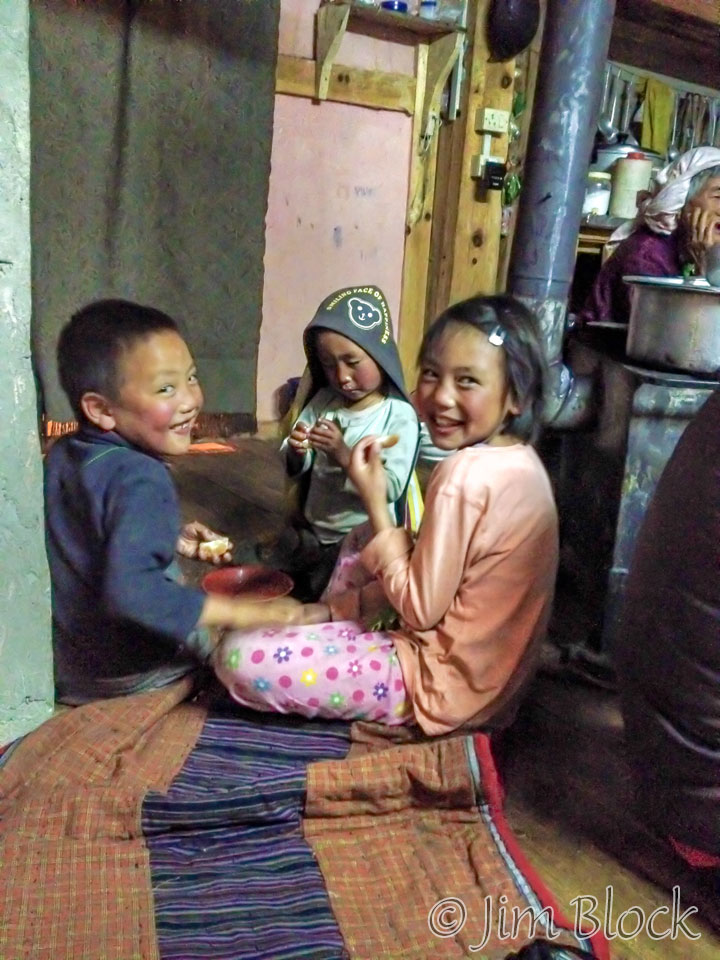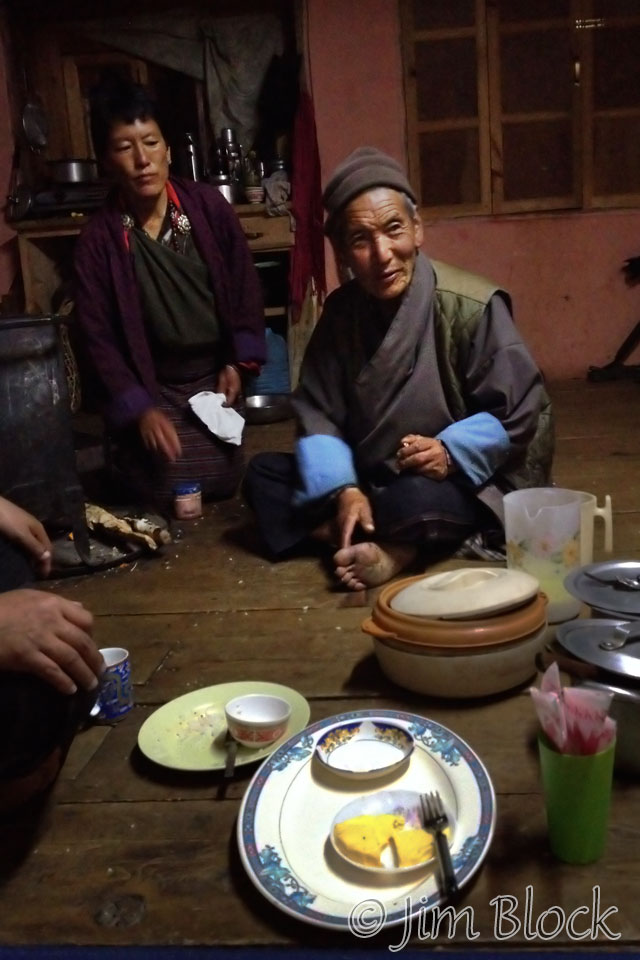 After dinner the young boys fell asleep. I followed them to bed at 8 pm. I was up at 4:30 am to greet the early morning frost.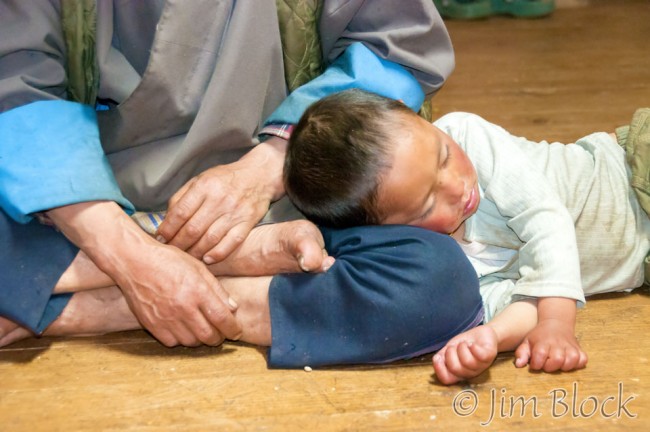 Breakfast the next morning consisted of more buckwheat, a very excellent Indian bread called puri, beef soup with fairly tough meat, and interesting and very good wheat cookies, ngarzey, seen below.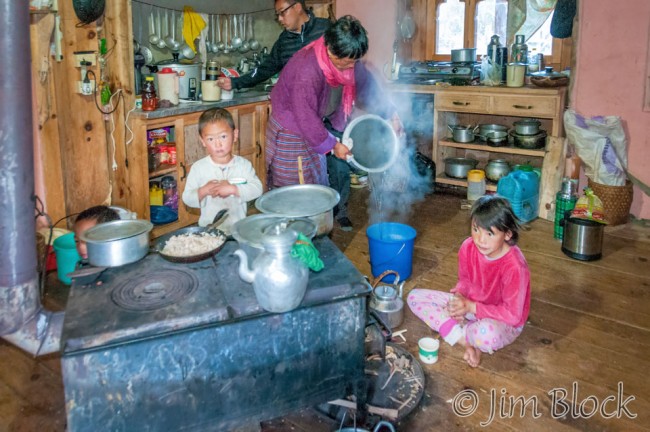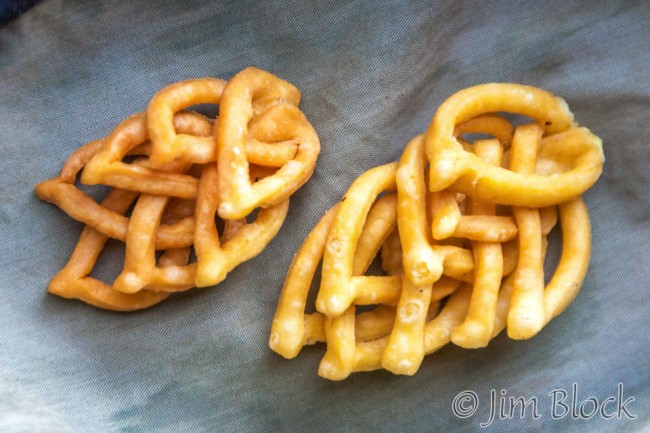 A cat slept under the stove, the warmest spot in a fairly cold room. Stephen is getting a photo of it with his iPhone in the photo on the right, and I followed suit with mine to capture the photo on the left. It was pretty dark under the stove.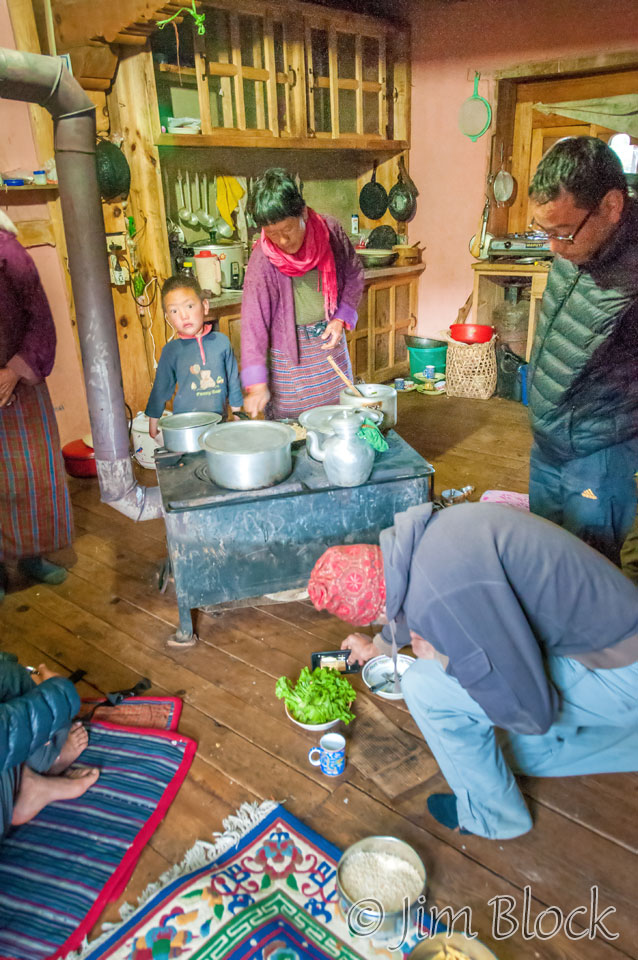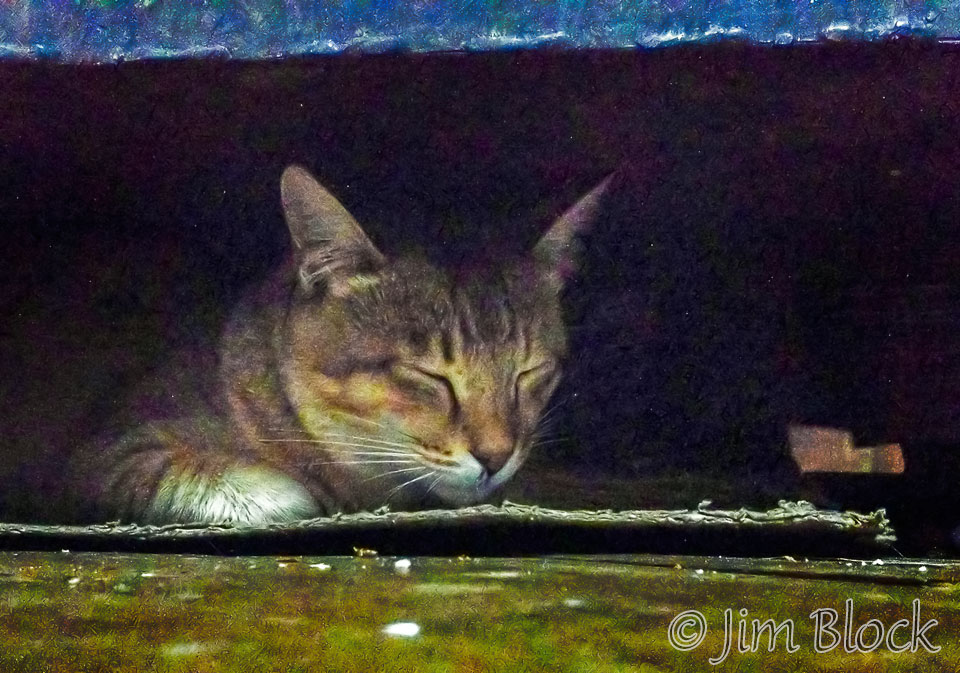 The kids were bright and cheerful. By this time the young girl had a serious crush on Lakey.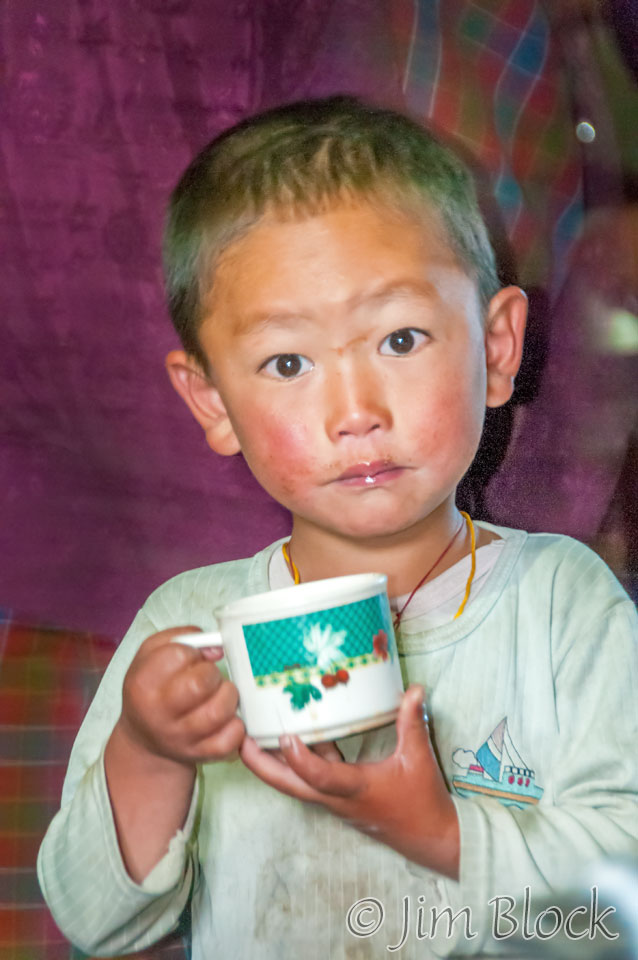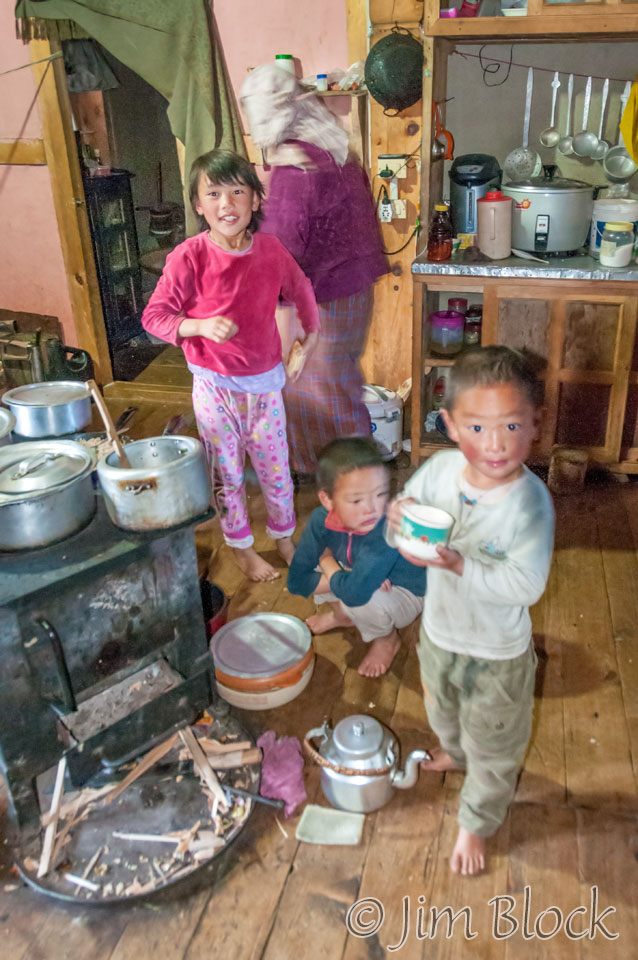 At breakfast Lakey delivered the terrible news that the car would not start and we would have to walk a mile or two uphill to the starting point of our supposedly 8 hour hike. But by the time we were ready to depart Kencho had worked miracles by throwing holy water on the car, or maybe it was just hot water. In any case we were able to ride to the starting point. If not we would have been walking 12 hours that day because the 8 hour hike turned into a 10 hour slog.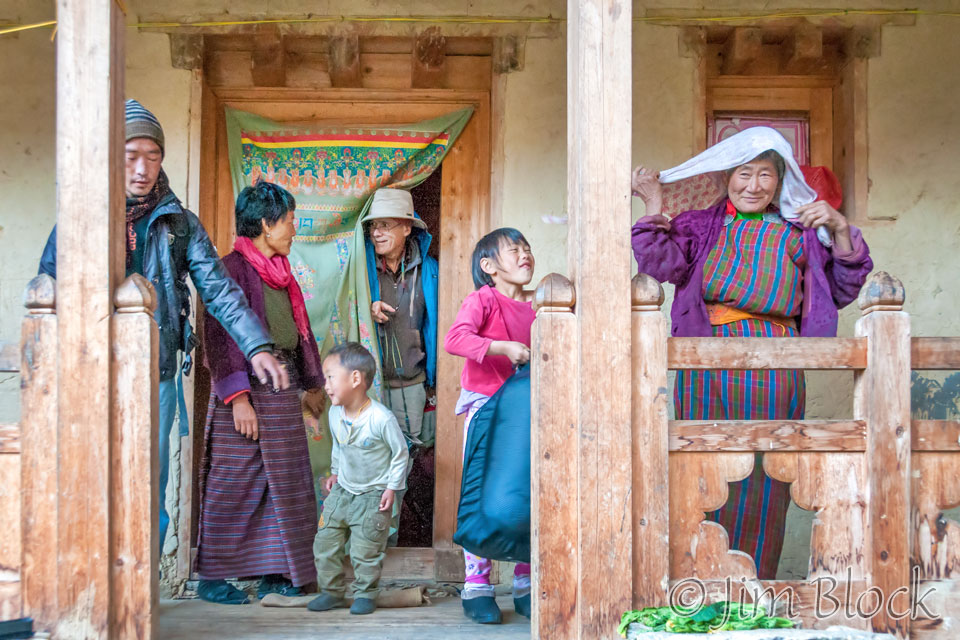 Here we are packing up to leave.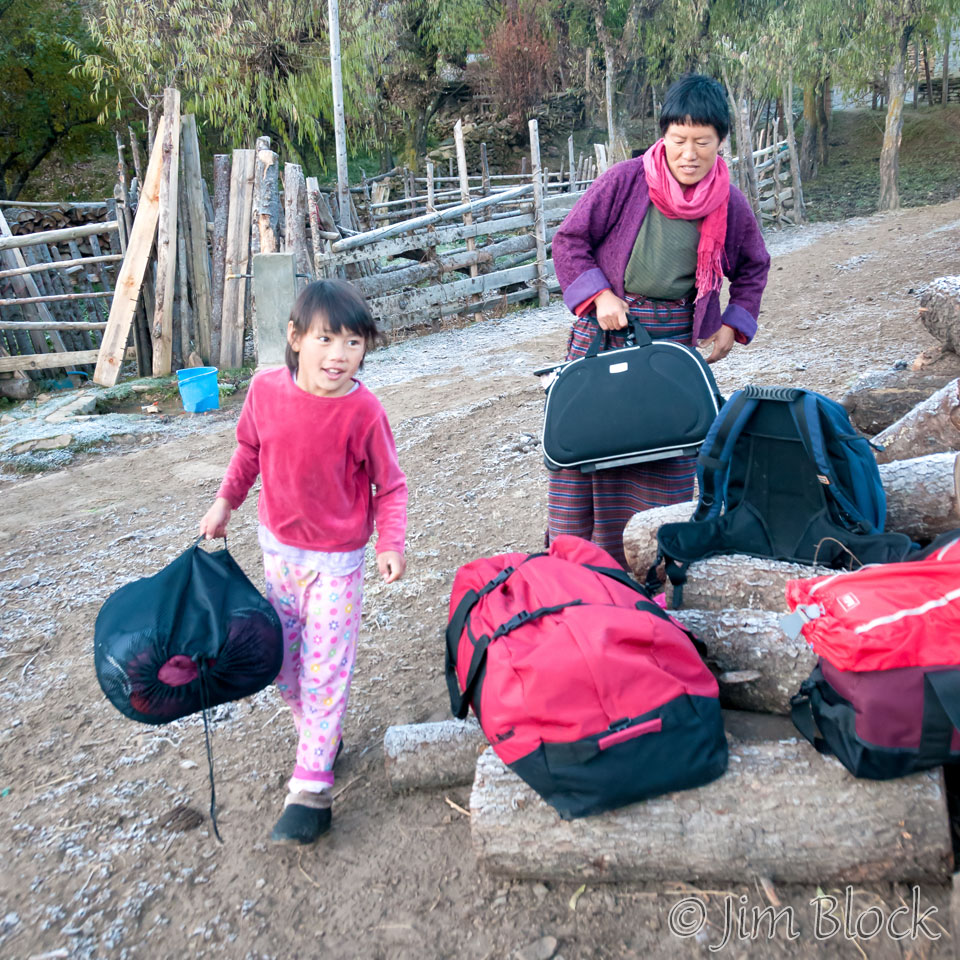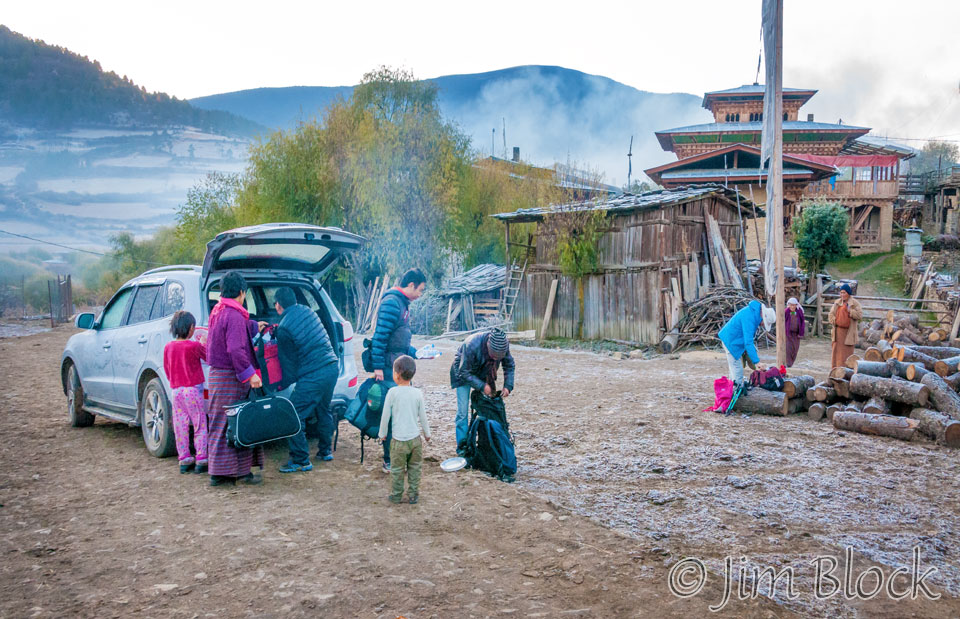 In the photo below left you can see the farmhouse in the background. The visit to Dr. Karma's Farmhouse was one of the high points of our trip to Bhutan. Like the puja and tour of Phomdrong, it showed how many rural Bhutanese live.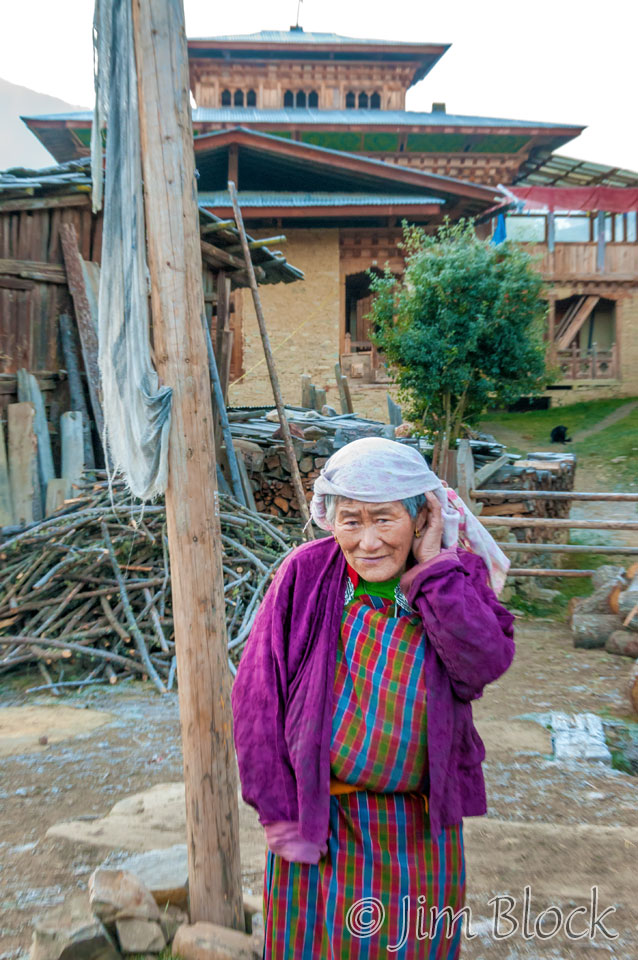 We drove a long distance uphill with our local "guide". Below left is a view of Ura from where we started the hike with Dr Karma's Farmhouse indicated by the arrow. On the left is a telephoto view of the same scene from approximately the same spot.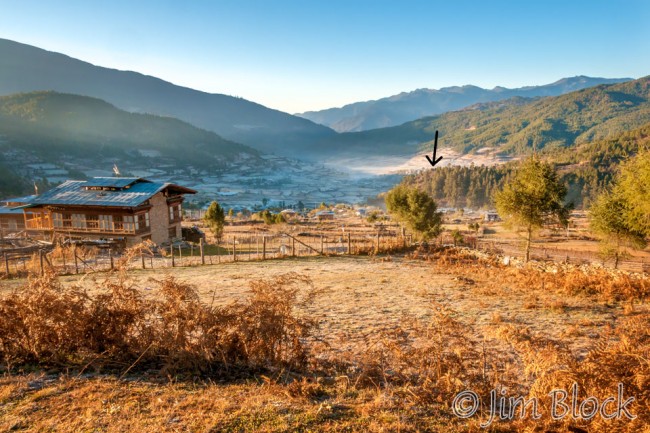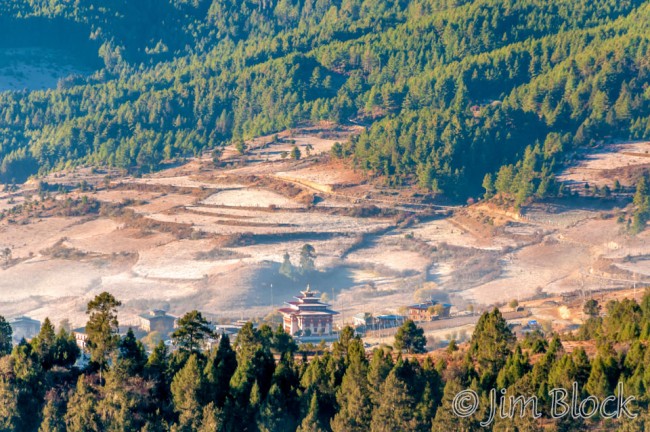 There was still frost on the ground when we started our hike.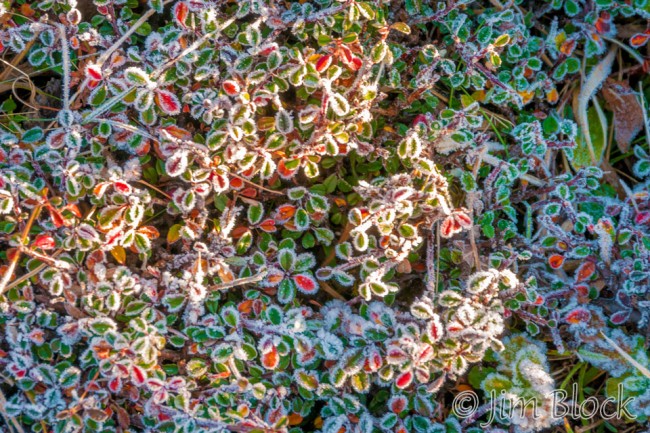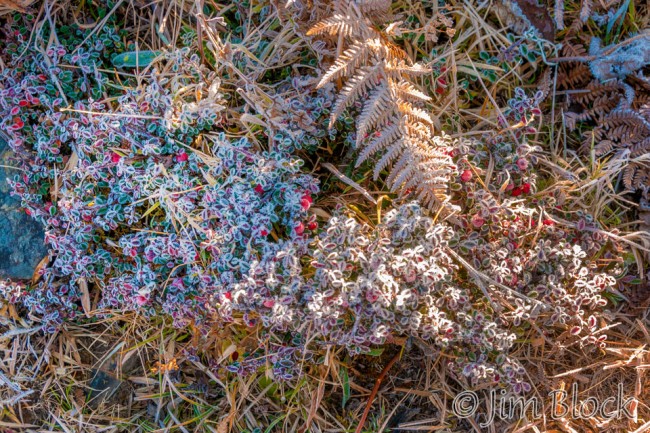 The combination of old-man's-beard and barberry was interesting. We finally reached our first pass as seen in the photo below right.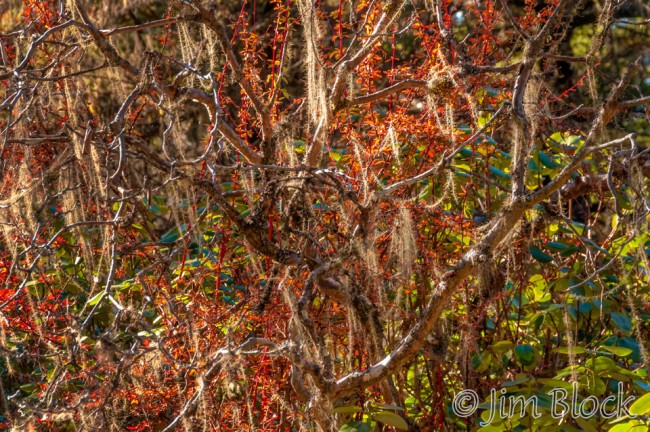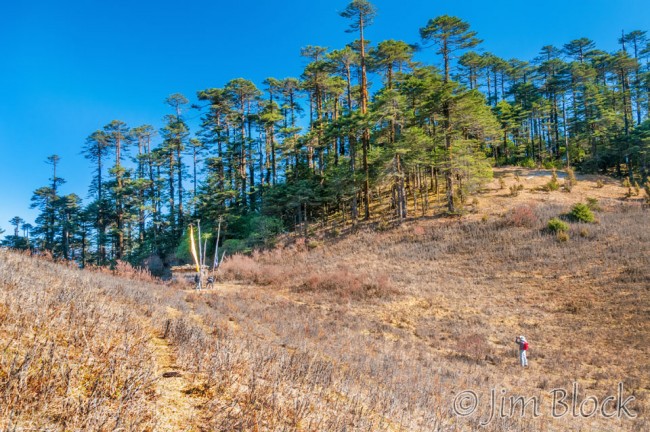 From the pass we got a glimpse of supposedly the tallest mountain in Bhutan, Kula Kangri.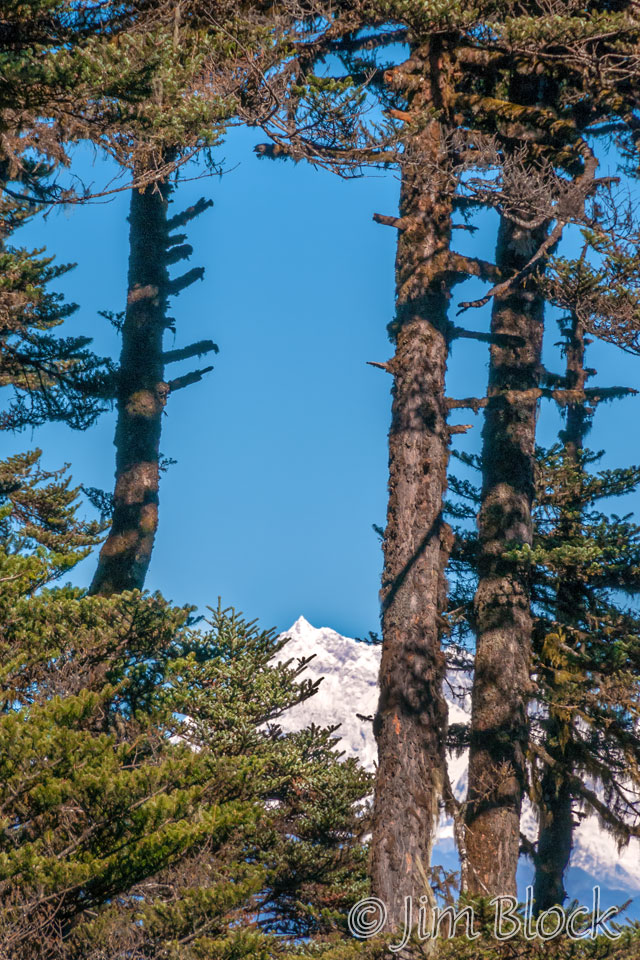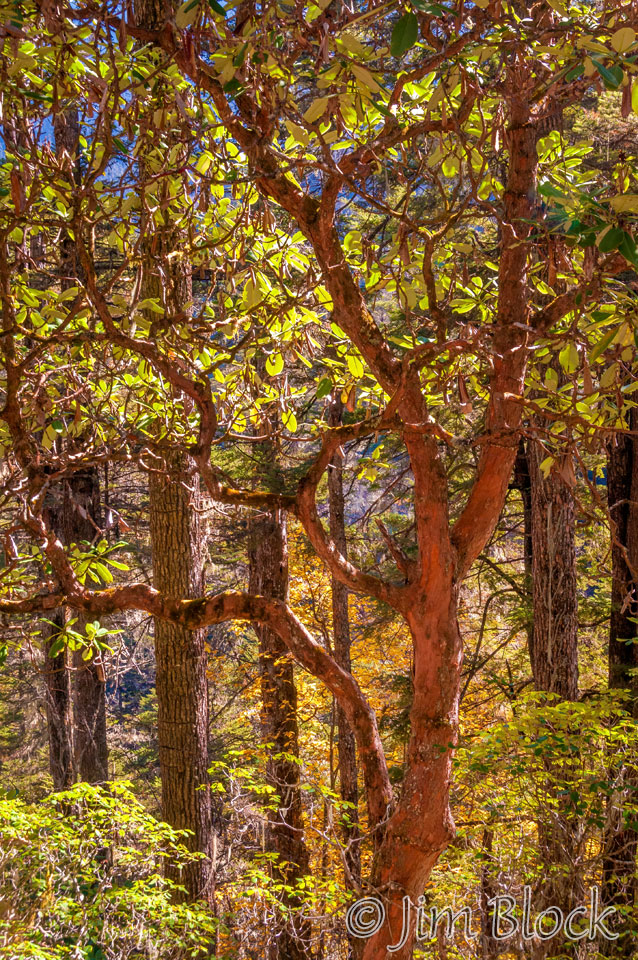 After the pass we hiked through some beautiful forest.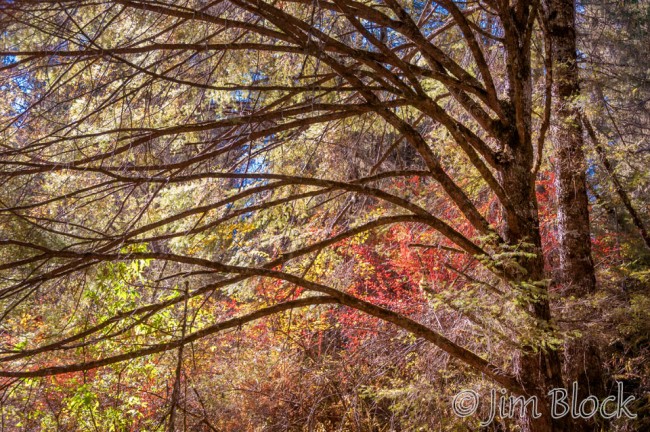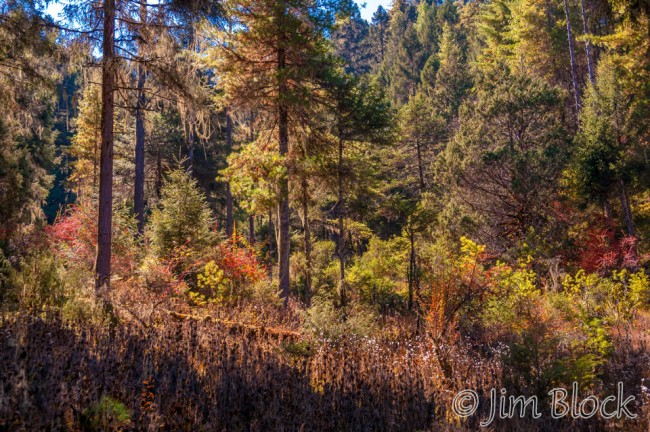 We came upon a nomad hut and garden. No one was around. Perhaps they were out nomading.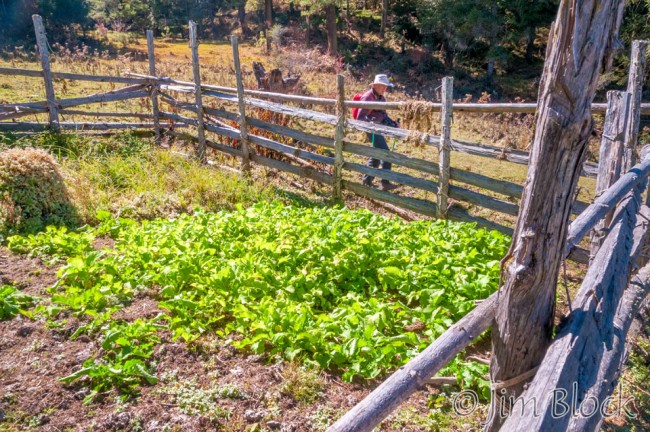 Parts of the hike were quite interesting and beautiful.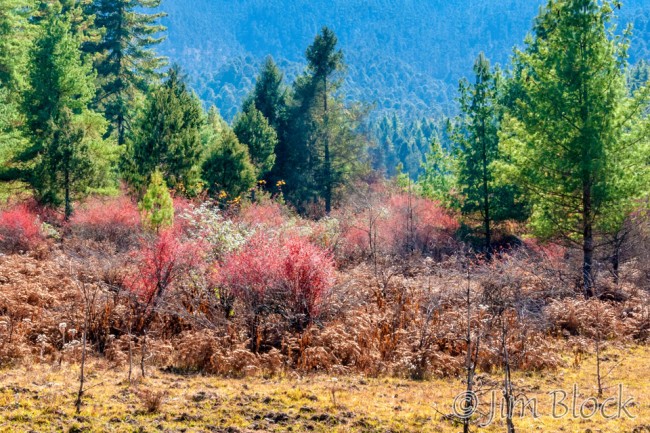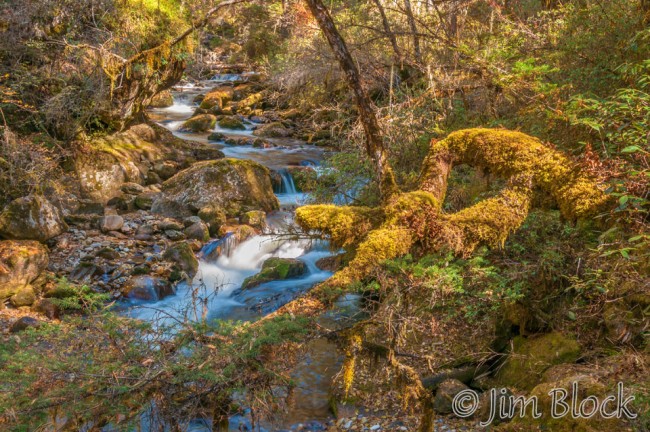 We could see a field across the valley. A telephoto zoom revealed nomad huts.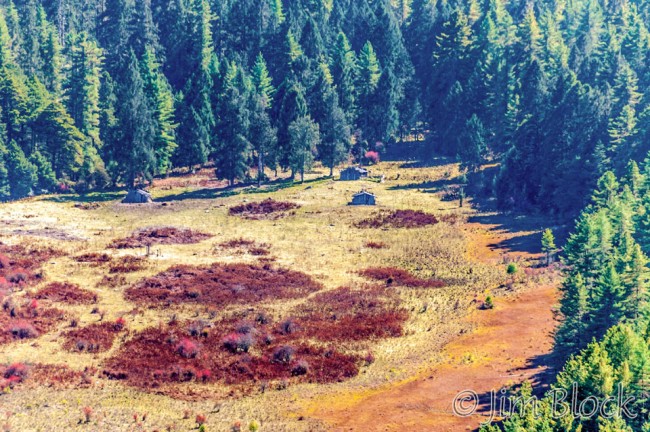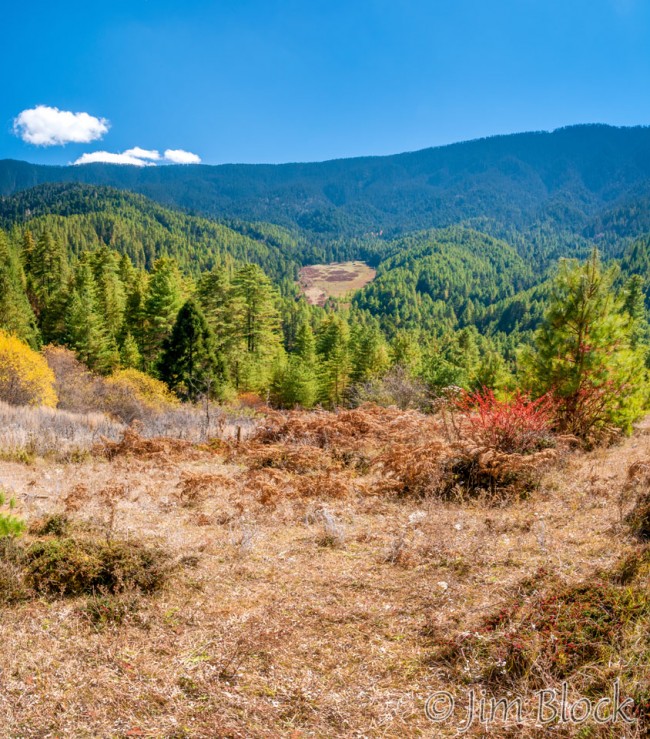 We were slowly gaining altitude. We saw another nomad home a bit below us.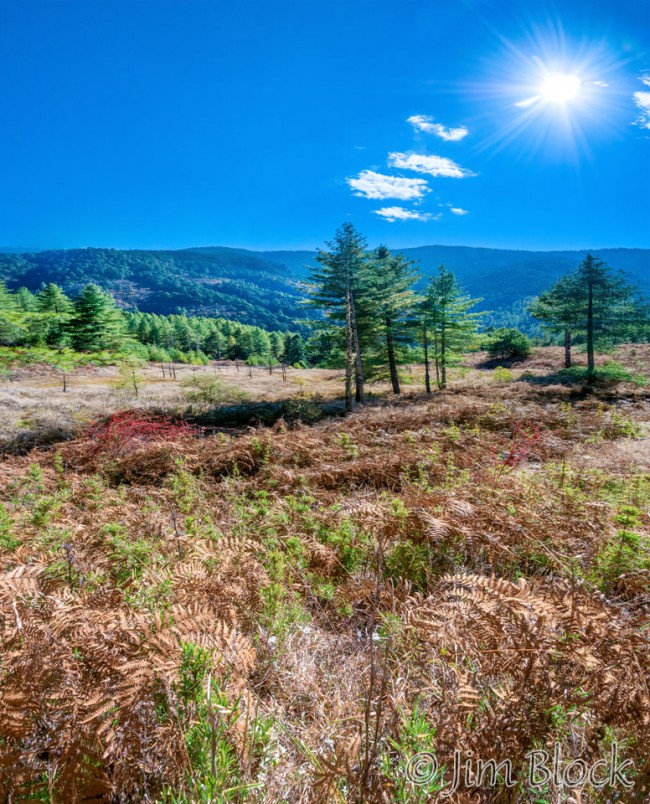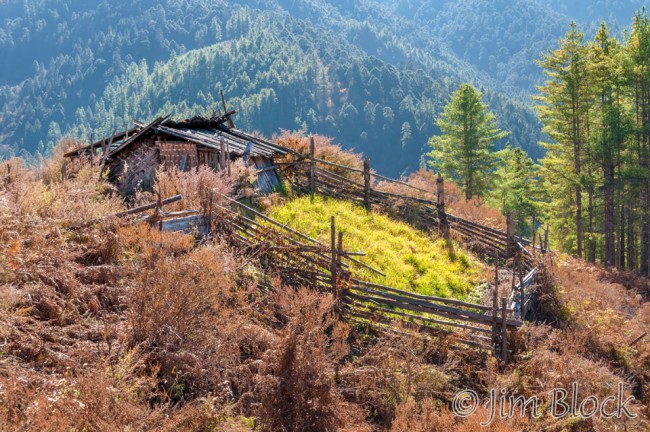 It seemed we were coming upon nomad compounds every half hour.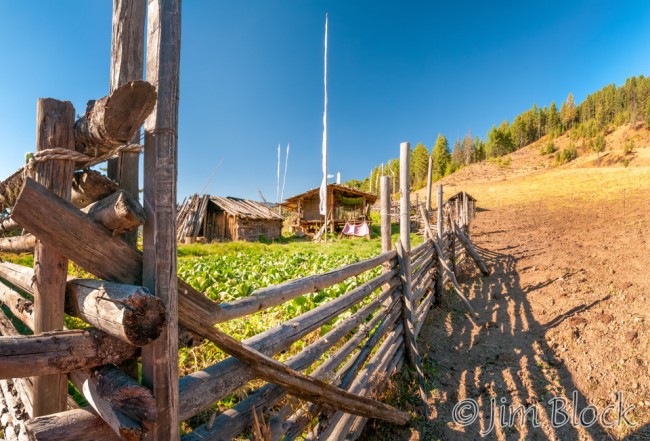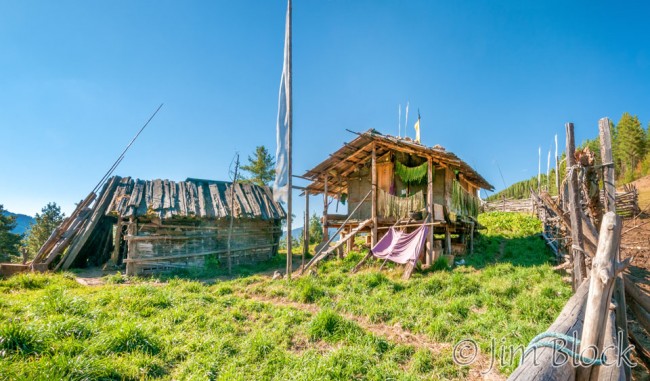 But the most interesting nomad hut was the one that was inhabited. I saw it in the distance and noticed the smoke. I zoomed in to take a closer look. Promising — perhaps we would meet a real nomad.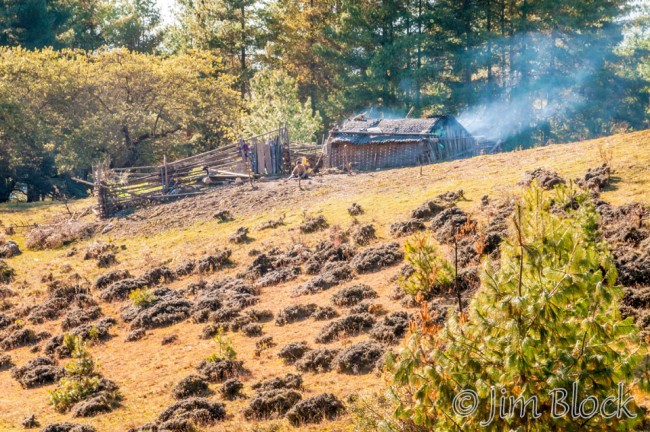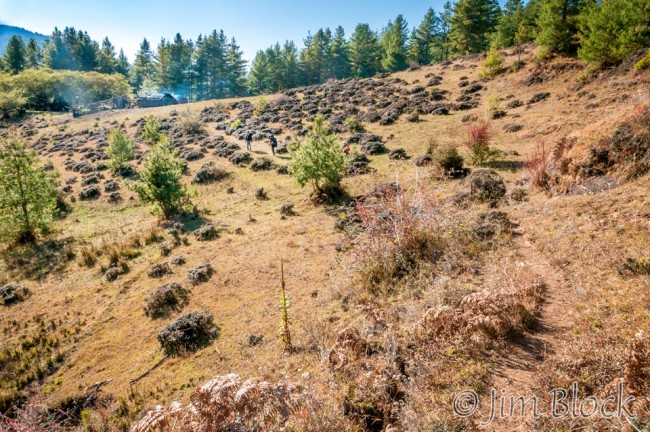 It turned out we had already met the nomad who lived here, about 3 hours ago along the trail. He was heading in the opposite direction to try to rescue a group of people who were lost. When Lakey told me what he was doing I remarked, "how can anyone get lost, the trail was very clear". That was a bit before our guide got us lost.
How did a nomad living far from anywhere even know to look for them? It seems that in Bhutan they have much better cell phone coverage than in the Upper Valley. In any case the nomad found the lost folks and sent them on the right path. He returned to his hut before we arrived there. Nice when you know your way around the hills.

I made a 10-shot panorama of the inside of the nomad's hut. It was fascinating. A radio played very staticy music as I took the photos.
You can explore this image in detail. You can double click to zoom way in and use the left mouse to pan around. You can also use the + and – keys to zoom and the arrow keys to scroll. Please wait for the resolution to download.
Can you find the nomad's cell phone? In the photo below right you can see a small photovoltaic array resting on a piece of a tree on his roof. What more could a person need?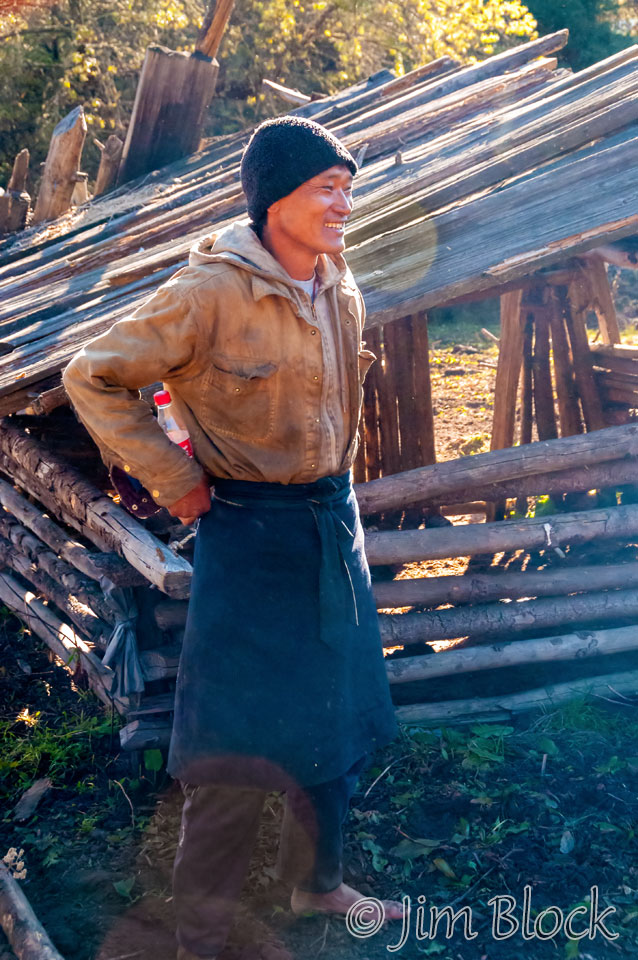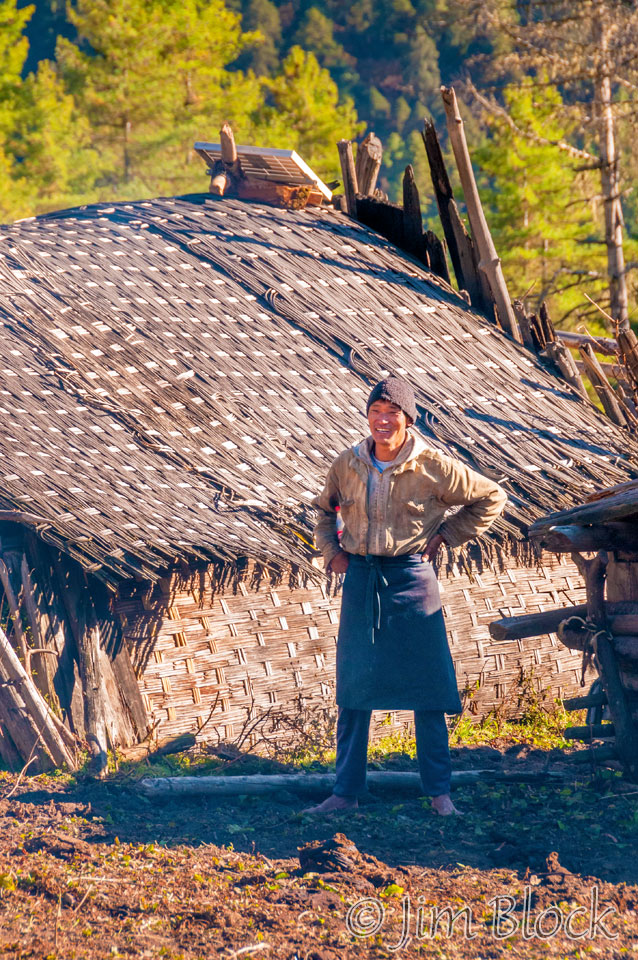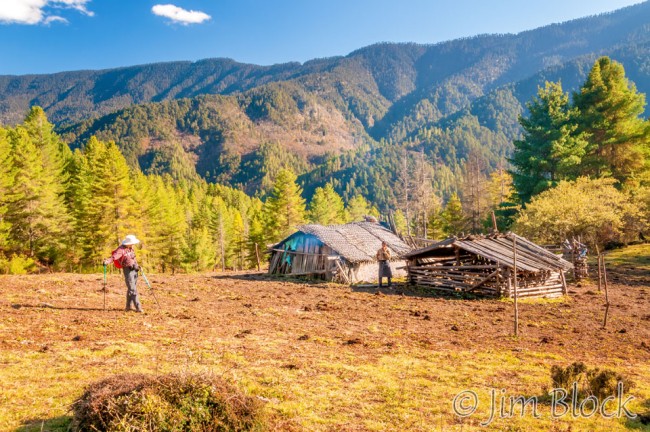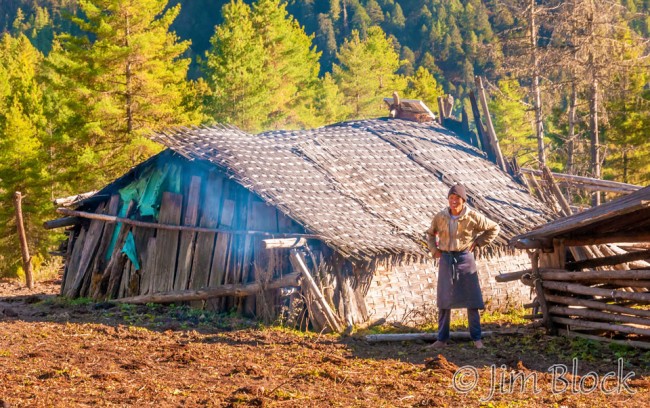 We were dropping down into the Tang Valley now. I was eager to get down and finish our long hike so I wound up walking with the local guide well ahead of Stephen and Lakey. But our local guide had one more treat in store for me after that tiring, 80 minute trip downhill. We reached a road and he turned right toward the area seen in the photo below. I made a mistake and followed him rather than just sitting down and waiting. We walked perhaps a half mile uphill before someone came yelling at us. I don't know what was said but it was likely "wrong way" or something similar.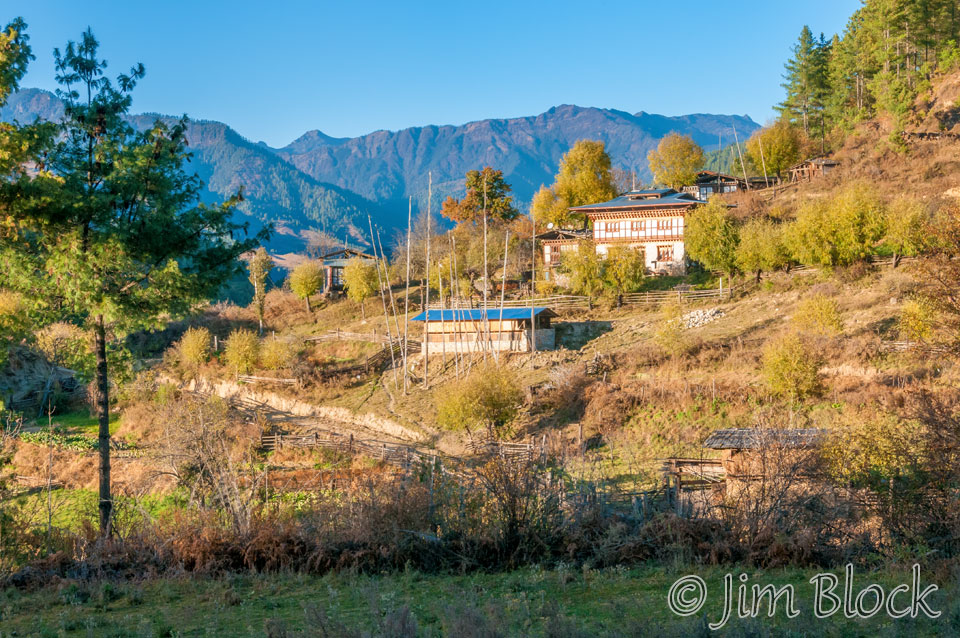 So we retreated and by the time we got back to where we turned right instead of left and then scurried down the road in the correct direction, Lakey was already on this bridge with Stephen not too far behind. On the other side of the bridge you can see the camp of some Indian workers who were building a car bridge at this spot.
That night we enjoyed some of Kencho's great ara while Lackey apologized profusely for the local "guide".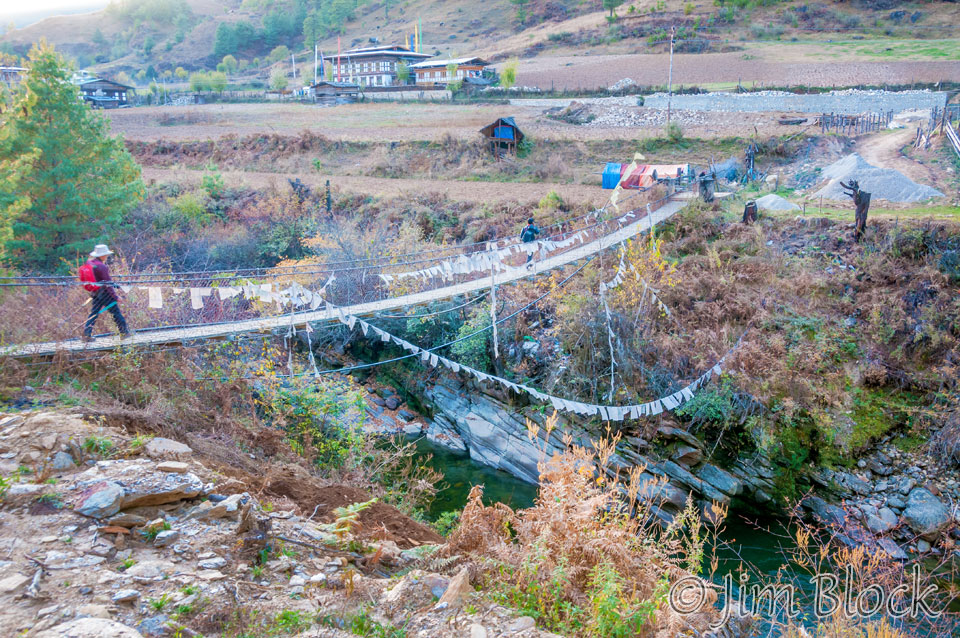 Here are some of the other photos I took in the two days we spent in the Ura Valley.