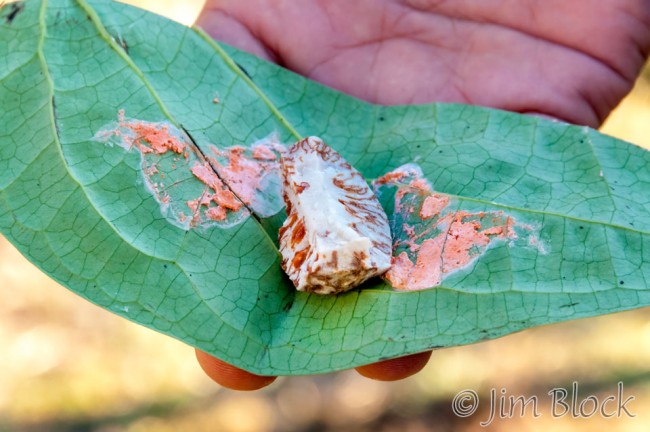 One of the highlights of our trip to Bhutan was not on our itinerary. It was two visits to Kencho's village, Phomdrong. Kencho was our driver. He lives in central Bhutan in the Bumthang region. This page contains photos from a puja in the evening at Kencho's uncle's home. Be sure you visit the Phomdrong page which shows photos taken the next morning as we toured Kencho's village and visited his home.
A puja is a religious ceremony celebrated by both Buddhists and Hindus.
This one had both sacred and secular characteristics. We entered the cluster of houses, parking next to some wild-growing marijuana plants which the villagers pretty much ignore. I was shown some doma consisting of areca nuts wrapped in betel leafs with lime. Chewing doma is a widespread tradition in Bhutan.
Kencho's mother, Tsering Dolkar, met us outside. As soon as I entered his uncle's house, I was introduced to Kencho's father, Choki. Inside, I got the three of them to pose for a quick picture.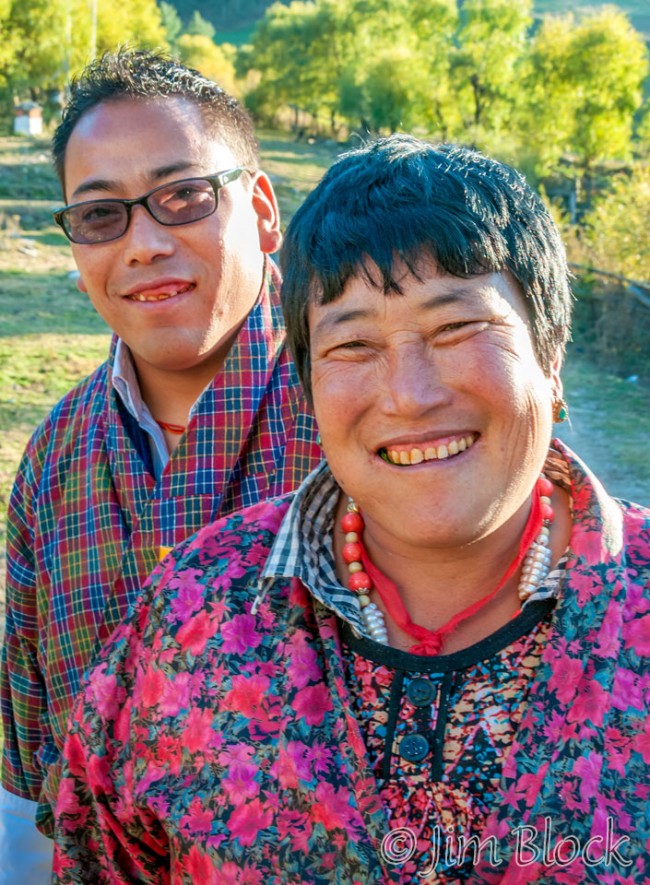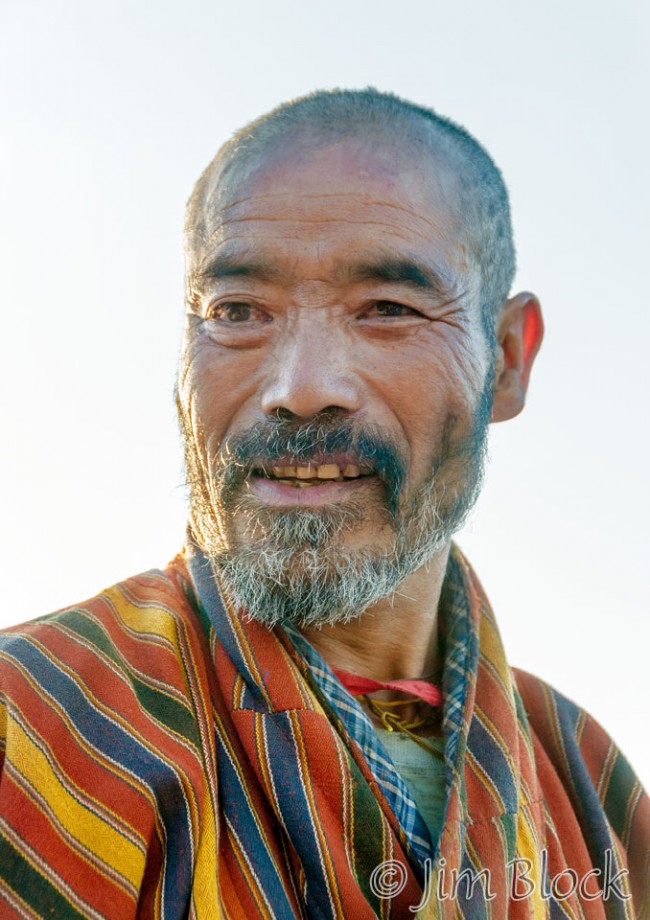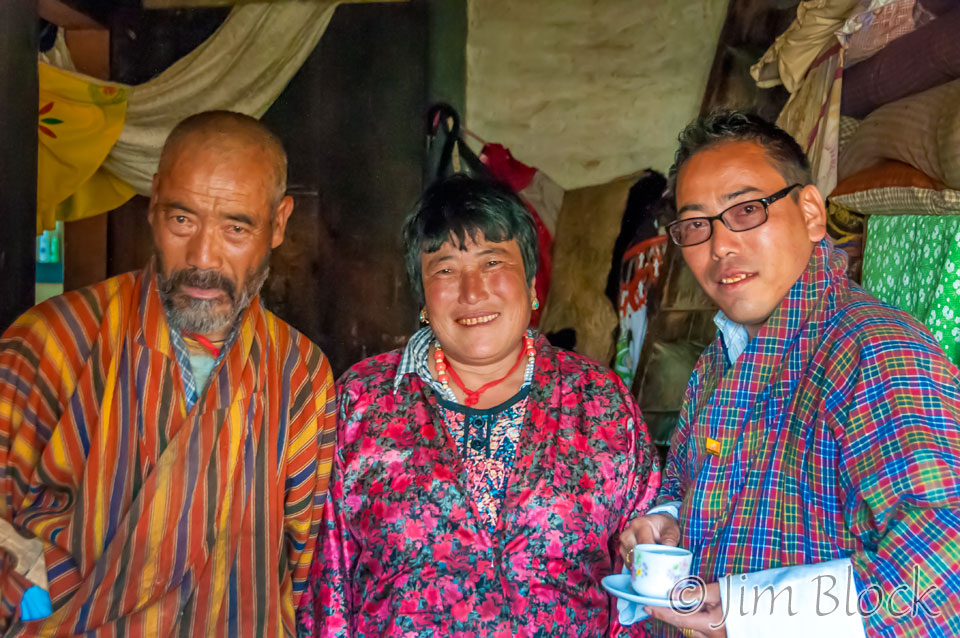 I had arrived just in time for the celebration on the rooftop. We climbed up onto a stool balanced on a rickety chair through a very narrow opening between the top of the wall and the overhanging roof. From there we crawled onto the metal roof, me with slippery stocking feet. Here is a photo of some of the objects for the celebration being passed through the opening to the roof.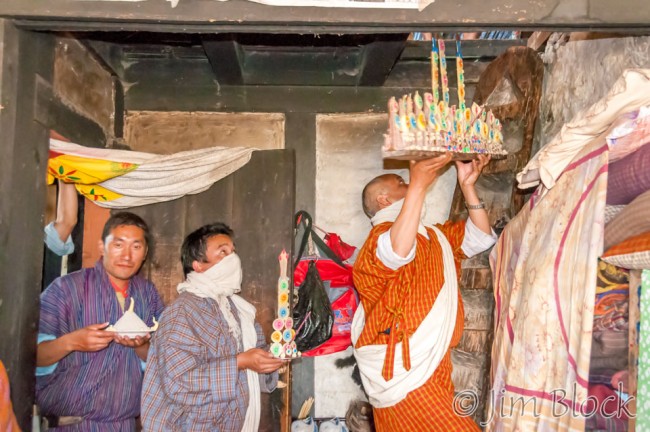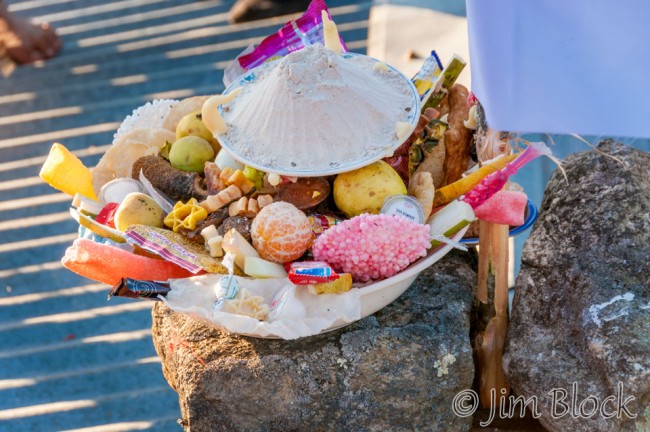 Offerings of food are important to Buddhists. Here is the dish that was balanced on the ridgeline near a prayer flag held up by a thin cut tree. Below are two panoramas from the roof.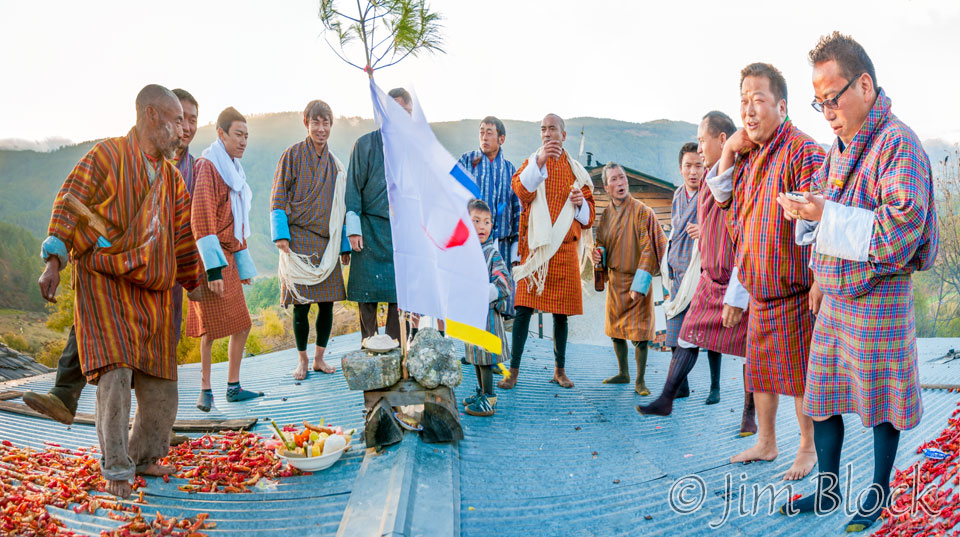 The sun was setting behind the dancers. Turning left at a field that used to contain prayer flags, I got some nice color on the clouds.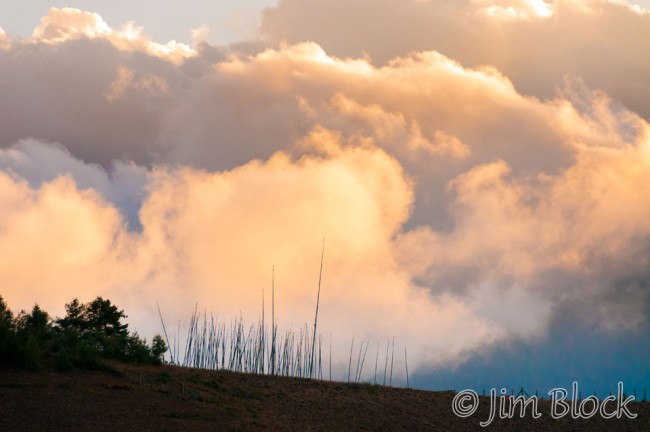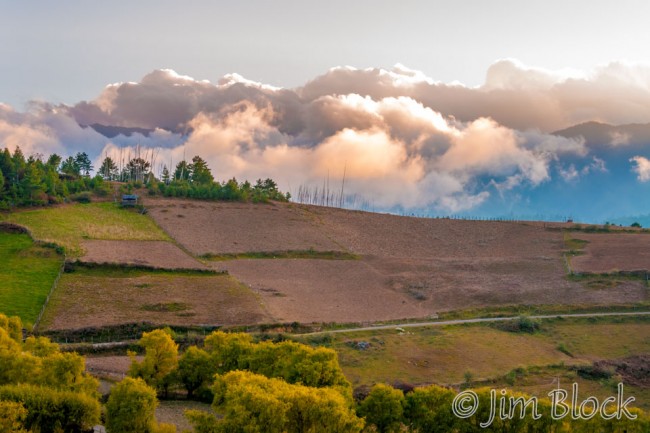 Below is a somewhat whimsical creation showing two boys being squeezed back down through the opening in the roof.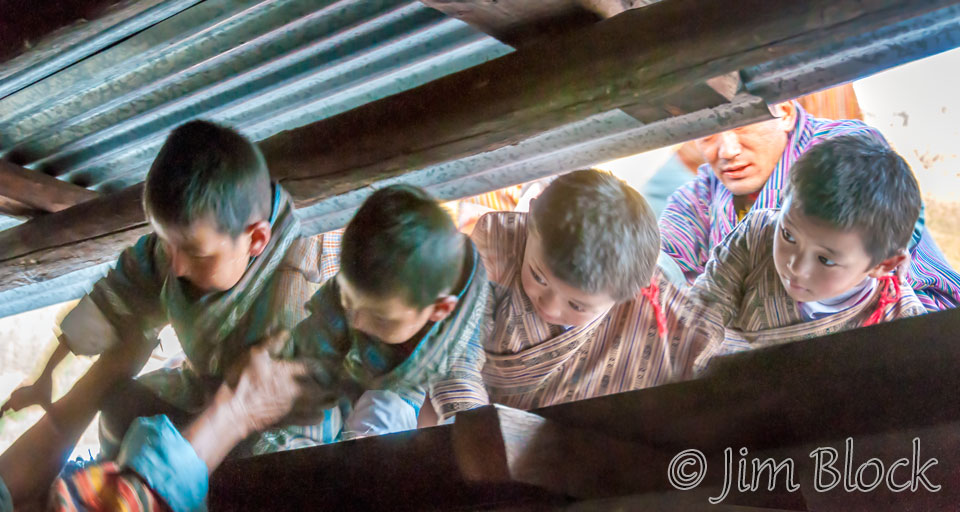 The actual puja was held in a separate room which at times was very crowded as people moved in and out. In the photos here you can get a feel for the importance of food offerings to Buddhists.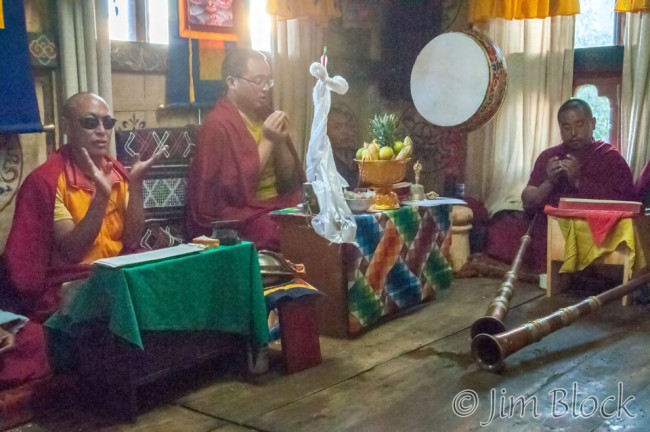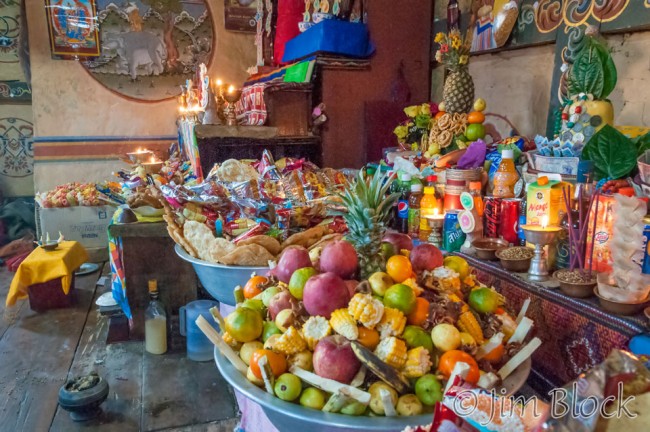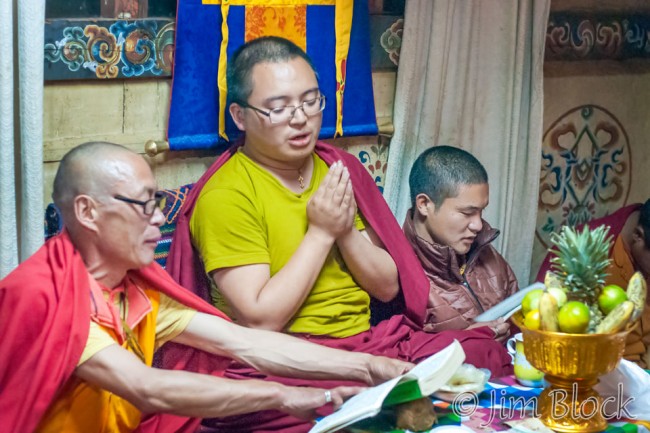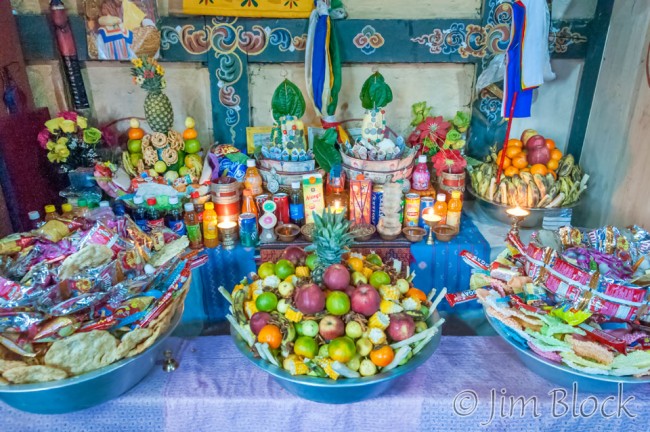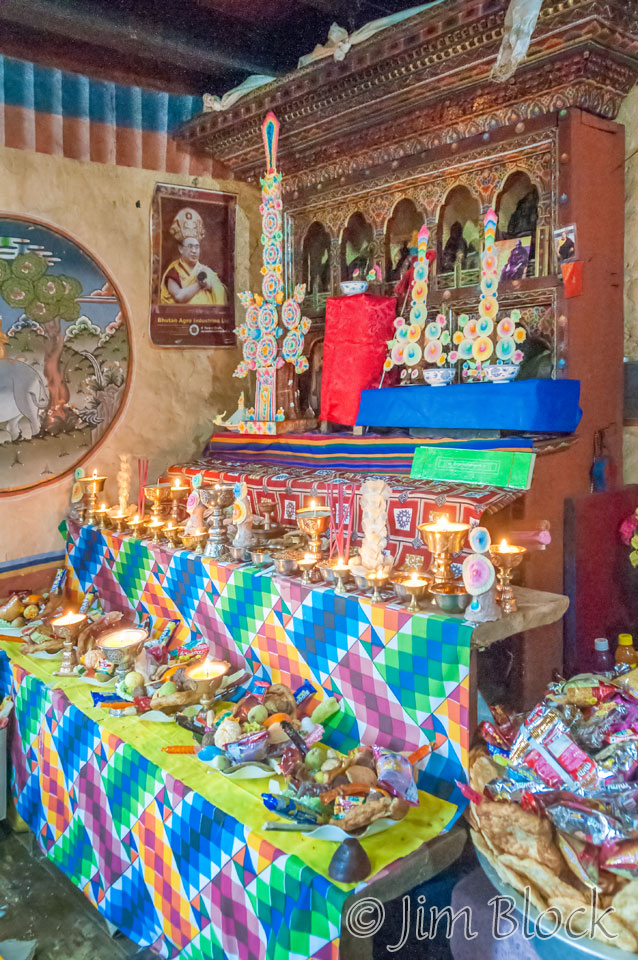 Kencho's uncle, Sigay, was the host of the puja. Kencho's grandmother, Gyem Lham, is seen with him below. Sigay paid me a magnificent compliment. He said, through a translator, that no chilip (foreigner) had ever visited them before. They were much honored. "It was like a visit from the Dalai Lama".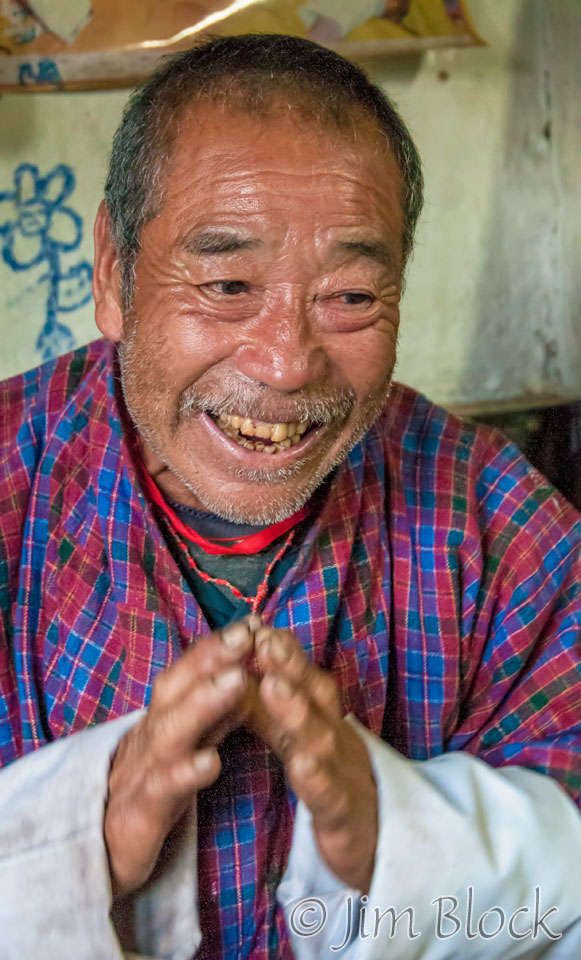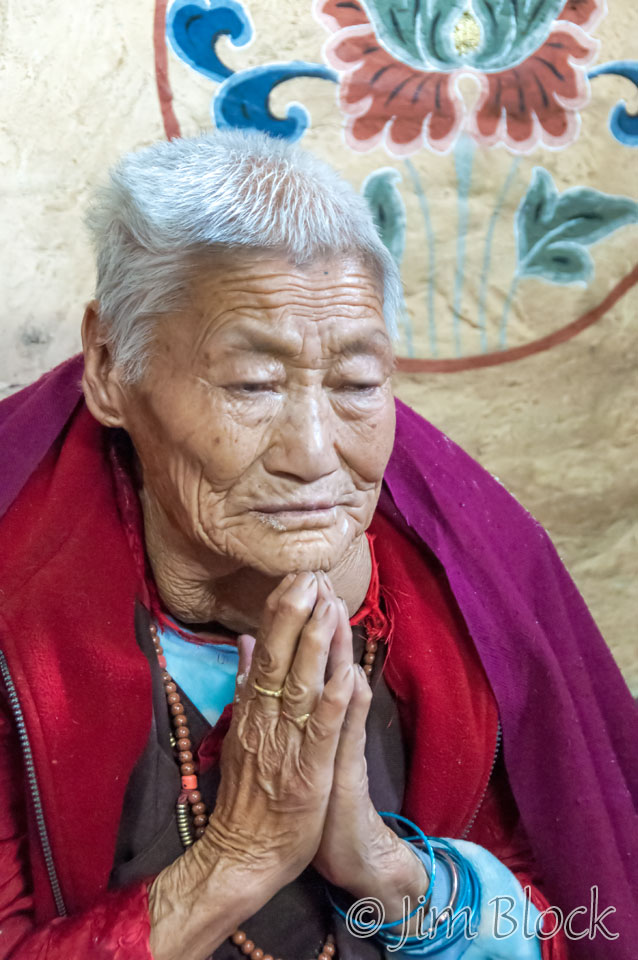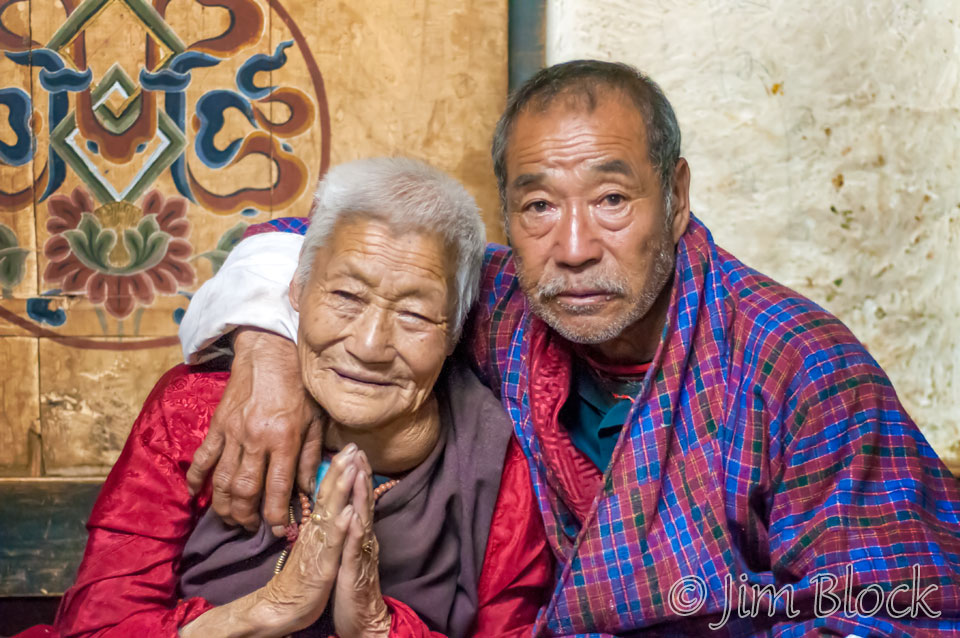 Rice and traditional Tibetan butter tea were served. Butter tea is made from tea leaves, yak butter, water, and salt. It is definitely not my "cup of tea". Butter is the main ingredient so it is quite thick and rich. It is also very very salty.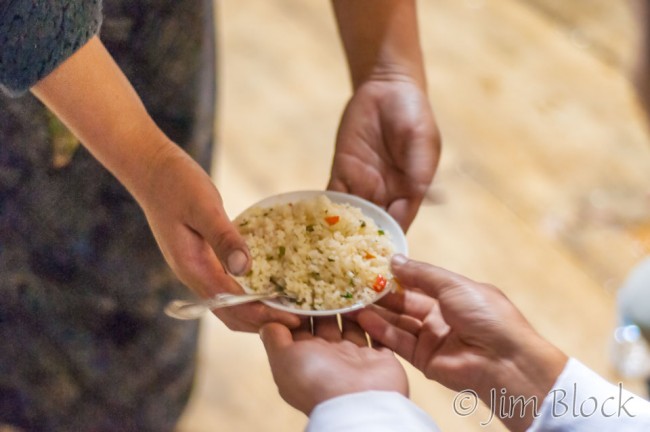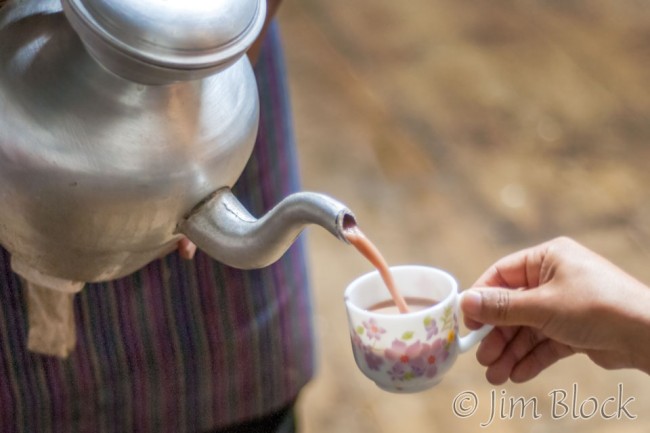 Ara was also served. It is a homemade alcoholic beverage made from wheat, rice, maze or millet. In Bhutan it is legal to produce and consume it privately, but sale of it is prohibited. This was my first exposure to ara on our trip so I was cautious and only sipped a small amount.
Like in Nepal, hosts in Bhutan feel obliged to always keep one's cup full. Therefore, it is a constant battle to politely decline refills. I solved this problem by giving my cup to Lakey, our guide.
I learned from tasting some ara on the last night of our trip that the ara produced from wheat in central Bhutan is far superior to that from the Paro region.
Below you can see photos of many of the people who attended this puja. Most of these were shot at ISO 3200 due to the very dim light inside the house. The red teeth you may notice that some people have is from chewing doma, an integral part of Bhutanese culture and lifestyle for many people.
The following morning we returned to Kencho's village, Phomdrong, for a village tour and visit to his home. The photo below shows the group of houses where the puja was held. You might be able to see the small tree that served as the focal point of the ceremony on the roof at the very center of the image. You can see photos of Phomdrong HERE.