13Nobody visits Phomdrong. Yet it was one of the highlights of our trip. It is a small village of about 20 families. It was not on our itinerary, and I suspect it is not on any other tourist's itineraries either. I attended a puja there the evening before our spur-of-the-moment morning tour of the village. The puja host told me, through a translator, that it was a very great honor to have their first international visitor. Photos from the puja are HERE.
Where is Phomdrong? In the Bumthang District of Central Bhutan in the Tang Valley off the Bumthang-Ura "Highway" not far from Membartsho, the Burning Lake.
After a breakfast at our lodge, the Swiss Guest House, and a tour of the Burning Lake, we took an unplanned trip to Phomdrong, our driver Kencho's village.
Below is an overview of the village and surrounding area with North being up in this Google Earth view. The Burning Lake is along the highway to the left and North. It is actually just a deep spot in the Tang Chhu (river). Jakar is to the West. Ura is along the highway down from the center of this view and then along a rough winding road to the Southeast. These spots will be featured on separate pages as I make time to edit and post the photos.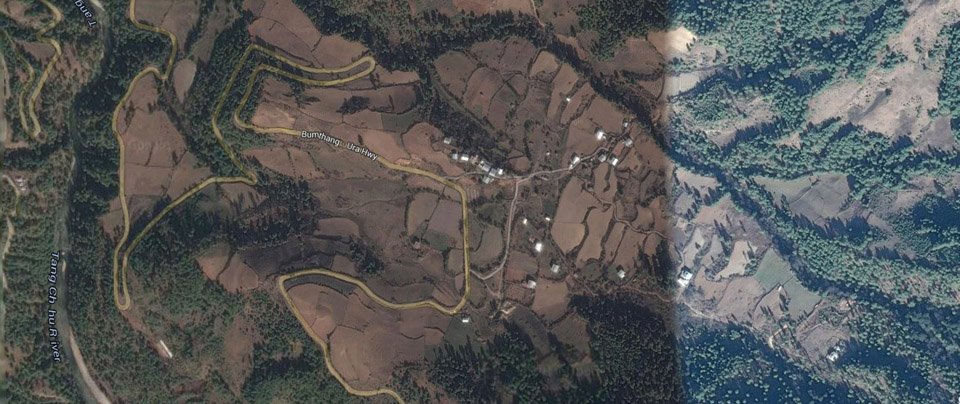 A closer view of the village is seen below. I have labeled the puja site, Kencho's family's home, and a temple you will see in the photos below. It also shows the path we took when we hiked around the village. If you would like to see an overview of this area that you can zoom in and out, click HERE.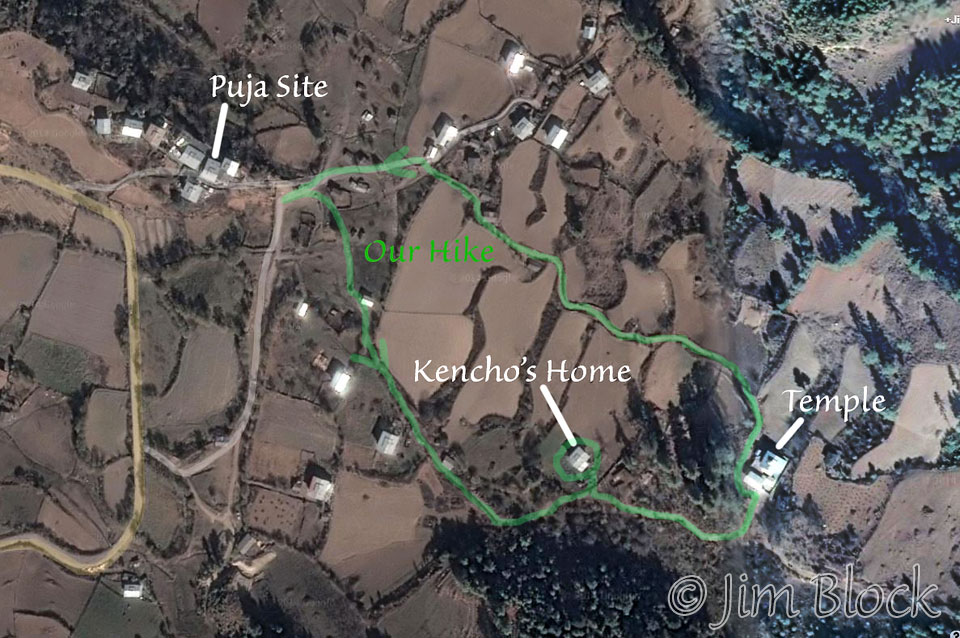 Below is a panoramic image from near where we parked. In the center is the cluster of homes where the puja was held.

Our first order of business was an examination of the marijuana plants that grew wild next to where we parked. Here is Lakey checking them out. We saw many of these as we walked through the village. As far as I can tell the villagers pretty much just ignore them, much preferring ara and doma.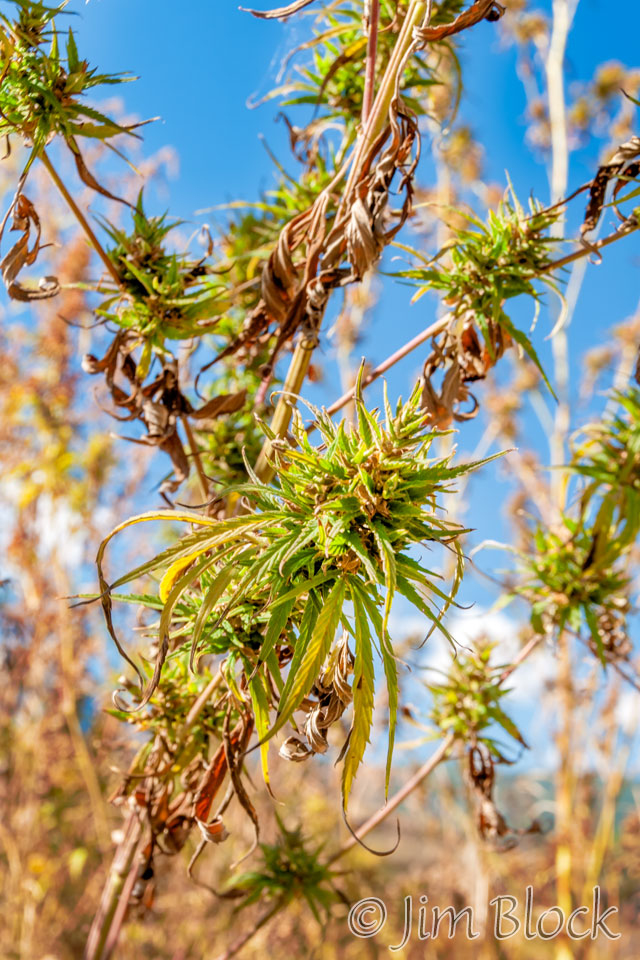 We walked past an old water-powered prayer wheel. You can see Lakey photographing it.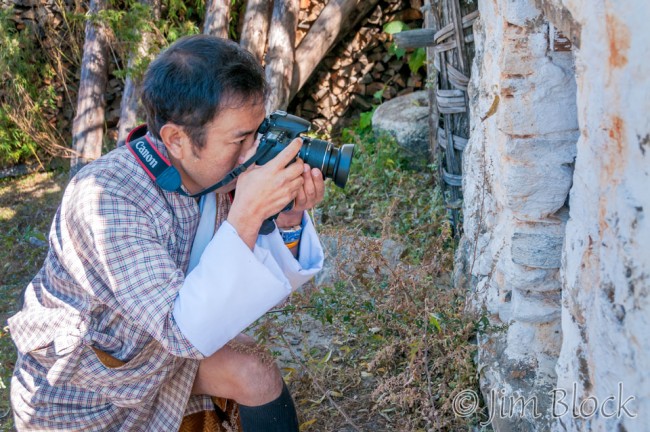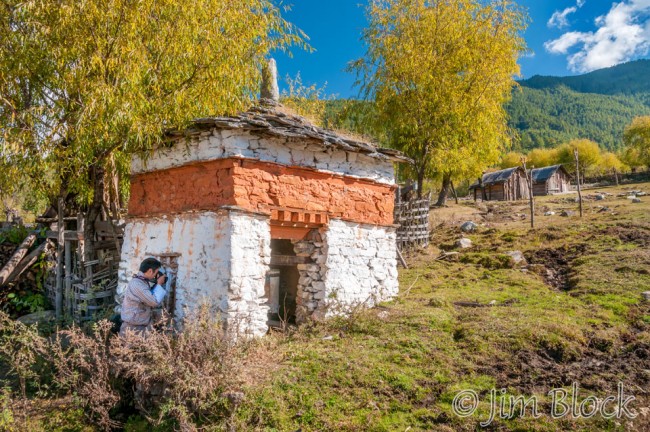 The photo below shows us approaching Kencho's family's home.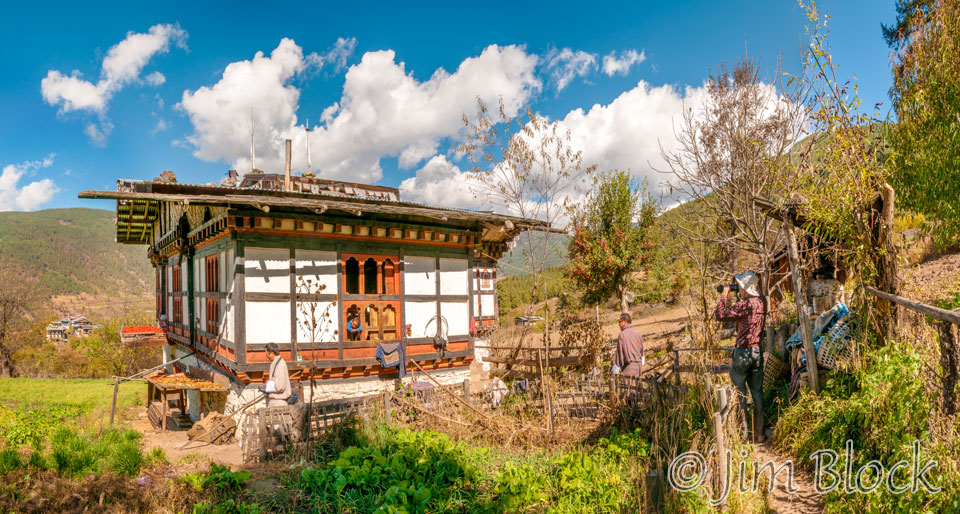 We were greeted by Kencho's Mother, Tshering Dolkar, and a neighbor boy.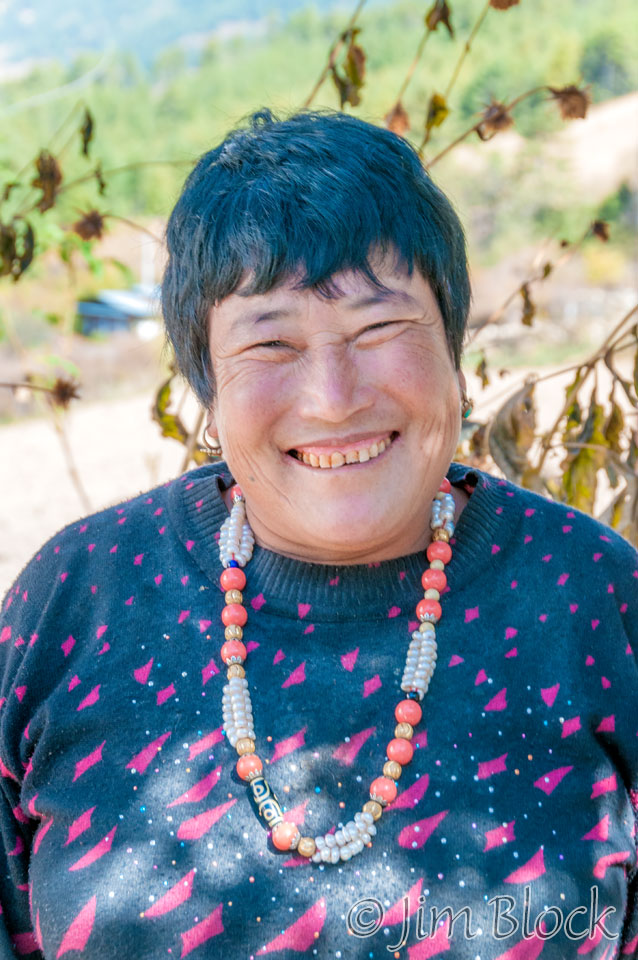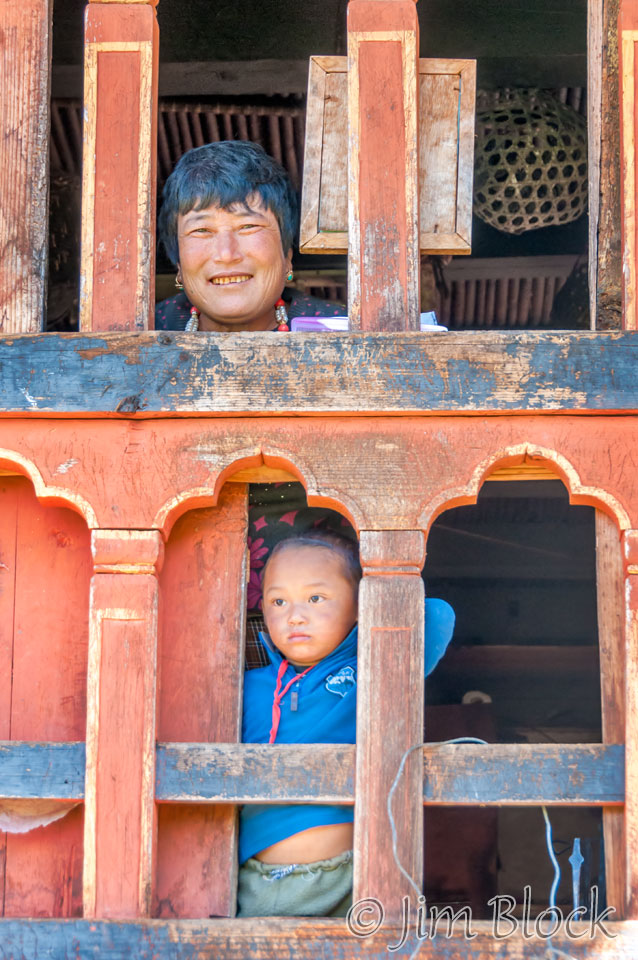 We walked around Kencho's house. Below on the left you can see a view of the cluster of homes where the puja was held the evening before.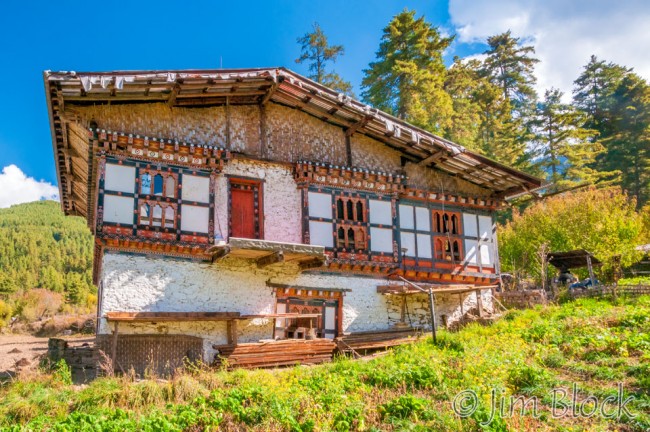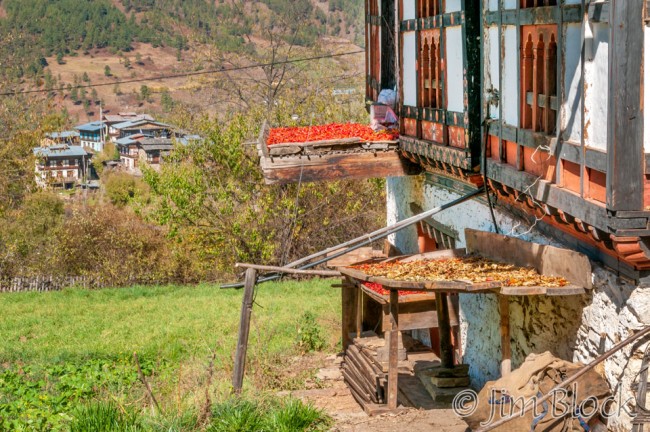 Like many Bhutanese homes, the lower-level is used for storage. Those are not rocks you see in the photo below but potatoes.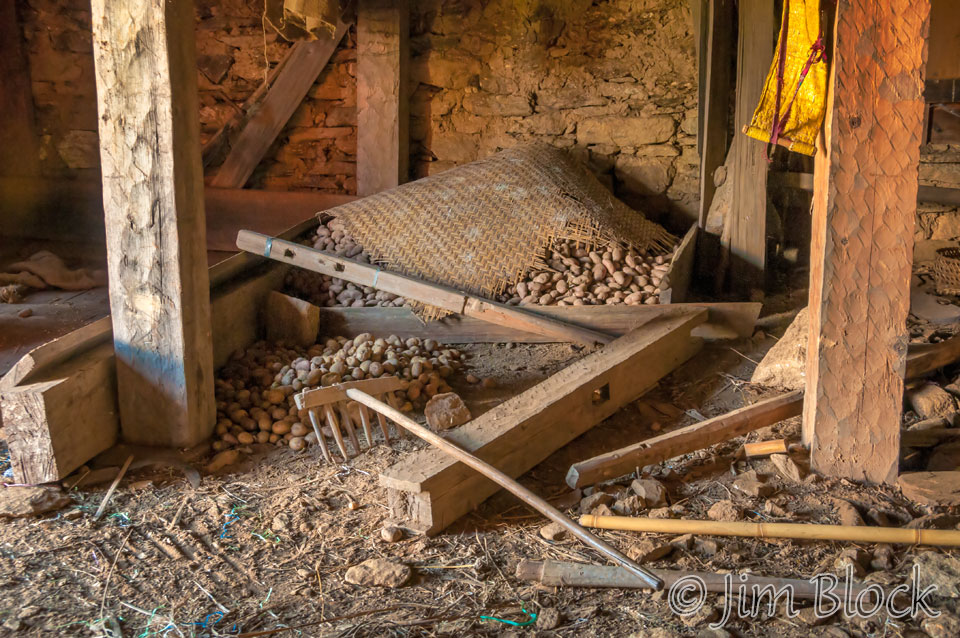 Inside Kencho's family's large kitchen is a homemade weaving loom. Kencho's Mother and a neighbor woman and her son are also in the photo below left.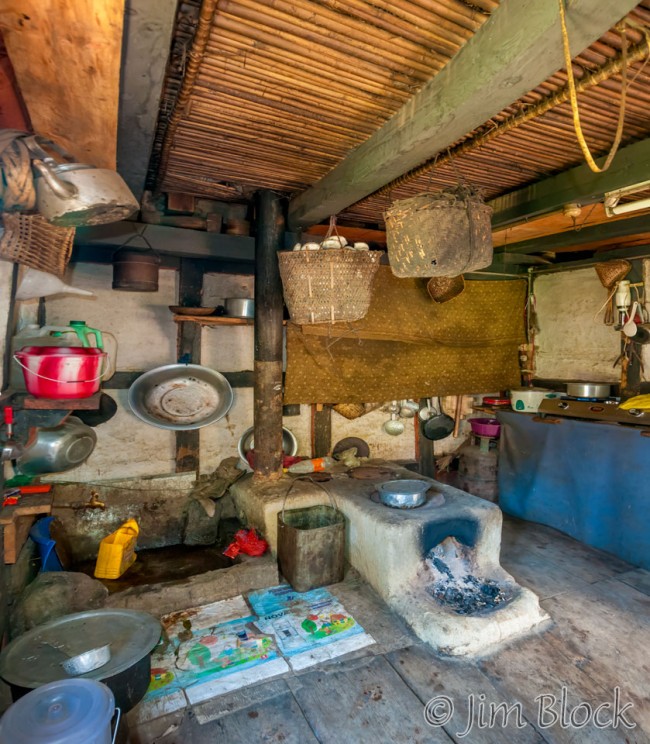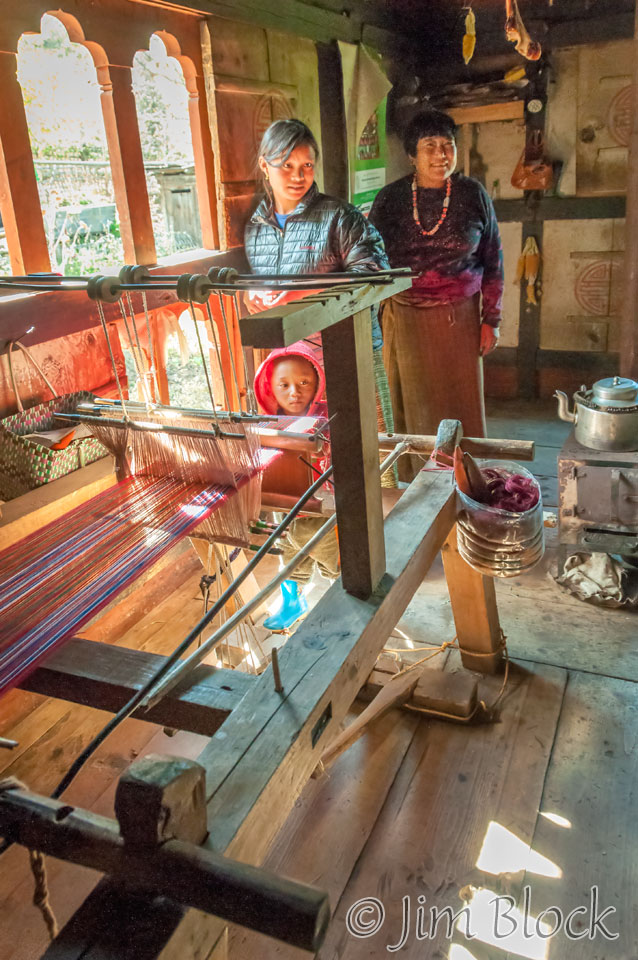 Like many homes in this largely Buddhist country, an entire room of Kencho's family's house was devoted to prayer.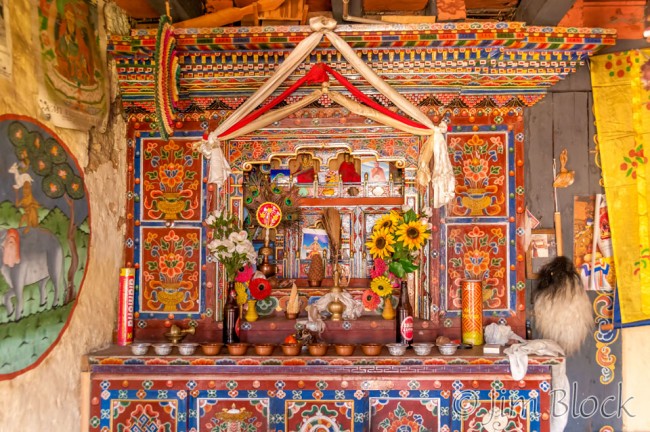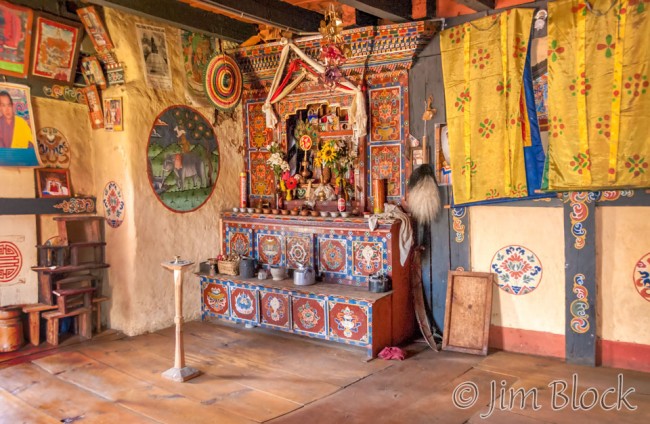 We sat on the floor of another room and Kencho and Lakey tried their hands at blowing a conch with unimpressive success.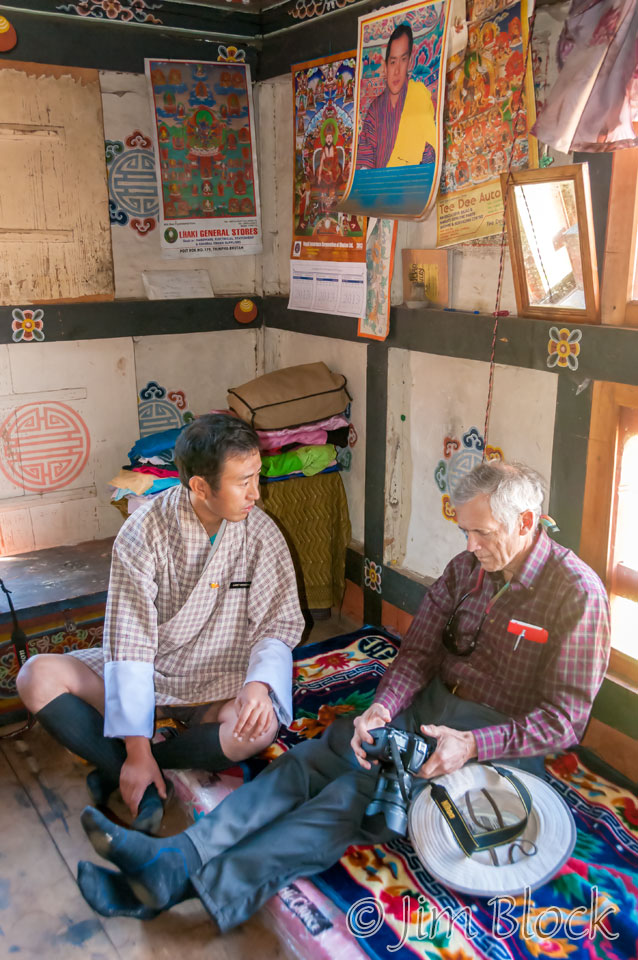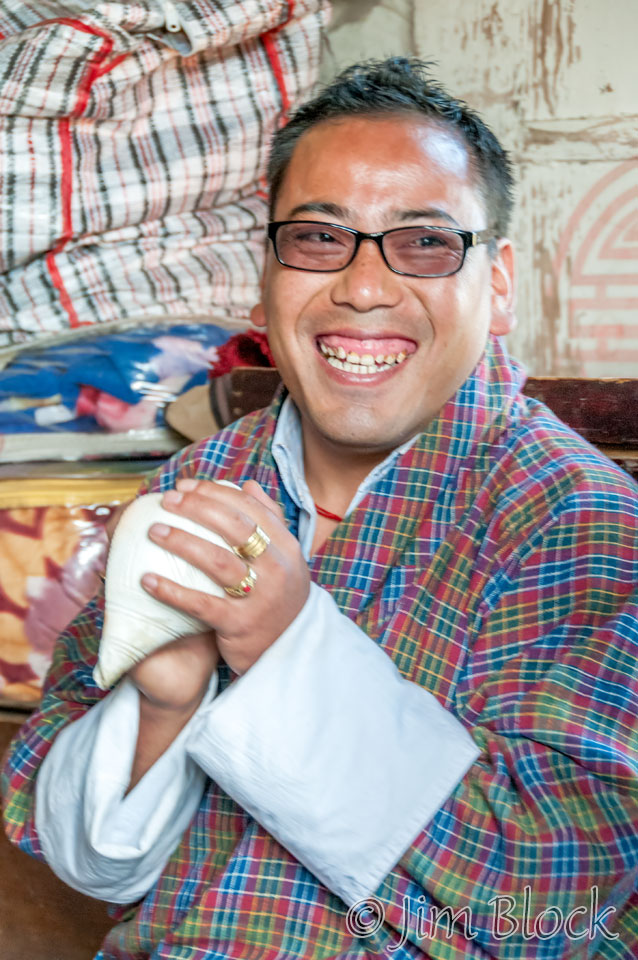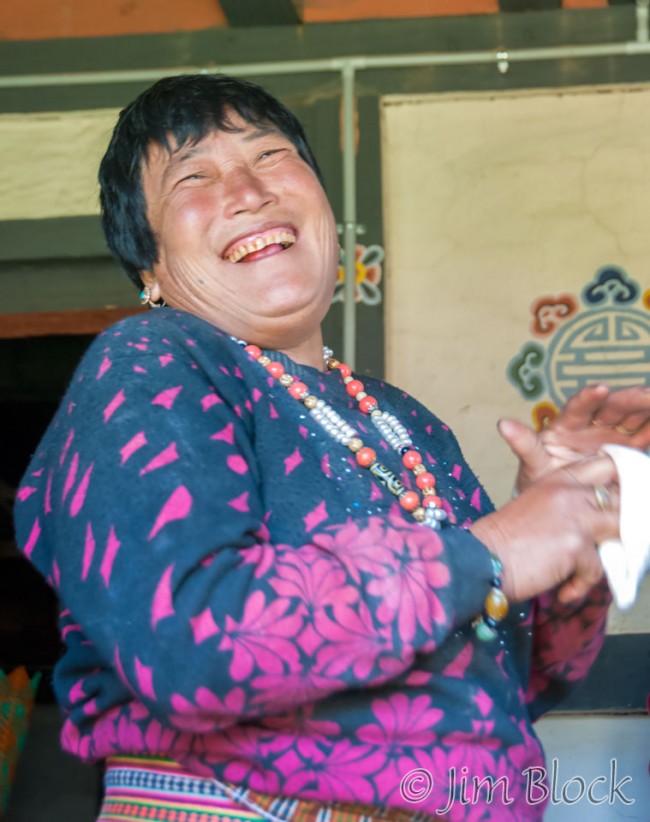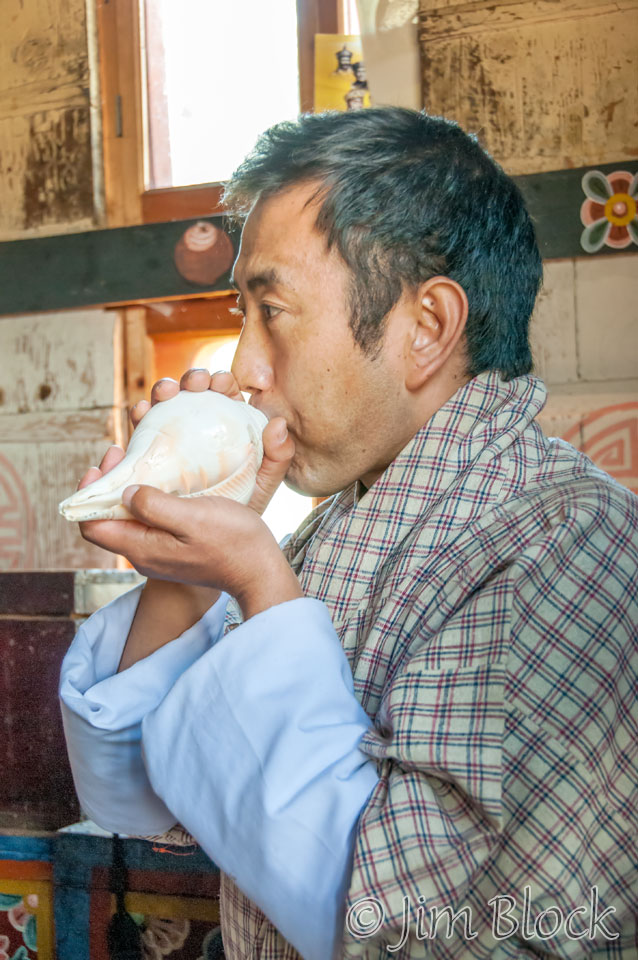 Ara was served from a traditional container, a cat slept on Kencho's lap, and Stephen photograph the cat up close with his iPhone. It was 11 AM.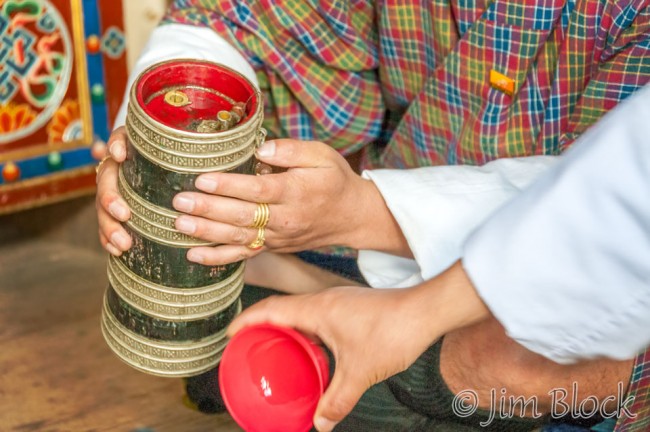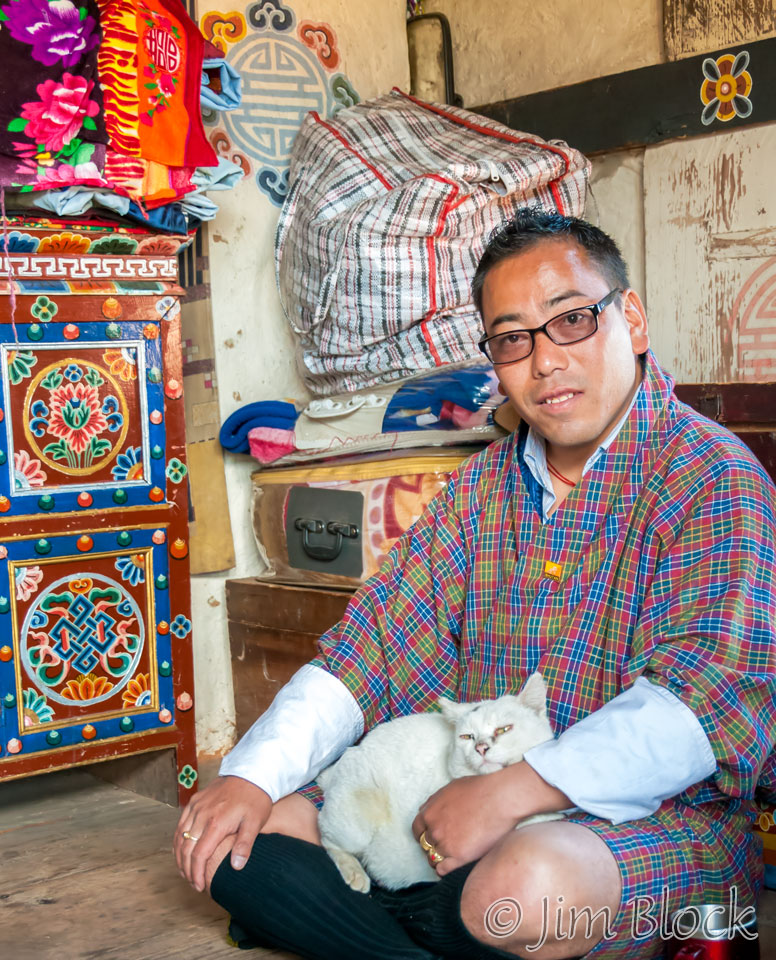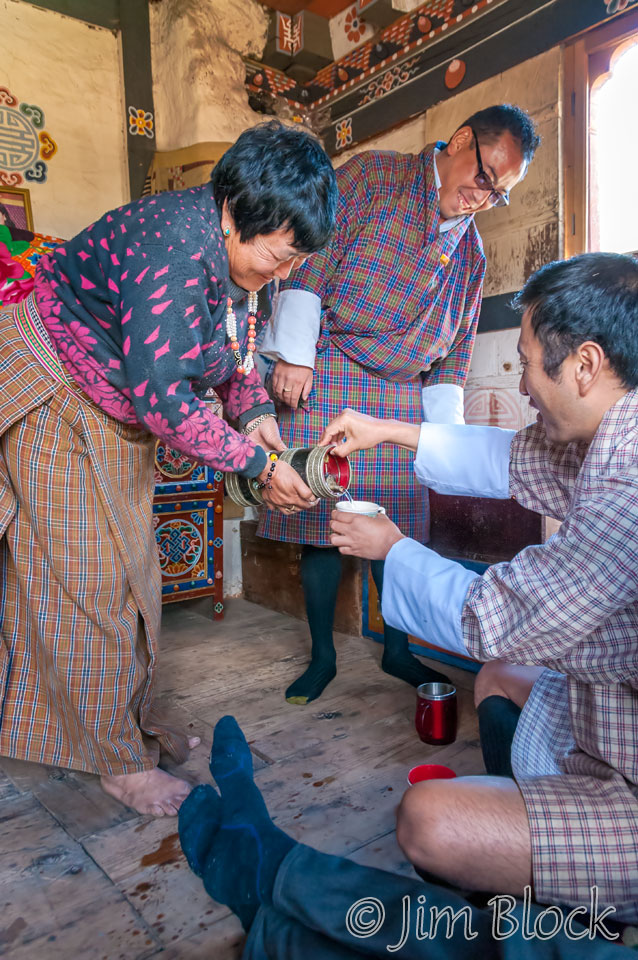 After saying goodbye to Kencho's Mother I commented that this had been better than visiting five temples. By the time we finished our tour of the village, Stephen and Lakey had upped the rating to "25 temples".
We wandered slightly uphill to an old temple. Nearby I photographed a man with a prayer wheel.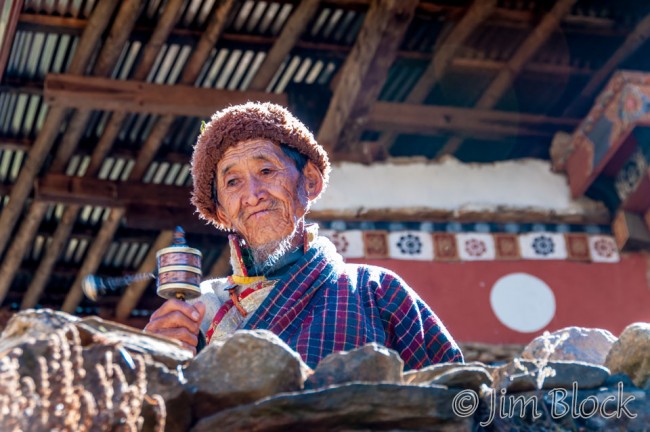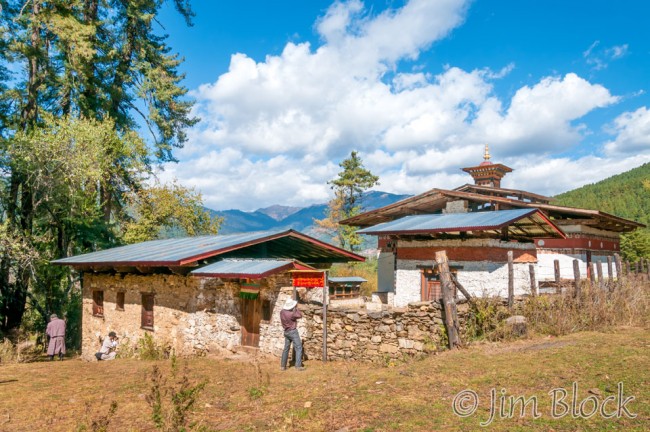 We watched a man plow a field the old fashioned hard way.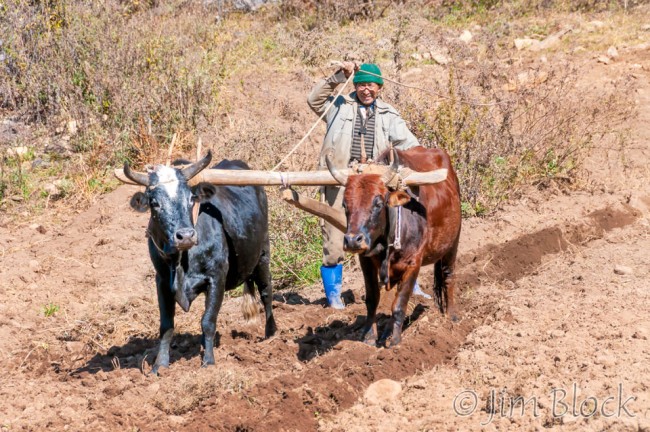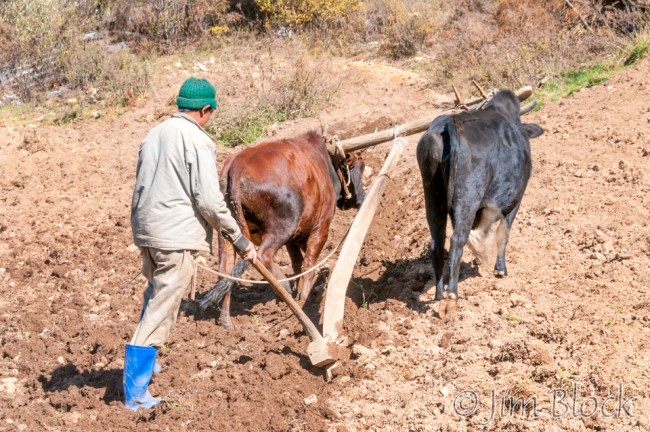 As we headed back toward our car we got a nice view of the temple and Kencho's family's home.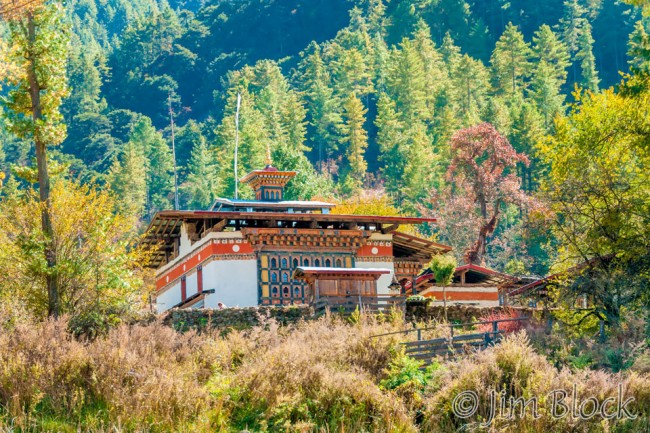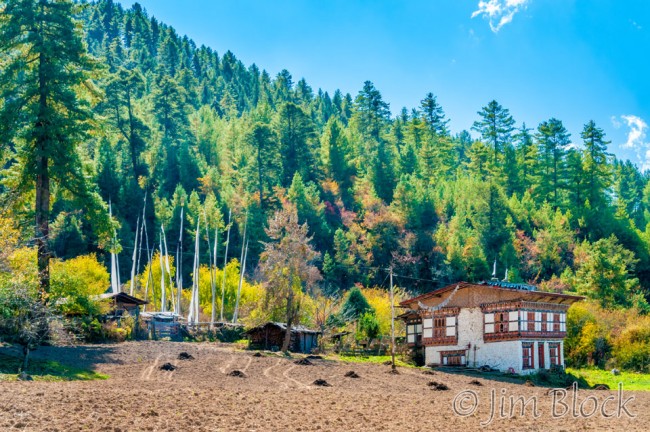 Below is a slideshow with additional photos from our extremely enjoyable visit to Phomdrong.