It is 5AM and the start of a great day. The room is cold but not bitter cold. The blankets worked fine with the sleeping bag. The mountains were beautiful as dawn arrived. I photographed them from my room and from the porch just outside my door. Here is Annapurna II far down the valley from my room. Tomorrow's page will show an early morning photo of Annapurna III emerging from the fog.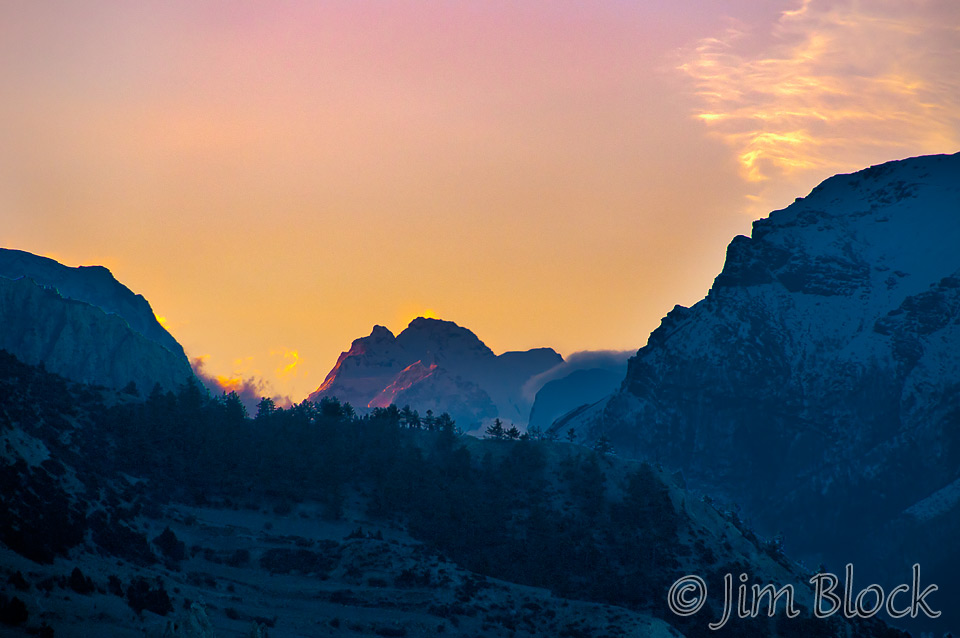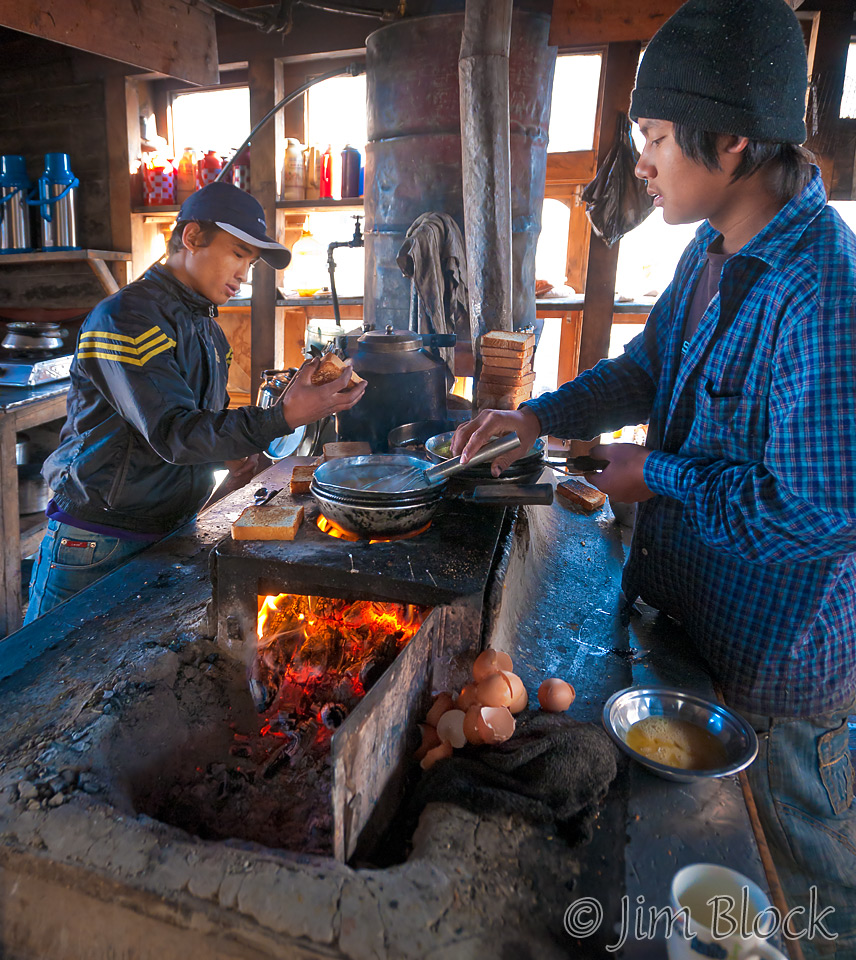 Except for Lisa being a bit under the weather everyone is feeling fine and will remain that way the rest of the trip. I'm feeling great, eating better (more) than most anyone, and fear I might actually gain weight on the trip. Chhongba assured me I would not, and I did not.
The menu for the hotel states "please order one hour before you want to eat" which is an honest assessment of a typical Nepali kitchen. This kitchen featured three young males although only two were present for breakfast when I photographed them. Fortunately there were only a few other people here these two nights, but a very group of people from France was expected right after we leave.
After breakfast I had some time to wander the main "street" of Manang and photograph some shops, homes, and people before our hike. Here is a dwelling complex I found visually interesting. I put a number of photos of the building of Manang where I have minimized the details to accentuate the forms on a Blog page. That page will open in a new tab if you click the image below.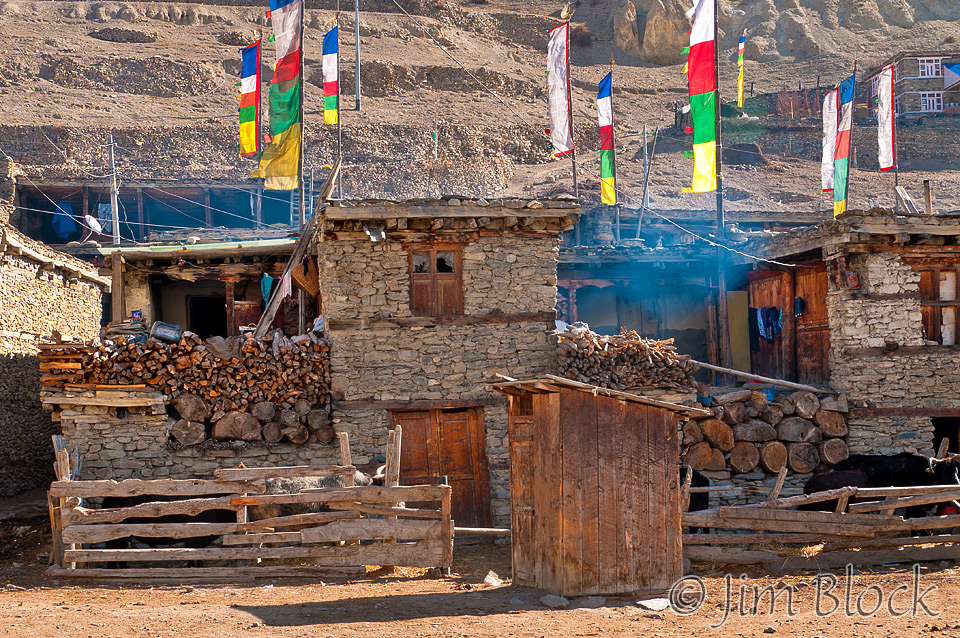 Here is a 6 shot panorama of a typical, though fairly large and well stocked, store.

We took an acclimatization hike across the river to a spot called Chongkar viewpoint 1000 ft above Manang and more than that above the Marsyangdi river which we crossed to get there. Our route took us across the valley and up a slope to an almost straight down view of Gangapurna Lake. For those interested in words, Gang means water or lake, purna means full, and Anna refers to crops. Here we are leaving Manang. If you can't read the labels on this photo the mountains are L to R: Annapurna II, IV, and III, and Gangapurna with the glacier below it. the Chongkar viewpoint is immediately below Annapurna III.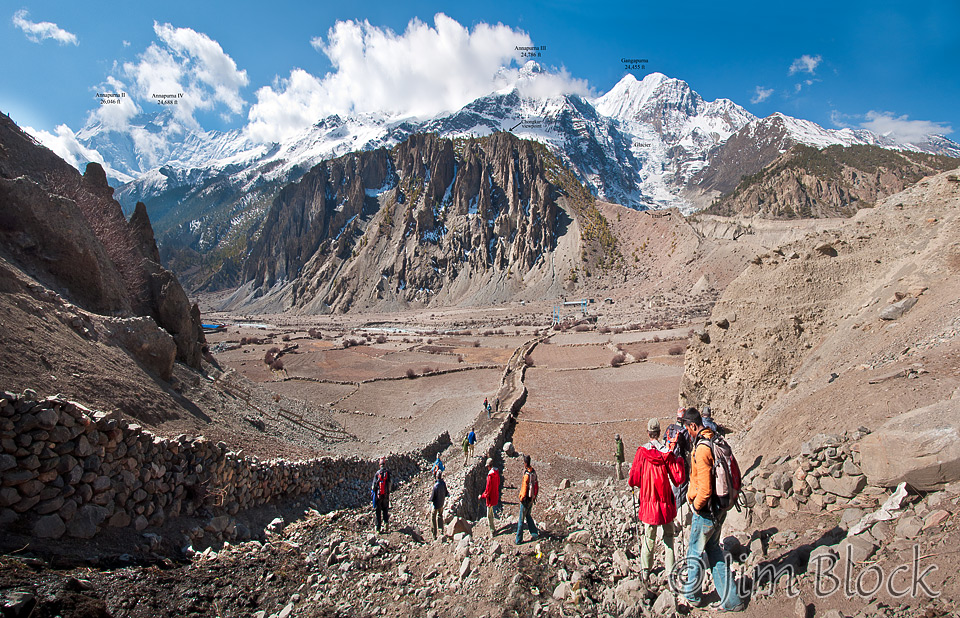 I put some photos of Gangapurna Lake in a Blog Post that you can open in a new tab if you CLICK HERE.
Up a switchback trail to the viewpoint and we got some great close up view of the Gangapurna icefall. We convinced someone to take a group photo with Gangapurna and its glacier in the background.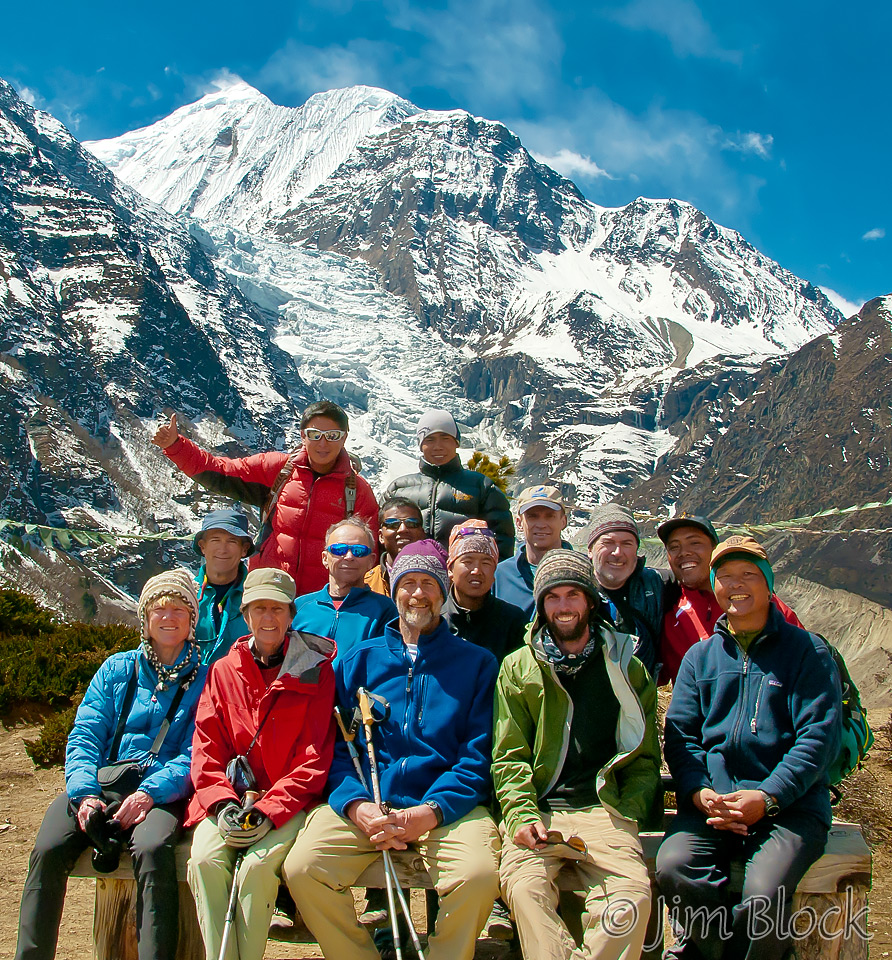 Coming back down I took it very slowly because I had learned how to baby my calf. So I got far behind, which made for some nice photos of our group with the lake in the background. Here is an overview. Others are in the slide show that follows. In addition I did a special tribute to the beautiful Gangapurna lake on an earlier Blog posting. You can view it in a special tab by simply clicking the image below.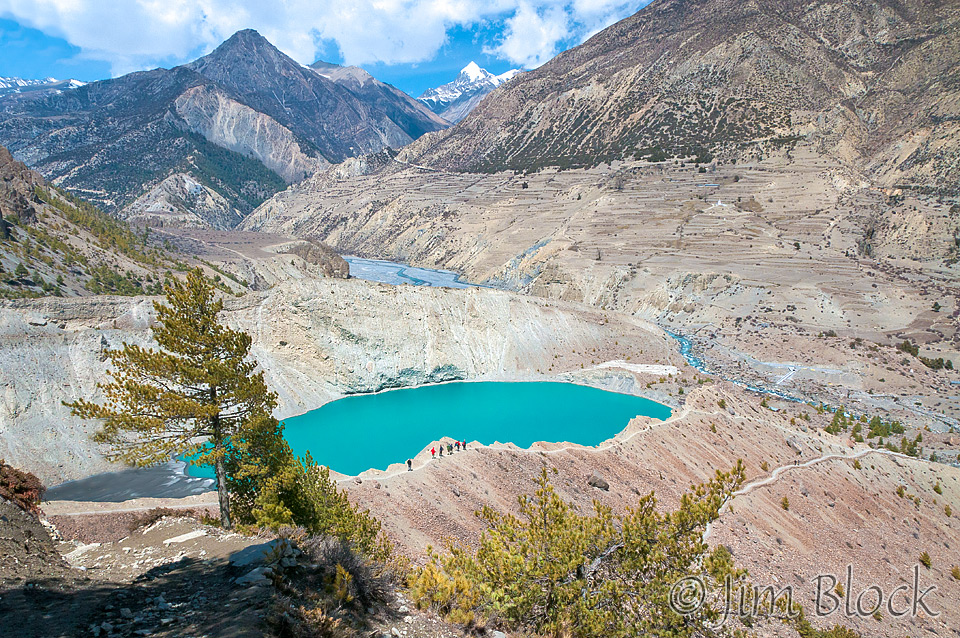 Part of our group learned later today that one of the risk factors for altitude sickness was being under 50. Must be why I have done well avoiding it! Remember the young Israeli group we saw a day before in Humde? Well, being young (well under 50) they pressed ahead to far, too fast, and too high. One of them collapsed and had to be brought downhill tied to a horse to the clinic at Manang. When he reached Manang he could sit but not stand. We watched a helicopter pick him up from the buildings in the lower center of this photo and take him to Kathmandu. We were told later that once at lower elevation he revived and was doing well. Getting down and into thicker air is the best cure for altitude sickness—if you can do it soon enough.

After lunch we presented the porters and sherpas with fleece from Leeli, sock we bought for them and other pieces for apparel that would help them over Thorung La with minimal discomfort.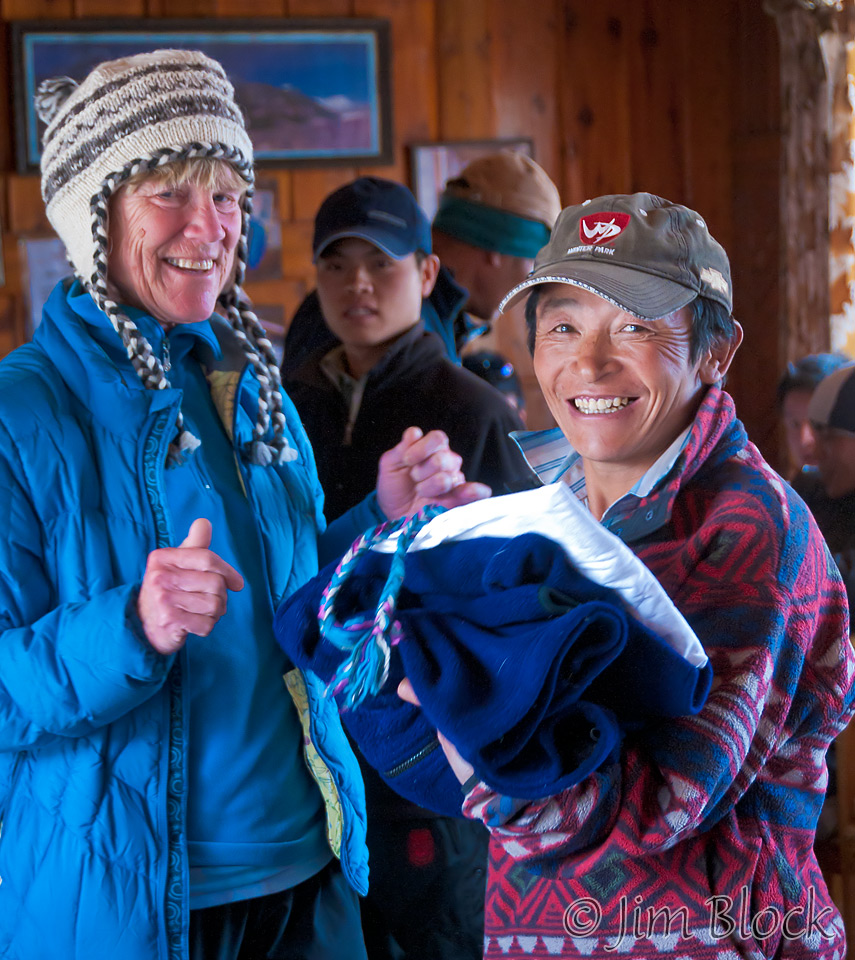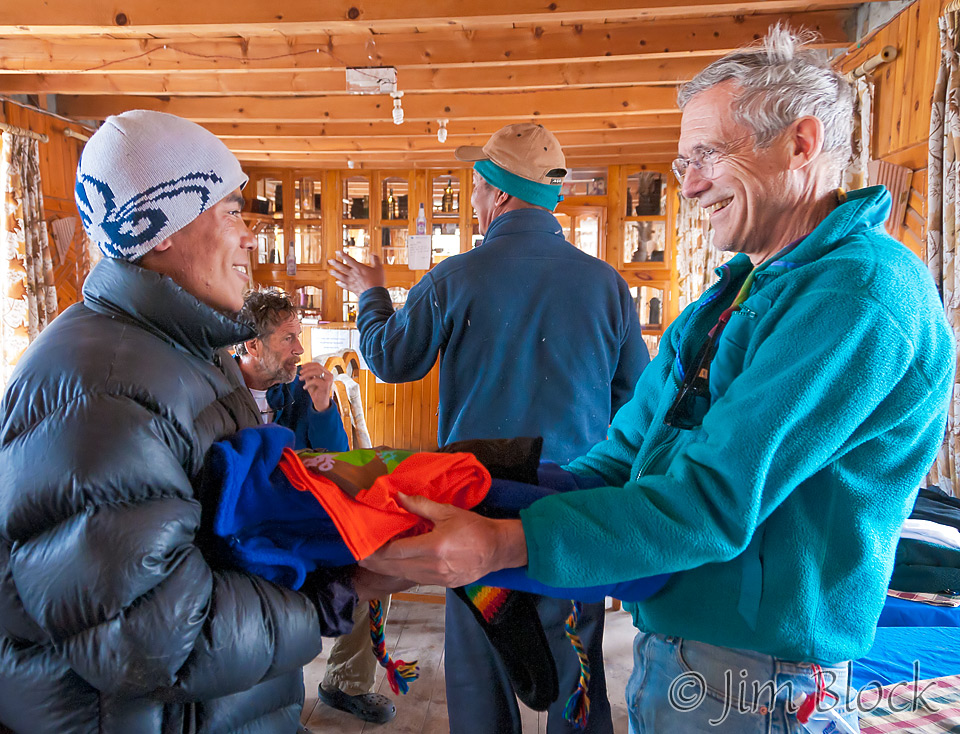 In the afternoon the conscientious ones in our group went to get our vital signs and oxygen content checked at the local clinic and hear lectures on altitude sickness. The less conscientious of us grabbed a camera and wandered around the old part of Manang. Old Manang was absolutely spectacular, old structures of stone and wood, narrow walkways, animals at every turn. Parts of old Manang still had leftover snow from the winter in the shielded court yards. The slide show at the bottom of this page has many photos from old Manang as well as photos of the people and children of Manang.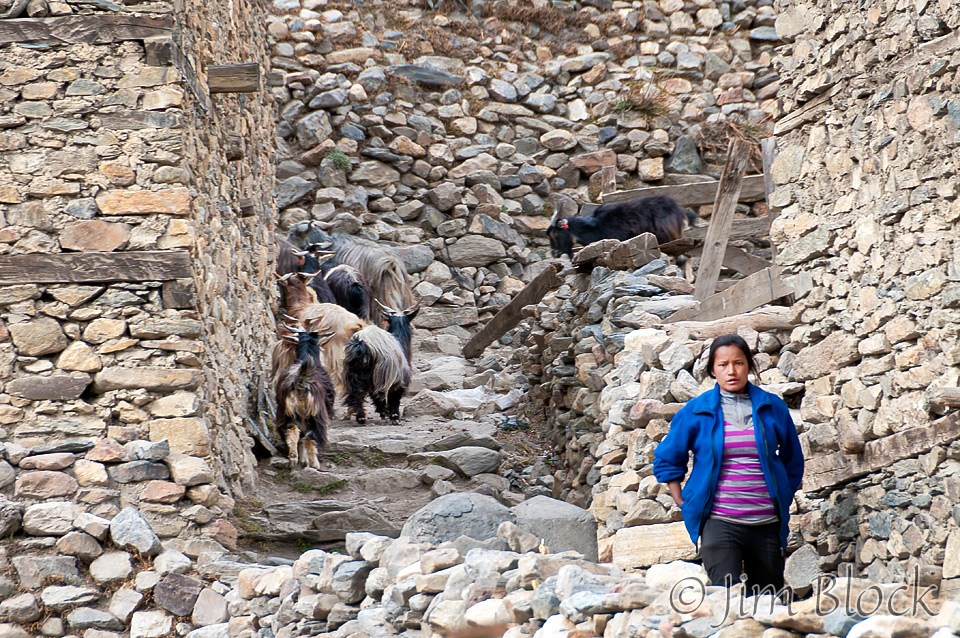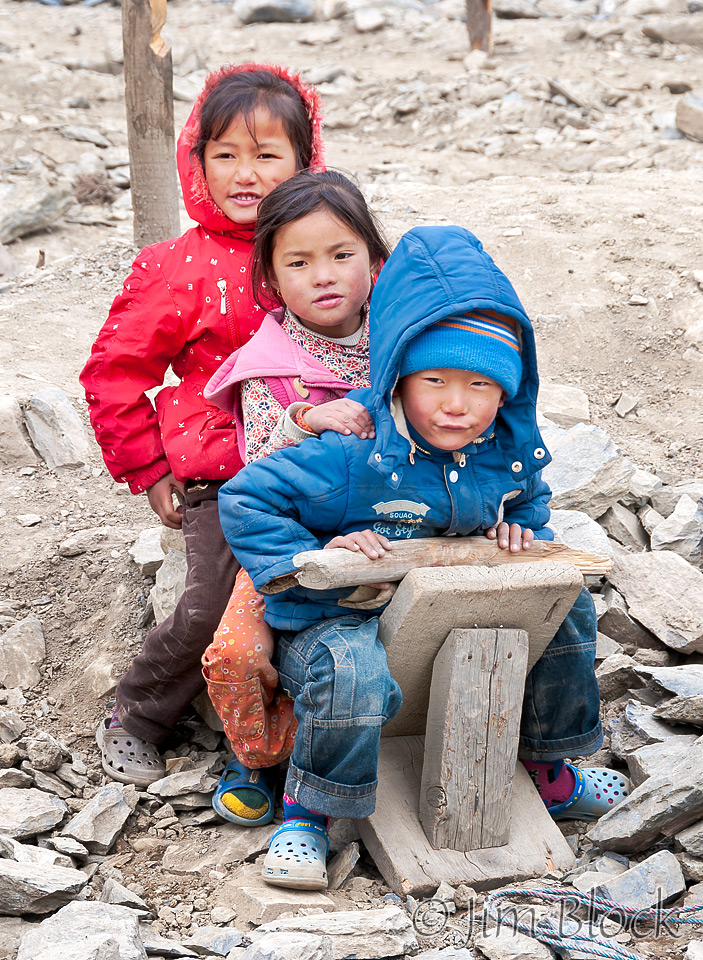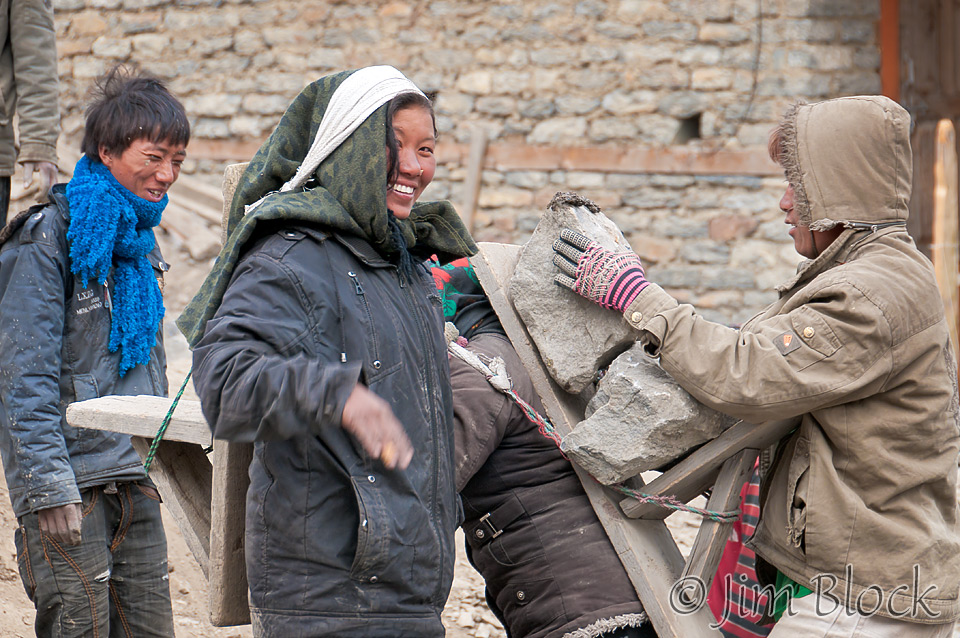 As I saw in Chame and other towns, much of the transporting of heavy stones is done by women. The men load their backboards and the women carry the rocks. Children in Manang use the backboards as pretend cars although it is likely they have never seen a car in person. In the slide show below, portraits of the men and women involved with the rock moving and wall construction follow the photos of the rock carrying.
In Manang, as in most of the towns along our trek, ladders were carved out of logs as can be seen in the photo below.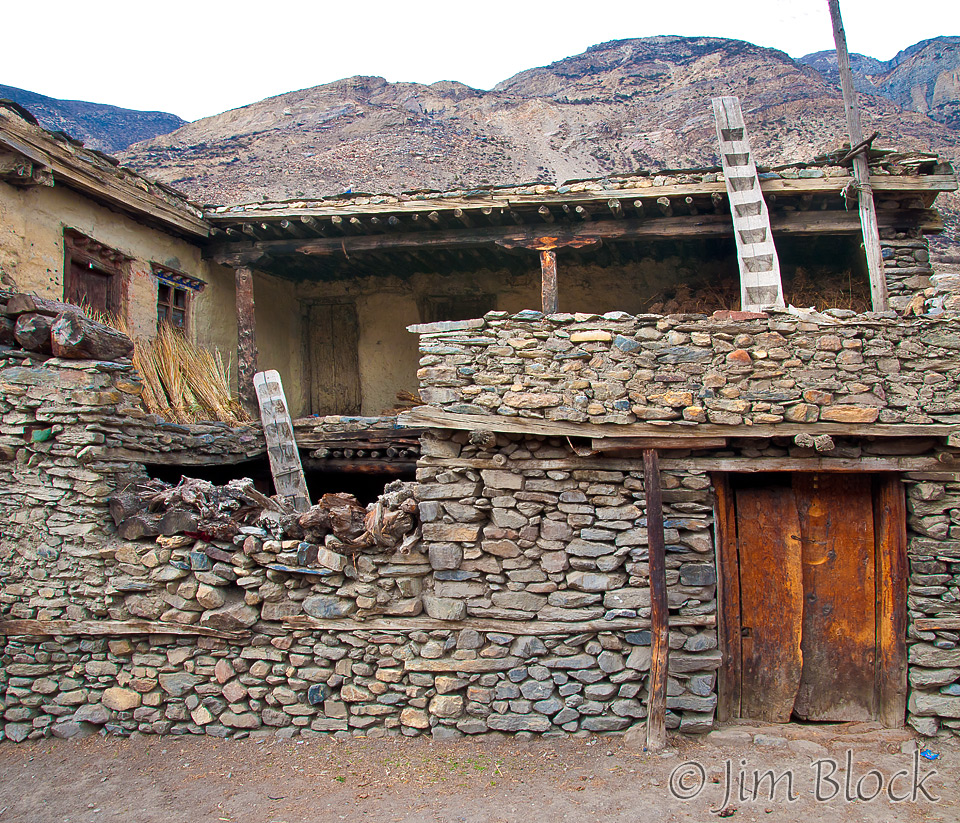 I put some simplified photos of Manang in a Blog Post that you can open in a new tab if you CLICK HERE.
Manang had several movie theaters. One is shown below. I was not tempted to check them out, so much to do and so little time to do it.

I put photos of the people of Manang in a Blog Post that you can open in a new tab if you CLICK HERE.
Please don't miss the slide show below.