We awoke in Paro at 7,545 ft elevation, ate a quick breakfast at 6:30 AM, drove a long hour past the Drukgyel Dzong that we visited earlier with Dhamey, passed through an army base at Gunichawa shown below, and met our trekking support staff at Sharna Zampa. It is here at 8,580 ft we would start and end our trek. Today we would walk 22 km in 7 hours and spend the night at Thangthankga at 11,843 ft.
Many treks start walking at Drukgyel Dzong and spend the first night camping at Sharna Zampa. They then walk the same dusty road out at the end of the trek. At Thangthankga we met a pair from Alaska who did this. They hated their first day and were trying to negotiate for a ride out from Sharna Zampa at the end of the trek instead of walking the road again. We were very glad our trek started where it did.

We knew we had a long and tiring day ahead so we were anxious to get going. No way! First we needed to sit, relax, and enjoy the customary tea. About 30 minutes after we arrived at Sharna Zampa and said goodbye to Lakey and Kencho, our guide and driver, we were off across an amazing cantilevered bridge. This would be the first of several crossings of the Pao Chhu (river) which we would follow to its headwaters on Jomolhari for three days.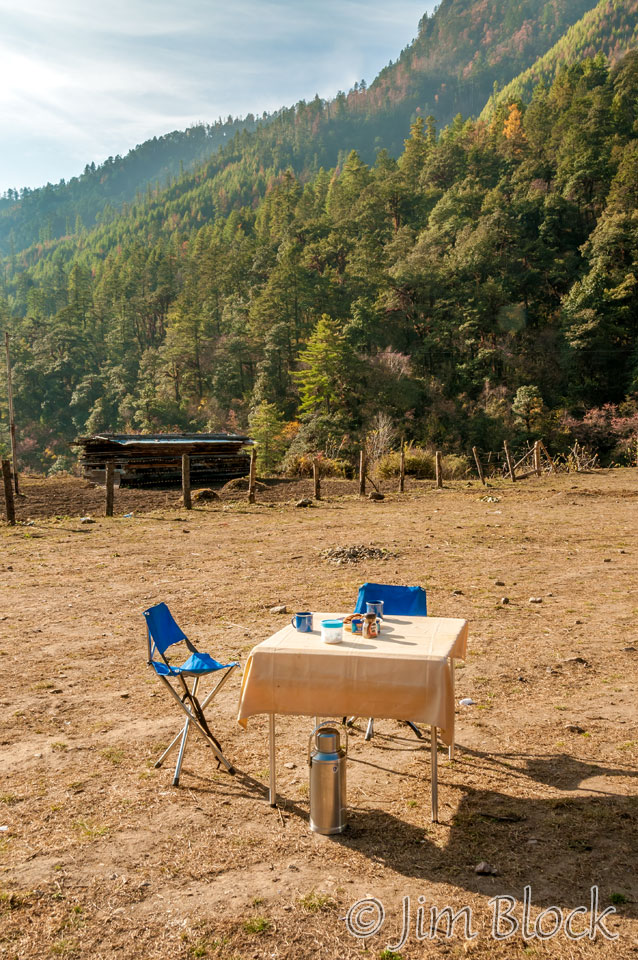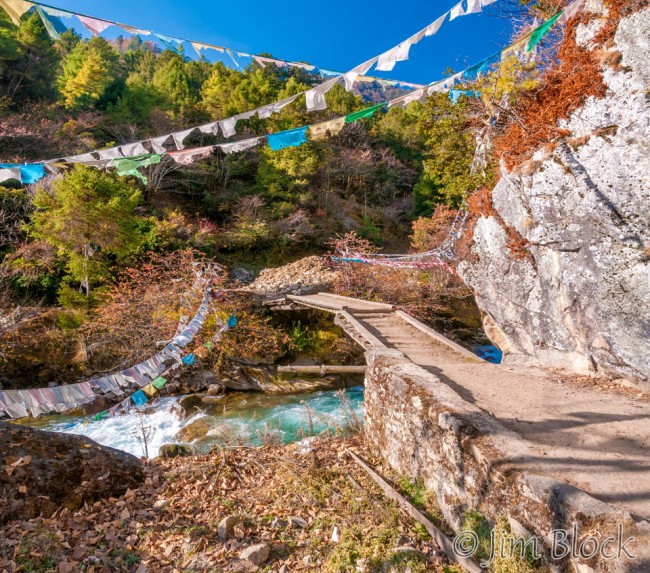 We passed through a beautiful oak and rhododendron forest.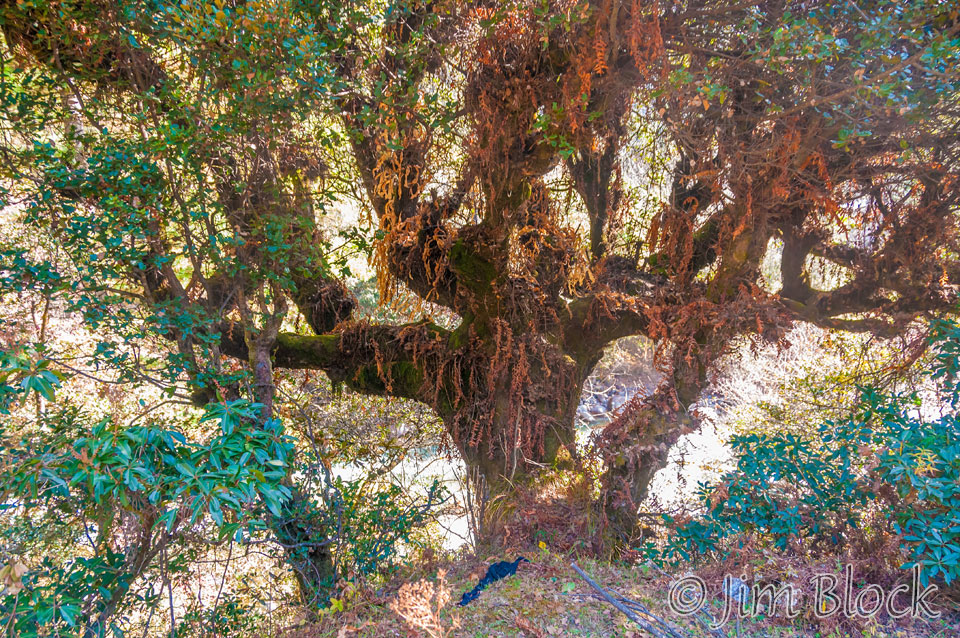 For 6 days we would be in this huge area that is Jigme Dorji National Park, home to Snow Leopard, Takin, Royal Bengal Tiger, Himalayan Black Bear, Blue Sheep, Red Panda, and more than 300 species of birds. You can see the approximate route of our trek on the map on the main Jomolhari page.
Throughout our trek our fantastic guide, Phub Tshering, would educate us about the natural environment and people who lived in this sparsely-populated rugged area.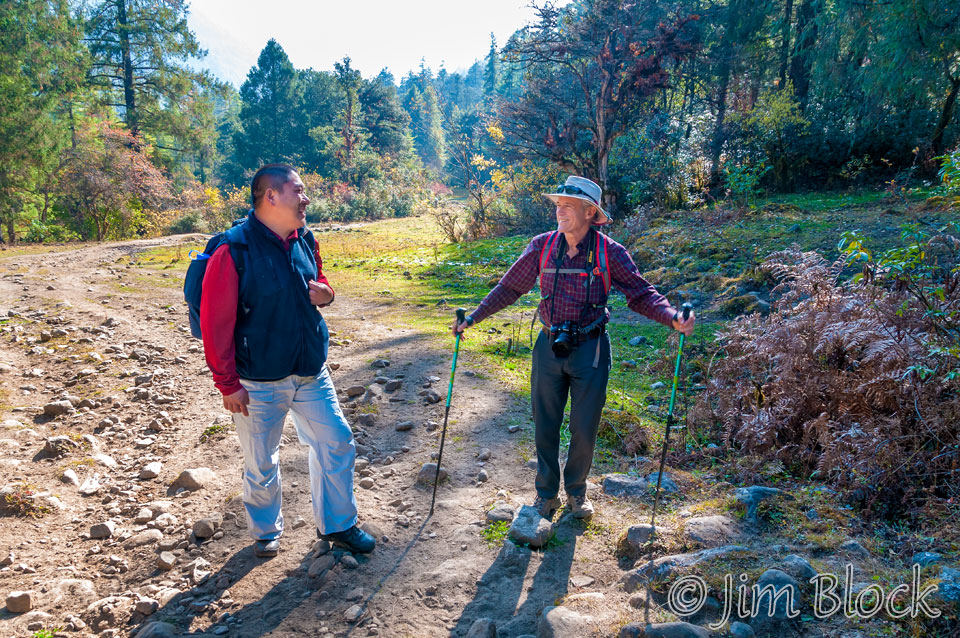 We followed the Paro Chhu which had beautifully colored water from glacial melt. Even the dried-up side stream beds were colorful with backlight streaming through the oaks.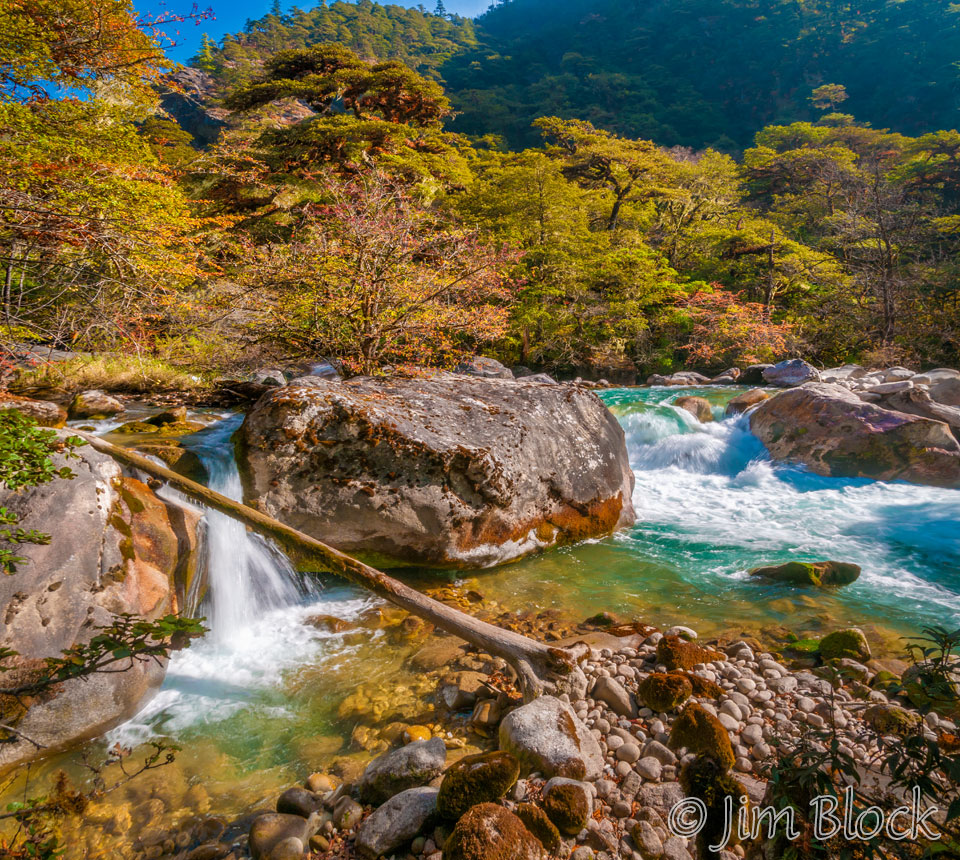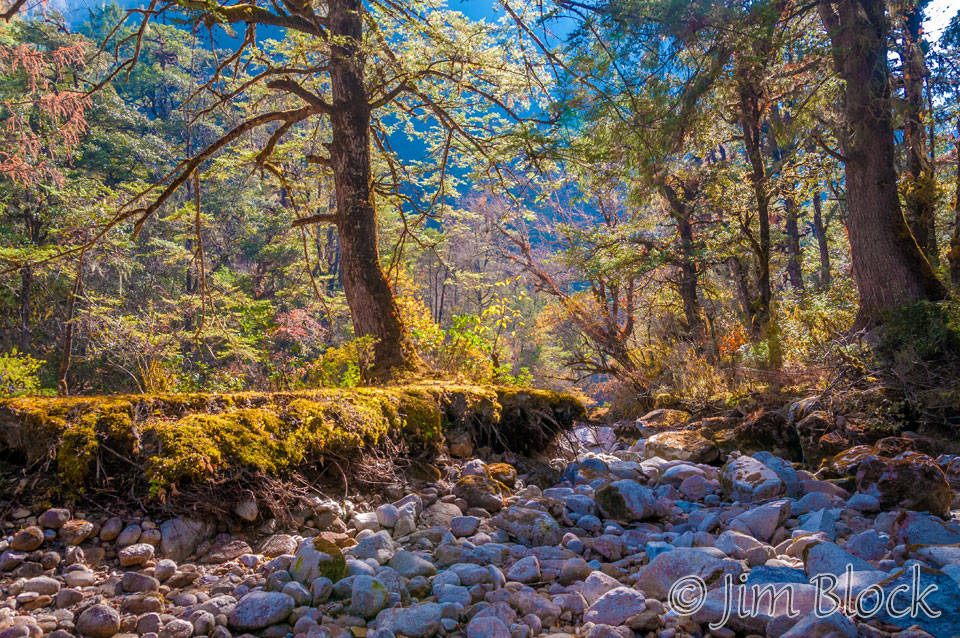 At 11 AM we rested briefly at a farmhouse along the banks of the Paro Chhu.


Stephen paused to admire the river before crossing.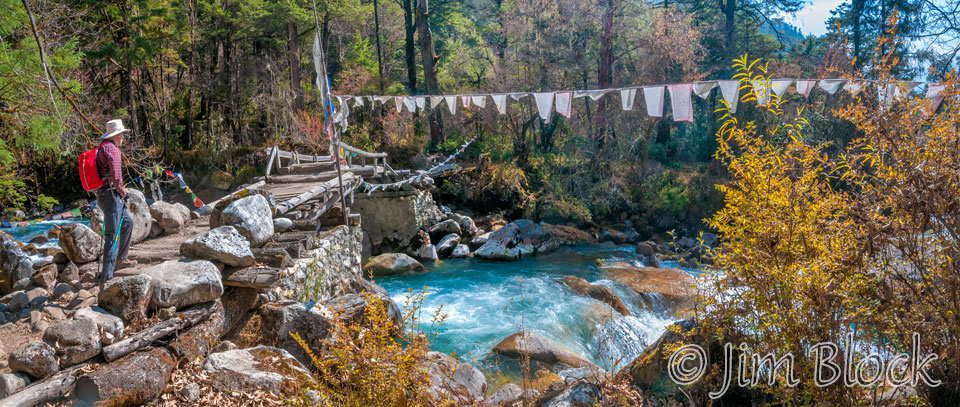 At 12:30 pm we stopped for a hot (!) lunch. The food on this trek was varied and excellent.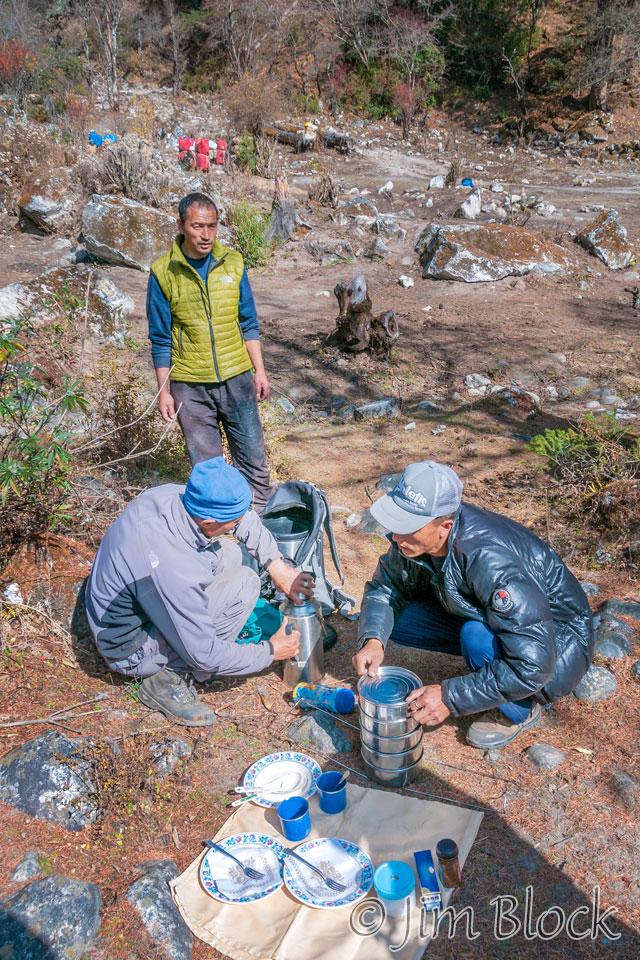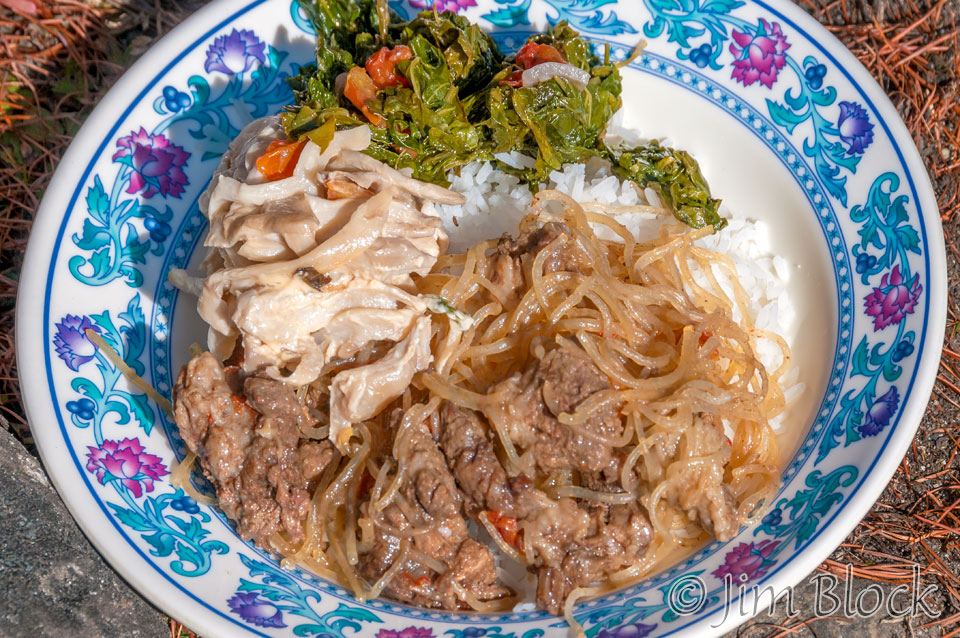 After lunch we continued our up and down and up and up slog. I asked Stephen rhetorically, "Why do we do this to ourselves?" This was the day I took the fewest photos of any of the 23 days we were in Bhutan.
Nearing our campsite for the night we got our first look at Jomolhari.
As we approached Thangthankga camp, Phub walked ahead. He is about to enter the camp in the photo on the left and just inside the compound on the right.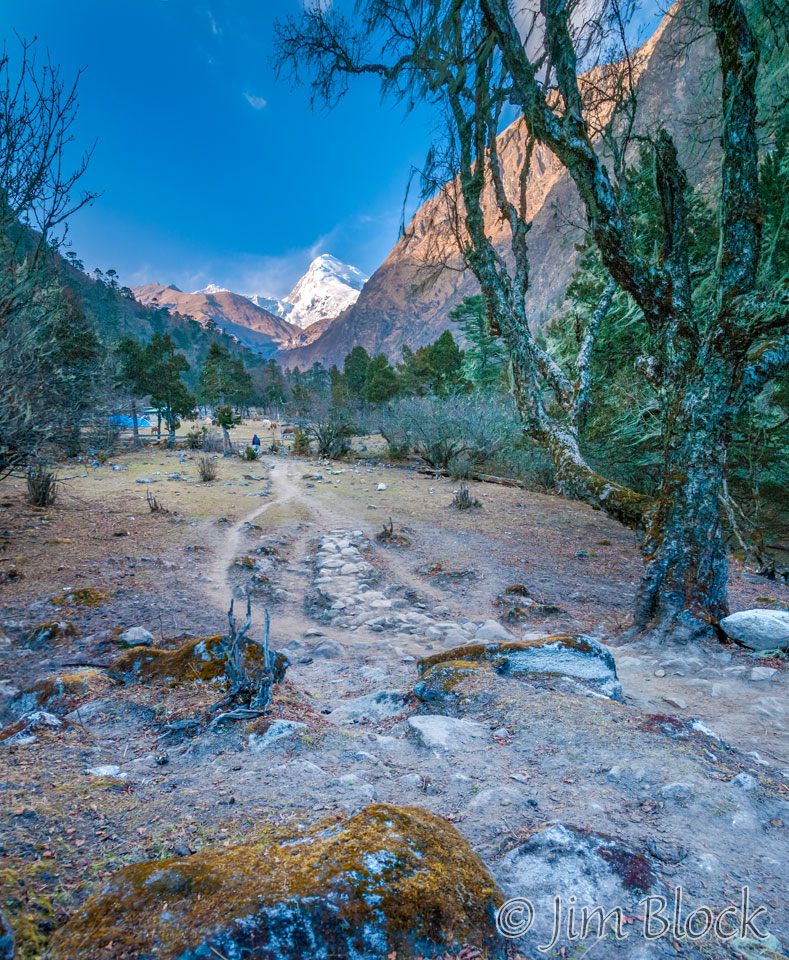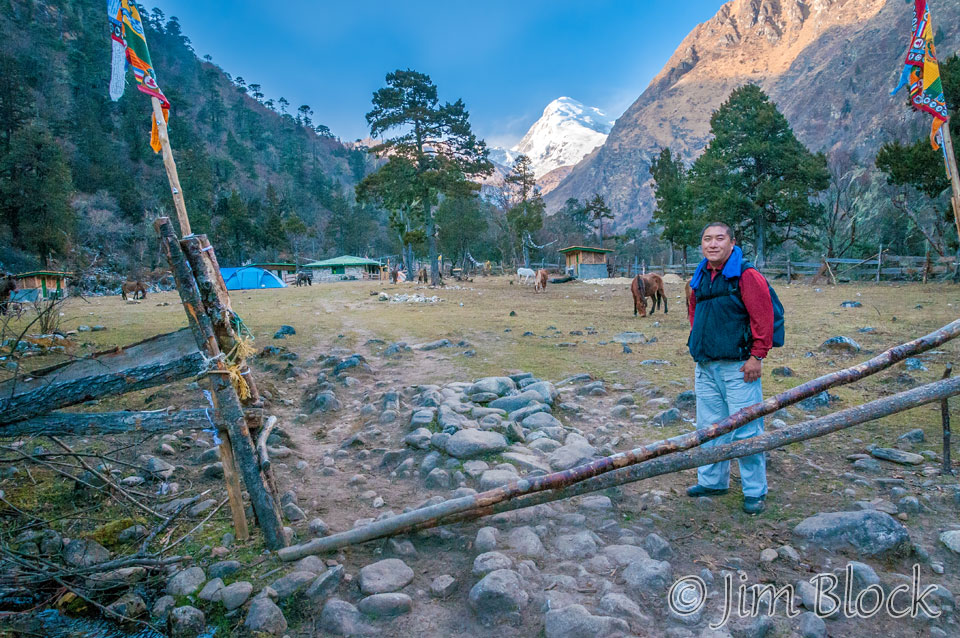 Dhamey didn't skimp when it came to accommodations. We had a three room tent with both of us having our own bedroom. Each side was large enough to sleep two, or even three, comfortably. Our meals were served in the dining tent, but it was nice to have a central room for boots and trekking poles and a table to hold essential gear, like cameras, water bottles, and hats.
My notebook reports it was cold at Thangthankga, and I was tired. We were served a snack of hot cashews and hot chocolate. Our tent and sleeping bags were brand new. The bags still had labels on them! As it happened each night, we went to bed with a hot water bottle in our sleeping bag.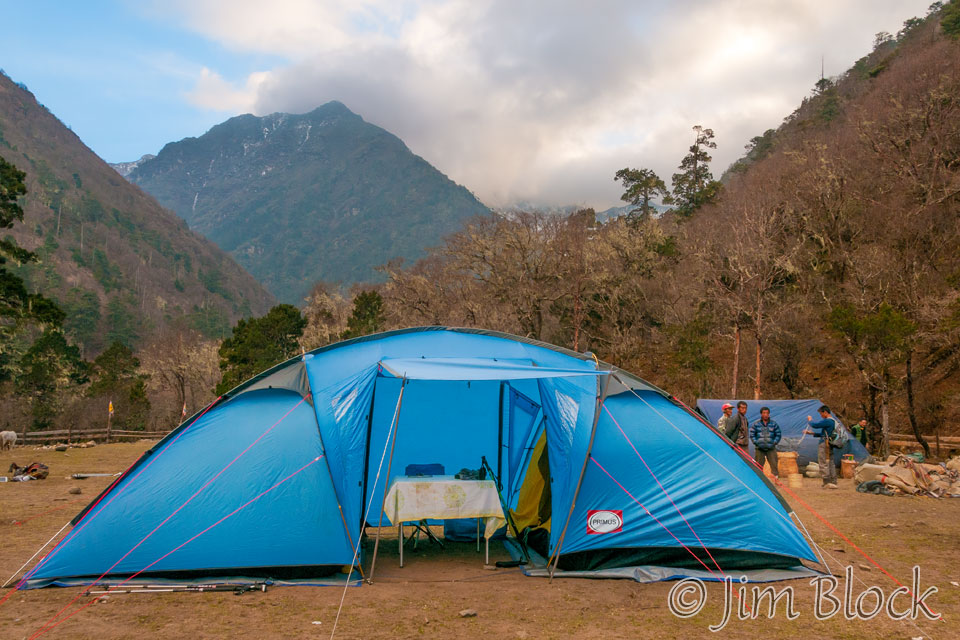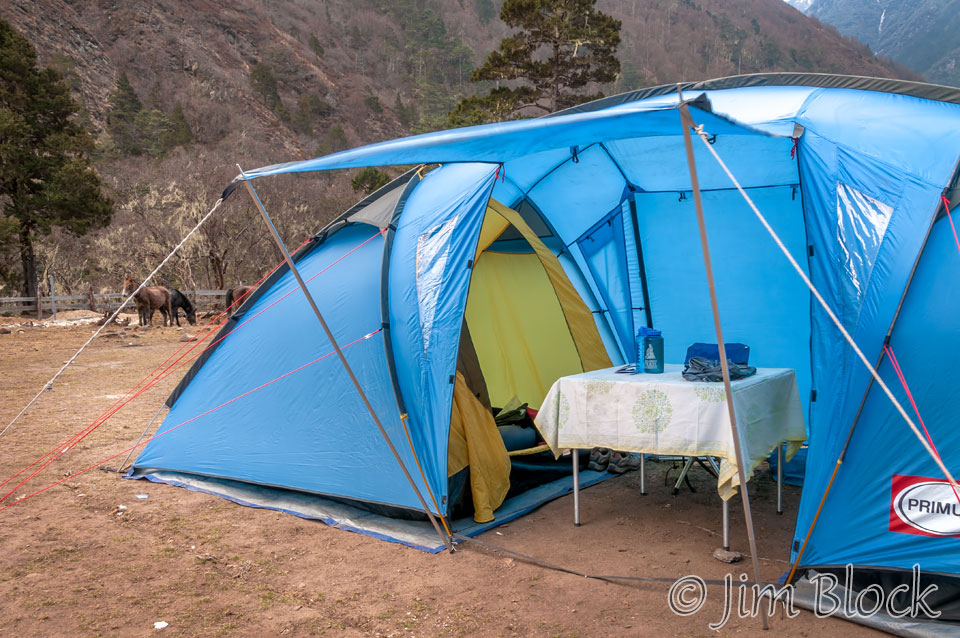 Below are two photos of Jomolhari from our campsite. The left photo was taken at 4:08 PM, and the right at 5:42 AM the next morning.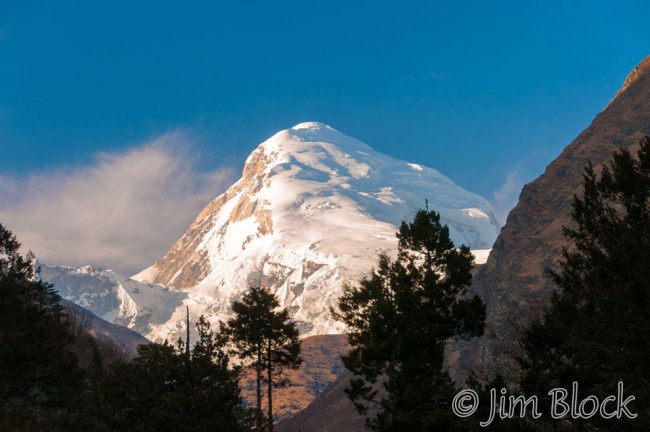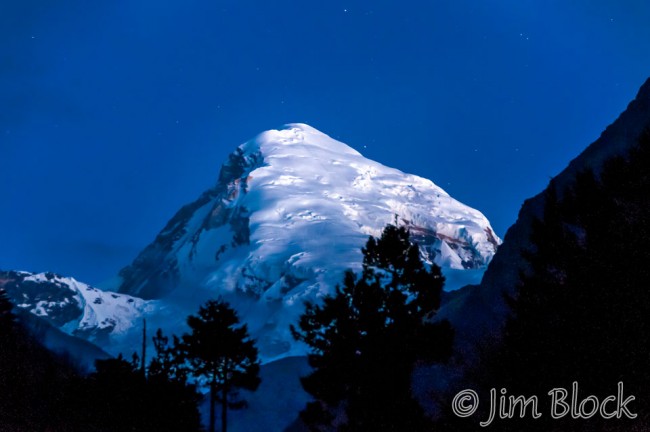 It was a long and tiring first day. But there would be longer and more challenging days ahead, especially the last three when we crossed a high pass each day only to descend into a deep valley for the night.
Here are a few more photos from Day 1 of our Jomolhari Trek in northwestern Bhutan.