I got a good 9 hours of sleep last night, from around 7:15 PM to 4:15 AM. I took my 4th half Diamox pill and my notebook notation reports I thought I heard a wild boar.
Day two started with some interesting morning light at Thangthangka. This is a view back down the valley toward Paro where the trek started.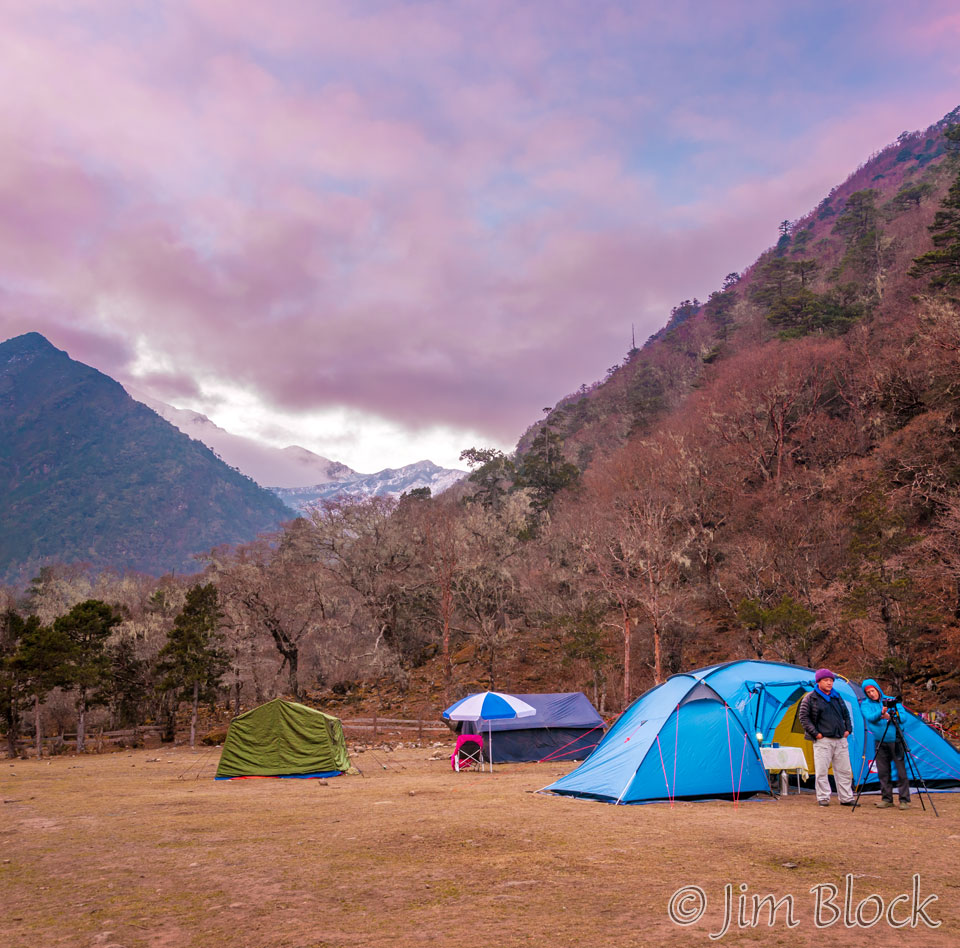 The morning light on Jomolhari was nice, with just a touch of clouds for atmosphere.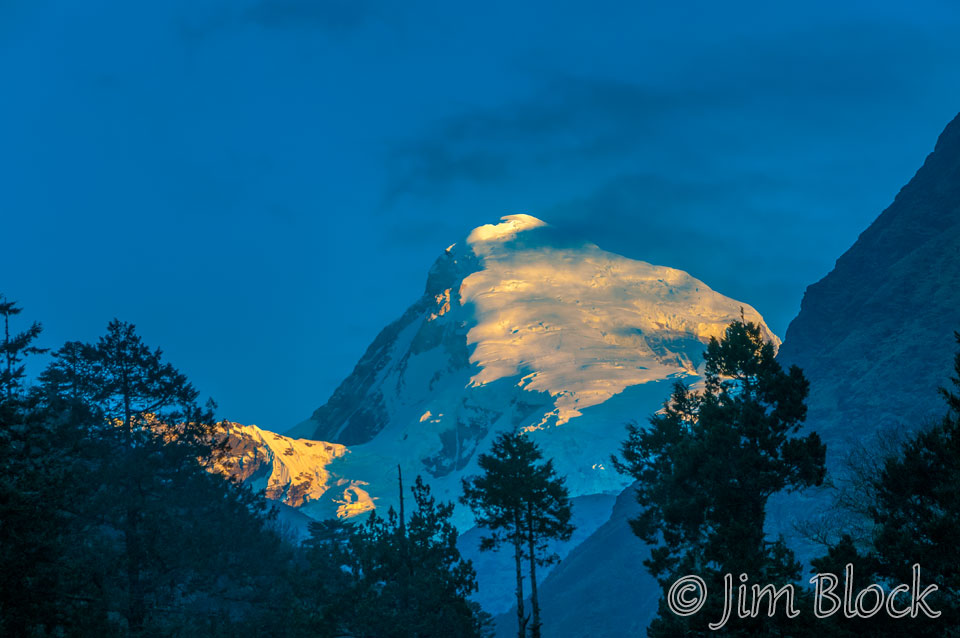 I wandered outside the compound and photographed the trees and old-man's-beard above the Paro Chhu.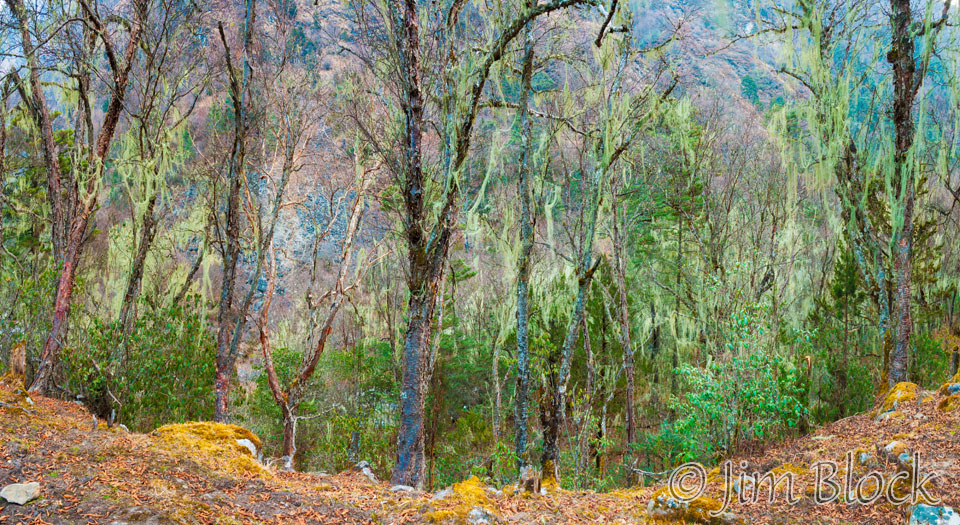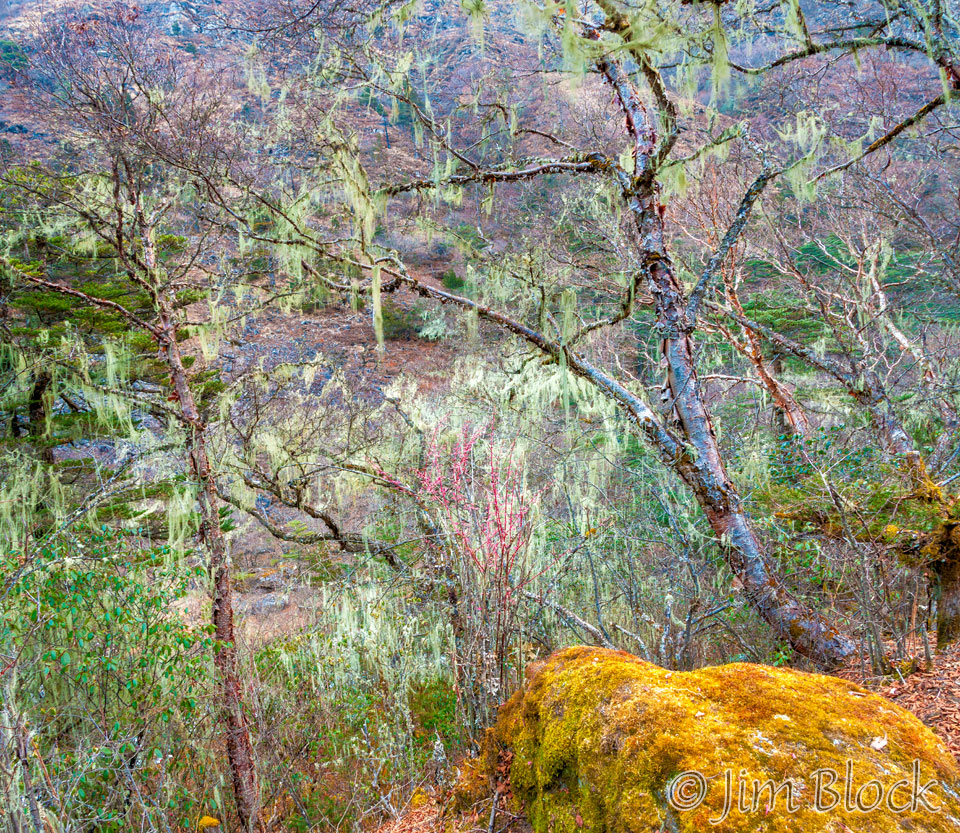 Before we left camp I couldn't resist another shot of the view back toward Paro and one of Jomolhari.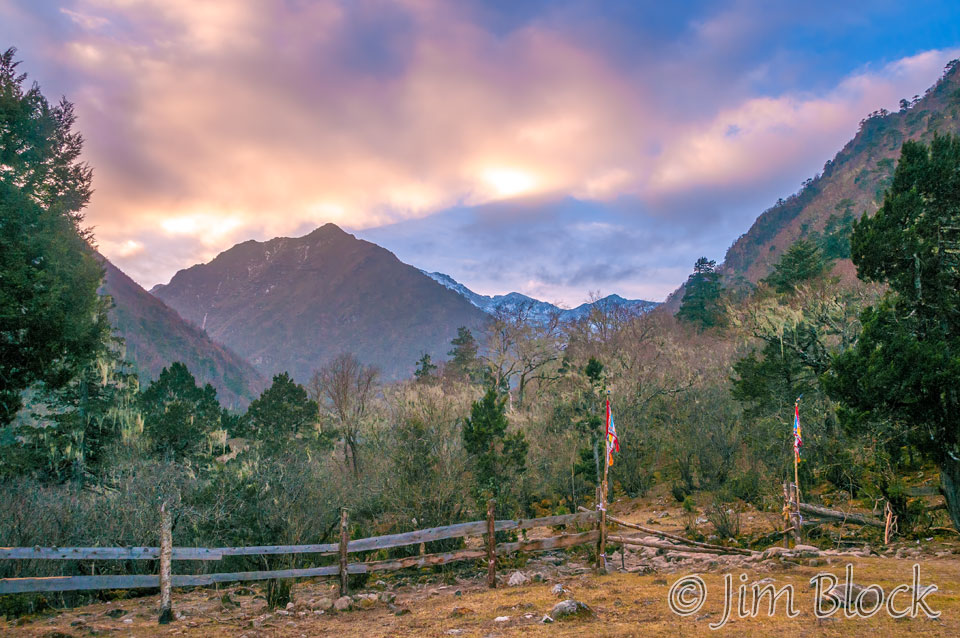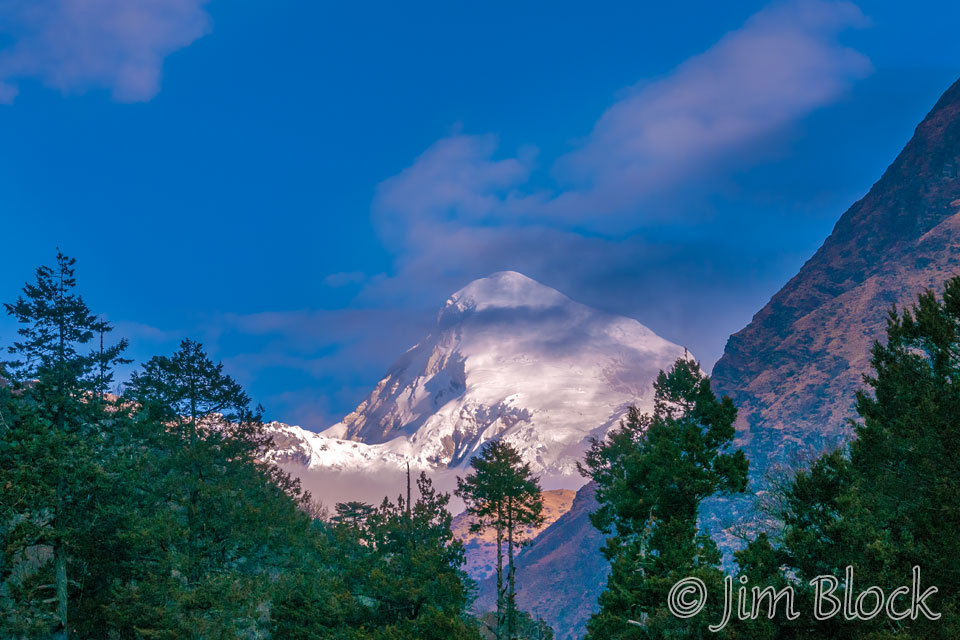 I took this pair of photos a short distance from our camp at Thangthangka. Today was going to be an easier 19 km, 6 hour hike.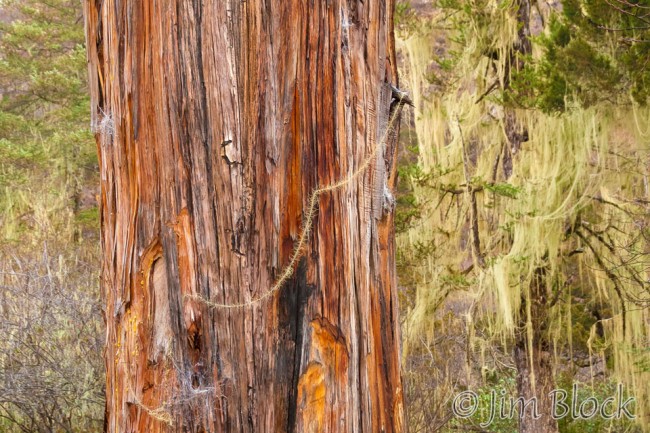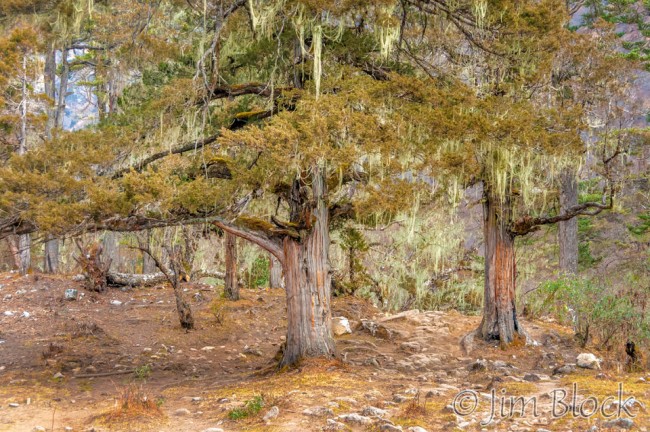 The early bright reflections on the river were too much to pass up.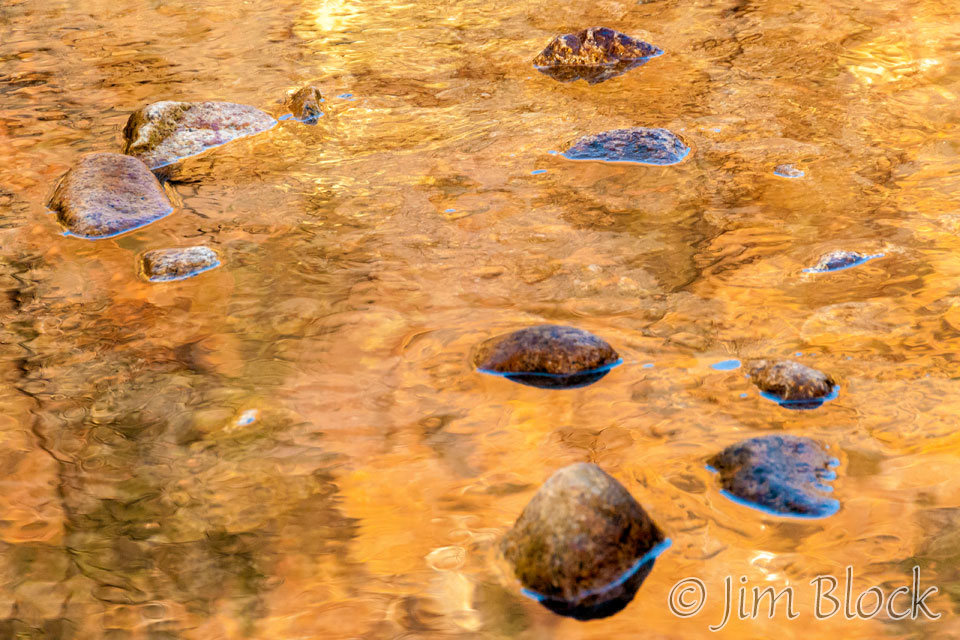 As was this yellow birch with golden backlight.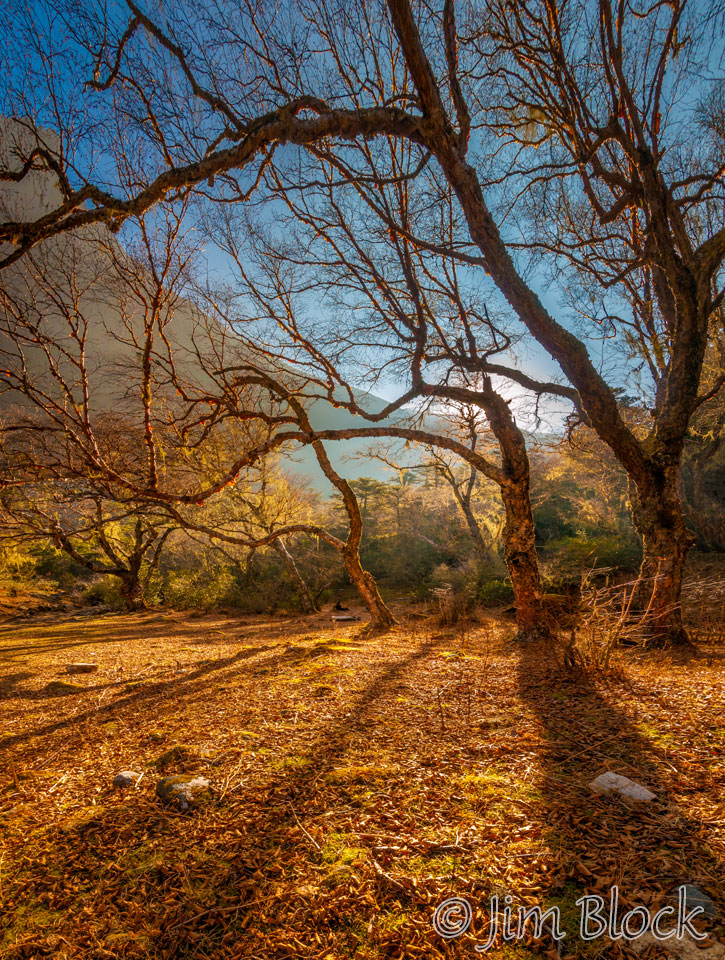 We reached an army checkpoint. I noted the plane of the national airline of Bhutan, Druk Air, in the shape of a phallus.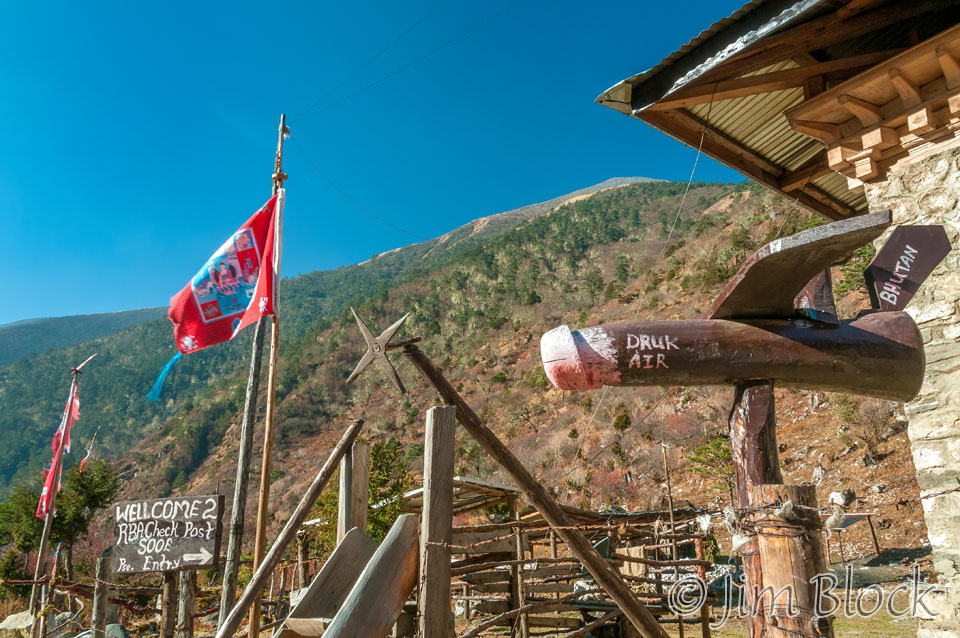 Further along a flock of snow pigeon made a flyover. And we saw our first pair of yaks.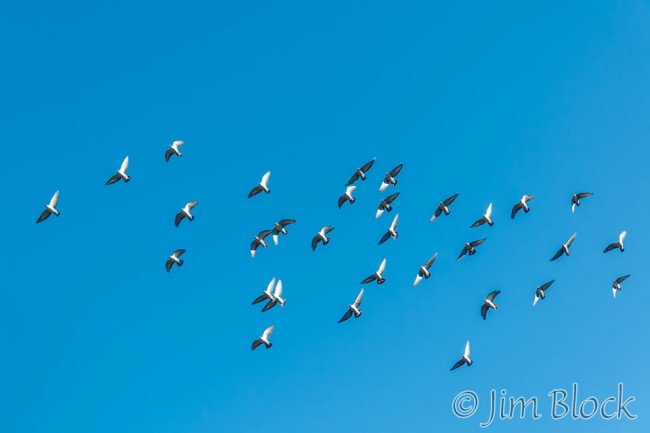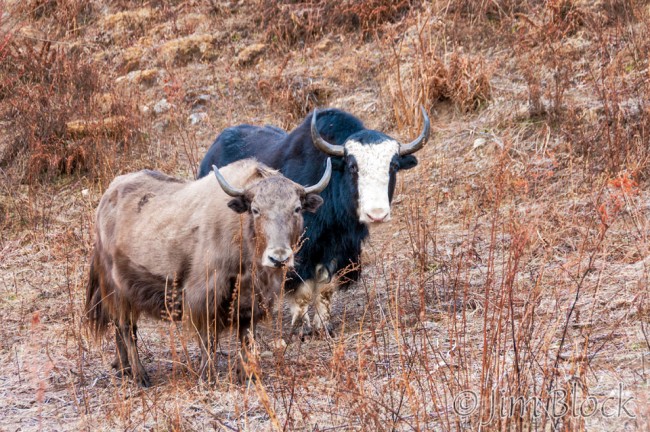 The Paro Chhu was still colorful, but the forest was getting scraggly. Soon only the heartiest trees would be left.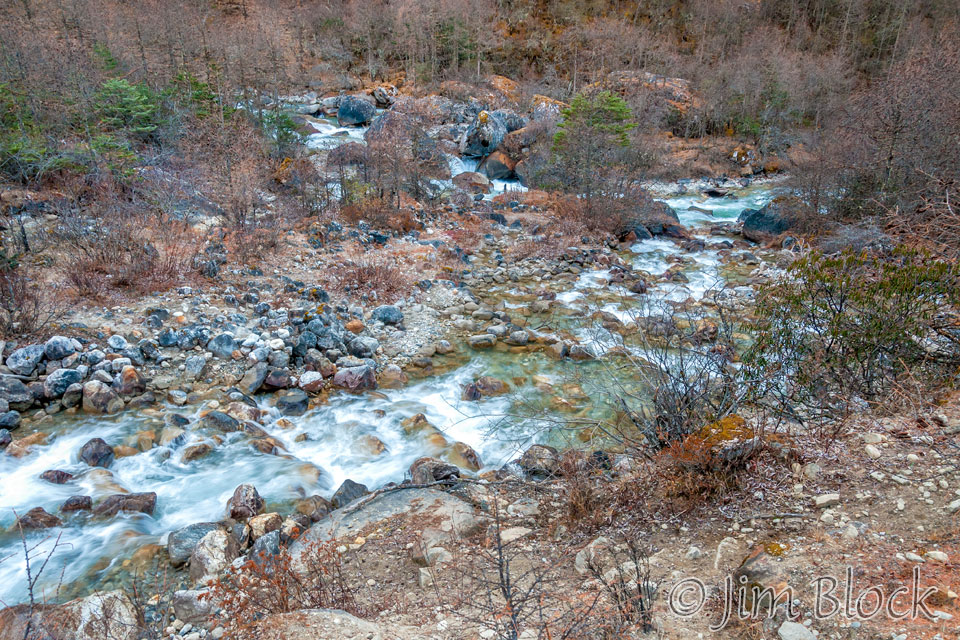 We stopped for an early lunch.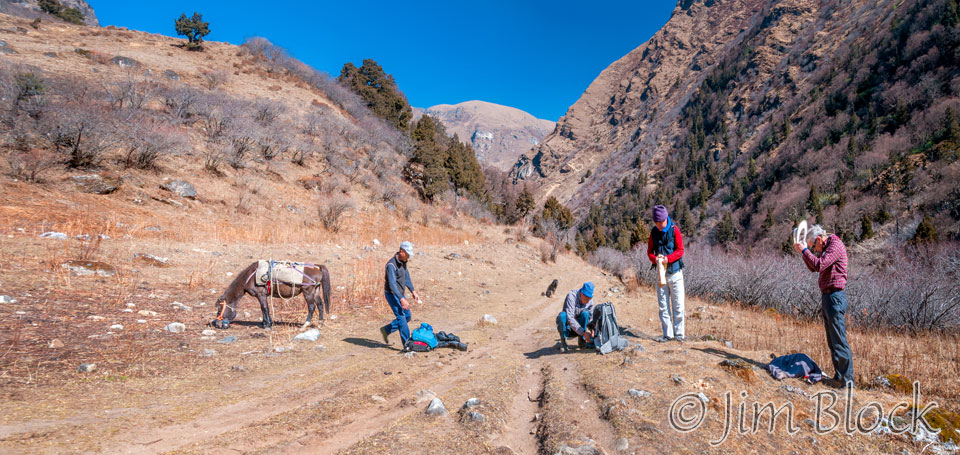 Nearby I found the remains of areca nuts (also called betel nuts or beetlenuts) which are combined with betel leaf and a dash of lime to make doma, a traditional addictive mix many in Bhutan chew. And part of our crew caught up with us.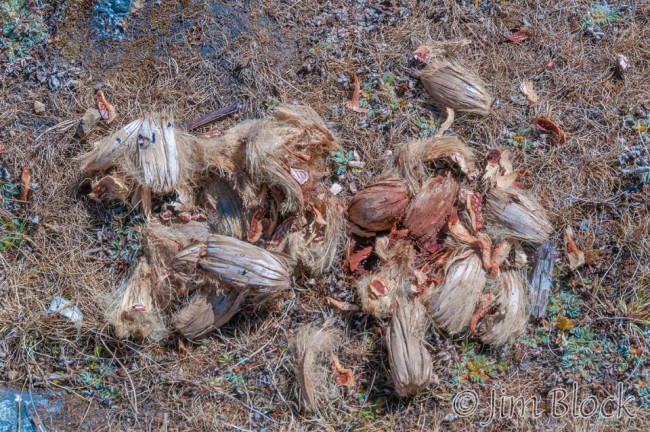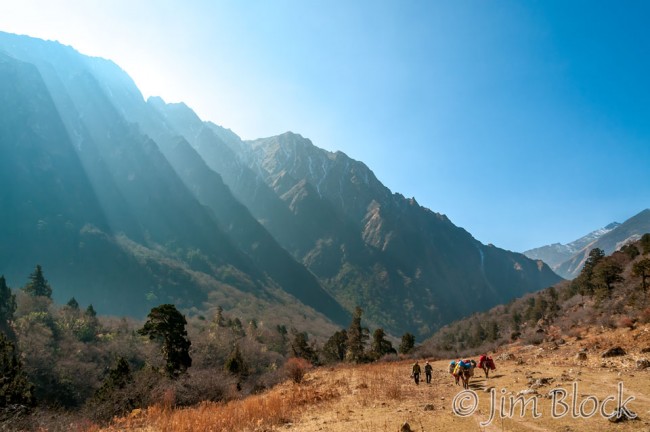 We passed a small house with the traditional Bhutanese open top floor for grain. And for electricity this far into the mountains, solar voltaics.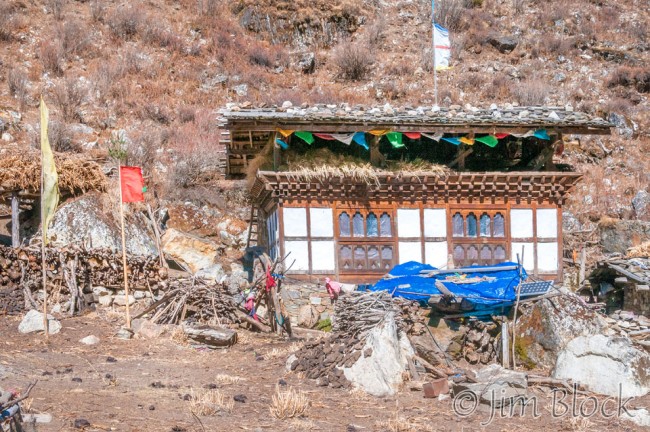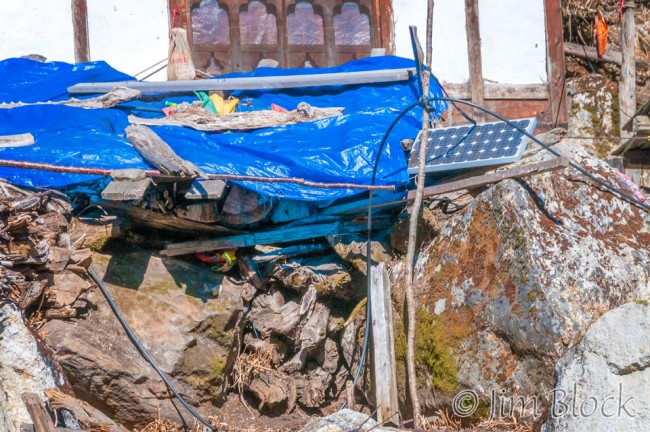 The real treat for the day was when Phub took us to visit a nomad he knew. Here we are entering her compound between huge stacks of firewood.

This is her side yard with grain drying overhead and lots more firewood.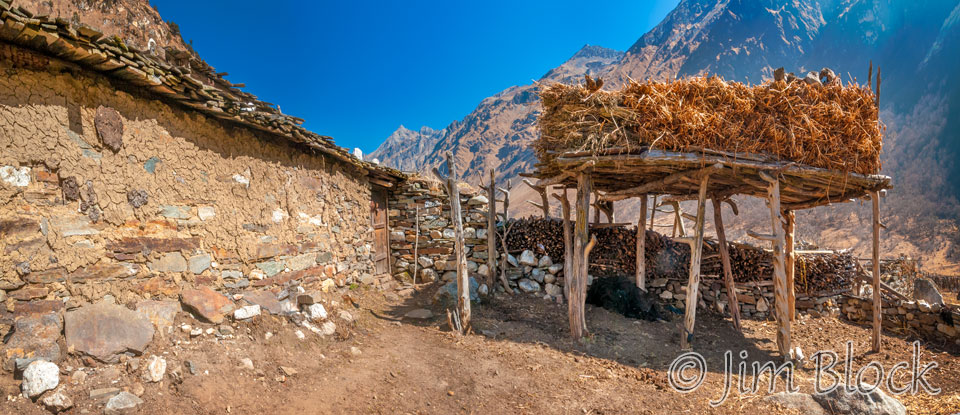 We met her and headed into her house.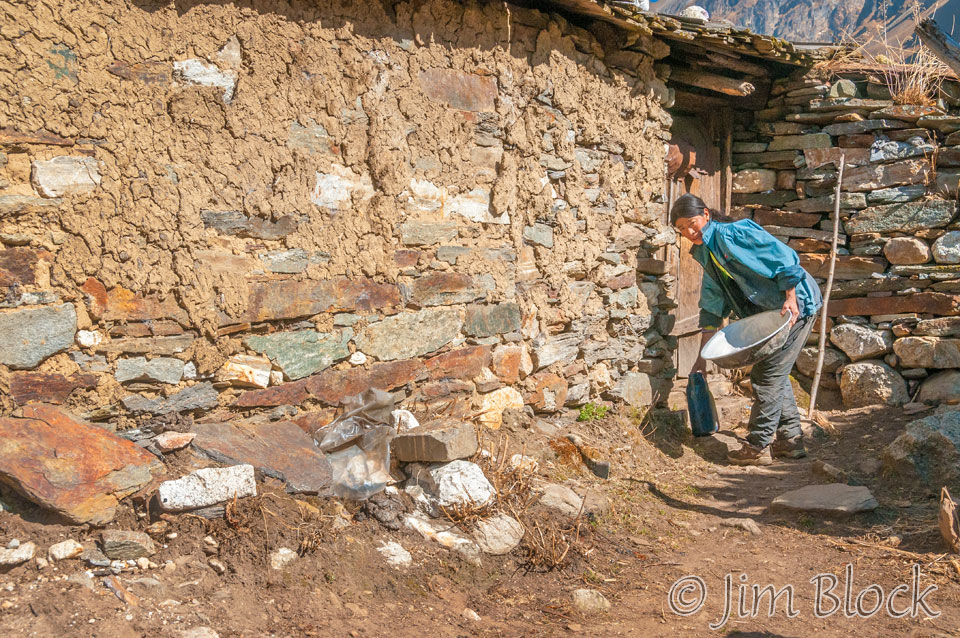 This is her vestibule with more wood under cover. Phub is inside her home.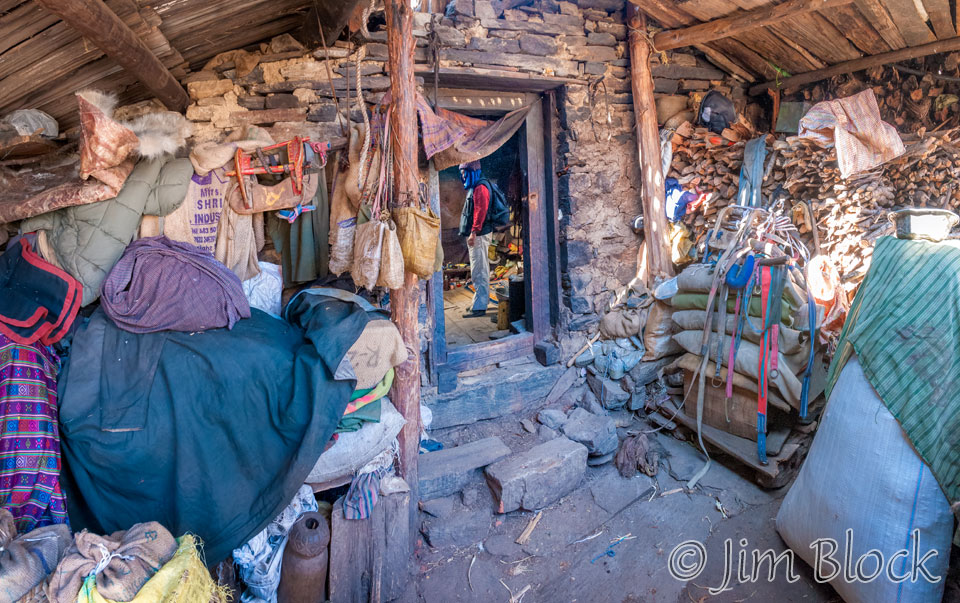 Here is Phub and Stephen in her great room. Phub is looking at a photo Stephen just took with his iPhone. Sun is streaming in through an opening in the roof and a fire is slowly burning in the center of the room.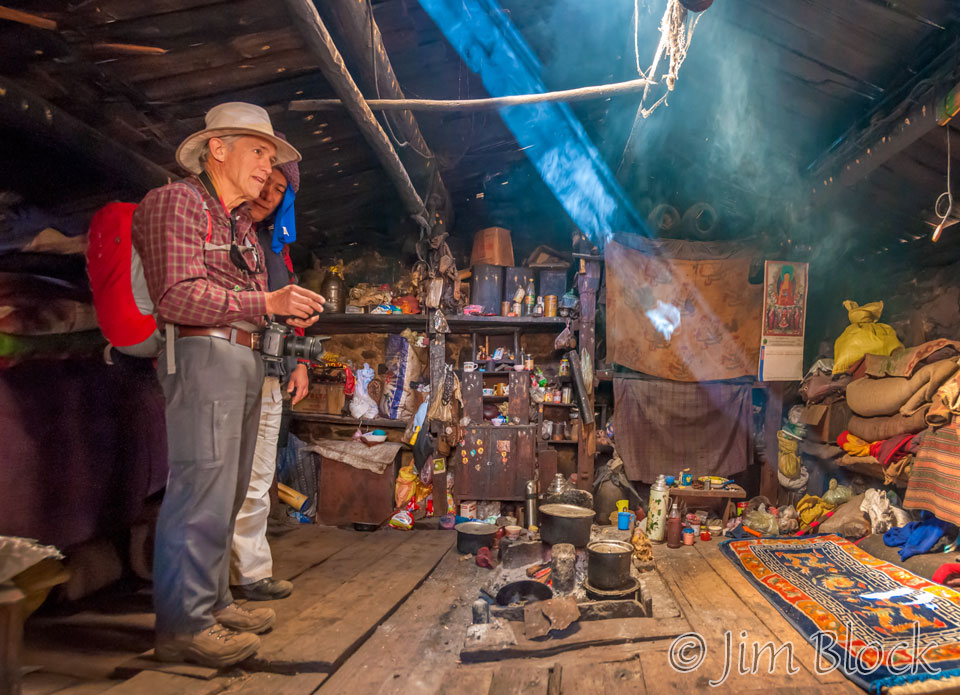 Below is our host in her home. This is a large, 7-shot panorama. You can double click on the image to zoom way in and use the left mouse to pan around. You can also use the + and – keys to zoom and the arrow keys to scroll. Please wait for the resolution to download.
I managed a portrait with one of her cats. We didn't speak the same language but there was a friendly bond.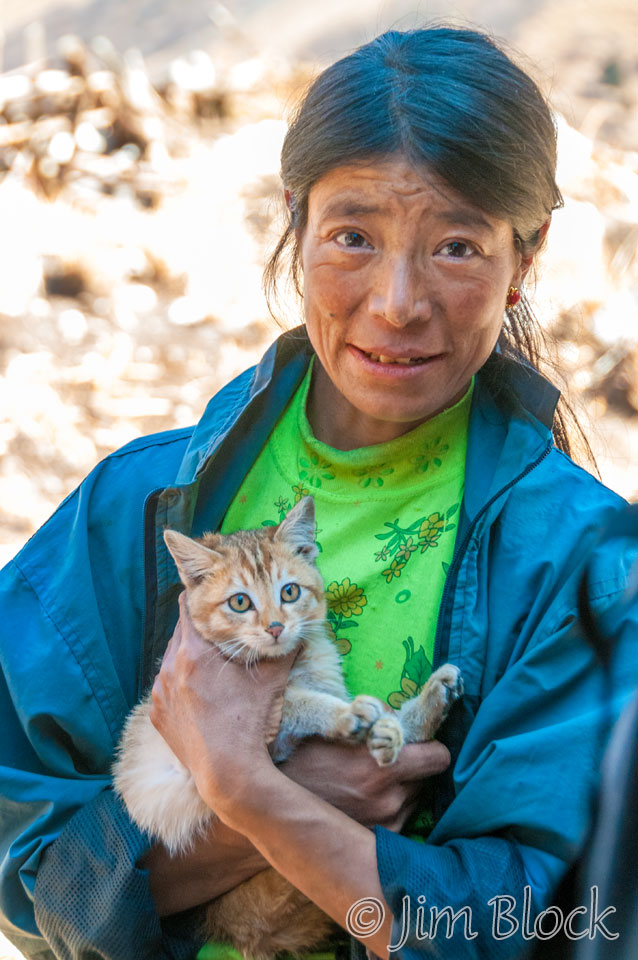 This is a fanciful image of our energetic host in her yard.

The nomad's way of life in Bhutan is being threatened by a very strange caterpillar. If you want to learn this fascinating story, click HERE.
Farther along we saw another home occupied part time by nomads. They were likely in the mountains tending their yaks.

These nomads also had photo-voltaic solar collectors and lots of firewood.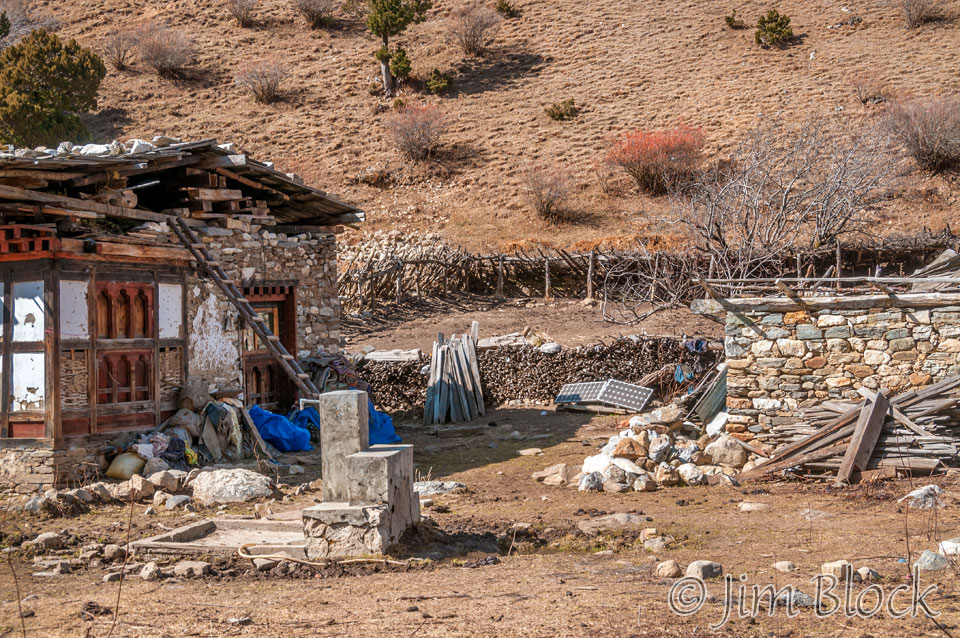 We reached Dangochang, a small area of government infrastructure to help the nomads in this region.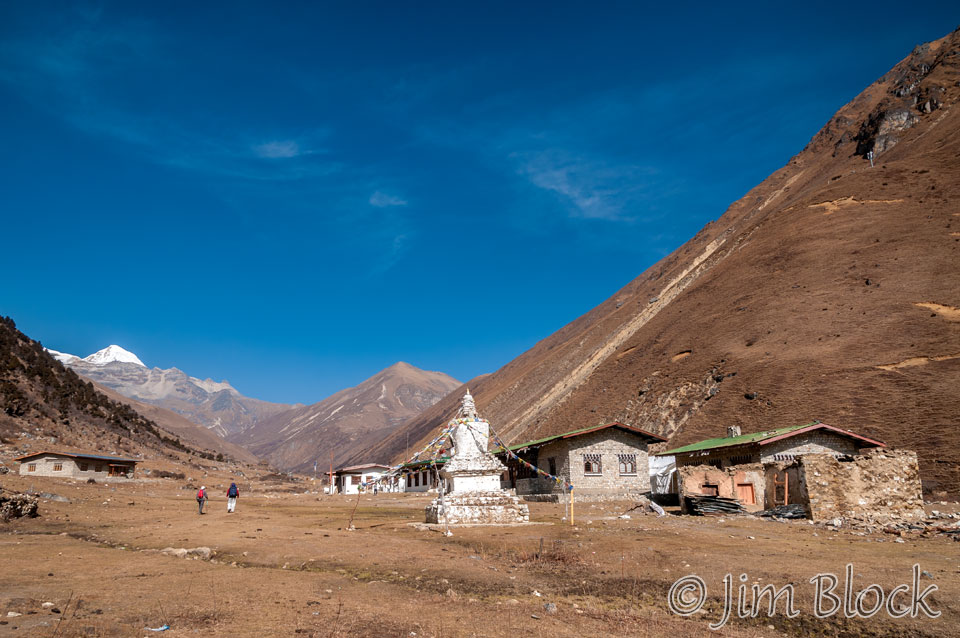 The peak behind the archery targets is Tserim Kang. Jomolhari is to the left out of sight in these photos. But we are getting very near.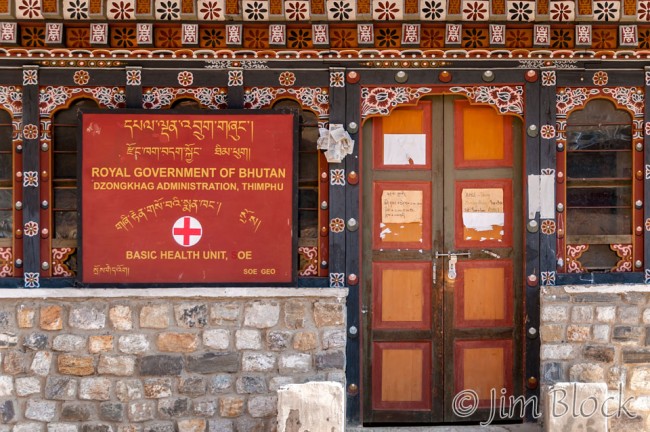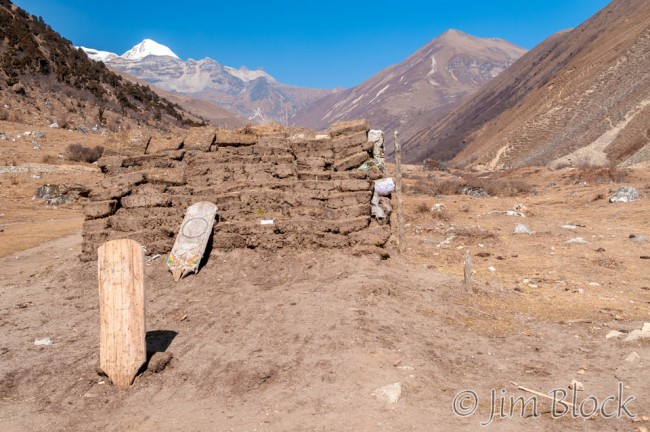 At the far side of Dangochang we got this view. The larger peak here is Jichu Drakye with Tserim Kang in the background behind the huge stone. On top of the stone is a phallus, of course.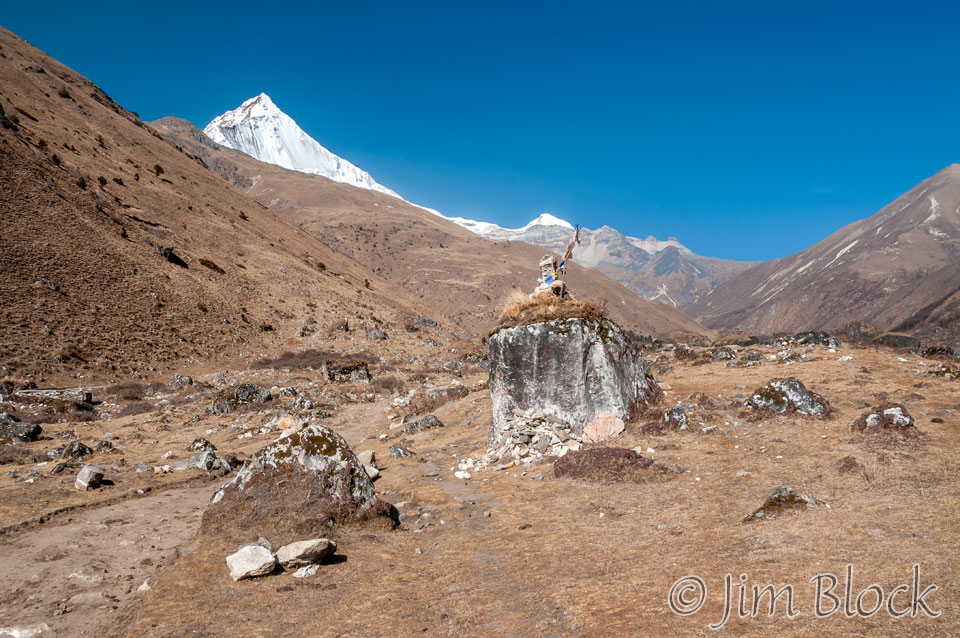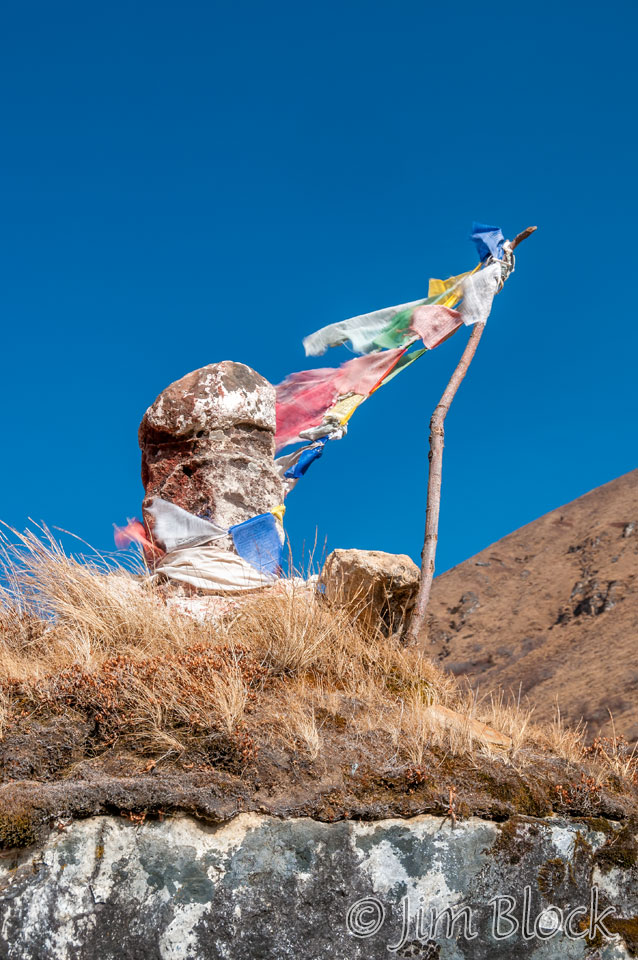 Suddenly in front of us was Jomolhari with the much smaller Jomolhari 2 to its right. I immediately focused on the old fortress built to defend against invaders from Tibet.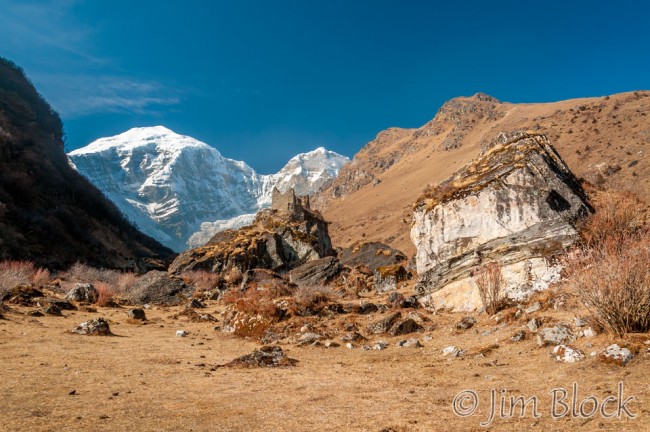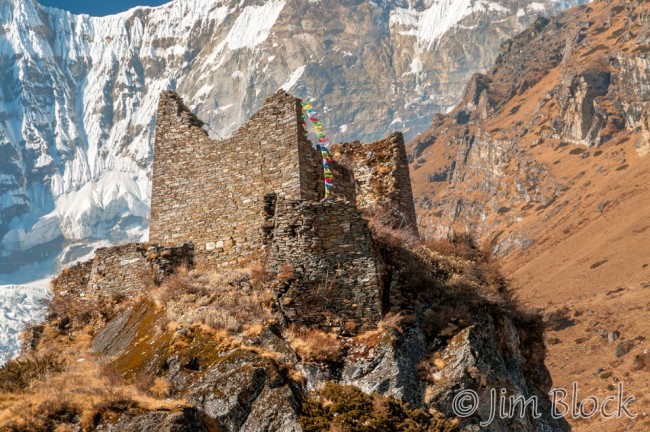 Here is a another view of the fortress and Jomolhari. We were at Jangothang, but I didn't know that until I saw our tent from a hill a short distance ahead.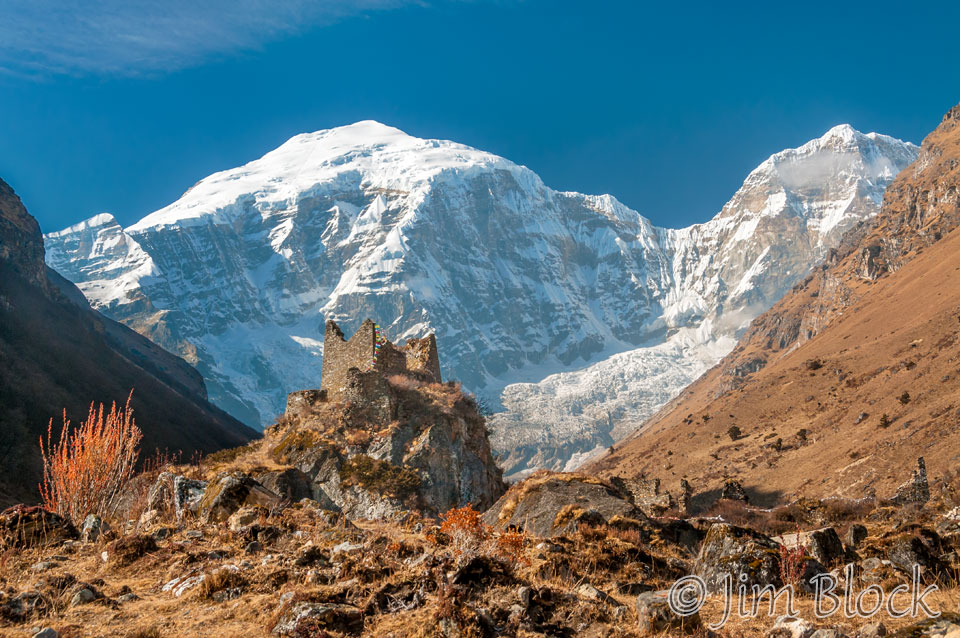 We arrived at our home for the next two nights at 13,385 ft elevation. The wall behind our tent is being constructed with stones and sod. The stream is a tributary of the Paro Chhu which flows from Jomolhari to the left of this photo. In about 40 hours we will pass to the right of the peaks directly behind our tent. It will lead us past two beautiful lakes, over a 16,000 ft pass, and down to a valley where we will spend the night with a nomad family. But that is a surprise arranged by Phub shortly before we arrived there.
When we reached Jangothang Stephen answered the rhetorical question I asked at the end of our very exhausting first day, "This is why we do this to ourselves."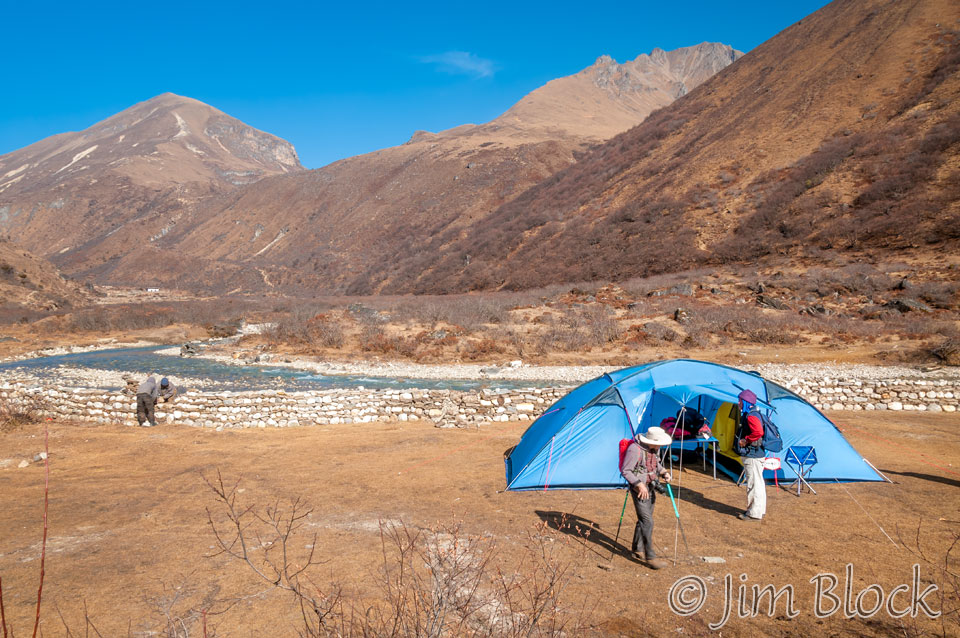 Below Stephen exits our tent with the dining and cook tents in the background. At the right is a closeup of the wall being built around the compound.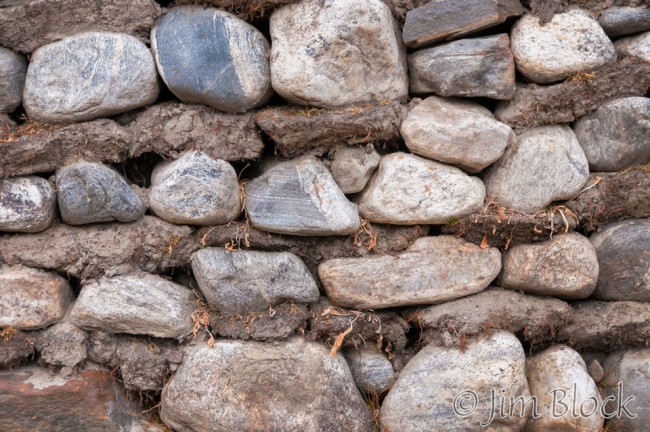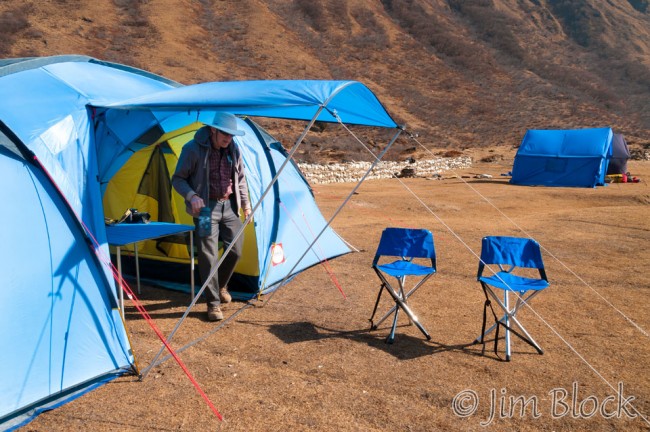 There was still considerable light left so I decided to take a hike up the Paro Chhu a short distance. The remains of the fortress fascinated me and I noticed some interesting small waterfalls near its base. I love taking photos of moving water so I grabbed my tripod and set off.
Below is an overview of Jangothang, considered by many as one of the most spectacular campsites in the Himalayas. This is a 9-shot panorama. You can double click on the image to zoom way in and use the left mouse to pan around. You can also use the + and – keys to zoom and the arrow keys to scroll. Please wait for the resolution to download.
In this image you can see left to right, a yak, the waterfalls at the base of the rock holding the fortress, Jomolhari, a tent and building roof, and another huge rock. In the center of the image are a collection of tents, and above them and heading up to the right is the trail we will take early on Day 4. Our tents are over a small hill to the right below the mani wall out of view. At the far right you can see a piece of the Paro Chhu and its valley that we hiked up to get here.
Here is a photo of the yak, fortress, and Jomolhari.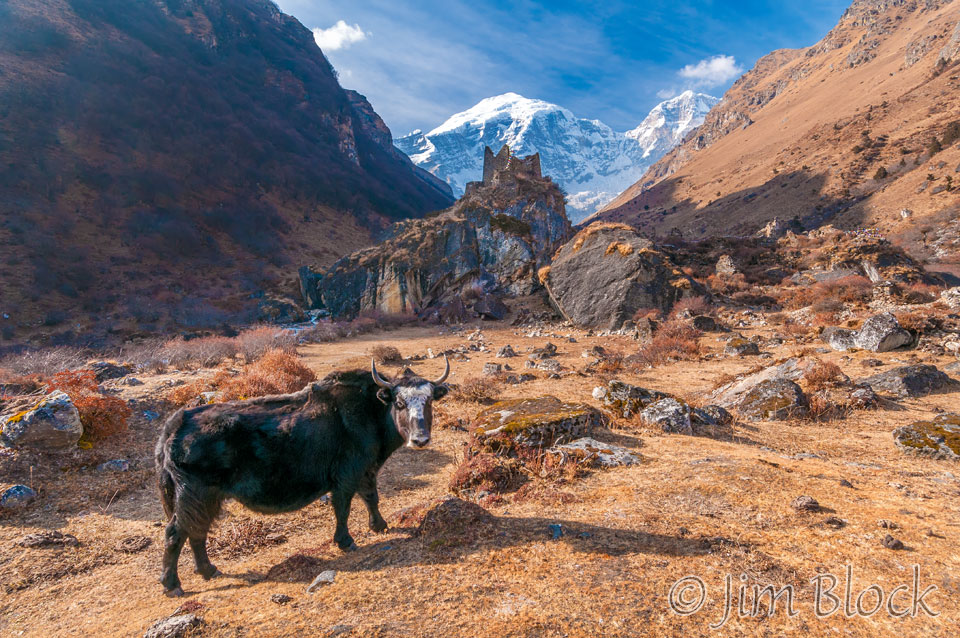 Reaching rapids at the base of the fortress, I made a series of photos. My shutter speed was on the order of 1/2 to 1/5 second.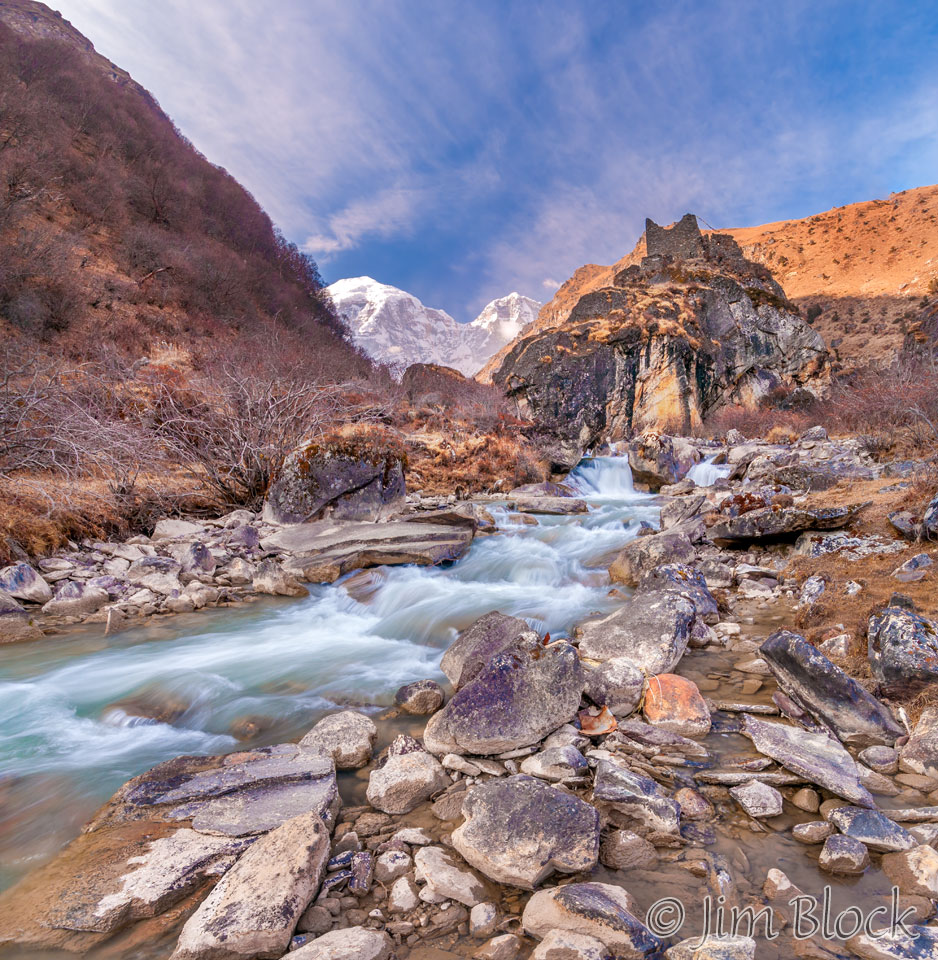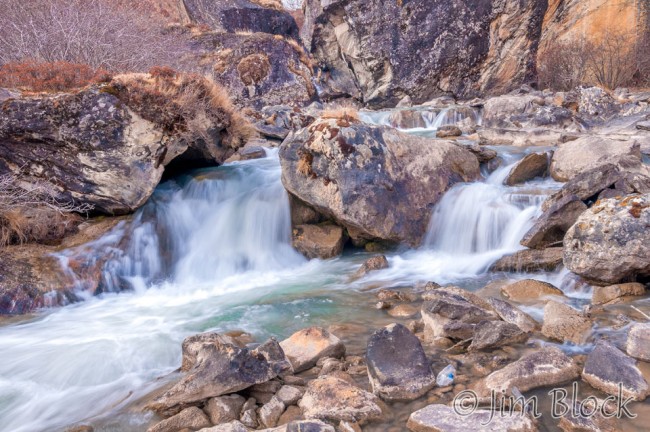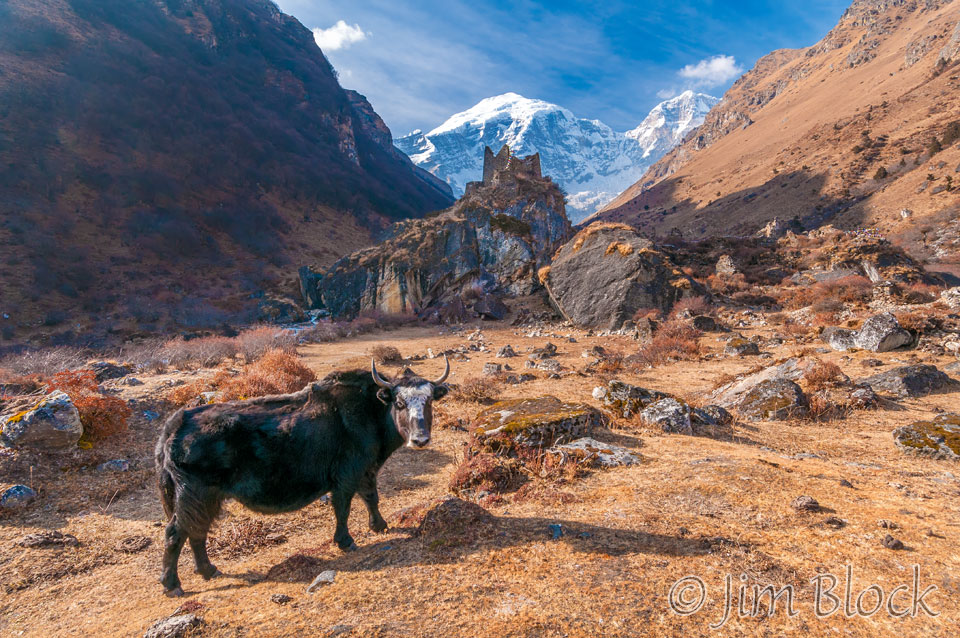 By 4:45 PM fog had settled in and hide Jomolhari from us as can be seen below. Out horses and three tents are in the foreground. In the background are some permanent structures that I never explored and tents of other groups.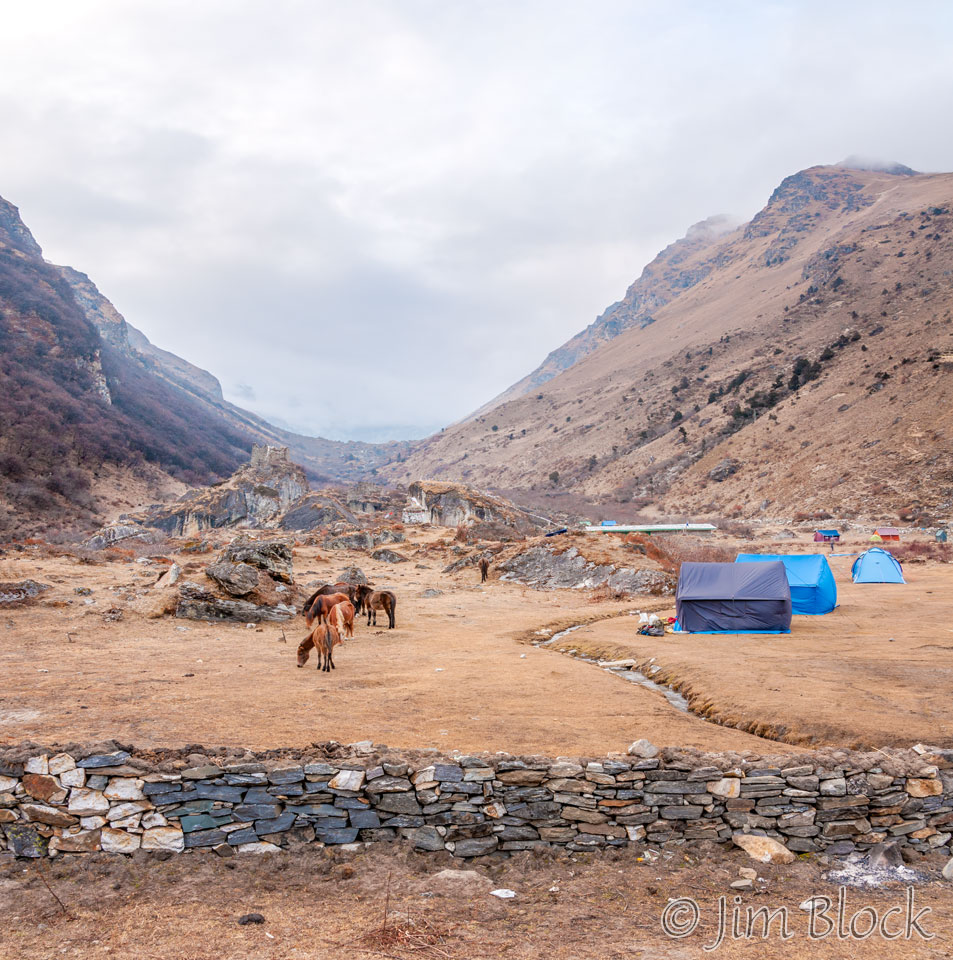 Here are more photos from Day 2 of our Jomolhari Trek.