There was an auction of photographic prints and other items at Pico Mountain in Vermont September 19, 2015 to benefit the Tara Foundation. All proceeds are going directly to help villagers in the Solukhumbu Region of Nepal recover from the devastating earthquakes earlier this year. My photos that appear inside frames on this page were available in the auction. If you would like framed or unframed prints of any photo on this page, or my entire website, please contact me.
Below is a poster announcing this event.
The event was called "Mountains to Mountains", but perhaps it should have be called "Hills to Mountains" because our peaks in VT and NH do not compare with those spectacular spires in Nepal. The event subtitle was "People to People". Can the people of Vermont be as warm, friendly, and generous as the people of Nepal? The Nepalese people have very little and yet are friendly, cheerful, and welcoming. Now they face even more hardship than before. We can help, maybe just a little, but everything matters.
On this page I briefly summarize some of the highlights of my four trips to Nepal. All involved a considerable amount of trekking. On three of the treks we visited people in villages which were damaged by the 2015 earthquakes.
2008 Solu Trek
On my first morning of my first trip to Nepal I walked up the long block to the local main street early before most people were awake. I was fascinated by the street sweepers – crews of women (mostly) and men who carted away the litter from the previous day. I photographed many of them.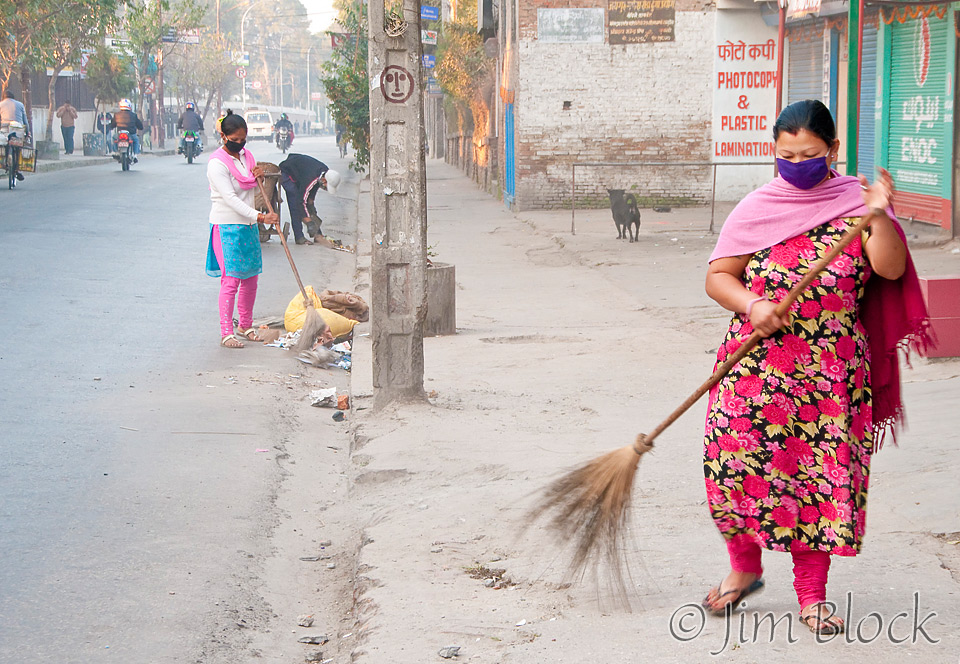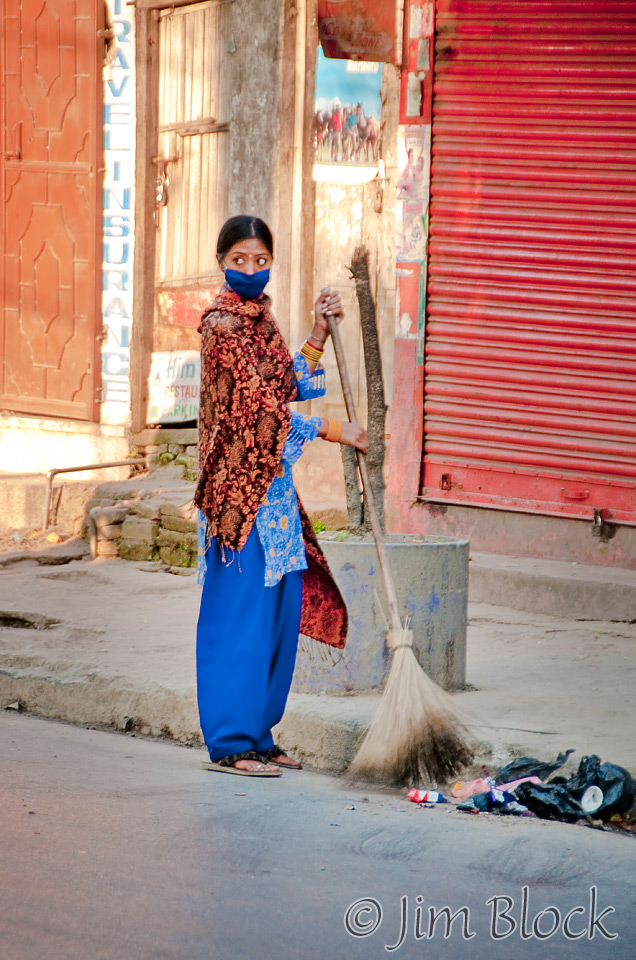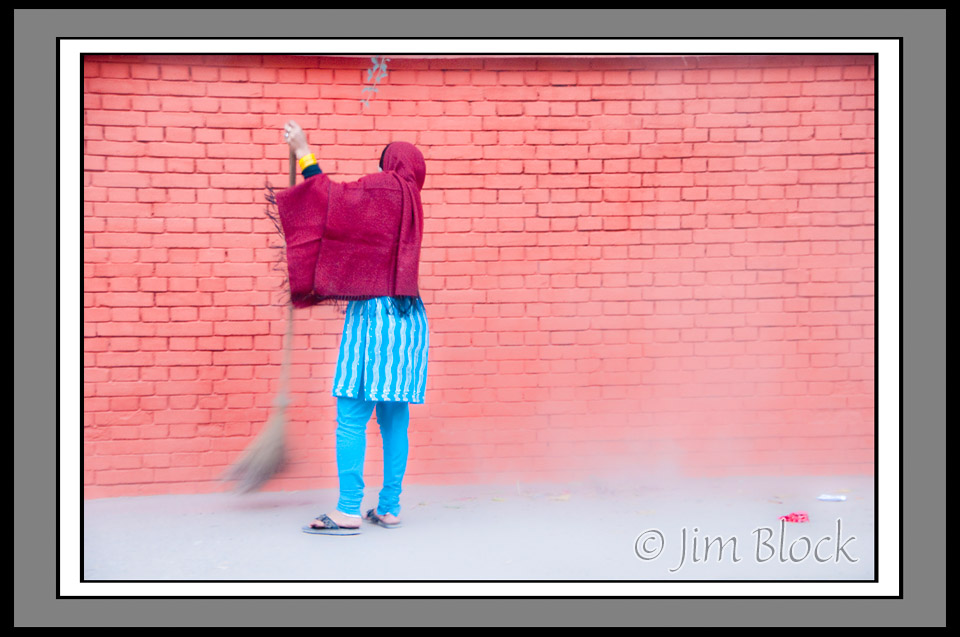 Along the lane that led to the local main street I photographed two young girls. I would return the following year, find them again, and give them a copy of the photo I took.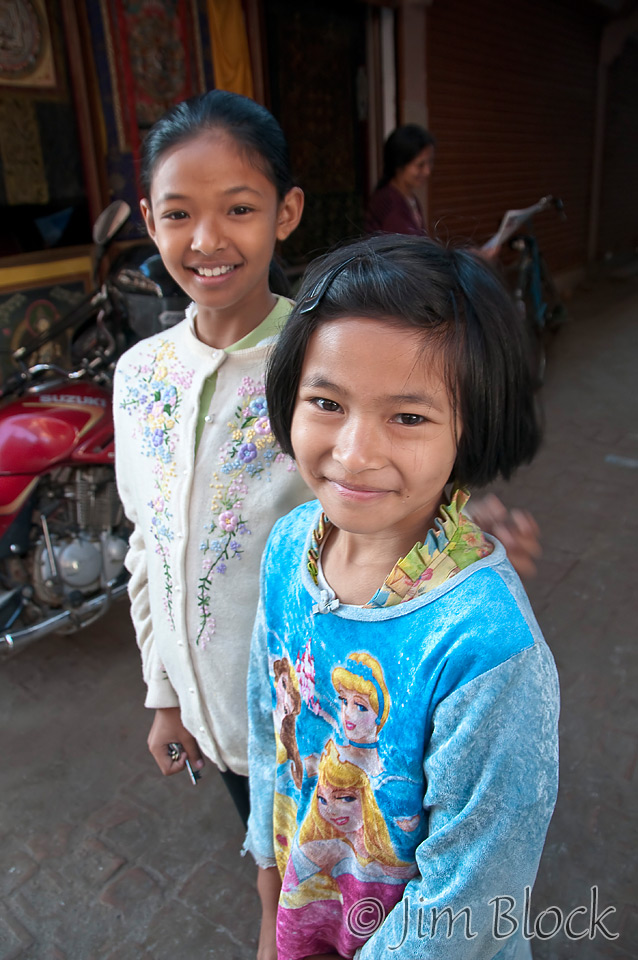 We visited Swayambhunath, the "monkey temple", that was partly destroyed by the 2015 earthquake. From the photos I have seen, the main stupa, shown below, is still largely intact.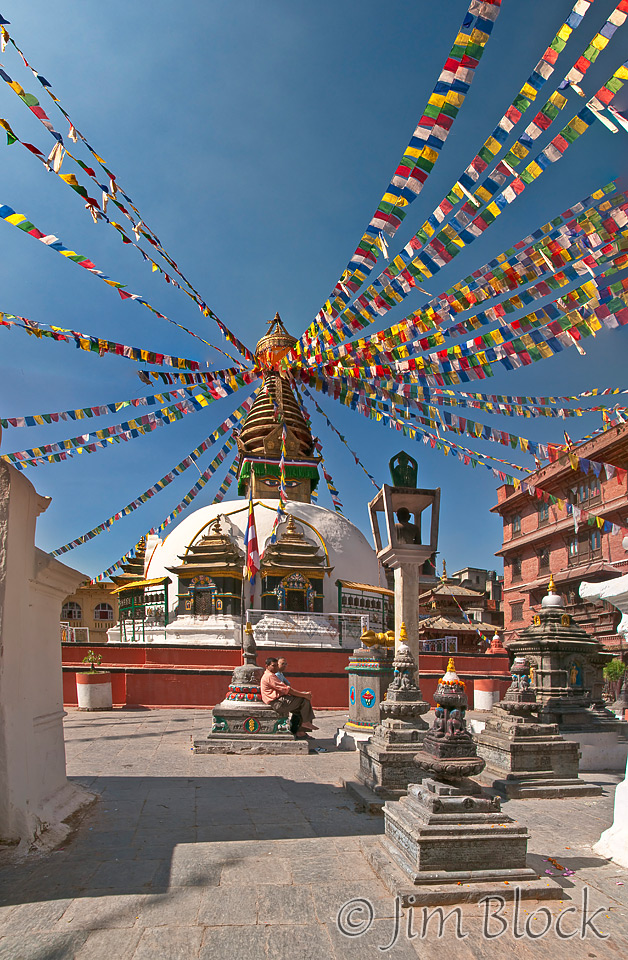 I made this photo inside one of the temples at Swayambhunath.  It has long been a favorite of mine.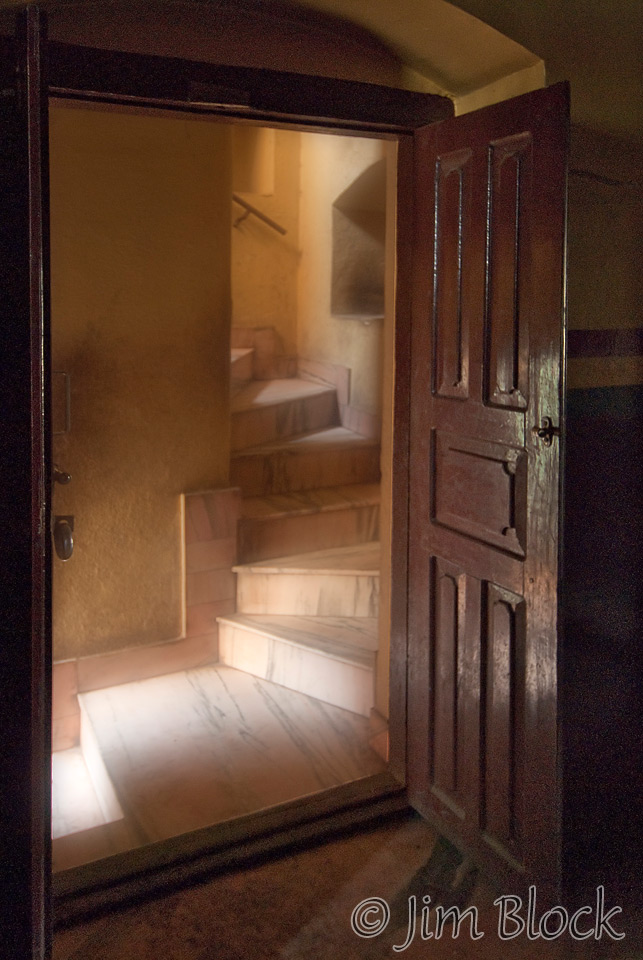 We also visited Budhanilkantha where I made this photo.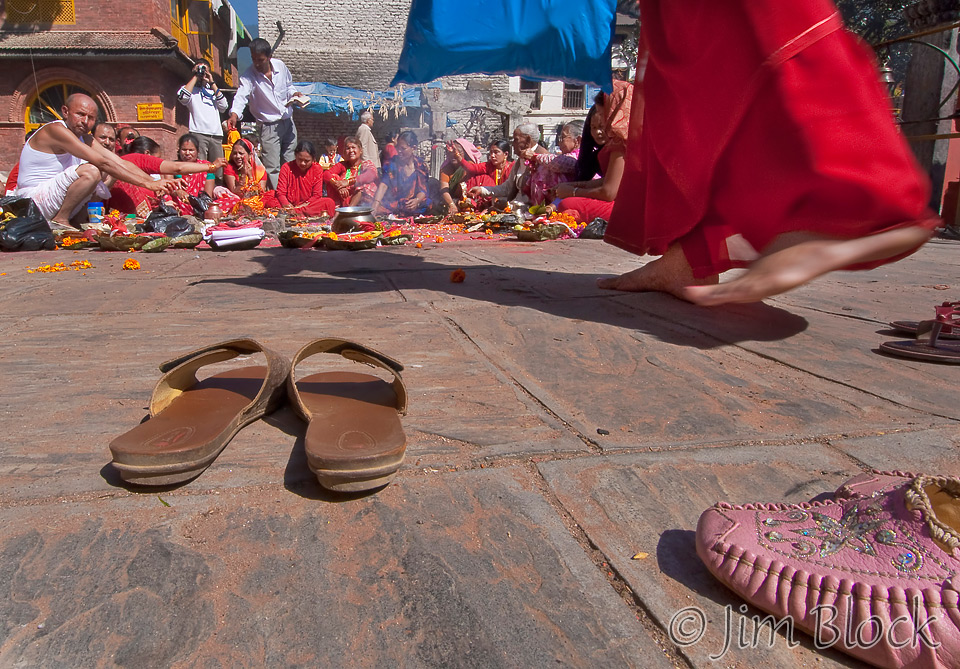 Finally we visited the beautiful Boudhanath stupa.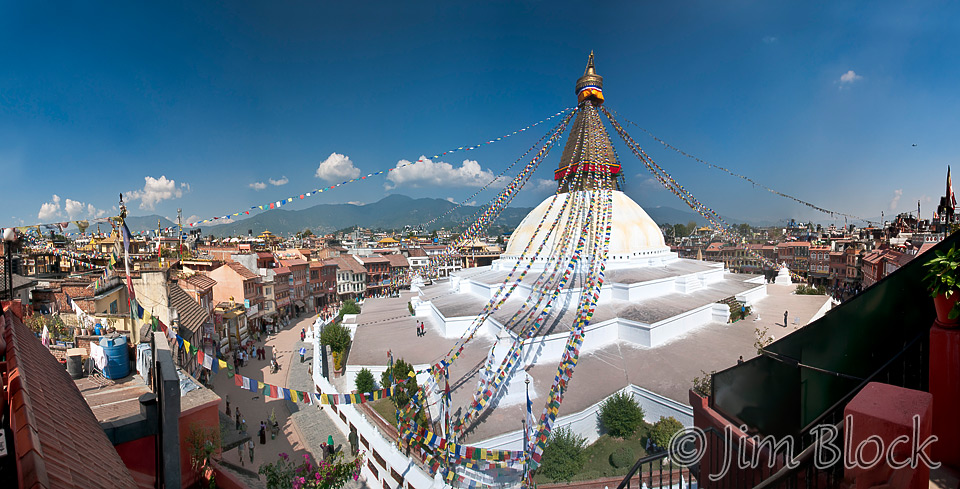 Worshipers walk aound this stupa all day, especially in the early morning and evening.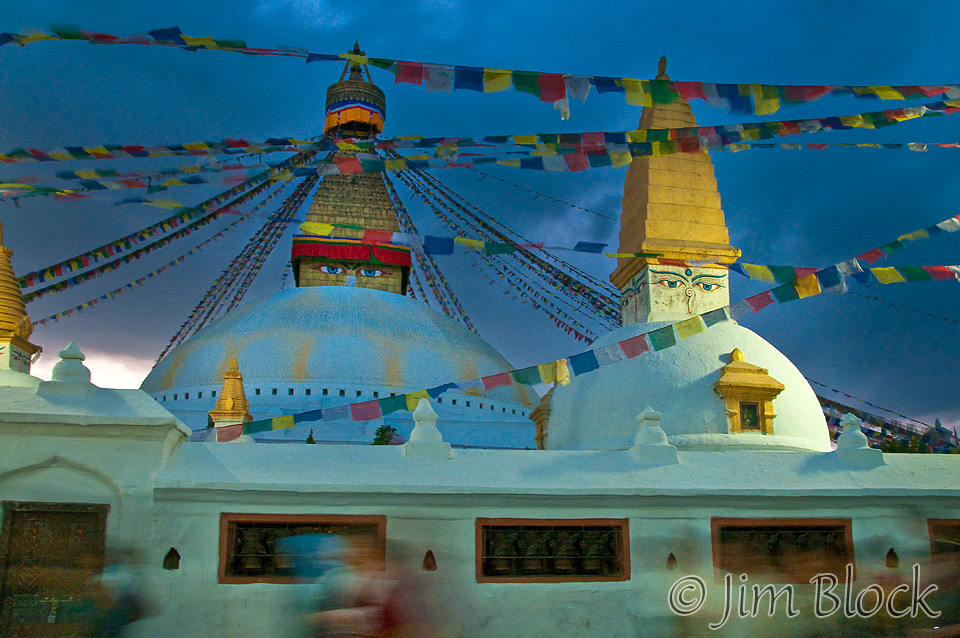 It was here I first met Khari Rinpoche a marvelously friendly and charming Buddhist monk, who is the head of Khari Gompa in Thamo. Several years later I would enjoy playing tennis with him in New Hampshire, and he greatly enjoyed driving my boat. At a picnic meal that day I boldly asked him, "what is your job at Khari Gompa?". He replied, "I am the Boss."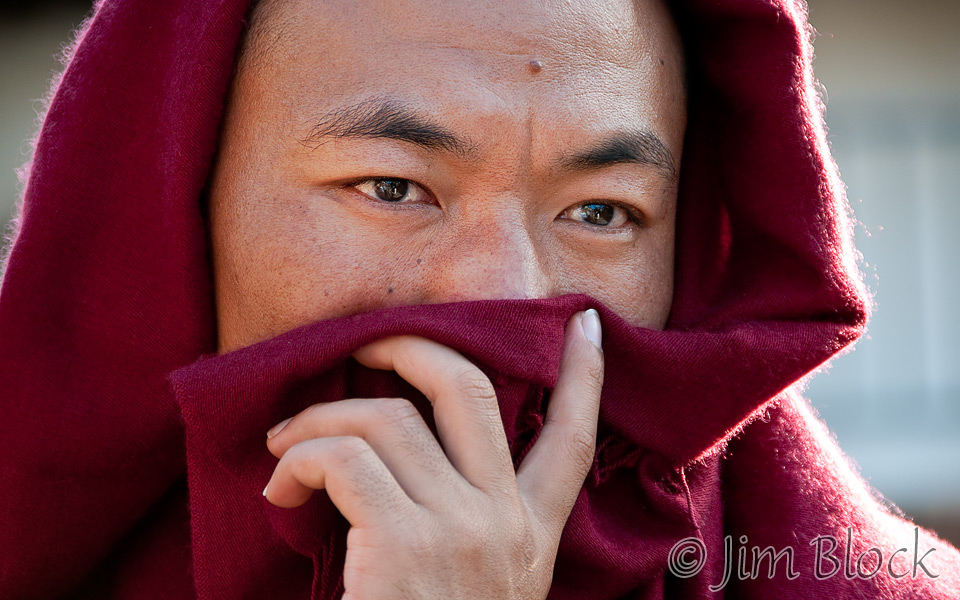 I also met our fantastic guide, Chhongba Sherpa, and his son, Pasang, on the street near our hotel. I would be seeing a lot more of this man who a fellow trekker described as a "one-man NGO" for his dedication and generosity in helping the people in the Taksindu region and elsewhere. Both Khari Rinpoche and Chhongba are Associate Directors of the Tara Foundation.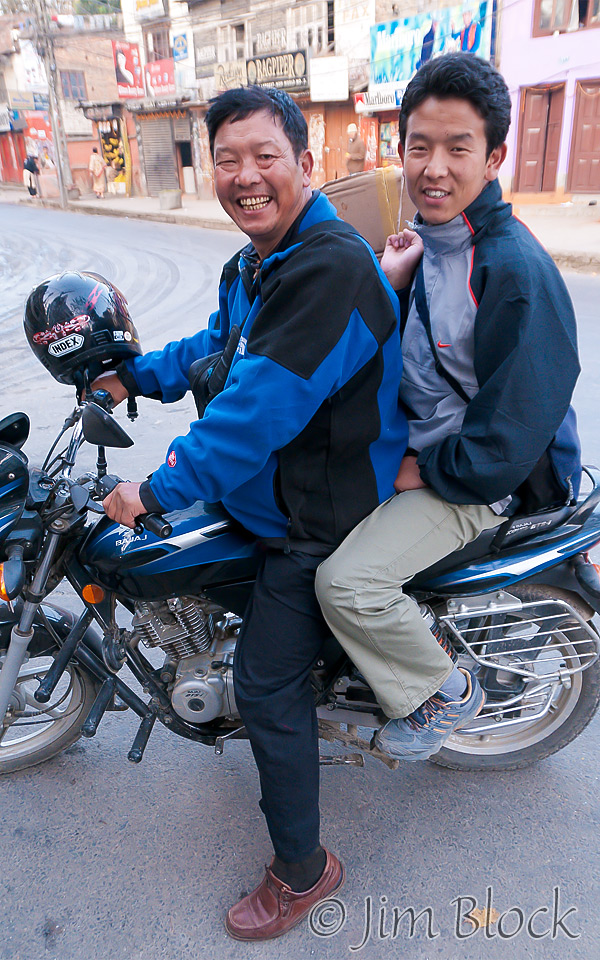 Finally we were off to Lukla with many L.L.Bean bags each stuffed with 50 pounds of fleece jackets to give to school children in the mountain villages we would visit.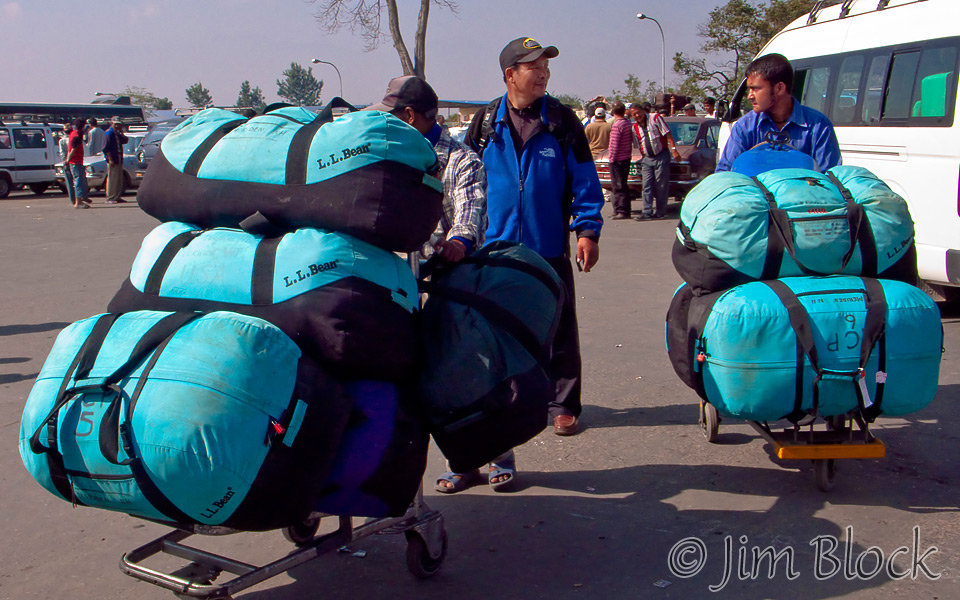 The airport at 9200 ft in Lukla is truly amazing. One lands and takes off at the edge of a cliff with a mountain not far from the end of the runway behind where the people are standing. There is little room for error. You can see a version of the photo below that you can zoom into and explore in detail by clicking the photo or clicking HERE.

The next morning as we began our trek, I photographed a sun star from Lukla. You can see and read about many more optical phenomena in the sky by clicking HERE.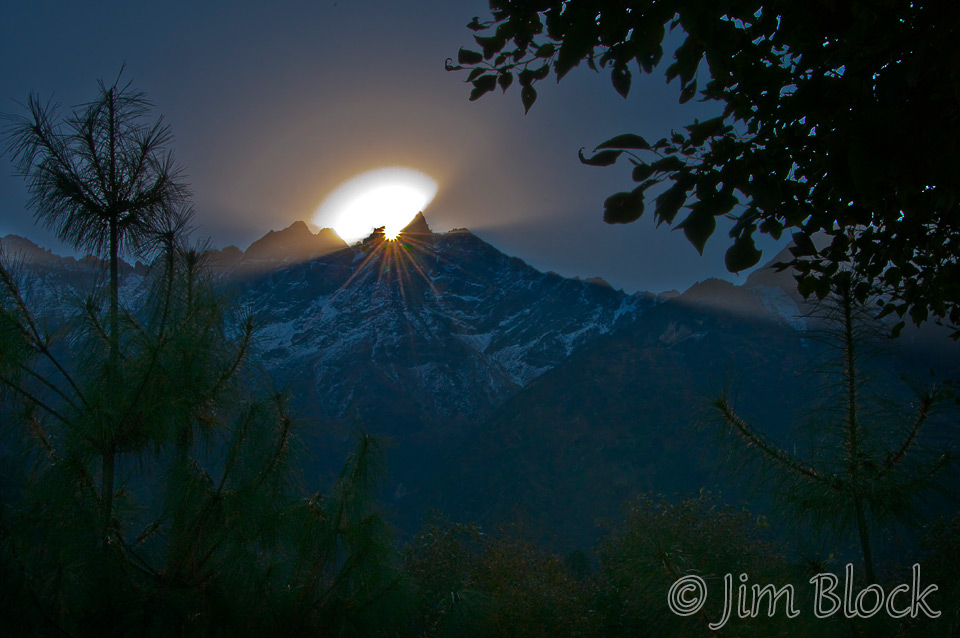 A few days of walking brought us to the home of Alawa Sherpa, a cheerful and friendly porter who has been on many of our trips to Nepal. He is building a temple for the people of his village next to his modest home. Here he is with his family in their second floor "great room" — kitchen, dining room, living room, and bedroom — the animals and grain get the lower level in much of Nepal.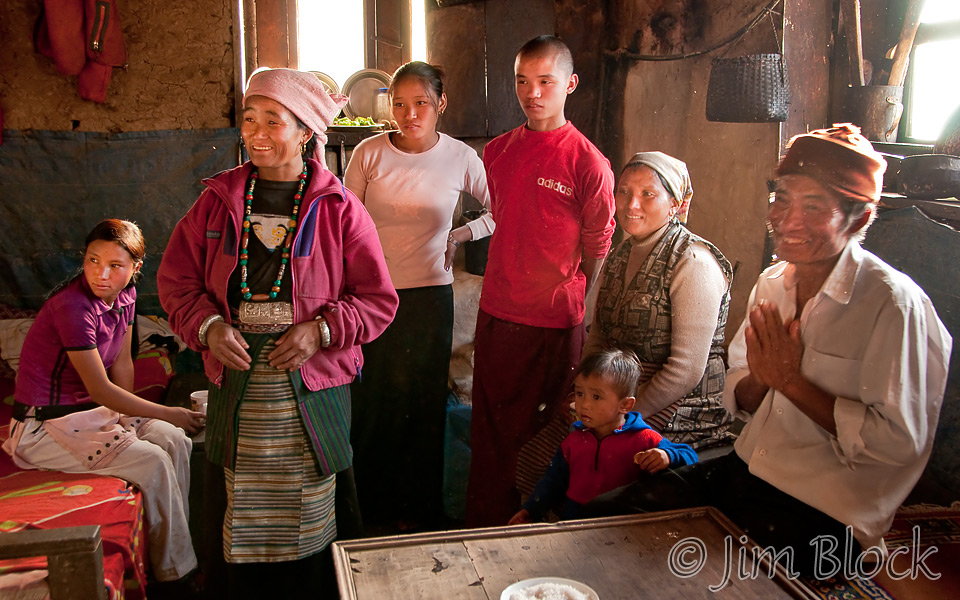 We hiked down from Alawa's home through beautiful fields of millet. I met and photographed this Rai family living near the edge of a steep hill. From the expression on the mother's face when she saw her image in my camera monitor, I imagine she had never been photographed before.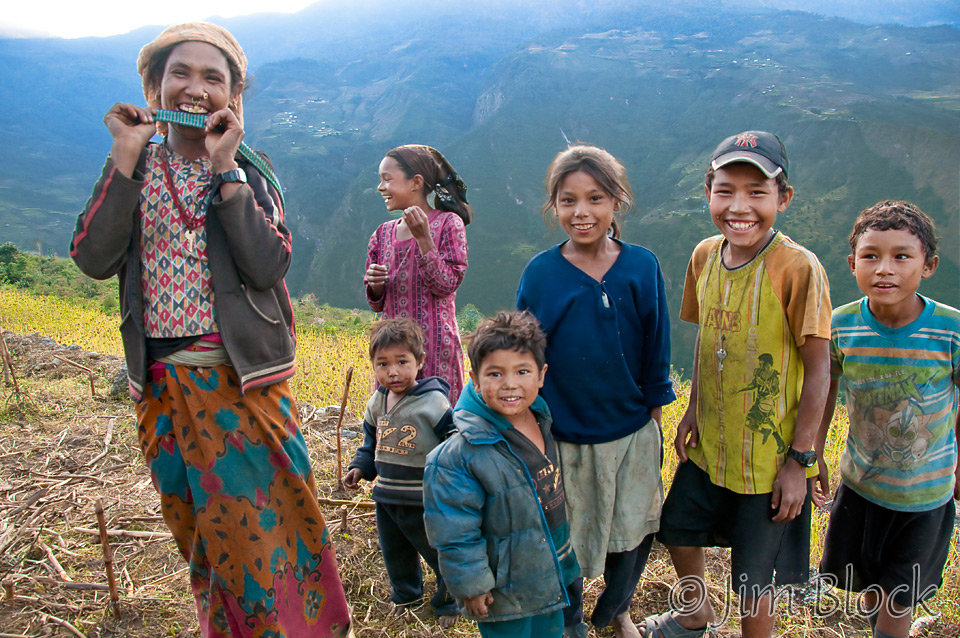 As we approached the village of Jubing I photographed this home with a yard filled with marigolds.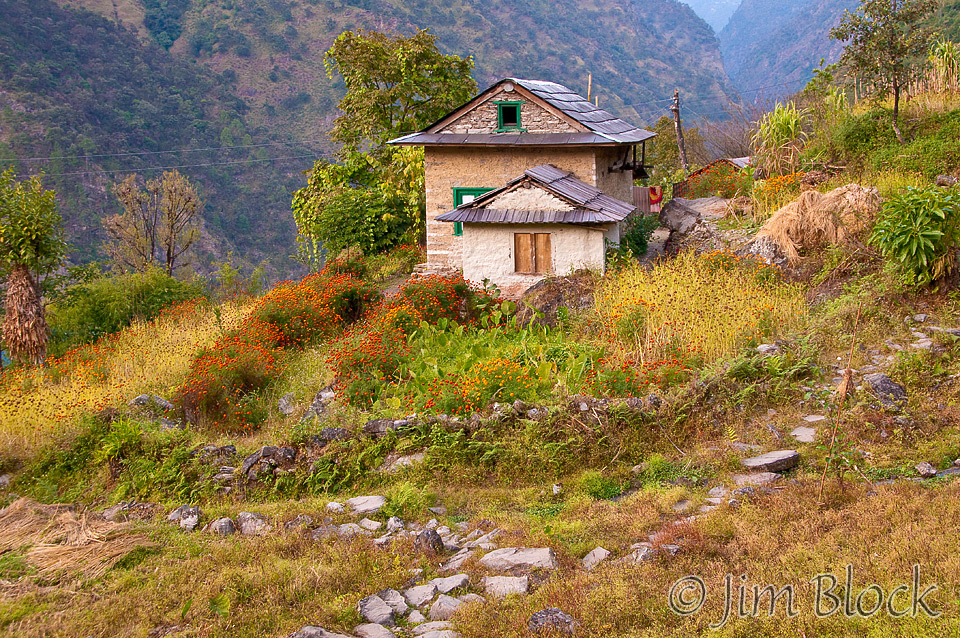 We carried many donated used fleece jackets with us on this my first trip to Nepal. Then porters carried them for 4 days into the mountains. After a night in the beautiful village of Jubing, we were suddenly at the tiny Purdu School distributing jackets and getting presented with many wreaths of dahlias and marigolds – and innumerable khatas. This Rai mother brought her young daughter to get a jacket. A print of this image hangs on the wall of my photo studio.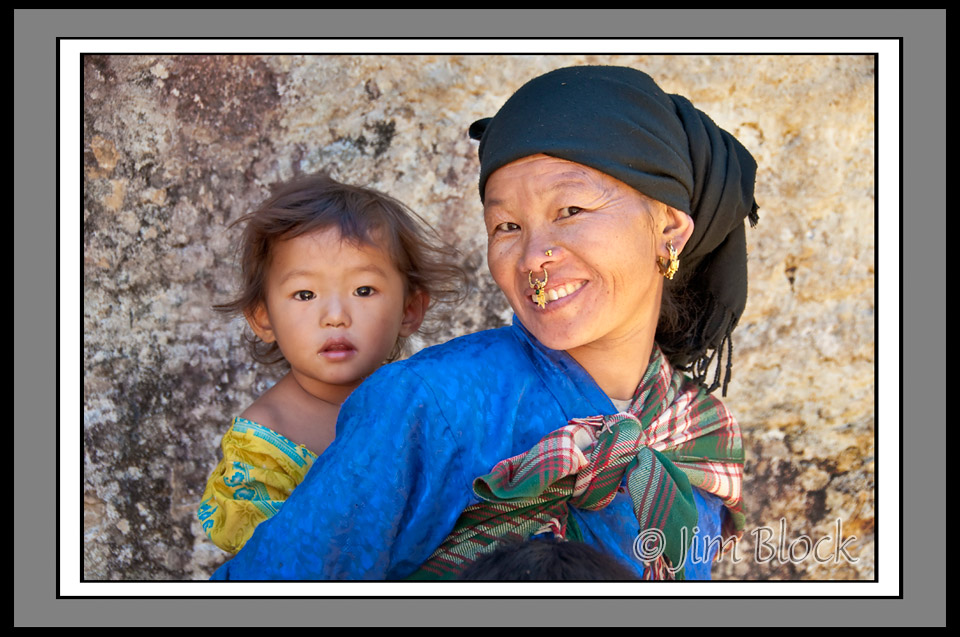 We spent that evening in Chhongba's village of Nunthala.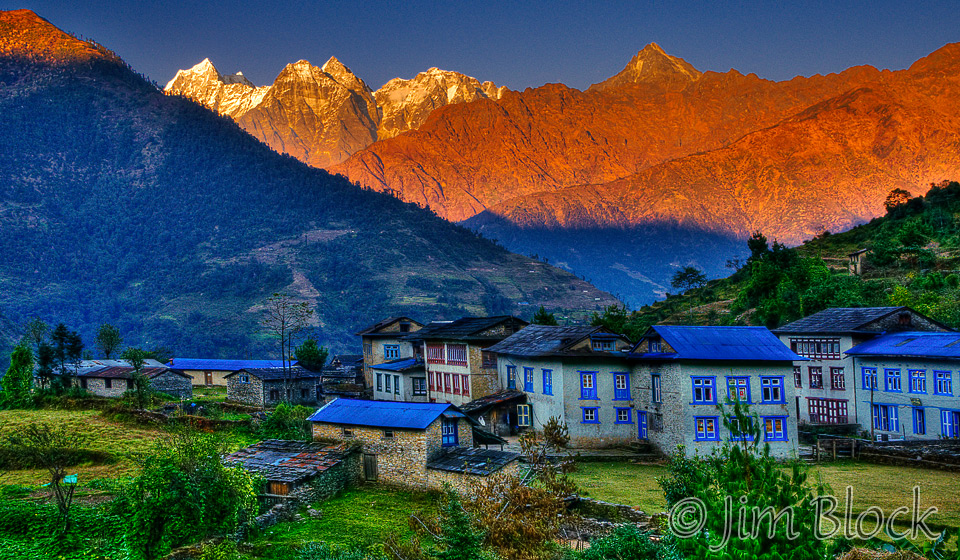 The next day we distributed many fleece jackets at the Nunthala school. You can see photos of this event and the Purdue School by clicking HERE.
We were promised camping on my first trip to Nepal. After 5 nights in tea houses (lodges), I was ready. We camped below the Taksindu Monastery on the only small flat field in this part of Nepal with a fantastic view of the valley far below and the distant mountains. Early the next morning I took this photo a short walk from my tent.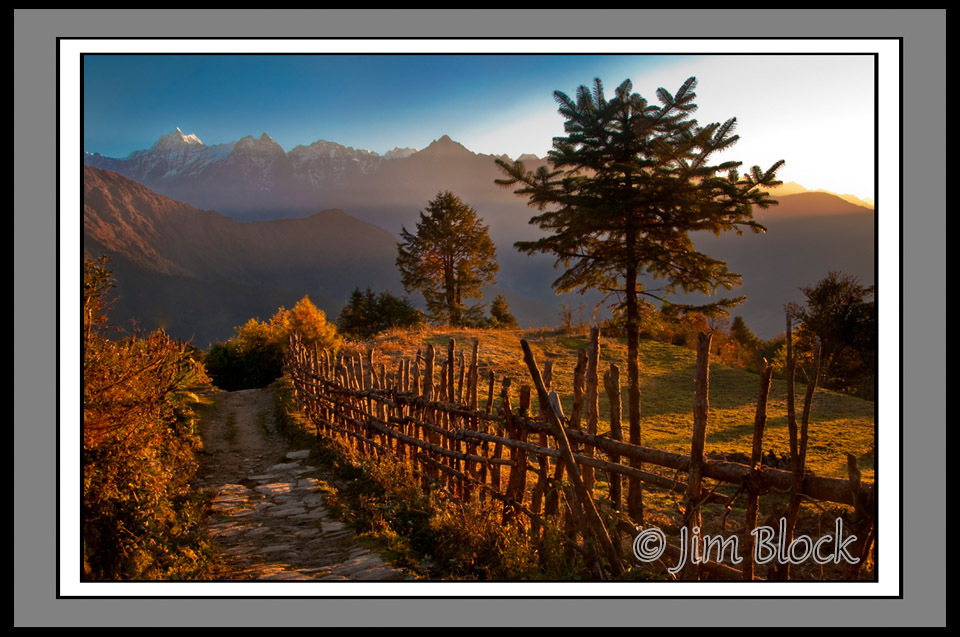 A few nights later we tented in a beautiful spot below the Chiwang Gompa for three nights to view and celebrate Mani Rimdu. Our tents are yellow; the dinning room is the blue tent. Chhongba slept in the Green tent with his wife who also attended the festival.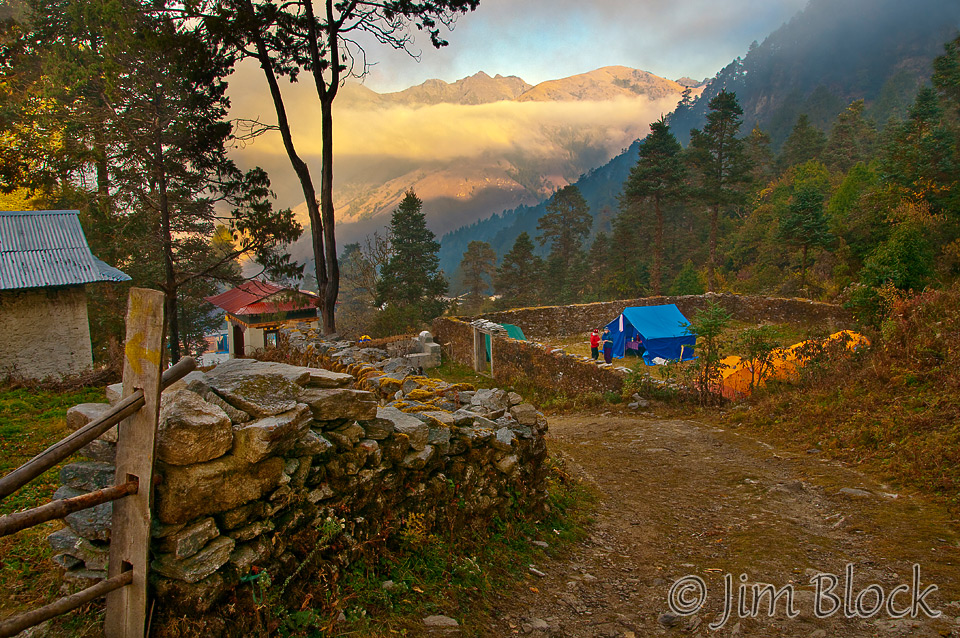 Mani Rimdu is a 19-day sequence of sacred ceremonies and empowerments, culminating in a 3-day public festival.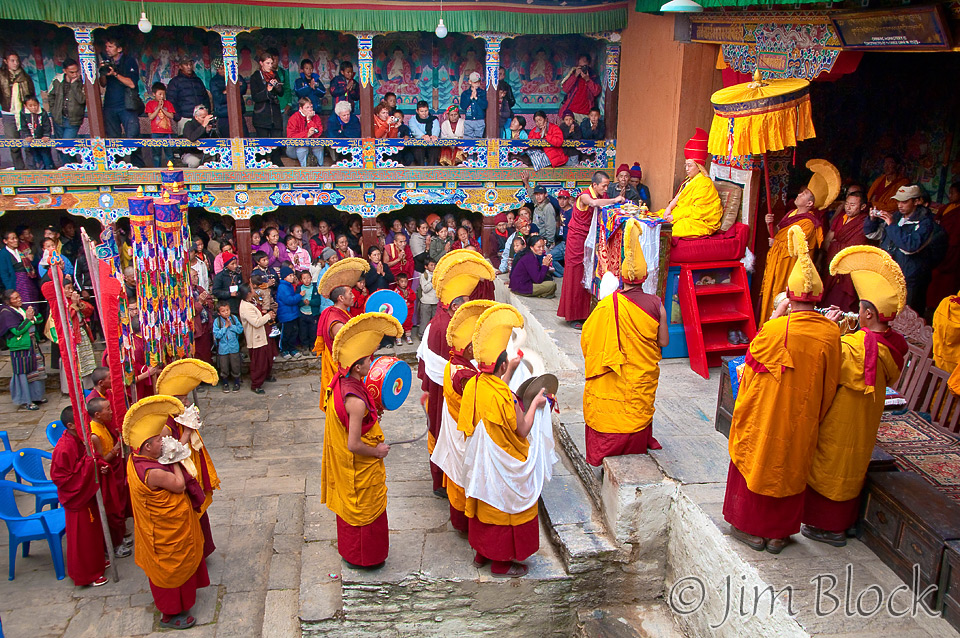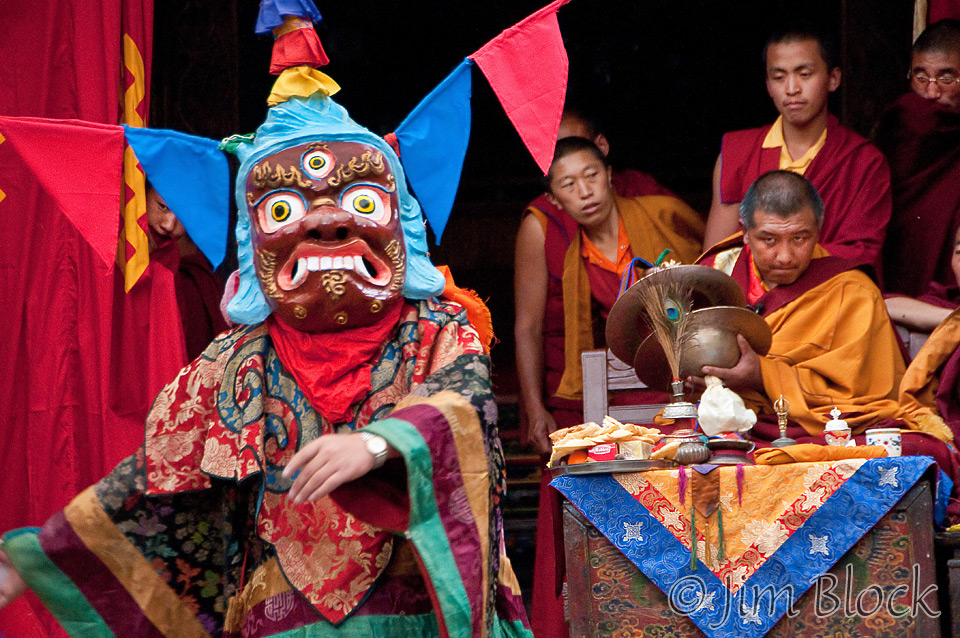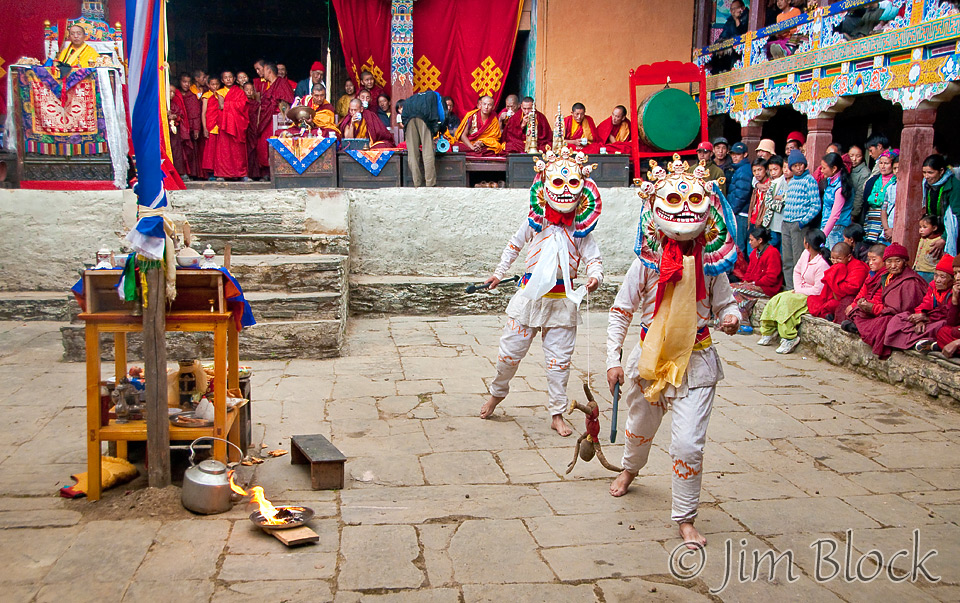 Inside the freezing cold open courtyard where the ceremonies were held, I photographed these prayer beads being put to good use.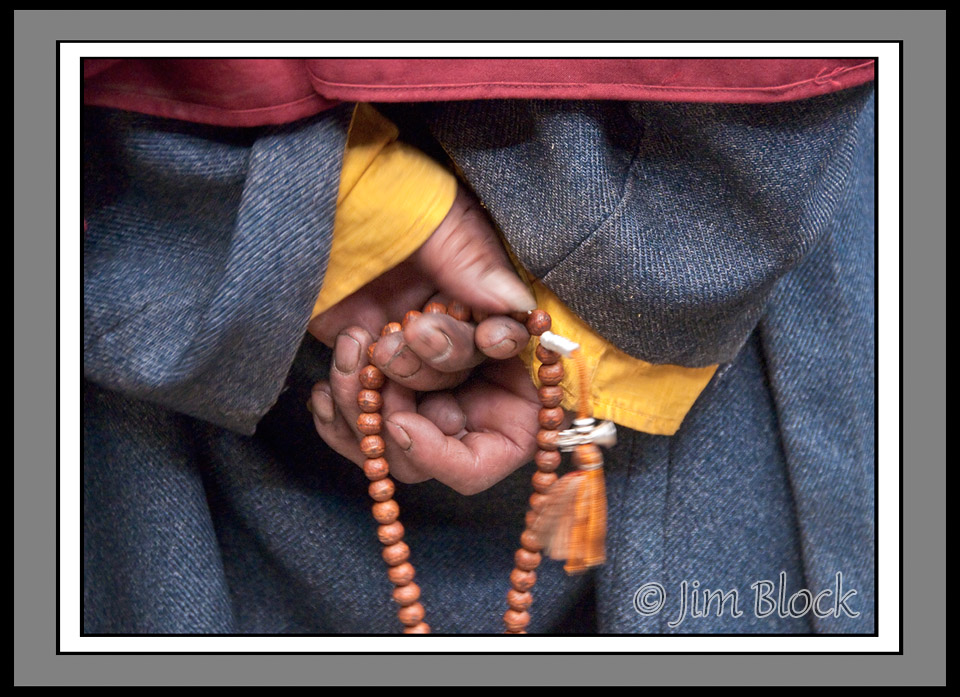 Early morning on a wall outside Chiwang Gompa where we attended the Mani Rimdu celebration, a monk paused to observe the beauty of the fog at sunrise in the valley far below. I do not believe he knew I captured this photo which hangs on one of my walls.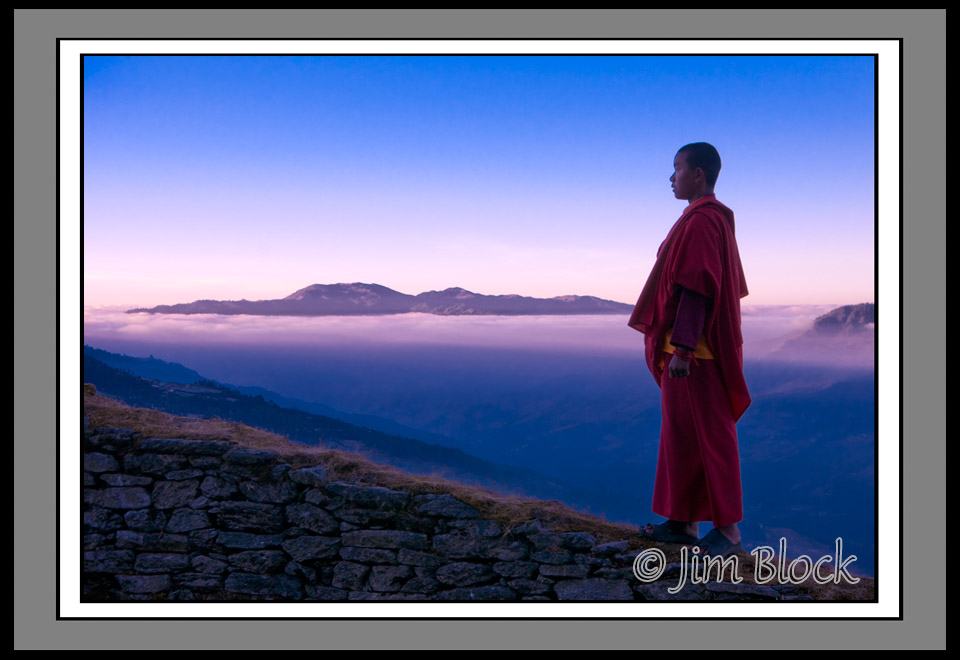 After Mani Rimdu we hiked to Phablu then visited the Saturday market in Salerie.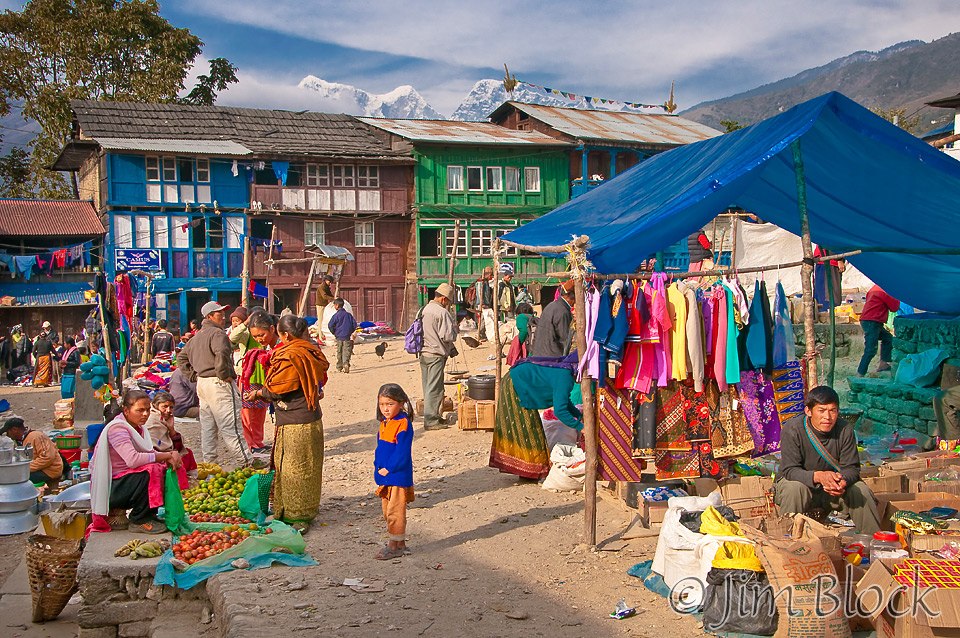 From Phaplu we flew to Kathmandu where we had a day and a half to explore the city on our own. I took full advantage of this. I can't explain many of the things one sees in Kathmandu, but I certainly enjoy this crazy, noisy, polluted, fascinating, and friendly city.
During this first trip to Nepal I made a point of photographing as many people as I could. The cheerful and friendly people of Nepal made this very easy for me. You can see some of the photos I took in 2008 of the people of Nepal by clicking HERE.
2009 Khumbu Trek
Our goal this trip was to summit Kala Patthar and look down at Everest Base Camp. But, at they say, "it is not the destination, but the journey". We had a great trip, mostly, but failed to reach Kala Patthar due to intestinal problems that struck most of us.
After a full layover day touring London we flew to Kathmandu and then on to Lukla. We trekked toward Namche Bazaar past the amazing Mani walls of Ghat.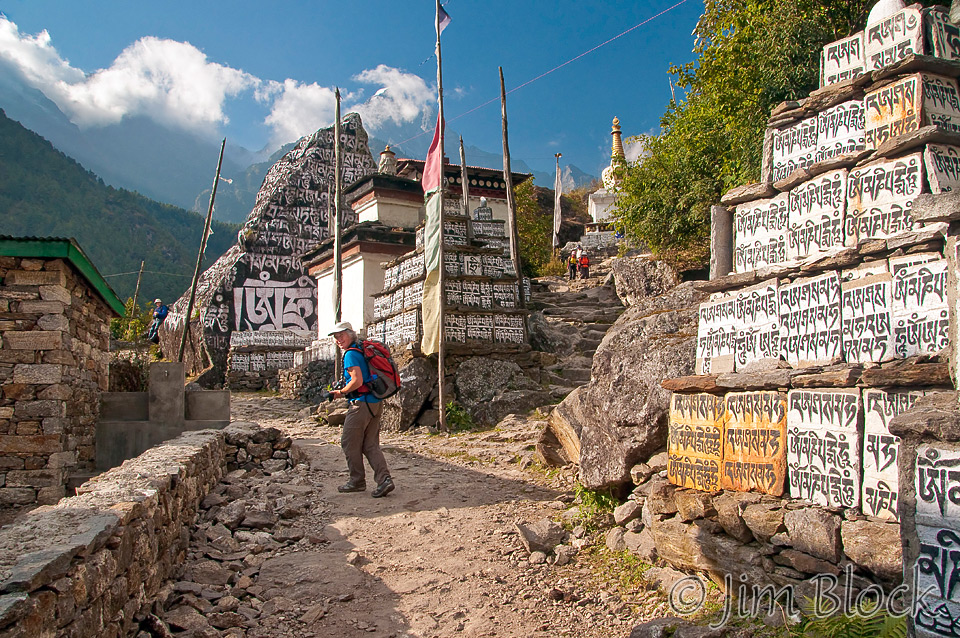 In Namche we visited the Tibetan market seen in the middle of the "amphitheater" that is Namche. You can see large panoramas of Namche and the market that you can zoom into and explore HERE. Click the word "HERE" and please wait for the resolution to download.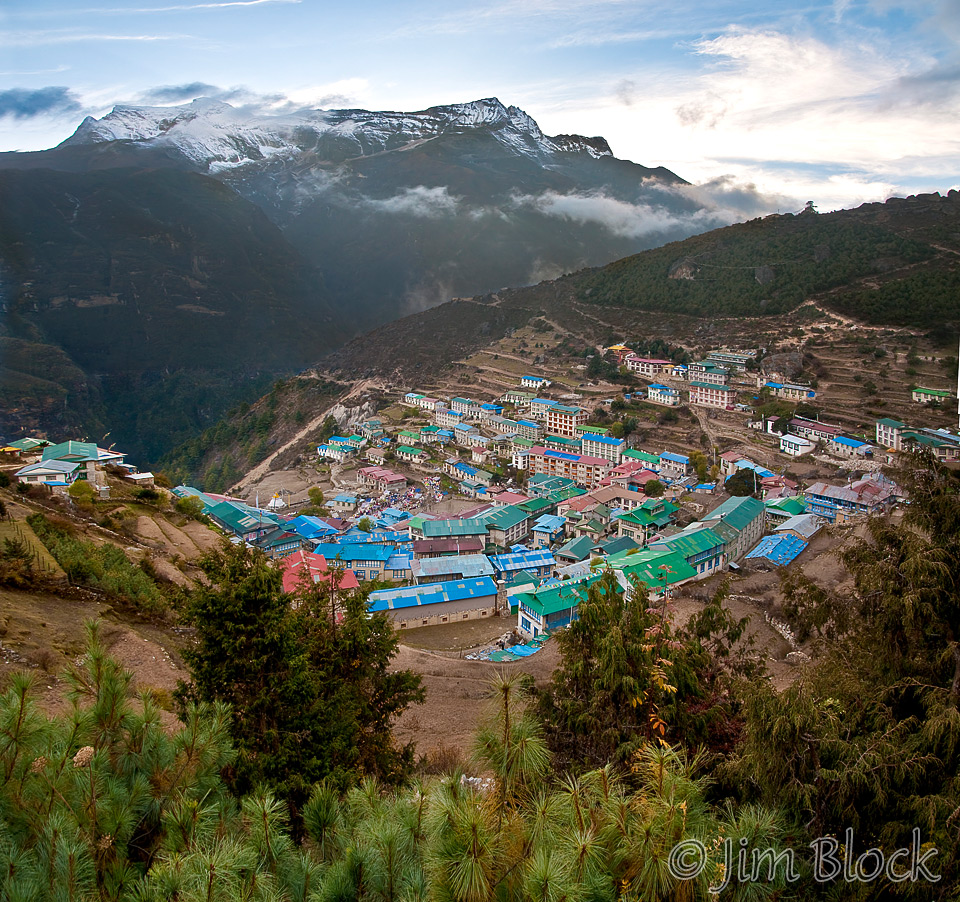 From Namche we hiked to Thamo to visit the nuns at Khari Gompa. It was the first of my two visits there. The prayer hall under construction with yellow roofs can be seen in the photo below.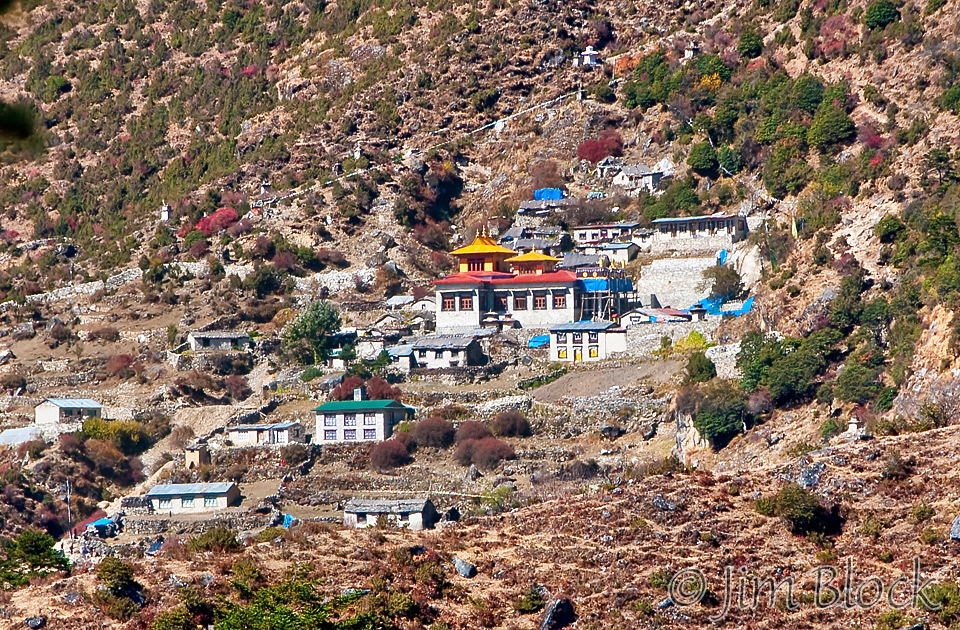 From Thamo we visited Khumjung where we got great views of Ama Dablam seen below at sunset.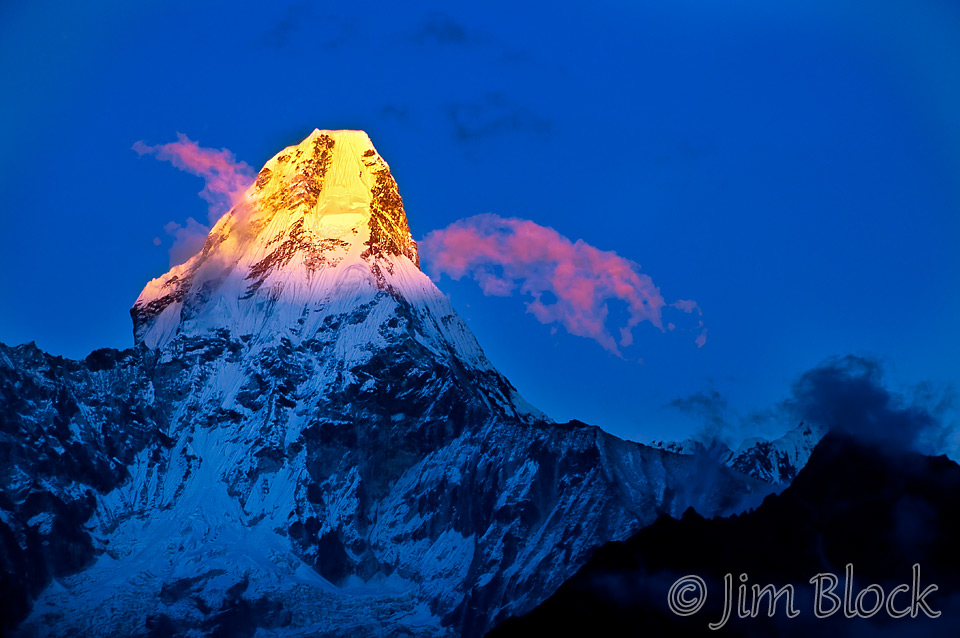 In route to Dingbouche and then north to Kala Patthar, we stopped at this mountain restaurant. The peak in the center is the beautiful Thamserku (21,729 ft). To its left is Kangtega (22,251 ft), "The Snow Saddle". From near this spot we could see our destination for the night, the village of Phortse, about ½ mile away – as the crow flies. Unfortunately, there was a river in the way and what seemed like a 2,000 ft climb down and up before we reached Phortse. You can see interactive panoramas of this area including Phortse by clicking HERE.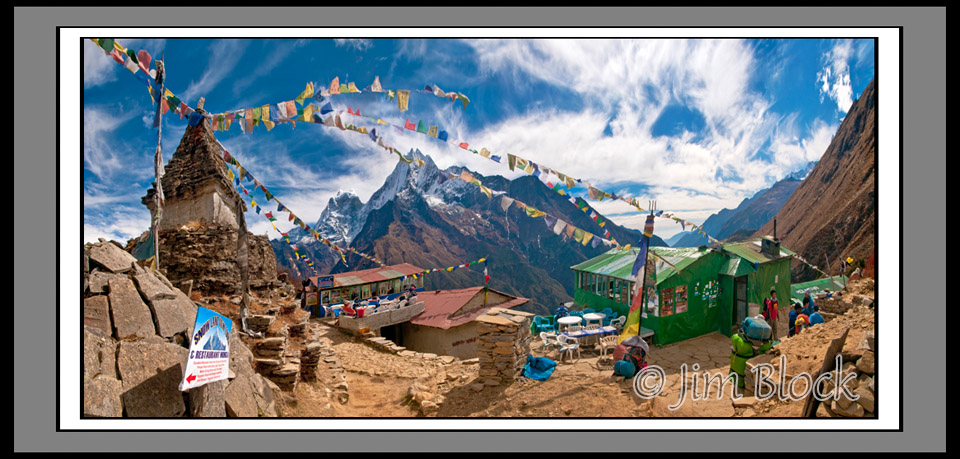 We made it to Dingboche and then to Periche where several of us visited a clinic. There we learned that many other trekkers were having intestinal problems this year. From there we slowly headed back to Namche and Lukla, stopping at the beautiful Tangboche Monastery along the way.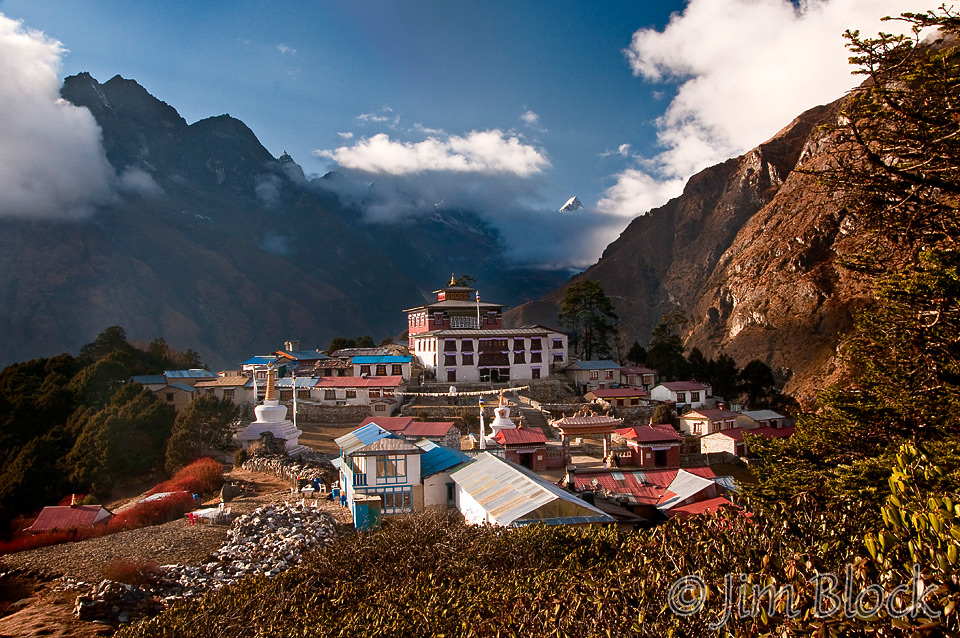 You can see panoramas from this area by clicking HERE. If you do so you will also get to links that have many pages of interactive panoramas and text from this trip.
When we arrived back in Kathmandu I was able to find a number of people I had photographed on my first trip and give them prints of photos I took. The man on the left ran a small motorcycle repair shop and was disappointed after I took his photo in 2008 with my digital camera that I could not pull a paper copy out of its back and give it to him. A shopkeeper near our hotel helped me find the two young girls in the photo at the right.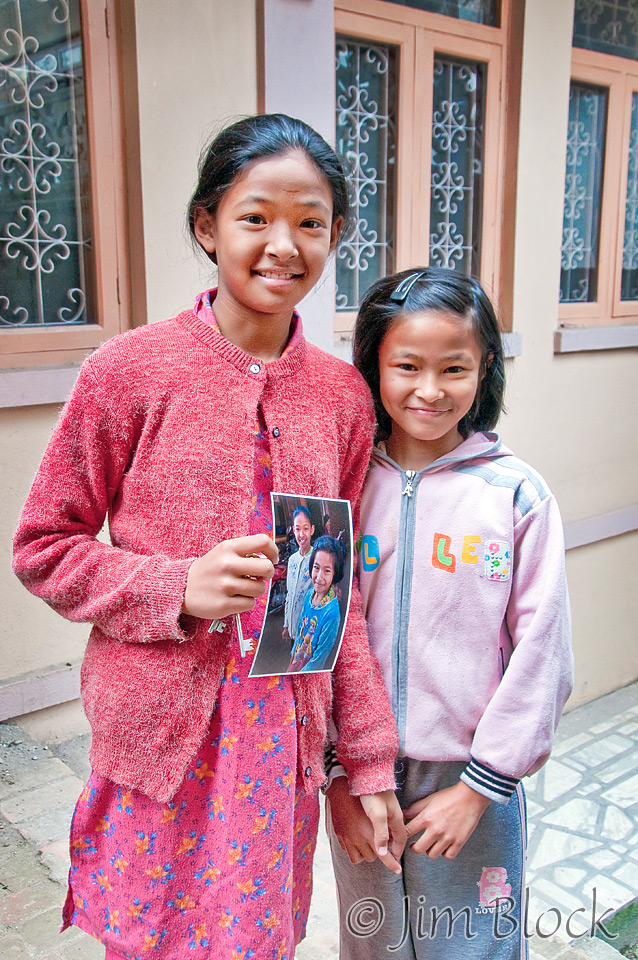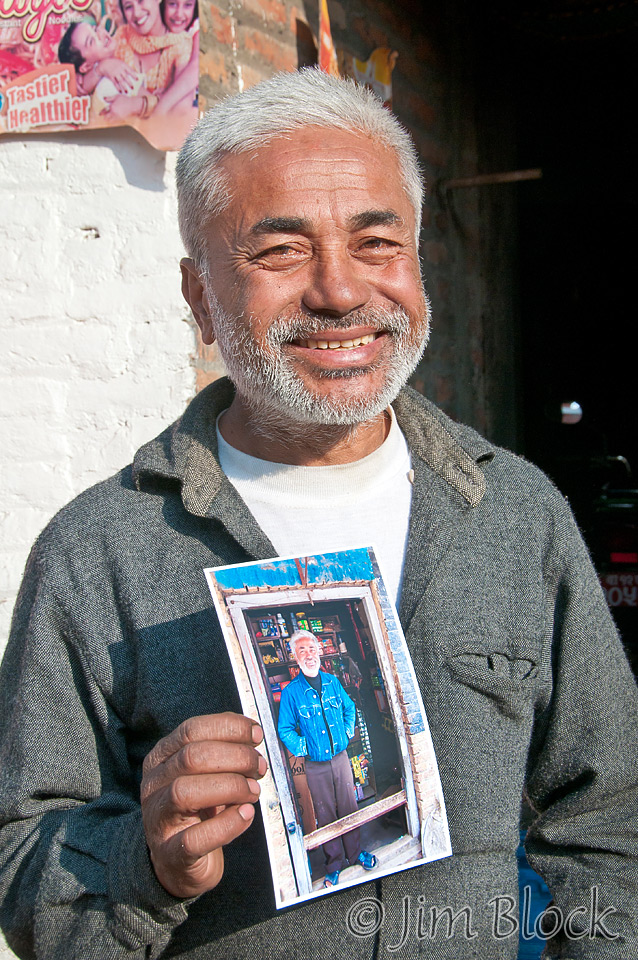 2011 Annapurna Circuit
When Khari Rinpoche visited NH, I asked him about his "employment", his "job".  He replied, "I'm the Boss of Khari Gompa." So on this trip I brought him a T-shirt so others would realize his position. Here he is in Kathmandu shortly after I presented it to him.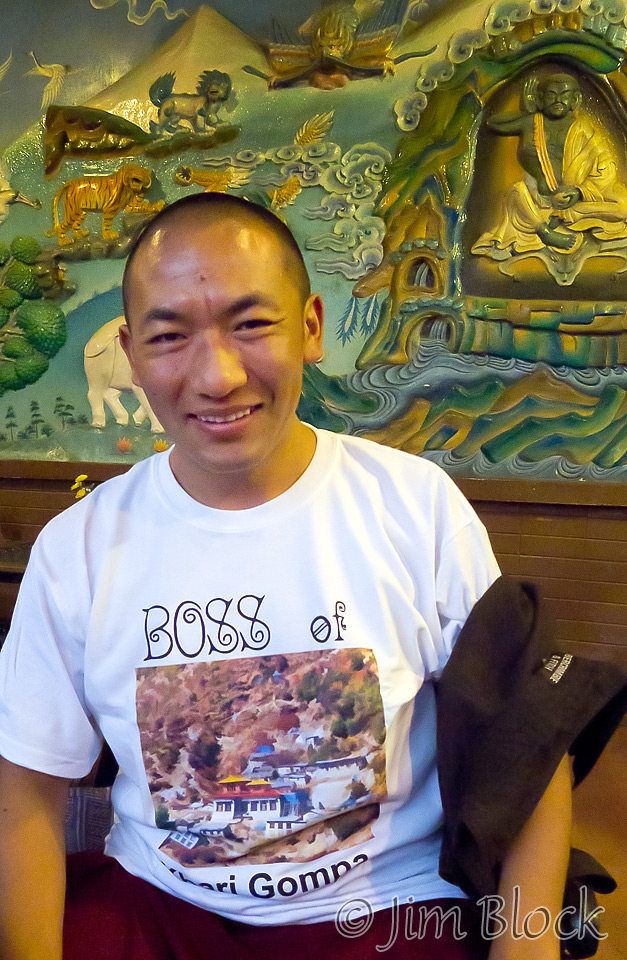 That evening at our hotel we were visited by a delegation of villagers and teachers from the Taksindu area where our guide Chhongba Sherpa lives. Their purpose was to honor Leeli Bonney and the Tara Foundation for all she has done for the region. In order to give this testimonial, this group of about 10 people walked three days to Jiri, took a very rough day-long bus ride to Kathmandu and then returned, spending over a week of their lives for a one-hour meeting.

We posed for a group photo then it was on to Annapurna for us.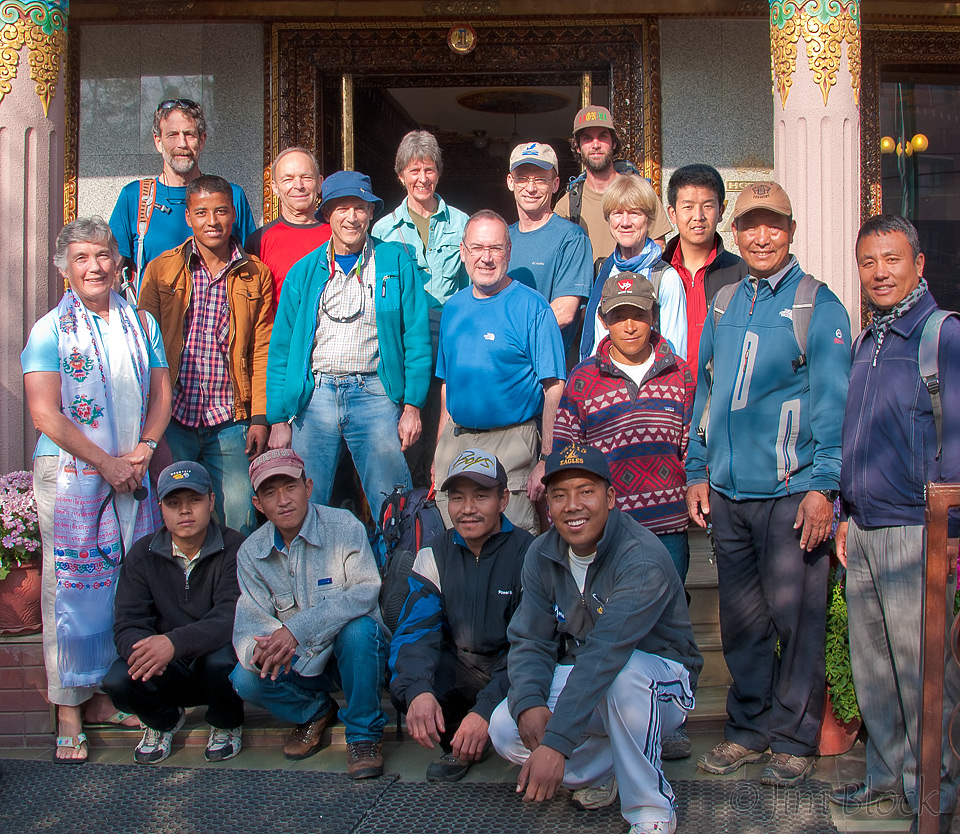 On the first morning of our trek, we got a beautiful view of Manaslu (26,759 ft).
I photographed this hibiscus in Bhulbule at our lunch stop the first day of our trek around the Annapurna range. While eating lunch I gazed down at a wild, crazy bamboo bridge, held together with string, crossing a river. I thought the locals must be desperate to use it. Shortly after lunch we crossed it.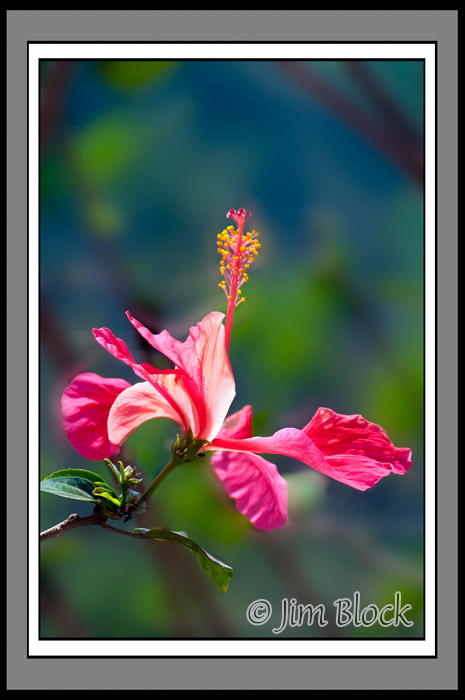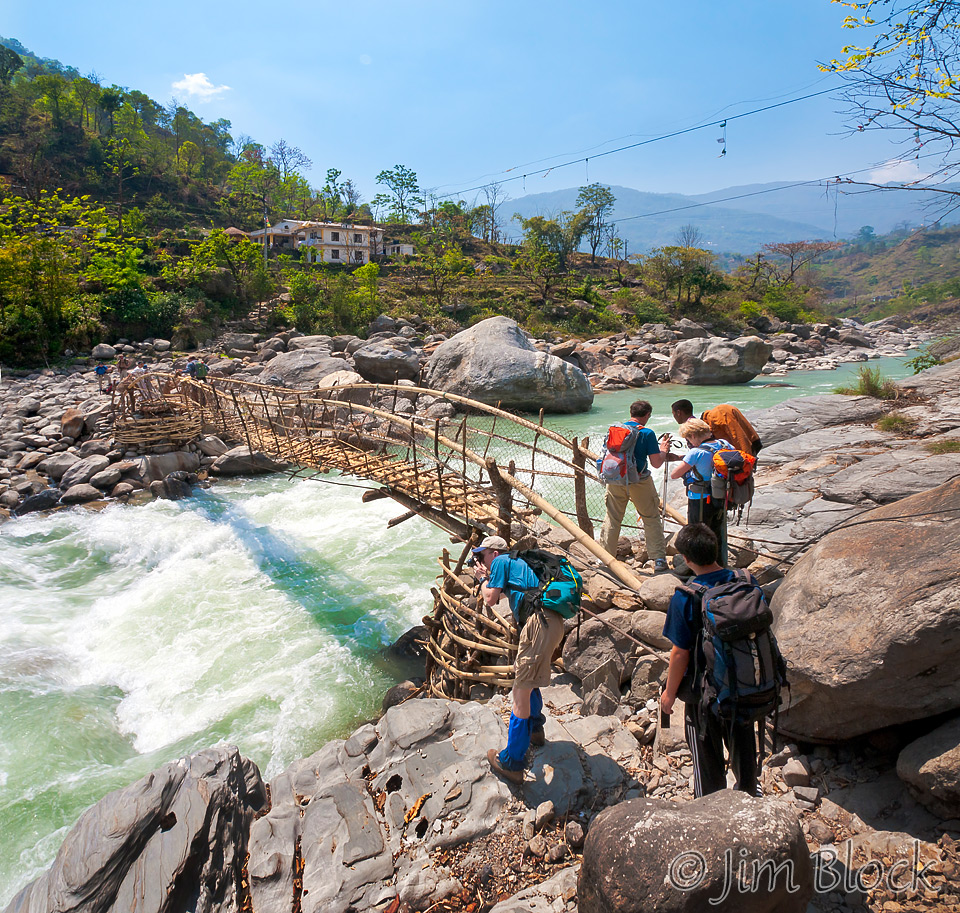 That evening we stayed on a ridge in Bahundanda. This was our view from our lodge.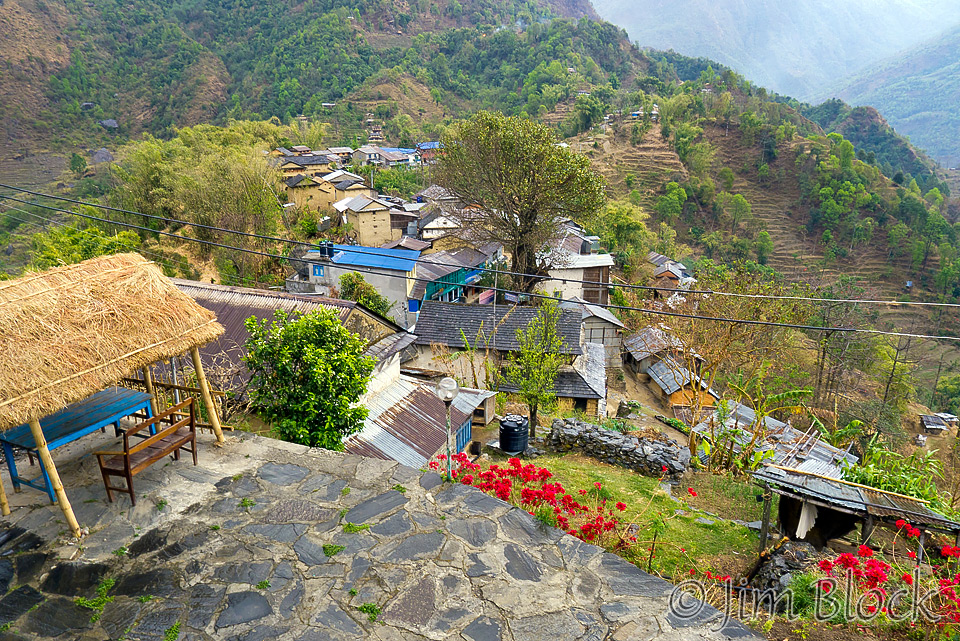 On the second day of our trek we stopped in the tiny village of Ghermu at 11 am so we could eat lunch not too much after noon. Nepal is famous for its "slow food". I like pattern and photographed these plates and cups while waiting lunch. I had plenty of time to explore.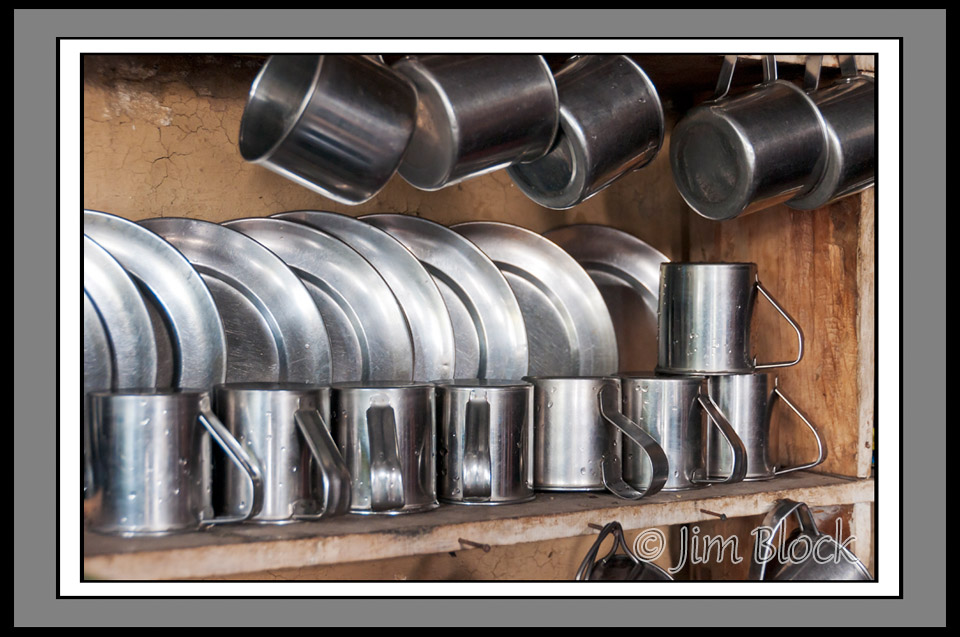 Cheerful, charming children were everywhere. I had some time in Jagat to photograph some of them.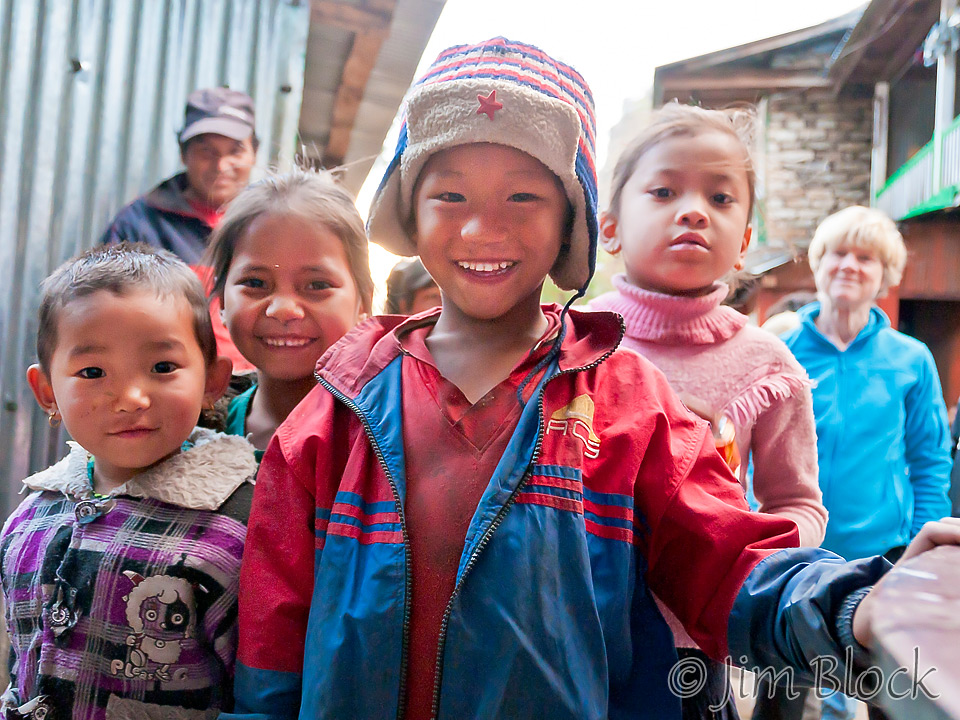 We had a rest day in Chame, which meant climbing a good size "hill" up perhaps 1000-2000 feet, resting, then hiking back. I took a photo of this dwelling and then used some software to minimize details and make it look a bit more like a painting.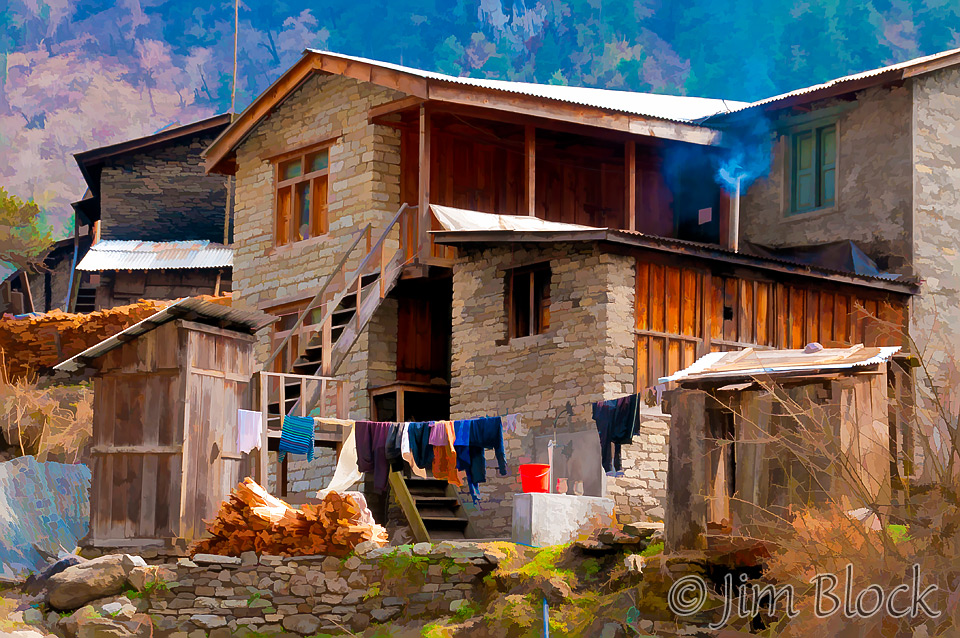 As we hiked to the very interesting area of Pisang we had some spectacular views of the river far below.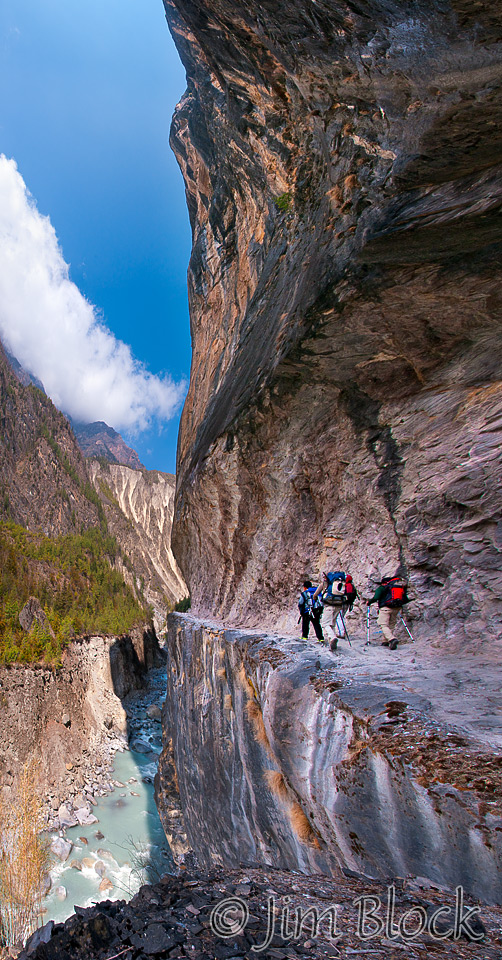 We took a group portrait in Pisang with the village of Upper Pisang in the background. What a ragged crew. Can you spot the two pairs of father-sons in the photo?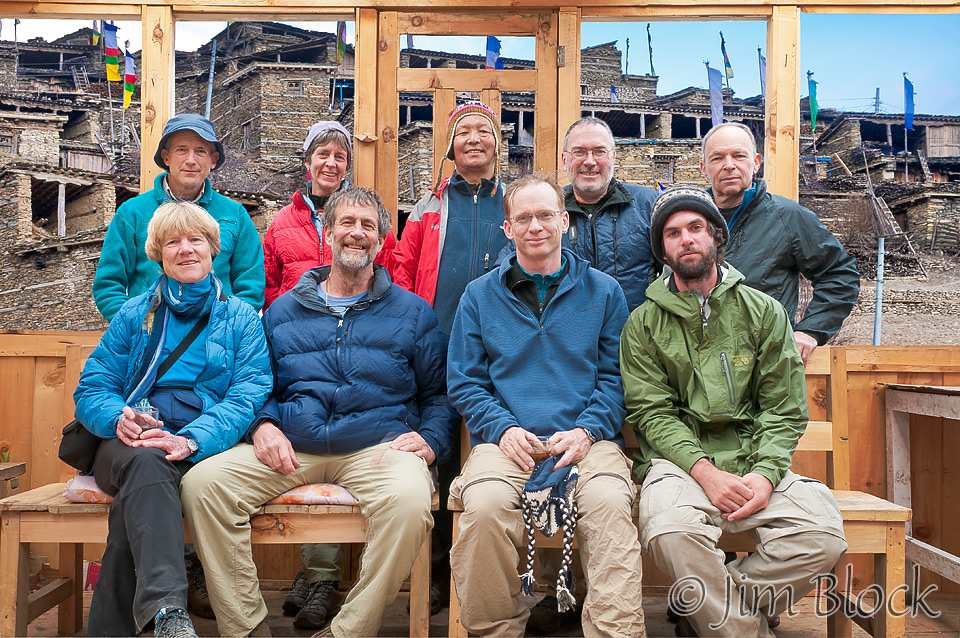 Beyond Pisang was one of the more dramatic slopes in the world, the "Gateway to Heaven". That gagged line running diagonally up the slope is actually a cliff several hundred feet high. Potatoes are grown in the fields in the foreground.
We trekked on to Manang where we had another "rest day" — we hiked up to a glacier. Manang is a fascinating old village and the last substantial one before Thorung La (pass). Below are three images of Manang rendered to look a bit like paintings. I just love the ladders carved out of logs.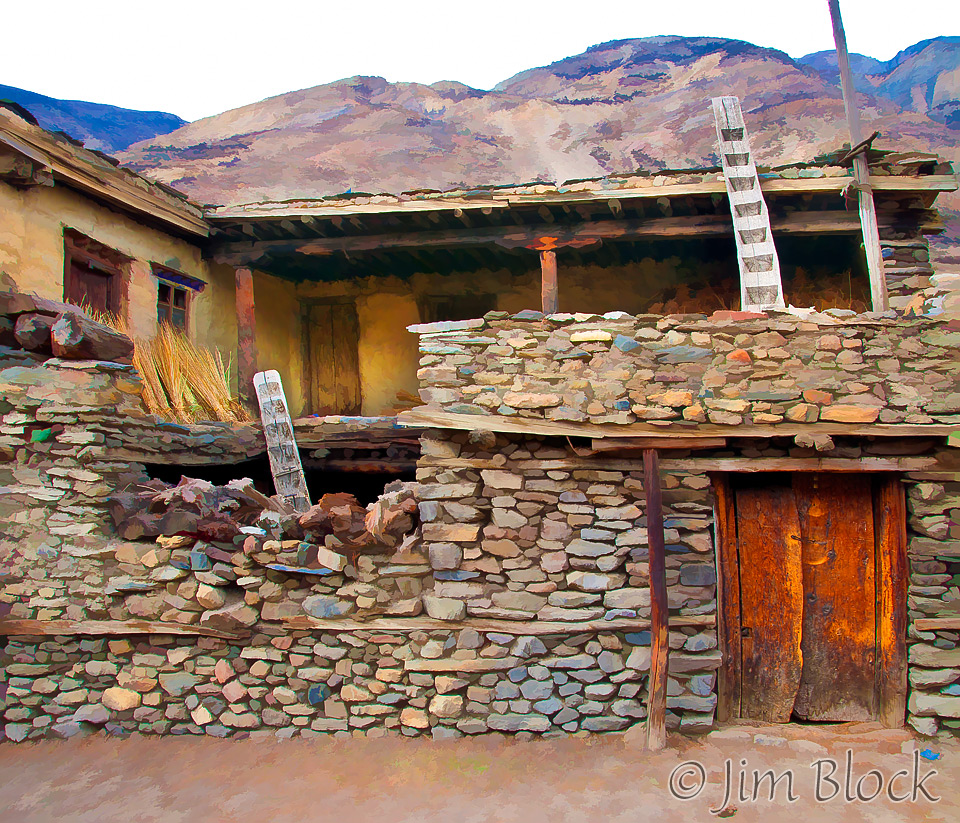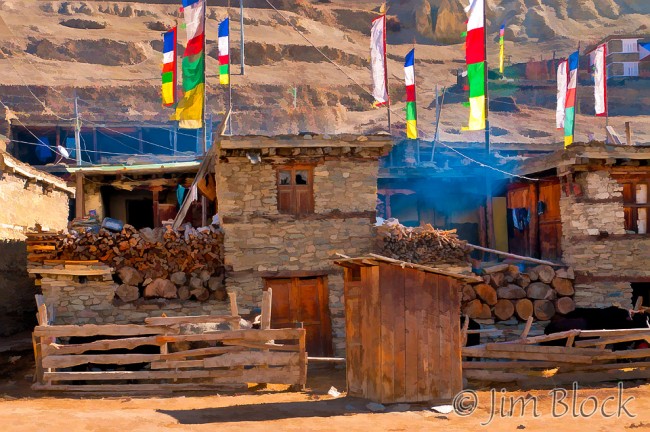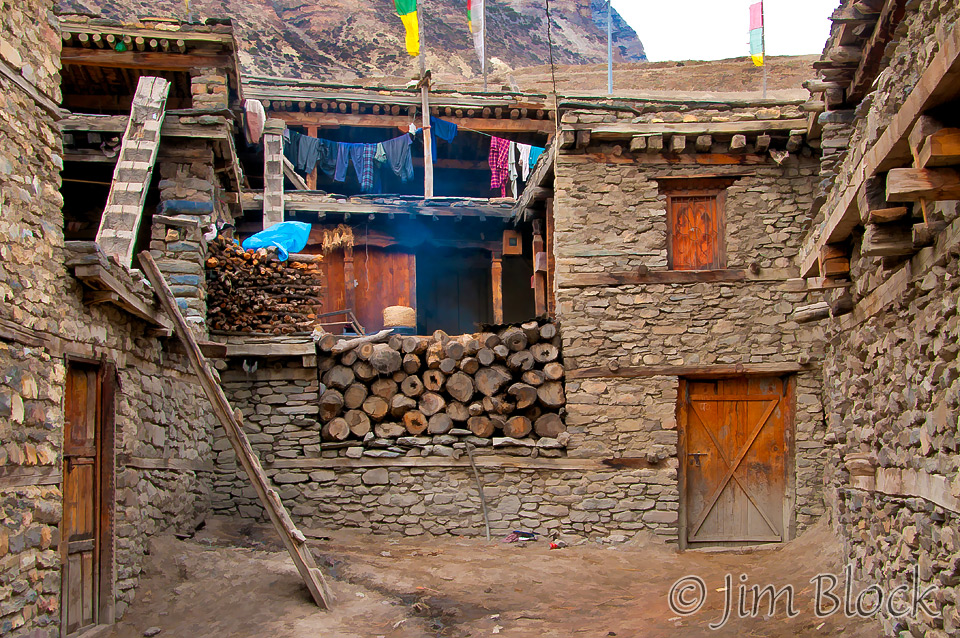 Here are two photos I took of Annapurna III at sunrise from my hotel room.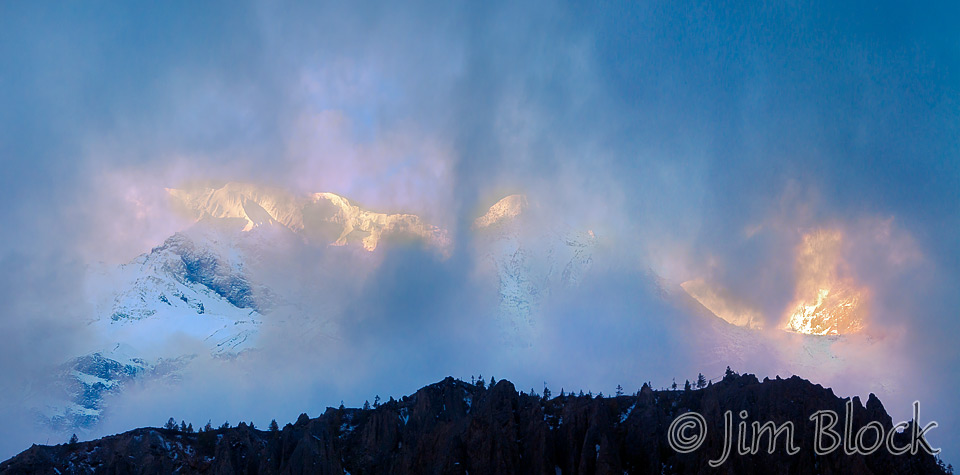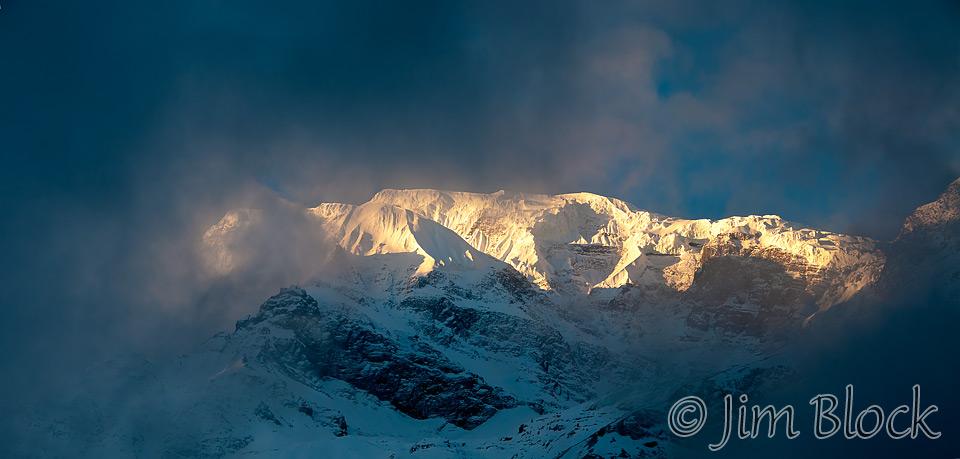 On our last evening before the challenging Thorung La (pass), we stayed in Thorung Phedi where I photographed these doors at a neighboring lodge.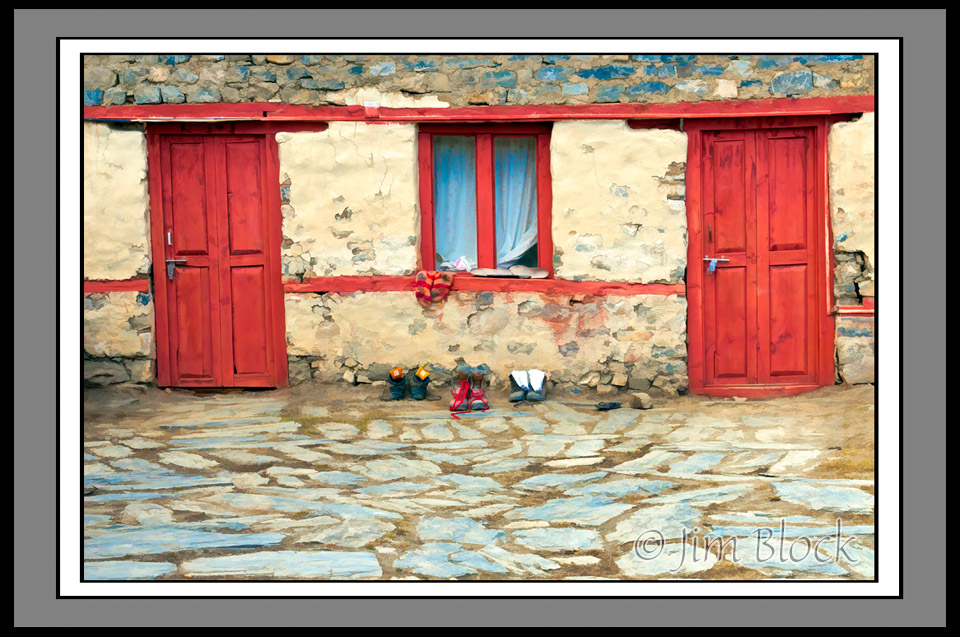 The next day was very long and special. We were up at 2:30 AM for a quick breakfast and a trudge for hours in the dark toward Thorung La at almost 18,000 ft. One step, one deep breath, repeat, repeat, …   You can read about this day by clicking HERE. And you can see some panoramic images from Thorung La and other areas of this trek by clicking HERE.  You can zoom into these images and explore the scenes in detail.
At 5:30 AM the sun was beginning to light up the clouds. You can see trekkers with headlamps at the bottom right of the photo below.
We finally reached Thorung La where many people died in a freak storm in October 2014.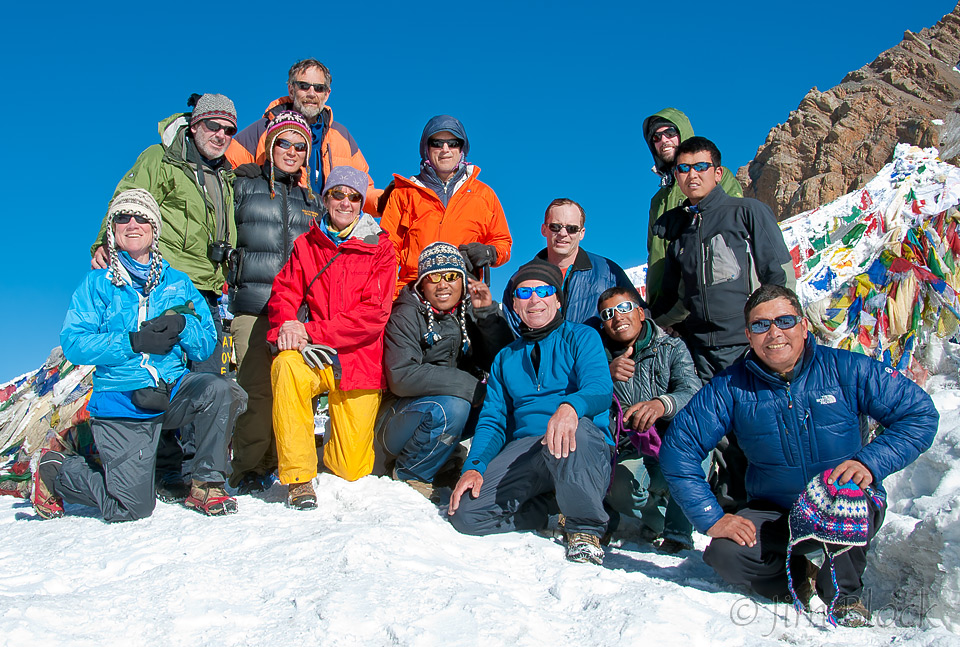 From Thorung La, it was a very very long walk down to Muktinath. We visited the combined Buddhist and Hindu temple complex above the city. Thousands of prayer flags hung everywhere. These are a few of them.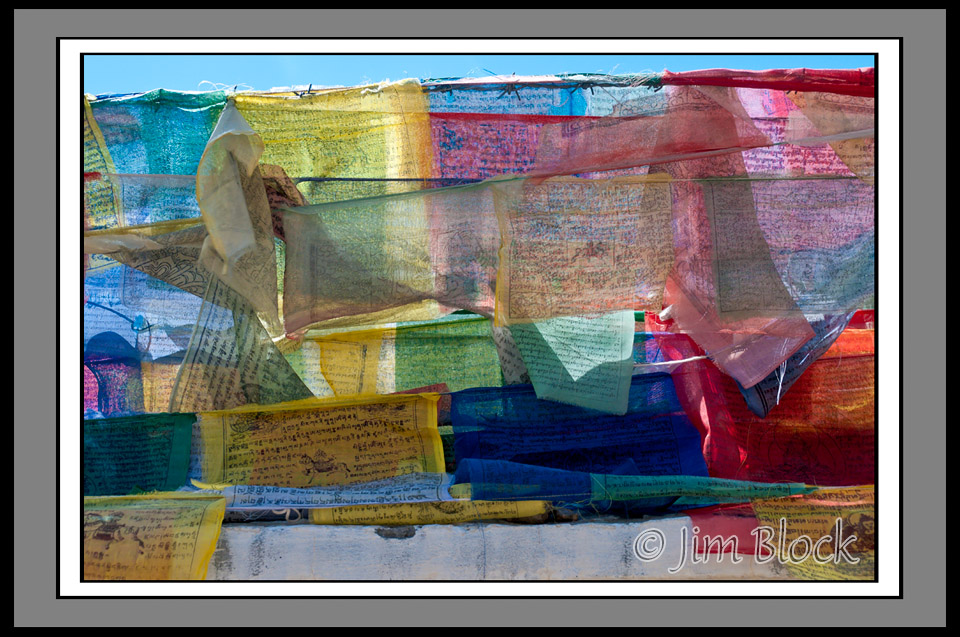 Our guide, Chhongba, wanted to rent jeeps to take us down to the beautiful town of Kagbeni since we had now reached a bit of a "road".  But we rebelled and refused. We wanted to walk. I am certainly glad we did. Here are two photos I took on the way down. It was snowing when I took the first one. In the background is Dhaulagiri (26,795 ft), the seventh highest mountain in the world. The second shows Kagbeni on the border of the very dry and desolate Mustang in the background.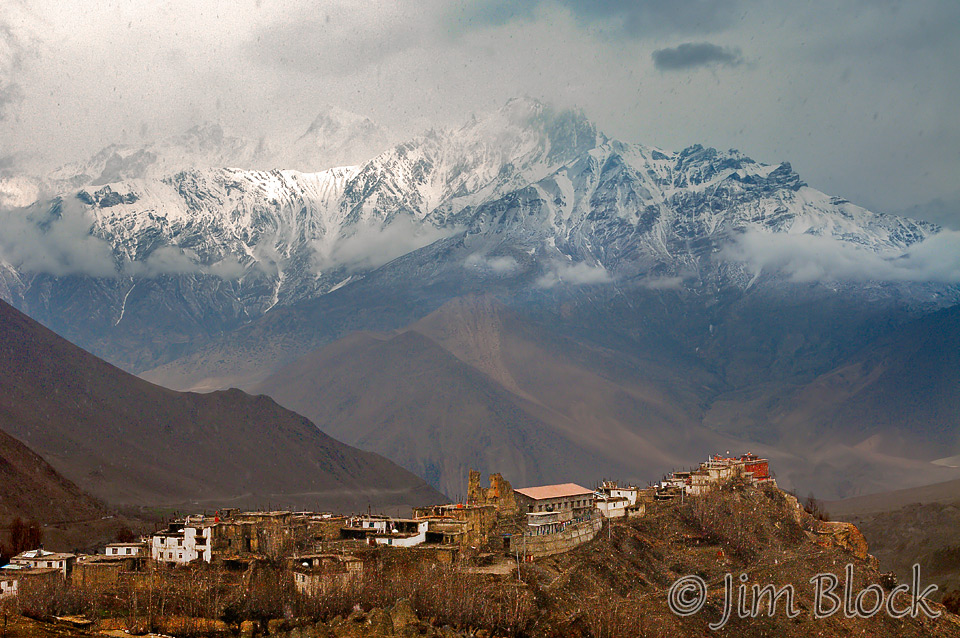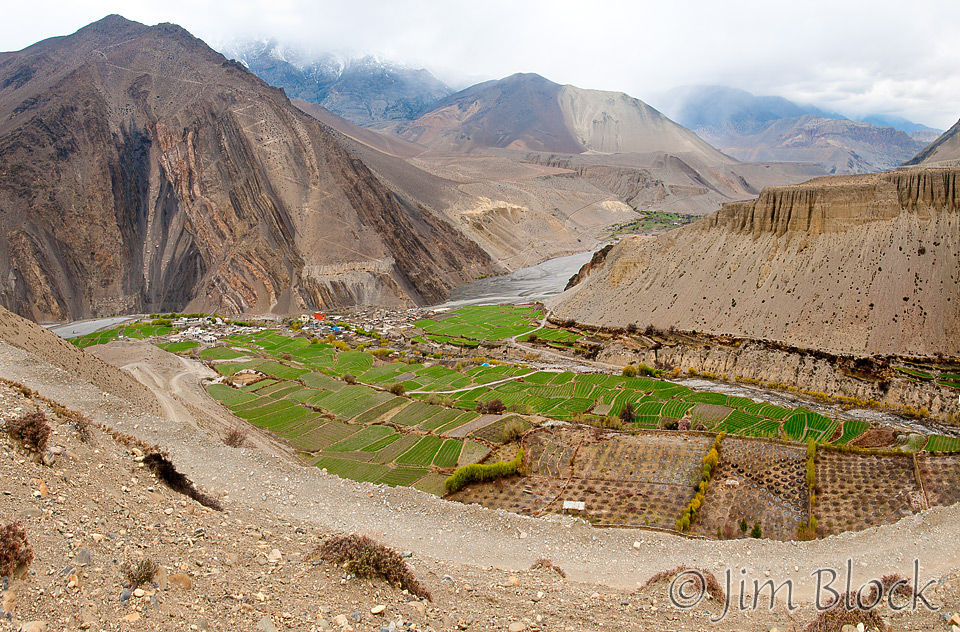 After a wild celebration in Jomson when we said farewell to our porters and a few of our sherpas, we visited the beautiful village of Marpha the next day. We then flew out of the amazing airport in Jomson early the following morning.
How long did it take our plane to Pokhara after landing in Jomson to get airborne? How much time from touchdown for the plane to taxi to the gate, unload 18 passengers, unload 18 passengers worth of luggage, load 18 passengers and all their luggage, hand out cotton for the ears and candy for the mouth, make a "safety" announcement in several languages, taxi, and get airborne again? I measured the time with the "date stamps" of my photos. You can find the answer that will amaze you HERE.
We finished our trek around the Annapurna range with a night in Pokhara, Nepal's third largest city. It sits just south of three of the ten tallest mountains in the world — Dhaulagiri, Annapurna I and Manaslu. It borders the beautiful Phewa Tal shown here looking west from Pokhara.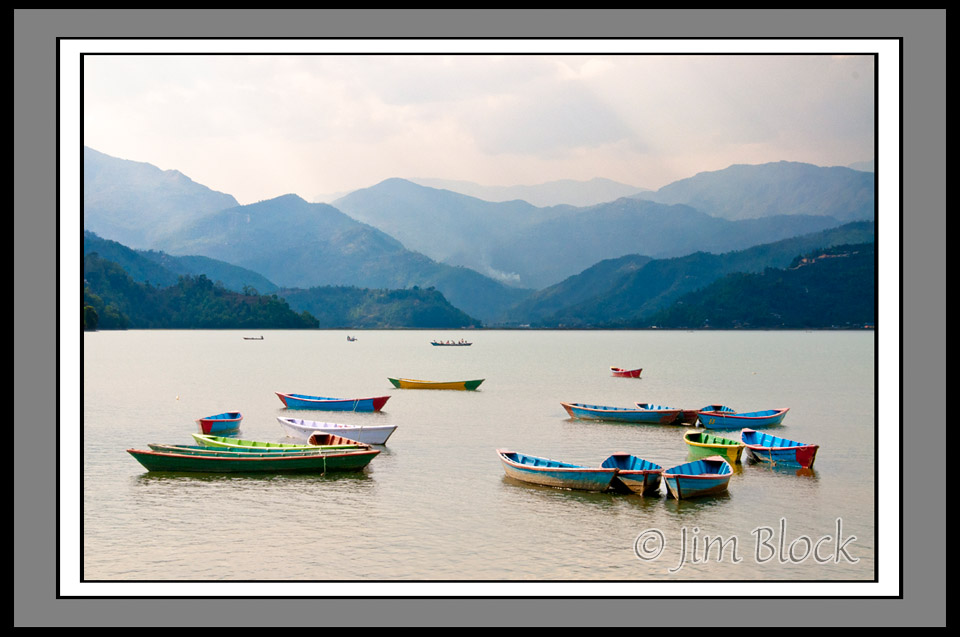 Boats wait on the shore of Phewa Tal for passengers to be rowed across the lake to the Taal Barahi Temple on an island in the lake. We rented several of them and, after visiting the island, landed on the far shore and hiked up to the Peace Temple overlooking the lake, city, and the Annapurna range.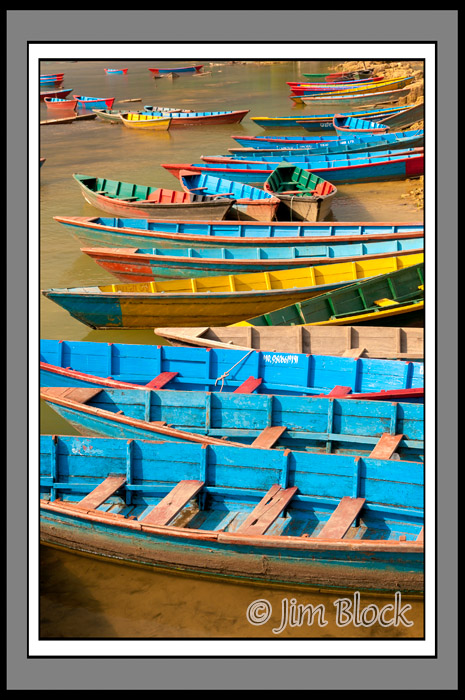 After trekking most of the Annapurna Circuit – we skipped the unfortunately ever-encroaching roads – we spent an afternoon and morning in Pokhara. I found this collection in an outdoor market.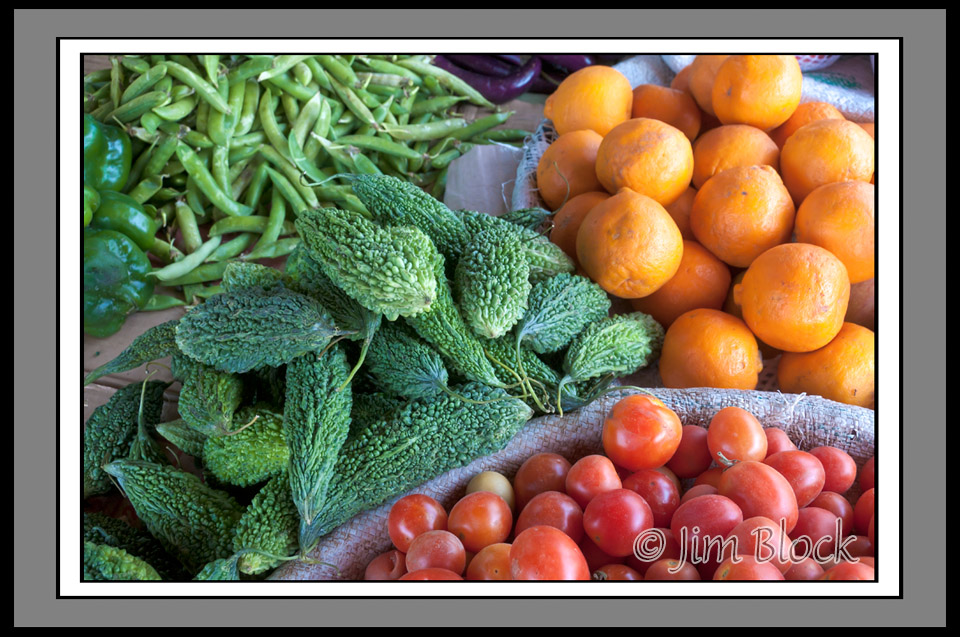 On the last day in Nepal after trekking the Annapurna Circuit, I hiked to the old, sacred Durbar Square in Kathmandu. I mostly photographed the friendly and interesting people – adults and children – including this girl blows bubbles.
You can get to many pages of photos and descriptions of our trek around Annapurna by clicking HERE and then visiting the various links for each day of this adventure.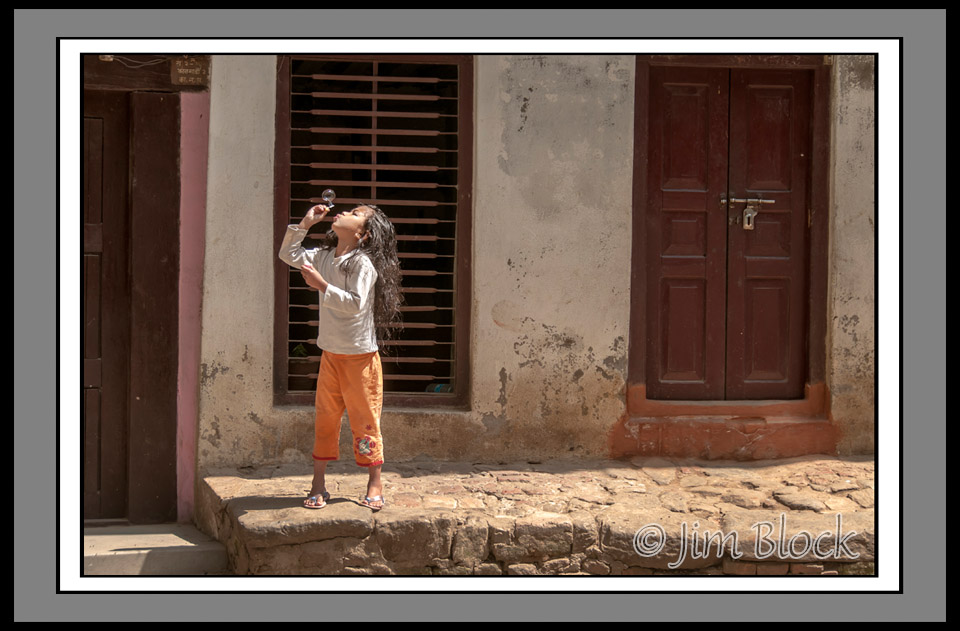 2012 Jiri to Everest Base Camp
On my most-recent visit to Nepal we did a 4-week-long trek to Everest Base Camp and Kala Patthar the long, hard way. Not only did we start in Jiri, over a week's walk from Lukla where most people fly into, but we took a circuitous route to base camp over two high passes.
I thought Chhongba was crazy when I first saw his itinerary. The passes in the Khumbu region near Mount Everest were very challenging, but we did not ease into them. The first and third days of our trek were brutal. But the scenes along the way in the Solu region were fabulous including this huge rhododendron tree.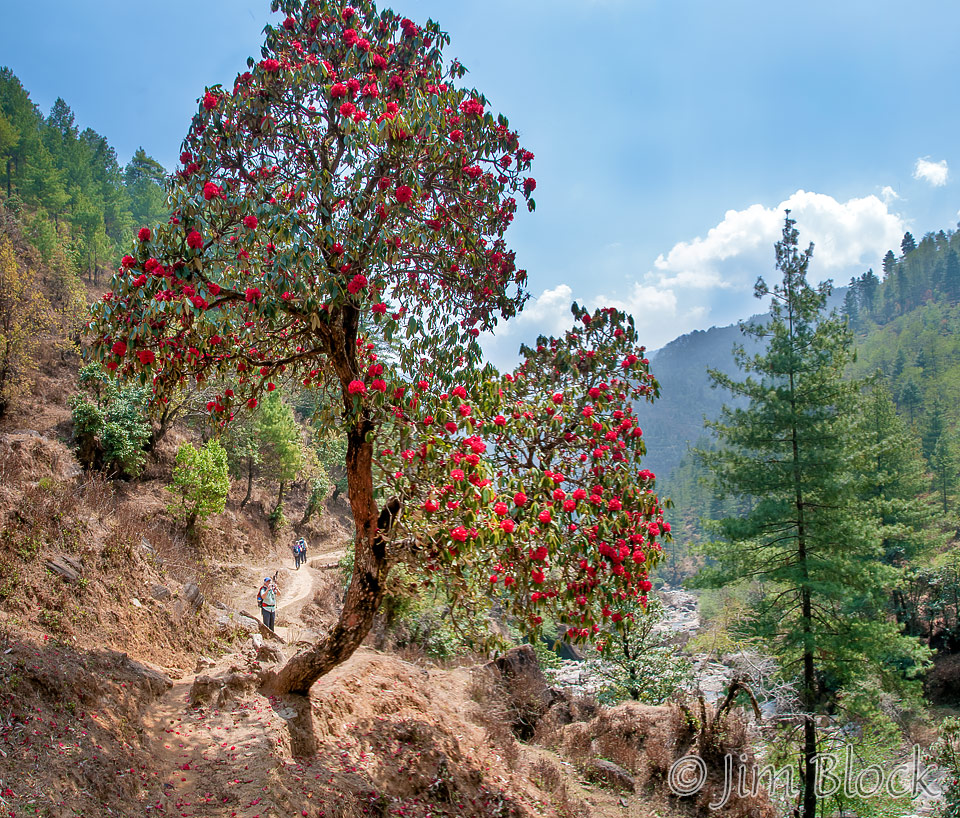 We spent the first night out from Jiri at the Deurali La (pass). This scene at dawn the next morning shows our next pass in two days in the distance – it's the notch near the center of the farthest range of mountains.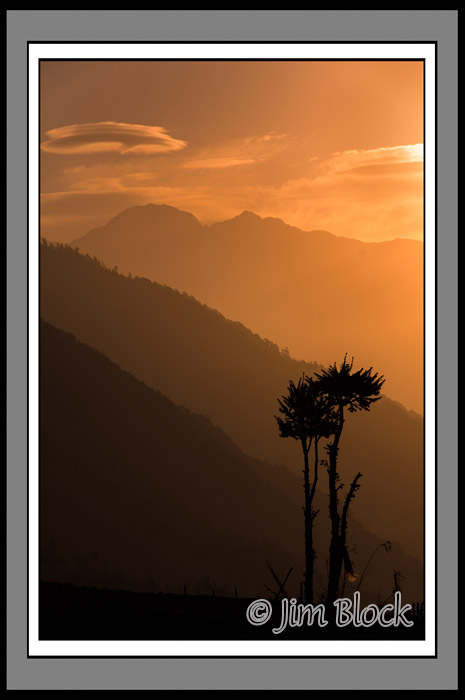 On the long and tiring third day of the trek we climbed to the beautiful village of Bhakanje, somewhat off the direct route. We had a great lunch here. The photo below was taken as we entered the village. You can see a stupa at the top right; the monastery is near the center below the snow-capped peaks.
After lunch we climbed through a beautiful forest with huge blooming rhododendron, magnolia, and other more exotic trees. We climbed up and up and up. Seemed like we would never get to our destination for the night, a lodge just short of the pass.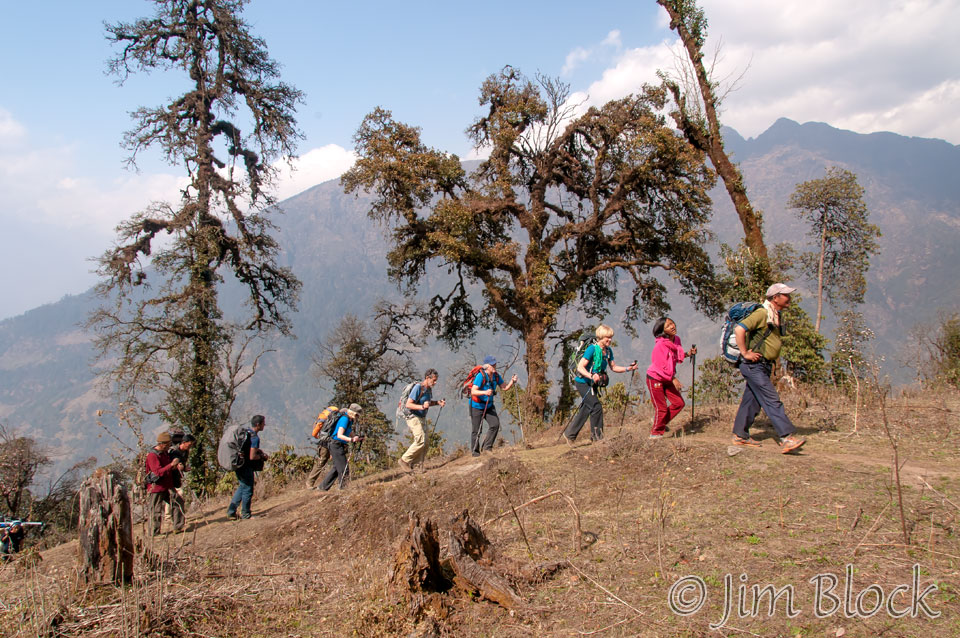 We finally arrived very weary. Here are probably the two best and friendliest porters in Nepal, Maila Rai and Alawa Sherpa. Note how their last names also tell their ethnicity. You can see Maila standing in front of their home that Chhongba built for them next to Chhongba's own house by clicking HERE.
.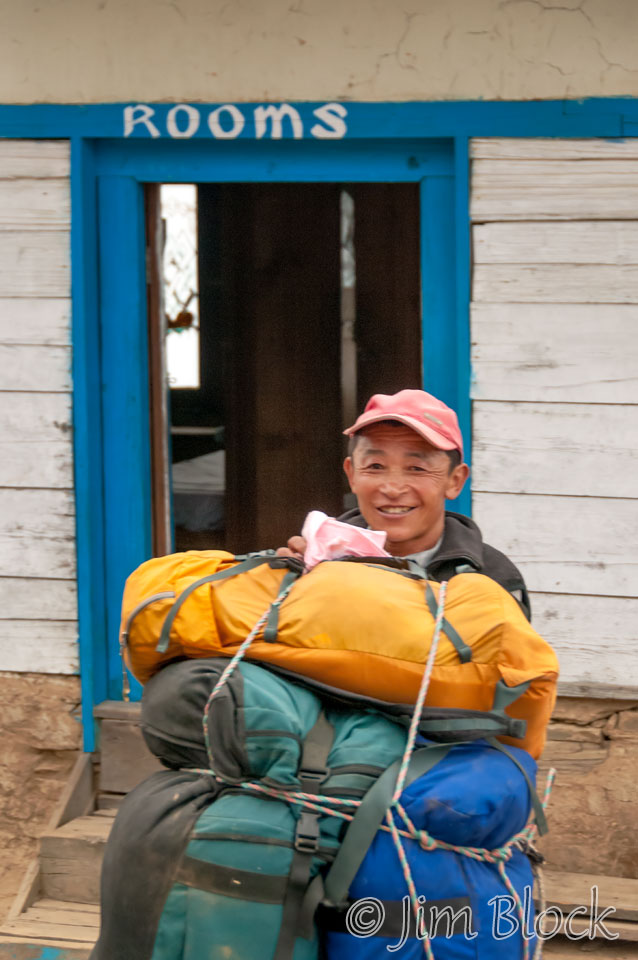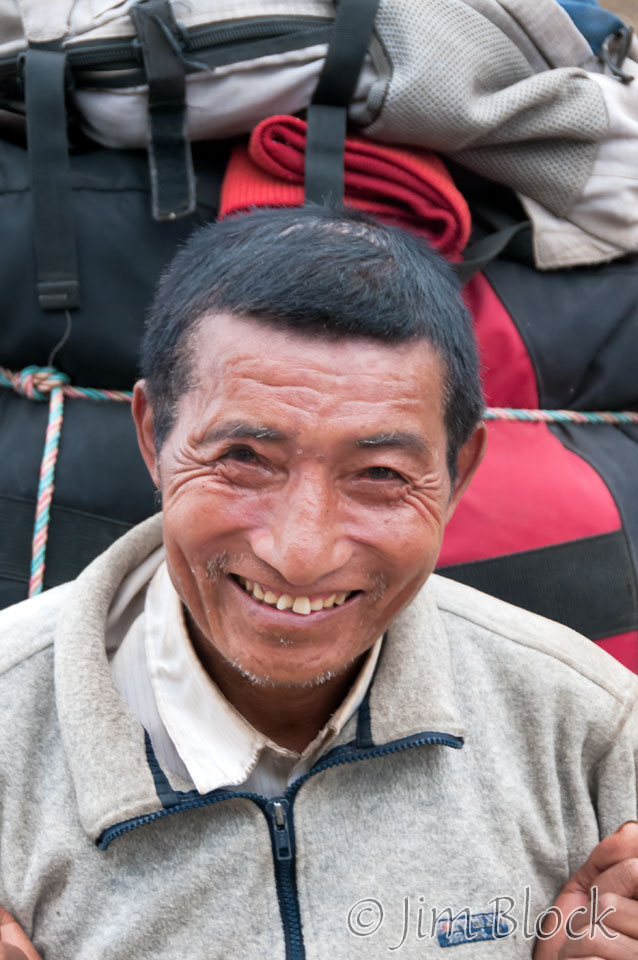 The rooms were "basic". We tried not to look through the wide cracks in the boards separating them. Below is our toilet. That night at dinner in the dark lodge, sleet penetrated the roof and landed on my plate.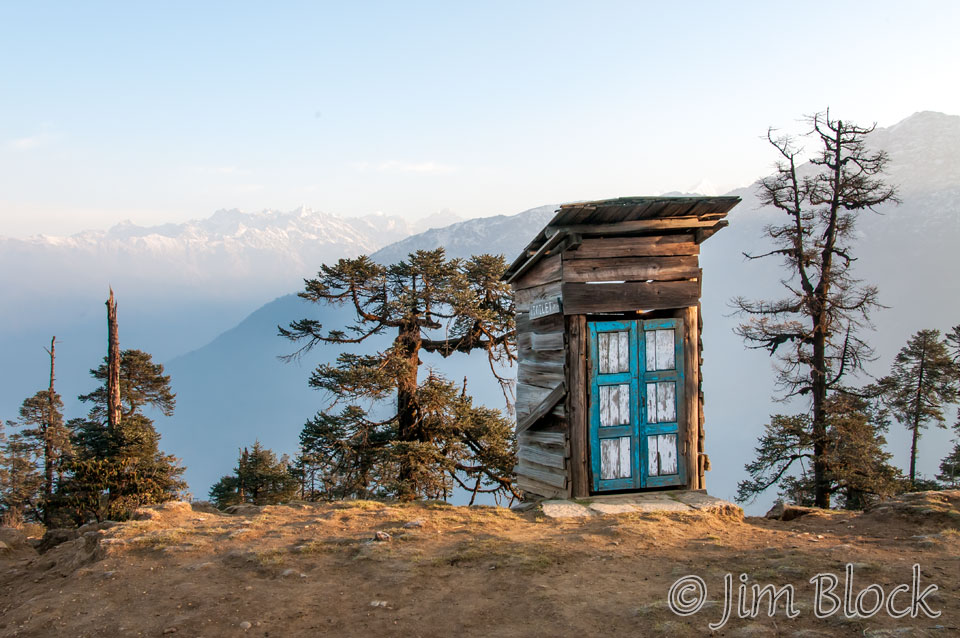 Up and down and up again we trekked — nothing is level in Nepal. The evening of our fifth day we stayed in a lodge near the beautiful Taksindu Monastery shown below.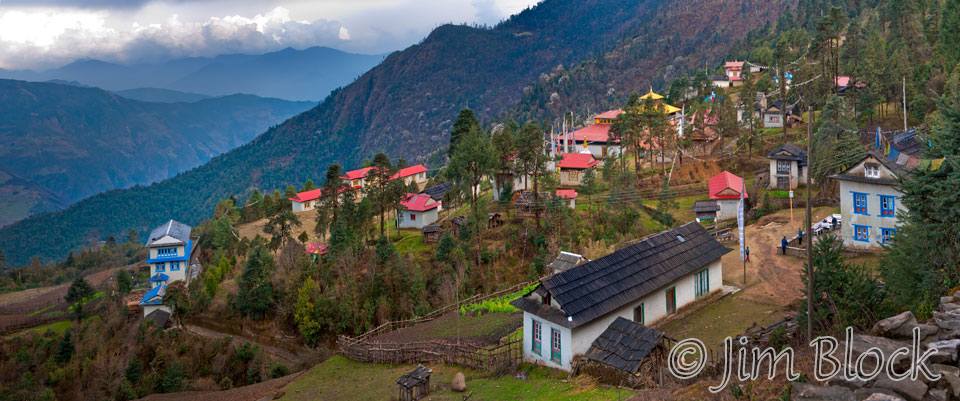 The next day we witnessed a puja (Buddhist ceremony of honor and worship) at Taksindu.
After a tour of the monastery we hiked down toward Nunthala. But we were "ambushed" before we arrived by a welcoming committee from the village.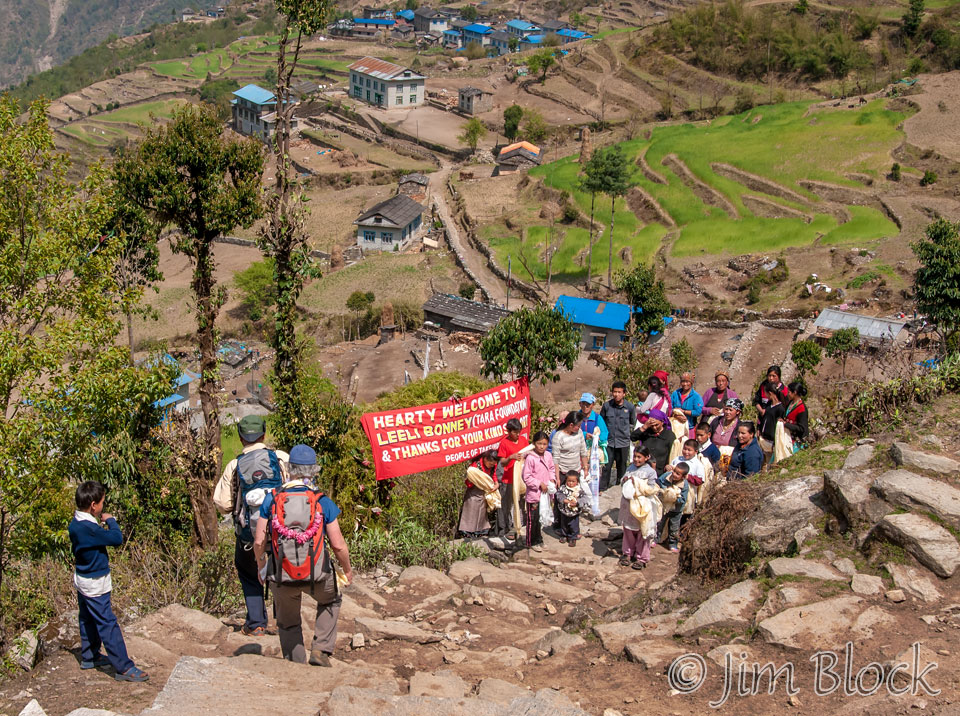 One of the best guides in all of Nepal, Chhongba Sherpa, lives in this village. It took us 6 days to walk from Jiri to Nunthala – Chhongba does it in three. The photo below was taken between Chhongba's home and the Nunthala village school where we distributed fleece jackets to the children our first trip and to the teachers this one.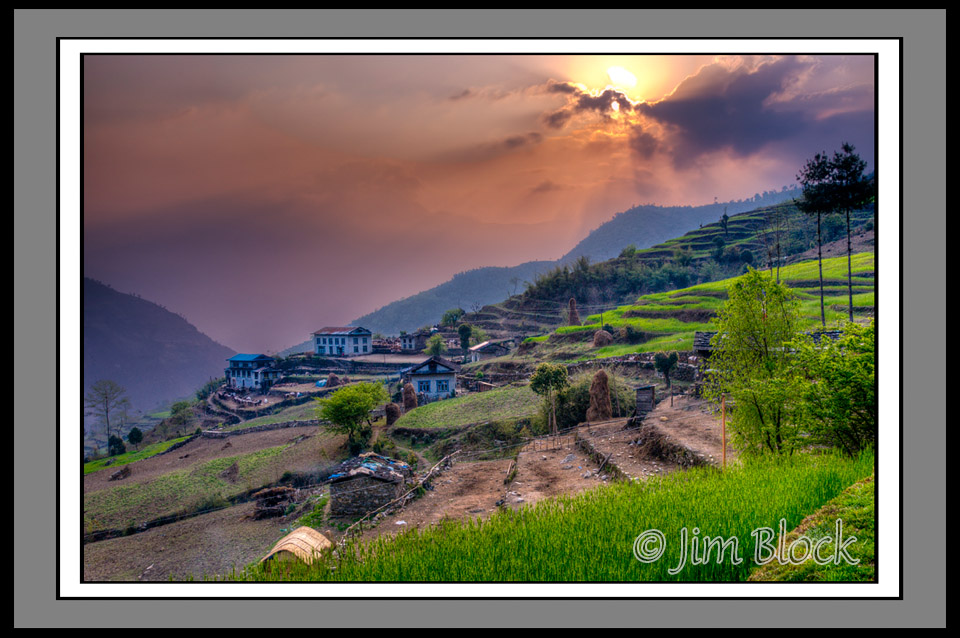 At the school in Nunthala we were honored with khatas, dances, and speeches.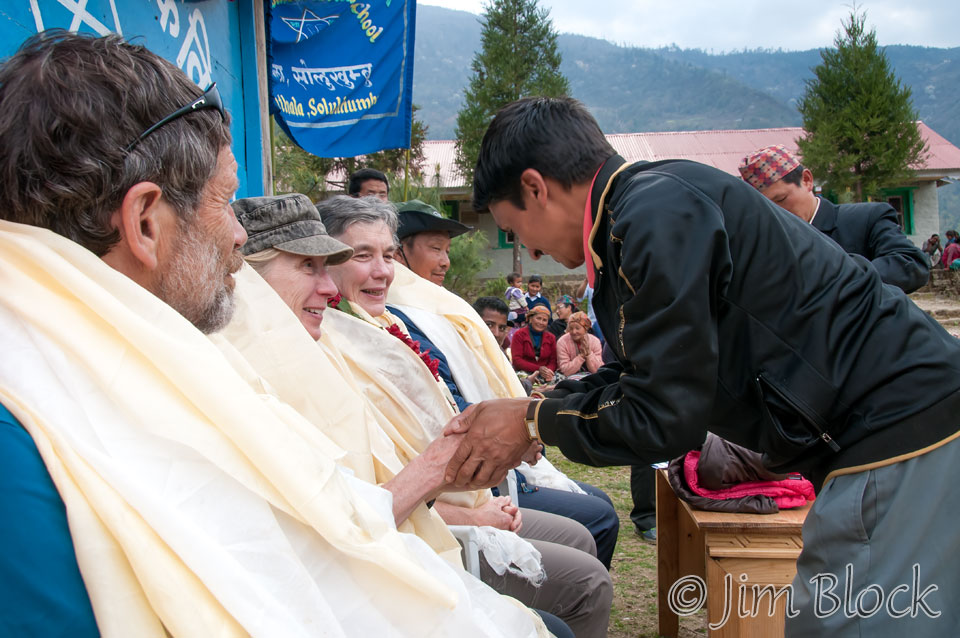 The next day we met with another ambush before we had walked far.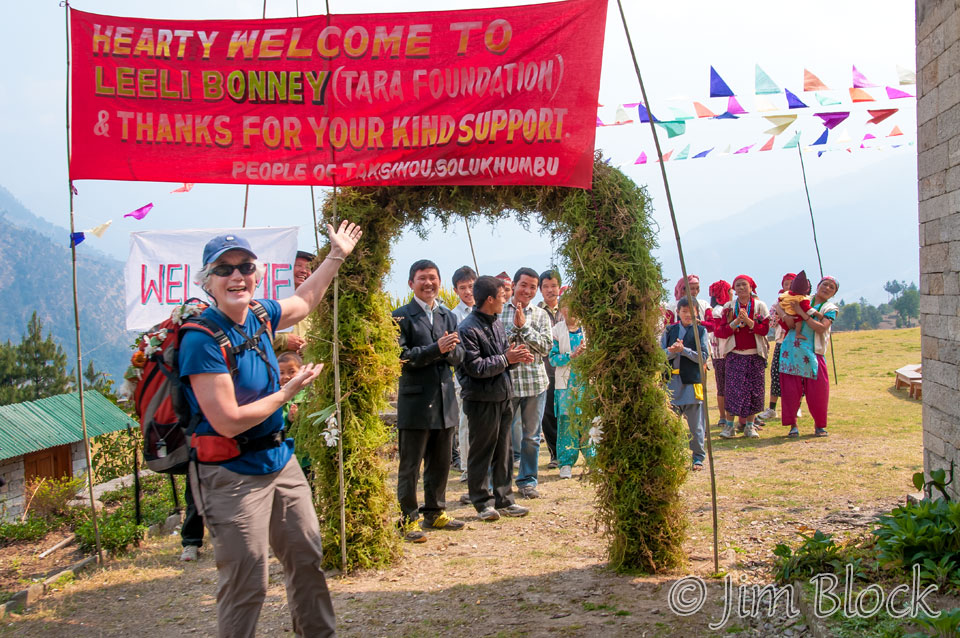 At this school we were presented with never-empty cups of traditional raksi (home-brewed alcohol), khatas and wreaths of flowers, dances, and more speeches honoring and thanking the Tara Foundation and Leeli.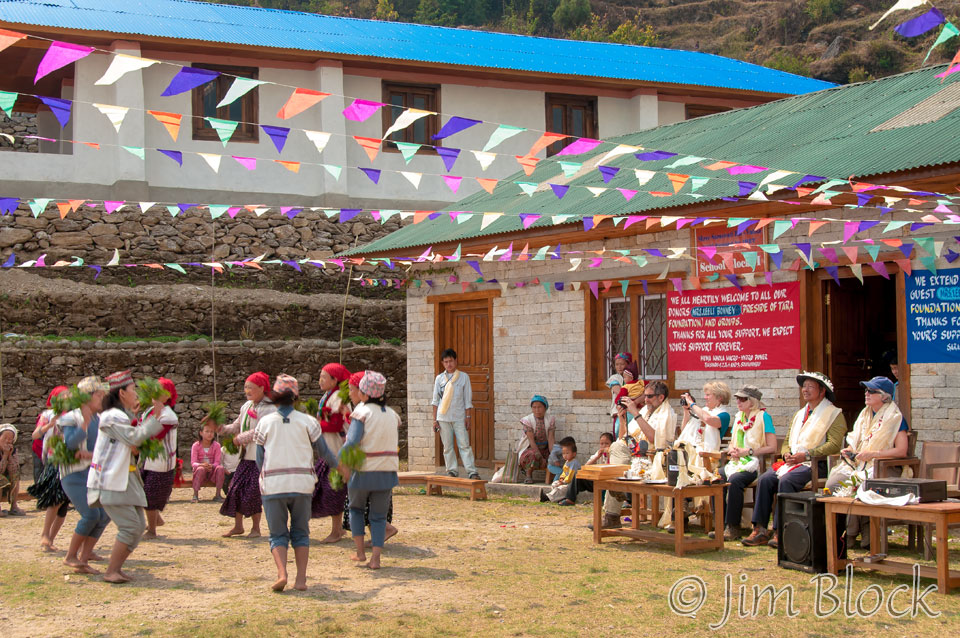 We visited one of our porter's home as we did the first trek. This time we camped in tents in Alawa Sherpa's front yard potato field. I brought him photos of his family that I took on the first trek.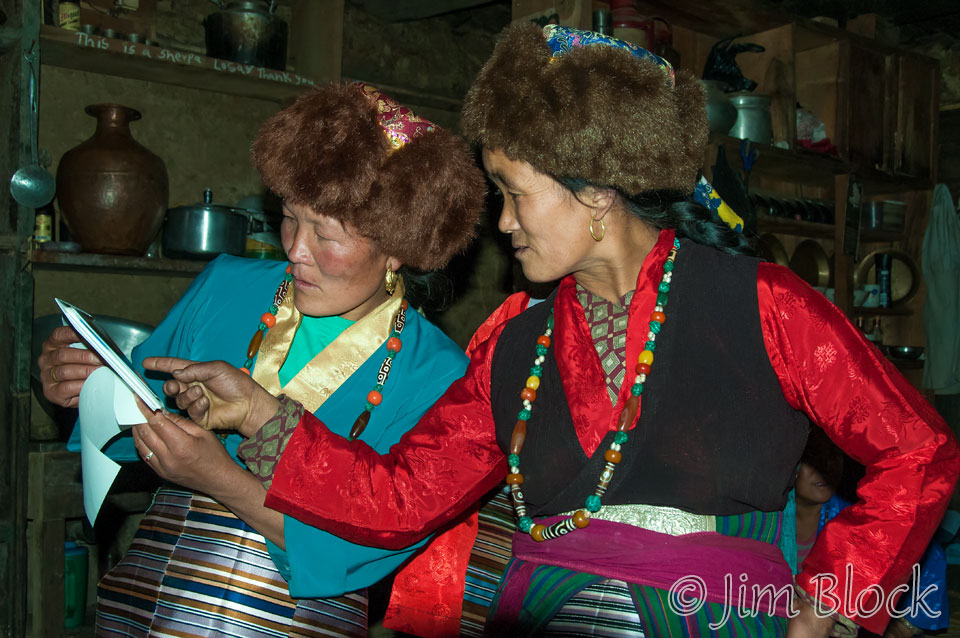 Here is a panoramic view of Alawa's living area. It is one large second-floor room.

As we trekked through the Solu district heading toward Khumbu and the higher mountains, we passed many poor but charming villages and villagers. Some of the sites were beautiful and amazing.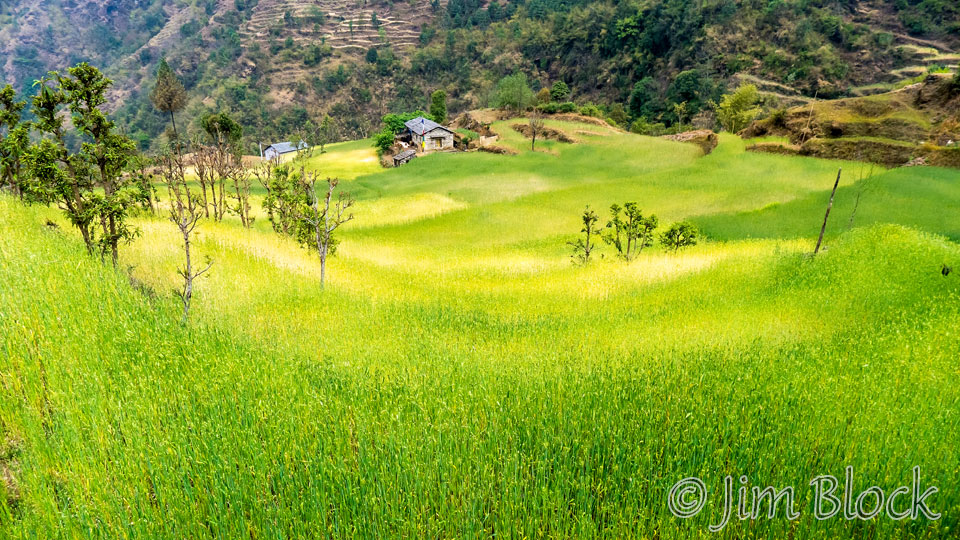 Eventually we reached the charming village of Chaurikharka, below Lukla. The stones on the main street here were painted to show where we had been (Jiri) and where we were heading (Namche). There are no cars on this street — we are many days walk from the nearest road.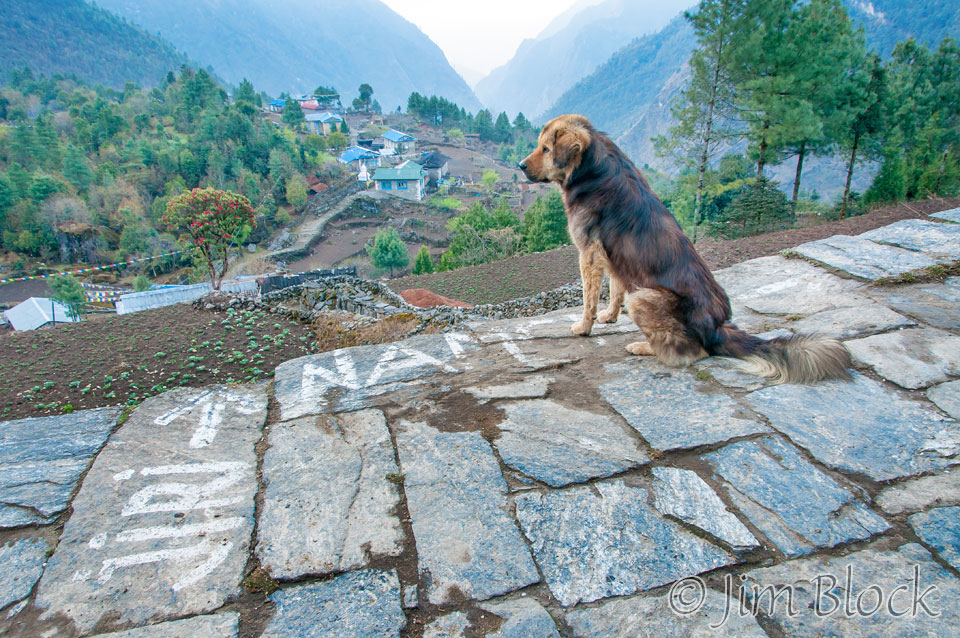 It was snowing lightly when we reached the "Sherpa capital" of Namche Bazaar. But the snow didn't linger and neither did we. We toured the food market, always a memorable experience and then headed on toward our destination for the night, Thamo.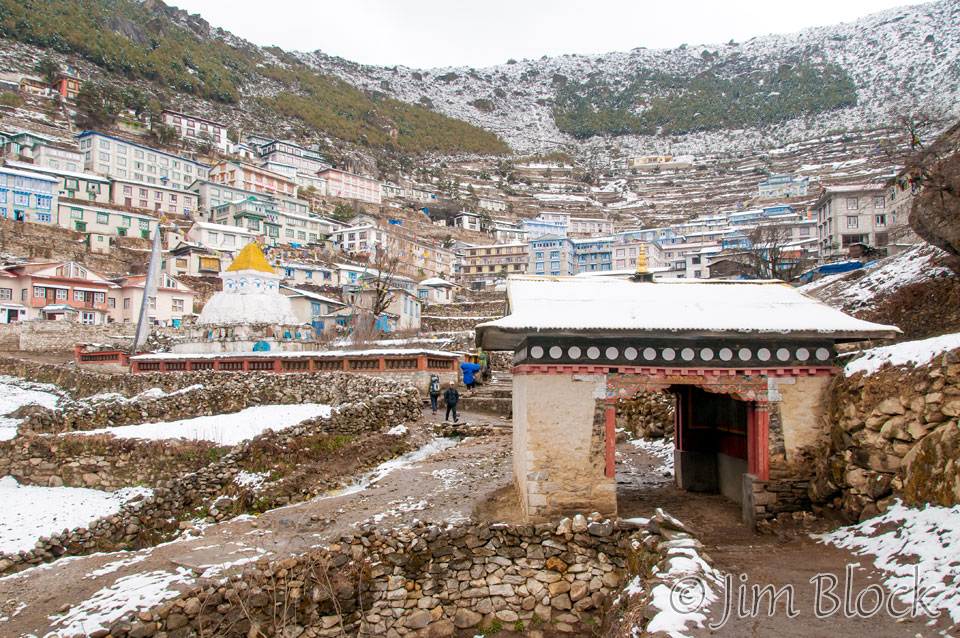 It is hard to contemplate how these huge structures get built many days from the nearest road.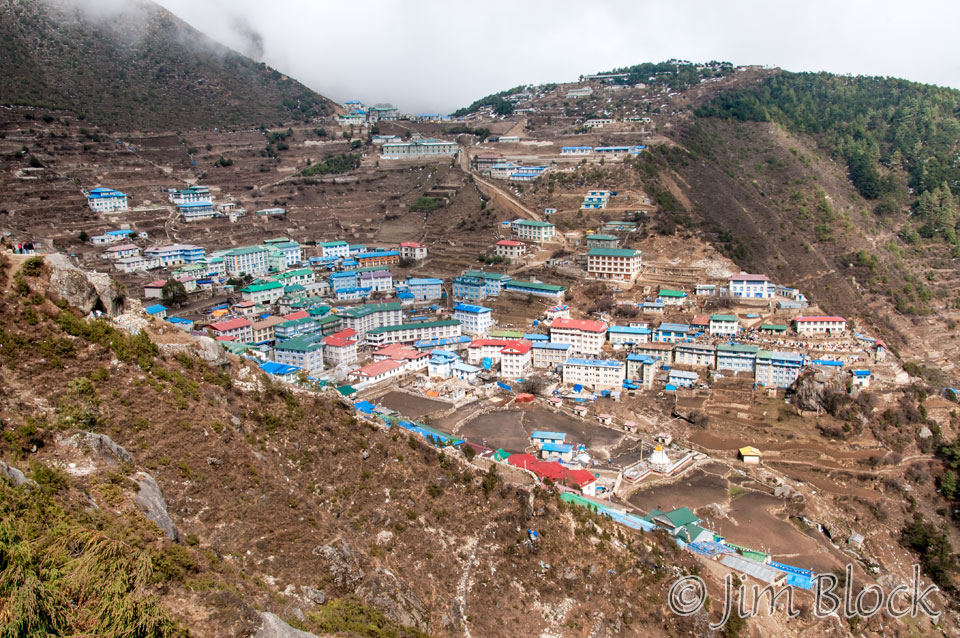 At Thamo is Khari Gompa, a nunnery high in the mountains not far from Tibet that has been supported generously by the Tara Foundation and friends of Leeli Bonney.
We visited the nuns at Kari Gompa at a very special time for them – the full moon. The next morning most of the nuns were in tears as we departed. Three days later two of our small group were back at Kari Gompa to the delight of the nuns after a touch of altitude sickness encouraged them to take the easier route to Kala Patthar. Here the moon is seen framed by the entrance to the new prayer hall that was dedicated in 2014.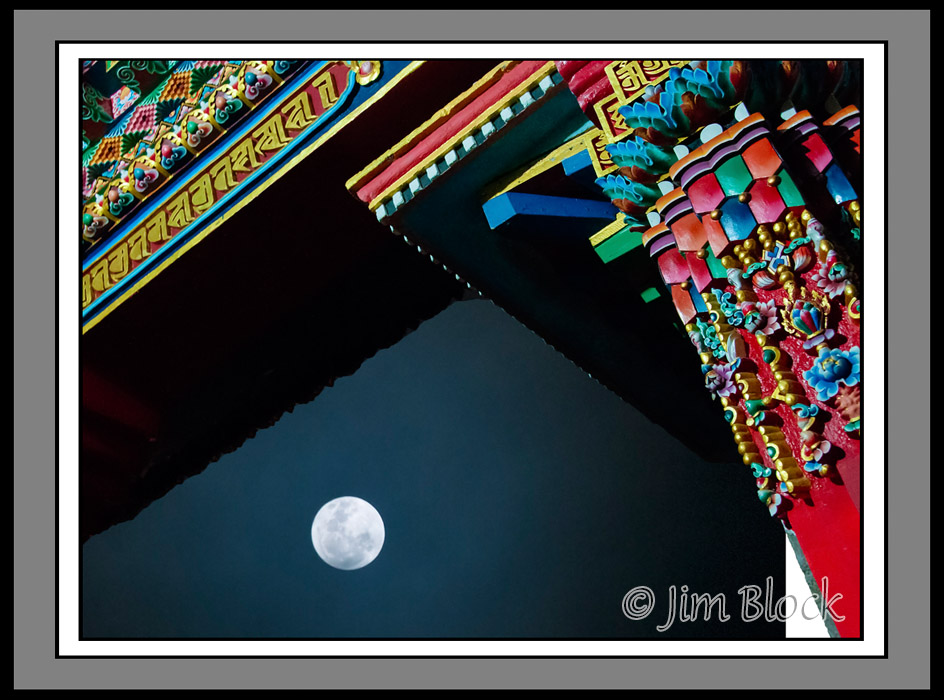 An elderly nun at Kari Gompa descends the stairs from her sleeping quarters. All of these blocks were individually shaped from solid rock by stone masons using chisels and hammers.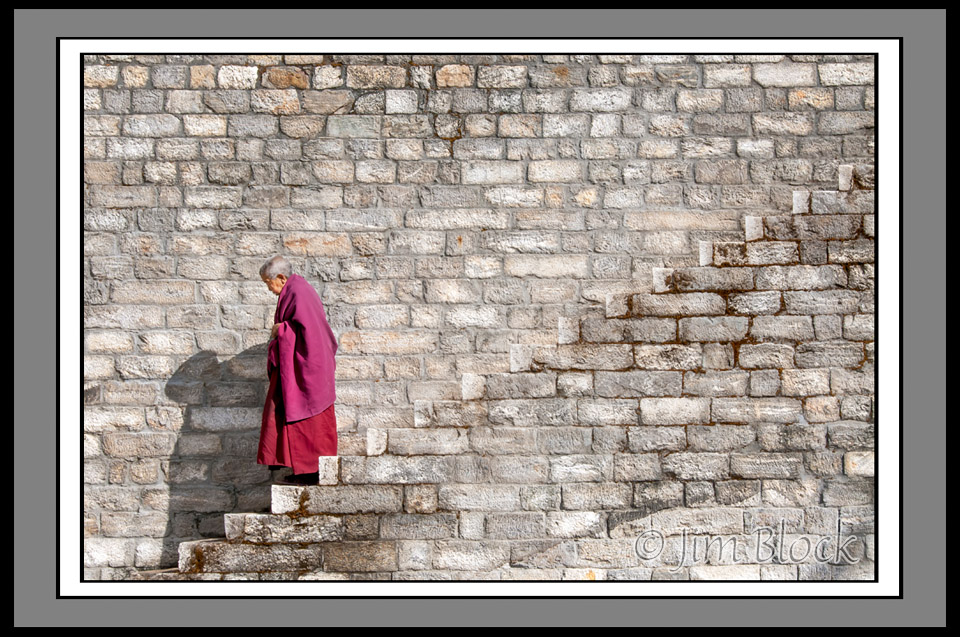 Our visit to Khari Gompa was very moving. The nuns were overjoyed at our visit, particularly Leeli's presence, and many were crying with a mixture of joy and sadness.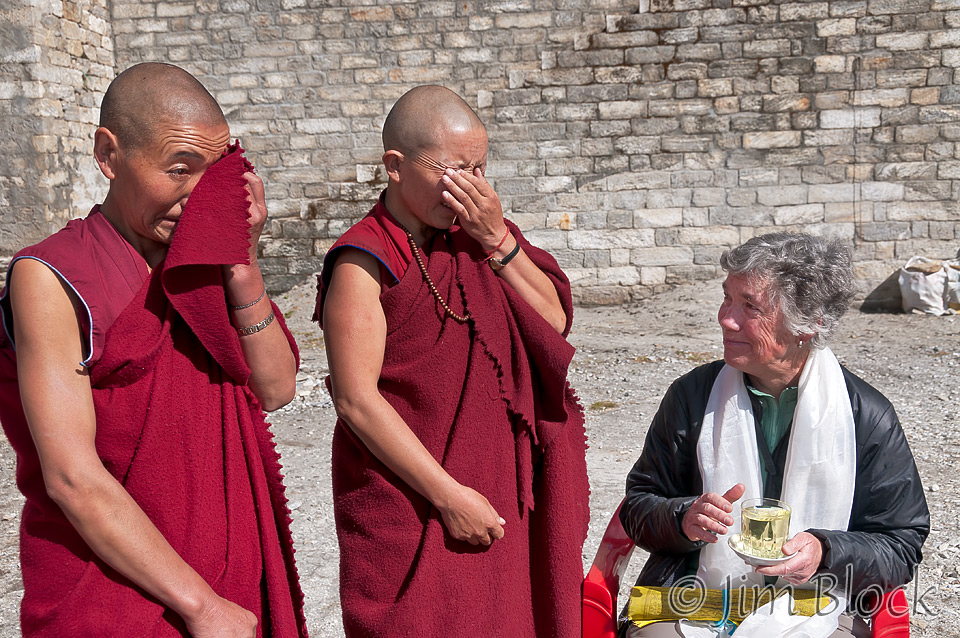 When we departed they said to come again soon. Little did we know that Chhongba, Denise, and Leeli would return in three days.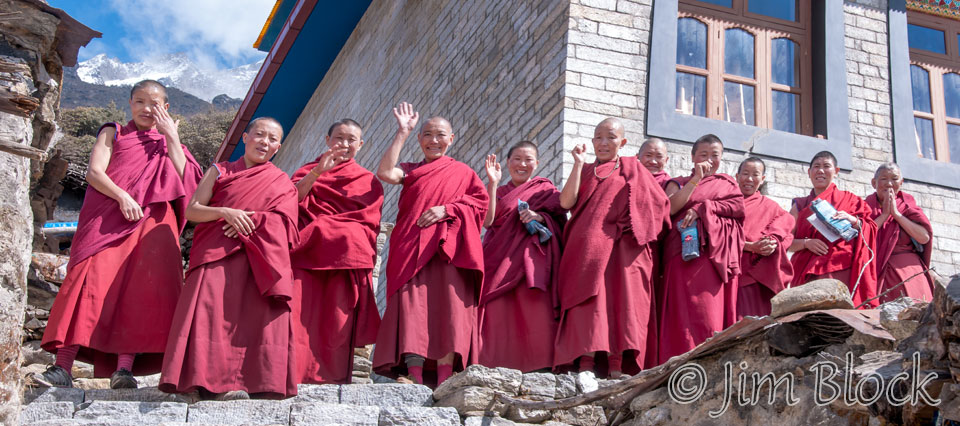 We visited Thame, a village devastated by the earthquakes of 2015. Most of the homes here were destroyed. This view shows part of the village as we did an acclimatization hike to the Thame Monastery above the village.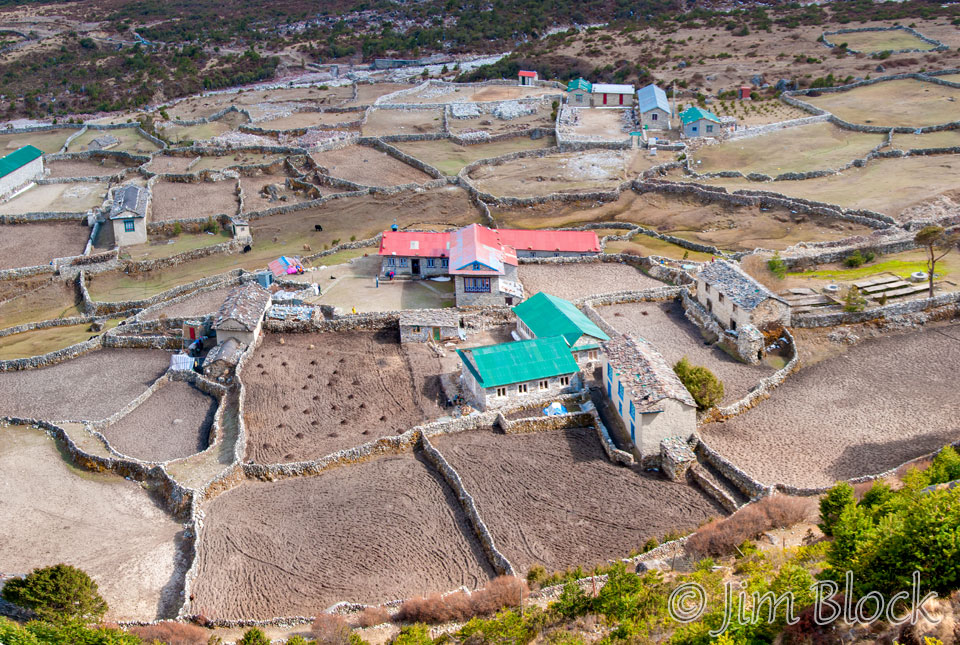 Thame was beautiful in the early light the next morning. Imagine all these homes reduced to piles of rubble.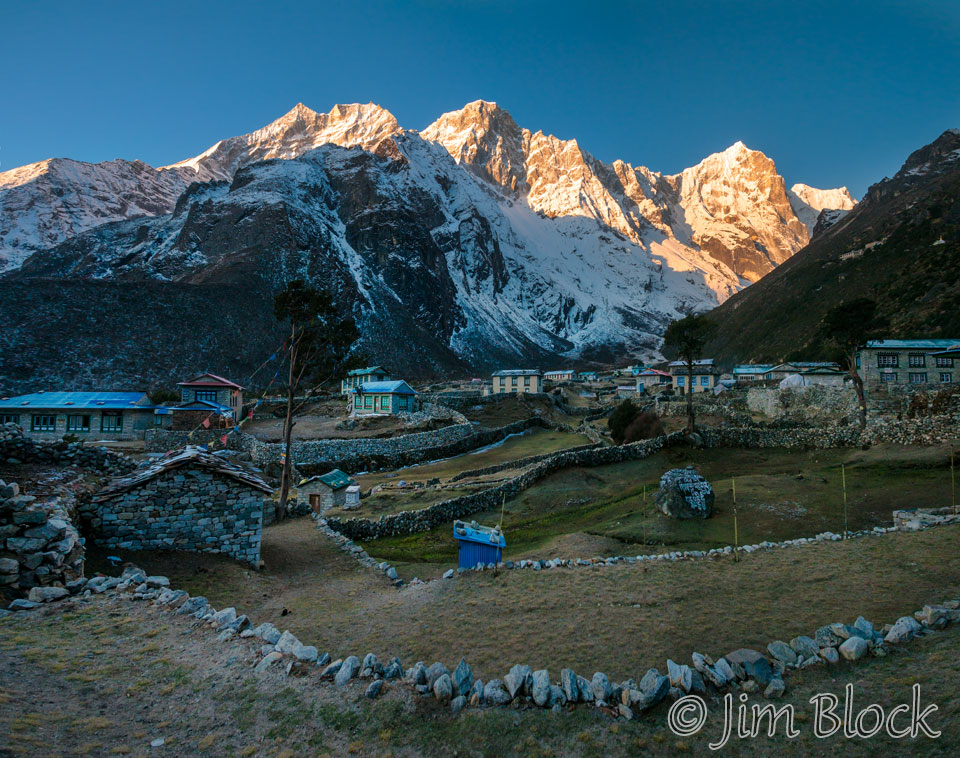 From Thame we headed north toward a nearly 18,000 ft pass that is Renjo La. Part way up, a touch of altitude sickness caused two of us to return to Khari Gompa and take an easier route to our destination of Kala Patthar. When they departed Khari Gompa for the second time the nuns waved good-bye saying, "come back tomorrow".
The remaining three trekkers, with strong support from sherpas and porters, crossed Renjo La. This was a small piece of the immense landscape descending the long trail down to Gokyo.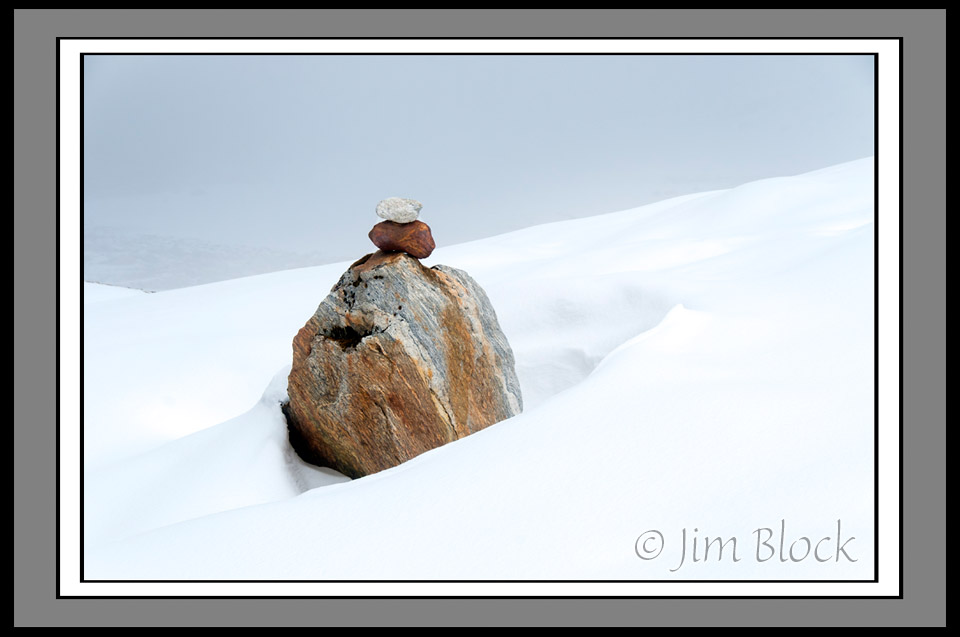 The trek down to Gokyo was long and tricky in parts. In the photo below you might be able to make out the remote village of Gokyo in the far distance across the snow-covered lake.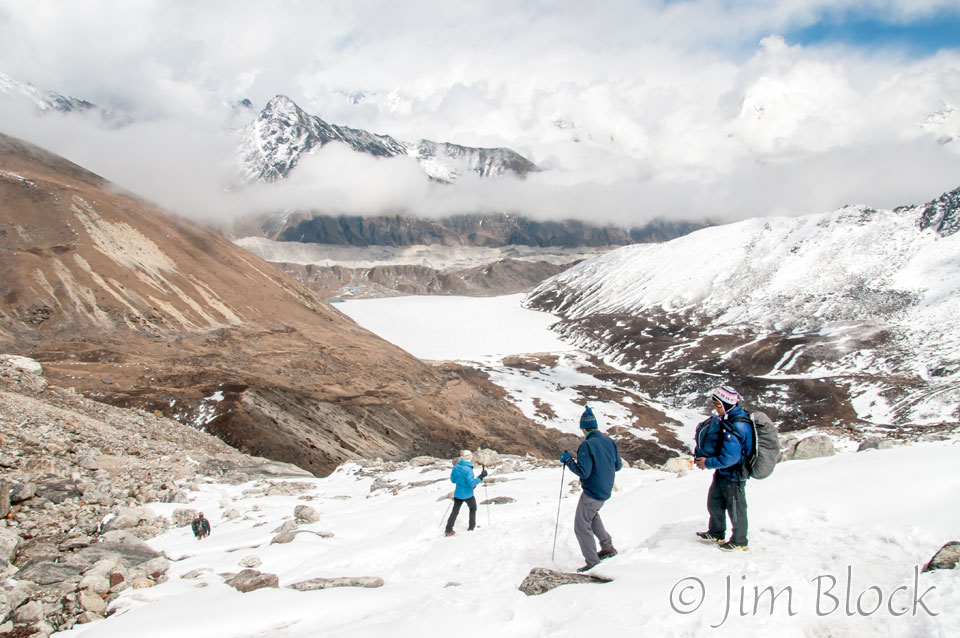 We spent the night in Gokyo. At 6:15 am the next morning this yak was standing in the snow outside my room. This village is three days hard walk from the airport at Lukla, by a much easier route than we took, and a week's walk from the nearest road.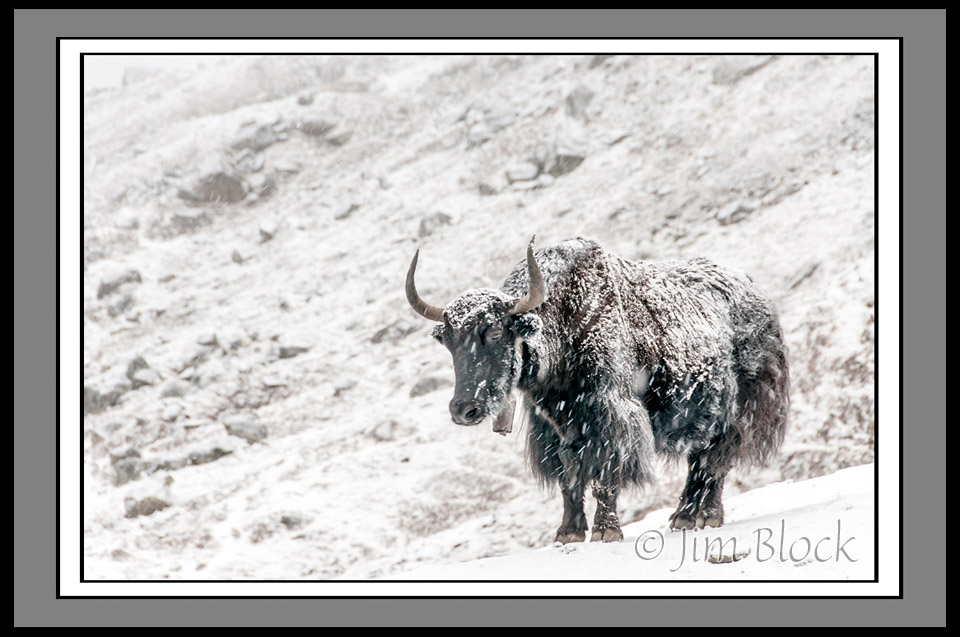 After Goyko we had an easy day with only a relatively short hike to the next village, but much of the trail was over the Ngozumpa Glacier. The more distant mountains in this photo include, left to right include Cho Oyo, Purmori, Cholatse, Taboche, Kangtega, and Thamserku. We would be near all but Cho Oyo is a few days.

But first it was up and over another almost 18,000 ft pass — Cho La. The approach to Cho La was very desolate.

Crossing Cho La was only half the battle. We still had some tricky going on the way down. The were many huge jagged boulder fields covered with a thin layer of ice. At this spot just below the pass a helpful guide for another group had temporarily strung a rope.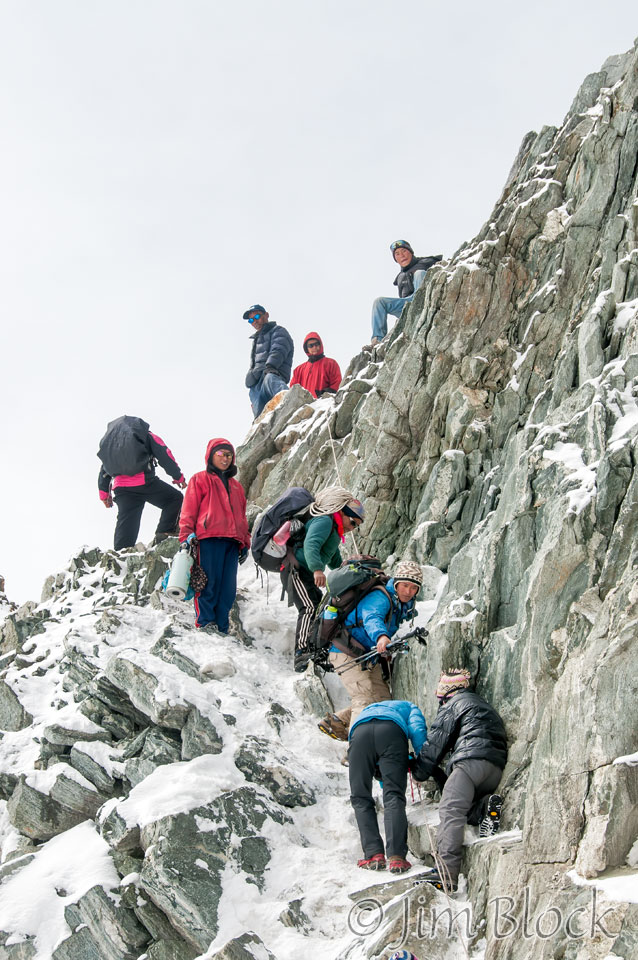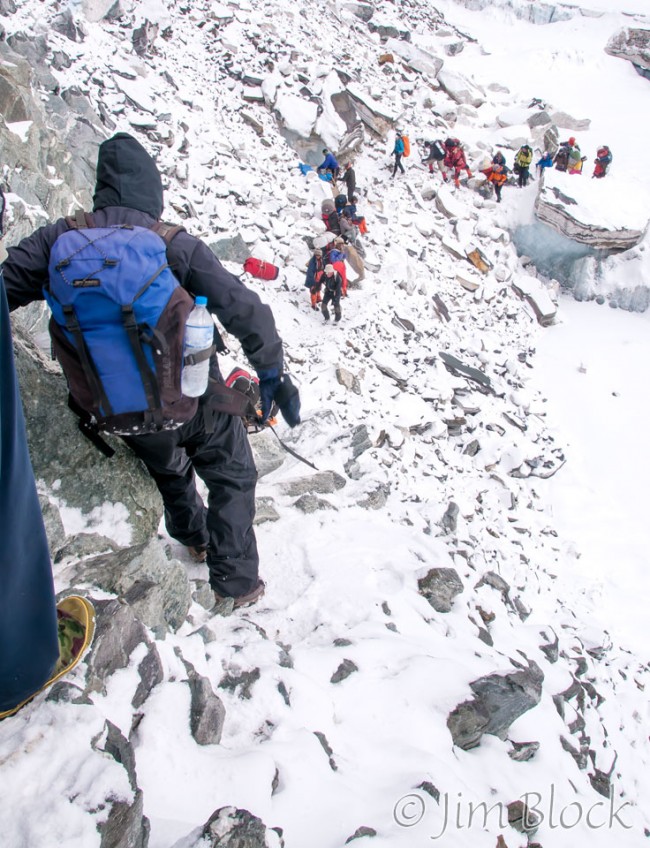 After Cho La we arrived in the village of Dzonglha where the beautiful Ama Dablam made a very brief appearance in clouds and fog at 6 PM. We spent the evening drying our boots around a stove burning dried yak dung.
Here is Ama Dablam early the next morning. We hiked east toward it, then turned north toward Mount Everest, the village of Lobuche, and Kala Patthar.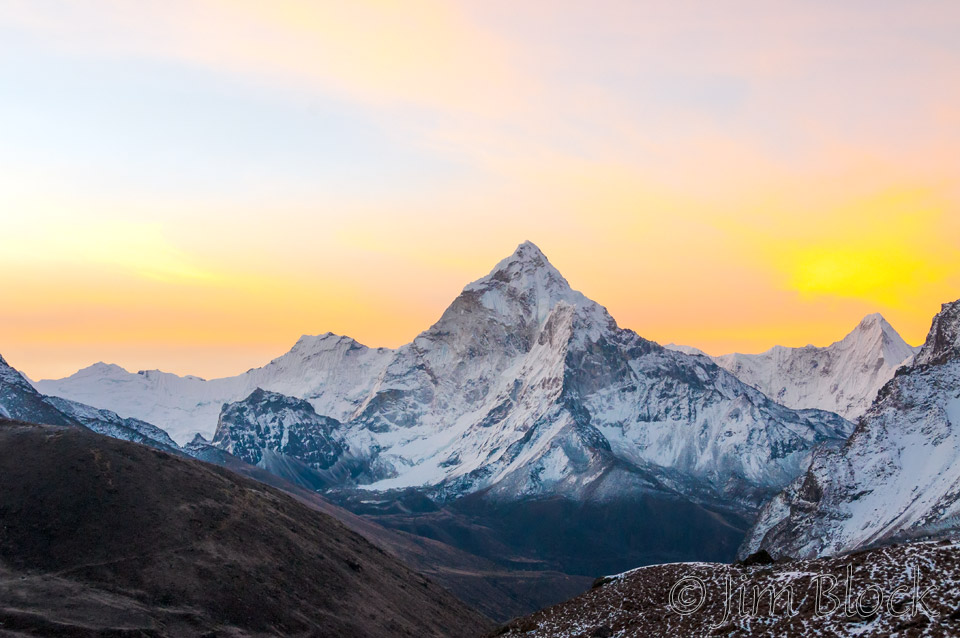 Our group reunited in Lobuche, then it was on to Gorak Shep, truly the end of the "road", at least the last village before Everest Base Camp. We were nearing our goal, Kala Patthar, that insignificant pile of black-brown below Purmori in the photo below. For scale you might be able to spot a line of trekkers on the Khumbu Glacier in this photo.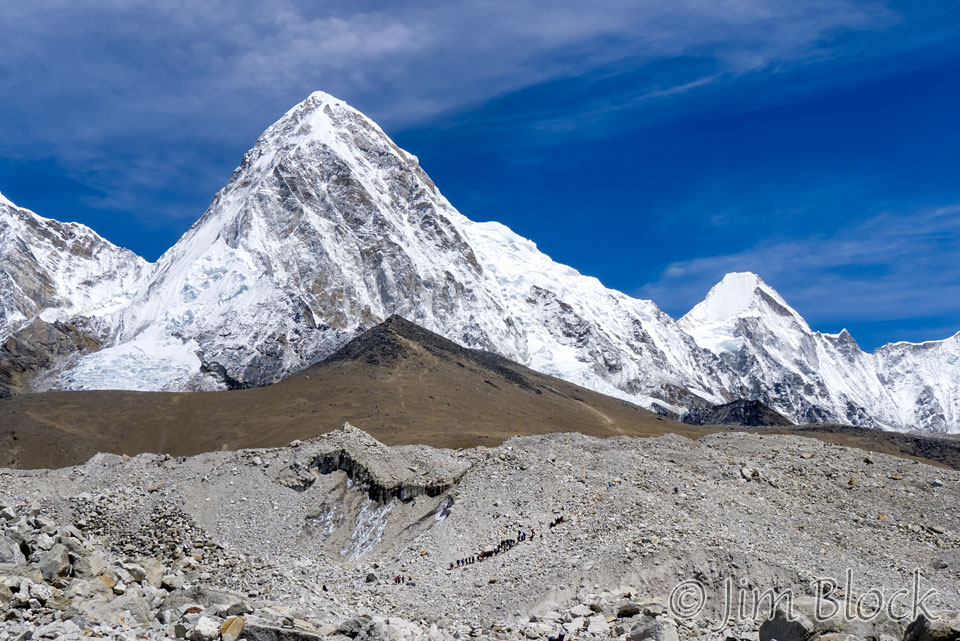 The summit of Kala Patthar at 18,514 ft was a 2 hour climb from Gorak Shep. I raced up in 90 minutes beathing heavily the whole way to try to beat the clouds that were moving in. I had wanted to skip lunch and leave an hour or more earlier, but it wasn't to be. Here is Mount Everest from a short way up Kala Patthar.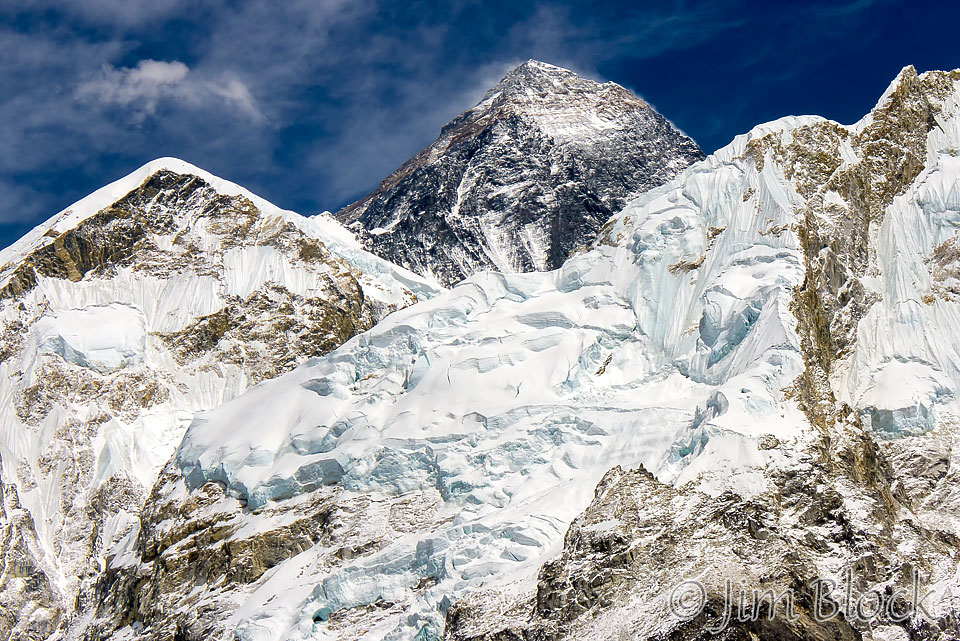 From Kala Patthar we looked down at Everest Base Camp. Base Camp can be seen in the center just to the left of the prayer flags. Just to their right is the Khumbu Icefall where many sherpas have lost their lives in recent years. Mount Everest is the dark triangular peak at the top right. The peak on the left edge of the photo is Pumori. Many of these mountains form the border with Tibet.
At this point in the trek my main lens had died so I was left with a 50mm lens and a point-and-shoot camera. This is a 33-shot panorama shot with the 50mm lens in very high wind. You can get to a version of this photo, and others from Kala Patthar, that you can zoom into and explore in great detail by clicking HERE.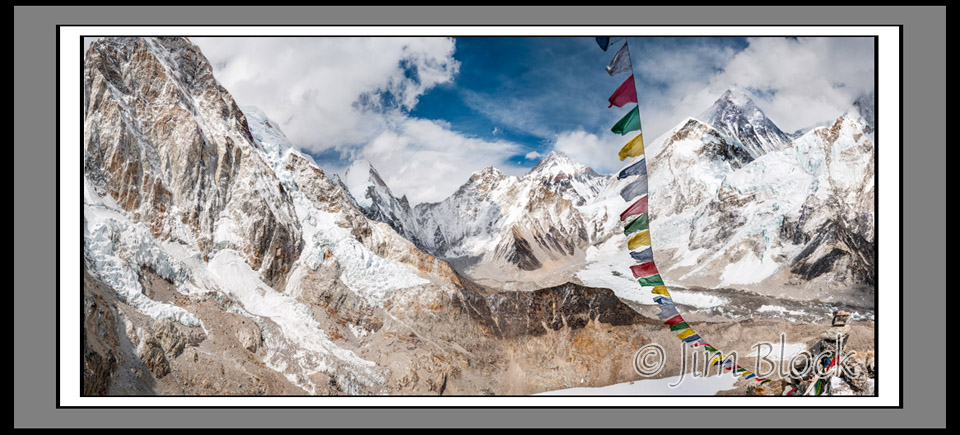 The next day three of us accompanied Chhongba to Everest Base Camp. Leeli and Denise were exhausted when they reached Lobuche so they stayed there two nights and climbed Kala Patthar the day we went to base camp. They missed staying overnight in the charming resort town of Gorak Shep. Actually, there is nowhere in Gorak Shep one would want to stay if it weren't for the fantastic surroundings. Chhongba had to fight to get us two noisy rooms for one night.
Here we are approaching base camp. You can see just a small part of the huge camp in this photo. At the right is the most treacherous part of the climb up Everest — the Khumbu Icefall. The peak above the icefall is the West Shoulder of Everest where a giant block of ice broke loose in 2014 and killed 16 expedition workers.
This image is composed of 24 individual photos. If you want to zoom into the image and explore it in great detail you can do so by clicking HERE.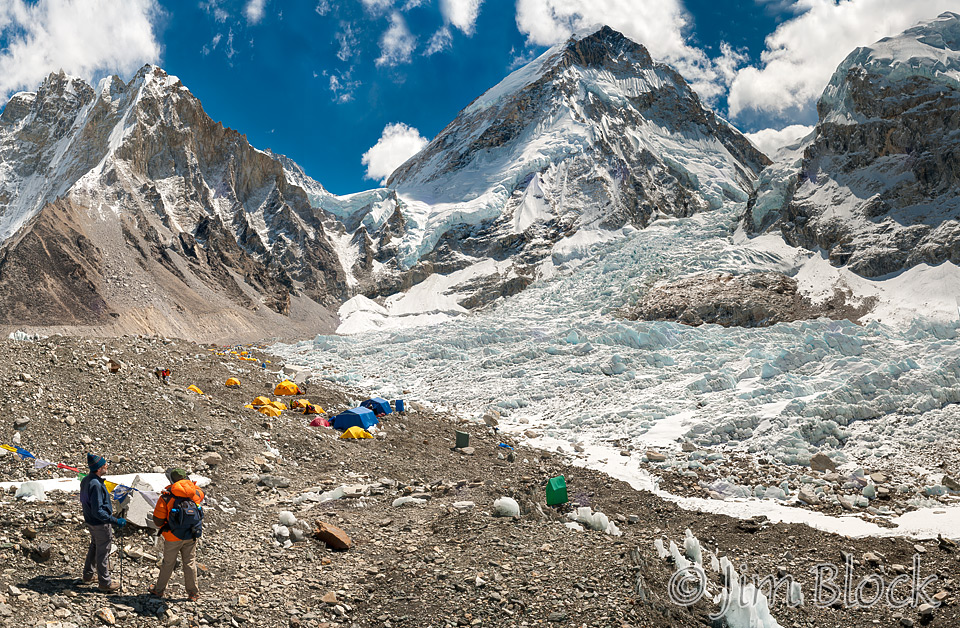 You can get to 6 pages of very large panoramic images of Kala Patthar and Everest Base Camp from a page that is reached by clicking HERE. You can have a lot of fun exploring these fantastic places.
If you made it this far, congratulations. I hope to see you at the September 19 Mountains to Mountains event or if you miss it, hiking the hills of VT, NH, or maybe even the mountains of Nepal.