Today we cross Thorung La, a high pass where the guidebook warns that an average of two trekkers die each year. Compounding that, I didn't sleep well last night — I had strange dreams. Perhaps because of the altitude? Or maybe the excitement? I was mostly old awake from 12:30 to 2:30 AM. But no fear, I have full confidence that Chhongba will take good care of us. I am certainly much more excited than nervous. So here we go.
At 3:30 AM there were certainly less people in the dining room than the night before. We finished breakfast quite promptly, but for some reason we didn't quite get off as early as Chhongba wanted. We finally began out long uphill slog a little bit before 4:00 AM. Our headlights guided us in the dark.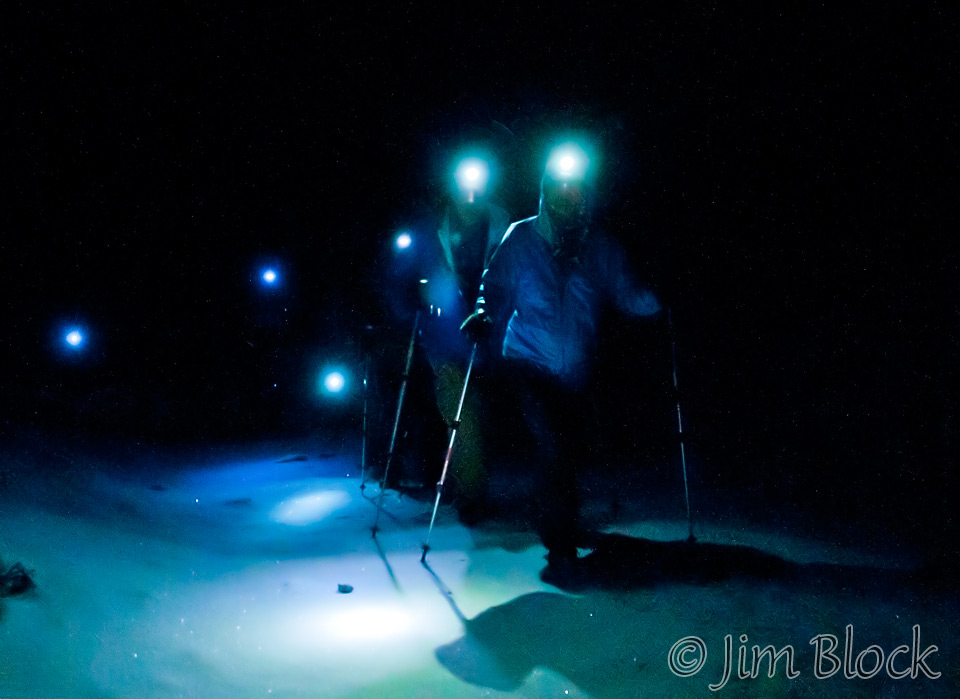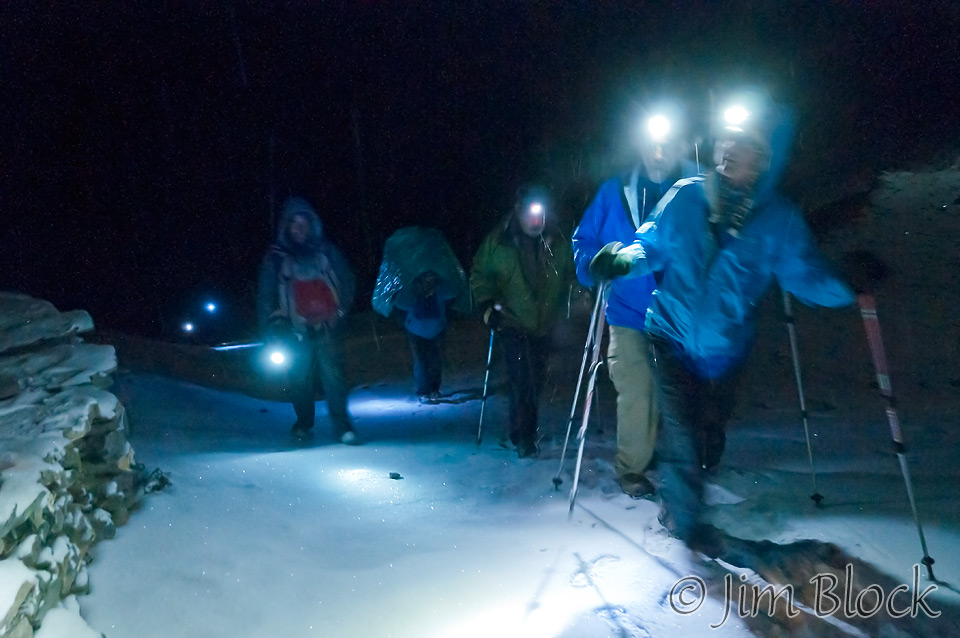 It was a steep relentless climb, as it would be all the way to Thorung La. It was one step forward, take a very deep breath, another step forward, another deep breath, and so on. Milton was behind me for much of the way and every time I stoped for a few seconds to take a picture I feared I was holding him up. Later he confided in me that he was very happy to be behind me because my photo stops allow him a few seconds to try to catch his breath.
Chhongba set a slow but steady pace. I had decided to go with the gloves rather than mittens, and that was a good choice. I was even thinking that I might have too many layers on. Climbing was hard work even though it was cold.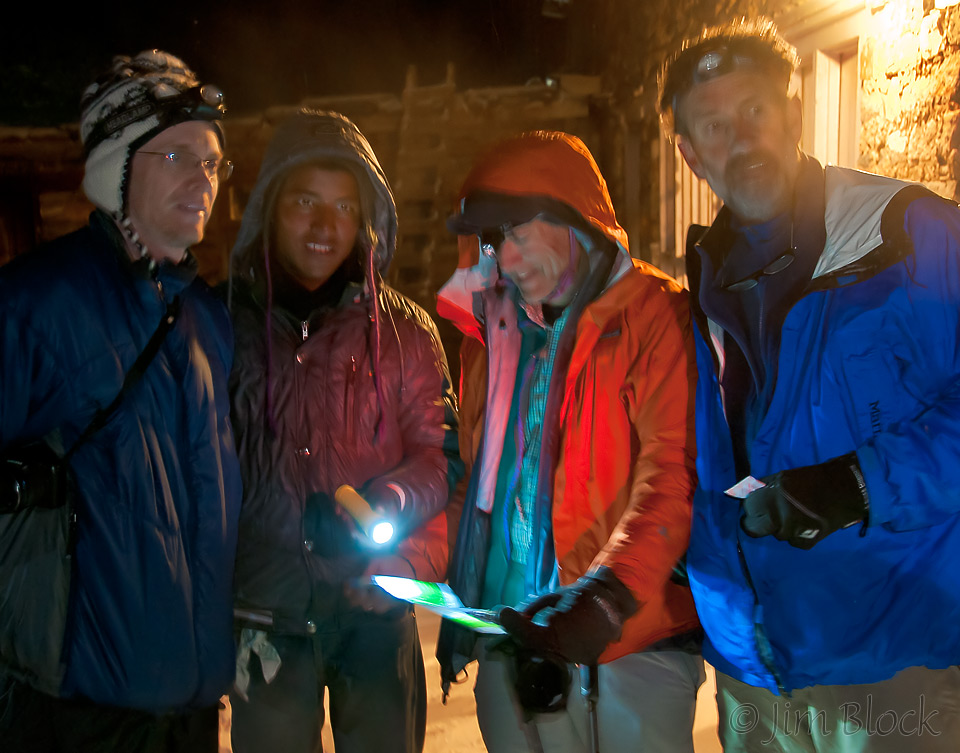 We passed six or so other trekkers who had left Thorung Phedi earlier than we had. We also passed two yaks and a driver on the way down. I wondered where they spent the night. Or perhaps they are returning from an early trip to the pass.
It snowed lightly all the way to High Camp which we reached just before 5 AM. High Camp is basically just a set of lodges, and it seemed deserted. Earlier in the trek Chhongba indicated he was thinking we might stay at High Camp instead of Thorung Phedi the night before crossing Thorung La, but he thought better of this. The doctor at the clinic in Manang also warned against this strategy. He said it would lead to a very poor night's sleep, only an hour head start, and starting over the pass much more tired.
We climbed higher and higher continuing to breathe very heavily. By 5:30 AM we could turn off our headlamps. Before 6 AM the sun started hitting the distant peaks. It was a beautiful and other-worldly — trekkers walking single file in the trampled parts of the deep snow. Just after 6 AM we reached a teahouse about 2.5 miles from Thorung Phedi. We had 1000 ft of climbing still to do.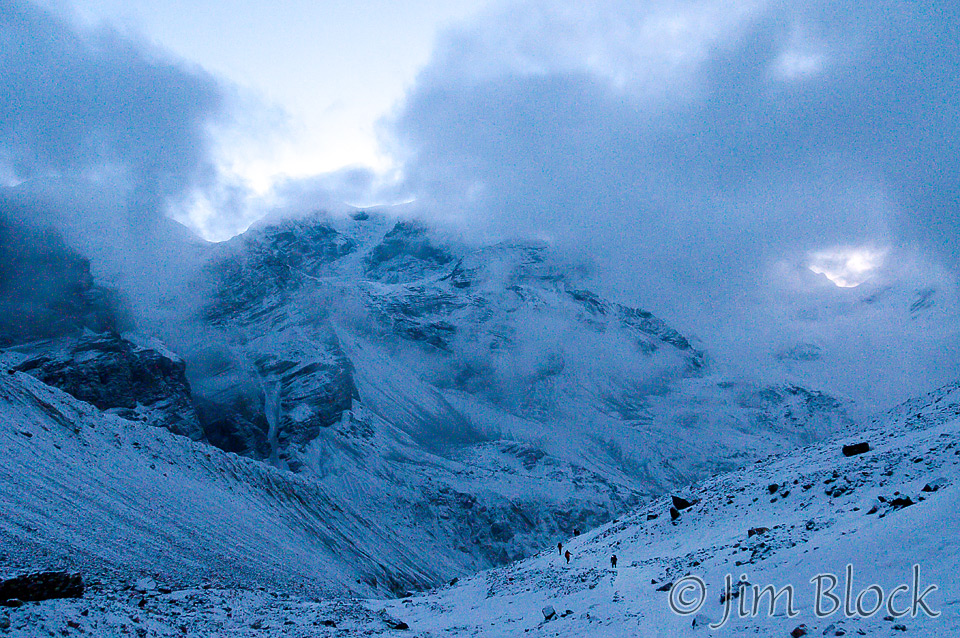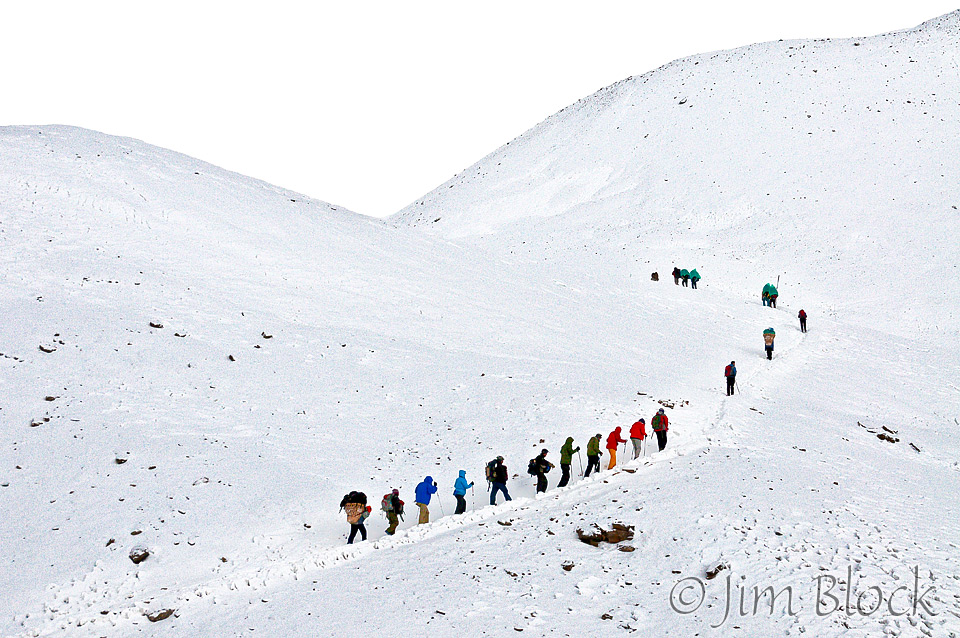 Here is a view back to the tea house followed by a photo of the sun coming over the mountains. Both are three individual photos stitched together.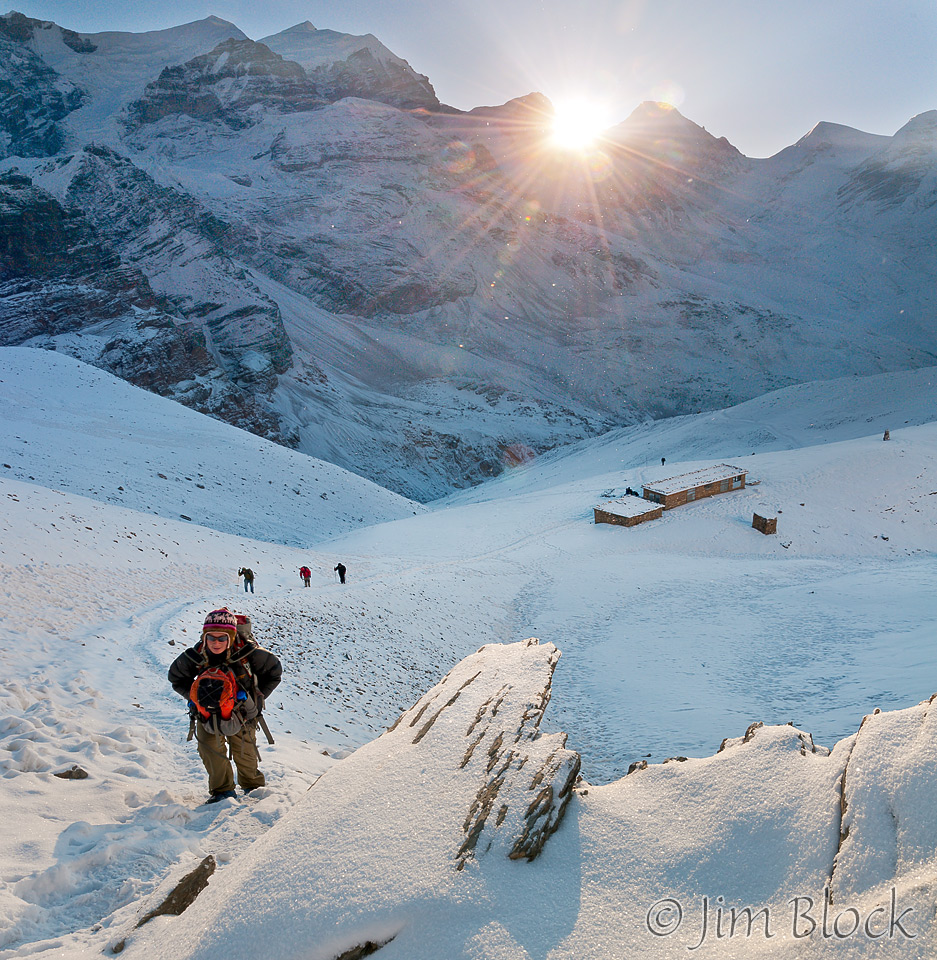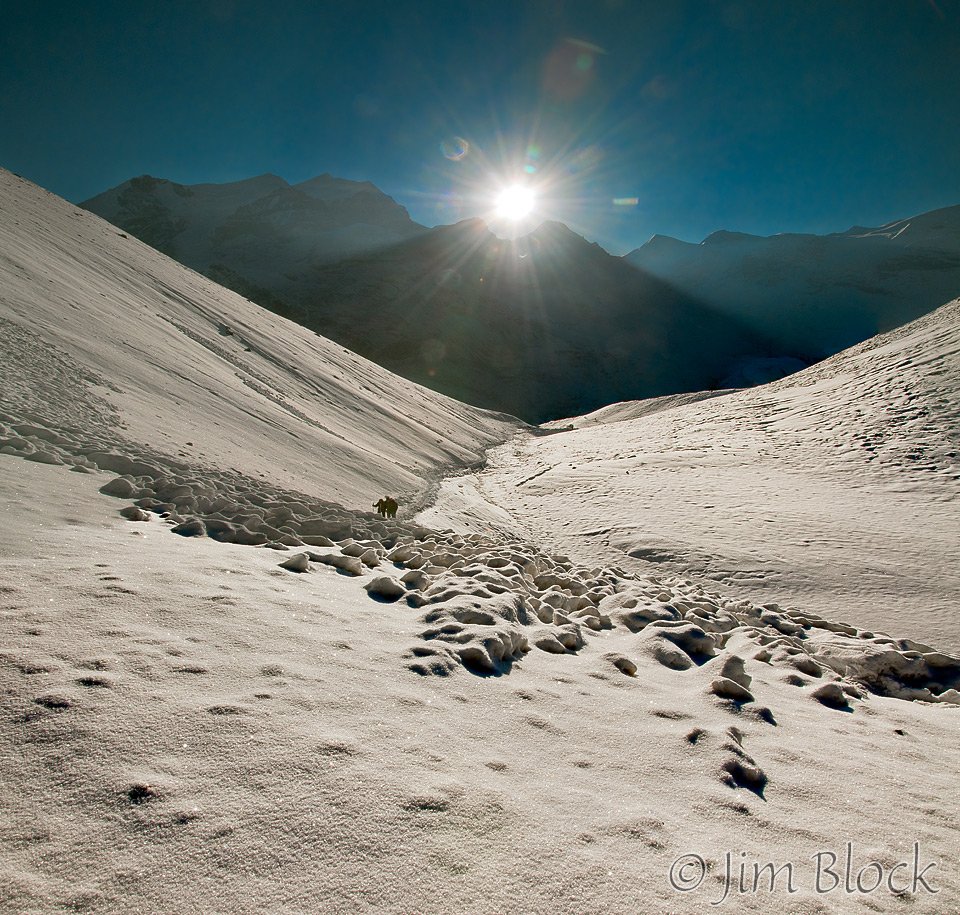 We saw many false passes. It would look like we were almost there, then when we got there we would see another scene that looked like we were almost at the pass. This continued to happen until suddenly, the real pass, Thorung La, just after 8 AM. Shortly after we arrived so did a man riding a yak. He got off the yak, and the yak driver headed back down hill with the two yaks.
At the pass was a huge pile of prayer flags, a plaque, and a small teahouse. We all posed for pictures near the prayer flags passing cameras back and forth among ourselves and other trekkers from other groups.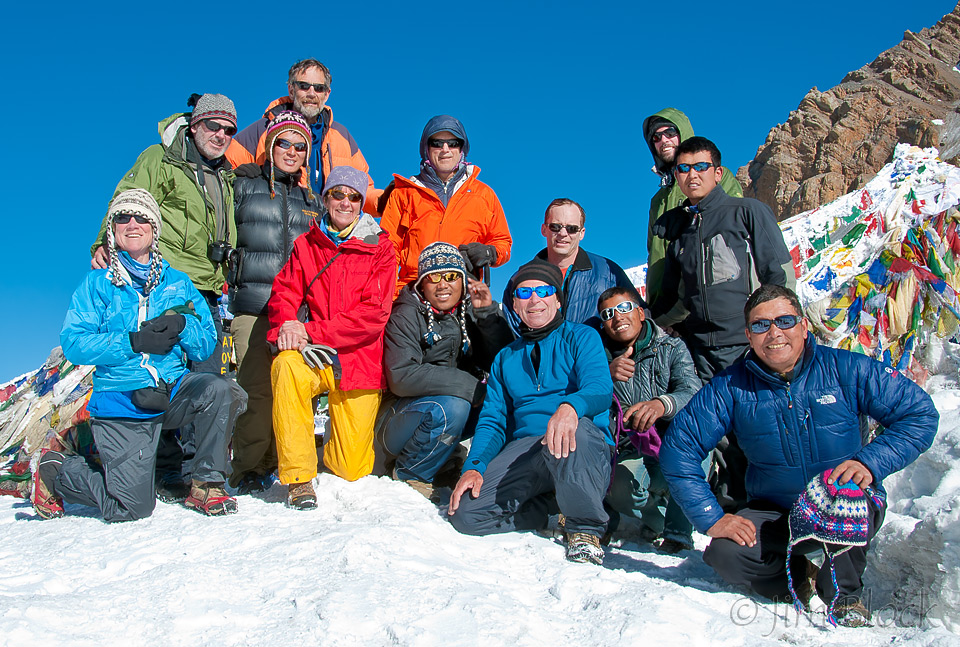 I was way too excited to enter the tea house and have any food and drink. Instead I climbed the hill above the tea house, possibly reaching 18,000 ft, and made some large panoramas looking back at the tea house and the trails in both directions. You can see one of them if you click the image below. It is the top panorama on this page. If you can zoom into the teahouse, the prayer flags, some of the trekkers, and hopefully you can get a feel for this rare experience.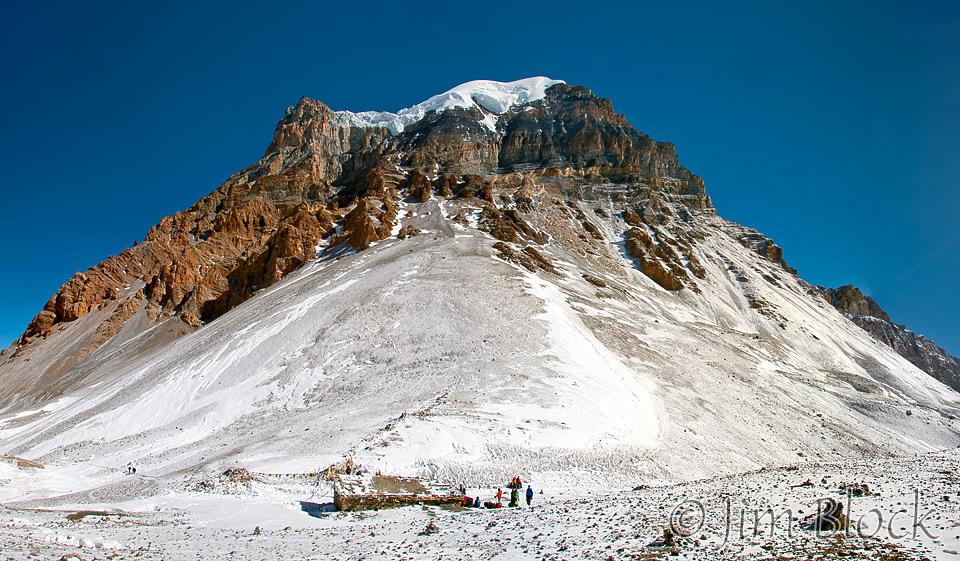 From Thorung La to Muktinath was a very long and sometimes steep downhill hike. It was very dry on this side of the pass. After about an hour we were no longer walking on snow. It got drier and drier as we now start seeing into the restricted area of Mustang. A short distance down from the pass we came across some mountain bikers pushing their bikes uphill. I don't know whether they planned to turn around and make run back downhill to Muktinath or whether they were going to cross the pass and do the Annapurna circuit in a clockwise direction, opposite what we did.
Between the pass and our lunch stop our group had gotten quite spread out. Stephen, Keg, and I got far ahead of the others. But then I stopped to wait for my pack to catch up to me while Stephen and Keg continued down. I wanted to stuff gloves, a neck warmer, and a wool hat into my pack. I also wanted to get some water and a wide-brimmed hat. While waiting, I studied the trail I had just taken and it seemed an almost impossible journey in either direction, or at least very challenging walk. What a great day this was!
A few hours short of Muktinath, Stephen and Keg stopped for lunch at a small collection of lodges of rudimentary lodges in Chabarbu. It was conveniently just before noon when I got there. Soon we were joined by the others in our group. We stayed there for over an hour and were very happy for the food and rest.

We still had a long downhill to go. Eventually we spotted a huge set of walls ringing a complex with many buildings. This is the temple complex at Muktinath. It is both Buddhist and Hindu. I later learned that many people make pilgrimages here, sometime walking for miles barefoot. We toured the temple complex before continuing on our way to the town of Muktinath.

Passing up the Hotel Bob Marley, we stayed for the night at the Hotel Monalisa. There was a very loud group of men just outside my door at the lodge. Before entering the lodge proper, my door led directly to a balcony overlook the "street", but unfortunately a nice spot to sit, talk, drink, and smoke. Muktinath is a dry, dusty, and somewhat depressing town in a dry and dusty countryside. It is the end of the road coming up the west side of Annapurna. It has little to recommend. Somehow the place seemed unfriendly.
For dinner I had some great French onion soup, a spring roll, French fries, and coleslaw that Chhongba said was likely okay to eat. Loud music from the town filtered into my window. I didn't get a particularly good night sleep as my neighbors were noisy. They certainly were not trtekkers. There must have been five or six in that one room. I'll be happy tomorrow when I can bid Muktinath goodbye.
This was the most spectacular day of our trip but also a very tiring day. Hiking in the dark was fun, the early light was beautiful, and the surroundings other-worldly.