After a very long day crossing Thorung La, Chhongba thought he would take it easy on us and rent a couple of jeeps to carry us to Kagbeni or beyond to Johnsom for the day. But we wanted nothing of that – we much prefer to walk. And that was a very good decision even though we started down from Muktinath in the snow. Milt was prepared with an umbrella and a big smile.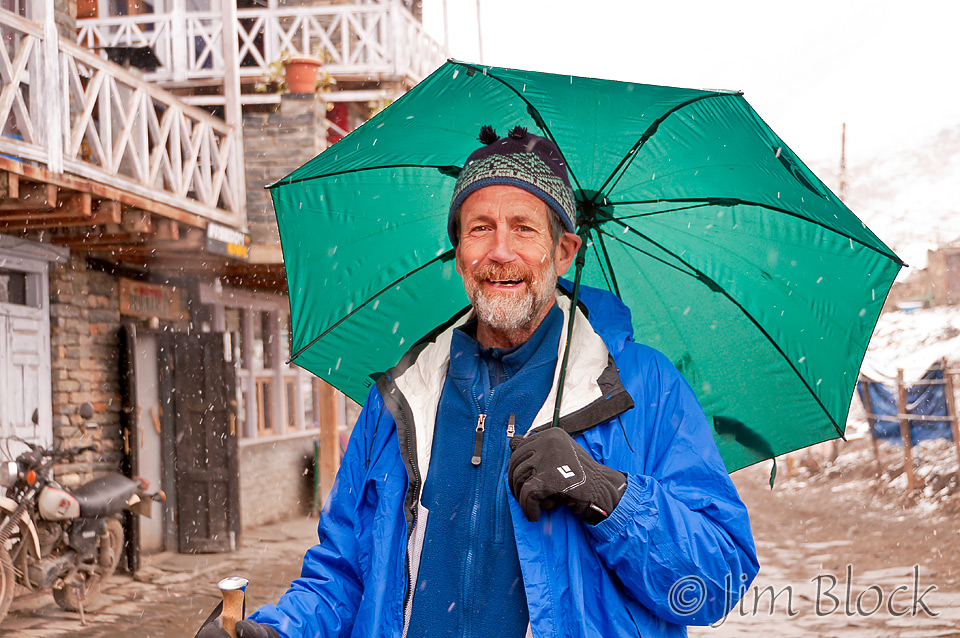 The walk is beautiful. The snow gave way to a distant haze, and the congestion and garbage of Muktinath eventually gave way to the dry but beautifully colored hills of Upper Mustang.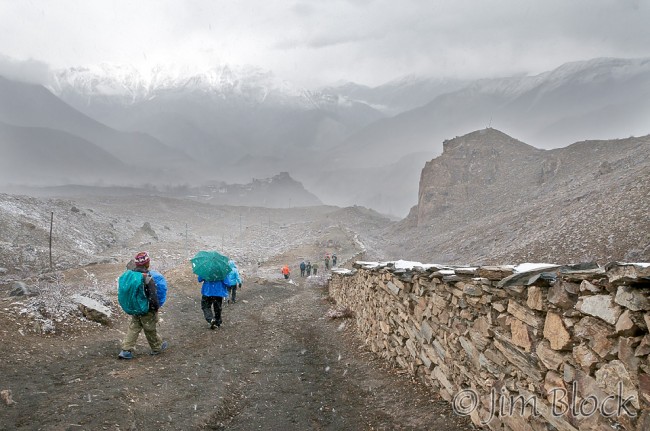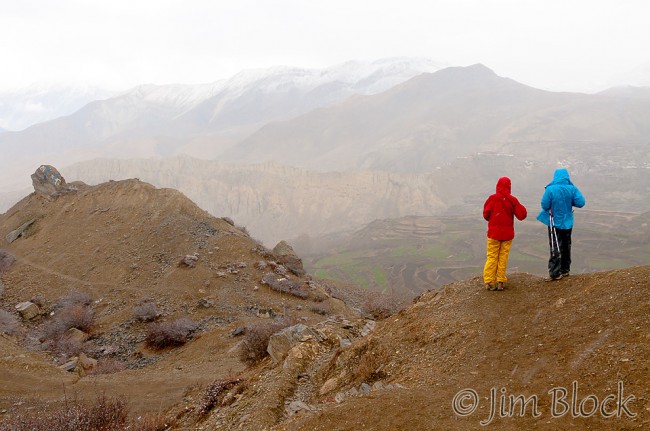 We passed through several small villages, Ranipauwa being the first. Just beyond it we got a look at what lay ahead, the village of Jharkot and the Dhaulagiri mountain range across the valley of the Kali Gangaki. It was still snowing when this photo was made—you might be able to see some large flakes in the sky.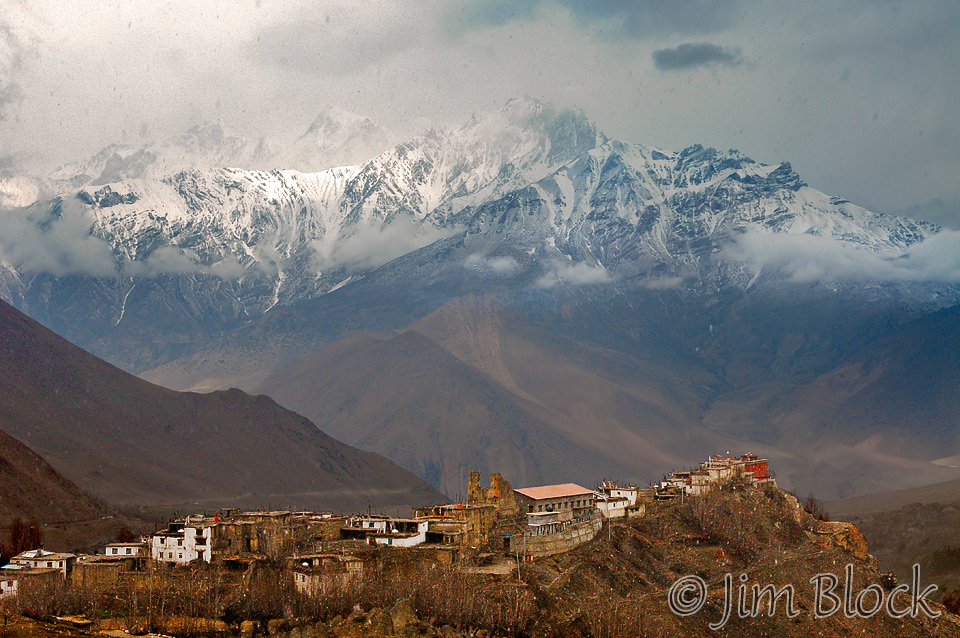 We passed through part of the old village of Jharkot and then around most of it.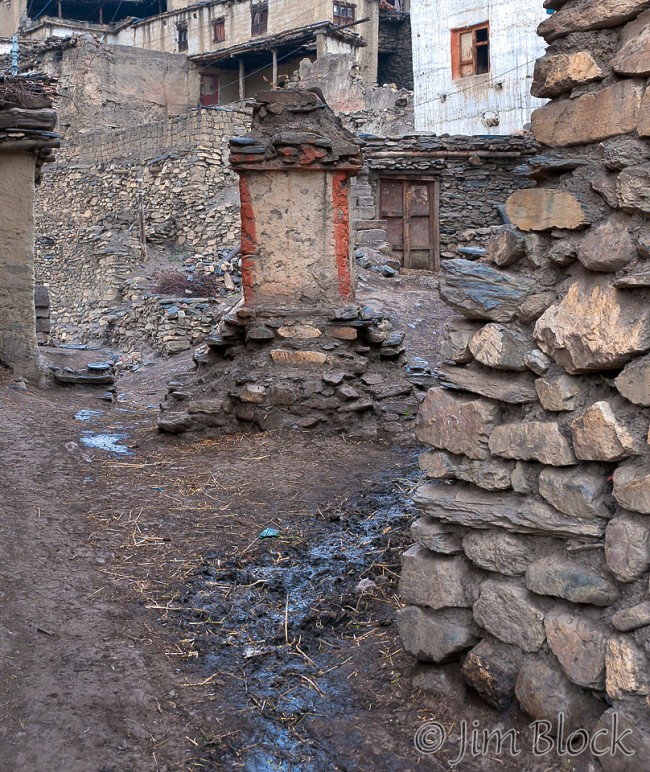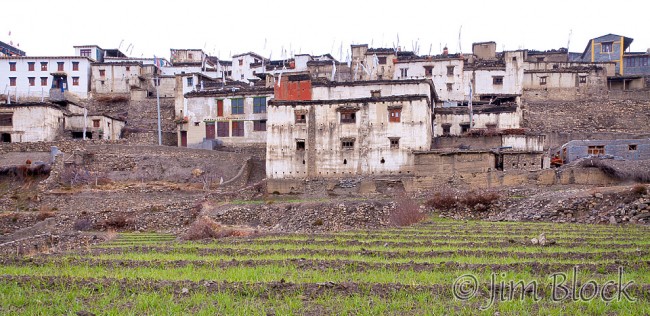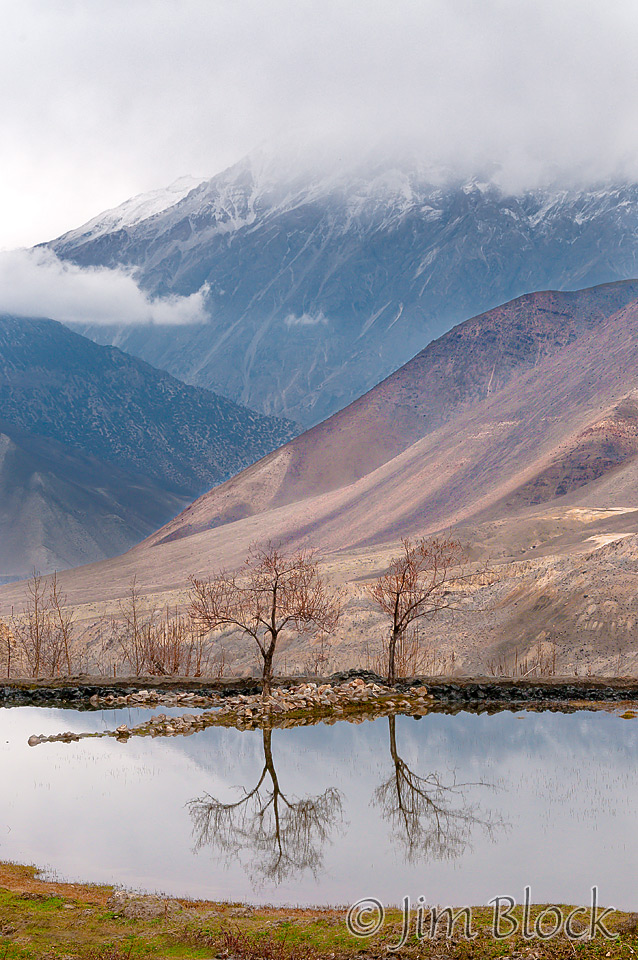 After Jharkot the trail gradually descended. We reached a surprisingly beautiful marshy lake with willows, poplar, and fruit trees. Although it was small, it was amazing to see what appeared to be a natural pond, hard to call it a lake, in such a dry area. We were beginning to enter the apple growing regions around Kagbeni and Marpha. We glanced back at the village of Jharkot across an orchard of apple trees with white painted trunks.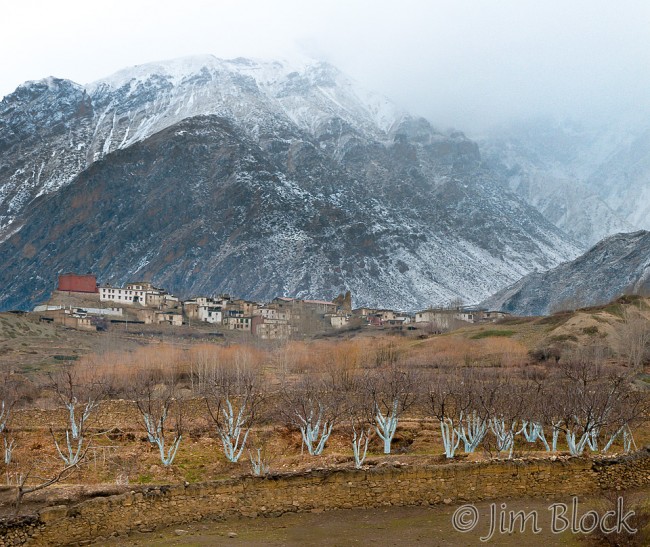 A few miles farther we reached Khingar another very old village. Here, as in Manang, Upper Pisang, and other villages, ladders were carved from trees. From near Khingar we could see the villages we passed through, the walls of Muktinath, and the Thorung La in the distance to the far right of the panoramic image below.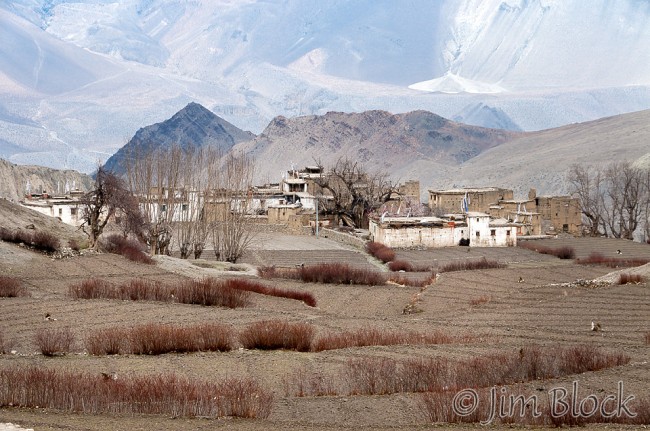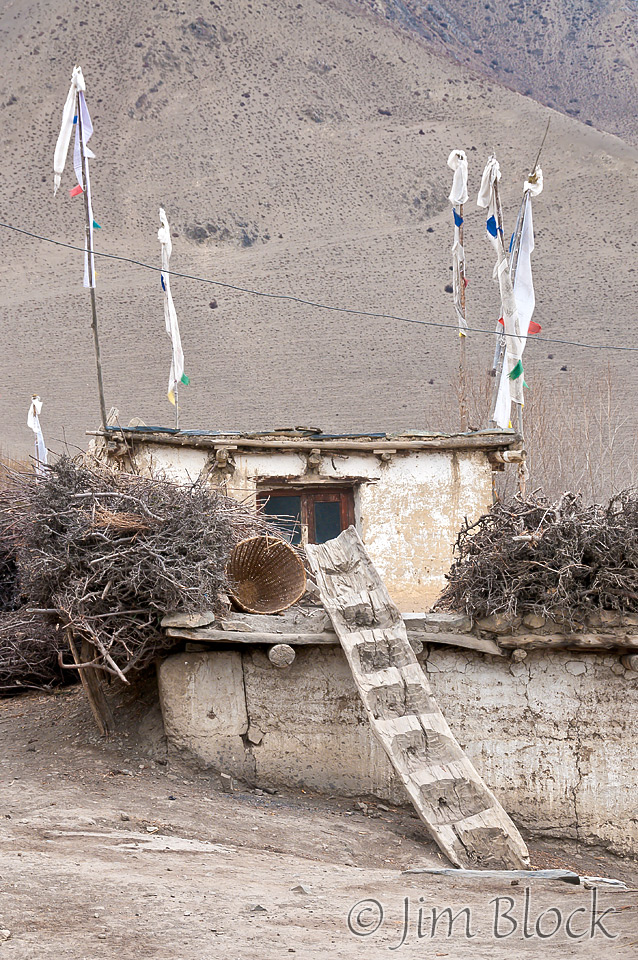 We followed the deep Jhong Khola river valley seeing the parched hills of Upper Mustang across it. Both are obvious in the center of the photo above and in the photo below. Upper Mustang is a forbidden province – you need special permission and extra money to visit. Along the way we saw hundreds of pilgrims making their way to the temples at Muktinath some with bare feet. We were also passed by many jeeps transporting other pilgrims who were wealthy enough to afford them a ride up to the temples.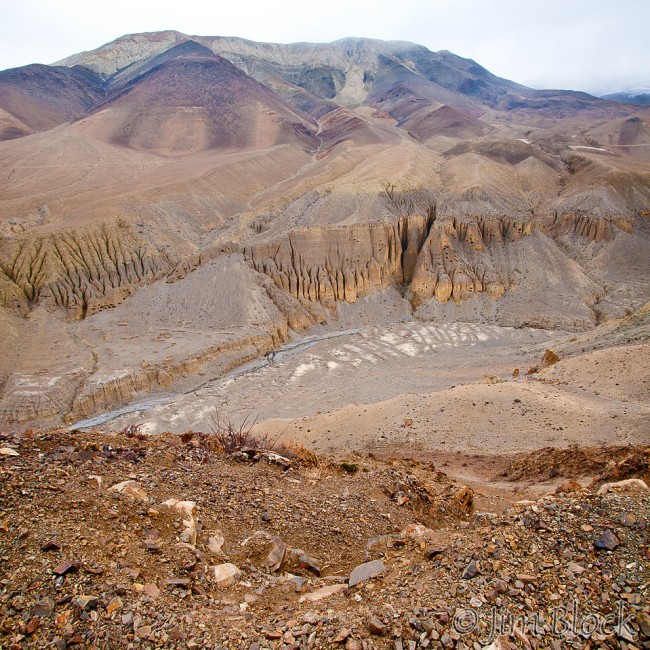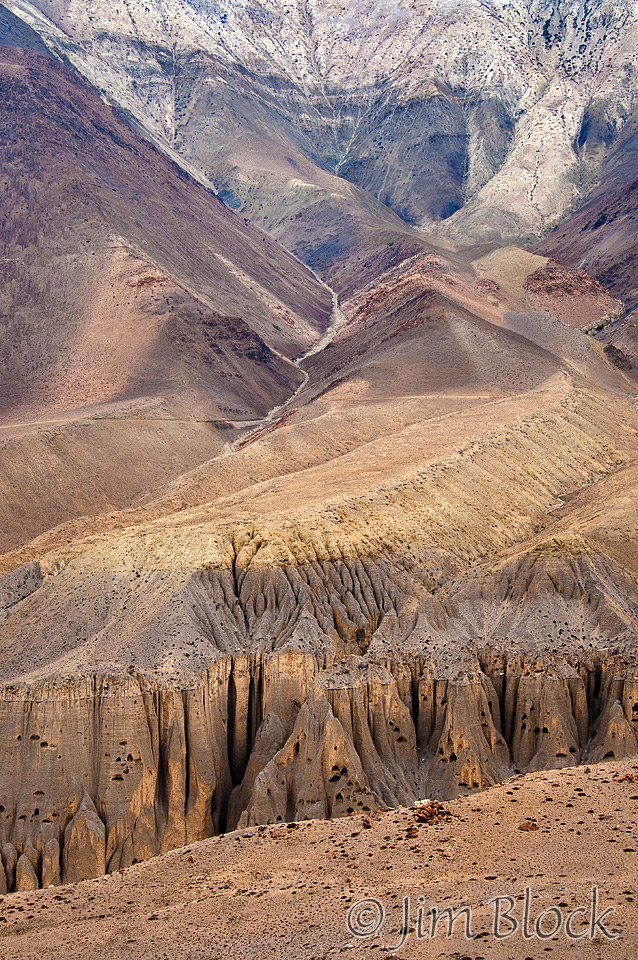 As we approached Kagbeni the scenery became even more spectacular.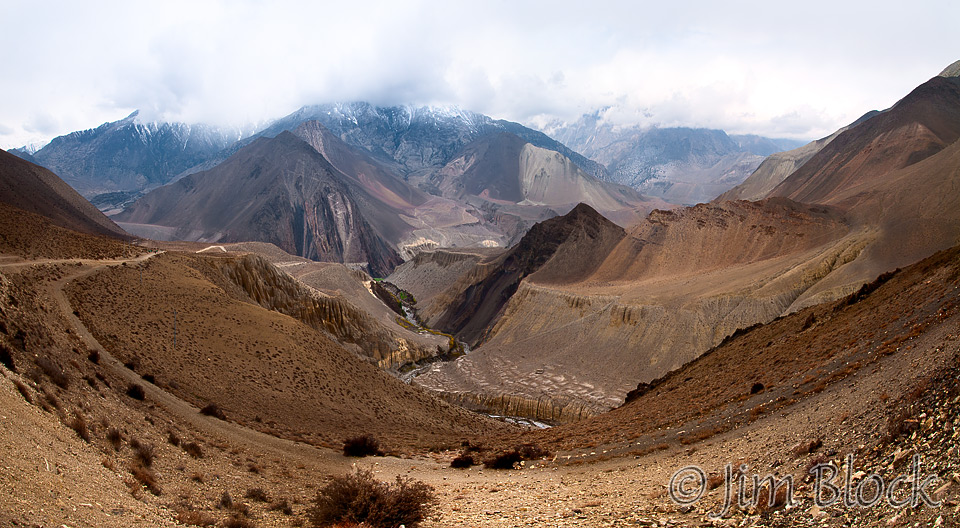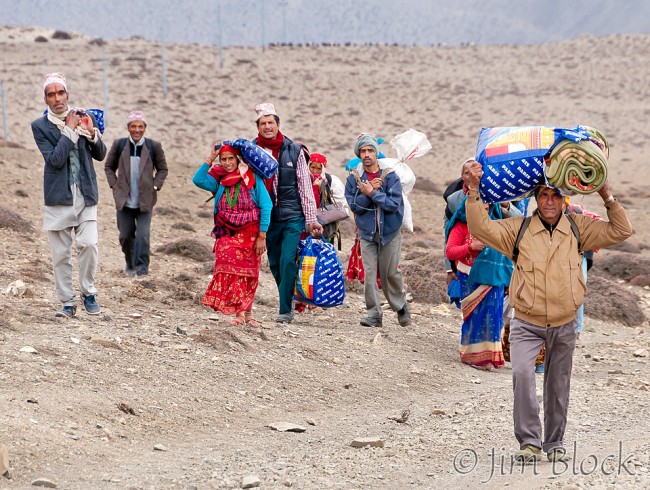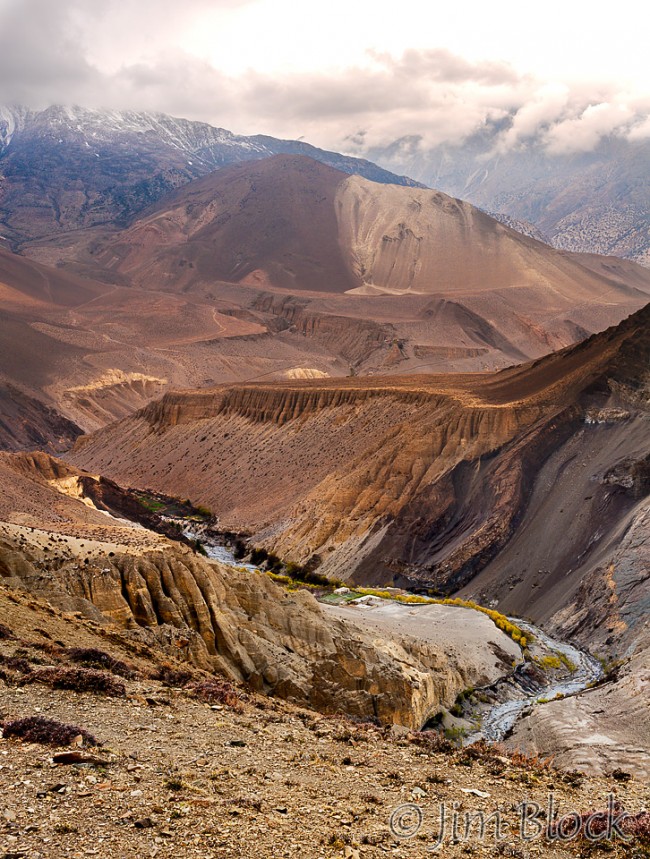 We began to see green in the fertile river valleys where two rivers come together; the Kali Gangaki being fed by the smaller Jhong Khola. We saw many apple orchards although it was too early in the season for the trees to be in bloom.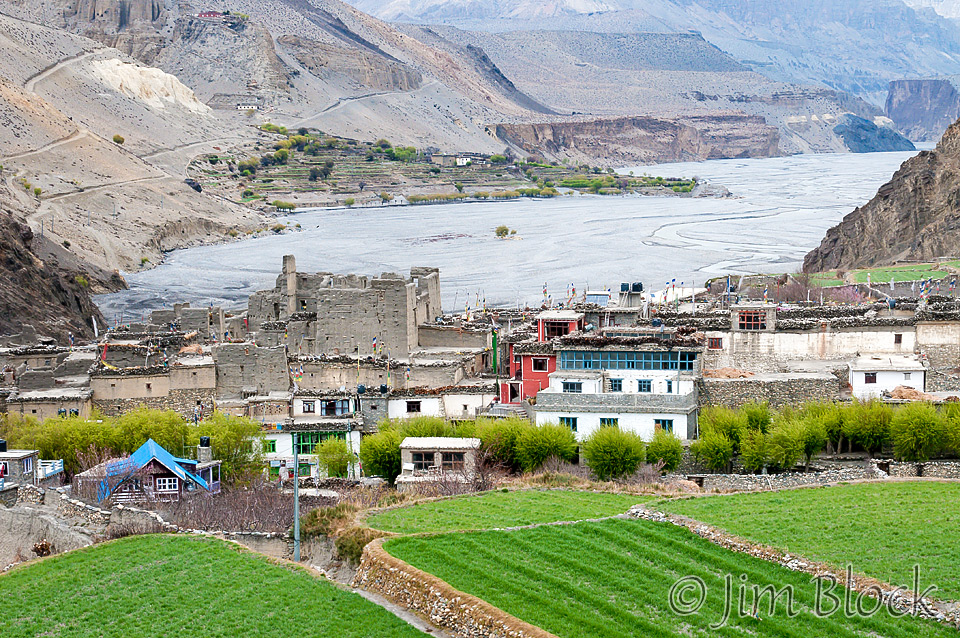 Kagbeni is a charming, beautiful old city and one of the principal gateways to Upper Mustang. It was the dominant hub of the salt trade from Tibet before the 1850s. The passes across the Himalaya north of Kagbeni are relatively lower than other passes from Tibet to Nepal.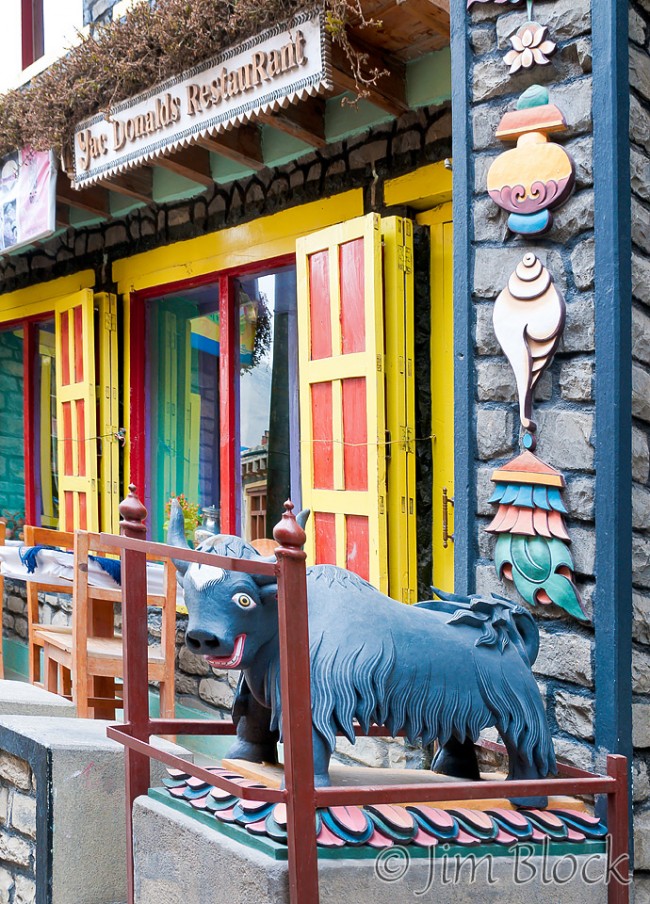 We stopped at a teahouse where our Sherpas quickly became good friends with the beautiful and charming young woman who made us some tea. Leaving our packs and trekking poles in that teahouse, we toured the city of Kagbeni.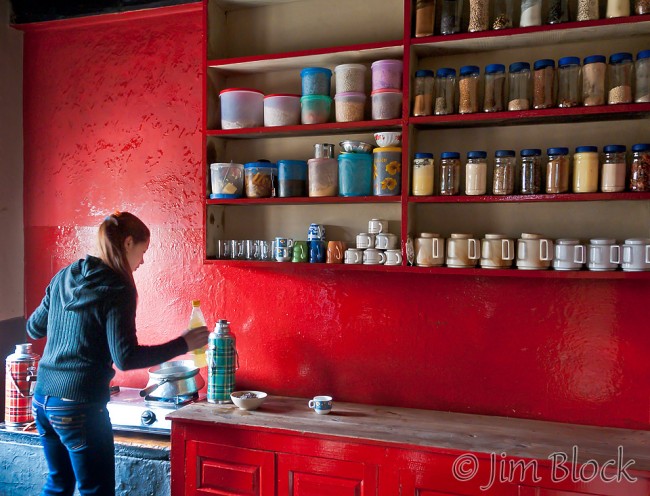 One of the first restaurants to greet us was a "Yak Donalds". We made our way through narrow stone-wall-lined passages, visited an old temple, and photographed some interesting sculptures.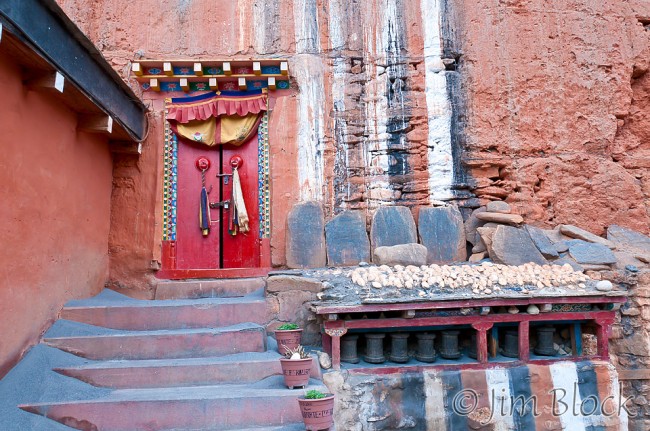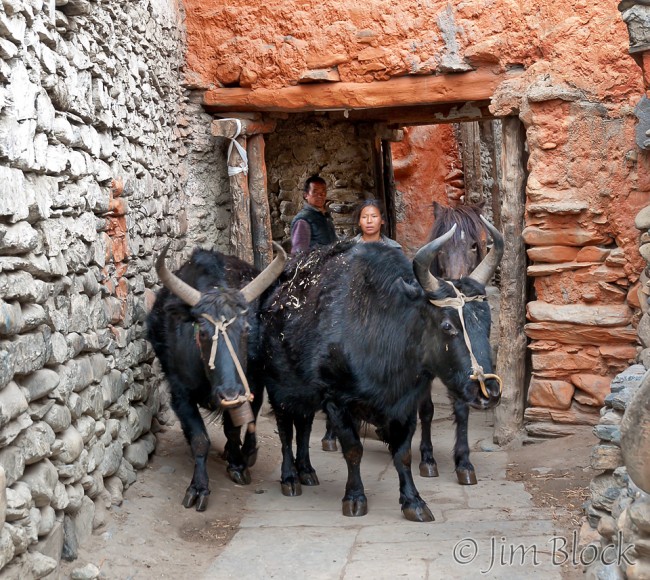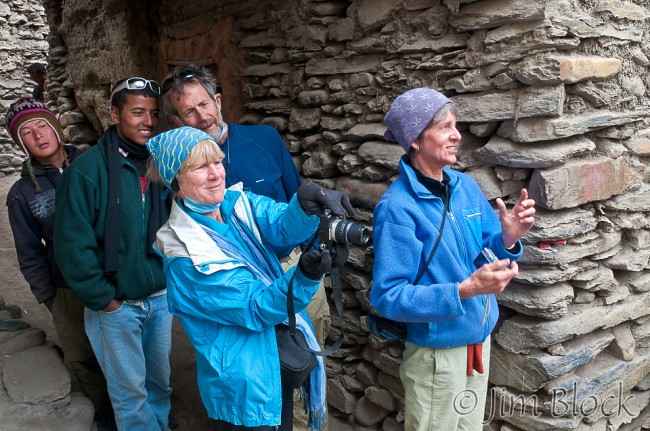 At the northern part of town we reached the spot where we could go no farther—the entrance to Upper Mustang.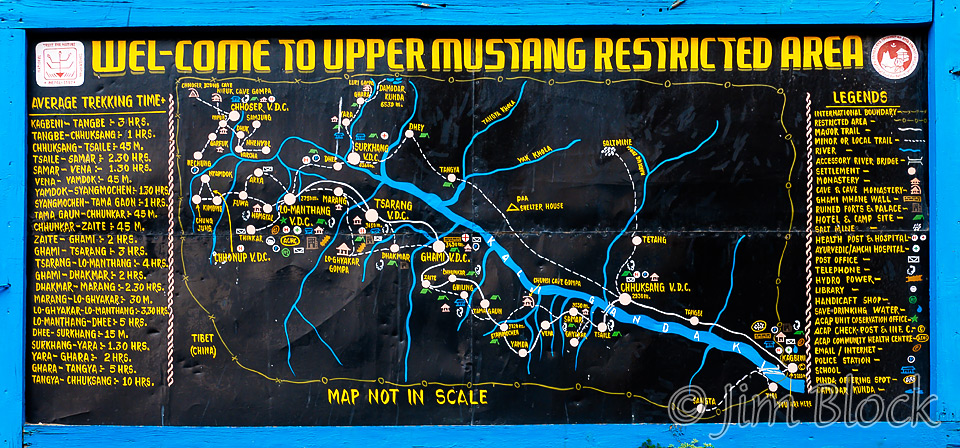 Leaving Kagbeni we traveled down the Kali Gangaki river valley to a small village of Eklebhatti. Eklebhatti means "one teahouse", though it now has more than one. There we had a late lunch in one by the trail. Chhongba ordered dal bhat all around knowing it was very good here. And it was, as was the potato curry.
As I started to eat the green salad Milt asked, "are you going to eat that?". Green salads are generally avoided in Nepal because the vegetables are often washed with unclean water that can make you very sick. I looked at Chhongba, "is it okay to eat this?" He replied in his characteristic, "I think so" which I took to mean yes. I certainly trust Chhongba – he is very good at keeping us healthy – so I dug into the green salad. But I believe I was the only one to eat it except for Chhongba.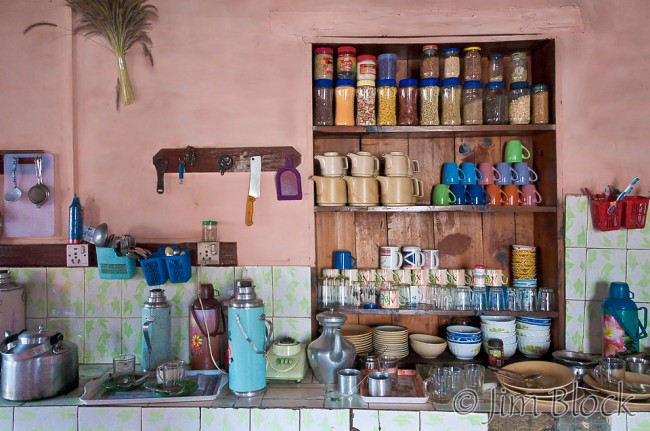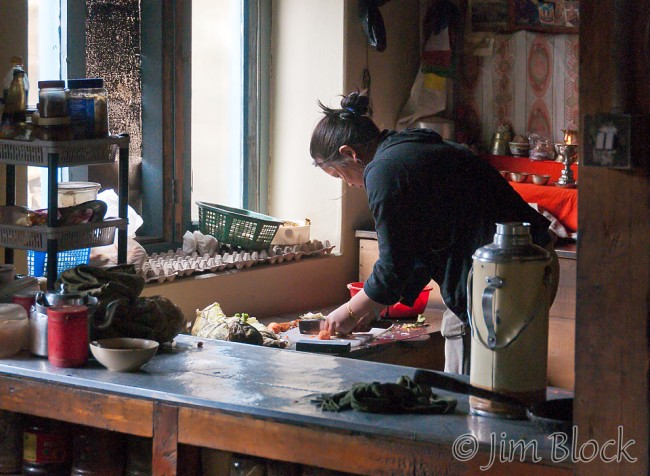 Below Eklebhatti the drama of the stark landscape continued. Before Jomson a strange series of walls, a maze perhaps, appeared across the Kali Gangaki. It's white in the bottom center of the photo to the right below.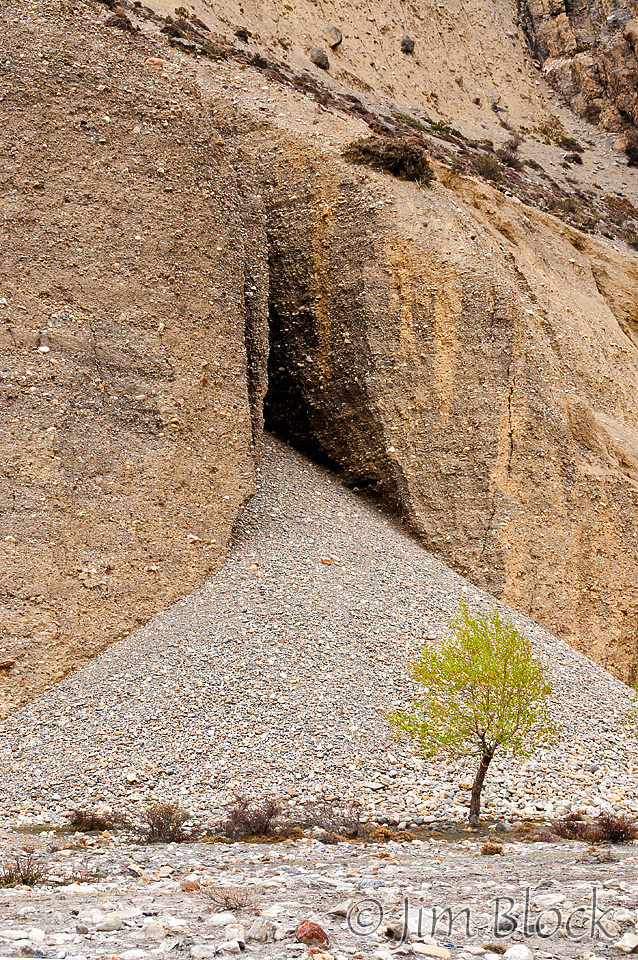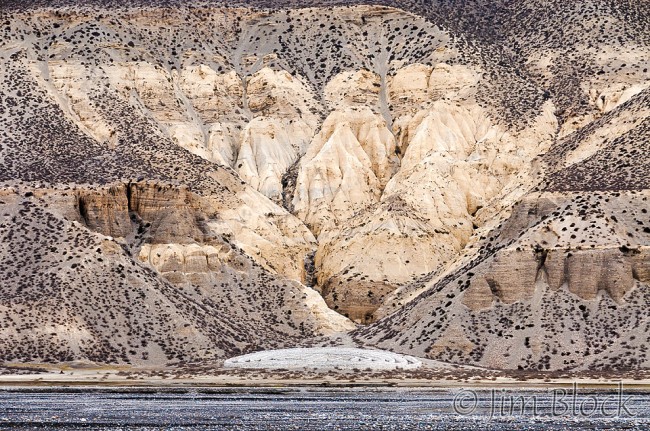 We spent two nights in Jomsom where we would catch a plane to Pokhara. There I've photographed children playing chasing hoops propelled by a bent wire. That evening we said goodbye to our porters and two of our sherpas with a slightly-wild end-of-trek celebration party in the basement of our lodge.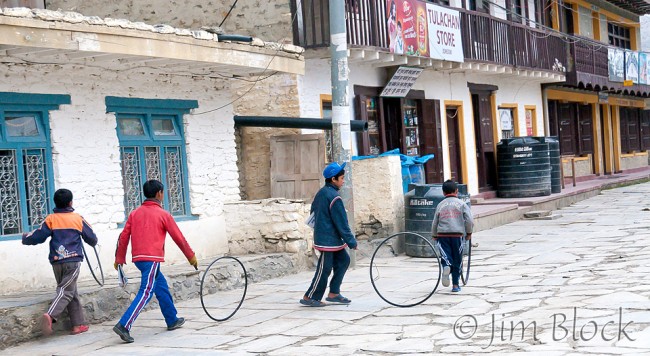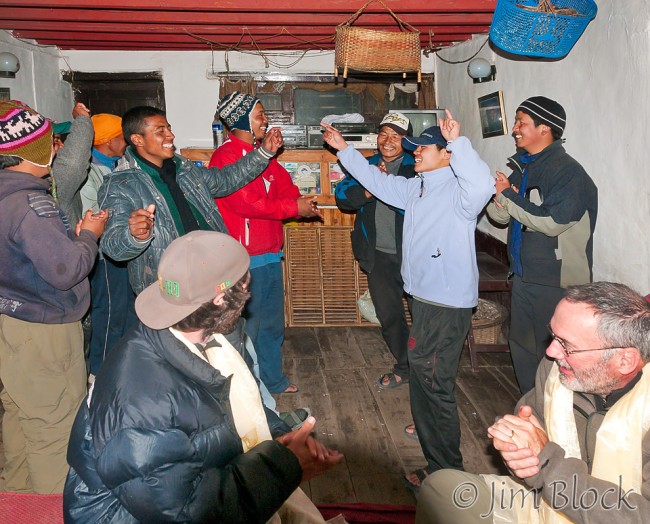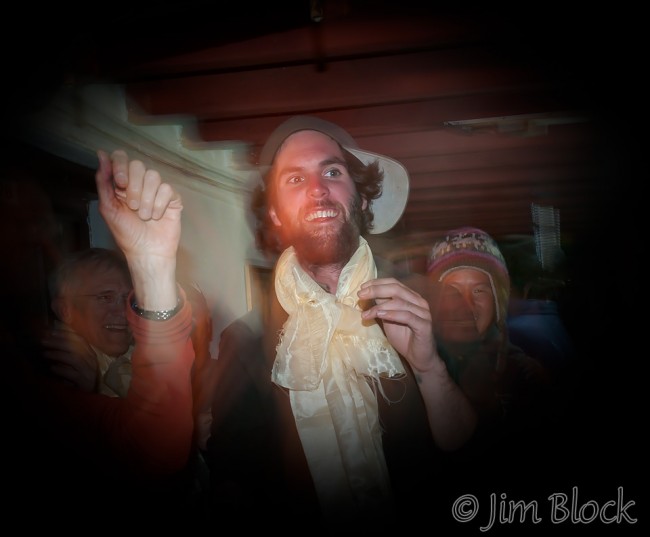 A slide show follows with additional images from our walk from Muktinath to Jomson.