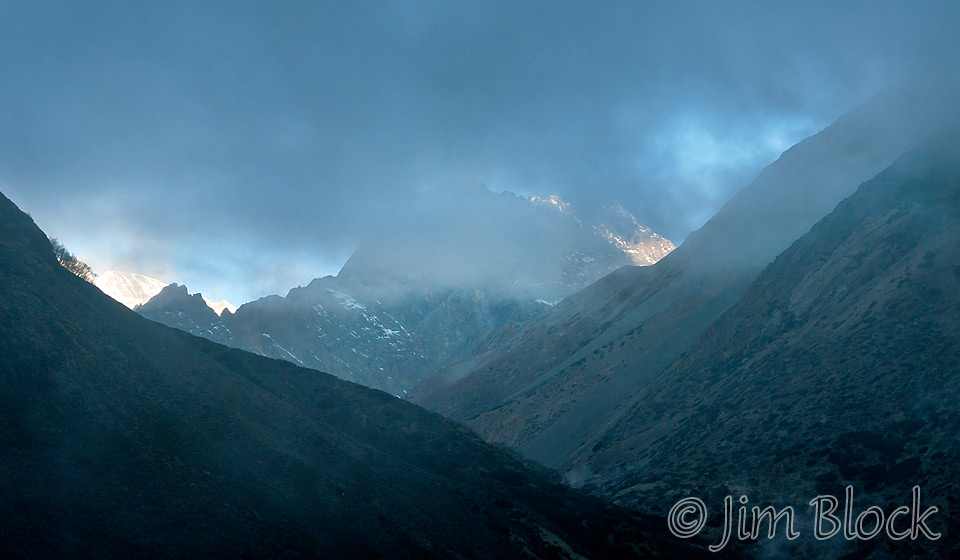 As had been the case for the last several mornings the clouds are hanging low. They appear to be only about 500 feet above us. I hope the sky is clear some early morning or during the night. I had hoped to get good photos of stars but it hasn't been possible so far on this trip. (It turned out I did not any get good star photos the whole trip.)
April Fools' Day, our last steep hike before the pass, Thorung La. But at least it's not going to be a long day.
It's quite cold this morning but there's no wind. I'm up 45 minutes before coffee will be served and over an hour and a half before breakfast time. There is little to photograph in this town so I am spending a bit of time making notes in my small photo notebook.
We plan to leave very early tomorrow morning bundled up with parkas, gloves or mittens, warm and sun hats, rain pants (hopefully just for cold and wind), tights, down vest, and who knows what else. Chhongba wants to head up and over Thorung La starting at 3:30 AM, though some of us are questioning this because their guide books warn against starting in the dark. I put my two-cents into this discussion with a statement that I trust Chhongba completely.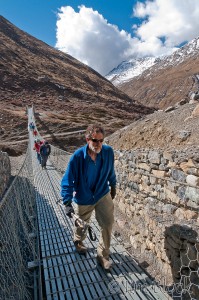 At 6:25 AM the clouds partially cleared I could see a patch of blue sky and white clouds. There's a fine dusting of snow on the ground. It's going to be a clear blue sky day at least for the beginning. The photo above shows the view back down the valley toward Manang at 6:32 AM. Overall the weather for this trip has been great.
Since the porters now have much less to carry, they will be carrying all of the sherpas' packs for the next two days and the sherpas will be carrying our packs up and over Thorung La. Such freedom.
We left Yak Kharka at about 8 AM and followed the Kone Khola valley. I started the day wearing gloves and four layers but after a half an hour I stopped and stripped down to a single layer. We crossed a long suspension bridge before Letdar. In Letdar there was a "Jimmy Lodge and Restaurant". Like Yak Kharka, Letdar was just a small group of lodges, not really a town.
We climbed steeply from Letdar and continued to get great views of Annapurna III and Gangapurna. We came upon a herd of yaks heading our way. Some of us got briefly trapped in the middle of the herd as they crossed the trail in front of us.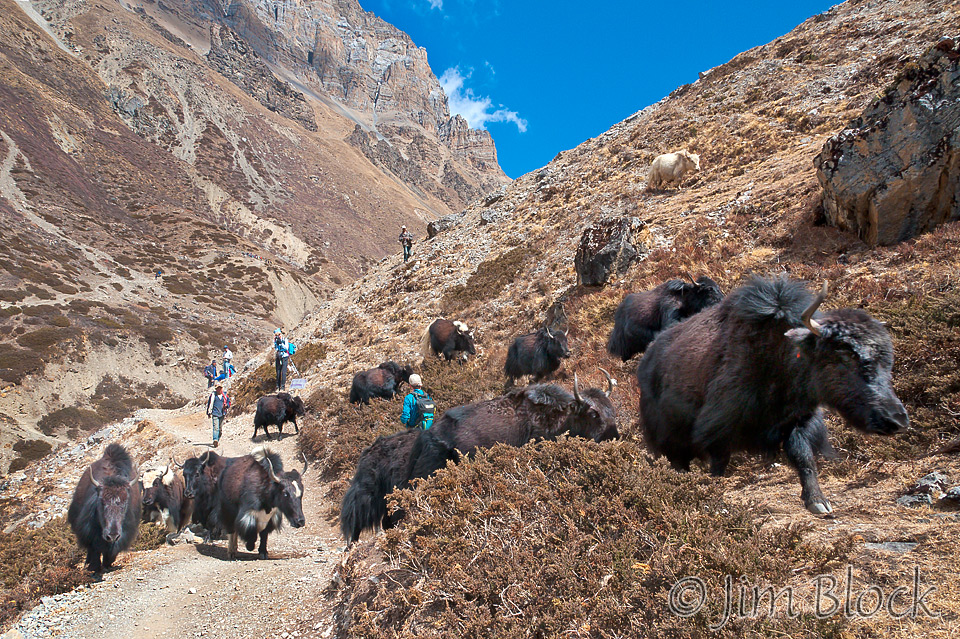 The area from Letdar to Thorung Phedi has a surreal beauty. The valley is narrow and there are steep slopes on both sides. The slopes multi-colored with many different hues of oranges, yellows, and browns.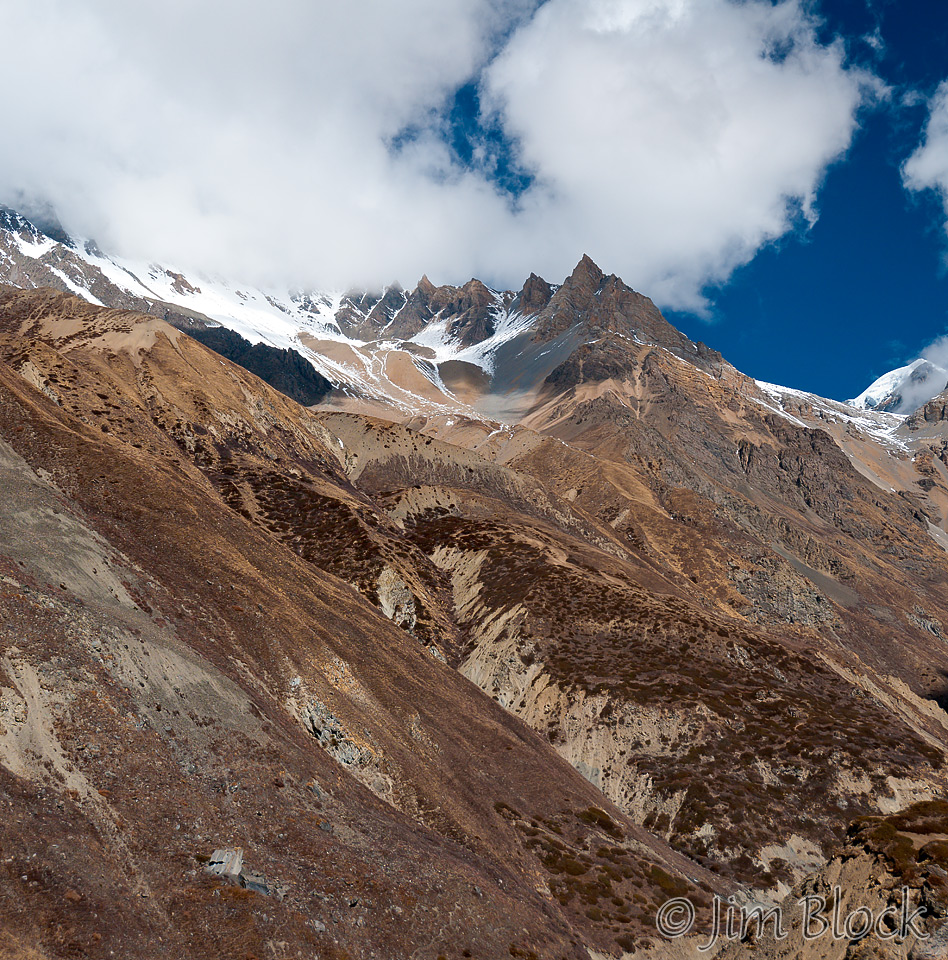 After climbing for quite a while the trail suddenly dropped steeply to the river and we crossed a wooden bridge. From here the trail zig-zags steeply up the other bank to a small teahouse. It is hard to see in the photo below but the tea house and some trekkers are directly above the bridge and just to the left of the steep slope.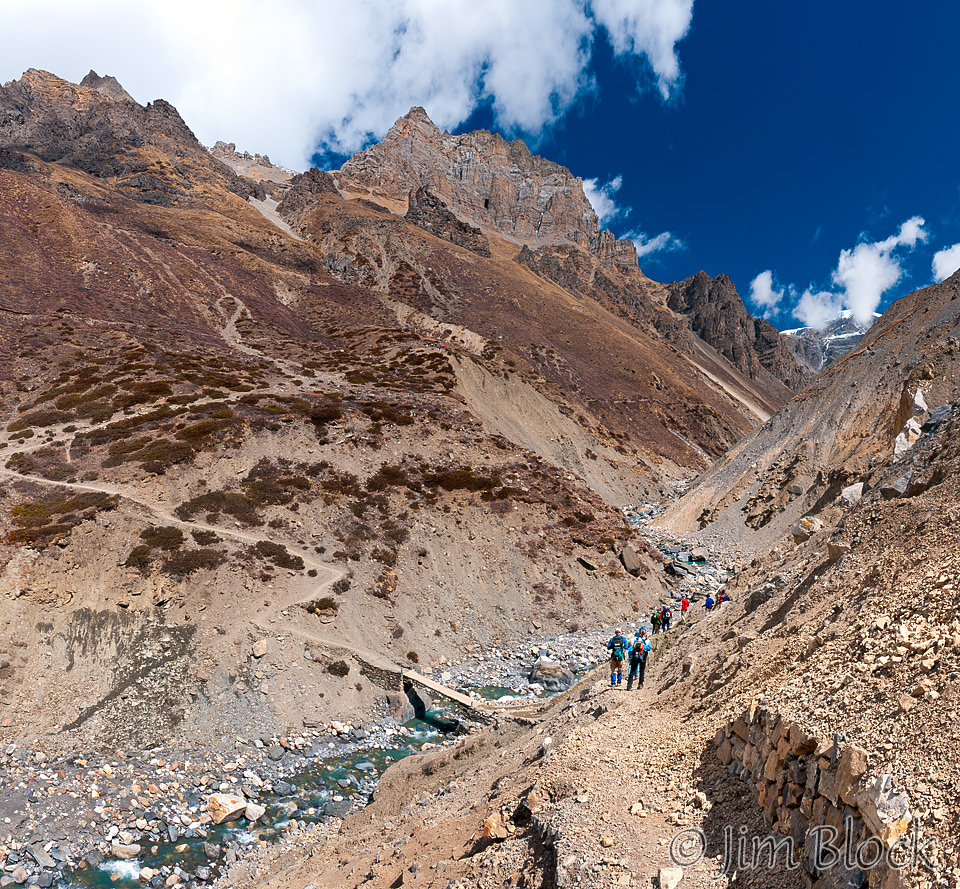 After the teahouse we navigated probably the most dangerous part of the trek—a landslide-prone area. The map even warns of this spot. The trail is along a steep slope composed of small rocks. A slip here would have been disastrous; it was a long way down to level ground. A landslide of the rocks might possibly be fatal. The photo below shows Chhongba at the far left nearing the landslide area. We crossed the area quickly but carefully.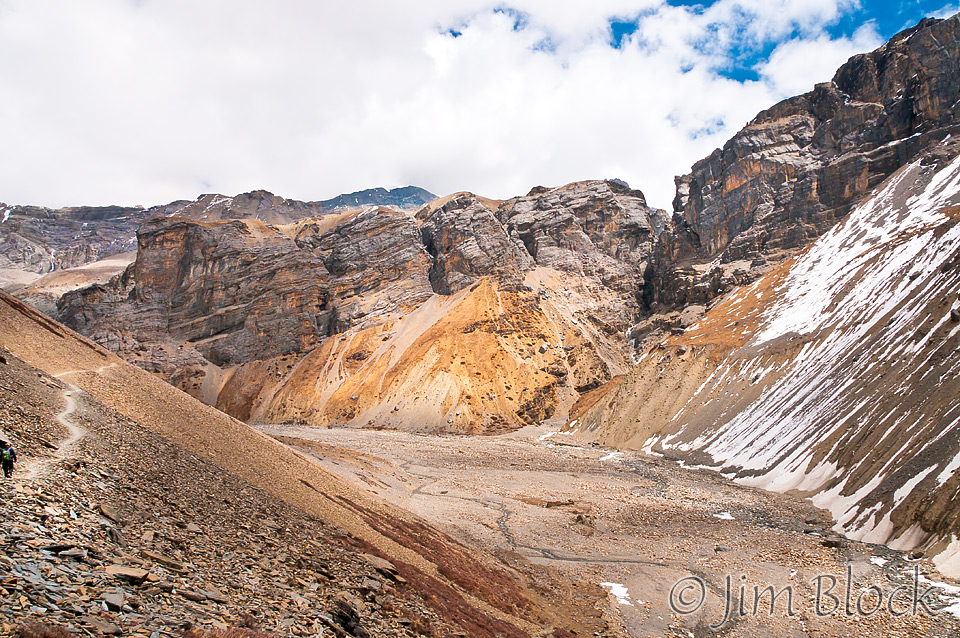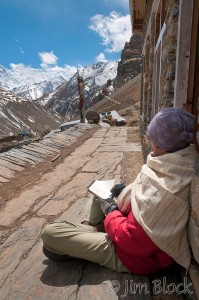 We reached Thorung Phedi at 11:45 AM. There would be no acclimatization walk today because we will not sleep any higher than we are now. Instead we are to rest this afternoon for our early start tomorrow morning. Wake up time will be 2:30 AM, breakfast at 3 AM, and Chhongba intends we intend to leave at 3:30 AM.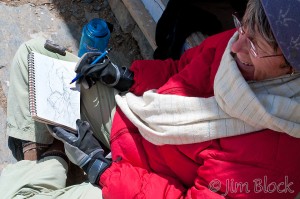 I had the same lunch that I had for the last several days: Tibetan bread and Thantuk soup, a soup with flat noodles, veggies, and various seasonings. Chhongba ordered extra potato curry for all. It was very spicy and good. Most food in Nepal is very bland, but on this trek we has some very nice spicy dishes. We will assemble at 5 PM to order dinner in order to have it at ready at 6 PM.
Here are two photos of Lisa sketching just outside our room doors at the Hotel Mountain View. It seems in Nepal there are only about a dozen different names for the thousands of small lodges in the country.
Except for very early in the morning, I walked all day with a single layer on. Now at 4:20 PM, it is snowing.
I ordered dinner—the same meal that I had for lunch—and sat in the lodge shipping very hot tea from a tin cup. There's a group of seven foreign-speaking folks in their 20s and 30s gathered around the fire. It is still snowing and accumulating somewhat. The fog is just descending to our location. We have seen the last of Gangapurna, good-bye good friend. My feet are cold. I am wearing two pairs of socks plus my crocs. I take my hiking shoes off every chance I get. Some of us even carry crocs on their packs so they can slip into them at lunch stops.
I spent some time planning what I will wear tomorrow and laying things out so I could just get up and head quickly to breakfast. It will be cold and dark when we start, but Chhongba warns that once we get over the pass and start heading down into Muktinath it might get quite warm. I decided against wearing tights to bed and tomorrow because they are hard to get off along the trail. But I will wear my rain pants over my Marmot pants.
Here is a view of my room. It is somewhat distorted because I stitched together 4 individual photos, each taken with a wide angle lens. The lump on the far side of the bed under the blankets is not a person but my sleeping bag.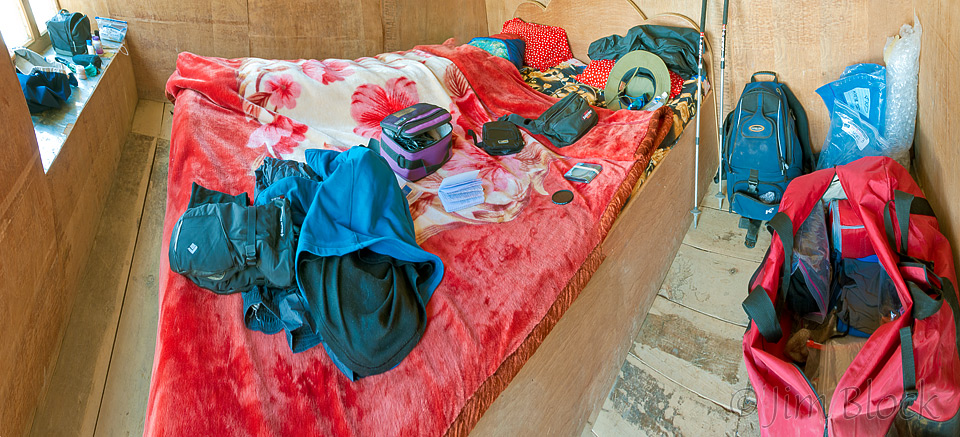 At dinner Chhongba said that if it keeps snowing we might have to postpone the trip over the pass tomorrow. This was certainly not cherry news because we did not look forward to spending a full day at Thorung Phedi—a fairly desolate place with just a few simple lodges. The photo below was taken at 6:45 PM just outside my room. I was in bed at 7 PM. Fortunately we only got a few inches of snow during the night so we could leave in the morning.