I got up early and headed down the very long stairway to make some photos before breakfast. I wanted to walk at least part way back up to Upper Pisang to try to get the morning light on Annapurna II and Paungi Danda, the Gateway to Heaven. In the photo below the sun has reached the top of Paungi Danda. The slide show has more photos of this amazing slope taken later in the day as we hiked toward Humde.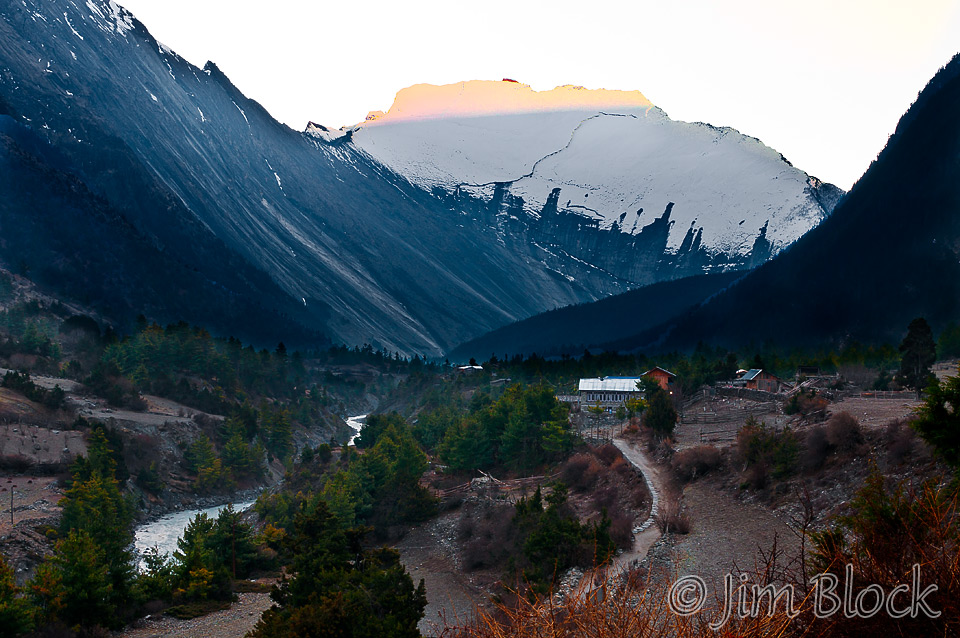 The photo below shows early light on Annapurna II from part way up the trail to Upper Pisang. Our lodge is the highest one in this photo. You might be able to see the long stairway connecting it to the village of Lower Pisang.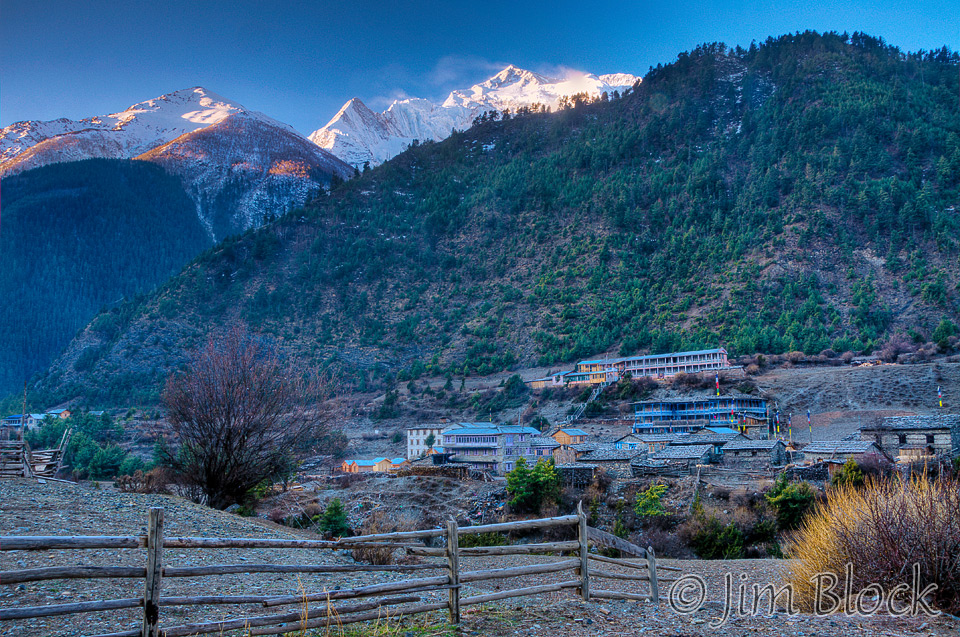 When I arrived for breakfast Kevin warned me about taking Dimox and Motrin at the same time. He did that last night for the first time and was very sick all night. I believed he was wrong that the combo caused it, but I held off taking Motrin to be safe since I started taking Dimox last night. Kevin looked like the walking dead all day. Keg was also wasted (though not as badly), perhaps dehydration. When we stopped at Humde for lunch Kevin and Keg slept for almost 2-1/2 hours as Chhongba delayed our departure to let them rest and recover.
My leg felt great (and also for the rest of the trip). I didn't need Motrin. I learned the keys were compression (elastic wrap), stretching, and taking steep downhills very slowly.
We gained a net of only about 1000 ft of elevation this day but it sure felt more than that. Maybe the thin air was having an impact. Somewhat beyond Pisang I made this photo of the Gateway to Heaven.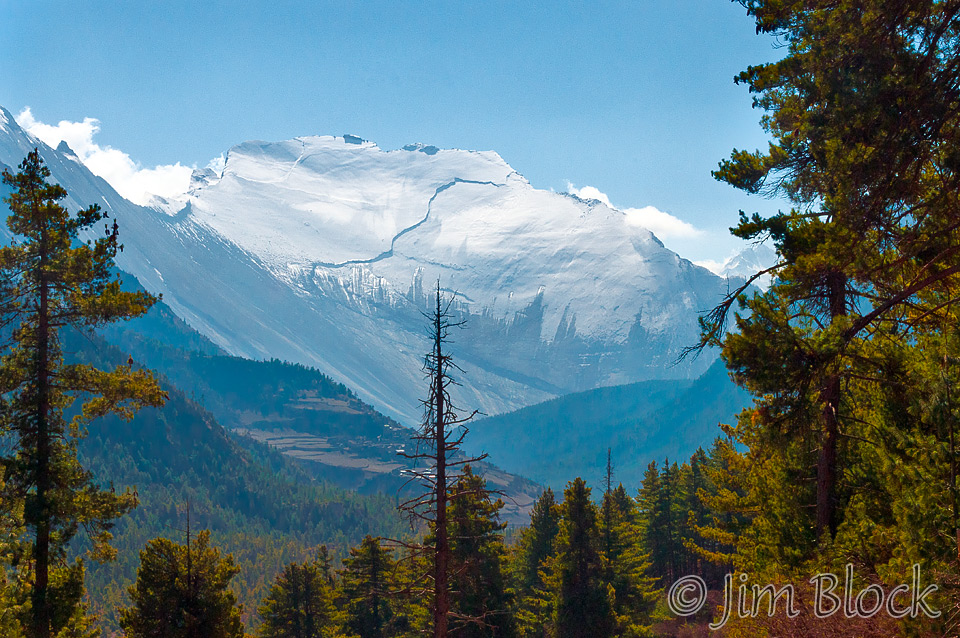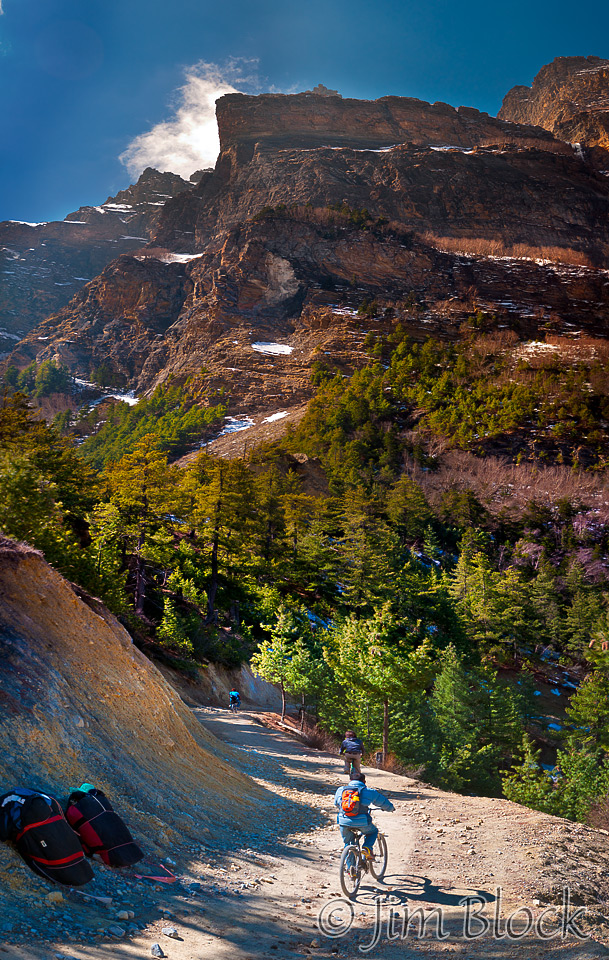 At our morning rest stop I got some photos of Carolyn and Milt and also Stephen. We watched mountain biking at over 10,000 ft. The name of this sport really applies here. This was one of several spots where we saw mountain bikes. The trail around Annapurna has fewer "steps" than in Khumbu so the more gradual inclines are much better suited to bikes.
Lunch in Humde was at a bakery but the loosely organized young Israeli group got there ahead of us and finished all the baked goodies. Chhongba had second thought about staying there for lunch, but the building had rooms where Kevin and Keg could sleep so we stayed. Humde was a pretty bleak town overall —just the blue sky to counteract the many shades of BROWN. We had a good rest, Lisa sketched, Stephen snoozed, and I made some photos.
From Pisang we could not see Pisang Peak; Upper Pisang got in the way. But from Humde we got a good view of it to the east. Here it is.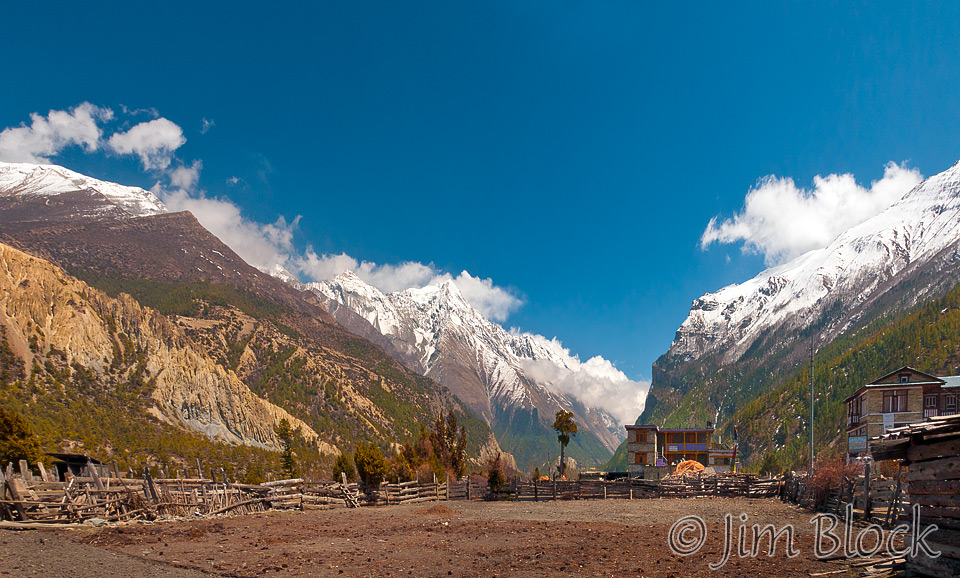 Annapurna III came into view to the southwest. We would spend the next two nights directly below it in Manang. Here is Annapurna III from just beyond Humde.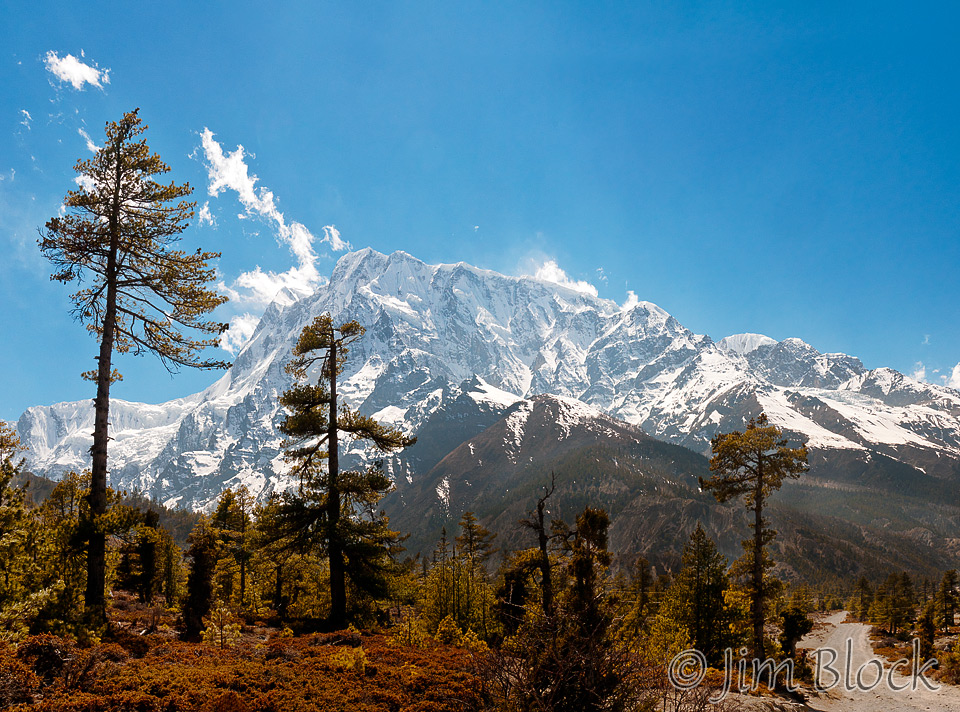 We left Humde at 1:30 with a cold wind blowing. From just beyond Humde I was able to make a 360 degree, 23 photo panorama that included Pisang, Annapurna IV, Annapuna III, Gangapurna, Tilicho, and Chulu. I have labeled the peaks and hope to eventually put it on a page where you can zoom in and see details. Until I get to that you can explore one that was taken at a small lake we found in Chindi at a brief rest stop. Annapurna III is in the center of the photo below. Click on the image below and zoom into and explore the third panorama on the page that will open in a separate tab.

I was really starting to drag on the uphills when suddenly, at 4PM, Manang appeared. Manang, at 11,480 ft, has a very Tibetan feel—prayer wheels, mani walls, prayer flags, really neat old section. It was one of my favorite places on the Trek.
Chhongba had sent Pasang ahead to Manang to get good rooms. He certainly succeeded at the Yeti Hotel which had to be the best in town. I got the end room with a great view in three directions to the principal mountains. I did a "bedroom pan" shortly after we arrived. If you can't read the labels in the photo below, Annapurna II (26,046 ft) is at the far left, Annapurna III (24,786 ft) is in the center, Gangapurna (24,455 ft) is just to its right, and Tilicho (23,405 ft) is in the clouds to the right.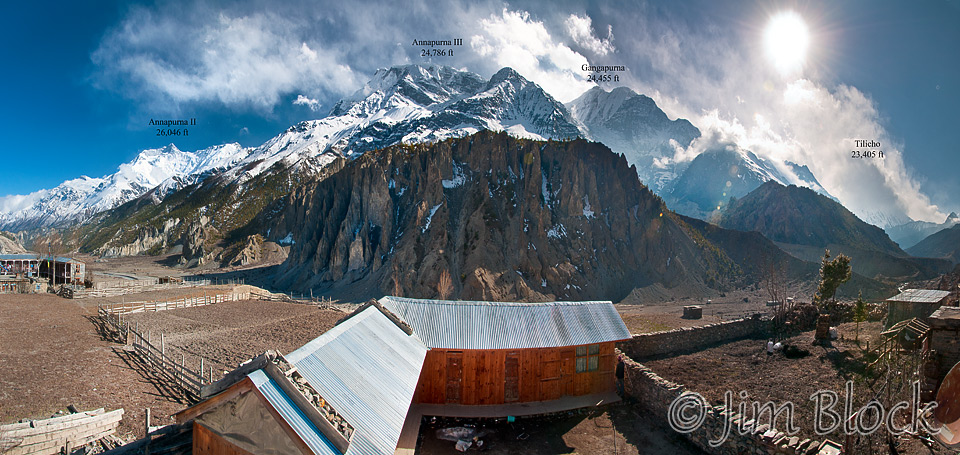 Tomorrow we will climb to the ridgeline you see in the center of this photo. It is hard to tell from this photo but the lodge is high on a cliff. The valley between the lodge and the mountains is quite deep. You might notice the wooden boxes filled with stones that are used to help hold the metal roofs on.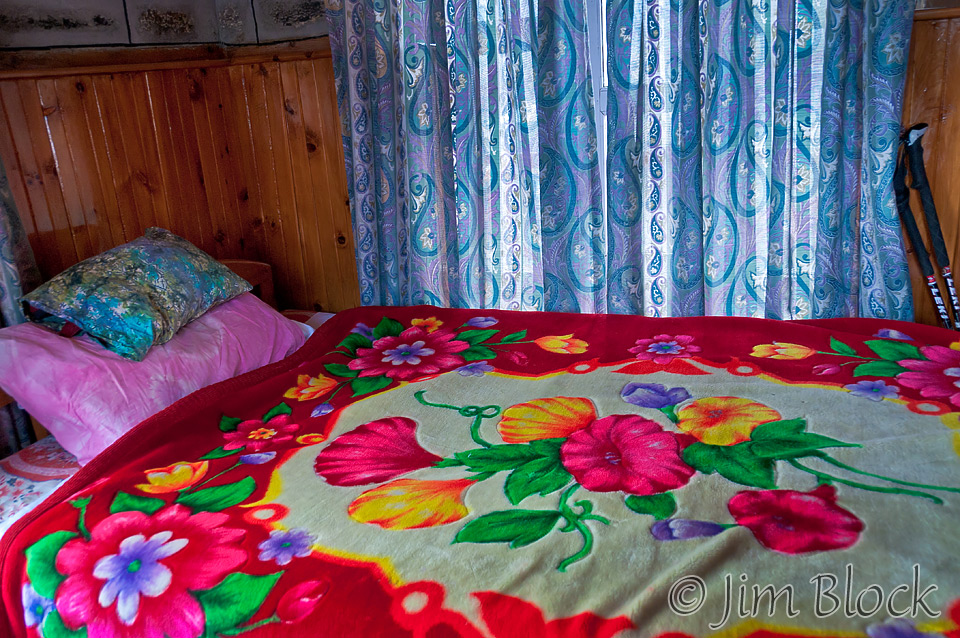 I took a hot shower and washed some clothes before I noticed the no washing in room sign. (It actually said, "Do not wash in the Toilet"). I gave the porters my black pants to wash tomorrow—"rest day" for the porters—not us.
The sherpas brought hot ginger tea to my room and took my dinner order. I had tomato soup and pizza with everything (but no meat). Life is good. I'm glad my leg was fine today because the sherpas were already carrying three extra packs (Milt, Kevin, and Keg).
My room had fantastic views and a double bed to sleep on (with heavy blankets) and another bed and table for other stuff. The bed had soft pillows—a rarity for Nepal but one shared by several lodges on this trek. I used an extra hot pink pillow case I carried for one of their pillows. I used a small pillow case for my down vest "pillow" the whole trip.
And this was the first (and only) room where the latch (to lock the door from the outside) worked smoothly and easily. I went to bed at 7:30 starting to worry I might be getting my regular Nepal cold—but fortunately none developed.