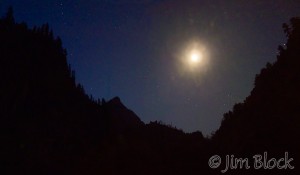 I woke up at 2:30AM, photographed a three shot panorama of the half moon through the dirty window of my bedroom with my LX5, and then slept restlessly until almost 5. This was to be a day of considerable climbing, partly through an enchanted forest. We had been hiking generally north; now we would head northeast, over Thorung La and to Kegbeni where we would turn back south. Today we would trek from Dhararpani at 6265 ft to Chame at 8940 feet with the requisite number of downhills along the way.
Heading away from the Hotel The Seventh we had great views of Manuslu as the trail to it base branched to the east. The 8:30 AM backlight was great so I took a quick group photo of all the sherpas and trekkers, except me.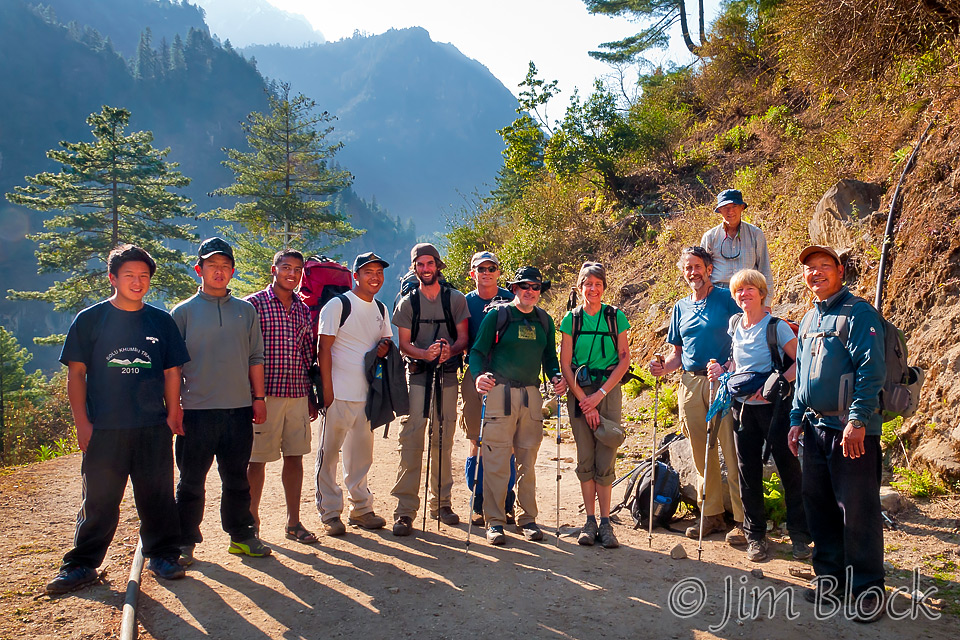 A beautiful forest of pine and oak with occasional views of Manaslu, Lamjung Himal and Annapurna II graced our climb. Danagye/Danaque/Danakyau—most places have at least three spellings—had a very long mani wall with prayer wheels. We stopped in this village for tea and snickers. Beyond Danagye we saw porters carrying very heavy loads of construction material through the beautiful forest.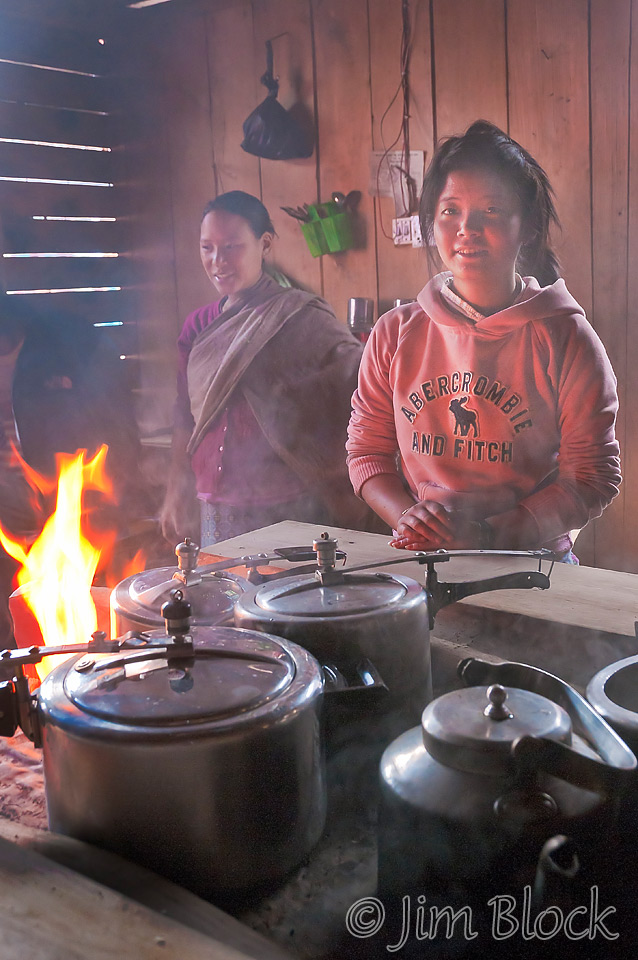 Lunch was at the Namala Hotel in Timang where I made another group shot. The restaurant had a smoky kitchen with two beautiful young women. Lunch was great—ginger tea filled with ginger pieces, very spicy chard veggie soup with Ramen noodles, and fried potatoes.

Beautiful red rhododendrons, the national flower of Nepal, bordered the trail before and after Timang. I made a vertical panorama of a rhododendron tree that must have been 50 feet tall that was filled with small birds amid the red flowers.
We passed very green fields, of wheat I'm told, in Thanchok. Then we passed through an area which had large piles of firewood stacked and ready to be transported. In Koto Qupar we watched a family work with molten metal.
The Tilicho Guest House (named after the mountain and world's highest lake) with cute cottages was to be home for two nights. The porters were late and I really wanted a shower so I took one without a towel or change of clothes. The shower was HOT. I used the first part of the shower to wash my T-shirt and underwear while wearing them. After the shower I put my pants and polar fleece back on while wet and walked barefoot to my room, up a short flight and across a patio. The others, all bundled in warm jackets were suitably impressed.
Still without a change of clothes I wandered back through town and photographed one of our porters arriving about an hour after we did. I put a sequence of this in the slide show that follows. Note the very well-developed calf muscles.
Another beautiful kitchen at this hotel begged to be photographed. The photo below is a 7-shot panorama and the "wide-angle" distortion is obvious. When I took it our porters still had not arrived.
A charging station in the dining room recharged our batteries and an excellent dinner of veggie soup and fried momos recharged us. Chhongba brought wine from Kathmandu which we enjoyed.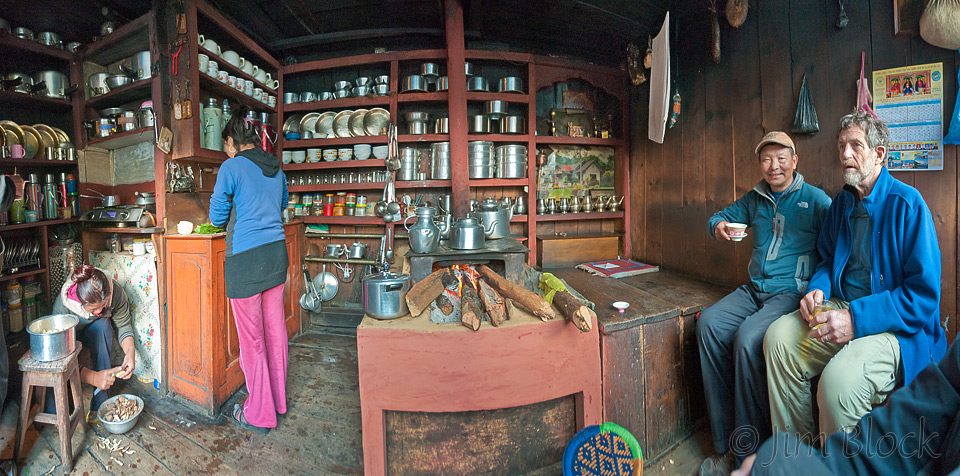 The view to Manaslu to the east beyond town was beautiful. I photographed it with a tripod at dusk. Below is the best alpenglow I could capture. The slide show has a photo taken 4.5 minutes before the one below. Kevin and Tim played pool down the street. Everyone else seemed to be were ready for bed at 7PM.