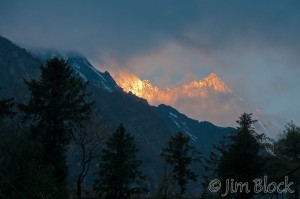 This was our first of two "rest" days which means a rapid climb a few thousand feet uphill and then relaxing on the ground for 30-60 minutes before returning. I rose early and made some early morning photos of Annapurna II from Chame.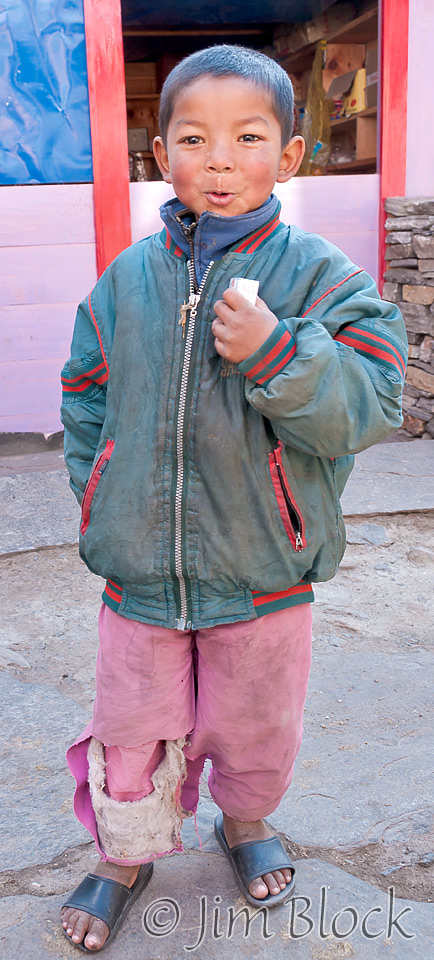 I then wandered around town before breakfast photographing to sites and people of the village. I watched a young boy in tattered clothes carry paper money to a small stall-store and buy a package of cigarettes, presumably for one or both of his parents. Nice way to start the day.
We hiked up a steep trail through a beautiful forest filled with backlit bamboo to a rest spot at 10,900 feet. Above 10,500 some snow was present. We made some group shots in very contrasty light and relaxed breathing the thinner air than down below in Chame and much thinner than Jarat 6,700 ft below just two days ago.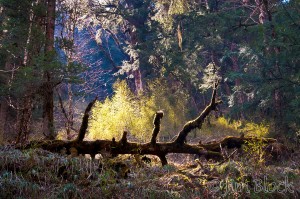 I again got behind making photos and foolishly rushed the downhill and paid for it the next day—very painful calf again. This is about the time I realized that downhill was a real problem and I had to take it very slowly and use my poles a lot going downhill the rest of the trip. That plus a tight wrap solved the calf problem–after one more painful day.
We were lucky to see Manaslu the day before because it was in clouds nearly all day today. I had another hot shower—nothing much hotter than luke warm on previous treks so I really appreciated them this time. We relaxed on our patio away from "main street" before a late lunch.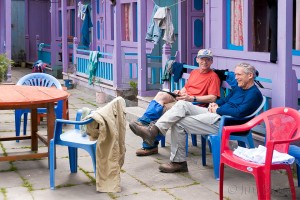 My calf hurt in afternoon as I wandered the town in the late afternoon. I photographed a basket weaver, a trekker wearing a very inappropriate costume, and women carrying large stones up from the river. Seems woman do a lot of the heavy lifting. The porters who were carrying eggs uphill broke some and it was fun photographing and interacting with them.
Just above the slide show is a photo of a Chame scene that I somewhat simplified to minimize detail.
The weather was getting noticeably colder. A porter made a great banana pie for desert from the rest of our bananas. It has a very fancy curl on the edge of the crust. I hit the sack before 8PM.