So-so sleep. I awoke 11:30 PM briefly then again at 2 AM and slept fitfully after until 4. Lay in bed until 5:15. I took two Aleves and taped calf well, but I needed help with pack. Saying two nights in Chame was a great decision—nice place.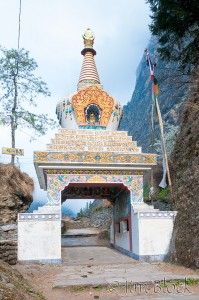 Coffee on our sidewalk patio, hot noodle soup for breakfast, and we were off past a mani wall and beautiful chorten gateway marking the far end of town. Kids waved good-bye to us; almost all of them seemed to have a perpetual crust beneath their noses.
Our destination for the day was Pisang at 10,466 ft, 1500 feet above Chame but 400 feet below where we climbed to yesterday. Chhongba knows the right way to do acclimatization. The clouds hung low and Chhongba suggested raingear—I wore my new 2-year-old gear for the first time—but it wasn't needed. I stripped it off at the first opportunity.
My calf hurt badly all morning. Kevin came to my rescue. Since he injured his back he has a prescription for 800 mg Morin (4 times the normal dose). He gave me one at 1:15 PM and by 2:40 when we reached Pisang I had considerable relief.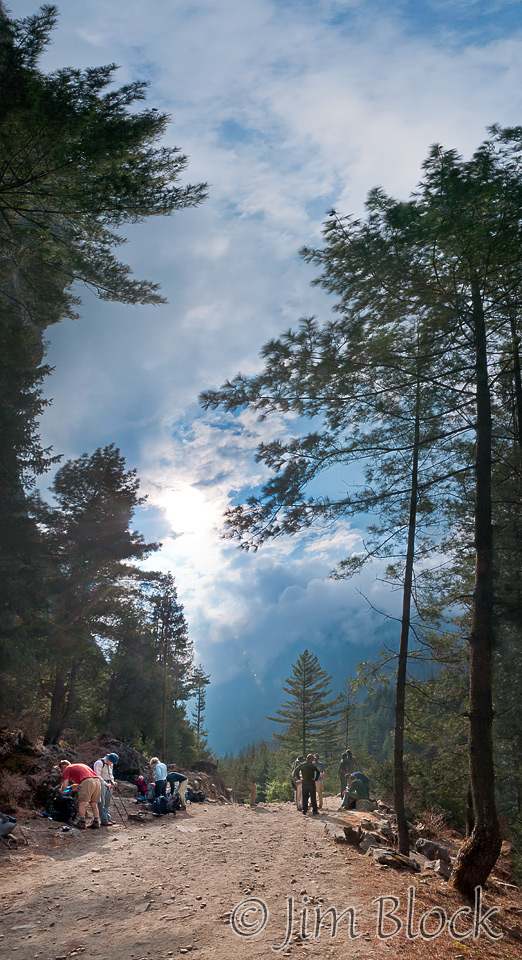 At our first rest stop near Thaleku there was great light so did a pan of Lamjung Himal and photographed the vibrant green barley fields. Just past town was a nice waterfall with snow still at its base.
In the village of Bhratang there was a mani wall and 10 minutes past that the trail got very dramatic. A steep wall rose to our right and a short step to our left was certain death on the banks of the Marsyangdi. Once past that we saw the immense formation with a huge birch below it.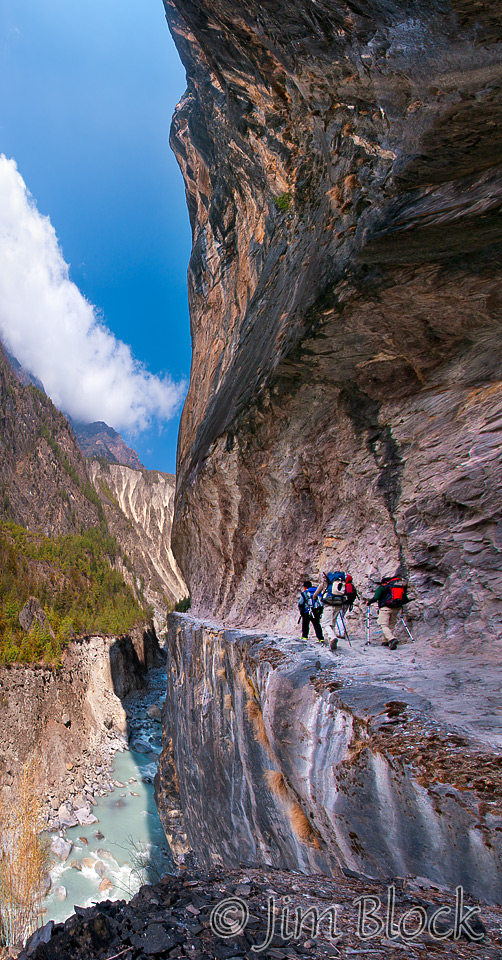 Twenty minutes later we had our first look at the amazing Paungi Danda, the Gateway to Heaven. This highway to heaven is believed by the Gurungs to carry the spirit of the dead up on their last journey, after rituals that shamans perform. The wall of slate soars 4000 ft up. It was hard to comprehend what we were looking at. The black line in the snow must be a "step" hundreds of feet high. Better overviews of it taken from Pisang follow on the next page, but here is a close up of part of this dramatic slope.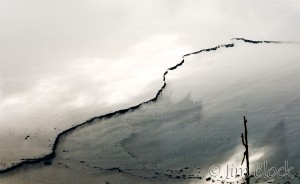 Near Dukhure Pokhari was saw a small lake! Pokhari is one of the words for lake—there are others like Gang as we will see in two days. Before the lake there was much green but from it to all the way to Kagbeni is very dry, except for a few spots. From the Thorung La (pass) west and north to Mustang is the rain shadow of the Annapurna range and hence very dry except where the few rivers draining the high mountains flow.
We had lunch at Dukhure Pokhari. Of course there was another great kitchen scene—a young woman cooking with a baby on her back, sleeping soundly part of the time. Outside on the patio Kevin was bonding with the sherpas.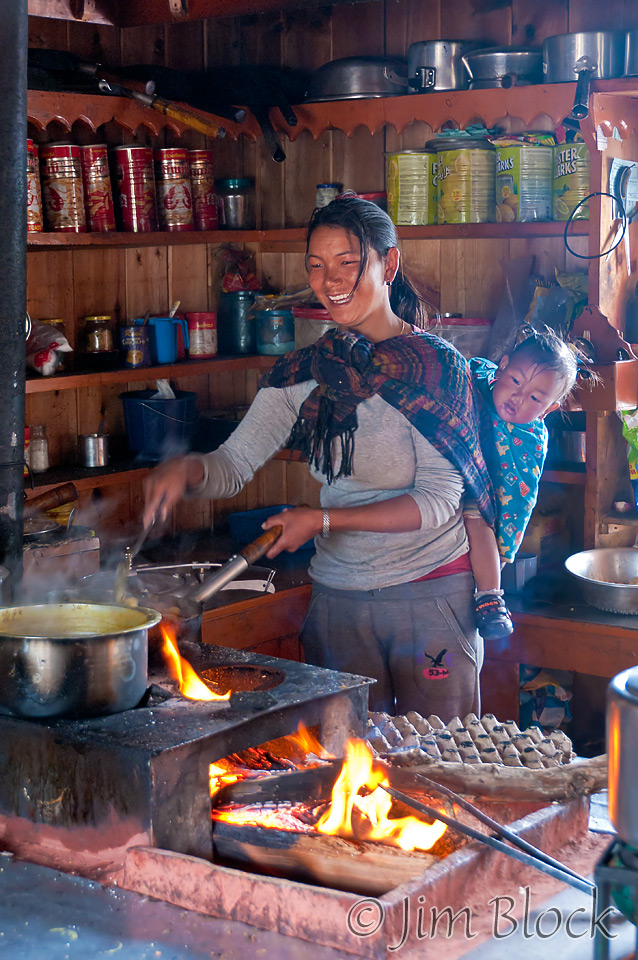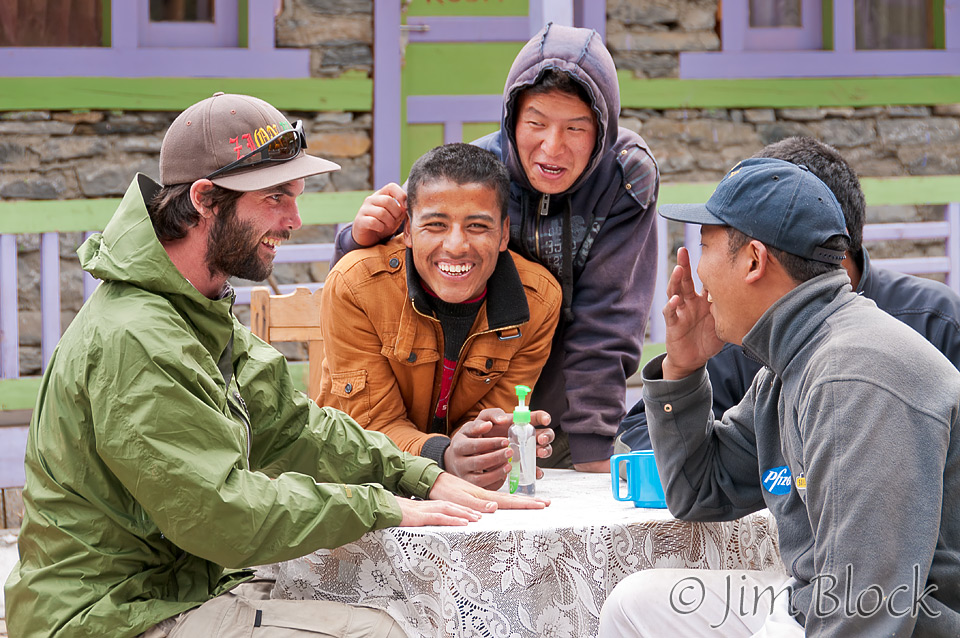 Pisang, where we were to stop for the night, was only an hour from our lunch spot. I questioned Chhongba when we didn't go farther so we could get closer to our destination. He didn't answer with words, but after we settled in and later went for a walk the answer was clear–above Lower Pisang was the wonderful old Upper Pisang.
Before heading for a short uphill mini-acclimatization hike, we did a group photo at our New Tibet Hotel lodge in Pisang. I dropped in a different background to this photo. The original was taken indoors with an ugly plastic sheeted wall behind us. I replace this with what could be seen from this spot—Upper Pisang.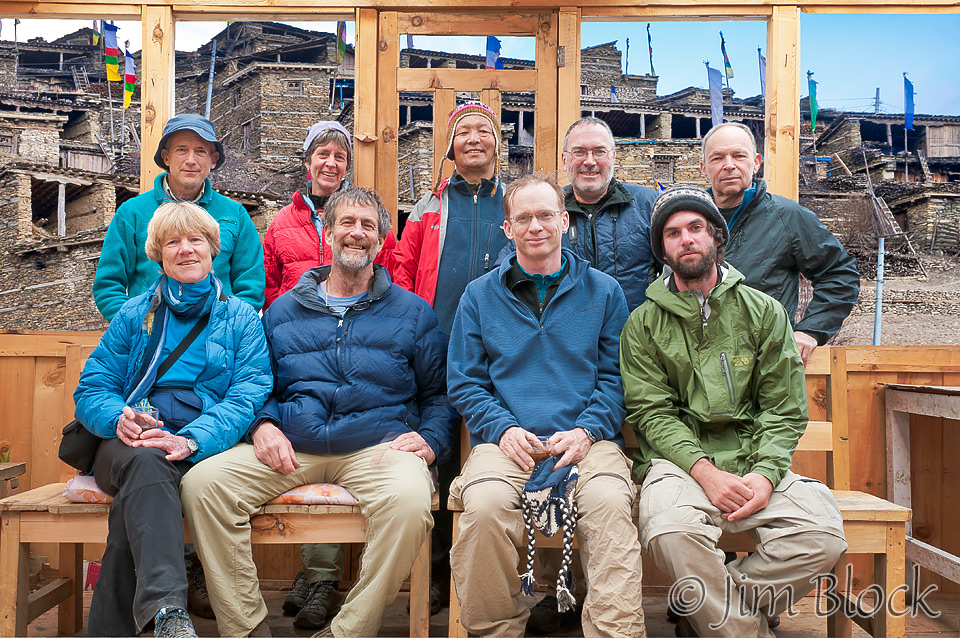 Mid-afternoon we trudged down the very long steep stairway from our lodge to the trail and walked across the river to Upper Pisang. What an amazing wonderful place. The potato fields below Upper Pisang are filled with rocks—apparently these hold the heat and potatoes grow well. It is astonishing that anything can grow in this soil, but piles of fertilizer indicated it was so. Our lodge is at the right side of this photo just above the village. My room on the far right end of the lodge is above the letter "J" in © Jim Block.

Upper Pisang is a medieval village with few real streets between the buildings. The village looked deserted and we saw few natives. The people who live here and in Lower Pisang are of Tibetan origin, migrating many centuries ago. The village had a long mani wall. The gompa near the top of the village was new and beautiful. As we finished our tour of the gompa, Annapurna II slowly began to emerge from the clouds. The whole experience was very moving.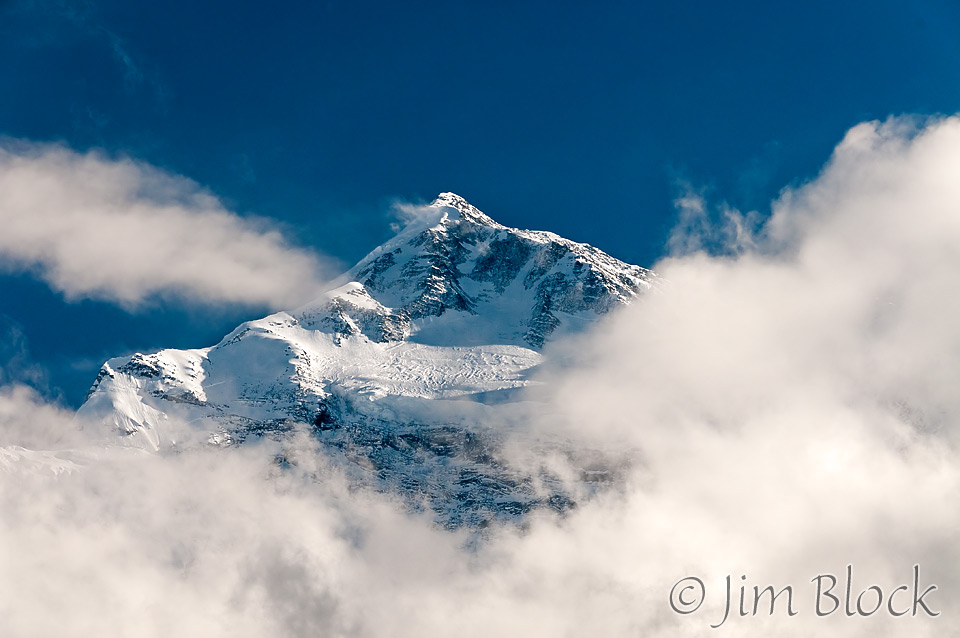 Our lodge had a steel stove – a bukhāri stove—and was very full of people. Carolyn was knitting, as she does often, and Lisa was writing in a large journal. Lisa also sketches at lunch and other opportunities. In my notebook I wrote, "So far it has been a great trek. Little sickness. Compatible group. Good sherpas and porters. Good weather. No laggards or whiners."
I started taking half pills of Dimox (for altitude) this evening, though not sure I really needed it. But better safe than sorry as we learned a few days later—altitude sickness can strike even the fittest.