The morning light was nice from Rifugio Citta′ di Fiume. The panorama below shows where we would be hiking today. We walked below Monte Pelmo seen at the far left. The smaller of the two peaks at the far left is called, Pelmetto. The small peak in the center is Crot. Behind it to the left is Civetta. We would hike to the west of Civetta all afternoon.

Here is a closer view of Civetta with its trailing cloud. The wind is blowing from the right. The air is uplifted by the mountain into a colder region causing the moisture to condense and produce the cloud you see. When it is clear and sunny, Mount Everest normally has a trailing cloud like this. It is called a banner cloud there because it waves like a banner.
We would hike through both scree slopes and pastoral landscapes. Then we would climb the right shoulder of Civetta and loop around it dropping to a beautiful lake before we crossed more scree slopes.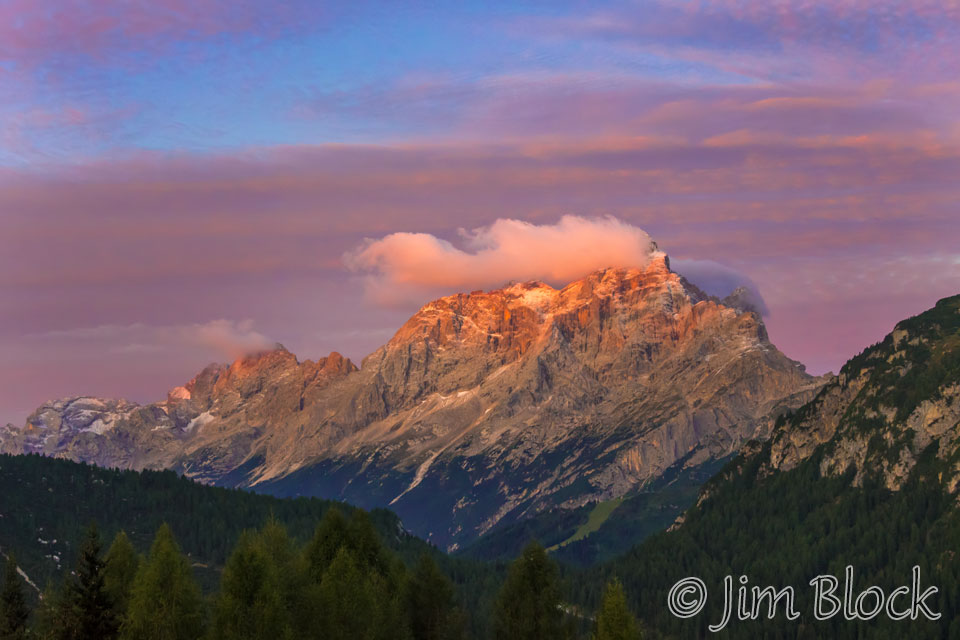 We gathered to depart around 7:45 AM.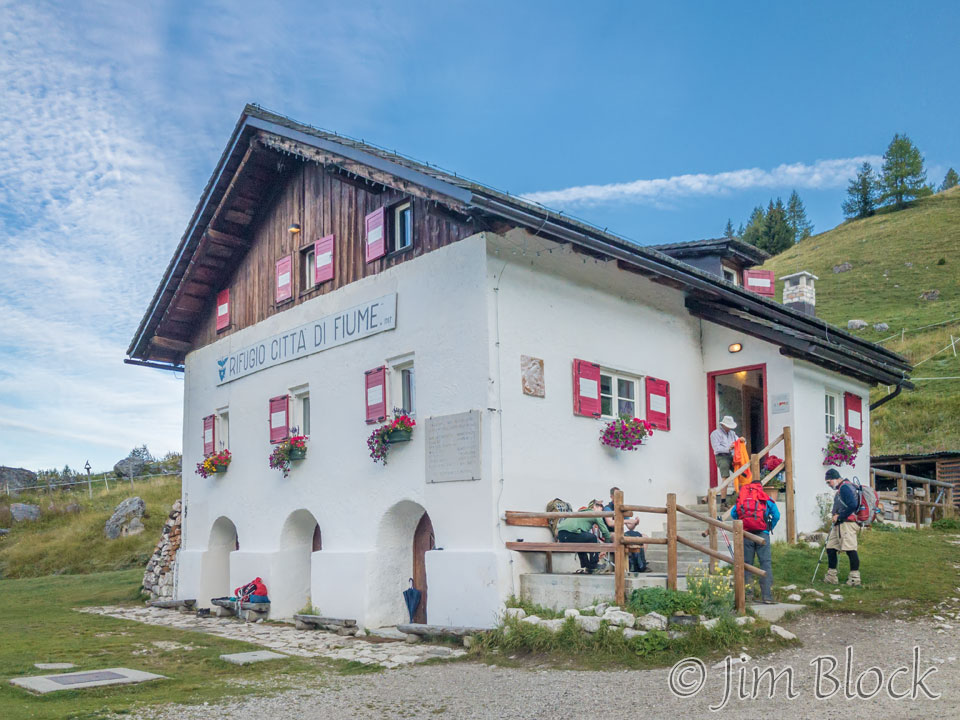 Here is Jim waiting for Tim and Violetta with Martin at the far right.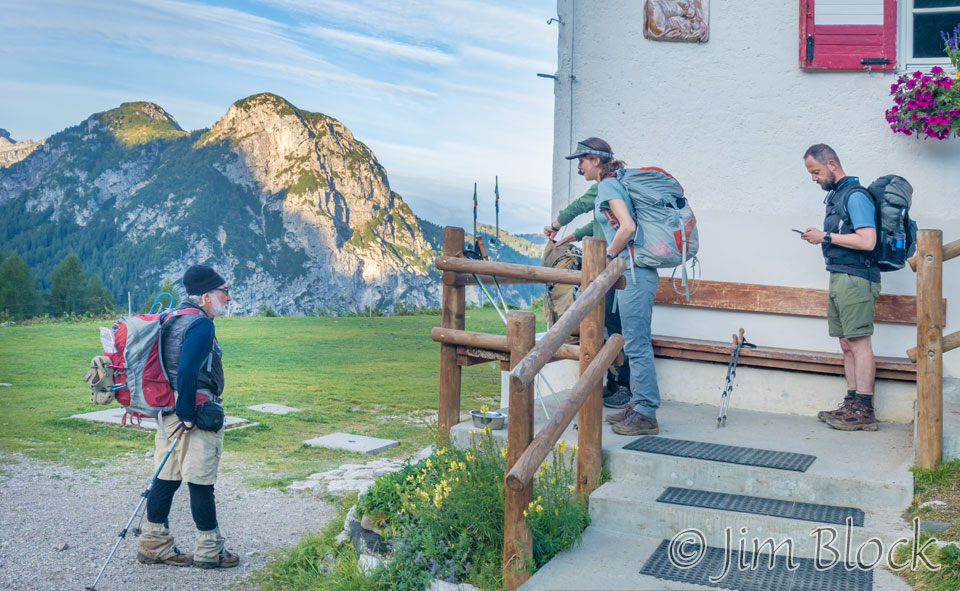 We started off as a group of six with Young joining us at the next rifugio. She couldn't get a room at Rifugio Citta′ di Fiume for the night.
Here is Stephen starting down the trail through a beautiful larch forest.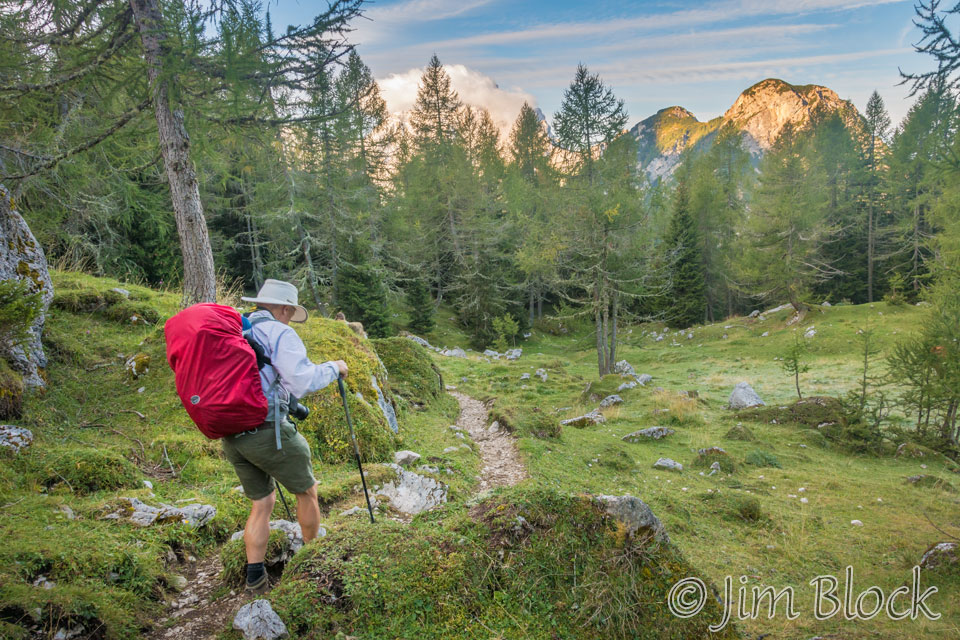 We walked through pleasant open woods below Monte Pelmo.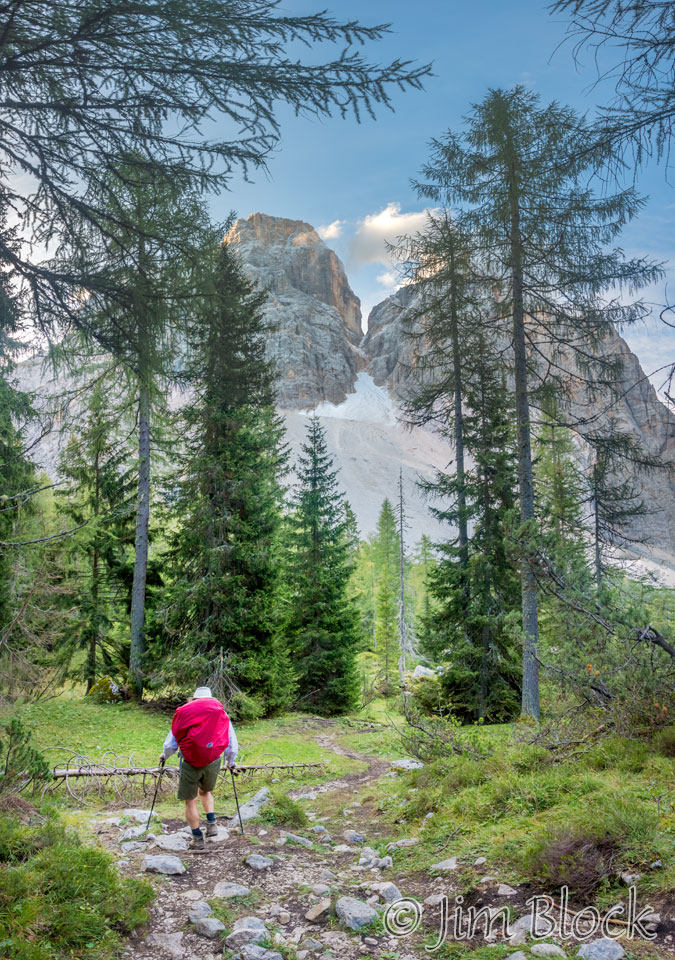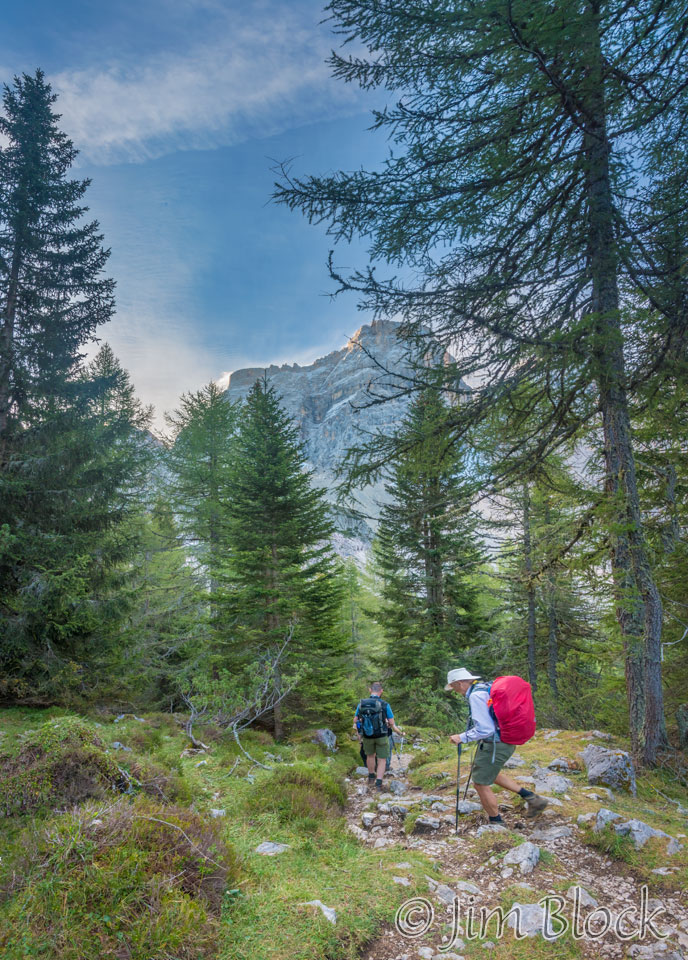 The path alternated between forest and areas of scree. Below we see Monte Pelmo on the left and Stephen in the center walking thru Val d′Arcia.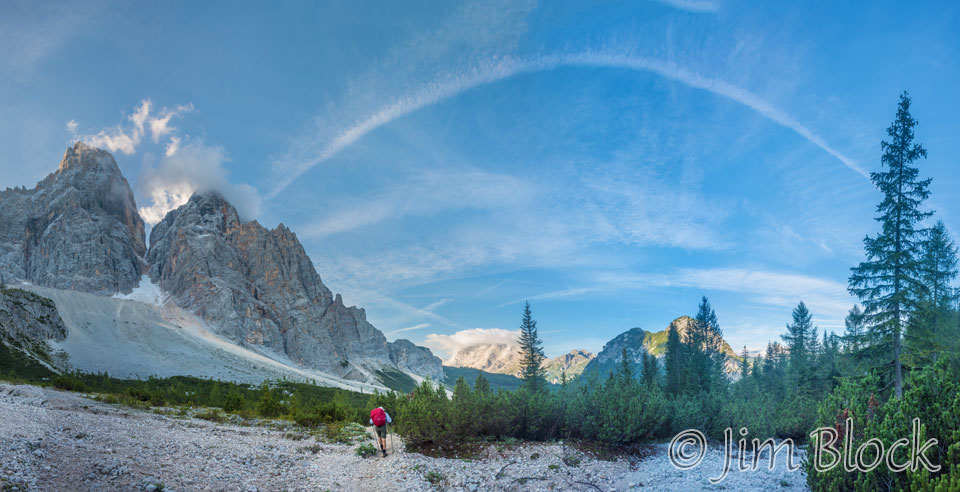 The photo below shows Civetta in the distance with its trailing cloud.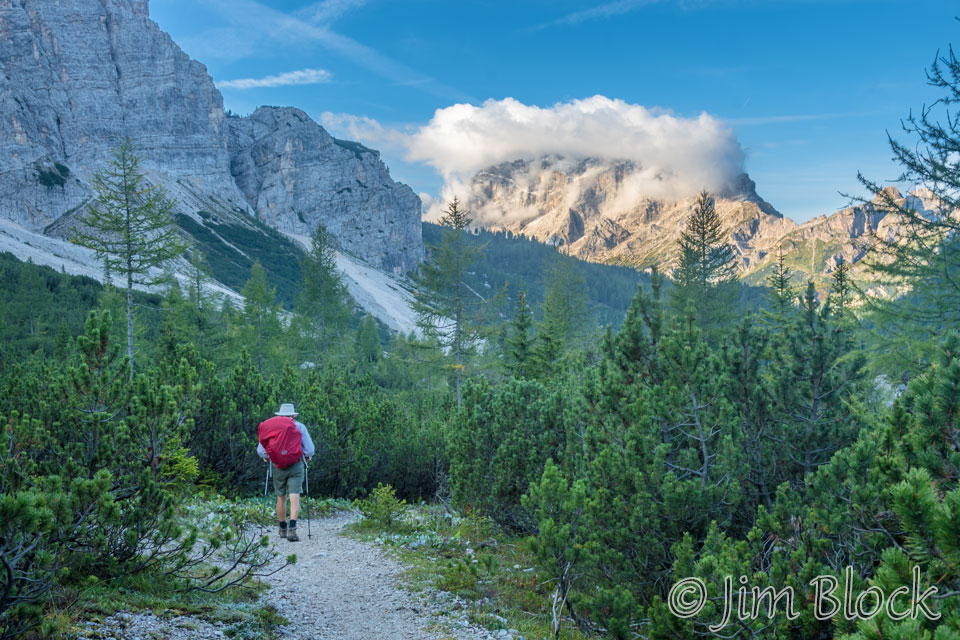 We got a view of a village in the distance. I believe this might be Selva di Cadore south of Rifugio Nuvolau.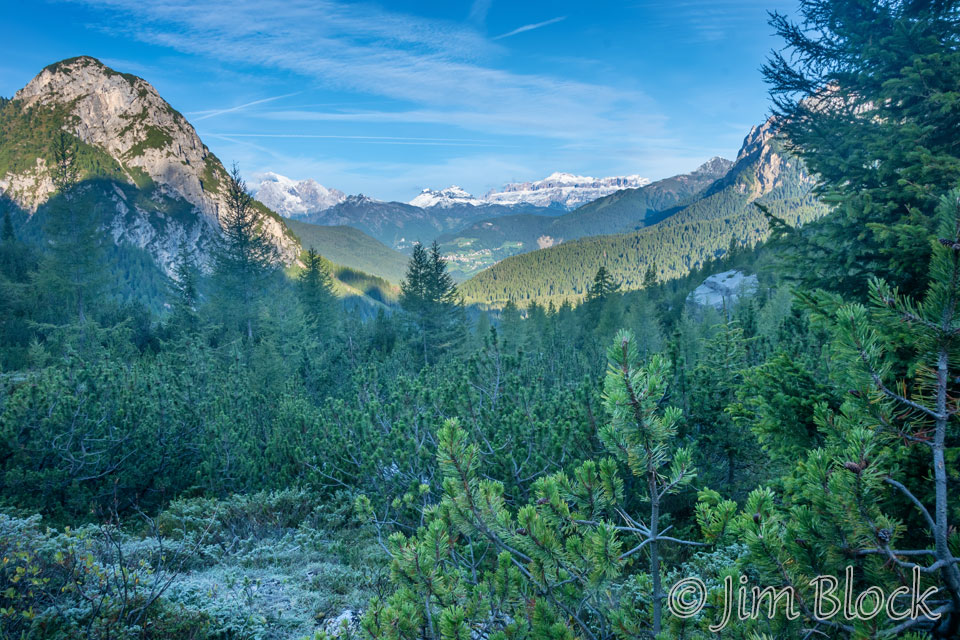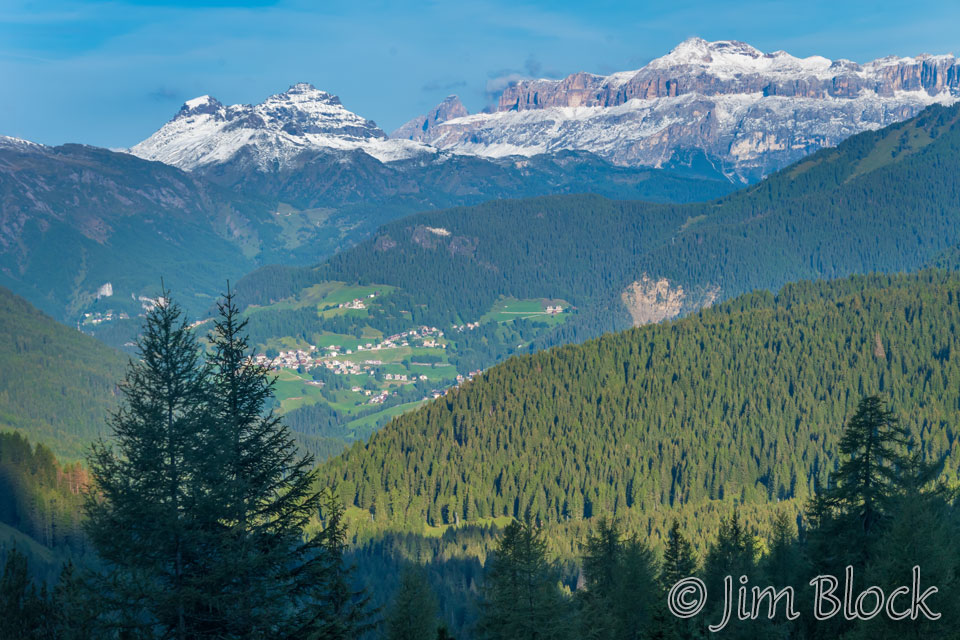 In spite of the fact that traces of frost could be seen, the temperature was quite pleasant.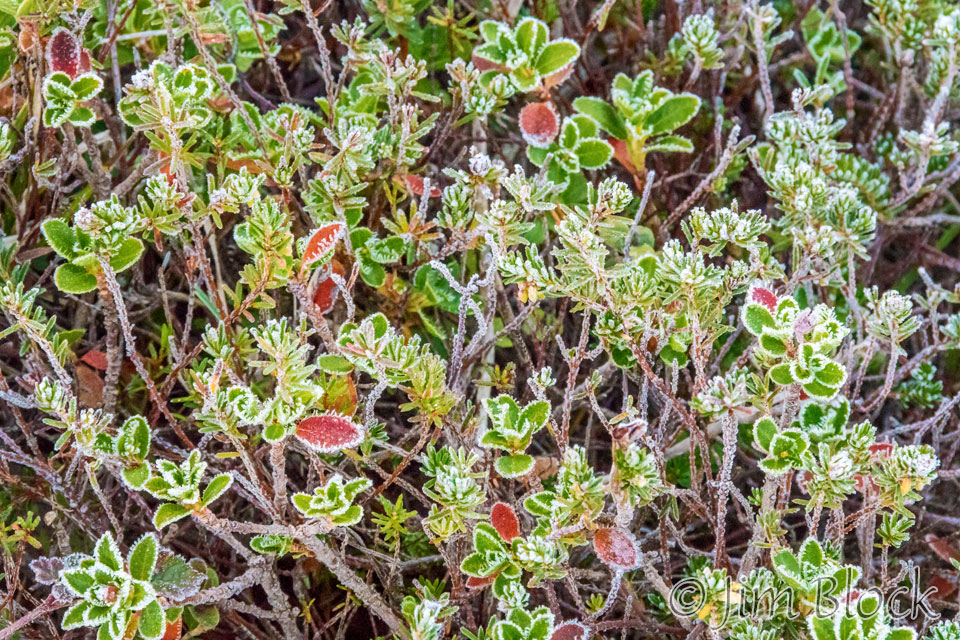 Below you can see a trail across a rather gentle scree slope.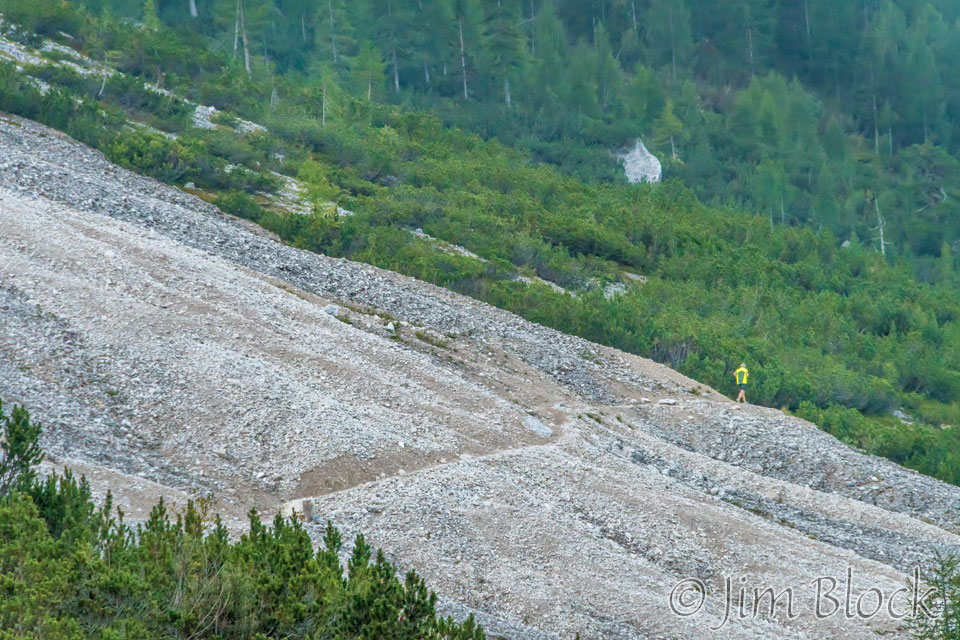 Jim, Tim, Violetta, and Martin were ahead of us when they crossed the next scree slope seen in the photo below left. On the right is a photo looking back toward the northeast with Stephen trailing a bit at this point.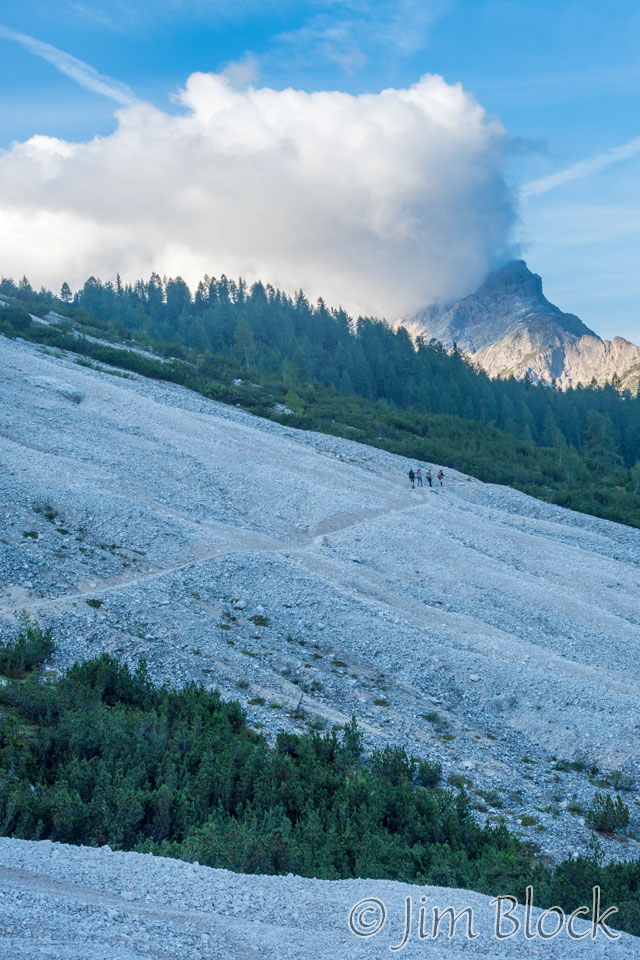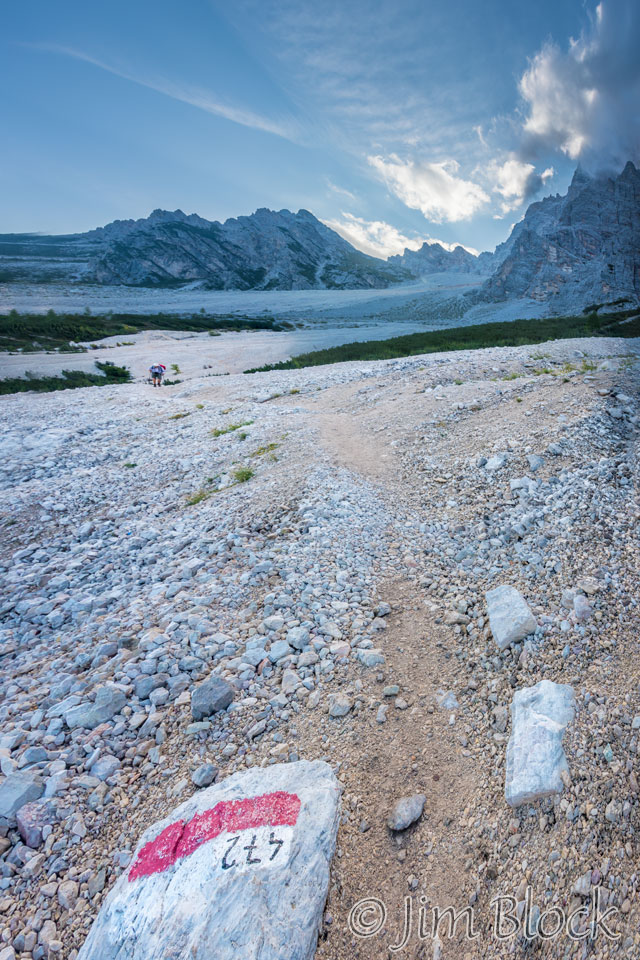 Below is a 5-photo panorama looking back northwest from along Path 472. In the background you can see the various mountains and features we hiked by the previous day. The mountains include Cernera, Lastoi massif, Croda da Lago, and La Rocheta. Crot is at the far left.
Below I have zoomed in on the right part of this scene to show Rifugio Citta′ di Fiume.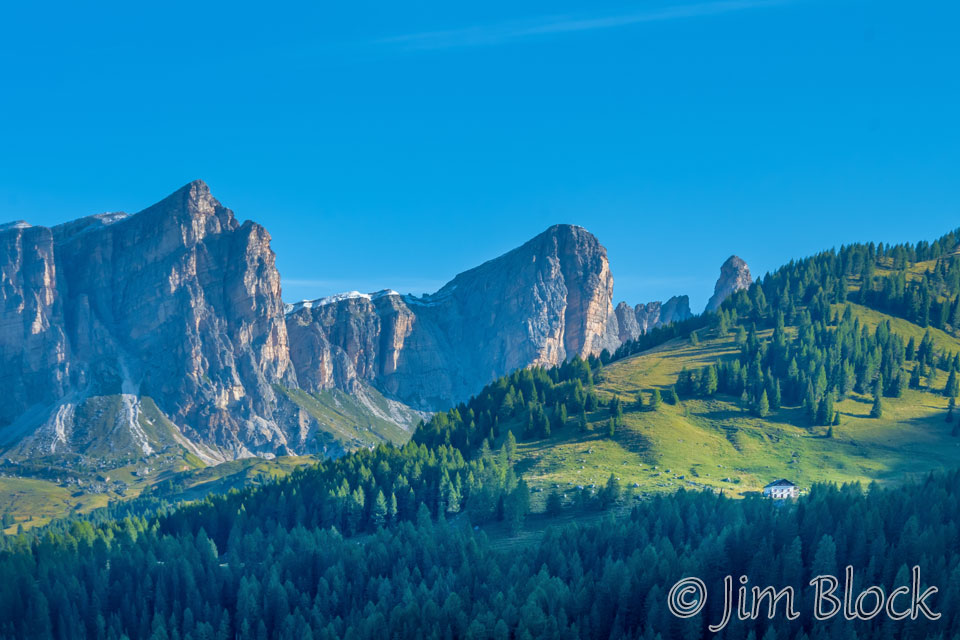 We emerged from the woods at Passo Staulanza. Below you can see Violetta, Stephen, and Tim with Monte Pelmo behind them.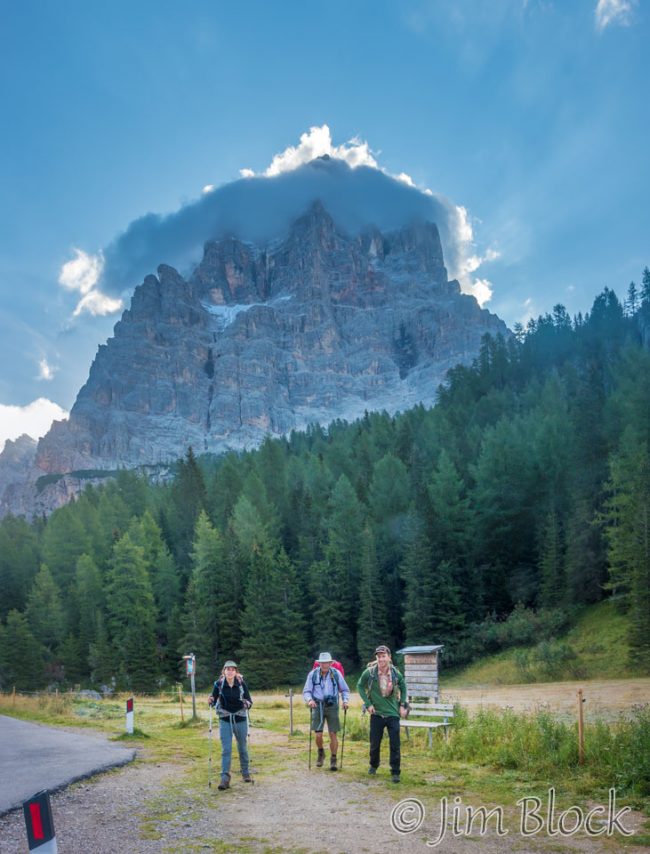 We took turns photographing each other with cell phones. The photo below of the "three white hats" was taken with my iPhone by Martin.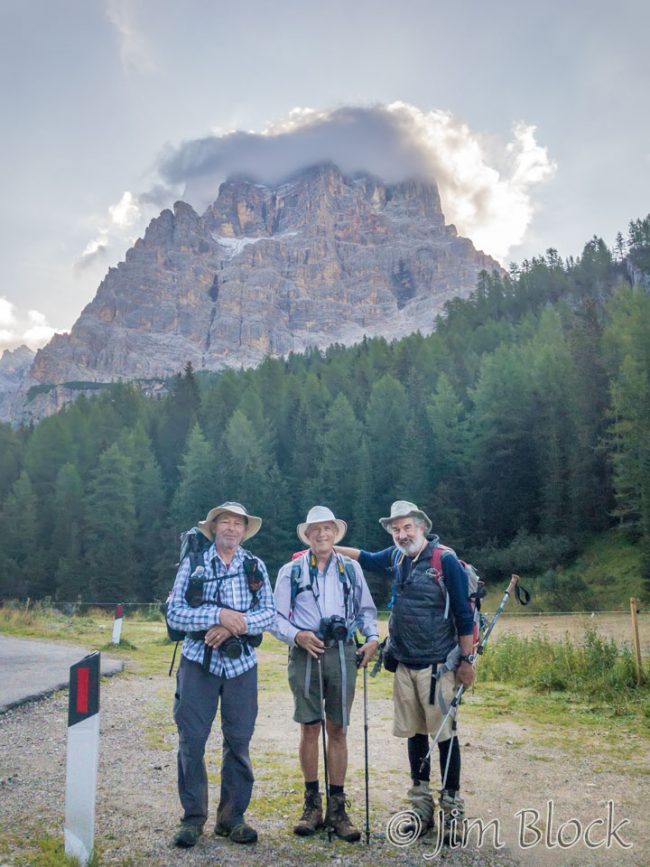 Two photos below were taken by Martin with his cell phone. Besides the beginnings of a scruffy beard on the person on the left (me), do you see anything amiss in these photos?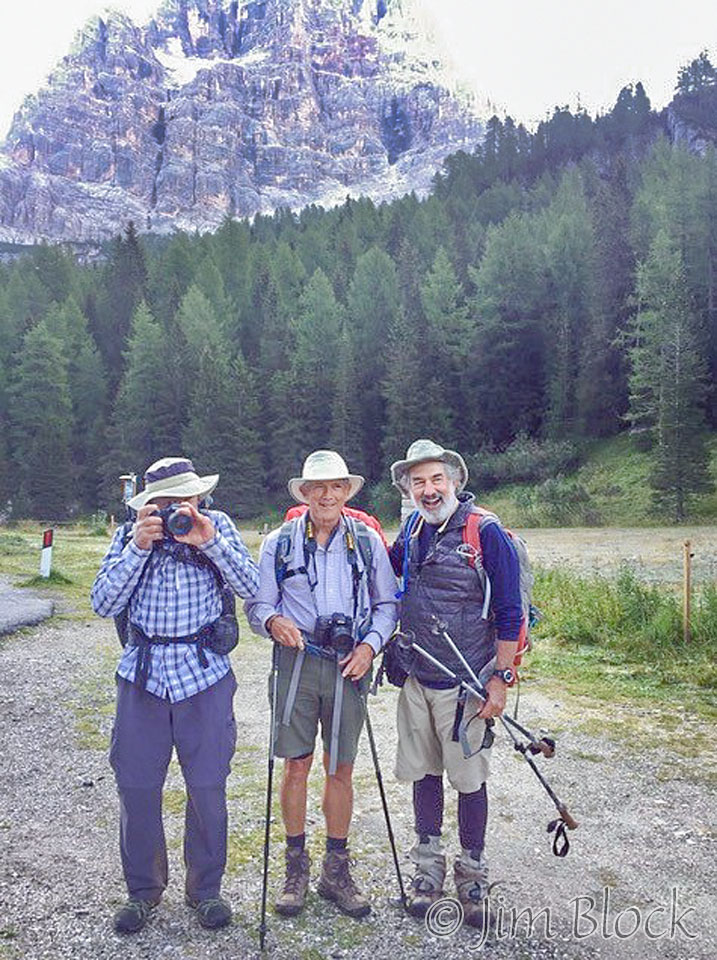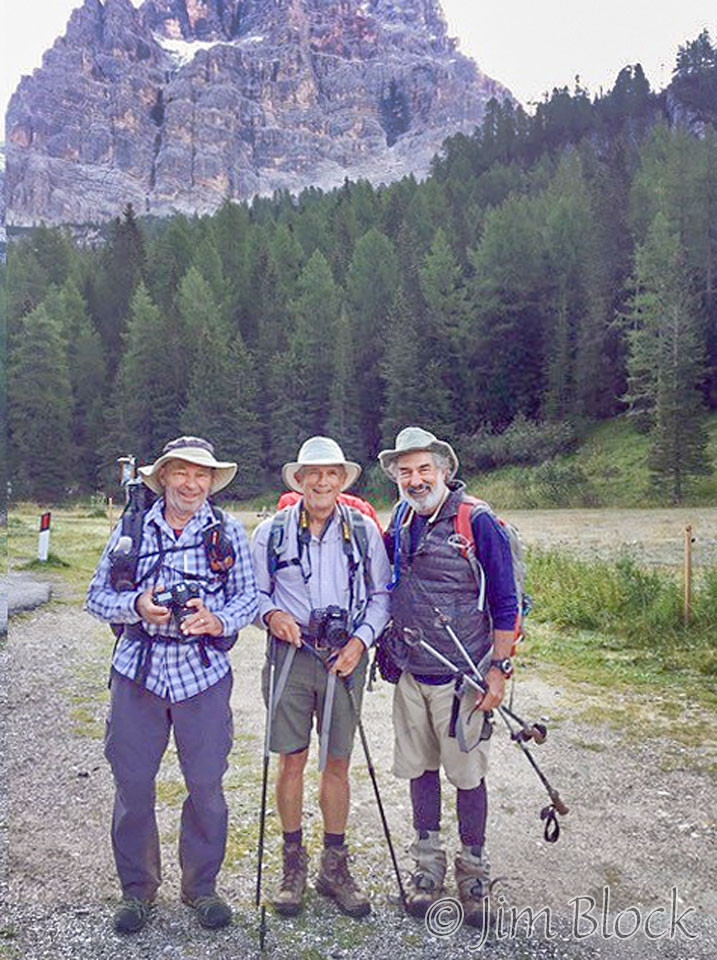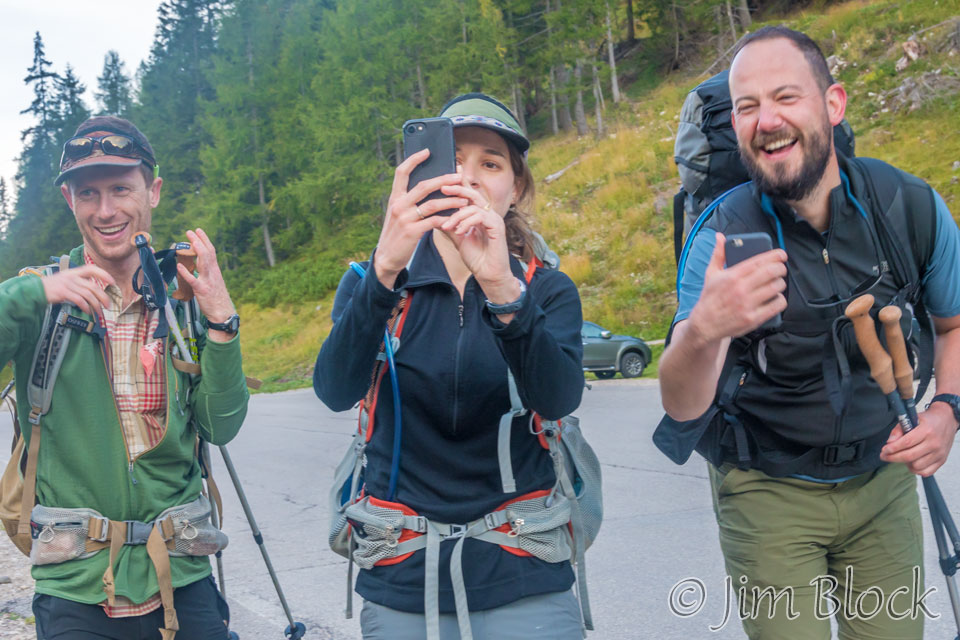 This is where Young joined us, and it's a good thing she did. We had about a kilometer walk down a paved road before we could pick up a more pastoral trail again. We got most of the way there when Young noticed I did not have my trekking poles. I had set them down near the steps up to the rifugio at Passo Staulanza and didn't see them when I came back down the stairs. So the group nicely waited for me as I hustled back to retrieve my poles.
Finally we turned off the road and got to a farm at C.ra Vesciva o Bela Mont. (Boy that is a mouthful.) We climbed above the farmhouse to pick up a rough trail.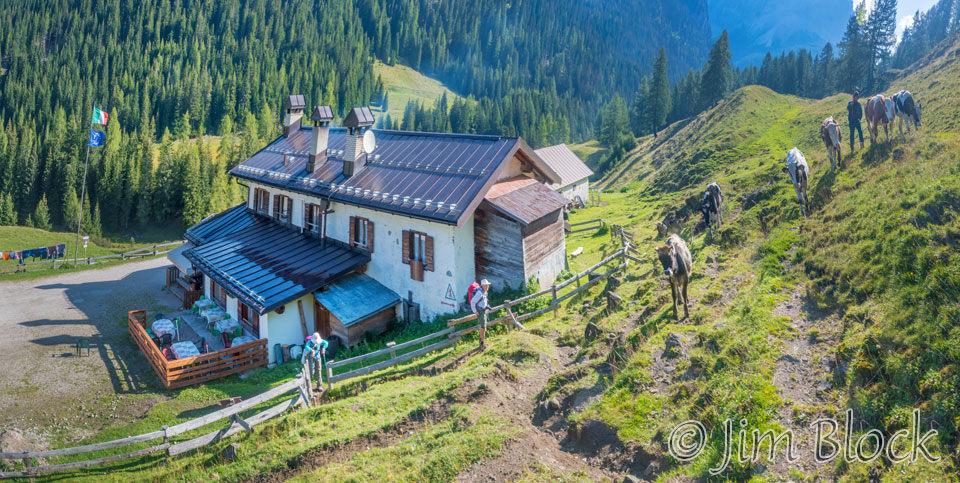 Some cattle followed us along the trail for a while.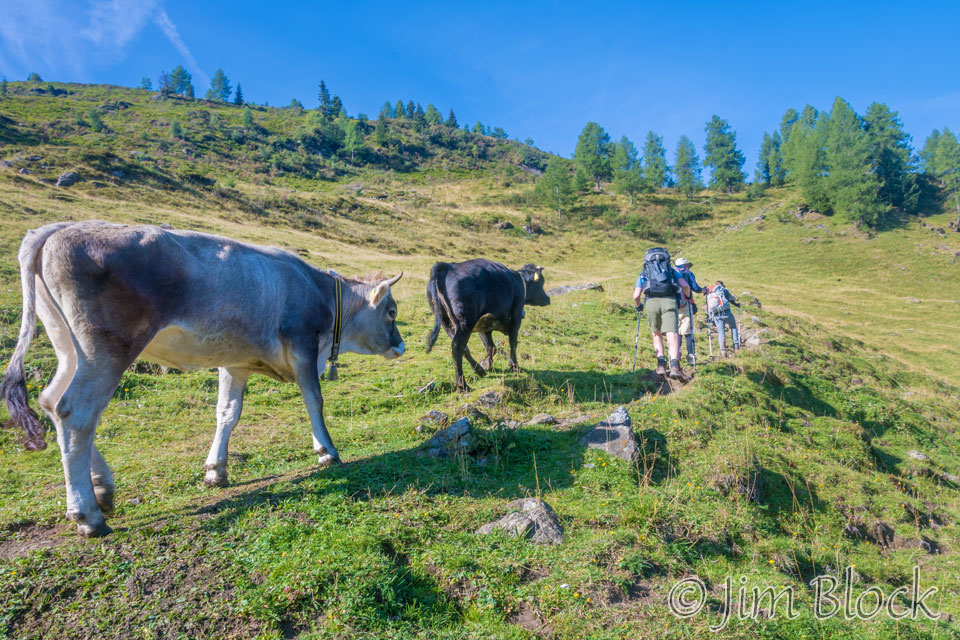 We reached a beautiful high valley where a couple of folks had obviously spent the night.

Below are some of the photos I took as we crossed this valley.
We continued on passing under some snow fences.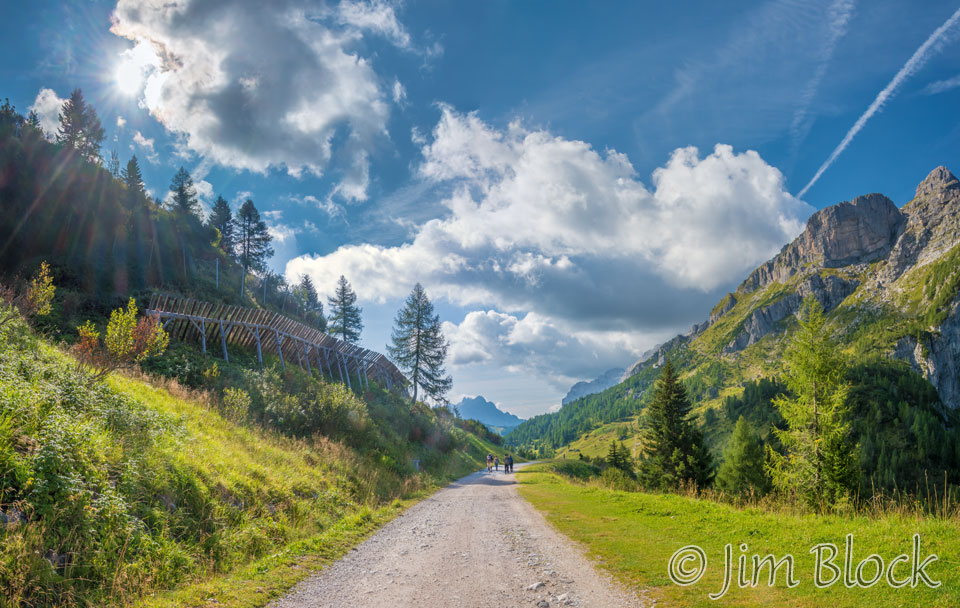 The light, clouds, and scenery were quite nice as we headed down to the junction near Col Marin.
As we dropped down to C.ra di Pioda, we could see sheep in the distance. They were grazing on a ski slope with some snowmaking guns on each side.
We climbed above C.ra di Pioda and stopped for a brief rest.
Looking back at C.ra di Pioda we could see Monte Pelmo in the distance. We could also see a large group of teenagers heading up the trail toward us. For the next few hours they would alternately pass us and then stop and then pass us again. At times the trail got pretty crowded. They seem to be having a lot of fun but were somewhat loud and, of course, speaking Italian.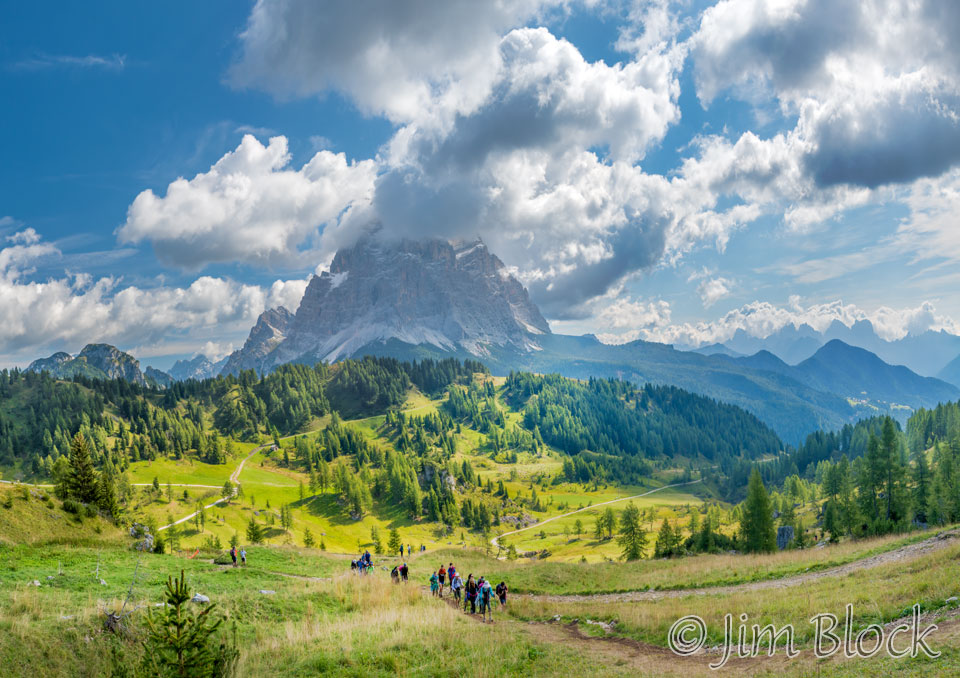 As we climb above C.ra di Pioda, I made a number of large panoramas ranging between 10 and 17 photos per image. Here are four views looking back down into the valley.
As we climbed higher we got a view down to Val di Zoldo.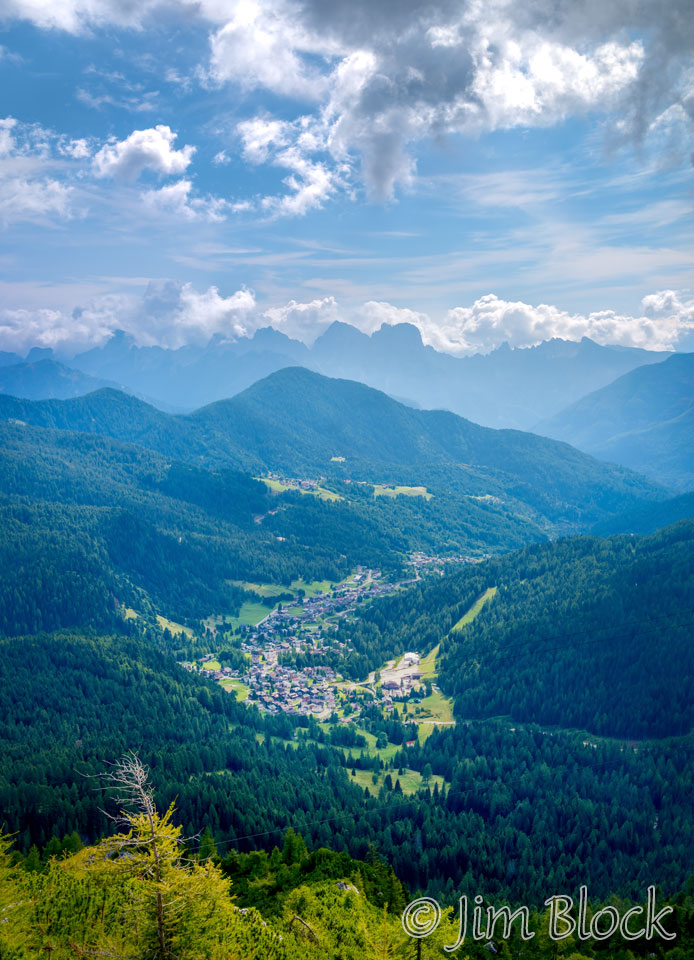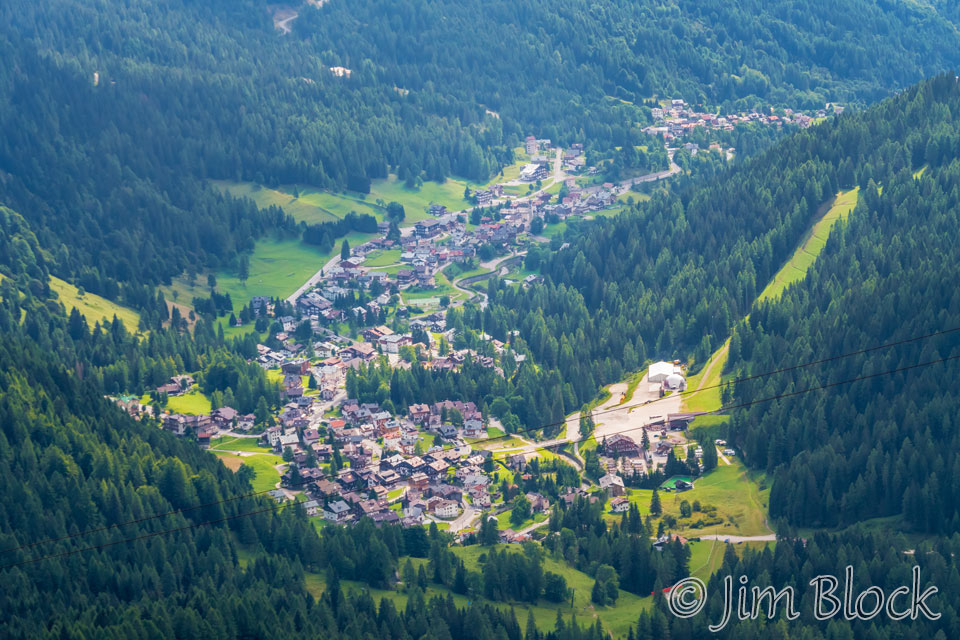 We were climbing toward Rifugio Coldai.
Here is the rifugio in a beautiful setting.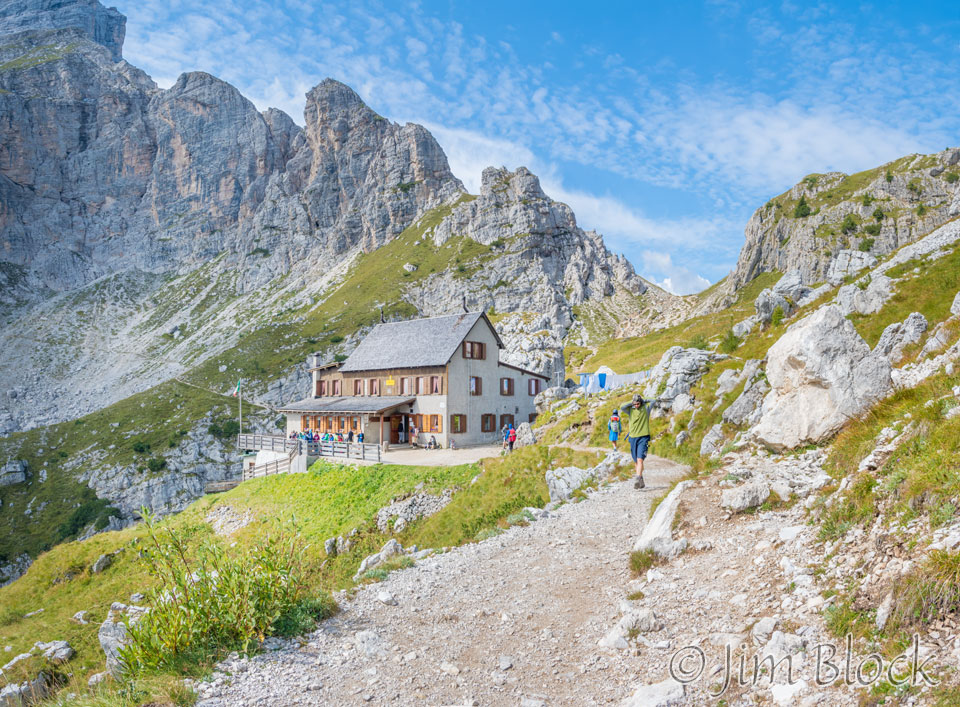 Stephen treated himself to a hot chocolate.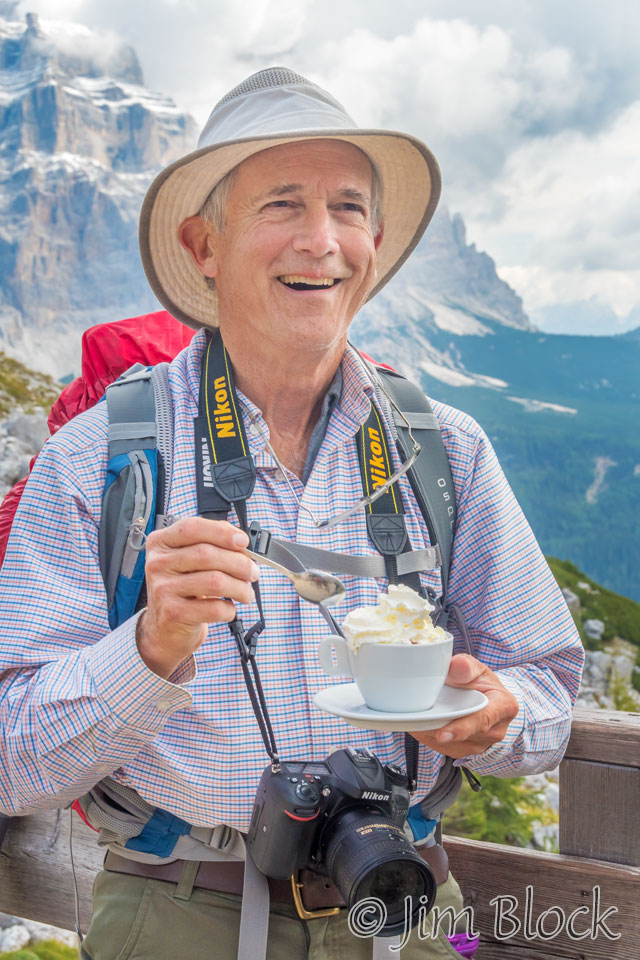 Rifugio Coldai had some wash on a line out back.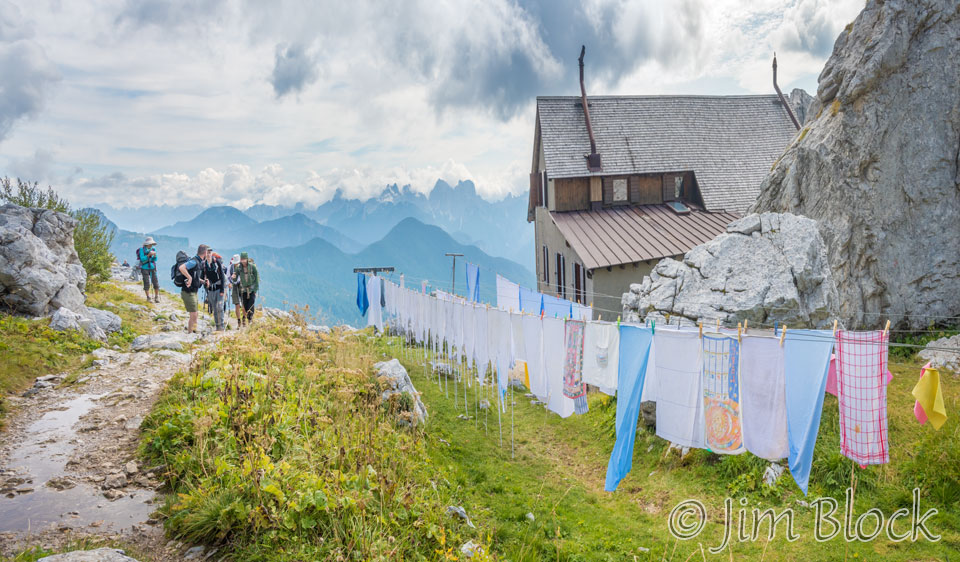 In addition to the teenagers, we encountered a group of German hikers. We would see them at various places between here and Rifugio Vazzoler where they were also going to spend the night. Here they are hiking up to Forcella Coldai.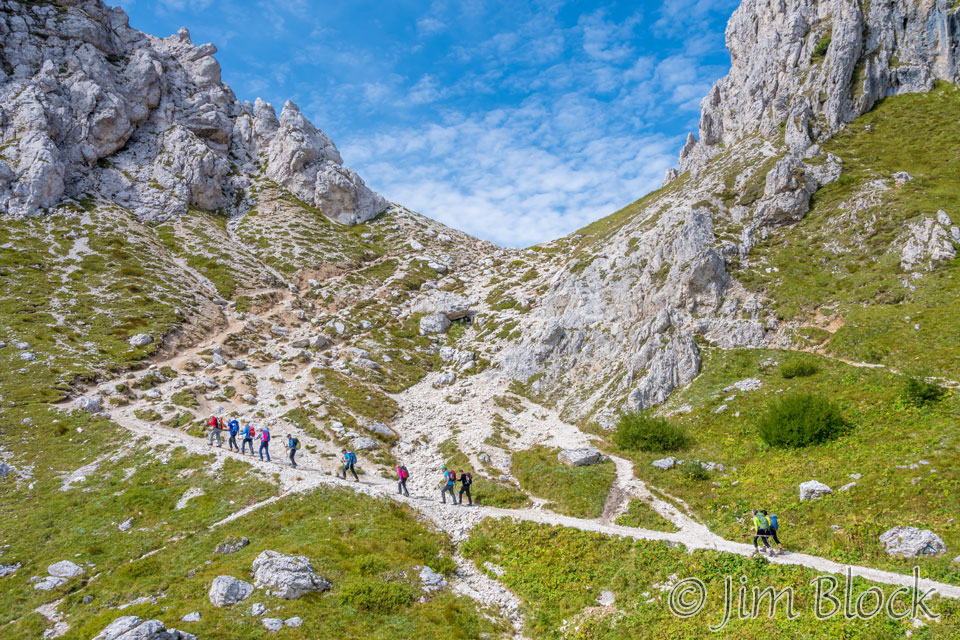 When we reached the forcella we were presented with a view down to a beautiful lake, Lago Coldai, to the west below us.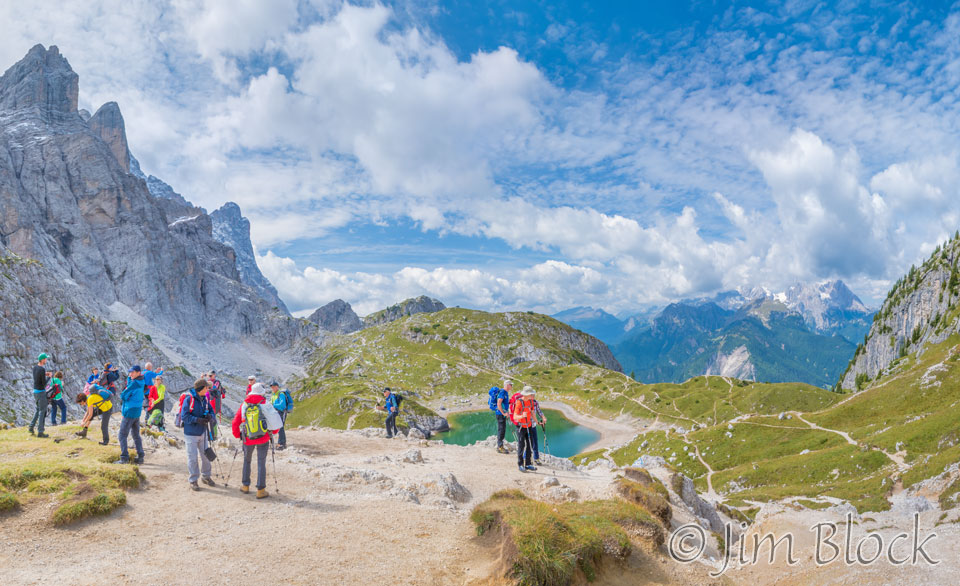 I hustled to get ahead of the Germans and the teenagers in order to get a couple of photos of the lake unencumbered by crowds.
A nun was hiking these trails also. She was not with either the Germans or the teenagers.
I got a photo of Young above the lake.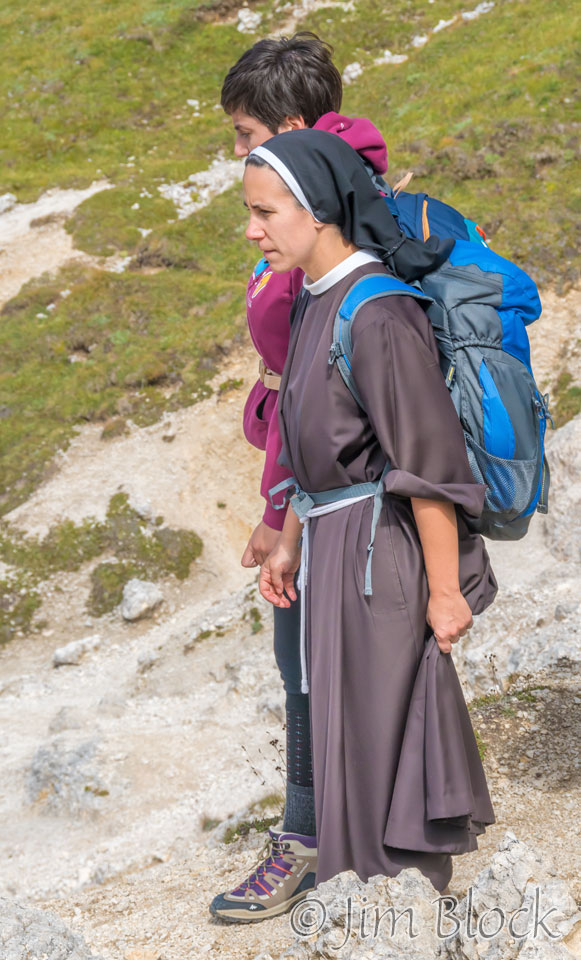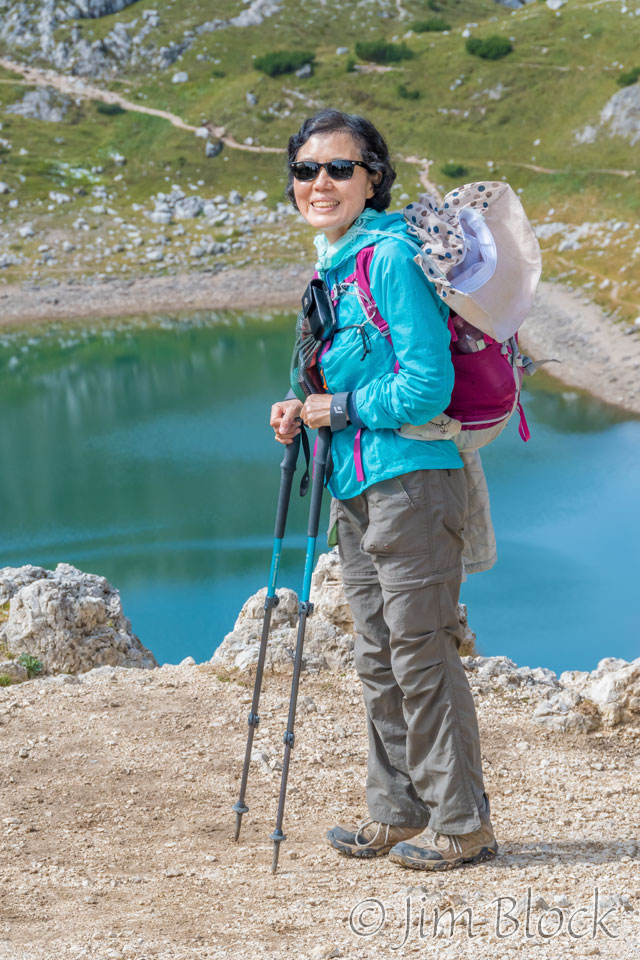 In the photo below you can see lines of people heading down toward the Lago Coldai.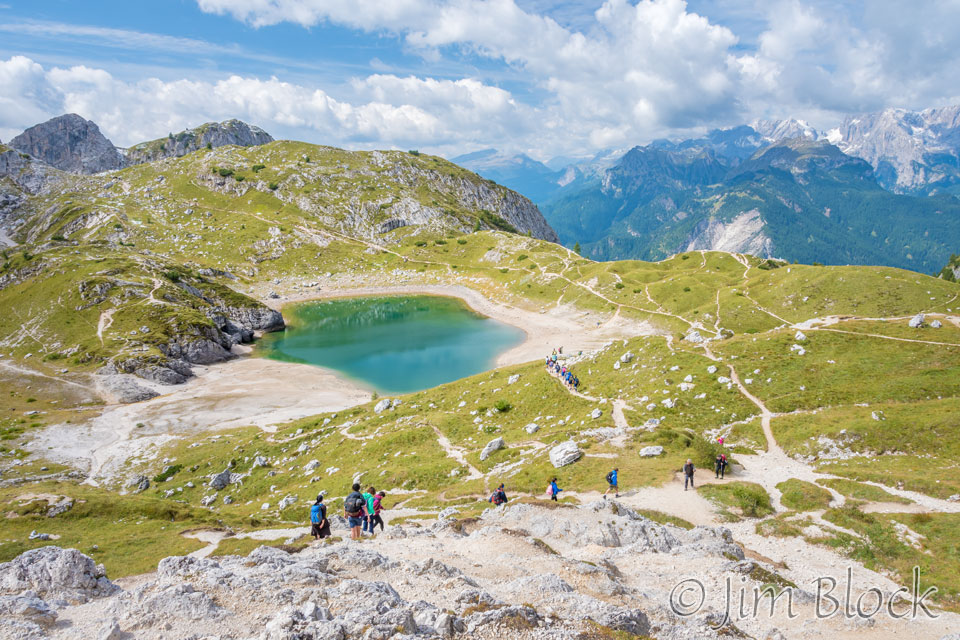 The trail looped around the lake. Here is Lago Coldai with Civetta in the background. We would walk along the west side of Civetta the rest of the day.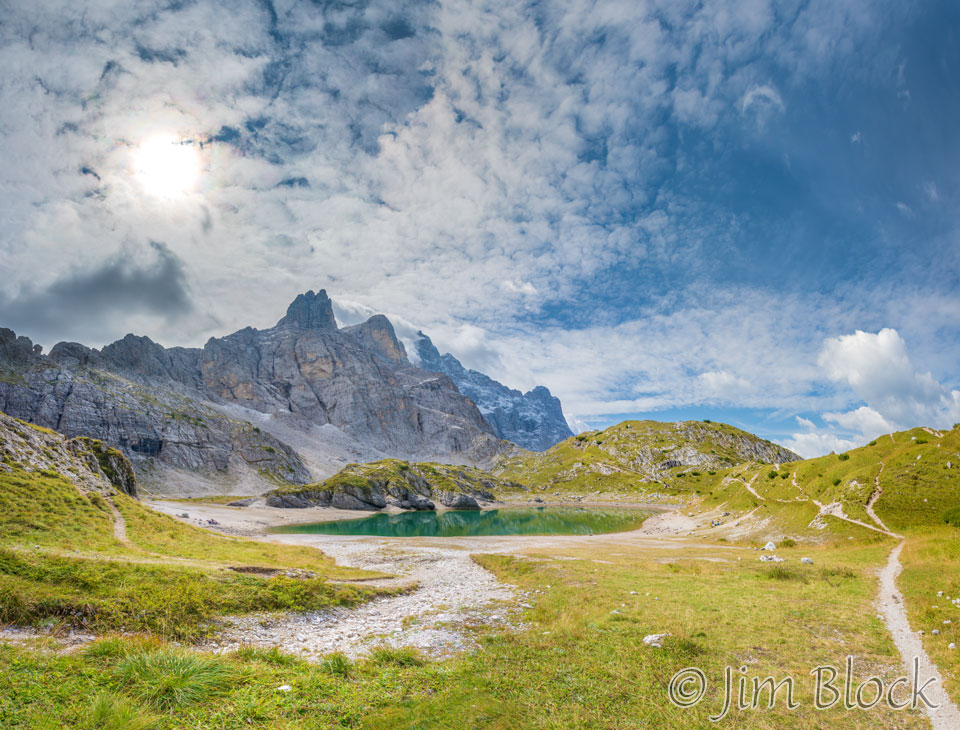 Near this point and a bit off to the side was a spectacular view down to the town of Alleghe and Lago Alleghe. Stephen knew about it and alerted me to not miss the viewpoint.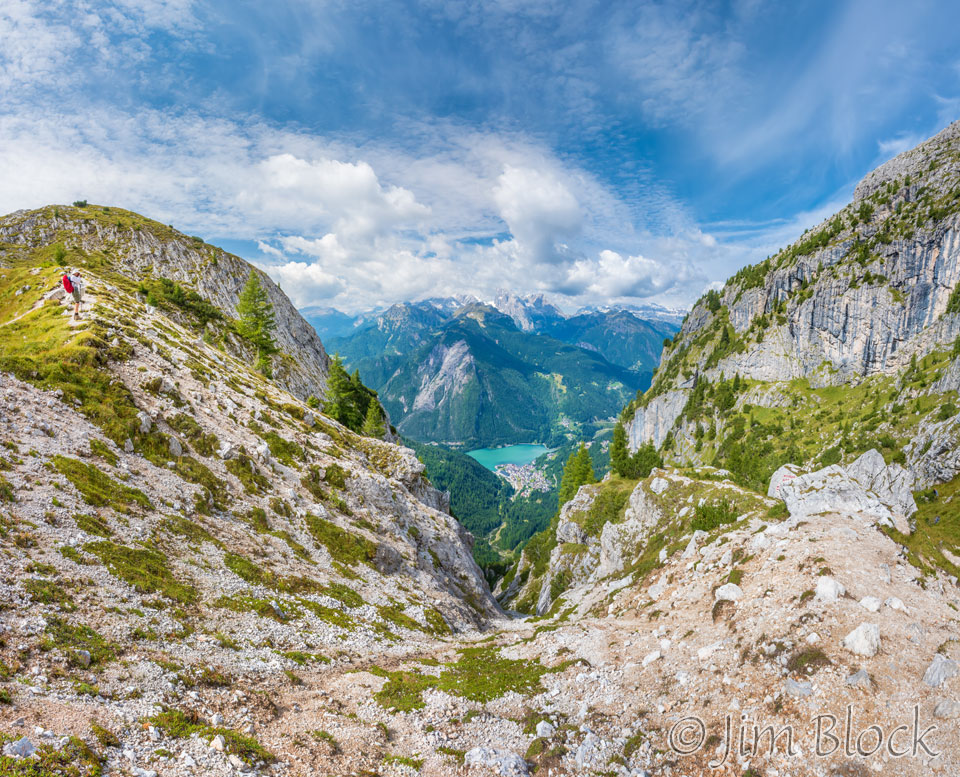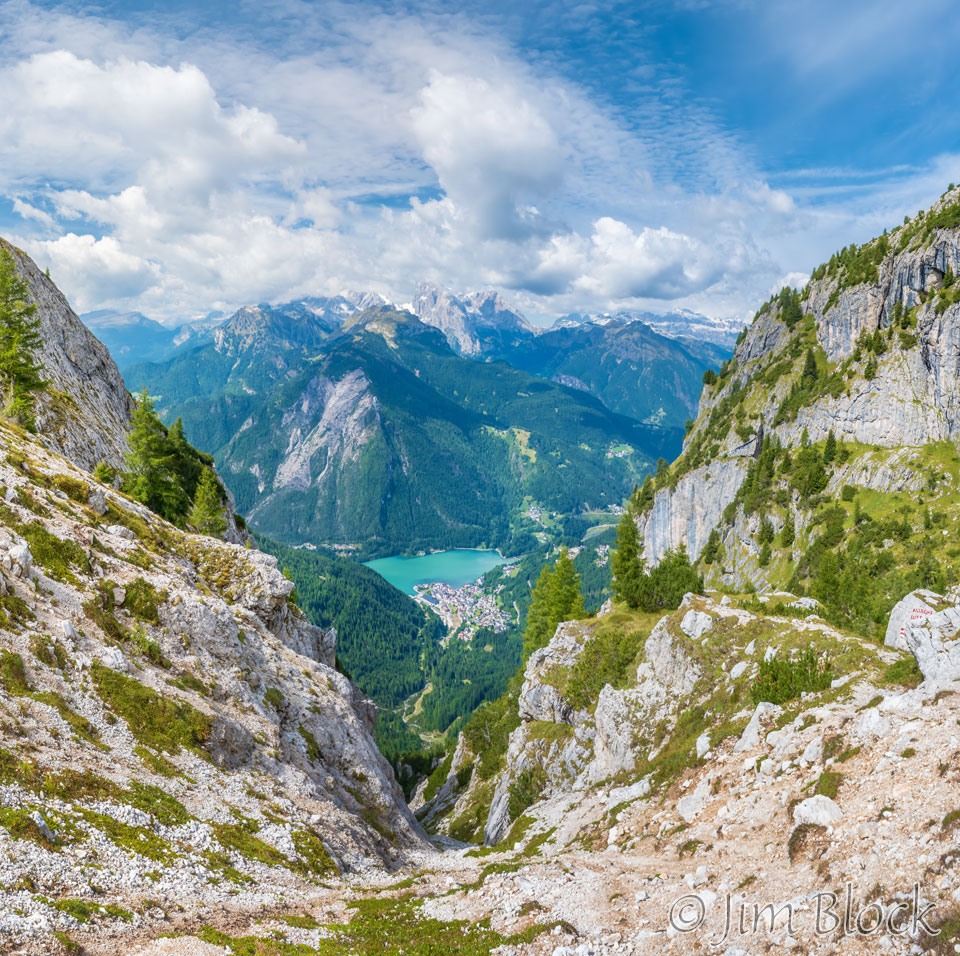 We did not go closer than this to the lake.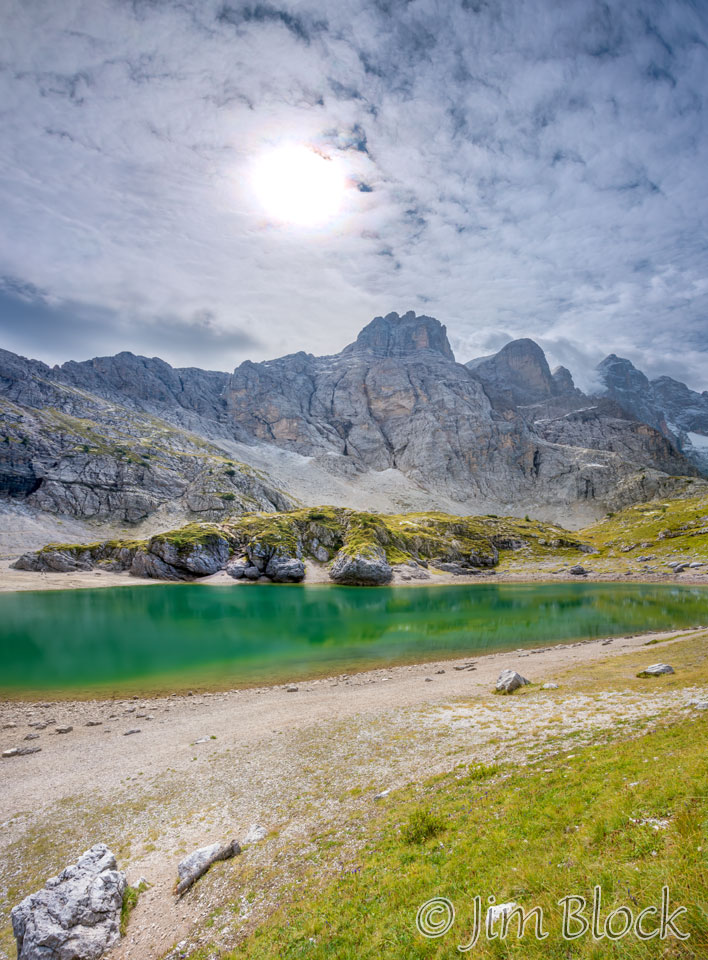 But Tim and Violetta certainly did. They knew about Lago Coldai in advance and came well prepared as can be seen in the slideshow below. Martin went down with them to photograph their swim. They were spending the night at Rifugio Tissi which was a few hours short of our destination. So they had some extra time.
We looped around the lake and I got this view looking back. The beach from where Tim and Violetta swam is around the bluff at the back right.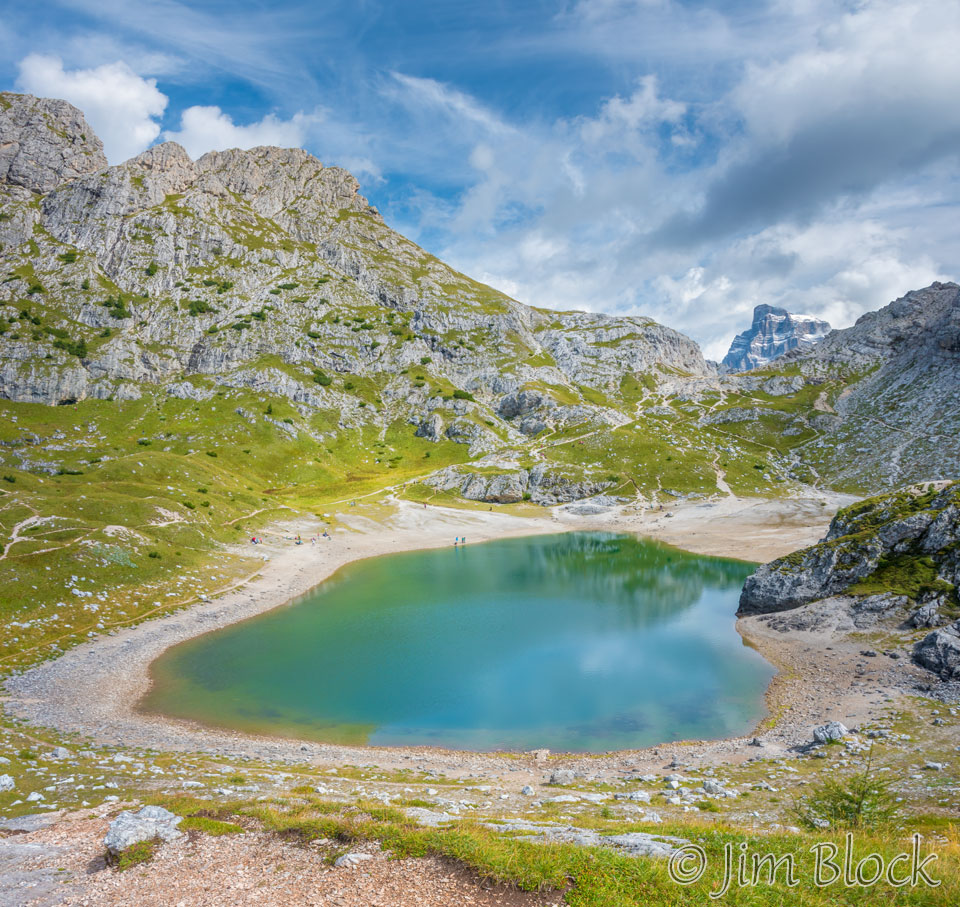 We headed up to Col Negro di Coldai. Here is Stephen with Civetta in the background below the sun. If you look carefully you can see some iridescence clouds around the sun.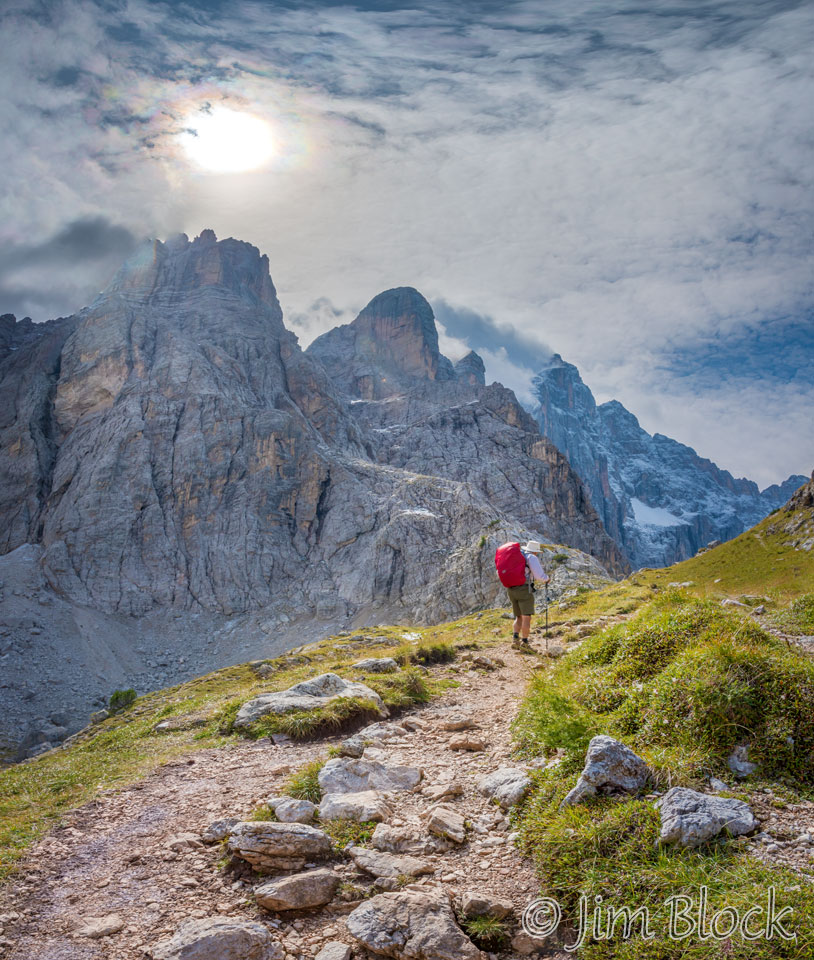 As we continued on, the cloud iridescence became more dramatic.
Iridescent clouds are a diffraction phenomenon caused by small water droplets or small ice crystals individually scattering light. The colors are usually pastel pinks, greens, and blues arranged in smudges or orderly bands, especially at the clouds' edges. The colors can sometimes be very vivid as they were here.
We would be walking Path 560 all the way to Rifugio Vazzoler. We had left three of our group at Lago Cordia, and Jim was way ahead of us at this point. Stephen, Young, and I walked together the rest of the day.
Here are some photos along Path 560. In some of them you can see a faint bit of cloud iridescence.
The 24-photo panorama below shows Civetta on the left below the sun. Near the center of the image but very small, one can see a dramatic peak. Near the top of this peak is Rifugio Tissi.
We could see Rifugio Tissi in the far distance, and it looked like a fantastic place to spend the night for a photographer. Below shows our path up to the turn-off for Rifugio Tissi at Forcella di Col Rean.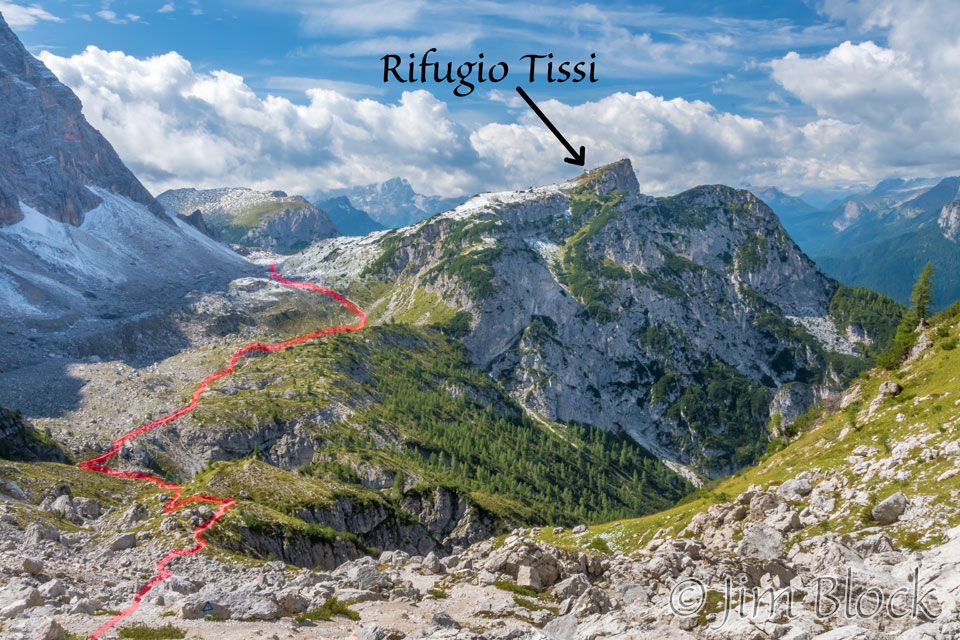 Once I saw how fantastic a location Rifugio Tissi had, I very much wanted to stay there. I didn't care whether the food was any good or the beds were lumpy. I just knew it would be a fantastic place for sunsets.
But, alas, we had not been booked into Rifugio Tissi. Tim and Violetta knew about it in advance and had made reservations there. I believe Martin also spent the night there.
I made a 13-photo panorama with Rifugio Tissi at the top left still ahead of us and a part of Lago Alleghe showing in the valley far below. On the right is my shadow and the shadow of Young.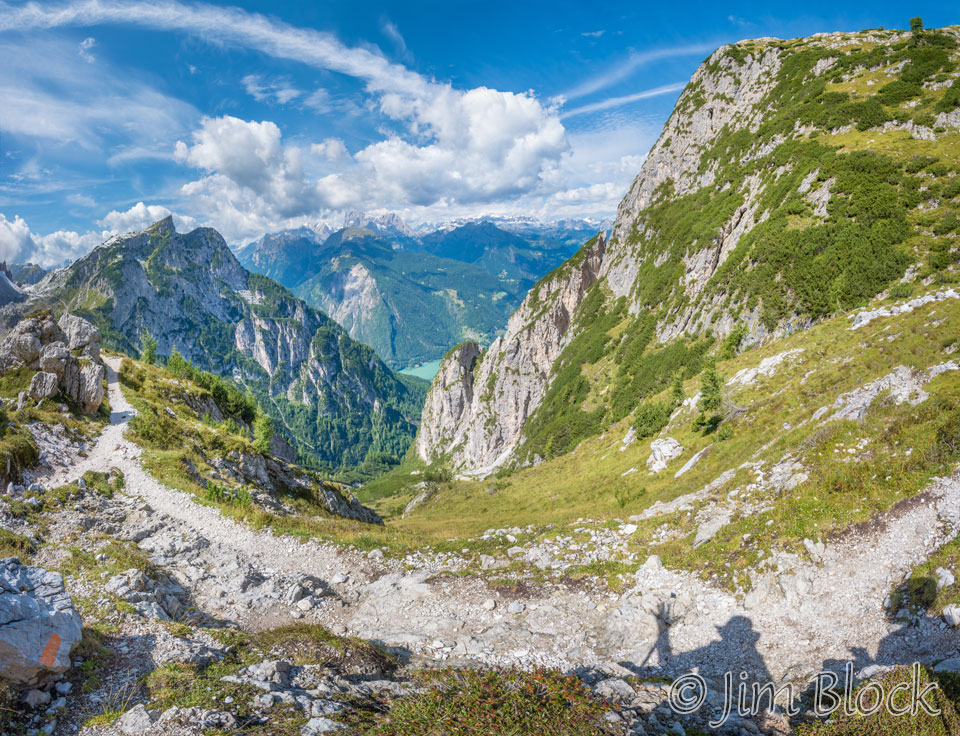 Here are other views of Lago Alleghe, and a photo of Young posing with the lake in the background.
The clouds this day were sometimes dramatic. We were still approaching Rifugio Tissi at this point. It is at the left in this image. The path we have traveled down is at the right. This is a very wide view composed of 28 individual photos.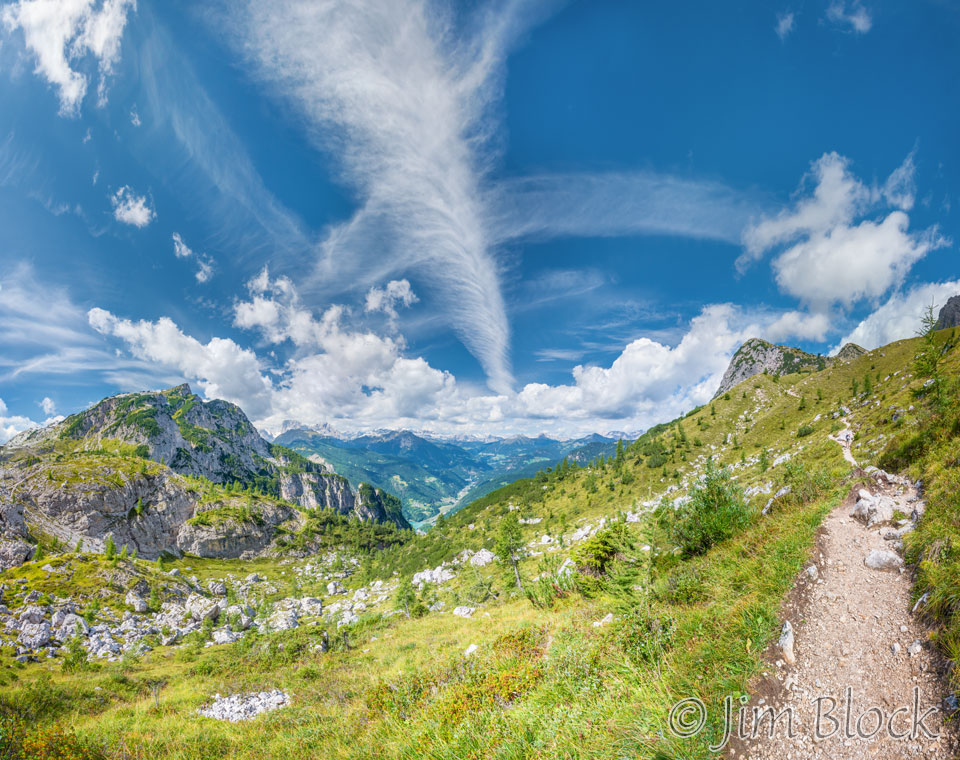 The group of Germans passed us. They did tend to hike in a closely packed group.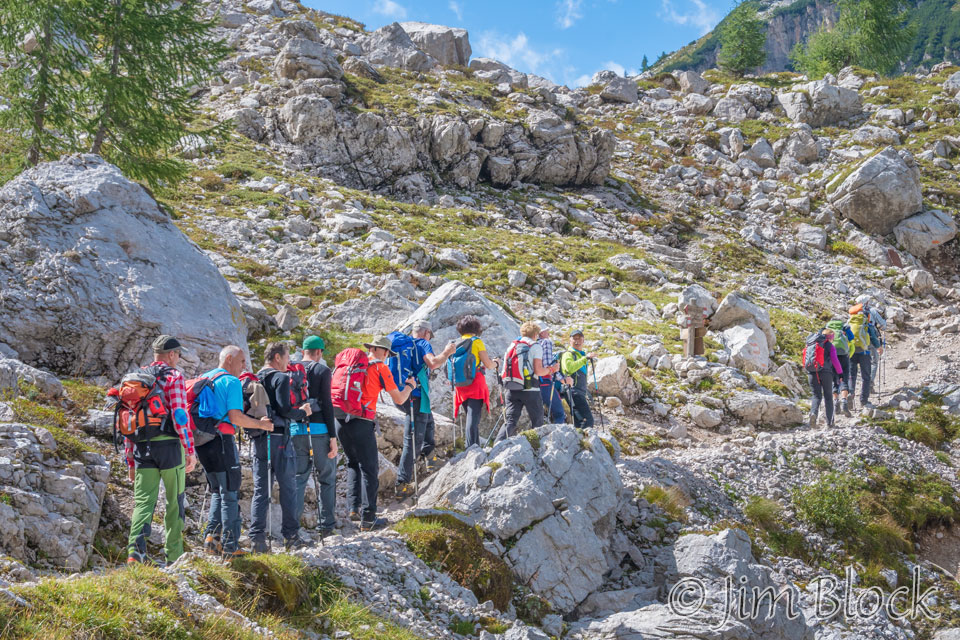 In the distance I spotted a strange dead tree. I thought it made an interesting counterpoint to some of the spires of Civetta.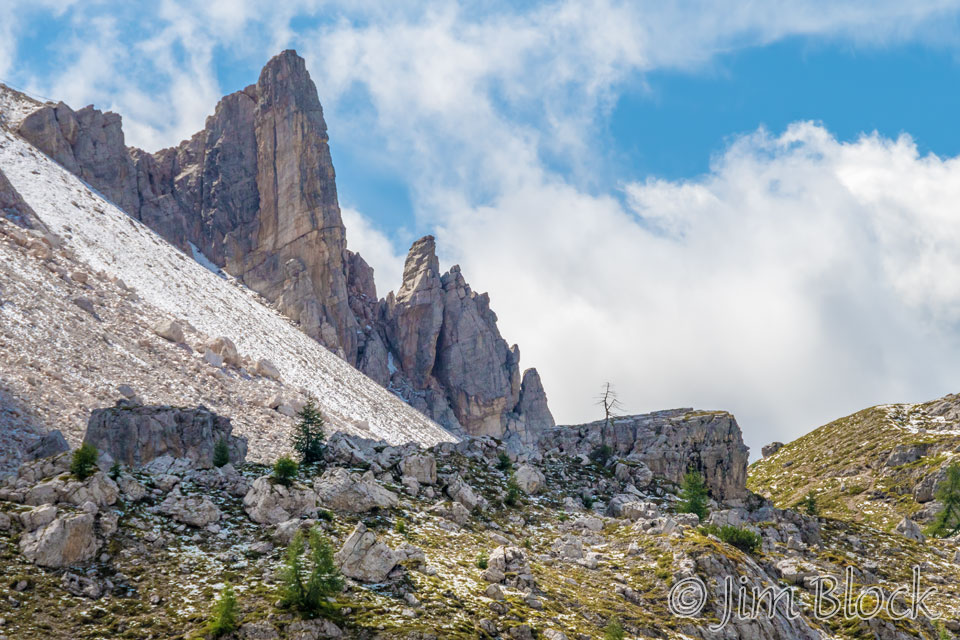 We came upon what we believe is a memorial to a climber who lost his life in this area.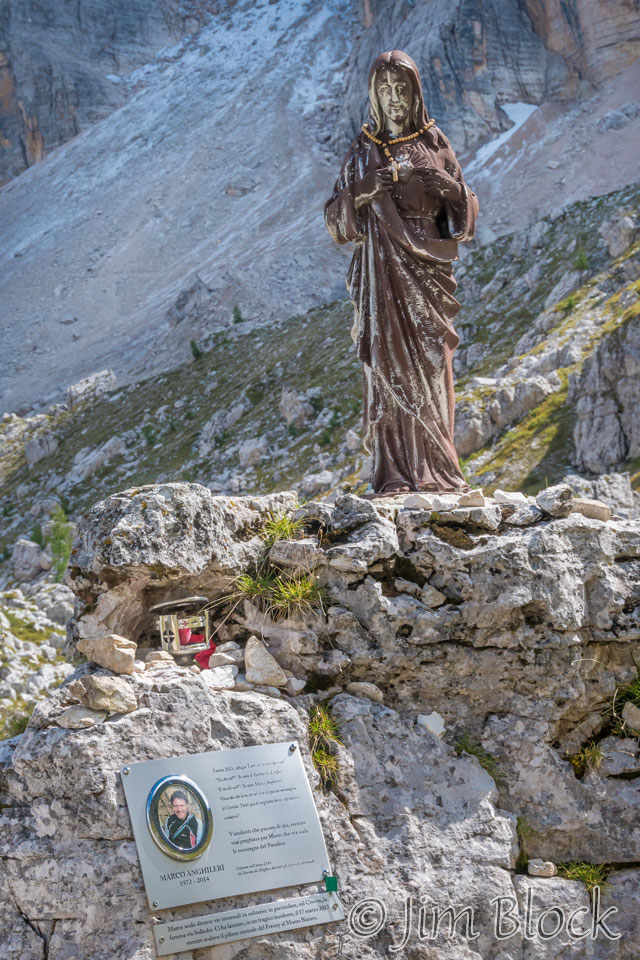 We continued on finally reaching Forcella di Col Rean.
Beyond the forcella was an unusual sculpture which appeared to be a tribute to a climber. I think that is a broken ice ax in the circle.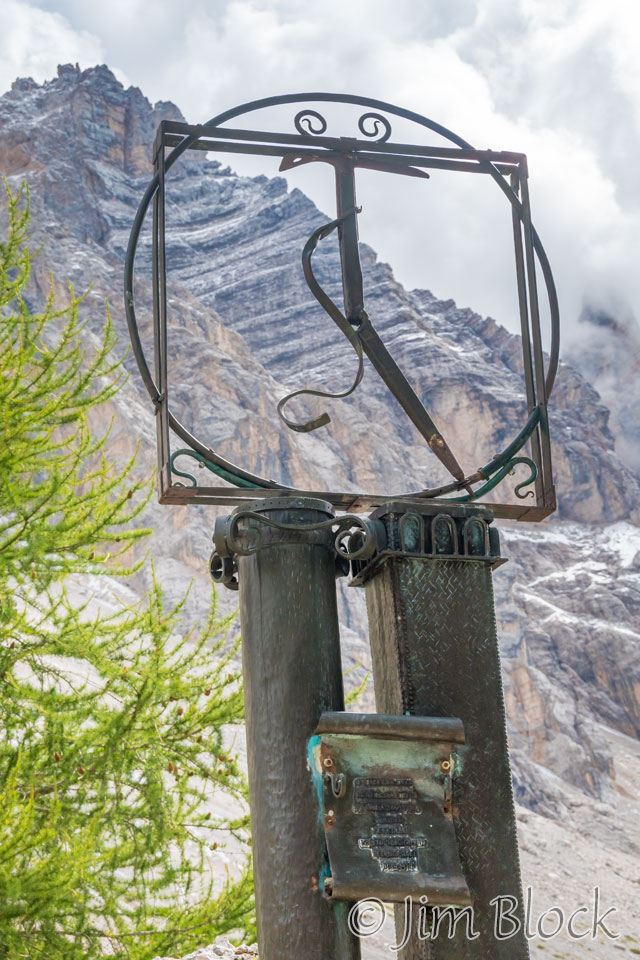 We were seeing many trees which appeared to be Tamarack or Eastern Larch. In fact they were a close relative — European Larch. Larch is an interesting species of conifer in that it loses all of its needles each fall in a blaze of gold.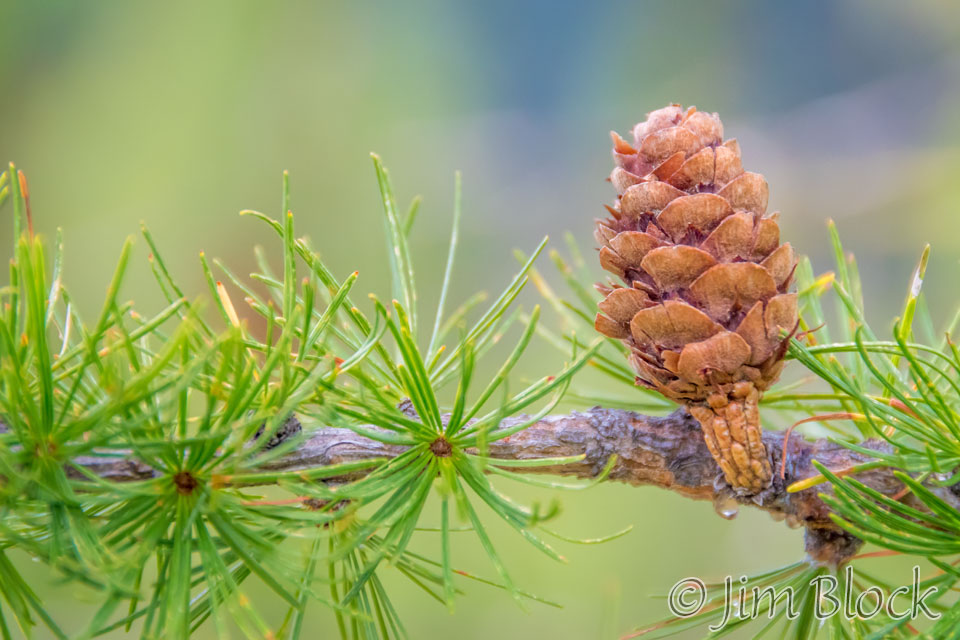 The light show in the sky continued. I made a panorama of the Civetta massif and noticed a small sun dog near the top right as I was shooting it.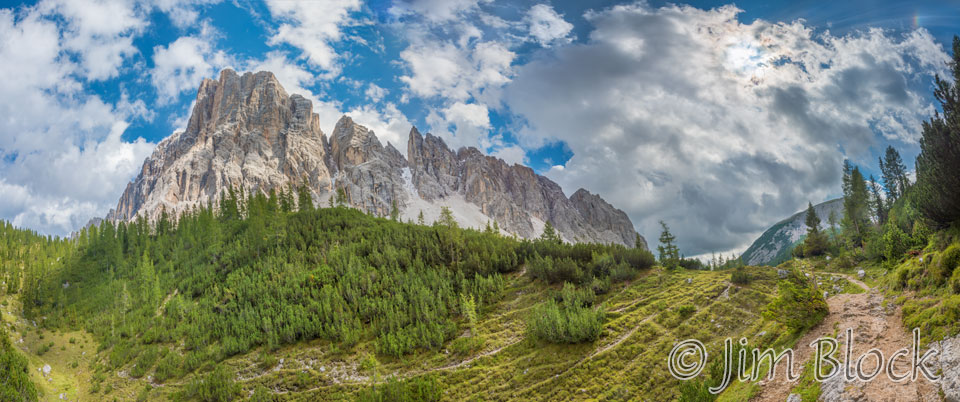 Below is a cropped version of the panorama above. You can better see the sun dog in the top right corner of the photo.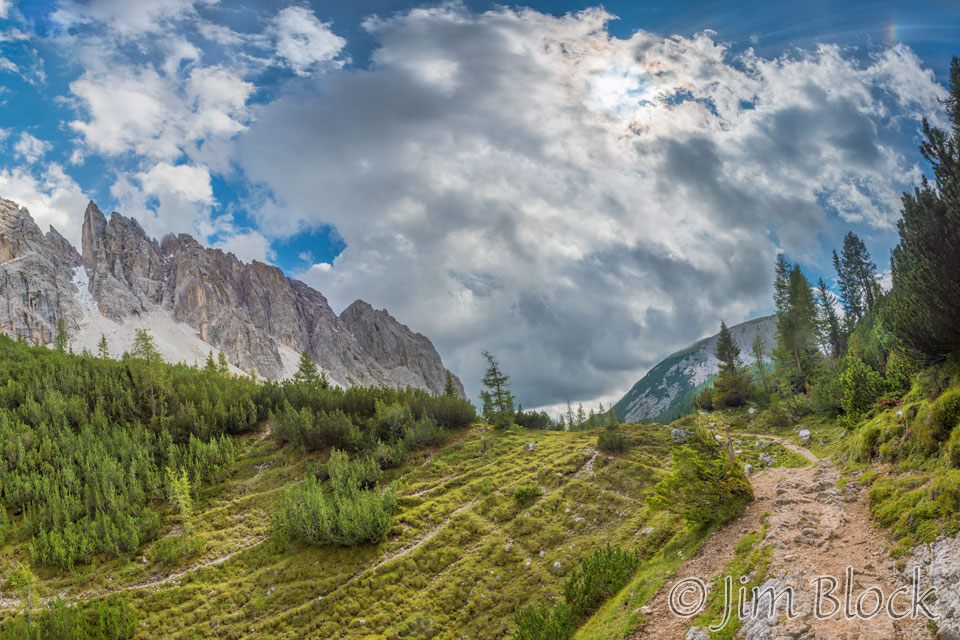 Below I have zoomed in to the sun dog so you can see this colorful phenomena. A sun dog is a "parhelion," a colored, luminous spot on either or both sides of the sun formed by refraction through hexagonal ice crystal plates falling with their long axes vertical.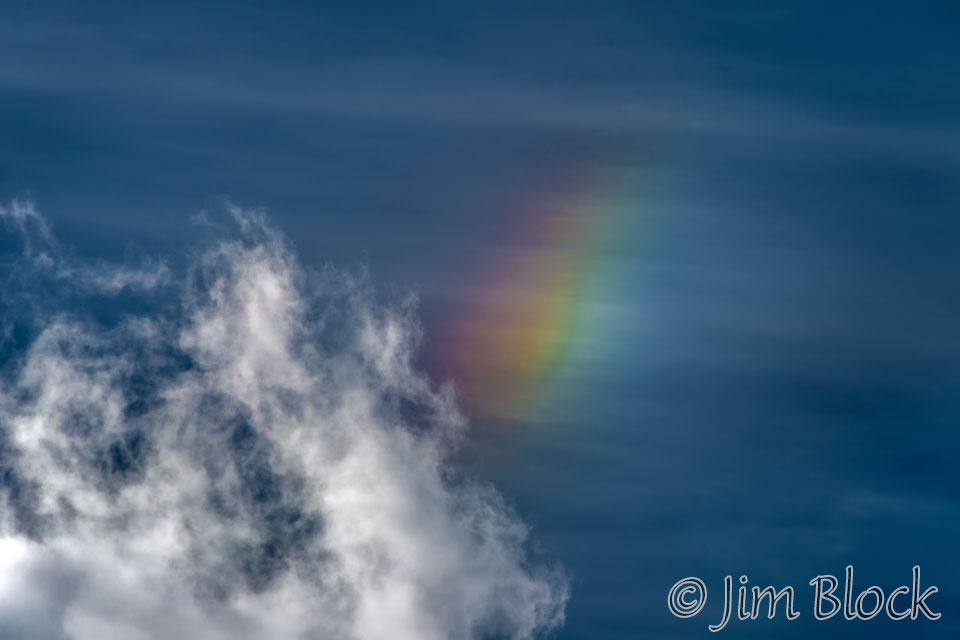 We reached an area with collapsed buildings called Cason di Col Rean. Here is Stephen descending into this small valley.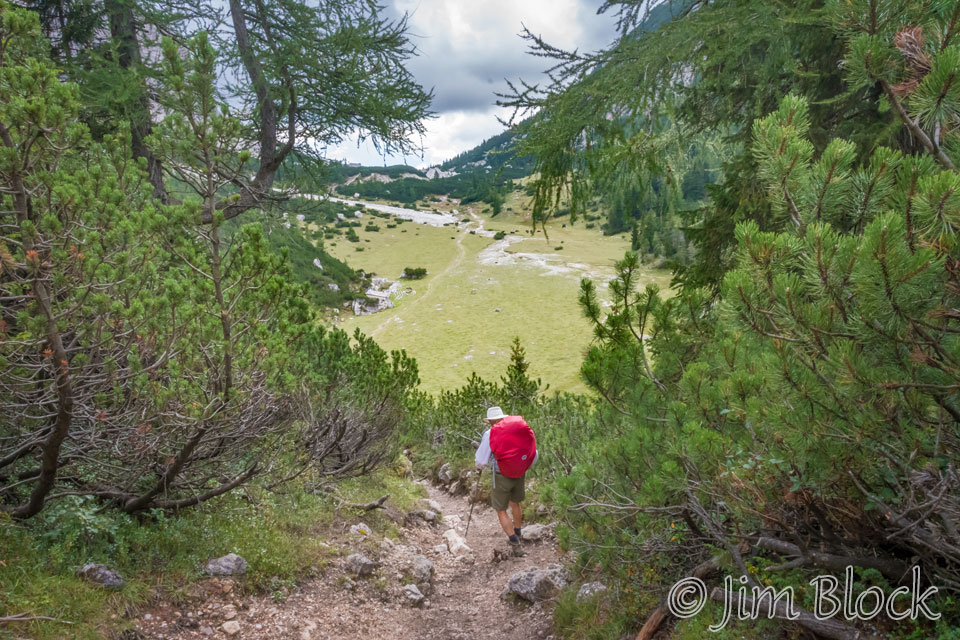 You can see the collapsed buildings below Civetta as Stephen and Young crossed in front of them.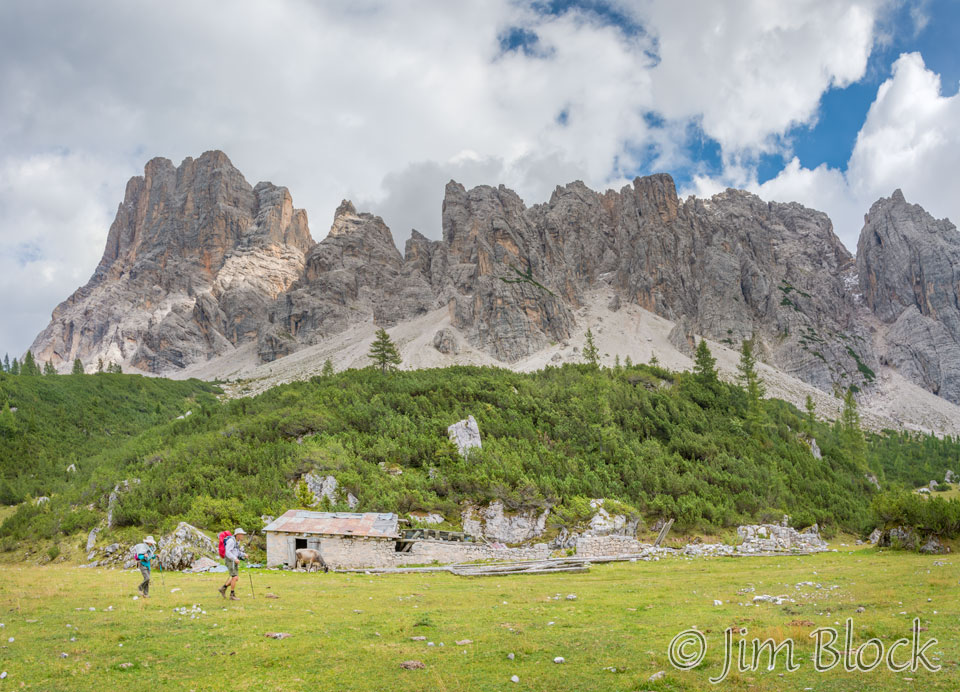 From this spot we got a view back toward Rifugio Tissi.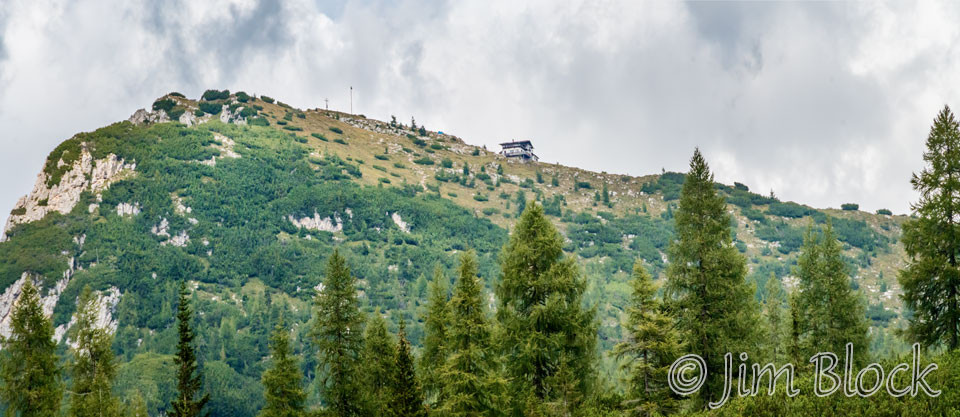 We exited this area through a gate.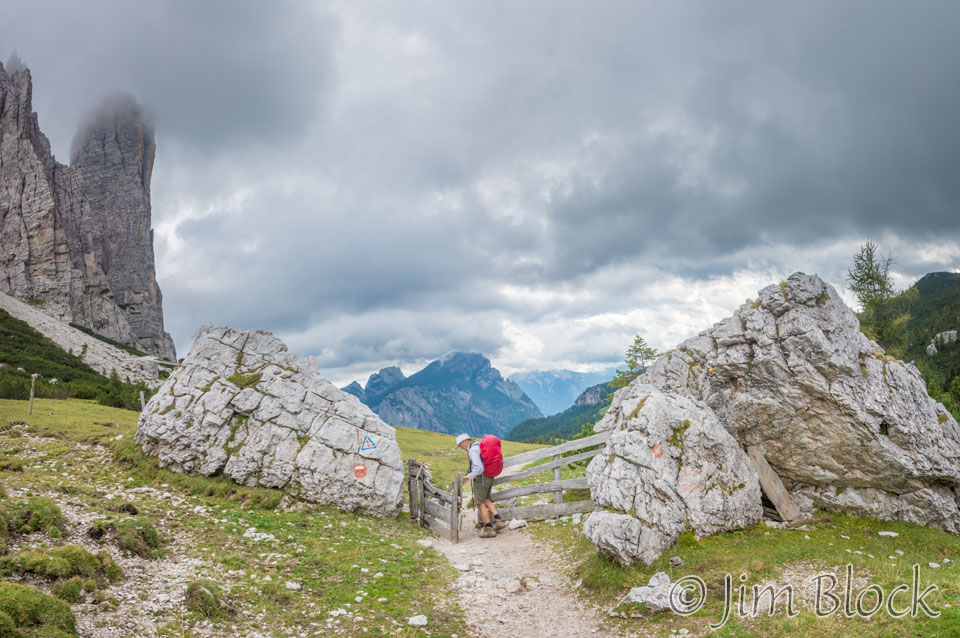 To our left were the Torre Venezia spires on Civetta.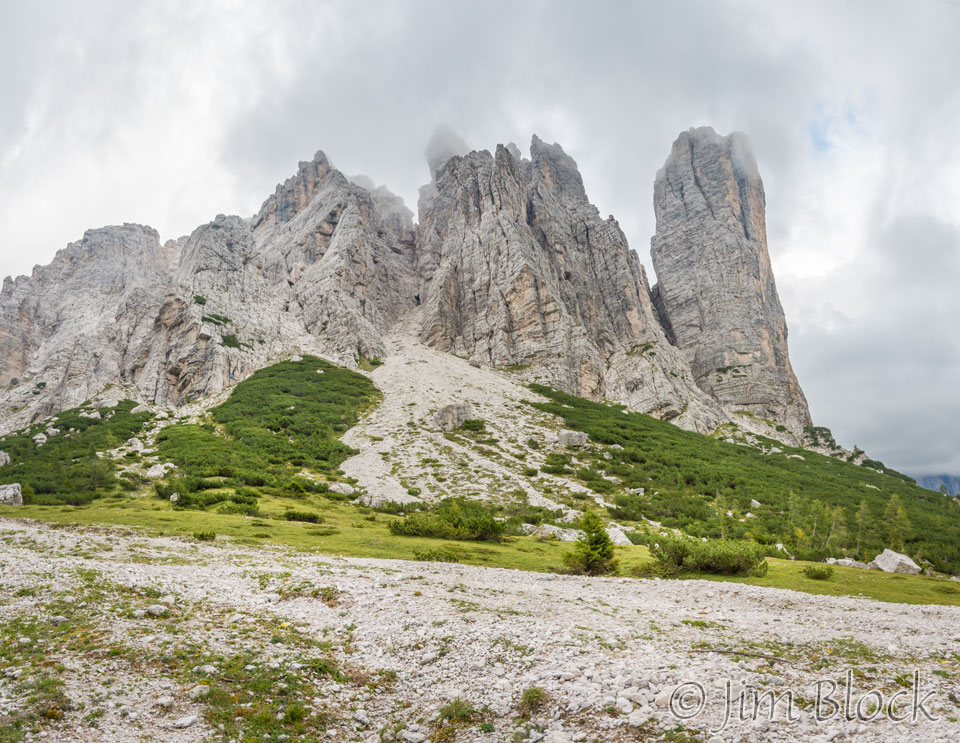 We spotted a large rock ahead. How big do you think this rock is? Perhaps 2 or 3 times Stephen's height?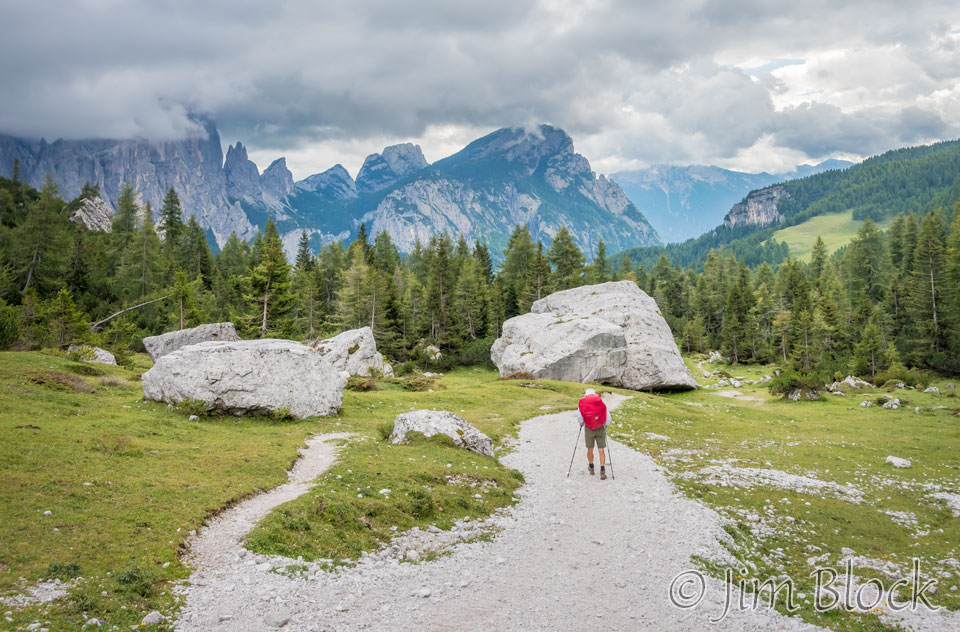 The following two images give an interesting illustration of perspective.
This area had some huge boulders in the valley and the spires of Torre Venezia in the background.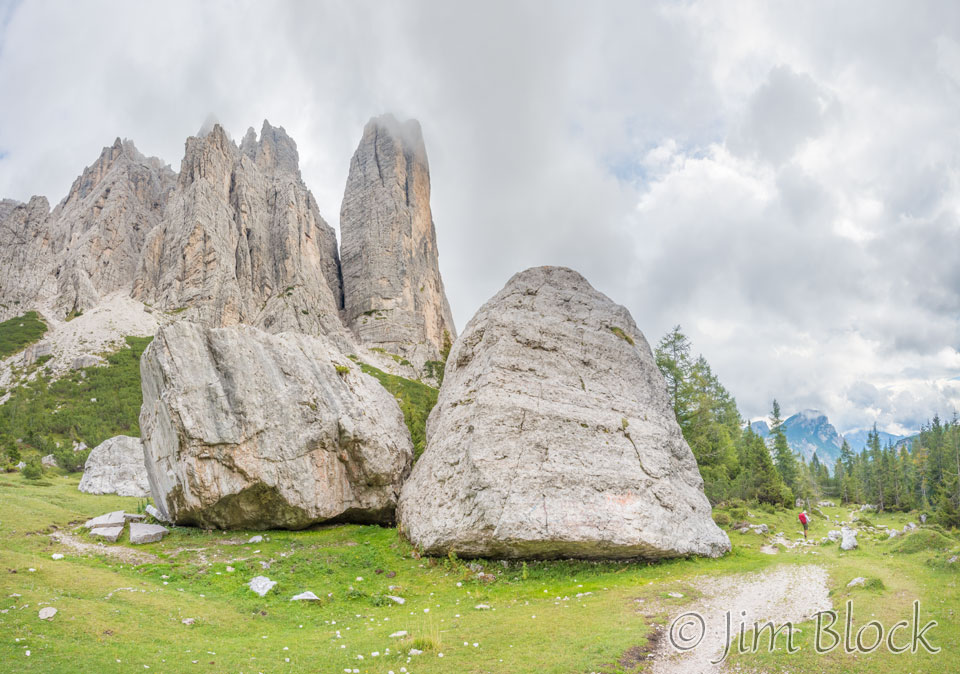 We passed through another gate and walked down a fairly wide trail through a forest.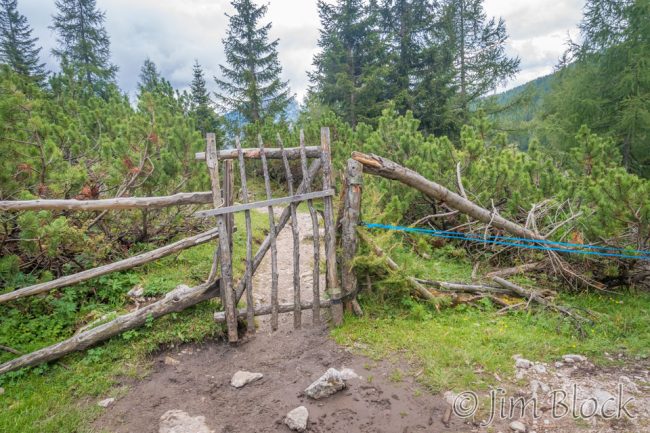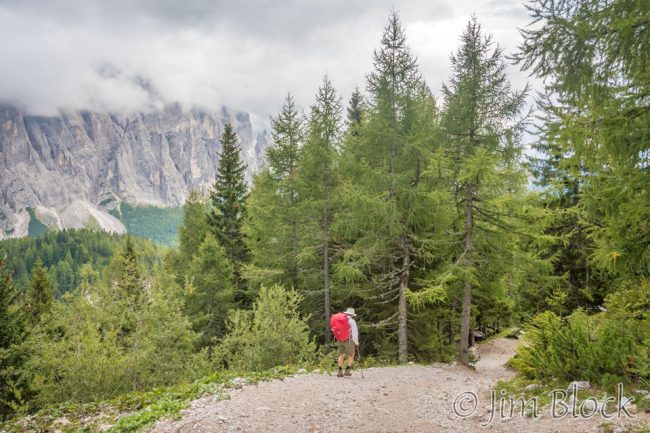 As we continued along, the trail became a jumble of boulders.
We came upon a crucifix on a large boulder.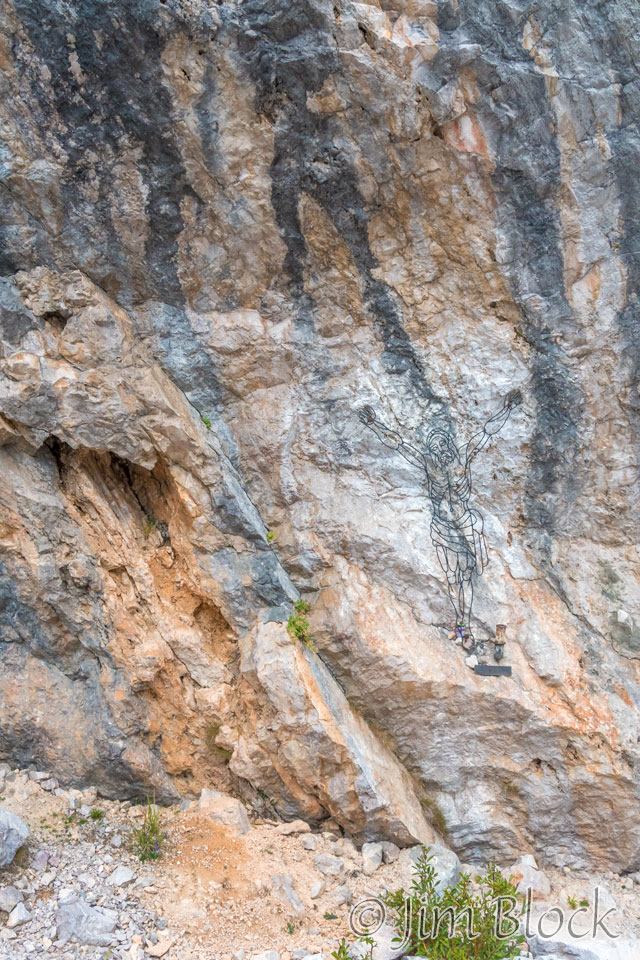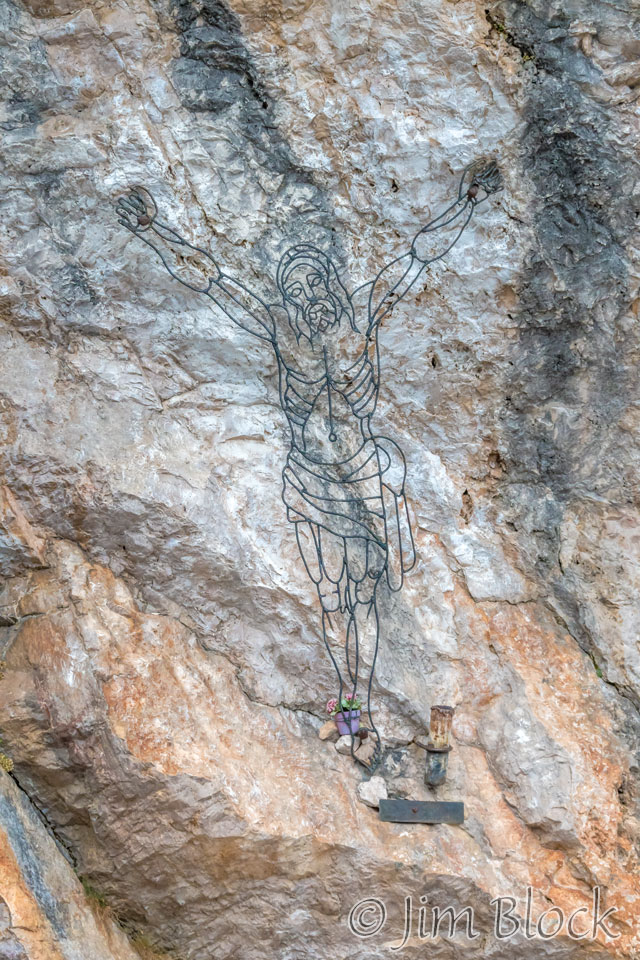 Finally at about 4:20 PM we reached Rifugio Vazzoler. We walked for 8.5 hours with only a few very short breaks.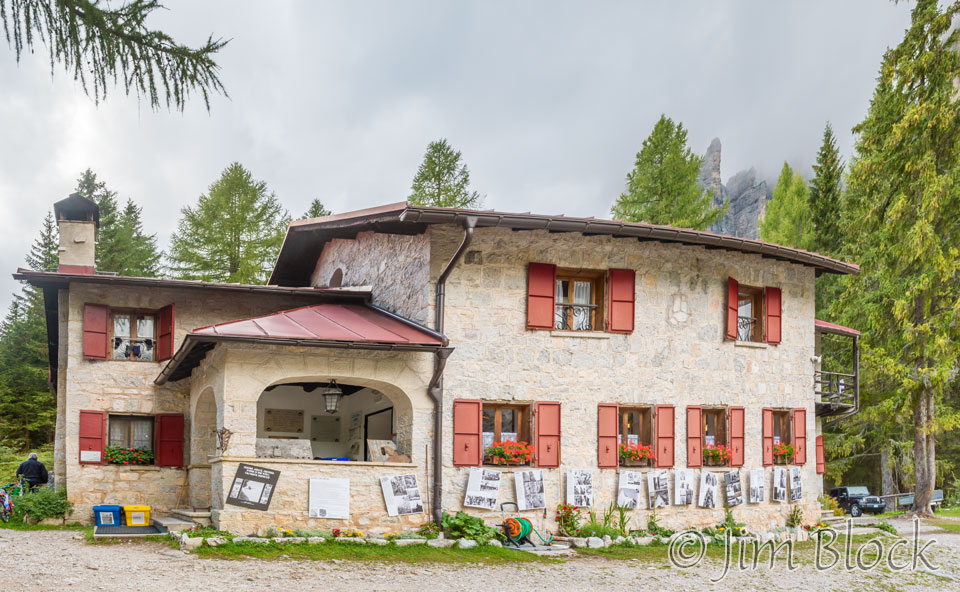 The Rifugio Vazzoler had a very nice wildflower garden with many of the plants labeled. Unfortunately few things were blooming at this time of year.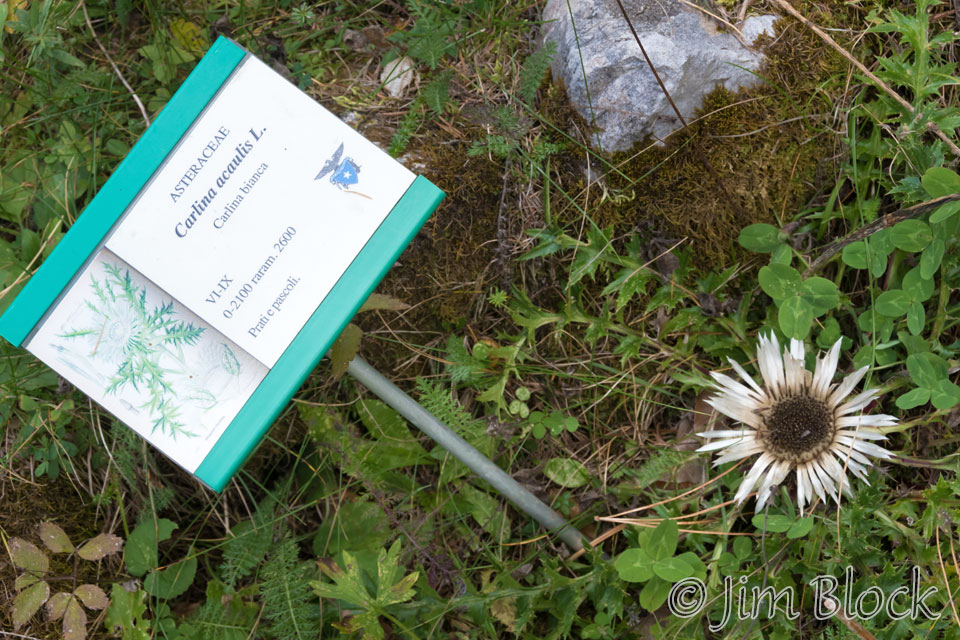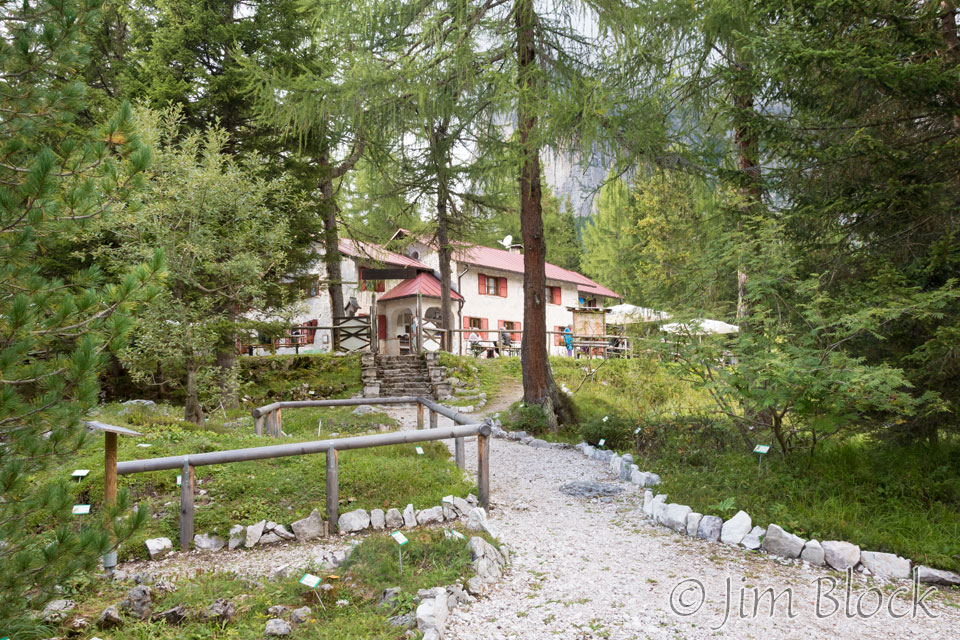 In the garden I met a young boy named Eric and got a few photos of him. I later photographed him inside the rifugio and met his mother who was our waitress. I sent her two photos but I must have had the wrong email address since I never heard back. I had more images to send, but I hate sending them into the ether.
The water in the bathroom taps of the rifugio was not portable. However, we could fill our water bottles at the trough outside, which I did.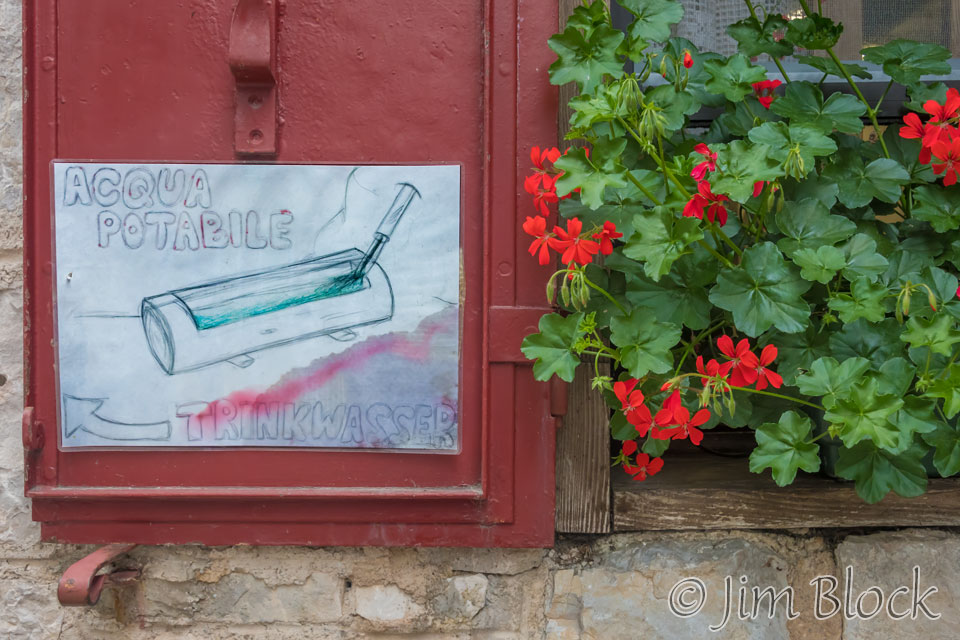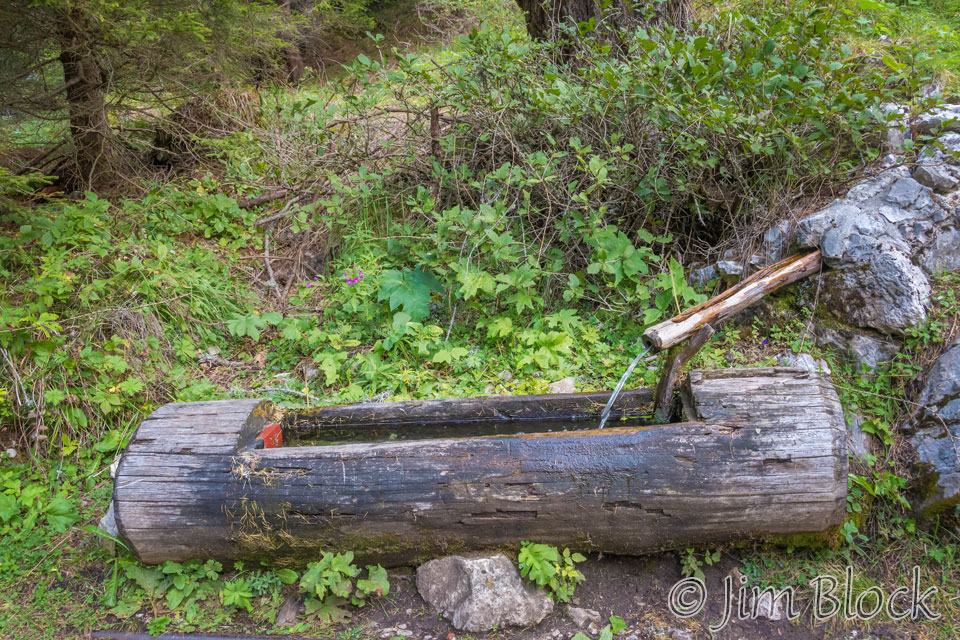 Boots were to be removed upon entering any rifugio. Most places have slippers or Crocs you can borrow if you are not carrying your own. We carried our own Crocs. In the photo below you can see my "boots", which are actually lightweight trail runners, at the far right of the first shelf above the floor. The poles in the corner are ours. I suspect we took them up to our rooms, but I don't recall.
The charging station for cell phones and camera batteries was located in the dining room. Here it is.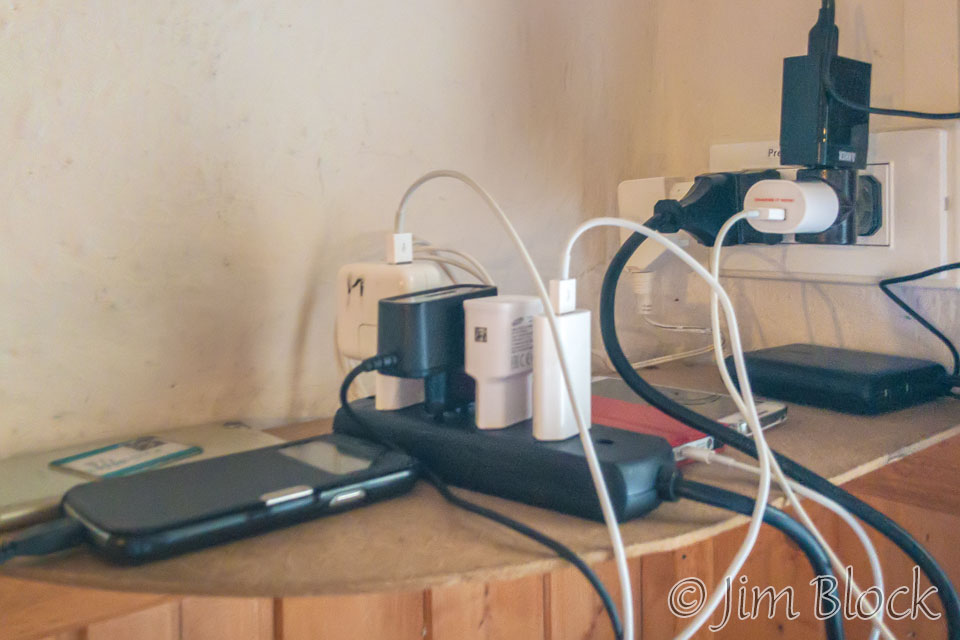 The placemat at our dinner table had an interesting drawing of the area. The bottom left side of this drawing is north and the top right side is south. We passed Rifugio Coldai (bottom left) around noon. That is where Stephen had his hot chocolate. Beyond that across the forcella you can see Lago Coldai (above the marker 4). All afternoon we had been traveling along Path 560. You can see Rifugio Tissi to the right and finally Rifugio Vazzoler. We would be spending the next evening in Passo Duran (top right). You can also see some via ferrata trails on Civetta pictured.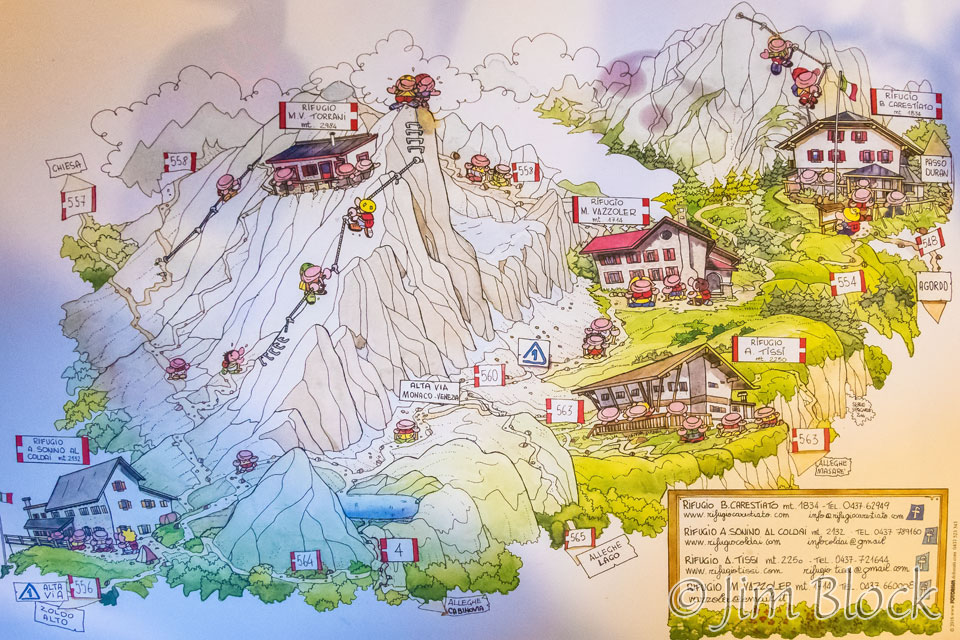 My first course at dinner consisted of spaghetti with garlic and hot peppers. It was very good. The second course had French fries and peas out of a can. I don't recall much about the meat.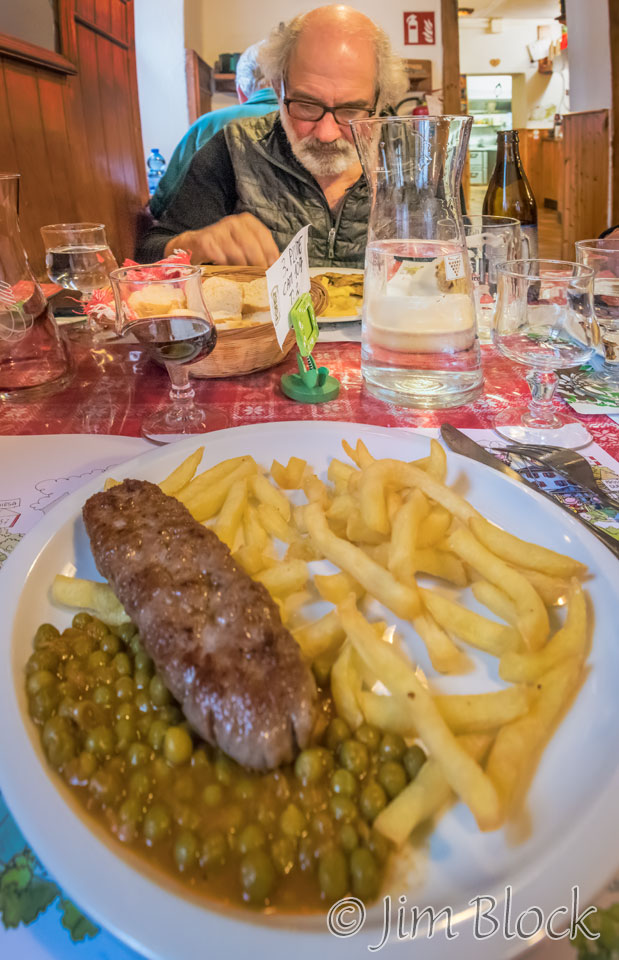 The apple strudel dessert was excellent.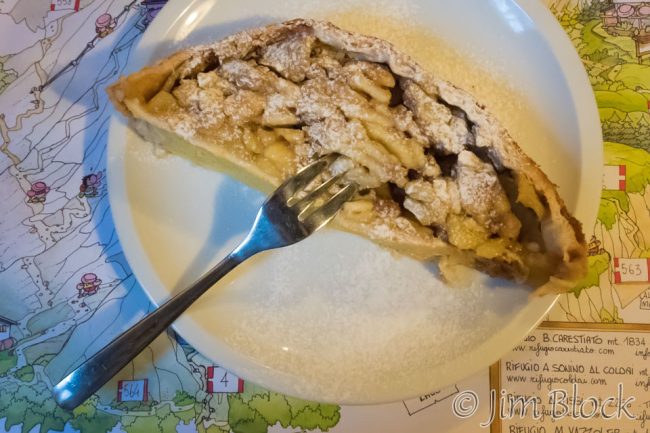 I took some photos of the signs painted on the wall.
Even though the route card listed this day as medium in difficulty, it was a fairly long day. I was in bed at 8:20 PM and got up at 6:15 AM for approximately 10 hours of sleep. I guess I needed the rest.
The next day would be somewhat shorter. Another reason why Tissi would have been a good rifugio for this night — it would've balanced the two days a bit better.