Our flights to and from Bhutan were relatively uneventful with some fantastic views of the Himalayan Mountains in both directions. We flew out of Manchester NH, got a nonstop flight to Delhi from Newark, spent the night in Delhi, and flew late morning to Paro, Bhutan.
There were some advantages and disadvantages to this route. Going through India allowed us to see a big beautiful airport and have flights to and from Bhutan that featured fantastic views of the Himalayan Mountains. The negative was we traveled through India.
India learned bureaucracy from the British and then expanded on what they learned exponentially. Getting a visa was a nightmare of paperwork. Here is my application ready to mail with my handwritten notes in the middle (I did not enclose them). Apparently, if everything is not perfect, the Visa application gets rejected for a do-over. Fortunately, the long hours I spent payed off and it was accepted.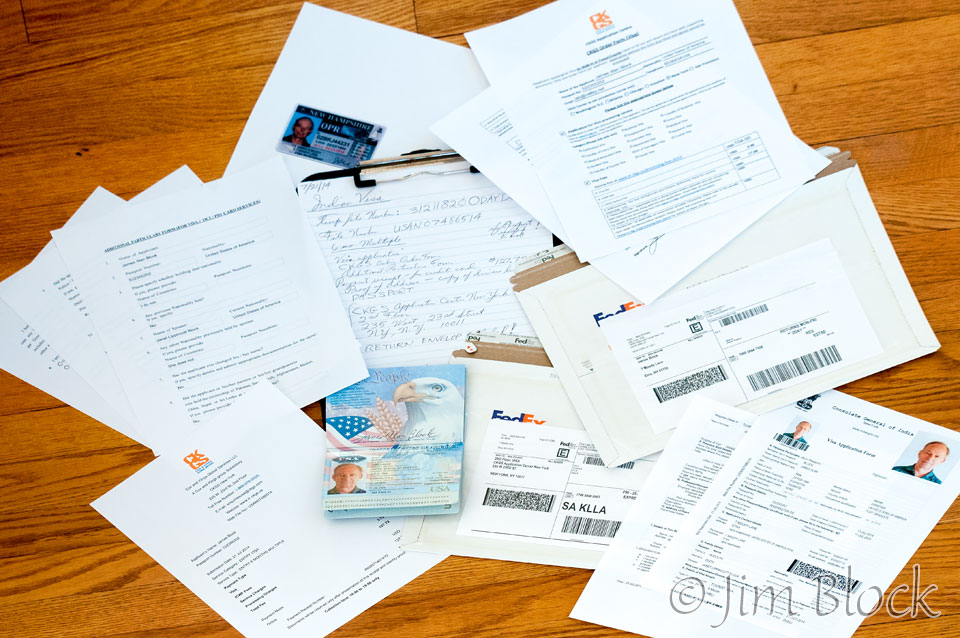 Below are photos from Manchester and Stephen getting off the plane in Newark with all his luggage for the trip. He travels lighter than I do.
We eventually arrived in Delhi, exited the airport, and had a bit of trouble finding our ride to the hotel in this mess.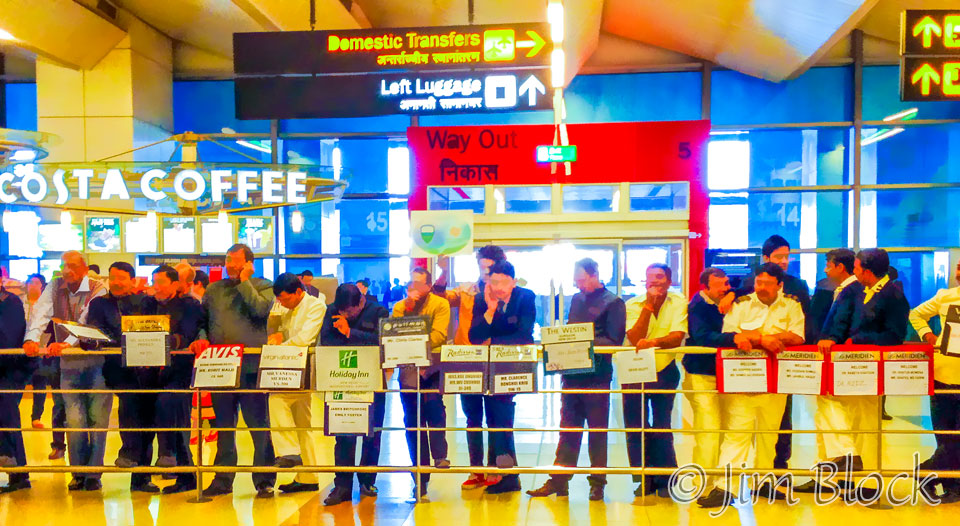 It was night in Delhi and probably early morning back home.
We checked into our fairly upscale hotel, the Radisson Blu near the airport. The bathroom had a large window that opened to the bedroom. I couldn't resist making a few pans with my iPhone. You can see Stephen at the desk in the background of both photos.


The spread for breakfast was amazing. I should have taken more photos, but, trust me, they had almost everything.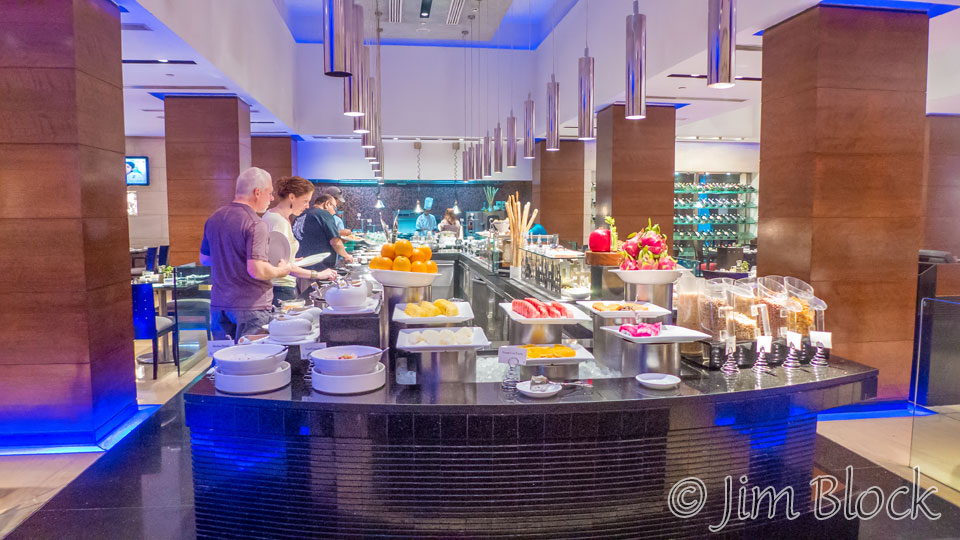 The contrast between inside the hotel gates and just outside it was striking.
The hotel lobby was impressive.

I killed some time taking photos around the hotel before we headed back to the airport.
I took a few photos out the taxi window as we drove to the airport. The one below is actually two images merged together and de-saturated to emphasize the hazy air that was likely not good to breathe.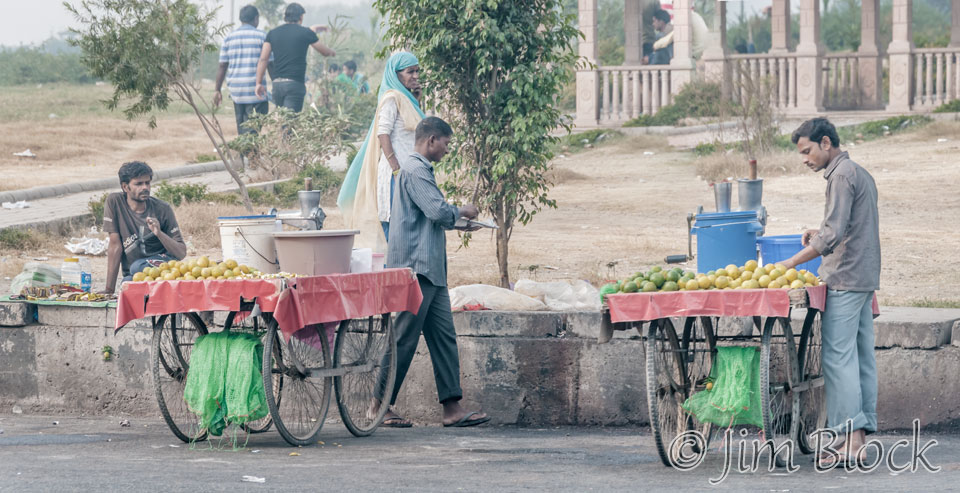 Dhamey suggested we fly Business Class. It was a great recommendation. For just a bit extra money we got the use of a nice airport lounge, window seats in front of the engines with excellent views of mountains, and even flowers on the check-in counter. We noted a package was headed to the younger brother of the King of Bhutan.
We had plenty of time before our flight, plus it was delayed for some reason by two hours. I made some panoramic and "enhanced" photos with my iPhone.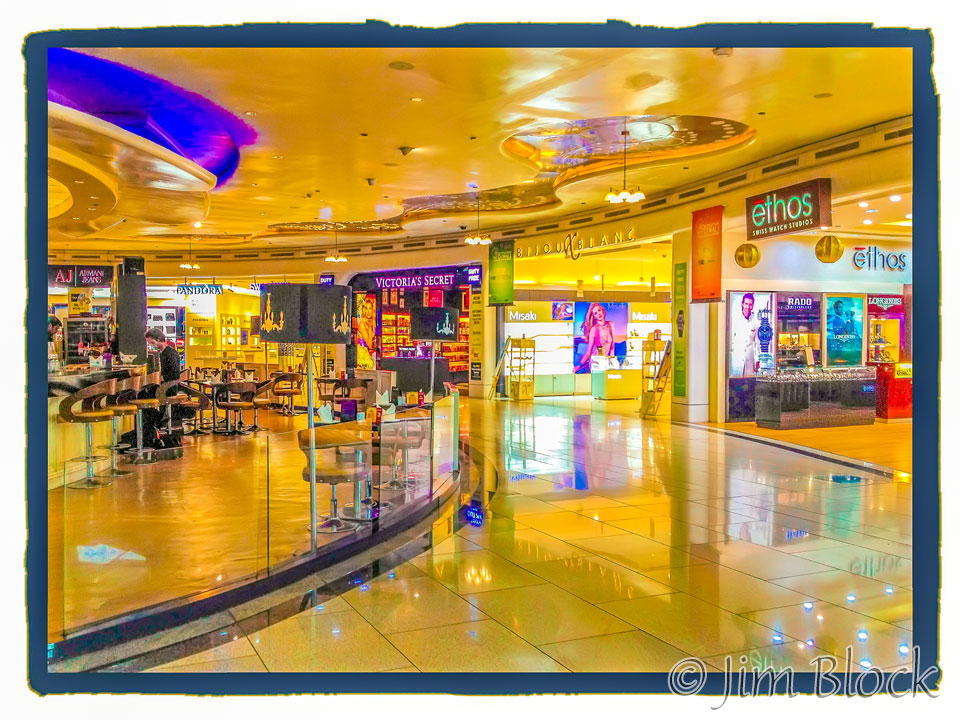 Then I made two pans that you can zoom into and explore in detail. You can double click to zoom way in and use the left mouse to pan around. You can also use the + and – keys to zoom and the arrow keys to scroll. Please wait for the resolution to download.
Our lounge was quite nice with free food, drink, and internet, although one had to keep his wits when going through the complex, multiple steps needed to connect to the included WiFi.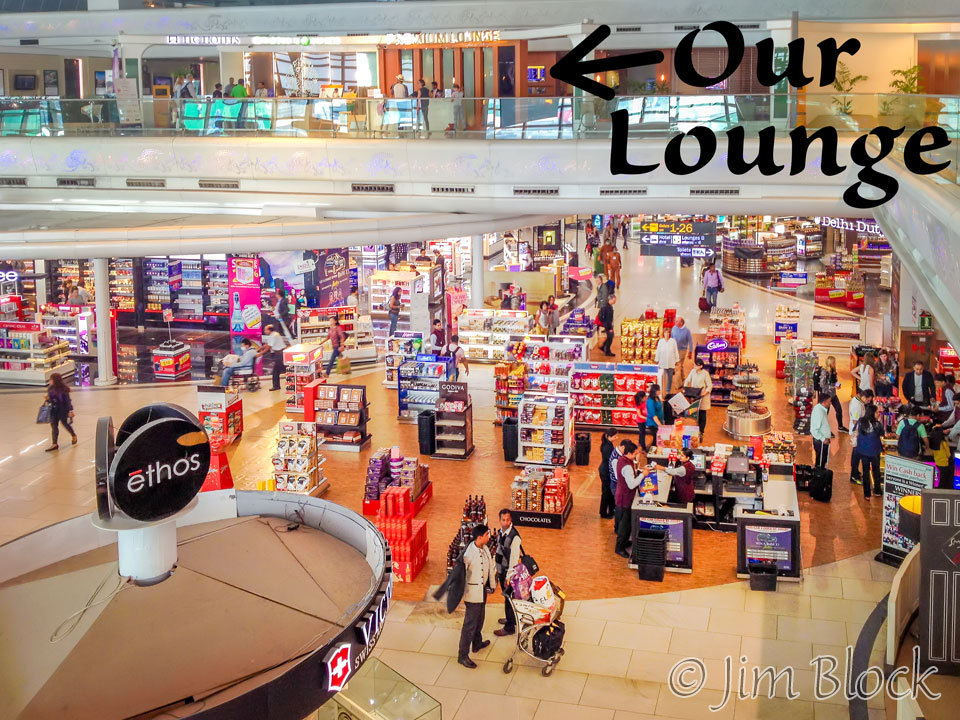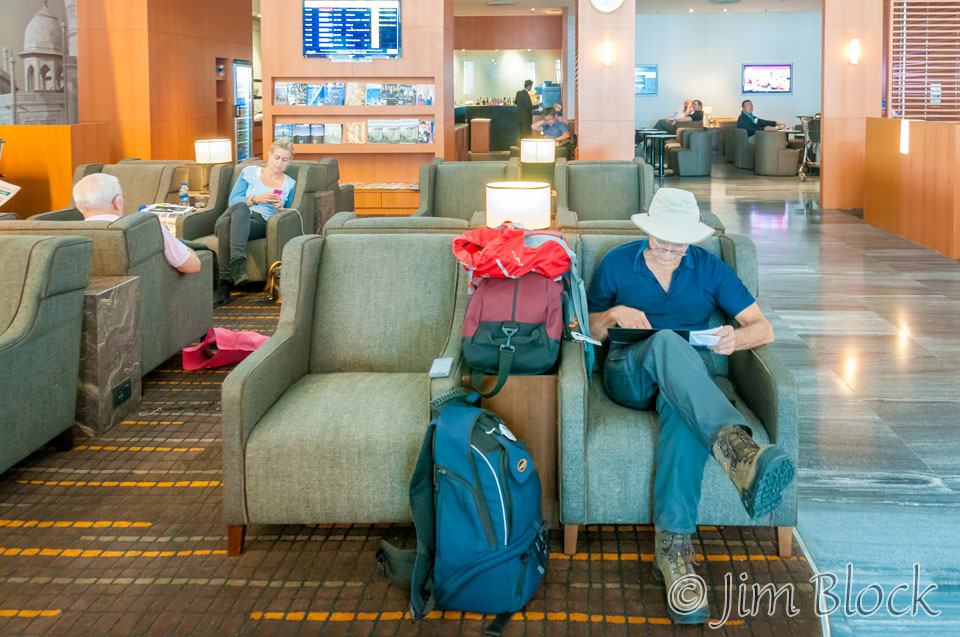 The airport, of course, had a Prayer Room, a Smoking Room, and men's and woman's toilets. Outside the airport the air was thick. During the flight the lunch was good and the scenery fabulous.
The six-shot panorama below shows the Himalayan Mountains in the Khumbu region of Nepal. Mount Everest is the dark triangle with the trailing cloud in the distance just to the left of center. You can get to a page of images where I have labeled the mountains if you CLICK HERE. Do it; I think the page is well worth a visit. It will open in a separate tab so you won't lose you place here.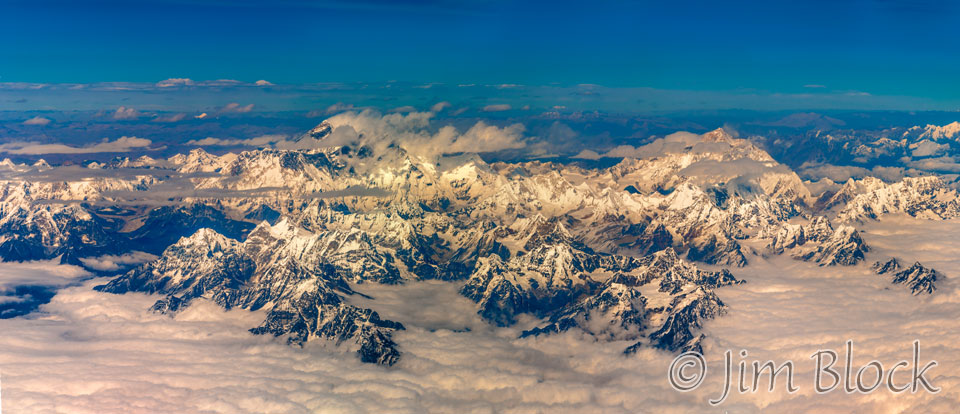 Twenty three wonderful, adventure-filled days later we were in the Business Class lounge in Paro waiting for our flight back though Delhi to the US to be called.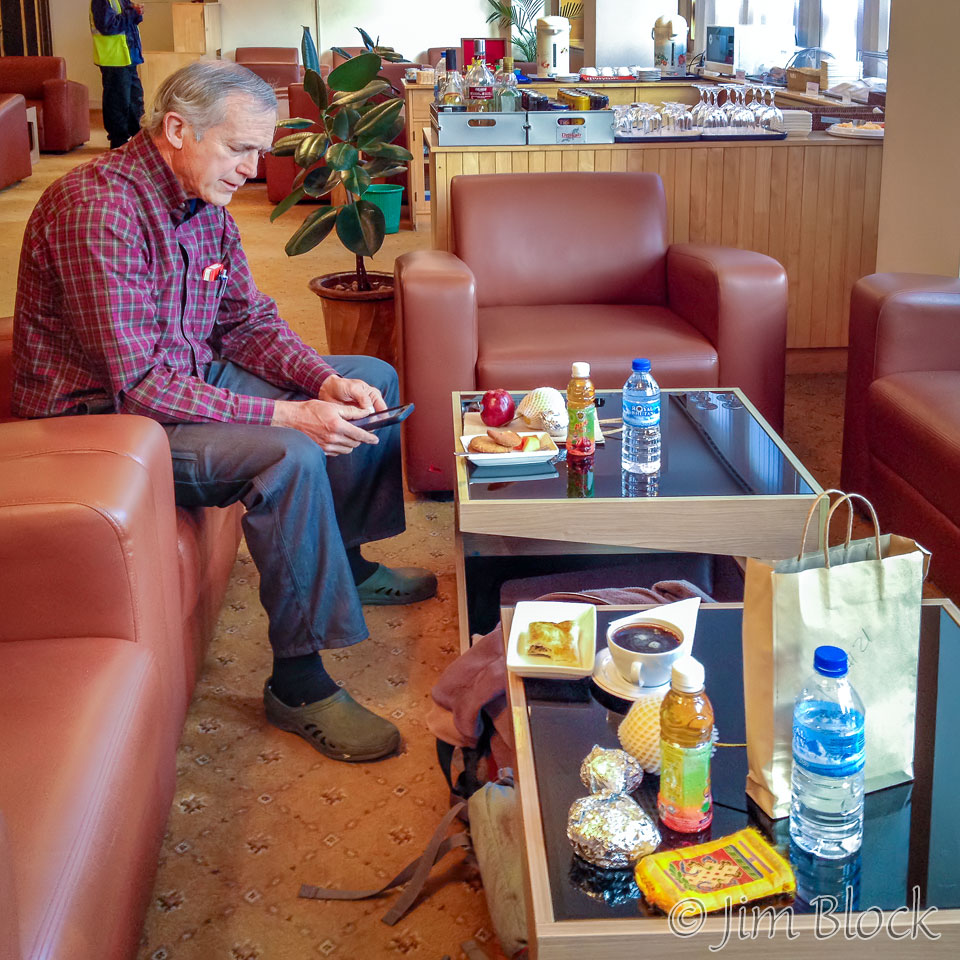 We said goodbye to Jomolhari…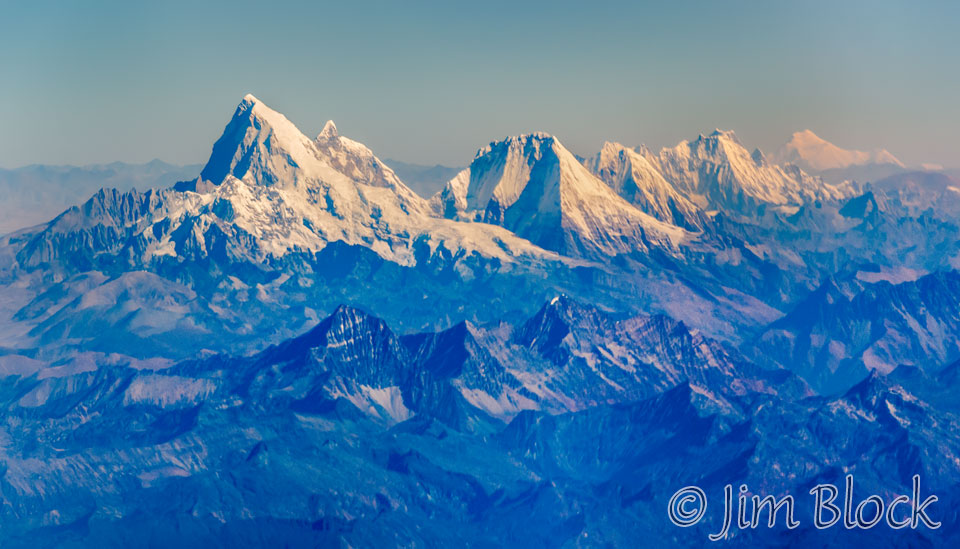 Got an amazing cloud-free view of Mount Everest and Lhotse…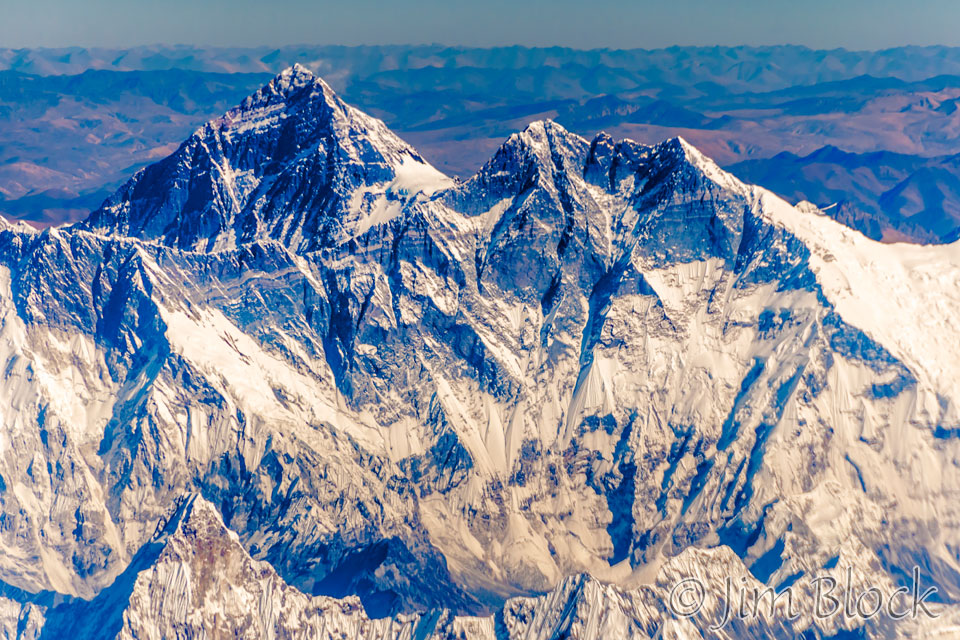 And a great view of the Annapurna range.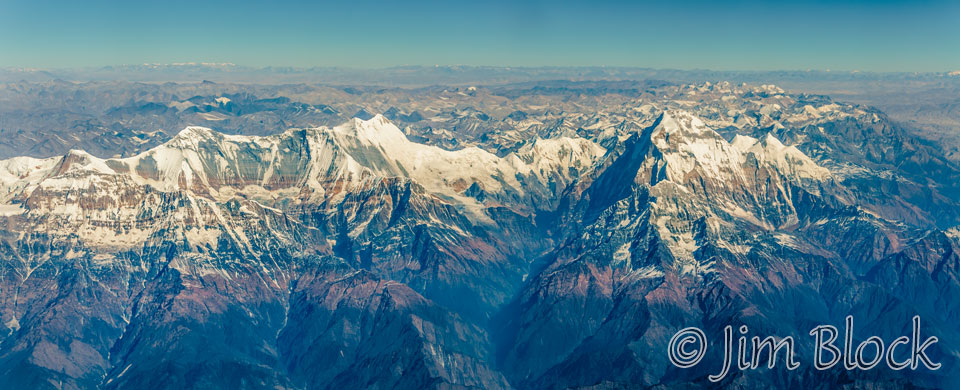 Did I mention that you can get to a page of images where I have labeled these mountains if you CLICK HERE.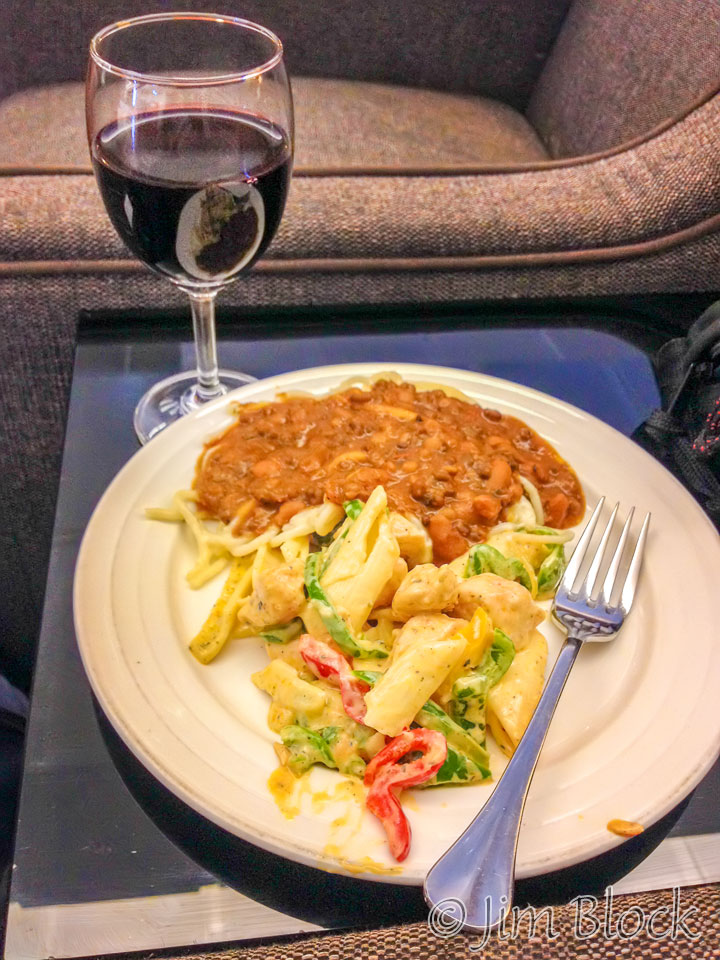 I took almost no photos in the Delhi airport on the way back. It was a very long layover, and they would not let us into the main terminal, where we had lounge passes courtesy of Dhamey, until about 3 hours before our departure. And even then we had a hard time talking an obnoxious policeman into believing we were passengers and not terrorists.
When I made a copy of my flight itinerary (not a boarding pass that we were yet to get) I did not bother copying the part with my name — I knew who I was. But that gave the Indian cop a problem. Stephen saved the day by finding some papers with both our names on them.
I had a light meal in the lounge, and we eventually boarded our flight.
Stephen had paid a bit of extra money to sit closer to the front with 5 inches of extra leg room, but I was too cheap to do so. His choice was popular so that section was full. Mine was less popular so I had three seats — window, center, and aisle — all to myself. I could actually lay down and pretend to sleep.
Eventually it was Home at Last, well almost anyway.