It was quiet at Anderson Hole Camp before 6 AM. The boatmen were asleep in their rafts. But several of us were already moving about. Some may have been thinking it would still be an hour before the appointed coffee time.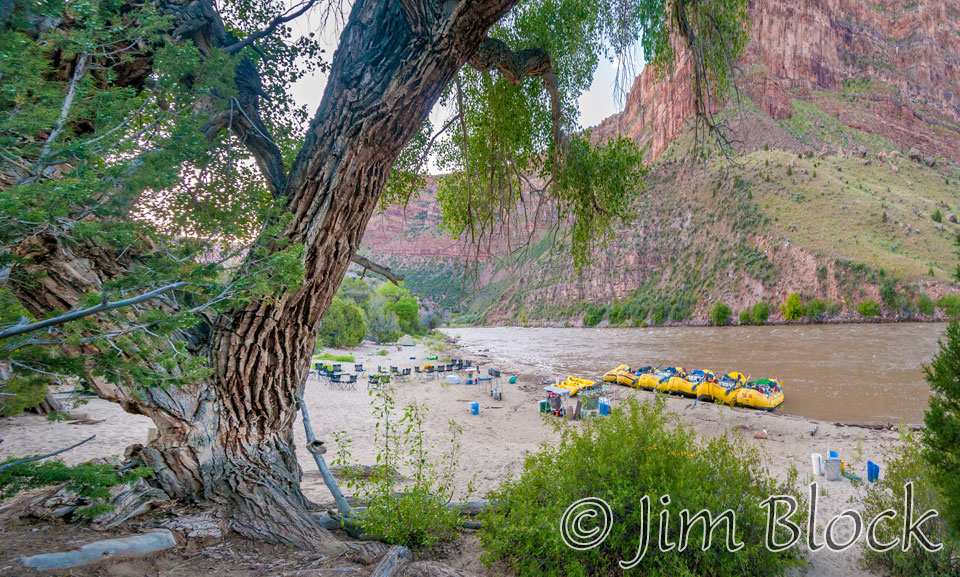 Joelle noticed that a number of folks were wandering apparently aimlessly with empty coffee mugs. So she made coffee early and set her alarm earlier the rest of the trip so a handful of people could enjoy coffee shortly after they woke up.  Much appreciated.
While Matt ("House") prepared breakfast, I wandered the fields behind the camp and made some photos.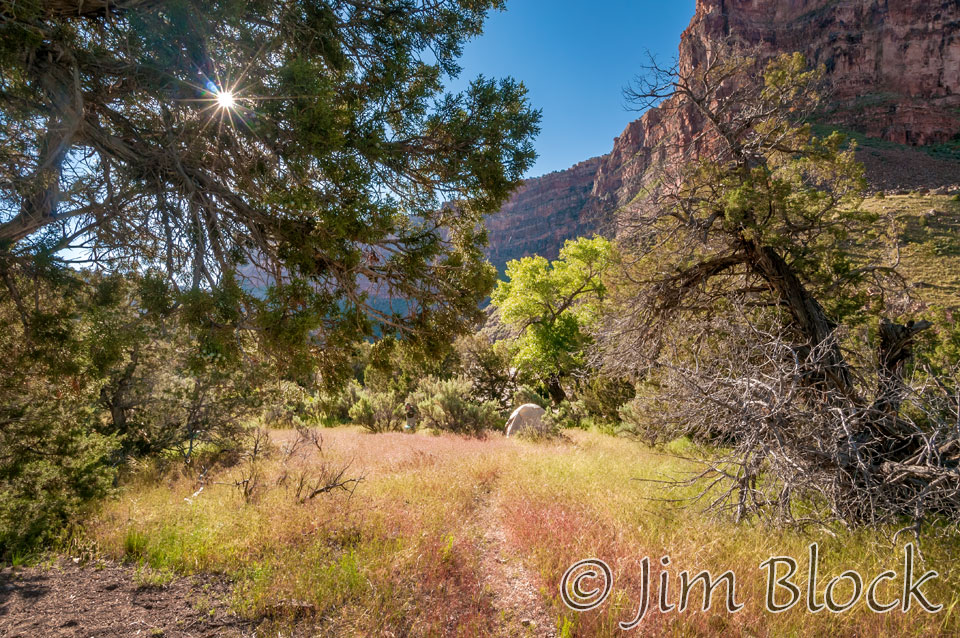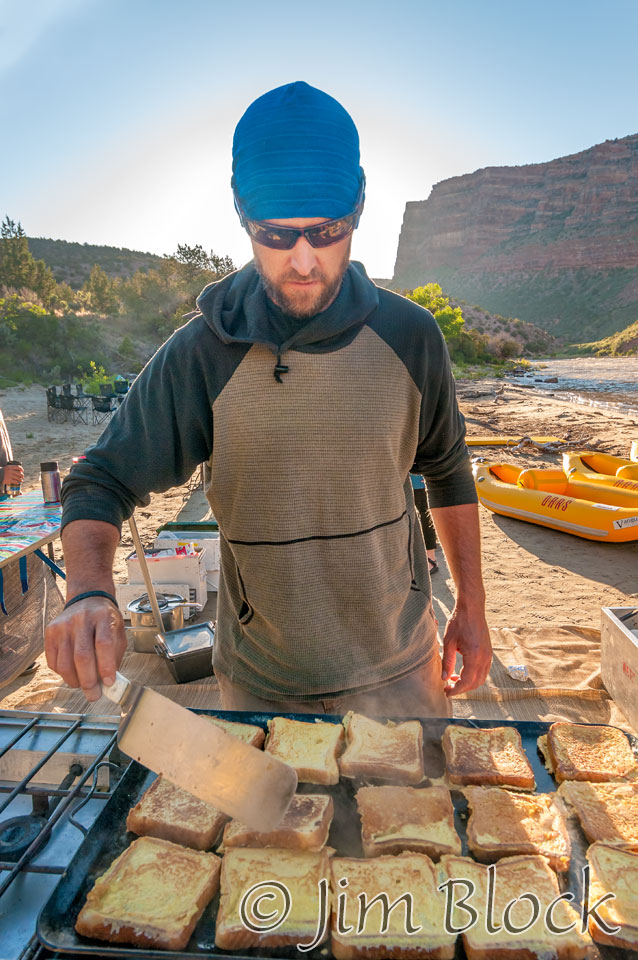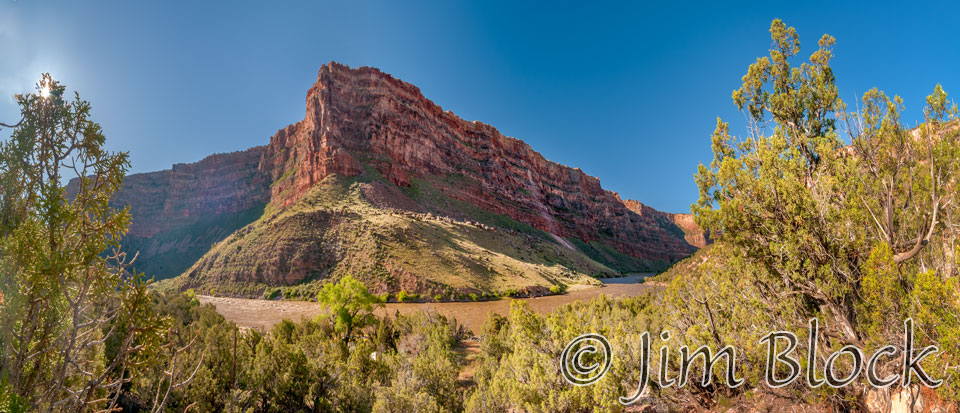 After breakfast there was always plenty of time to take tents down and pack up.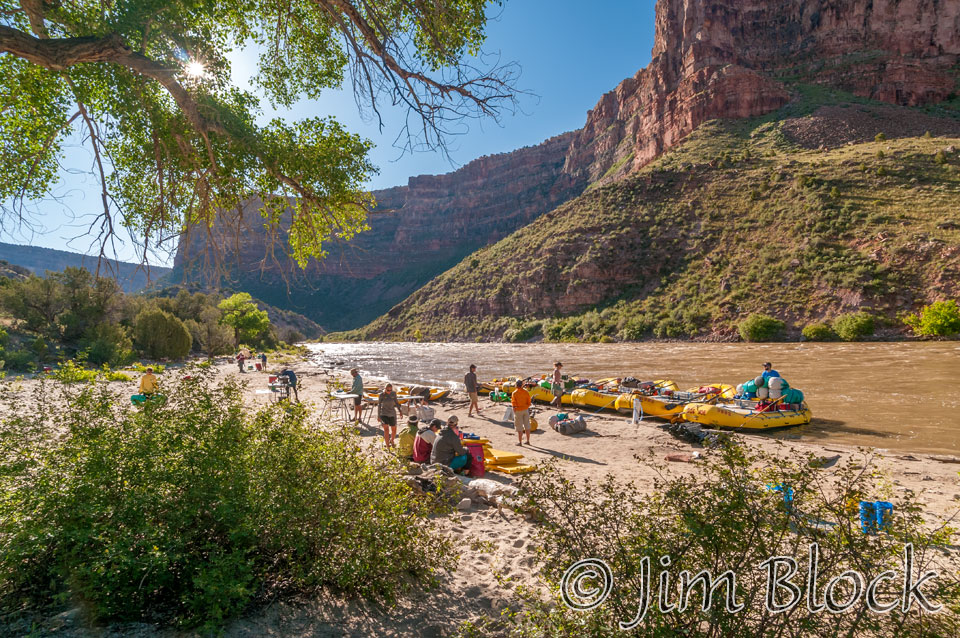 House instructed us what to do if the black side of our duckies faced skyward. Be sure to hang onto your paddle and don't panic. Flip the duckie over then pull it hard under you. But absolutely do not stand on the river bottom — keep your feet up.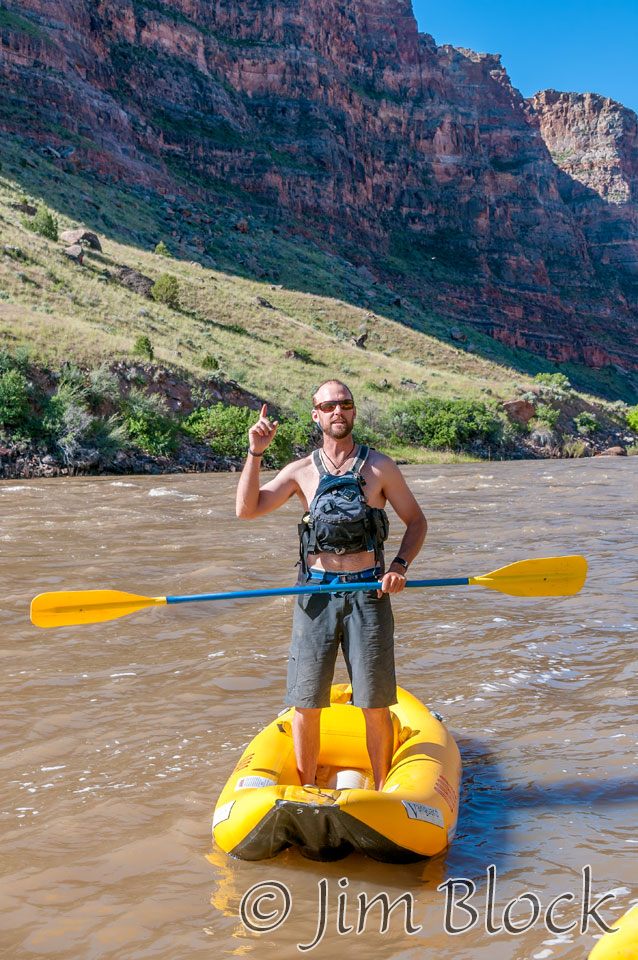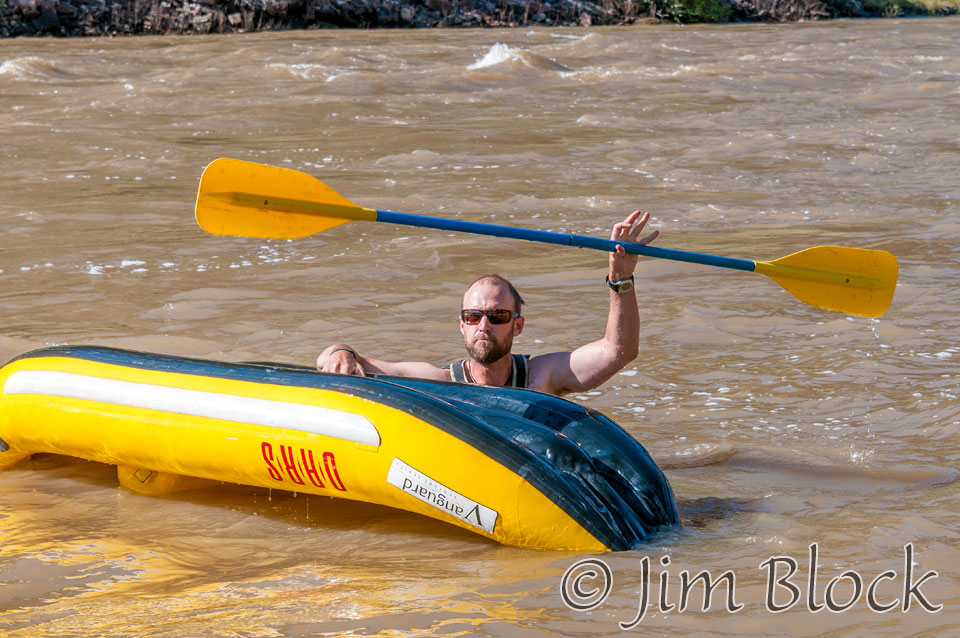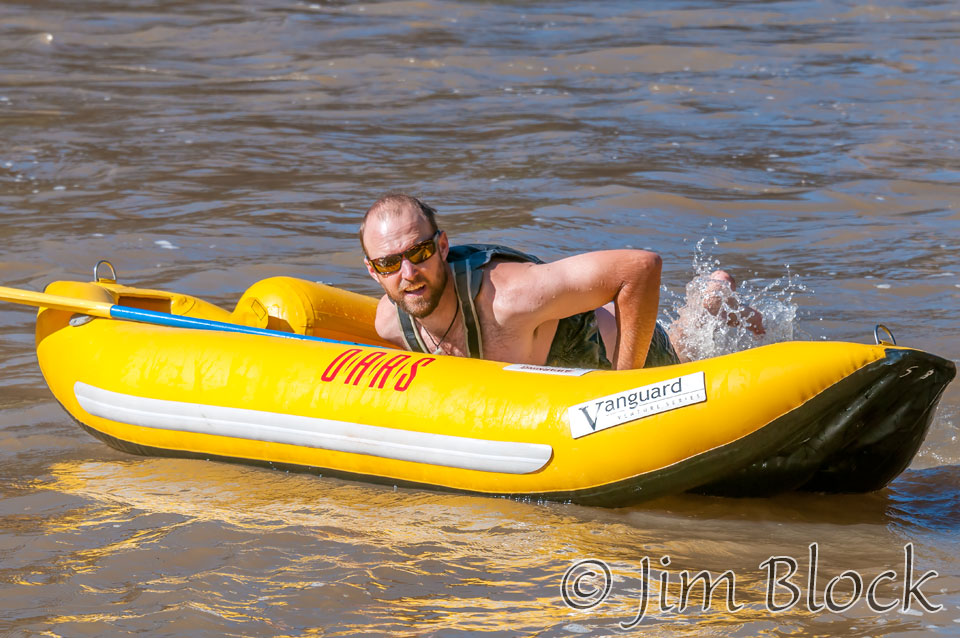 Interestingly on the Green River we had two single and two double duckies — and a third single for the second half of the trip after we pulled it off some rocks after another party had lost it — and about 8 less people than on the Yampa. Yet these duckies were used constantly — at times those who wanted to ride had to wait their turn. On the Yampa with 8 more potential riders, we only had two singles and one double and at times the double duckie rode on the back of a raft and served as a couch.
Finally we were off and heading downstream with Pat guiding the paddle raft the entire trip.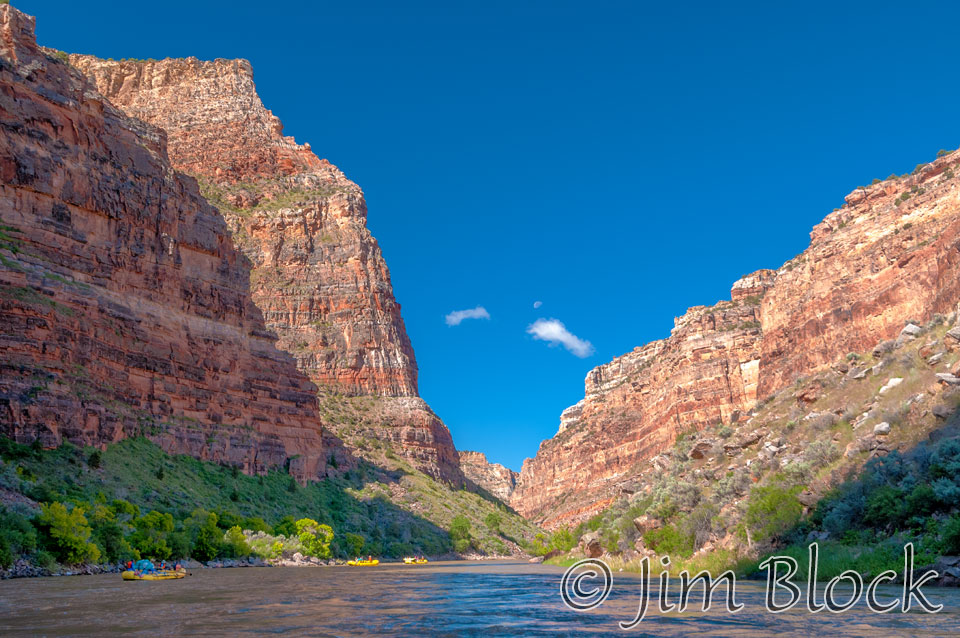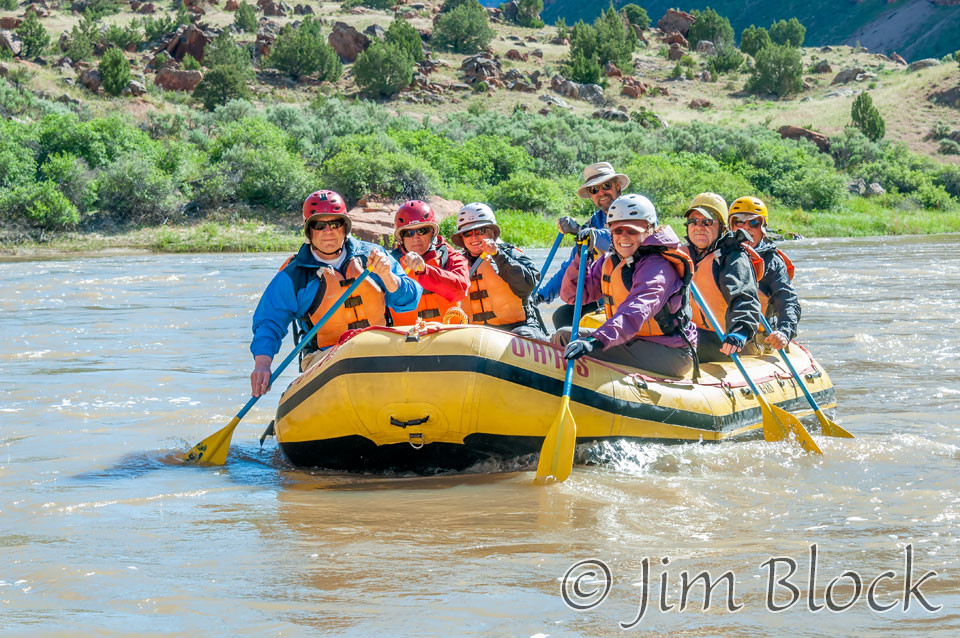 We paddled through some beautiful reflections.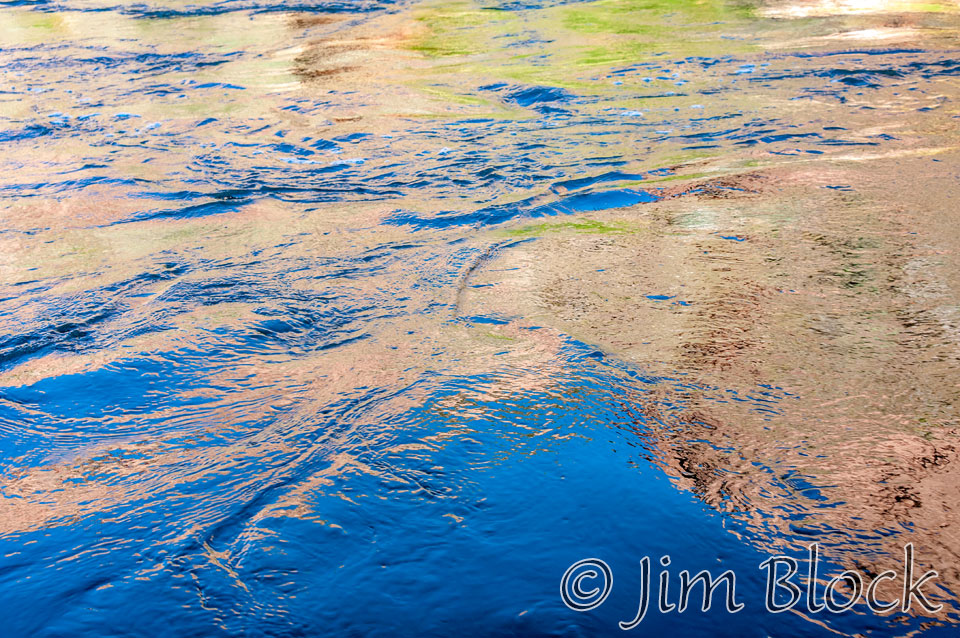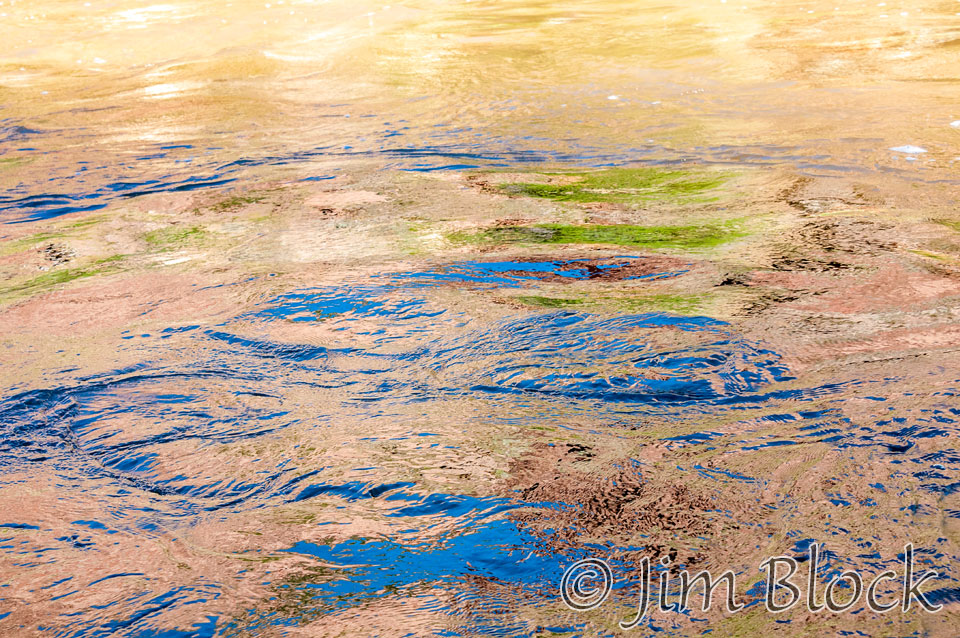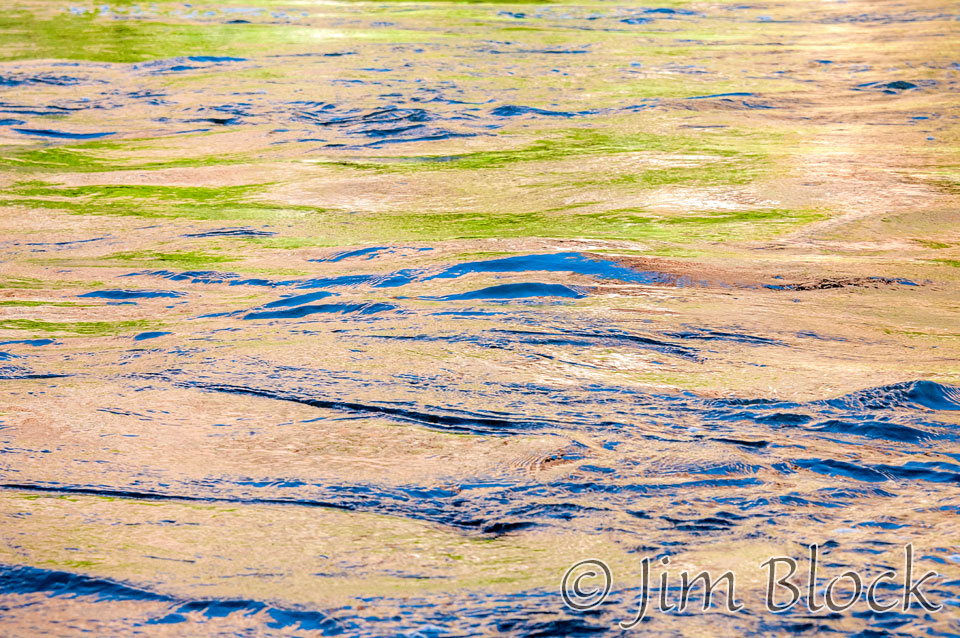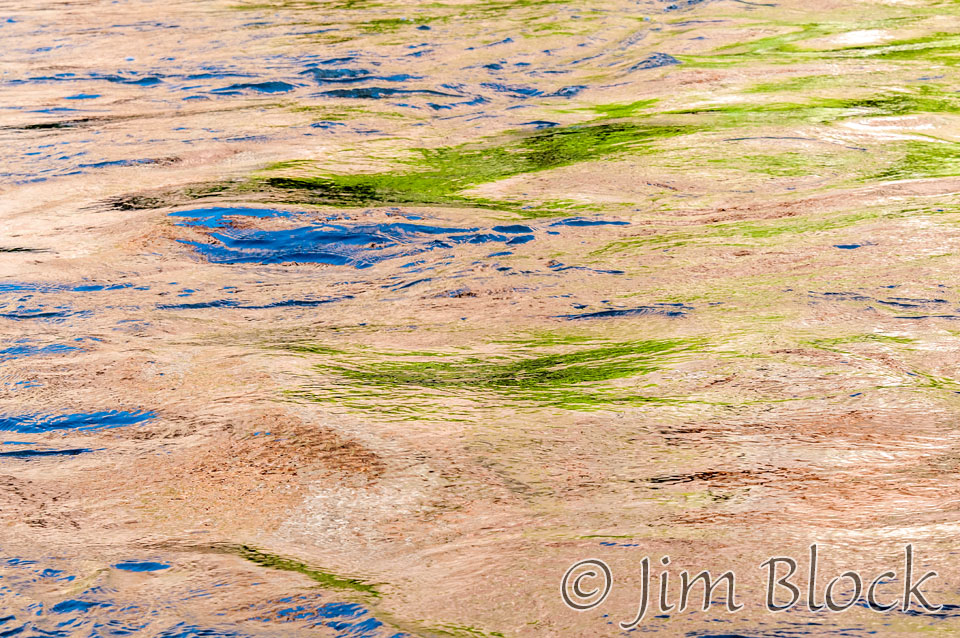 The Yampa Canyon was spectacular. Parts reminded me of the Grand Canyon. We spotted some big horn sheep, but no large males.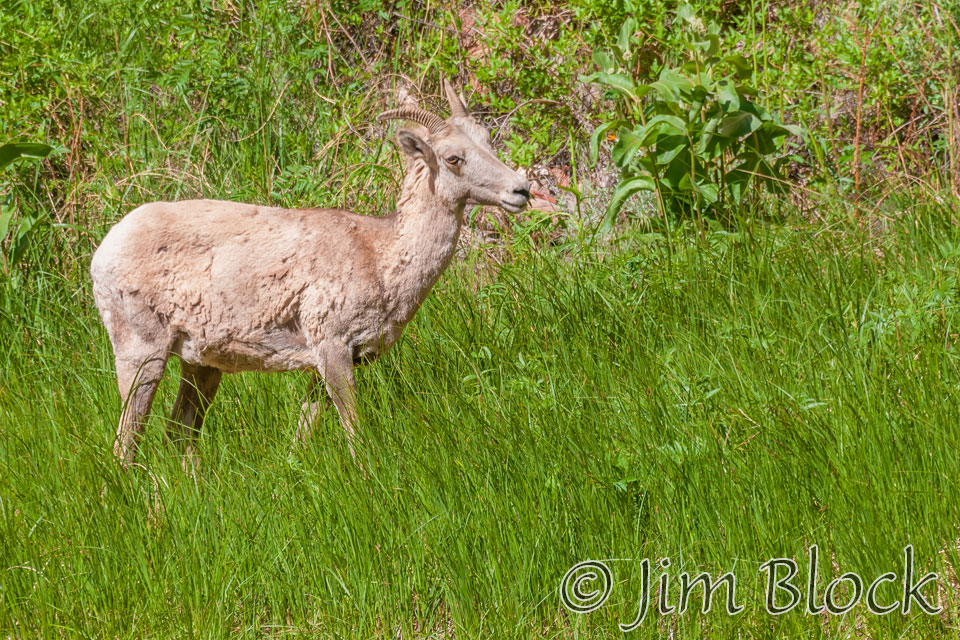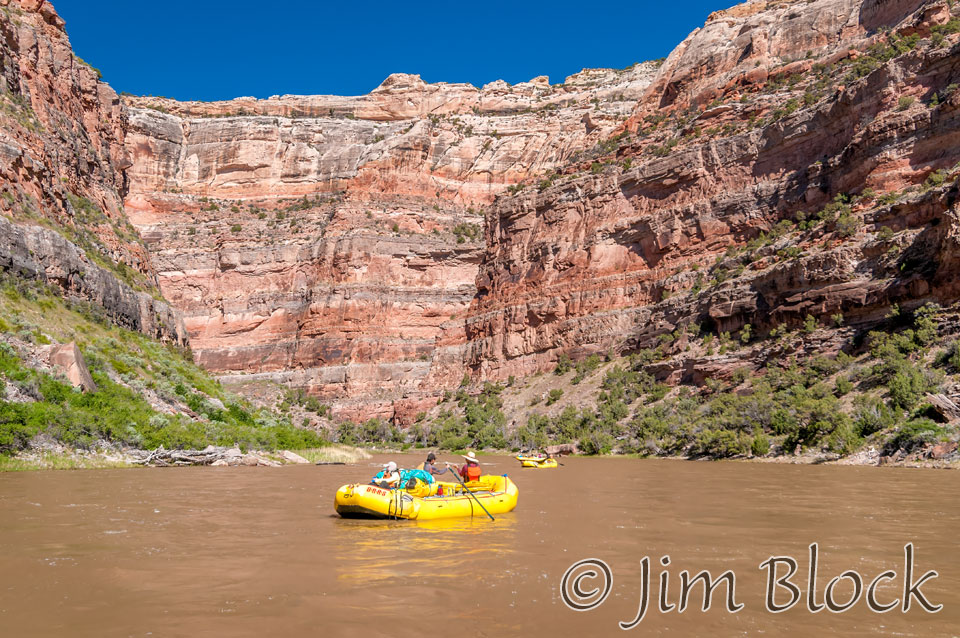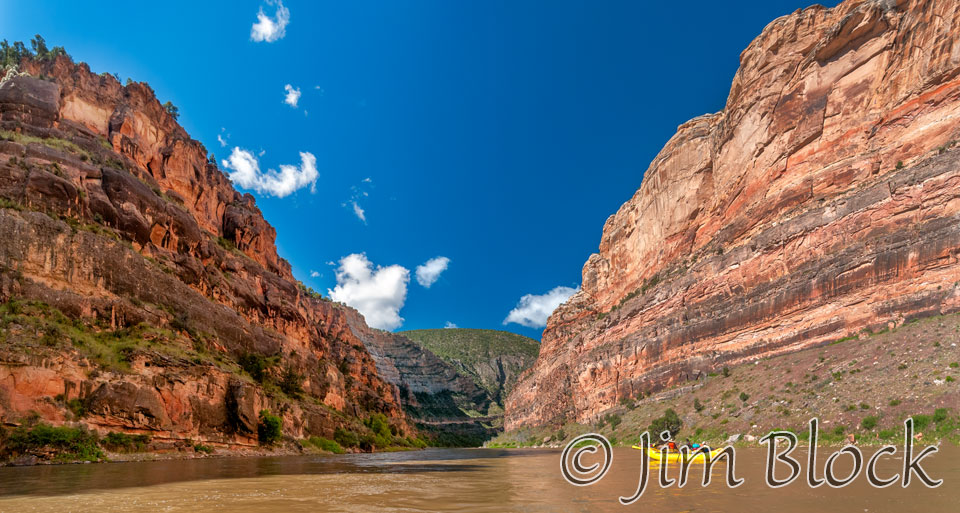 The first part of the morning was generally placid with a few small ripples.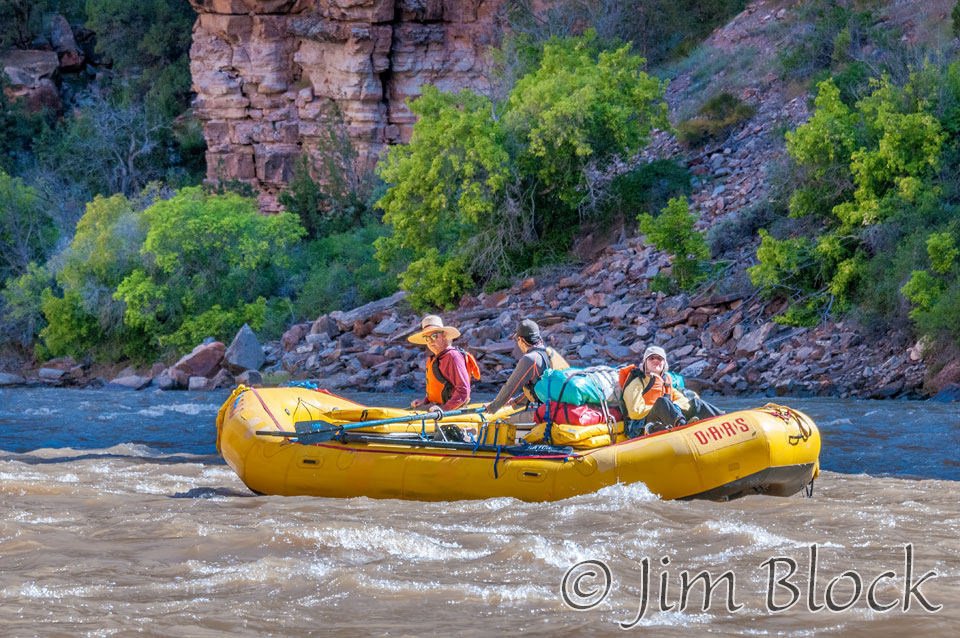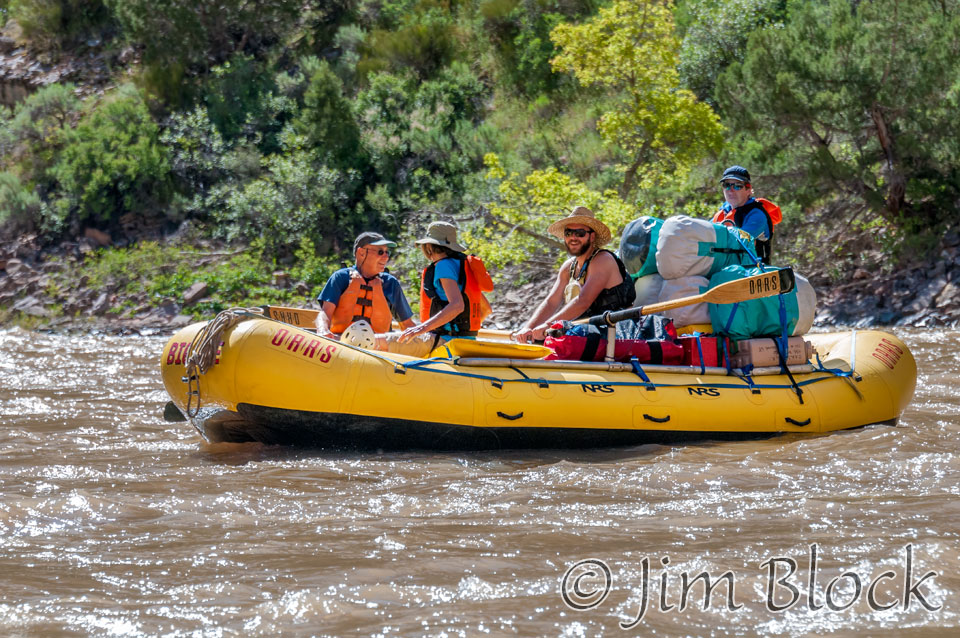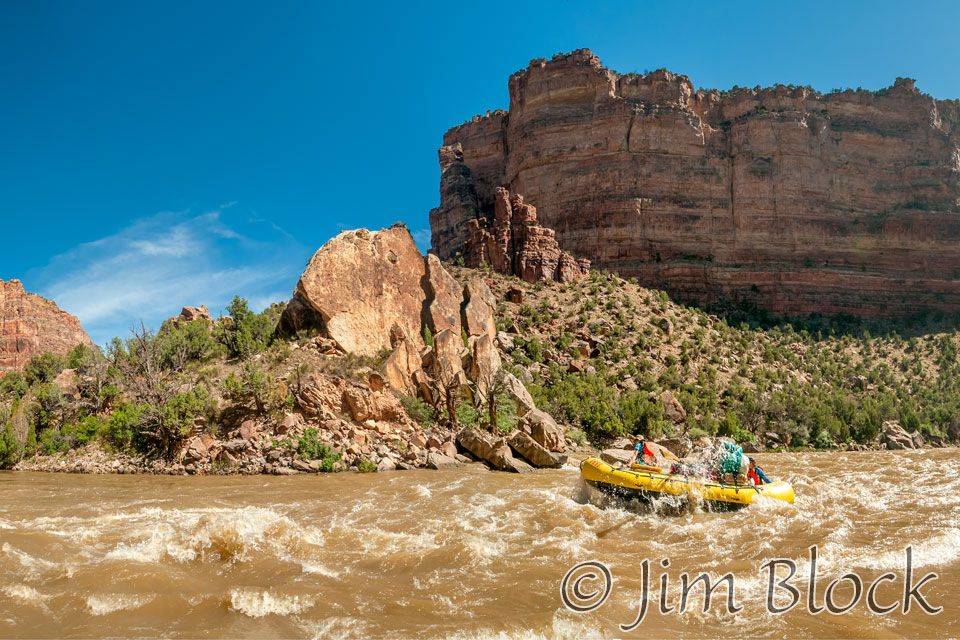 Then we arrived at Tepee Rapid which we scouted.
Here is a slide show of the paddle raft running Tepee Rapid.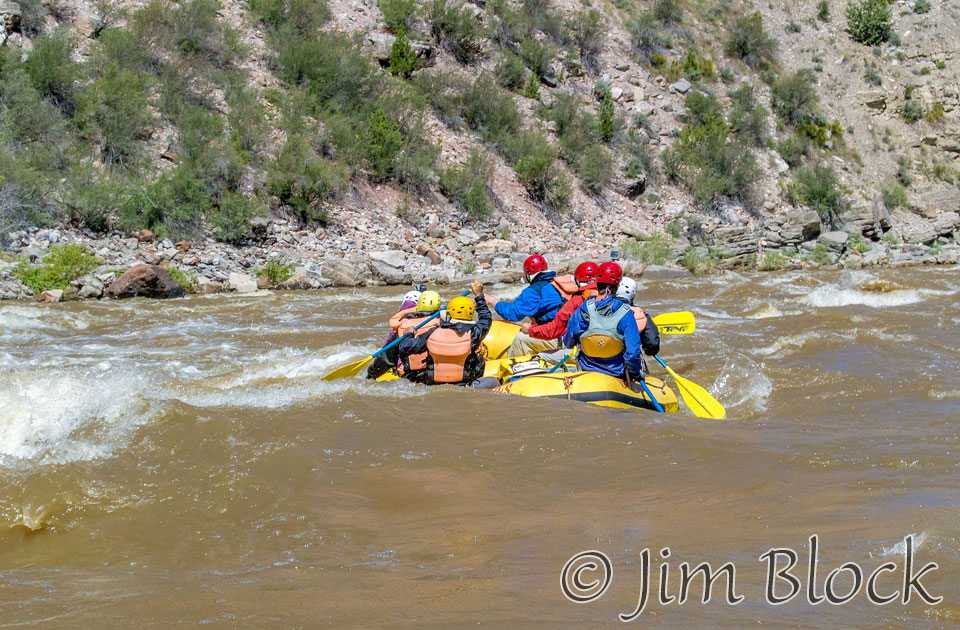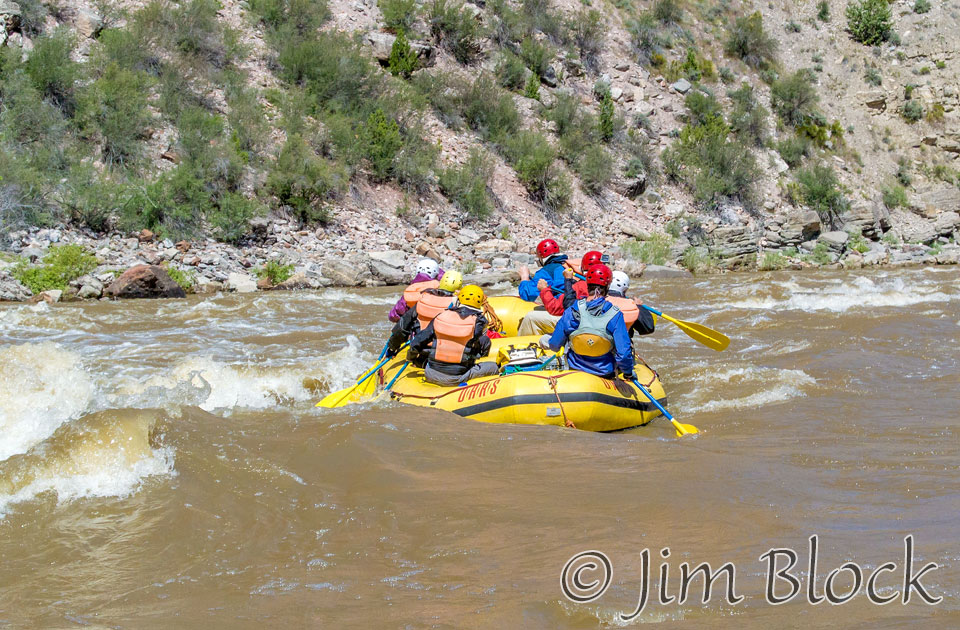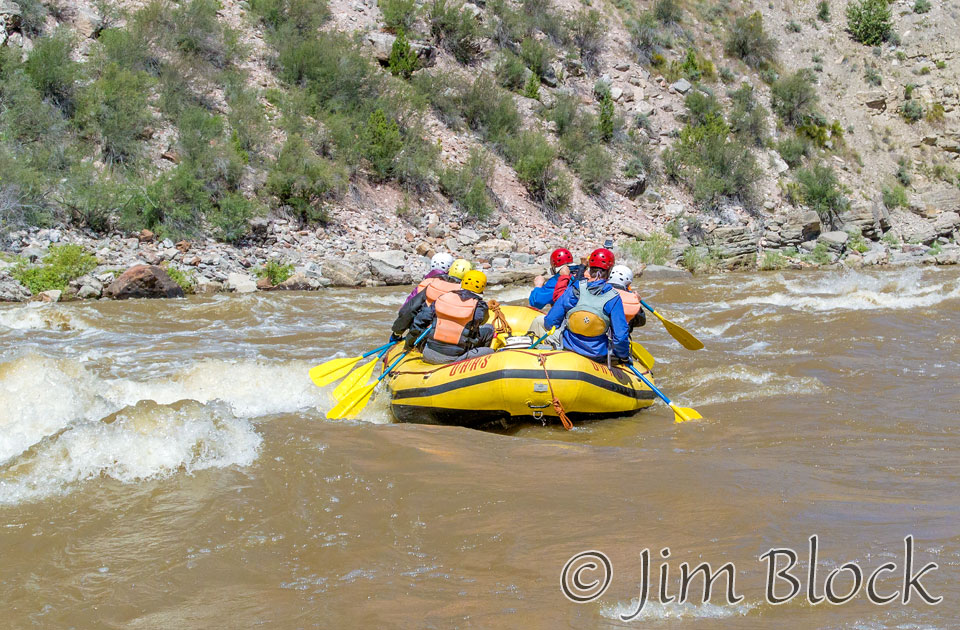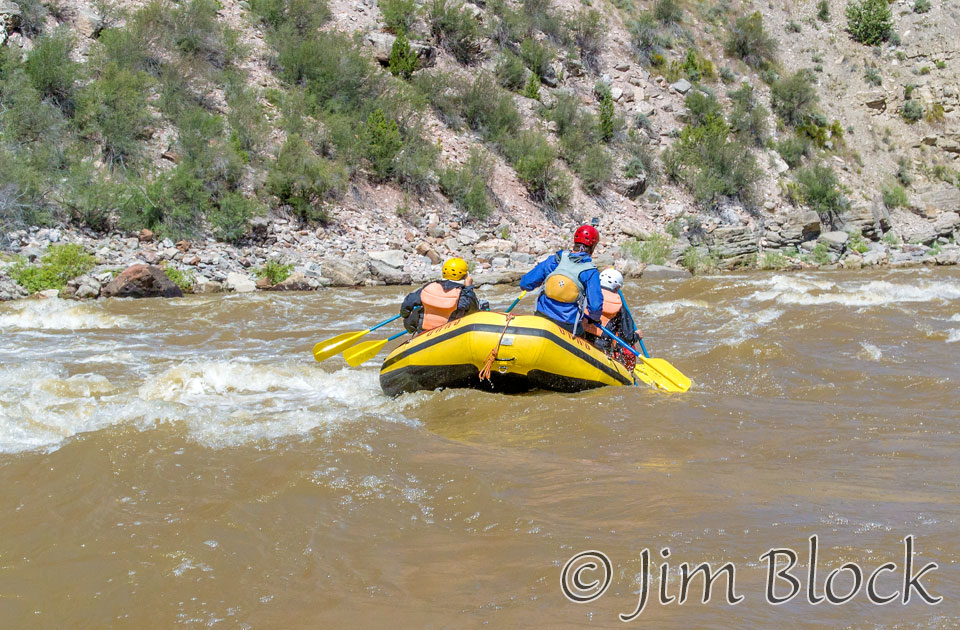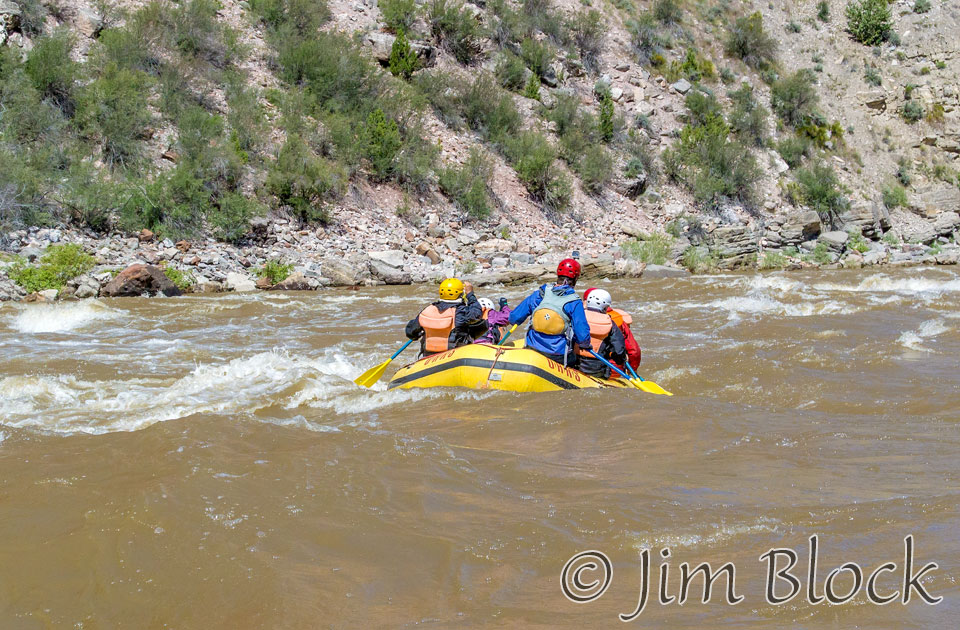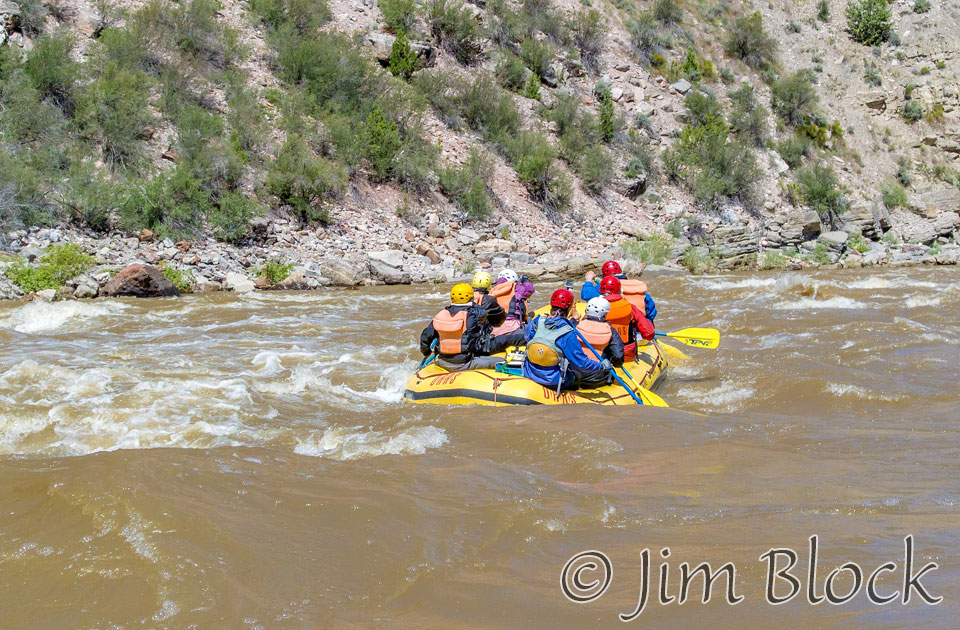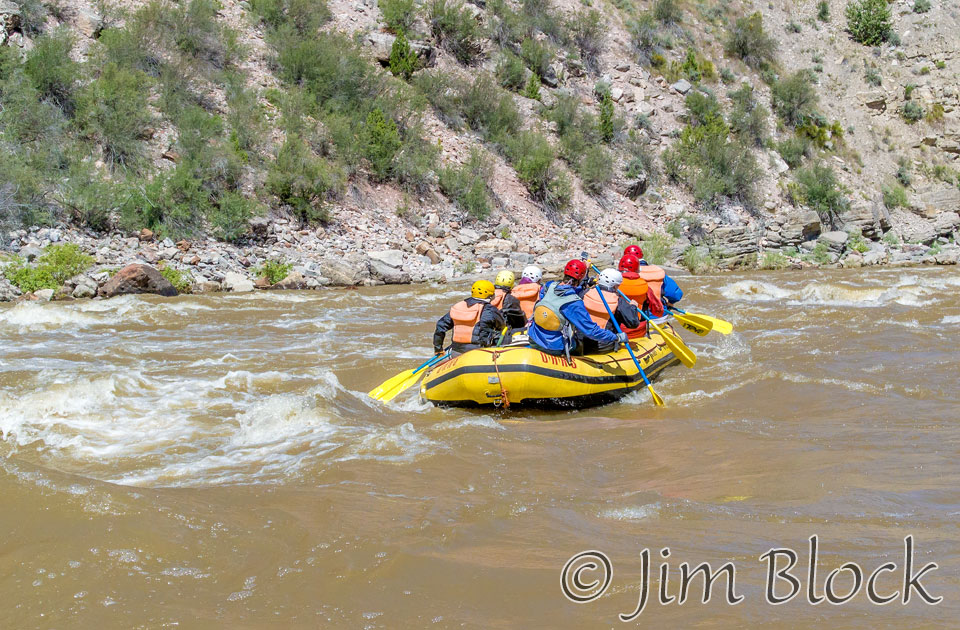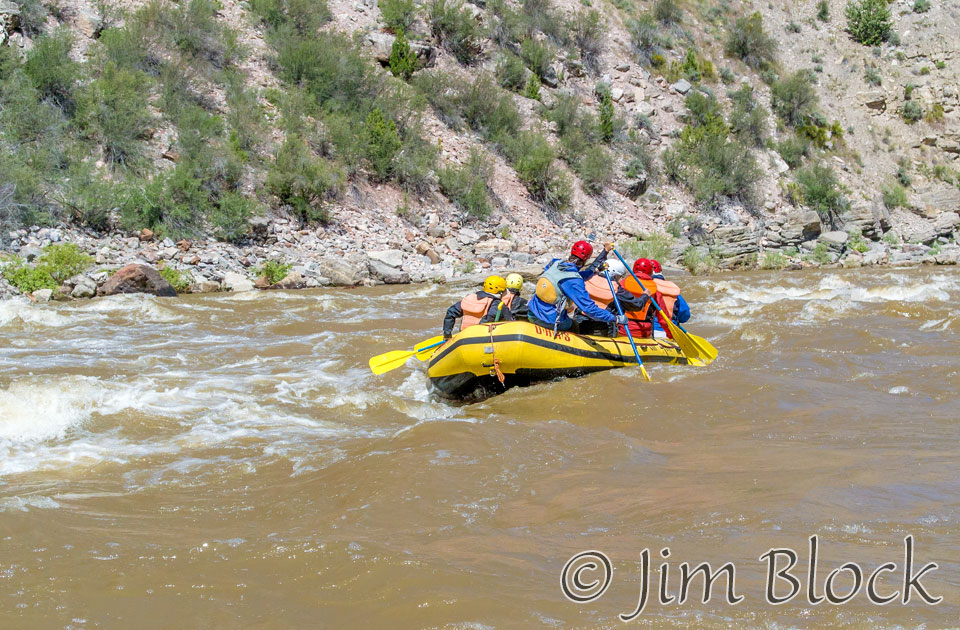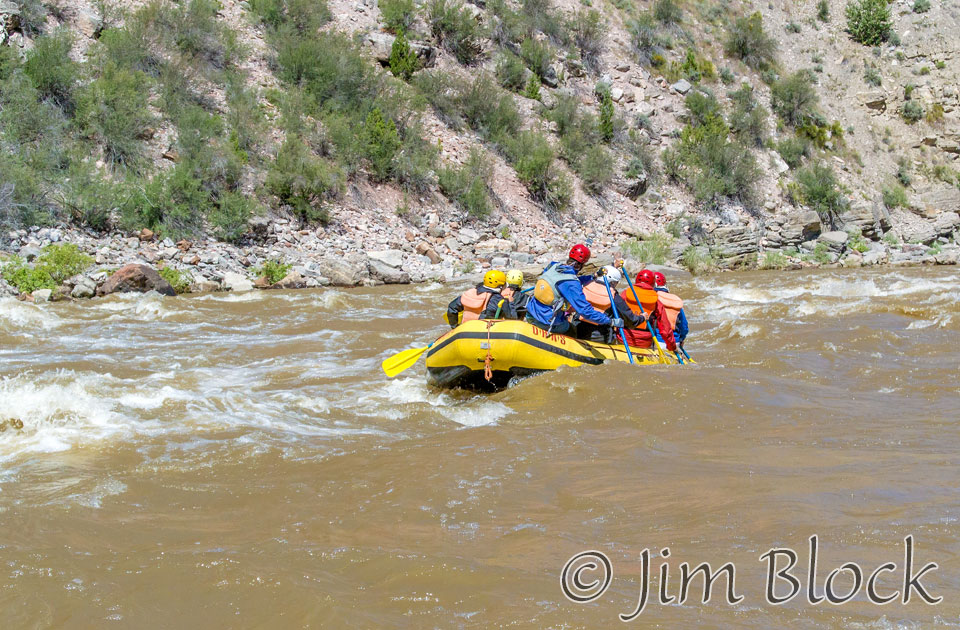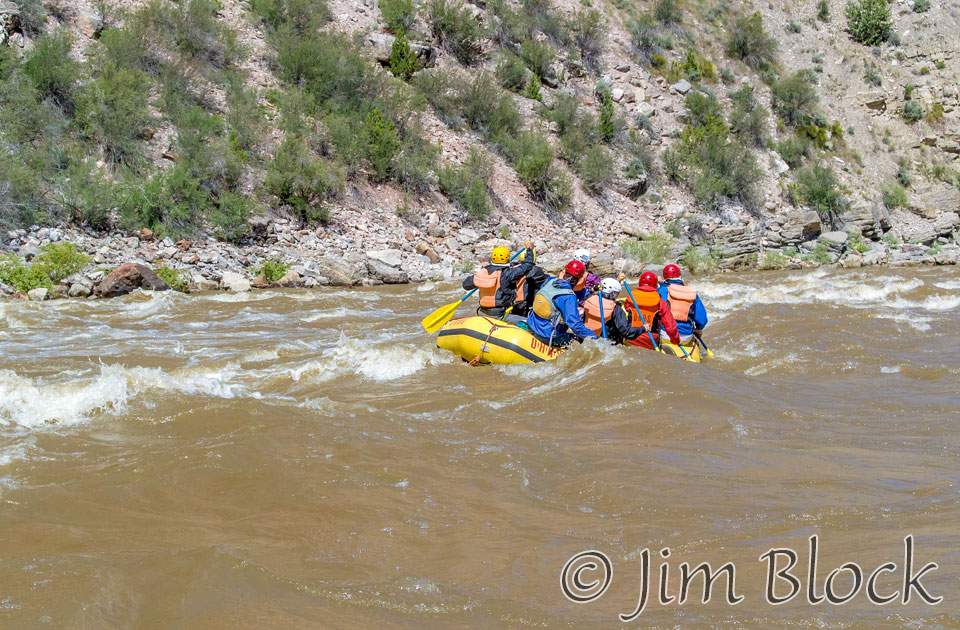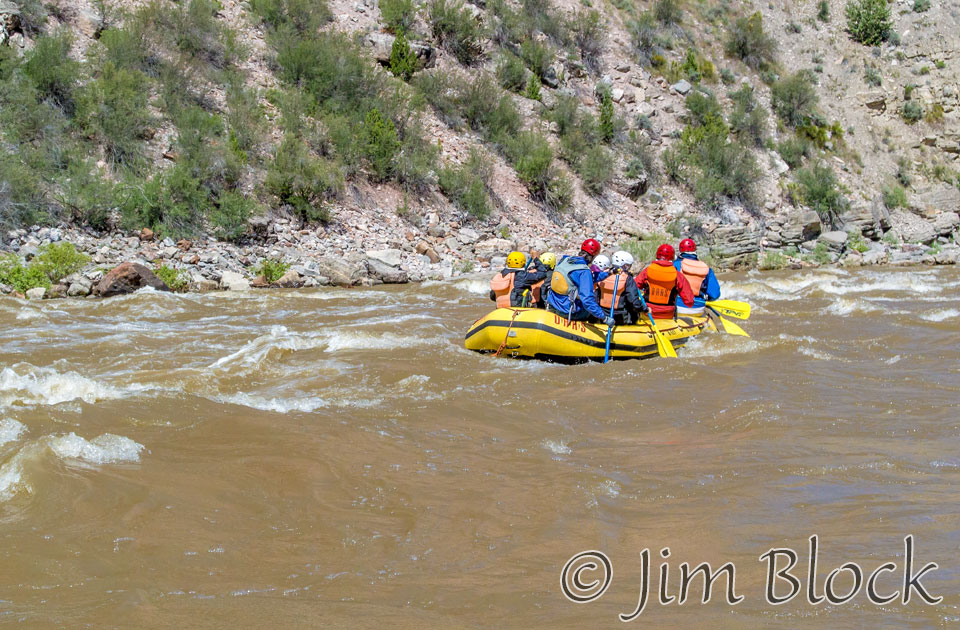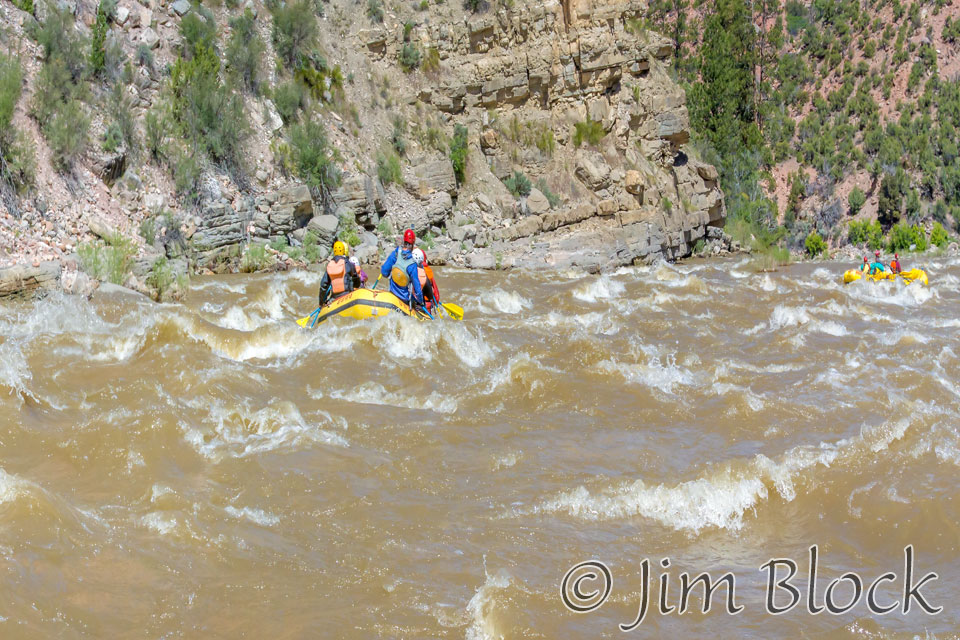 They made it through in fine shape.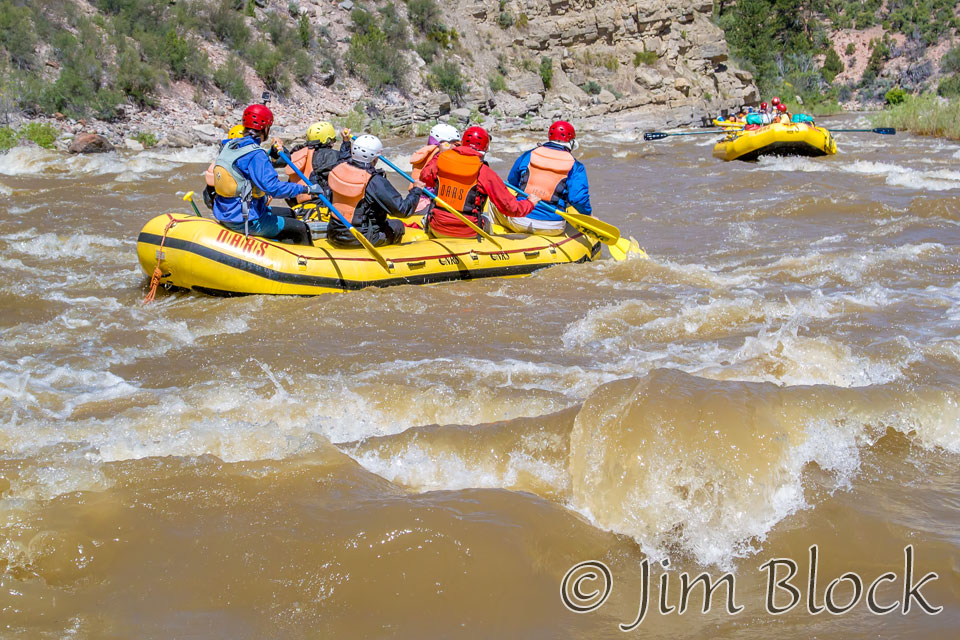 Here are some other photos of Tepee Rapid.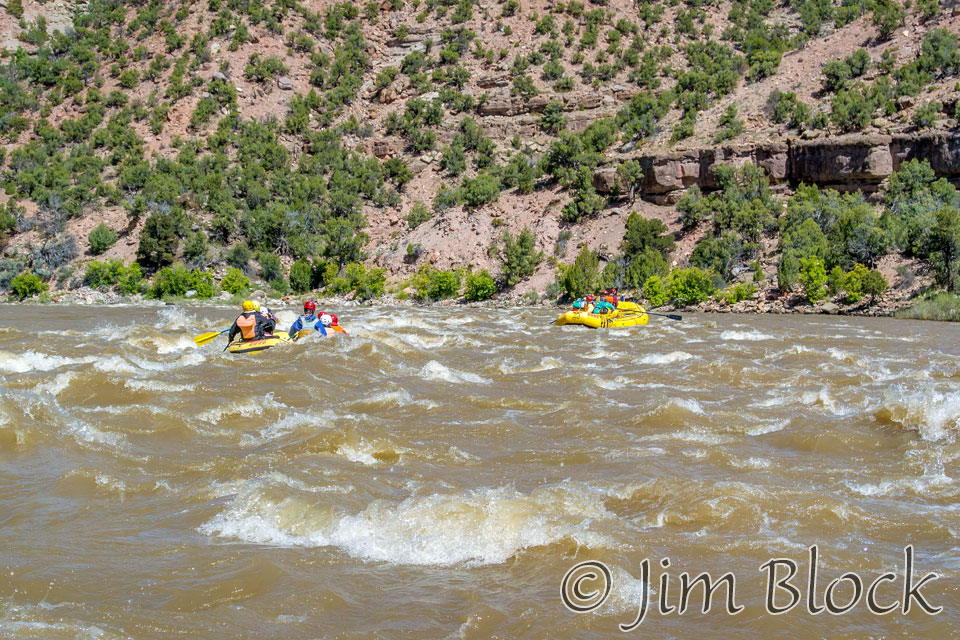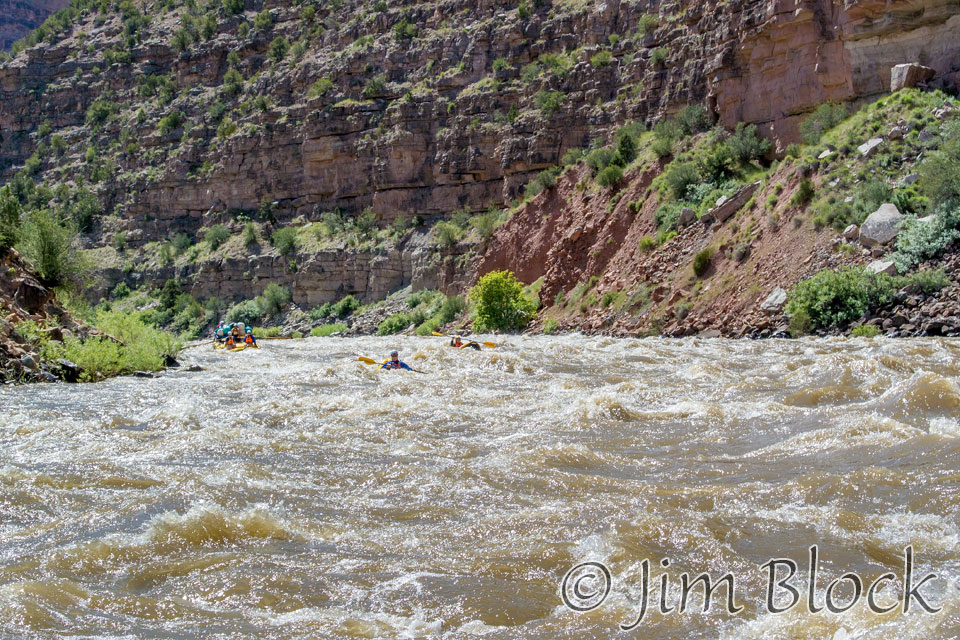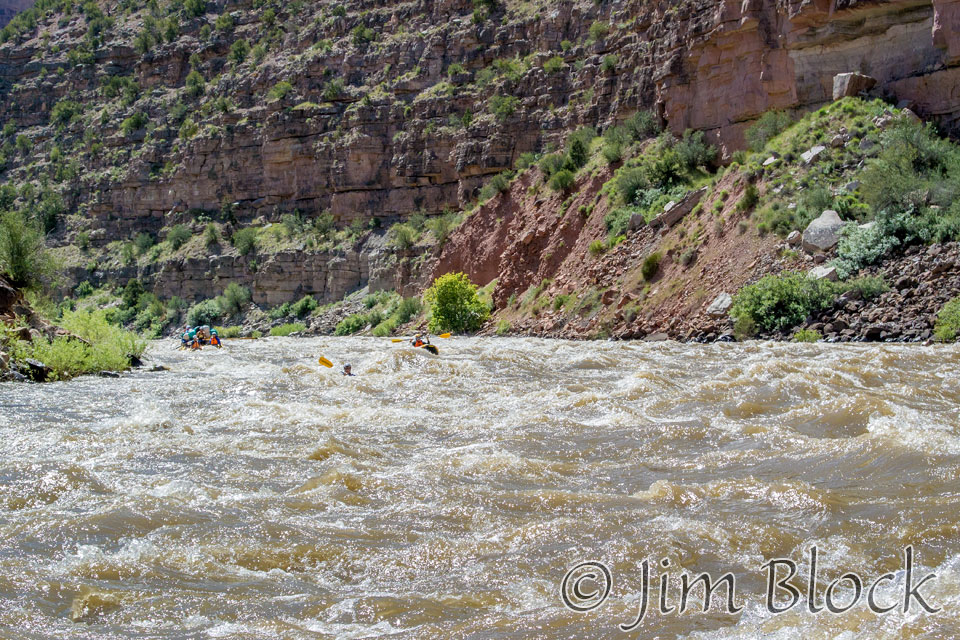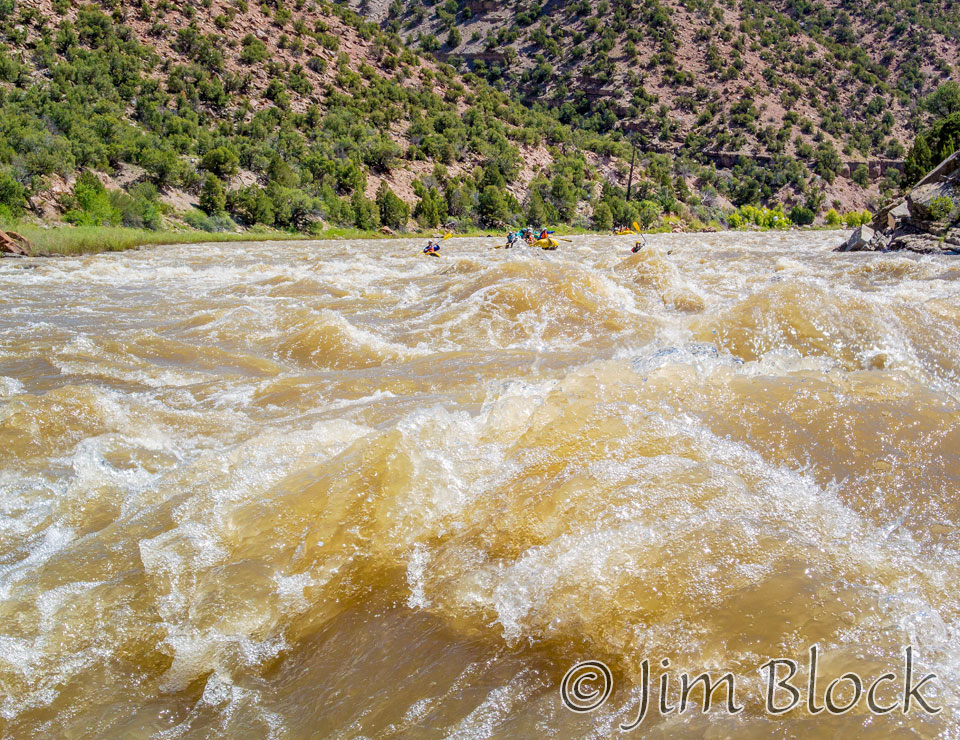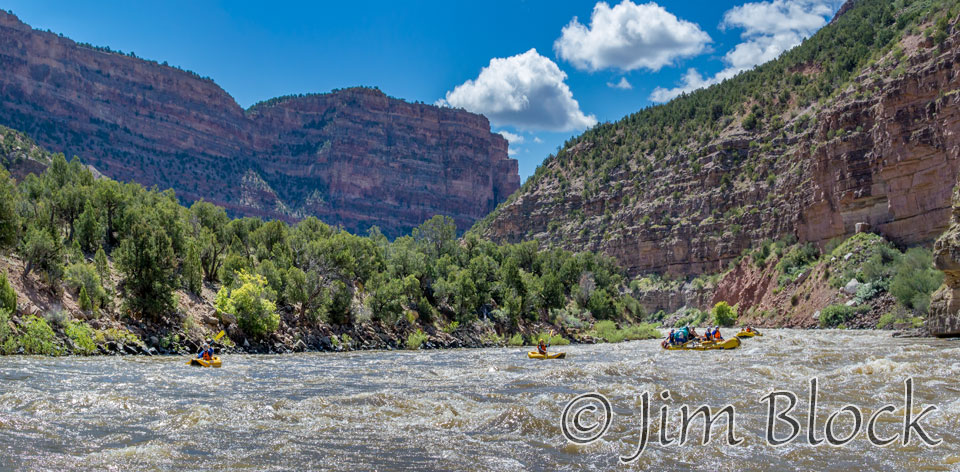 Bruce and Tim were in the duckies this morning. They had some great rides through some exciting rapids before lunch.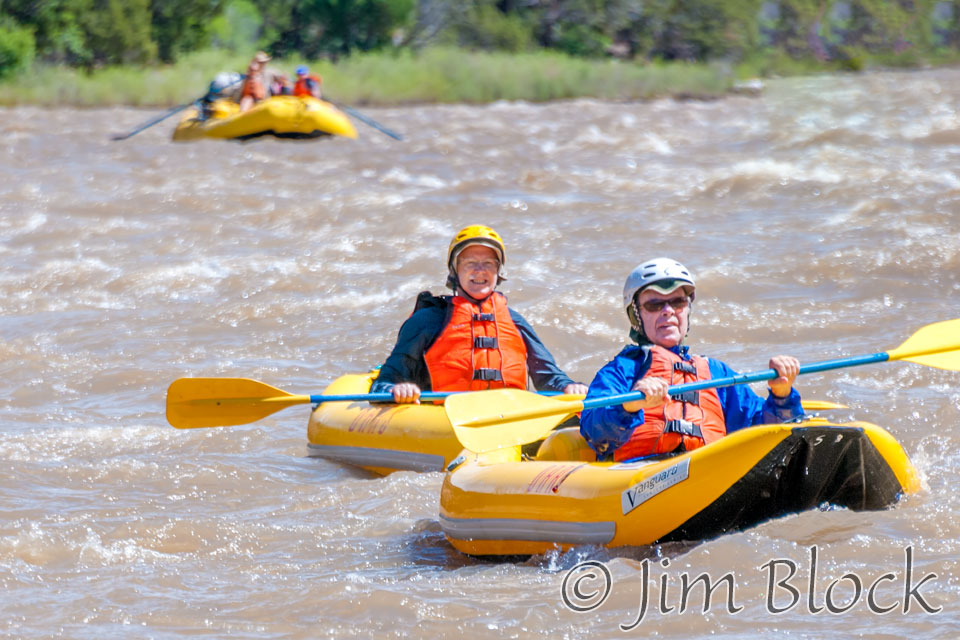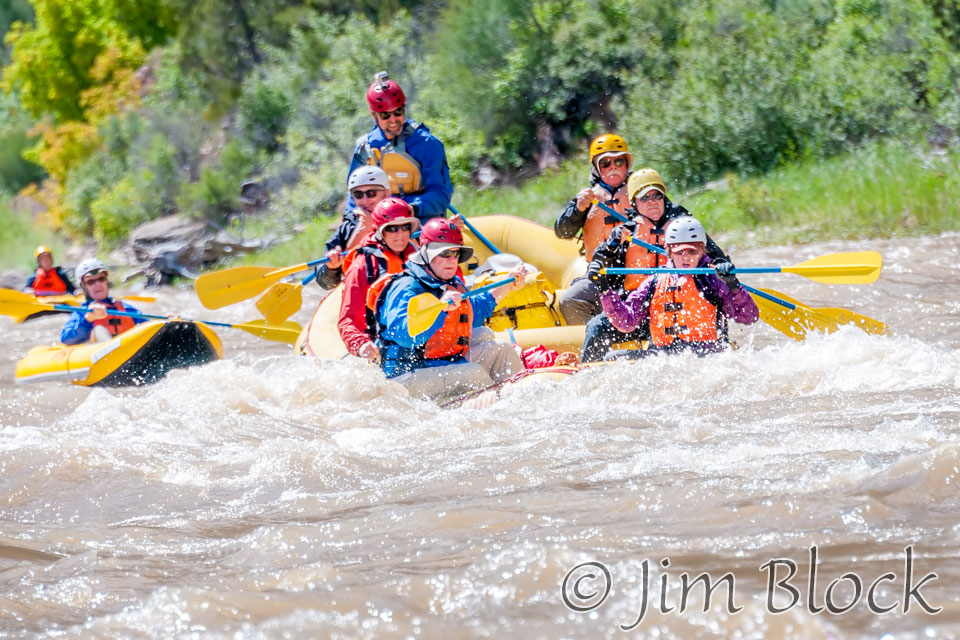 Al surveyed the river he had paddled himself many times including a fateful trip 50 years earlier.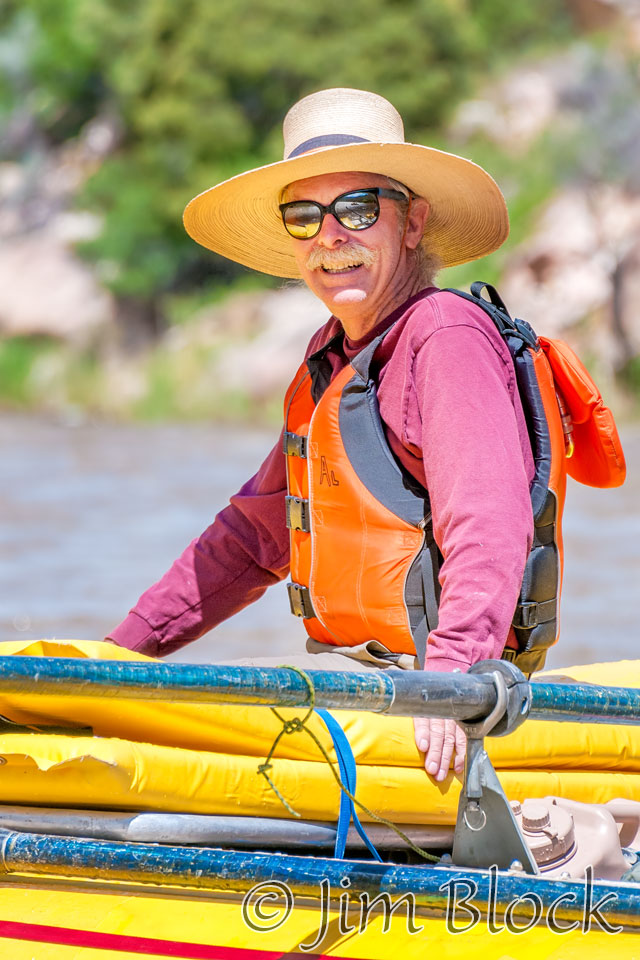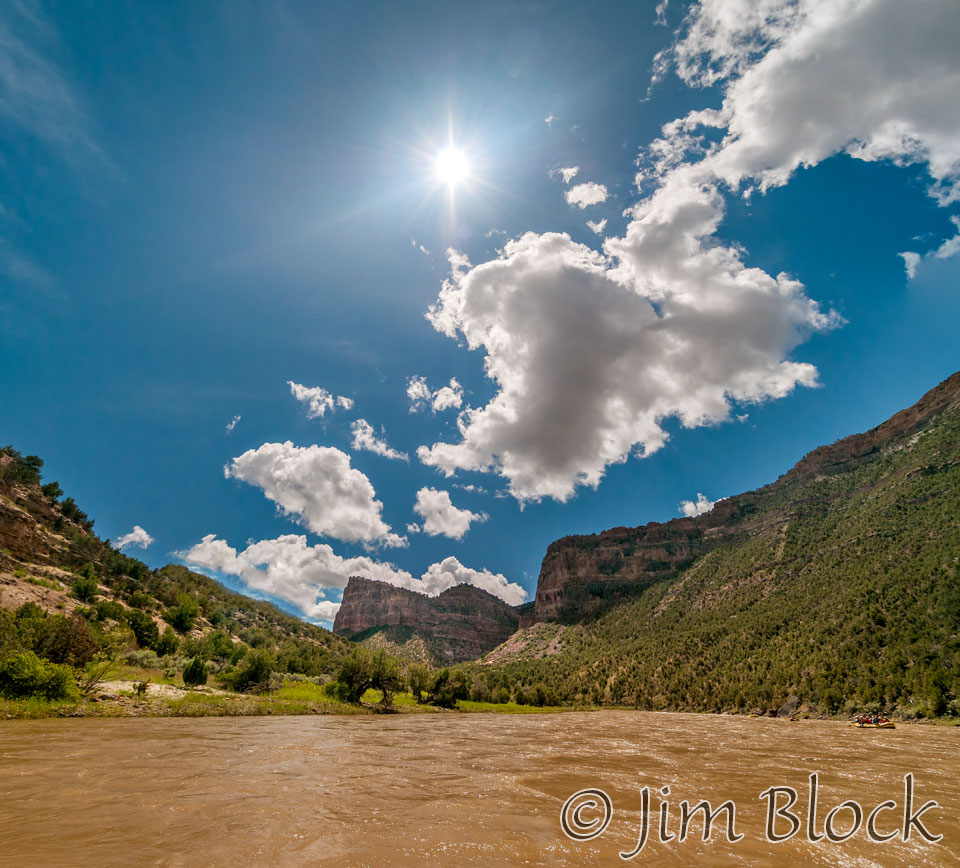 I rode with Tony.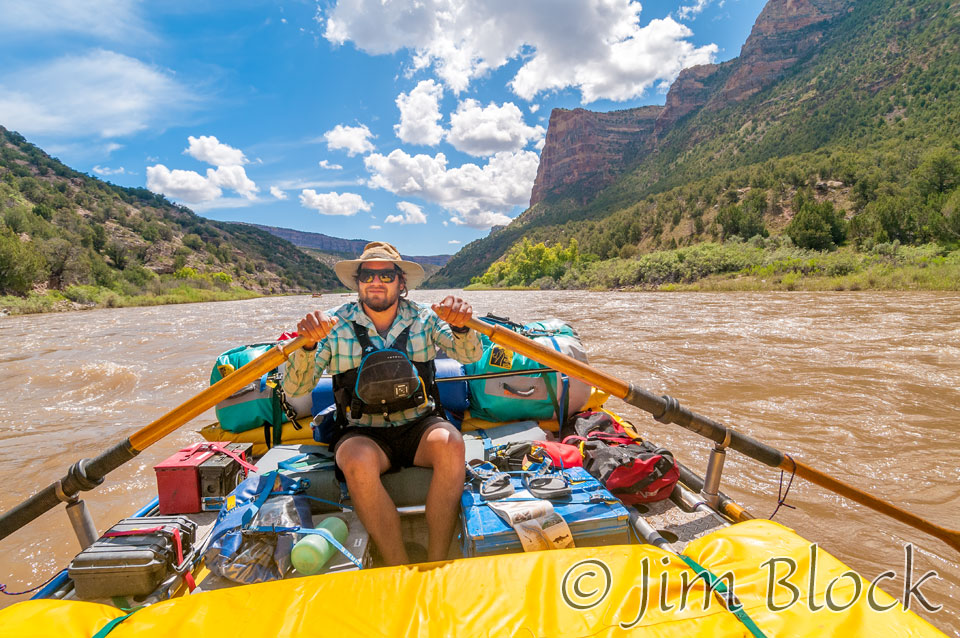 Here is a slide show of the paddle raft negotiating some small rapids, perhaps Little Joe Rapid.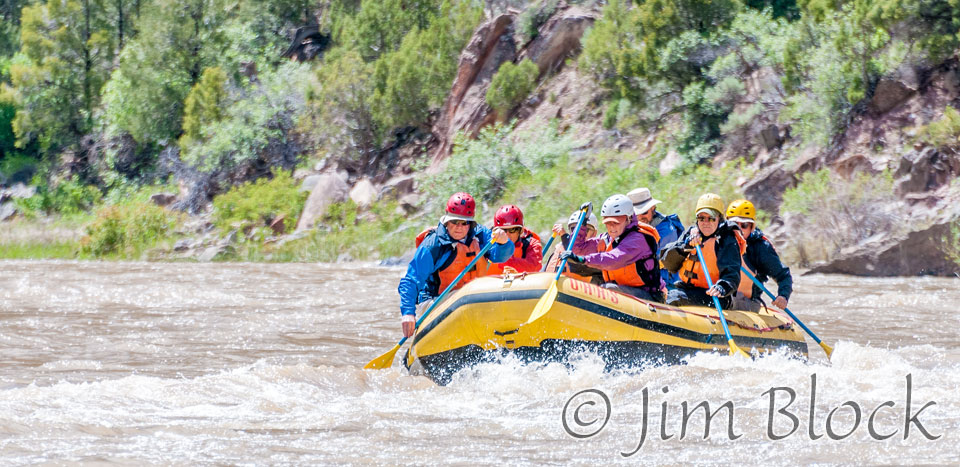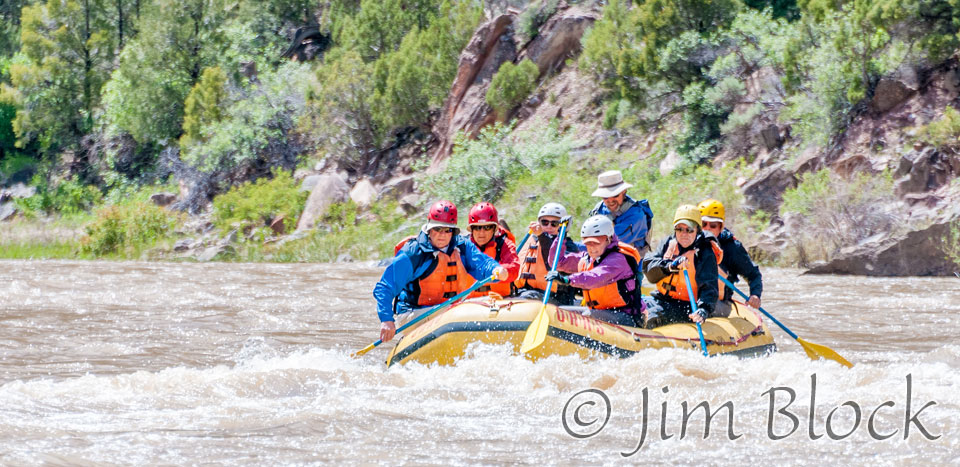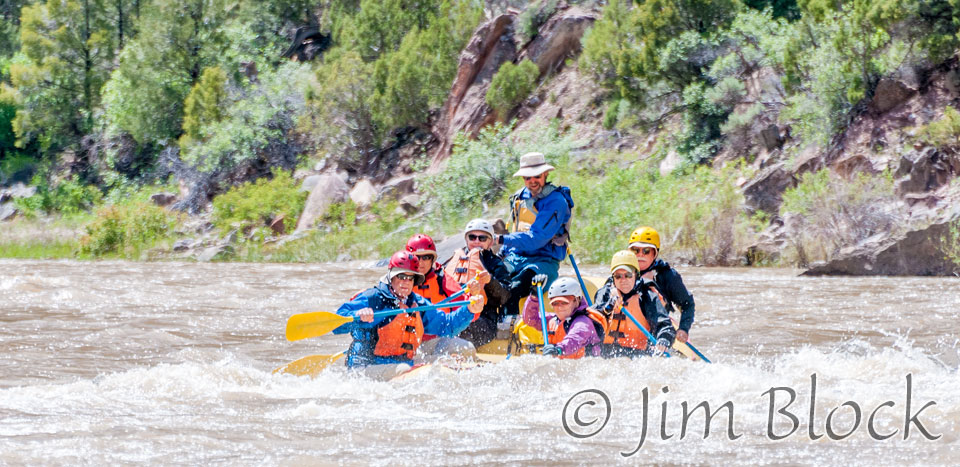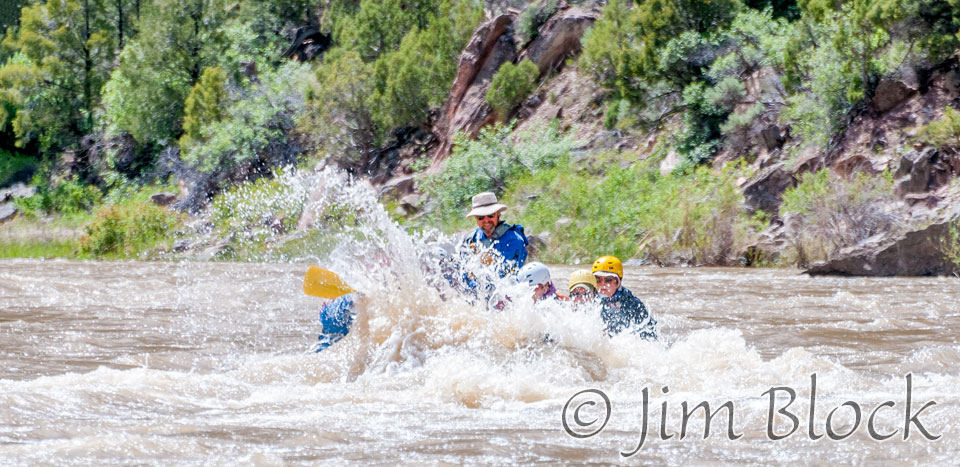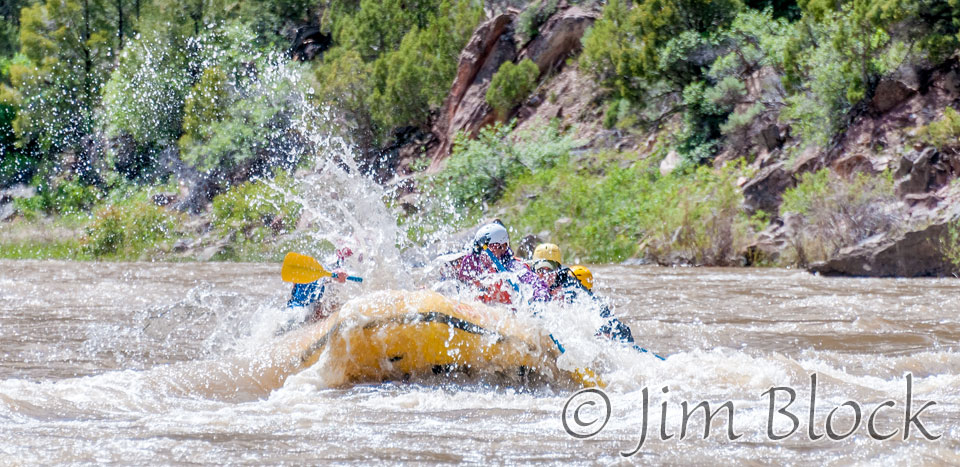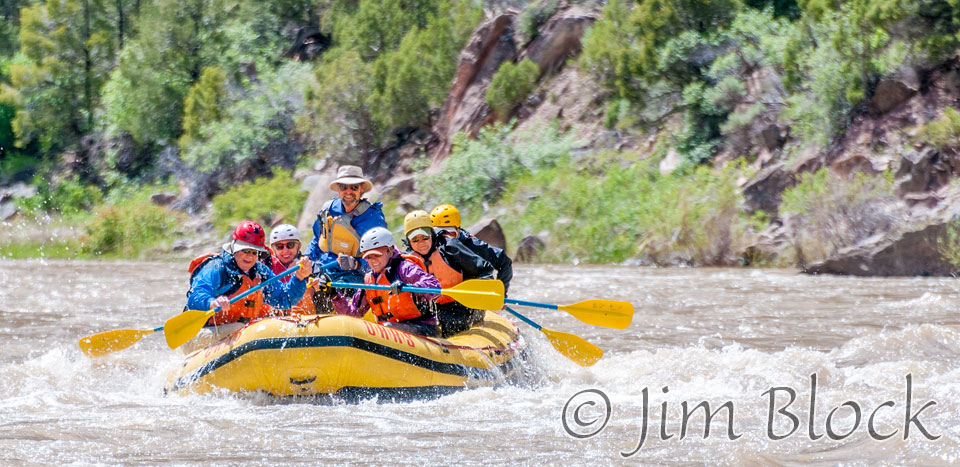 We started the morning with clear blue skies. But by noon clouds had moved in which were quite beautiful.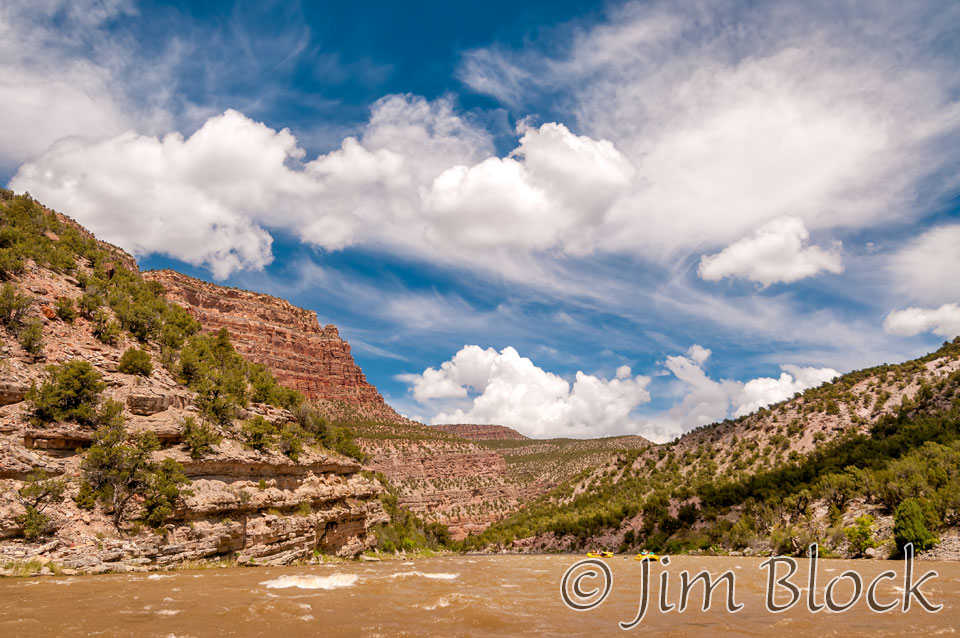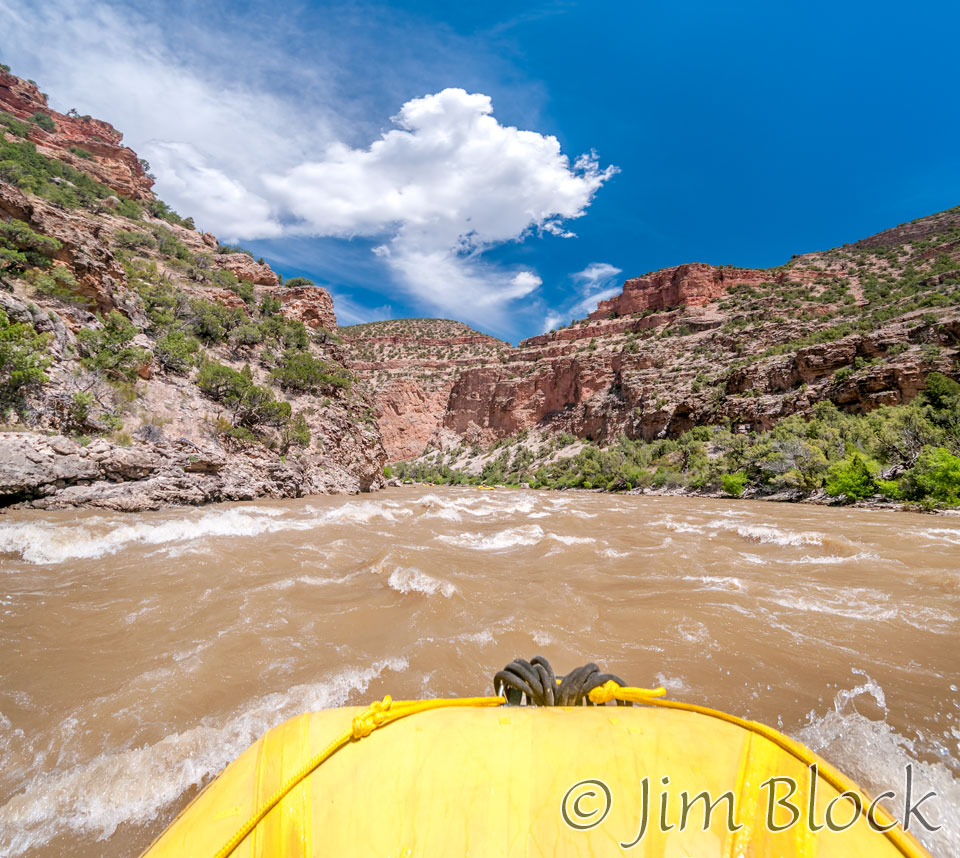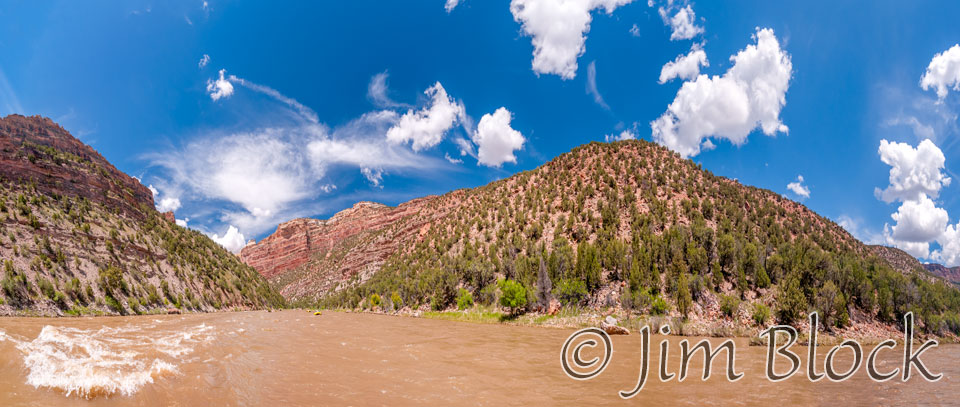 We approached Big Joe Rapid planning to scout it, but the bank was cluttered with another party. You might be able to see one of that party scouting in the photo below. Not seeing a good place to land and moving quickly with the current, Joelle decided to just run it.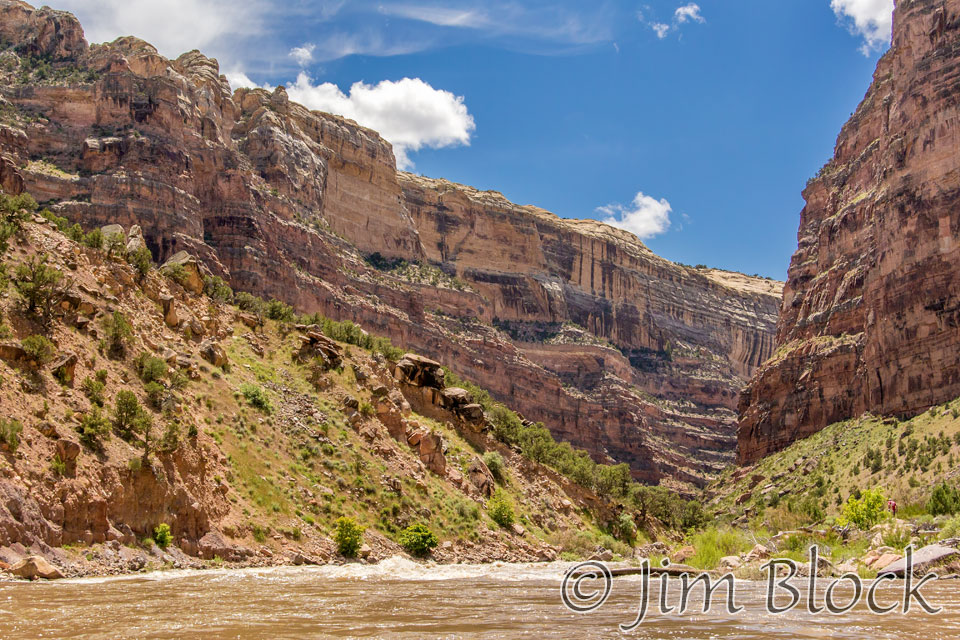 We ran Big Joe quite successfully. Here was my view from just behind Joelle's boat.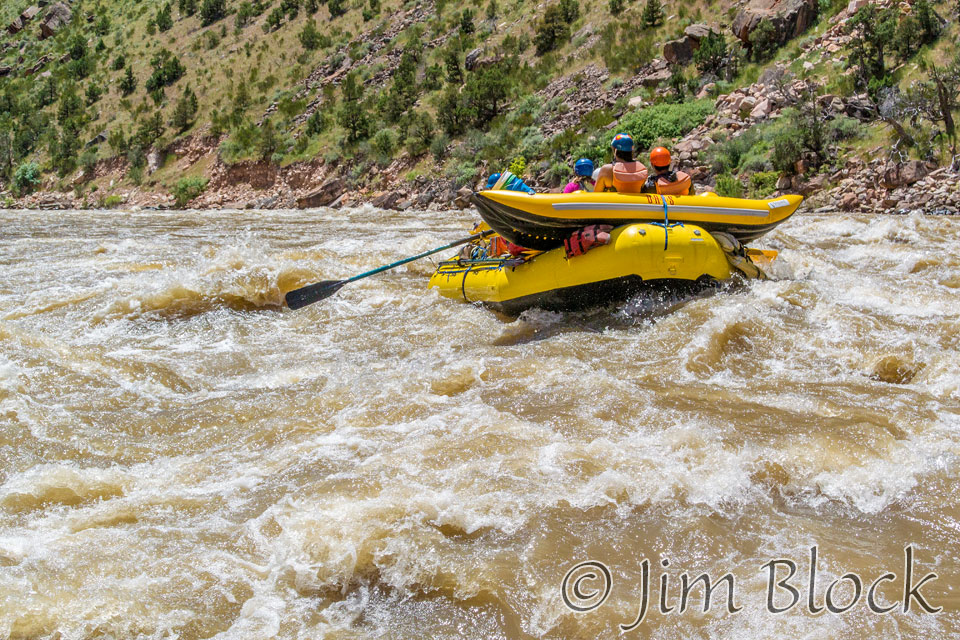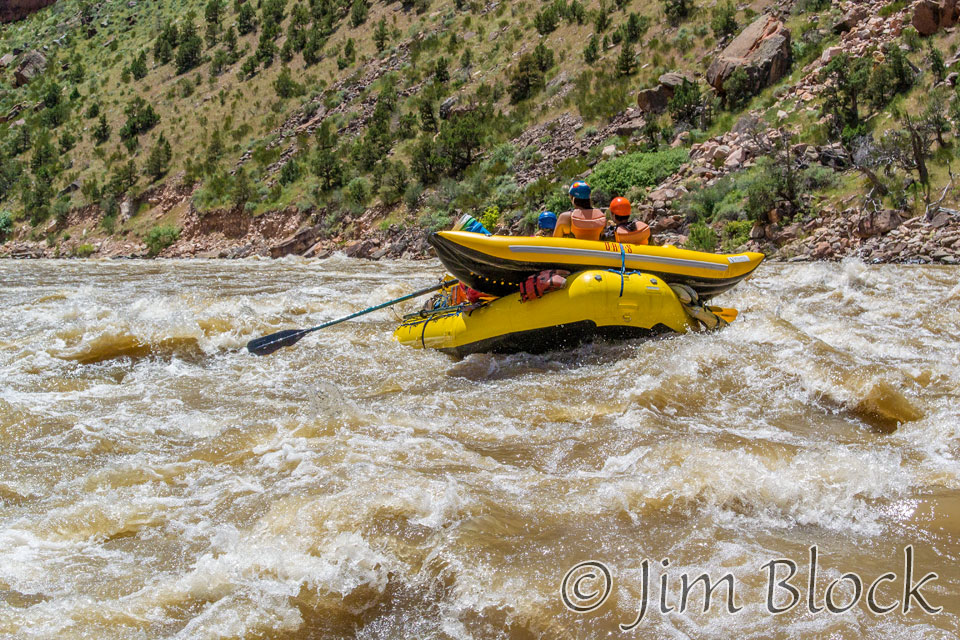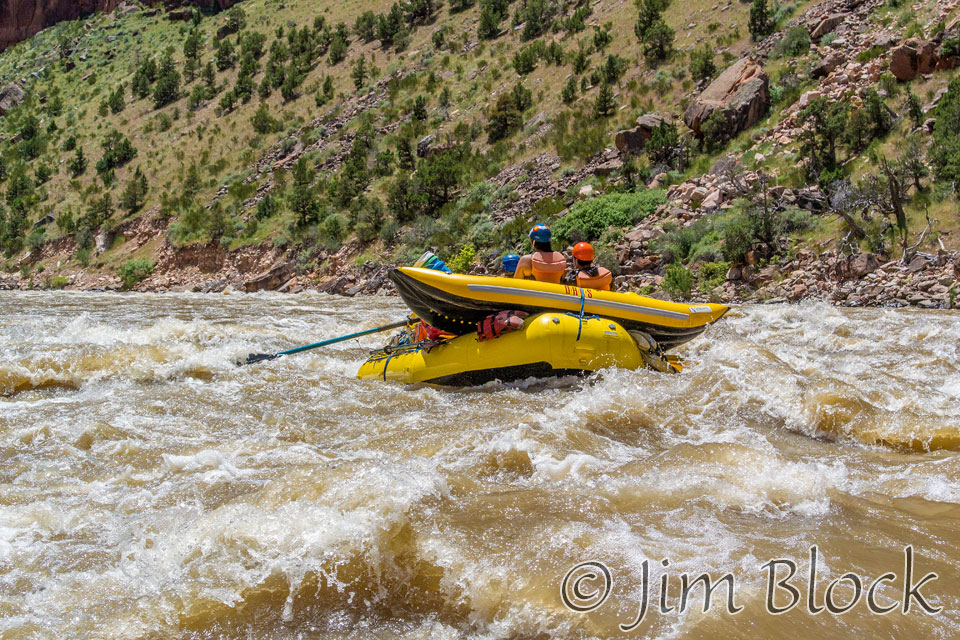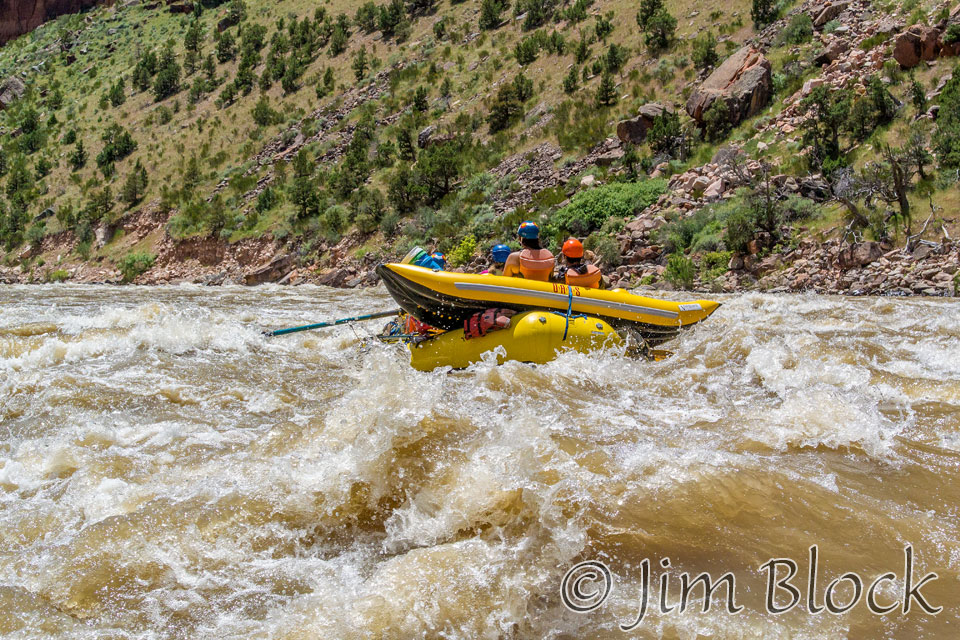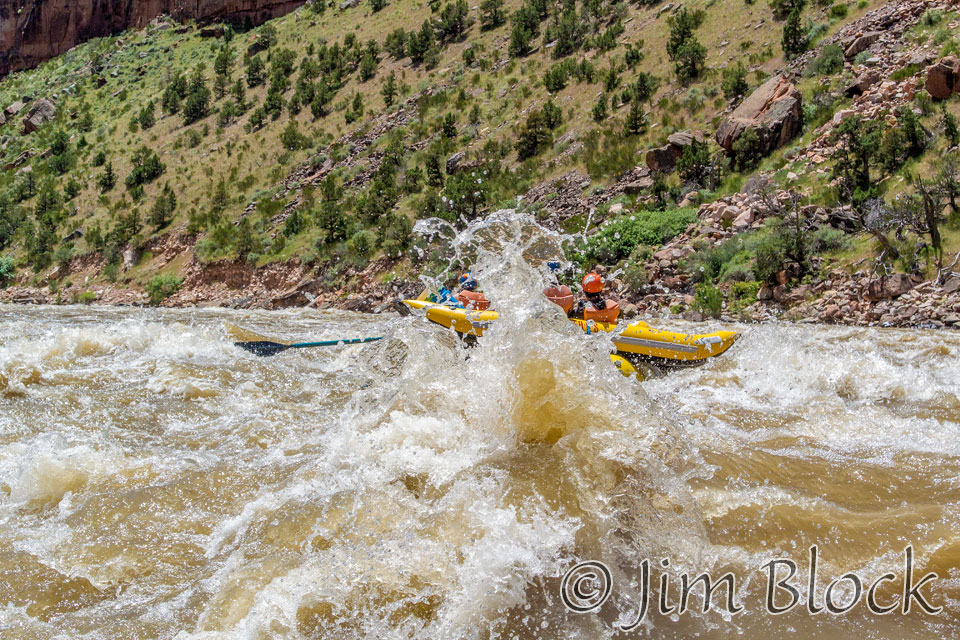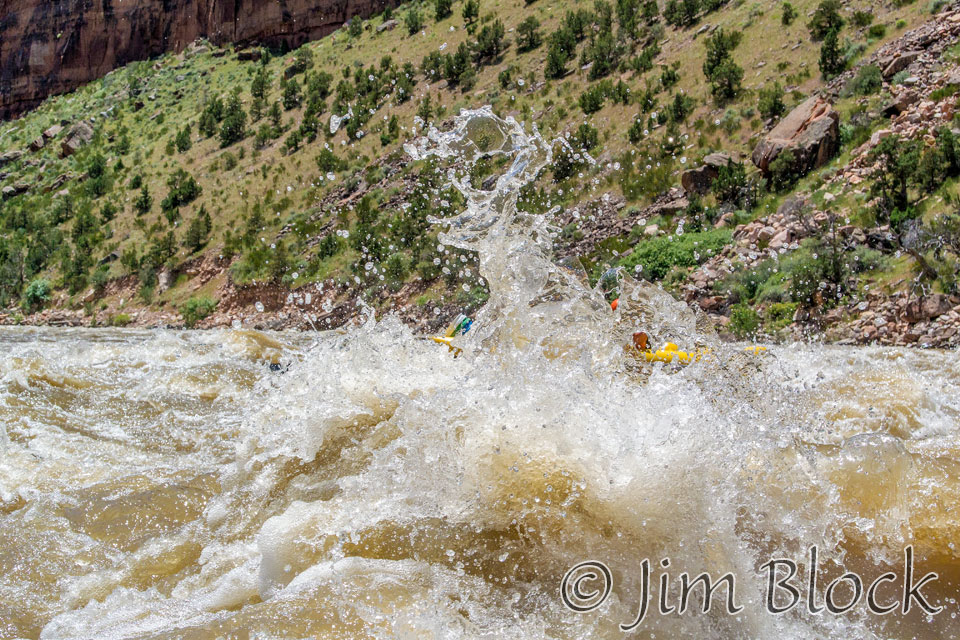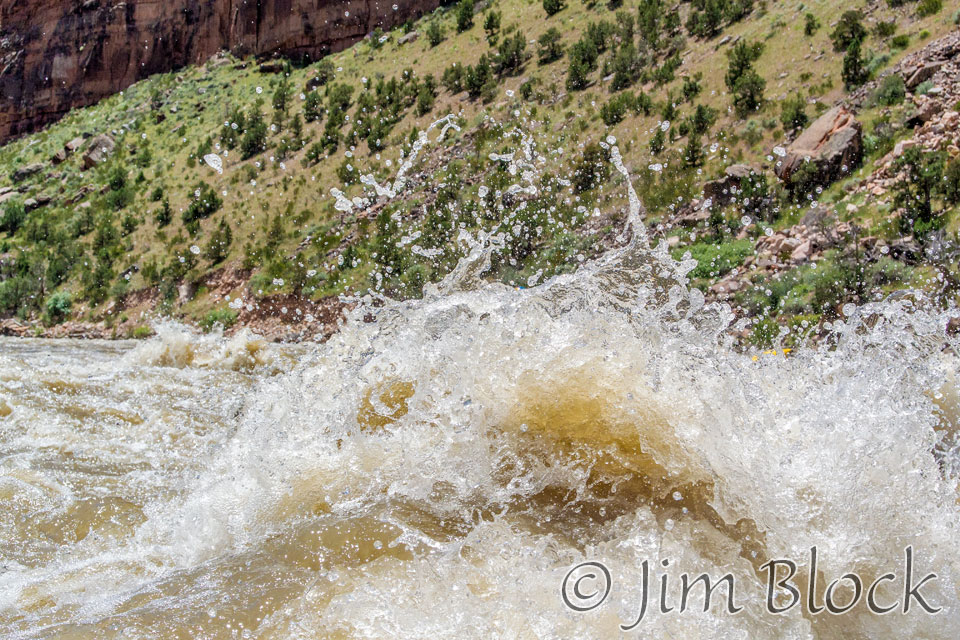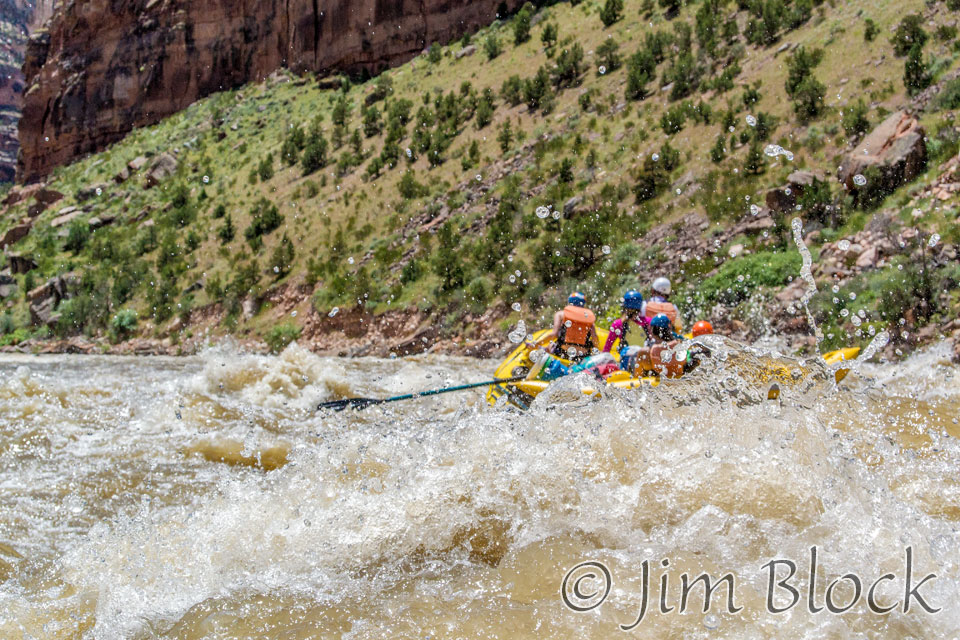 We had lunch a bit after 1 PM below Big Joe Rapid.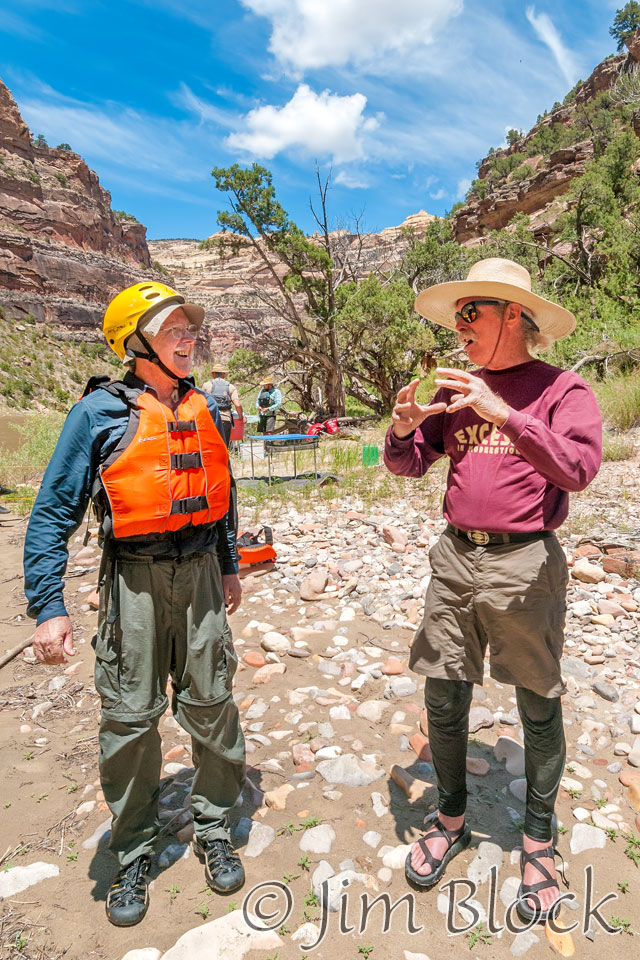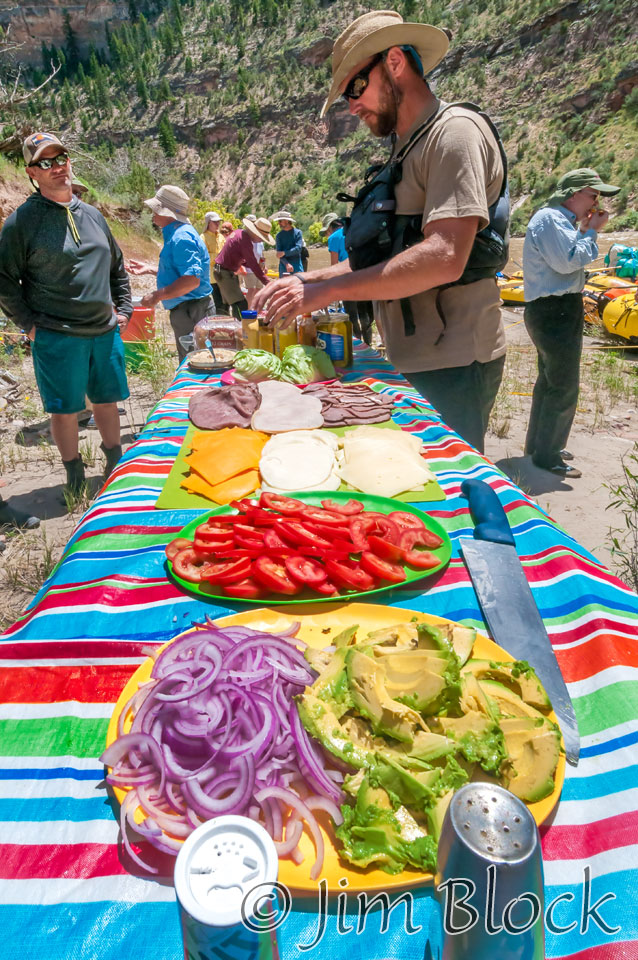 While lunch we being prepared, I wandered along the shore and uphill a bit to take some photos.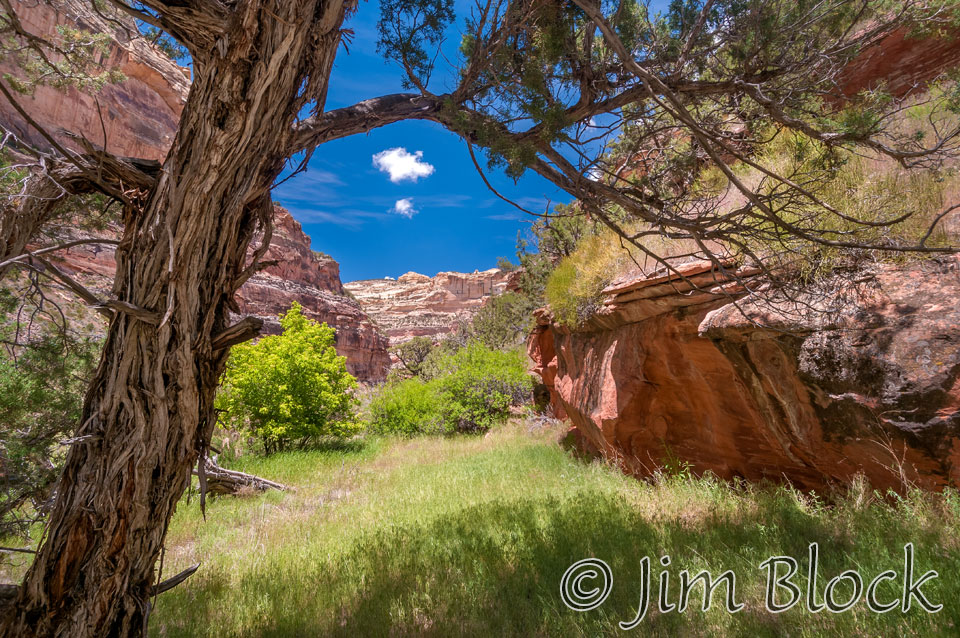 It was just a couple of miles from our lunch spot to our camp site for the night. That left plenty of time for the best hike along the Yampa — up Bull Canyon to Wagon Wheel Point.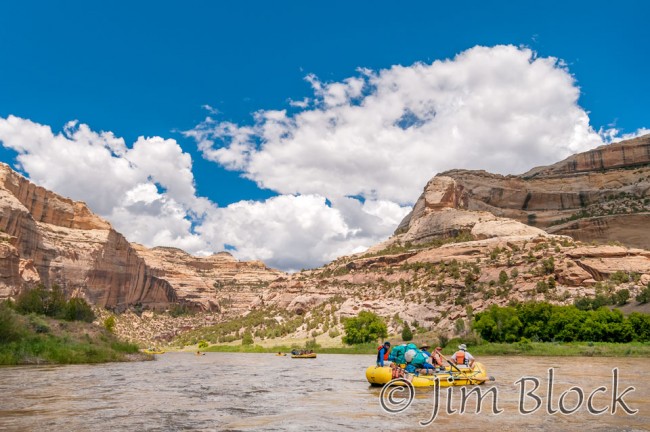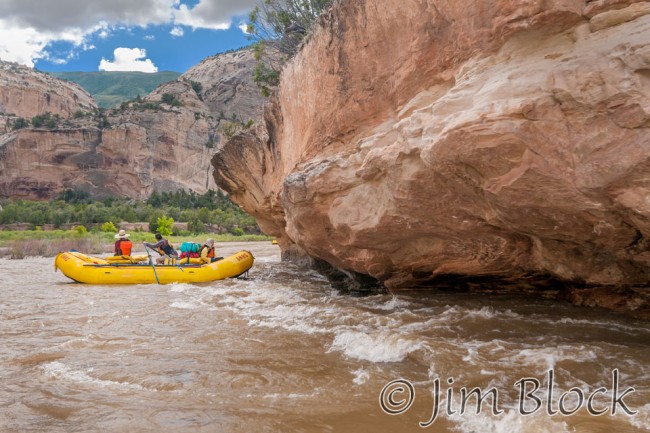 We pulled into Harding Hole 4 Camp at 2:25 PM. It was the last camp of a series at Handing Hole and tucked into a corner under a massive wall. This meant we were the first to get shade in the afternoon and the first to get the sun in the morning.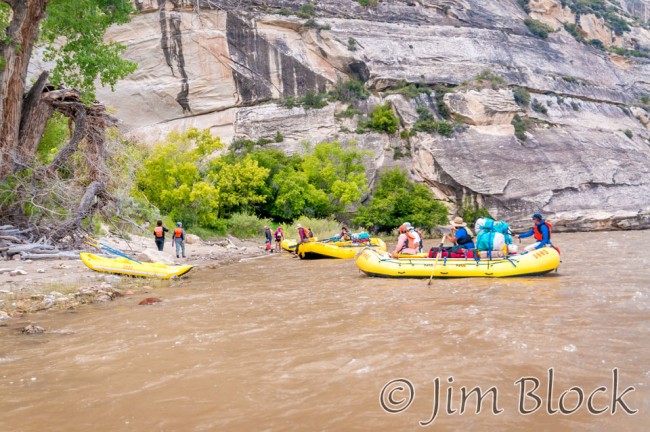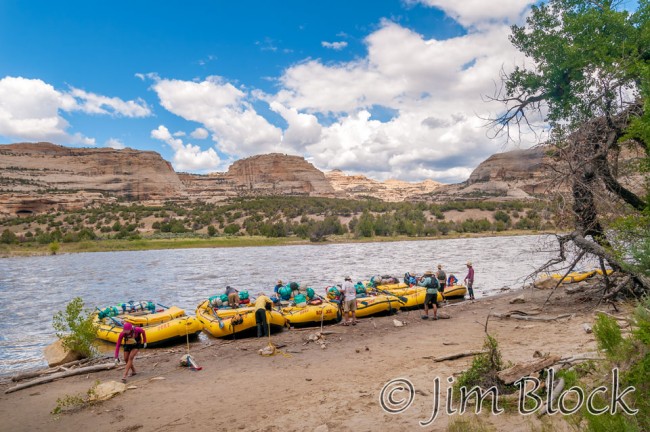 This camp had the first mosquitoes that I can remember from the two trips, but also the first excellent chance to photograph the Milky Way. The sky in the direction of the Milky Way would not have been as open from the other Harding camps.
While waiting for a hike to get started I photographed a yellow warbler in her nest and a cicada near the river.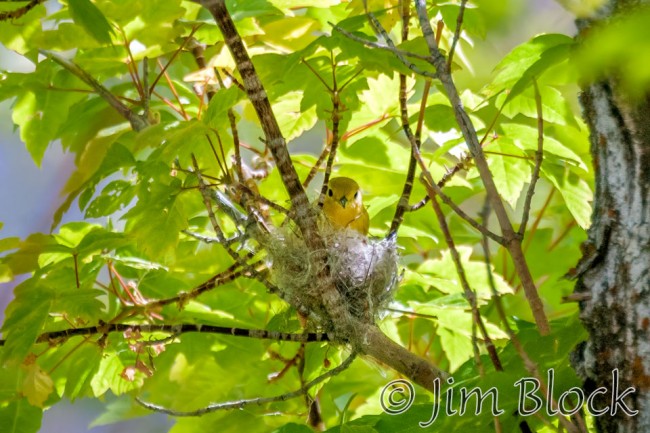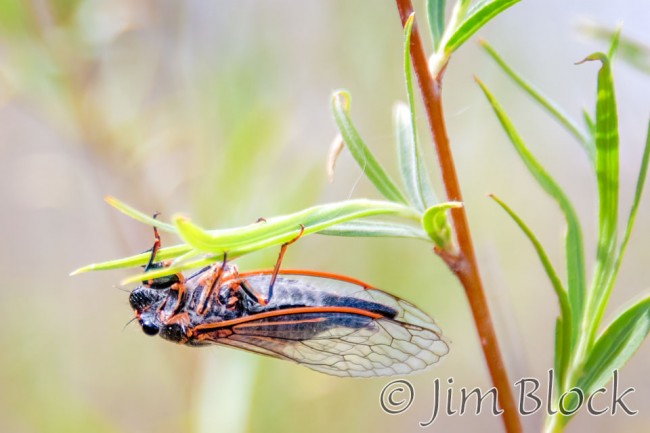 Around 4 PM about half of us headed to Wagon Wheel Point. We first hiked along the river then turned into beautiful Bull Canyon where we met George hiking in from above.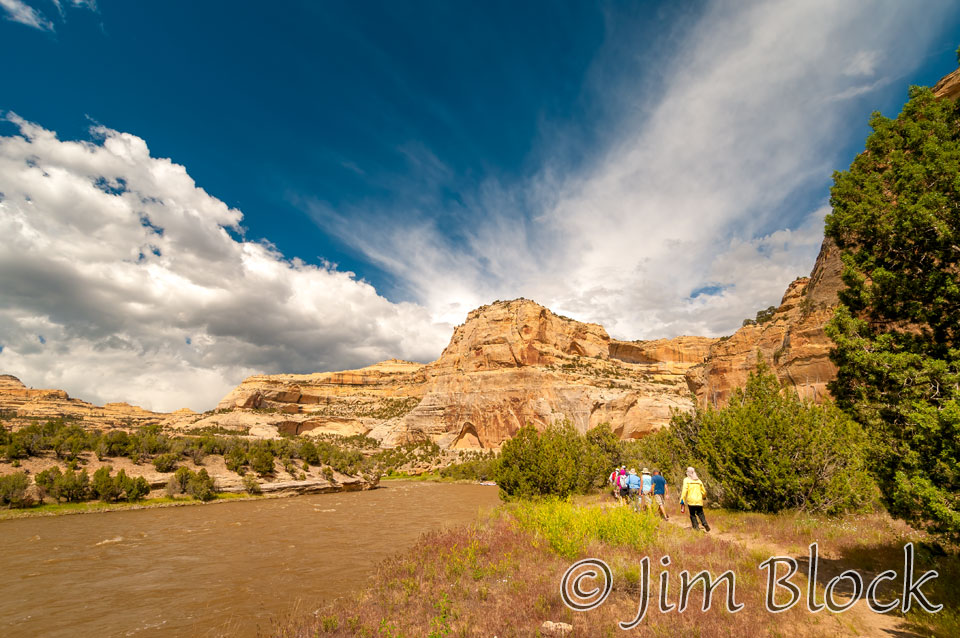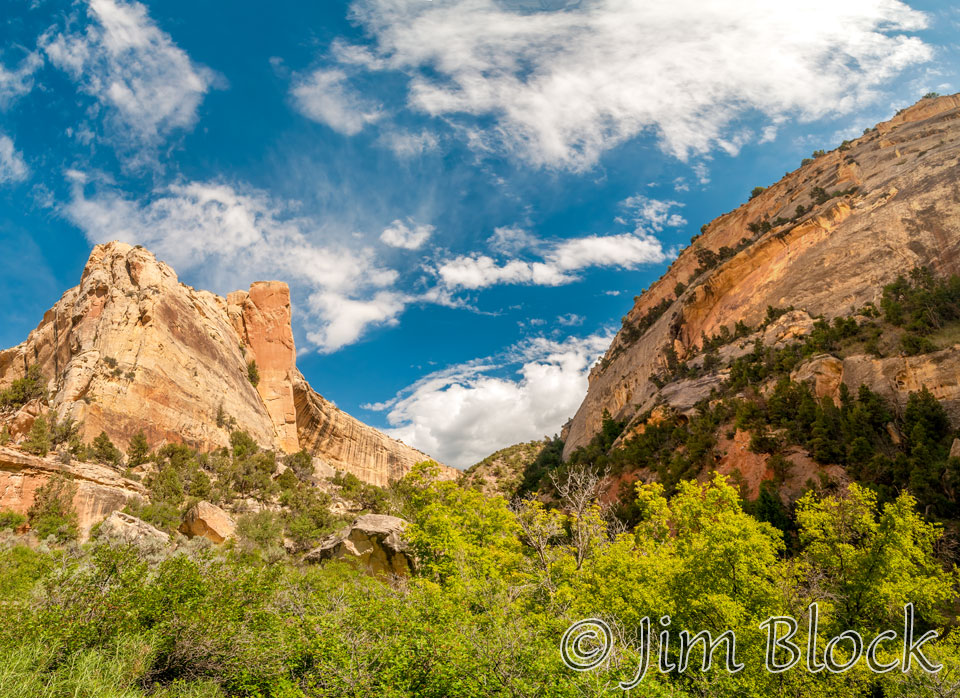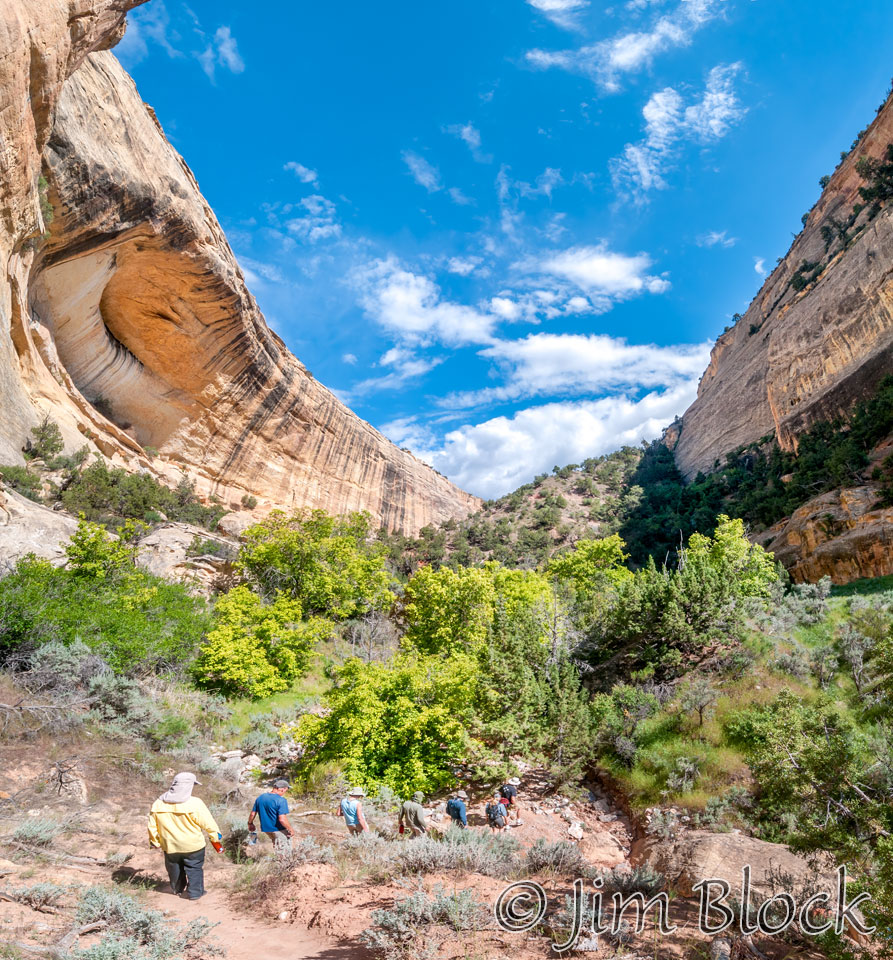 On the way up I was able to get a quick shot of a spotted towhee. That streak of yellow on its head is not a field mark but something in its bill.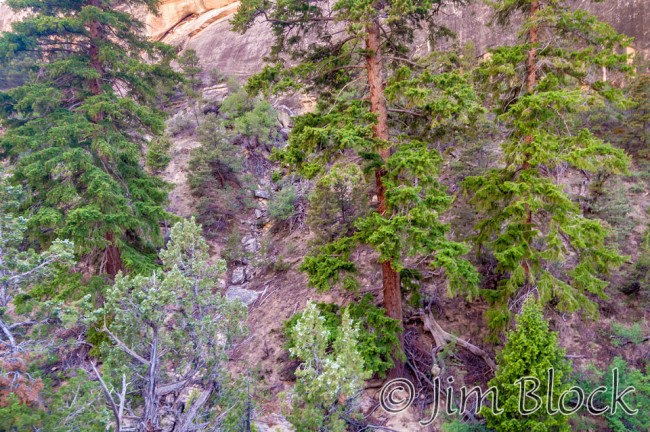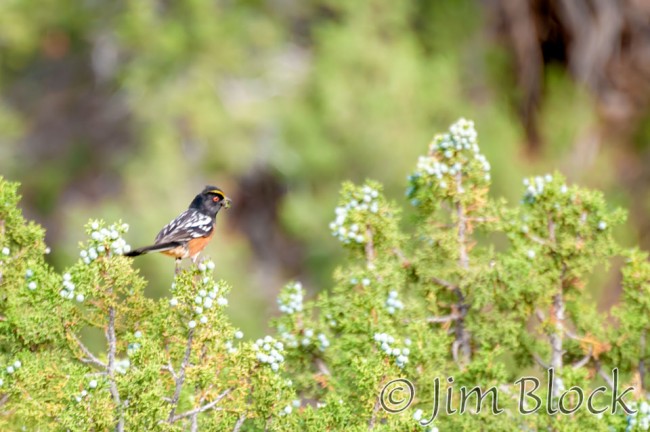 After a surprisingly long walk on a dirt road, we arrived at our destination. We were at Wagon Wheel Point for about 20 minutes. I photographed this dead tree heading in along the short trail to the point and then again 26 minutes later heading out. Note how the sky changed in that time.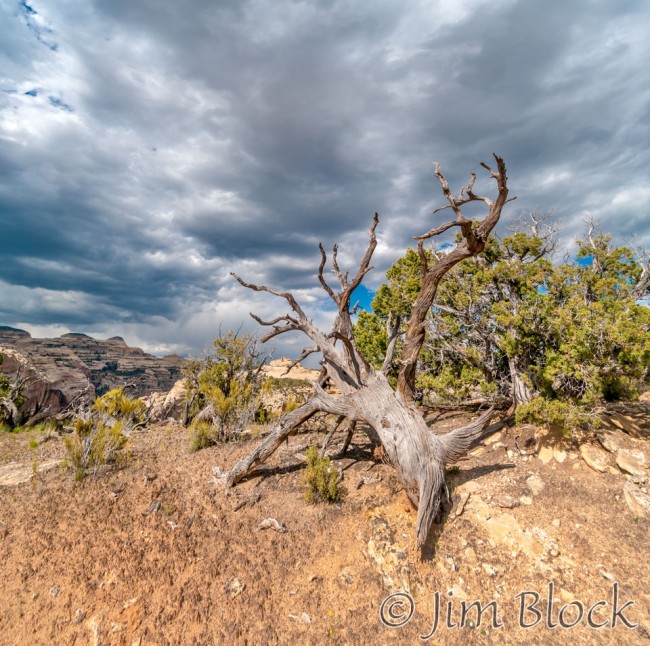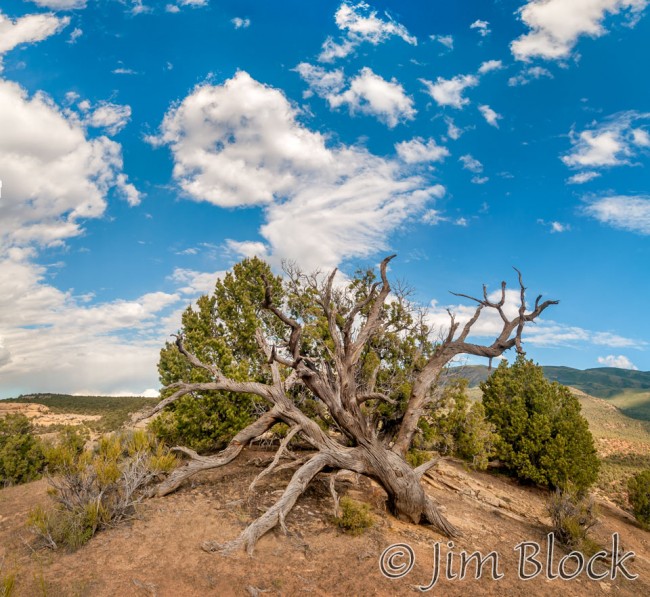 Wagon Wheel Point was spectacular. Here is fearless Heather on the edge. Our camp is in the shadows at the left end of the beach. The Yampa is flowing to the left.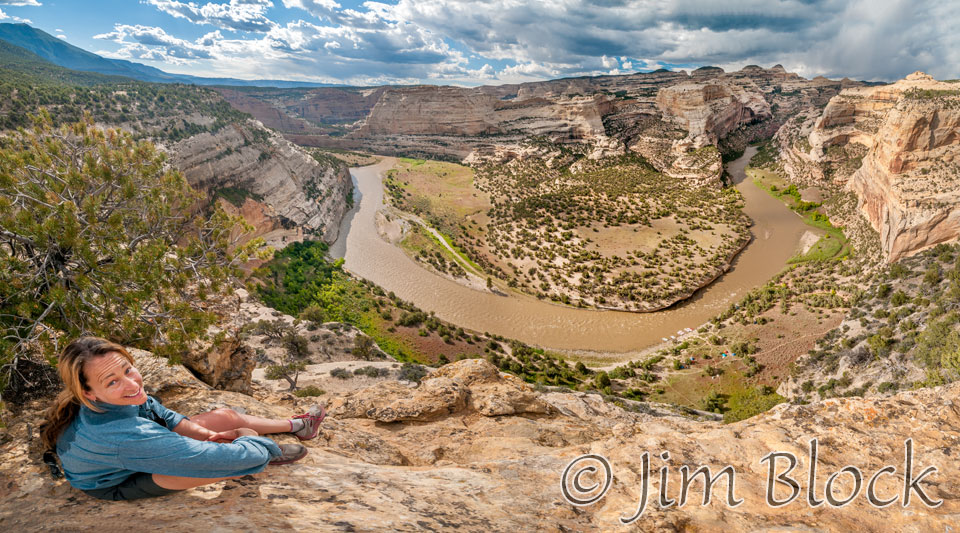 Below is a view looking downstream at our camp.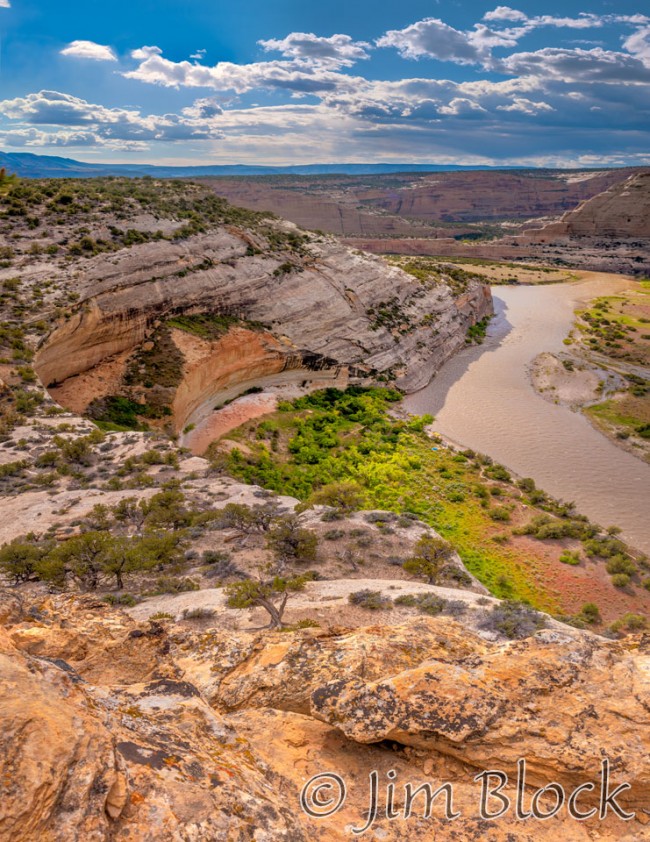 Here is a close-up of our camp.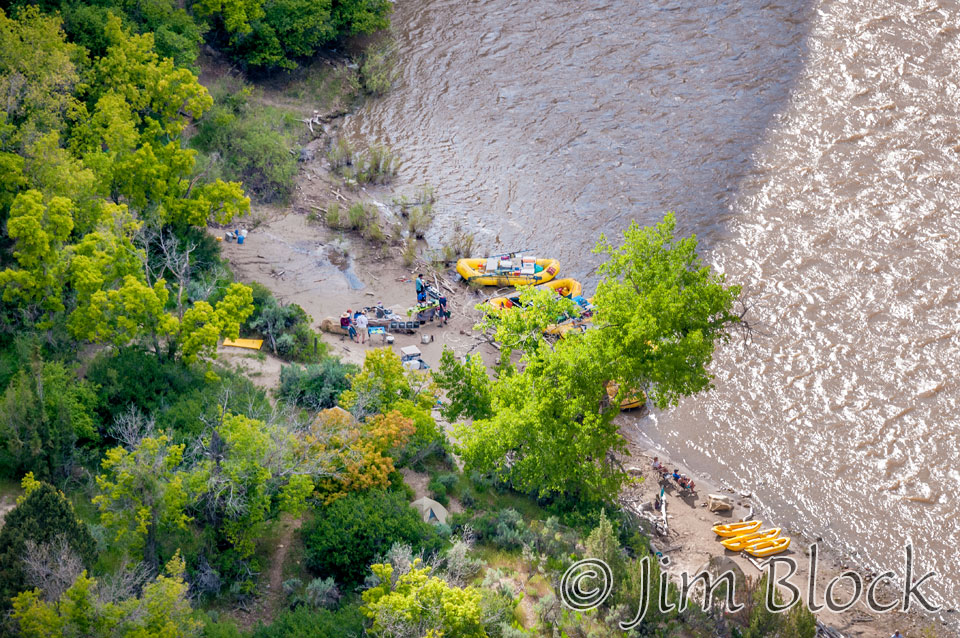 The photo below shows the view upstream.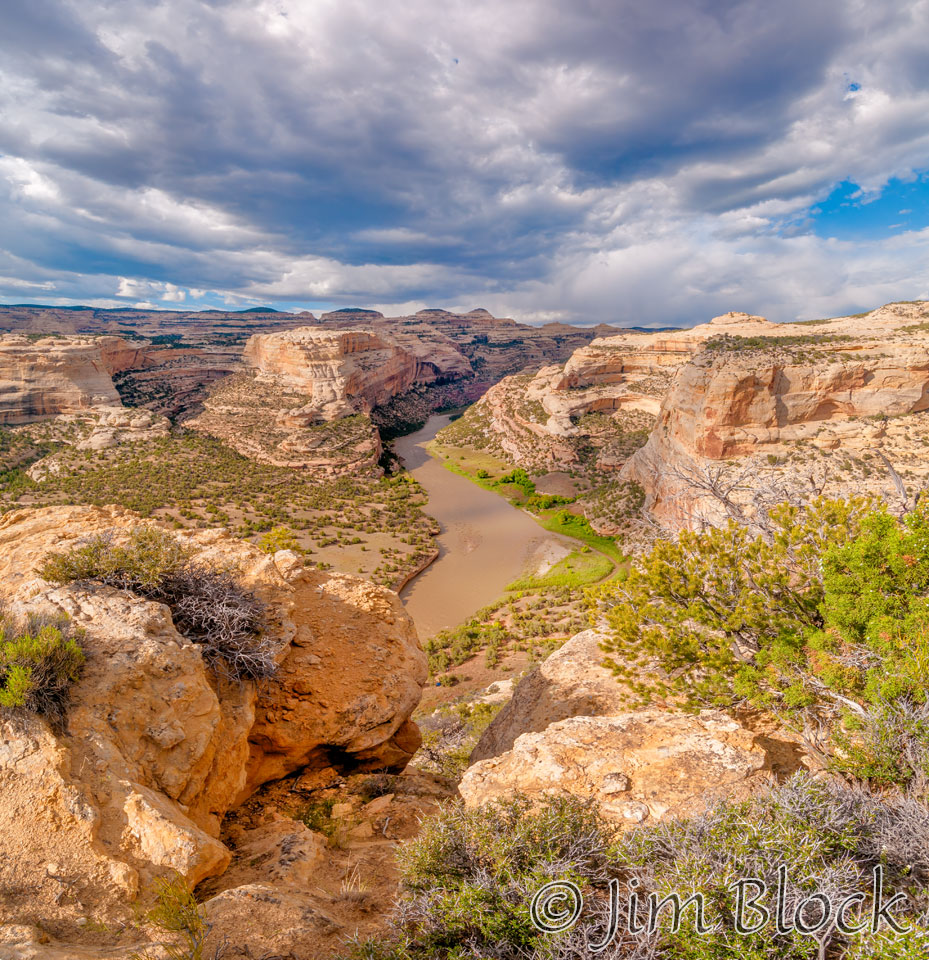 Below is a 19-shot panorama from Wagon Wheel Point. If you click the image or HERE you will get to a version you can zoom into and pan around to explore. Can you find Dakota?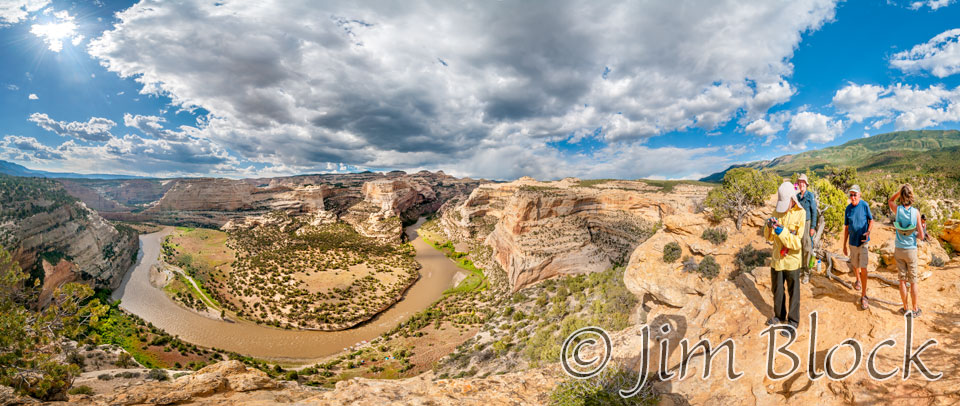 Below is another view from Wagon Wheel Point. If you click the image below or HERE you will get to a similar image that you can zoom into and pan around to explore.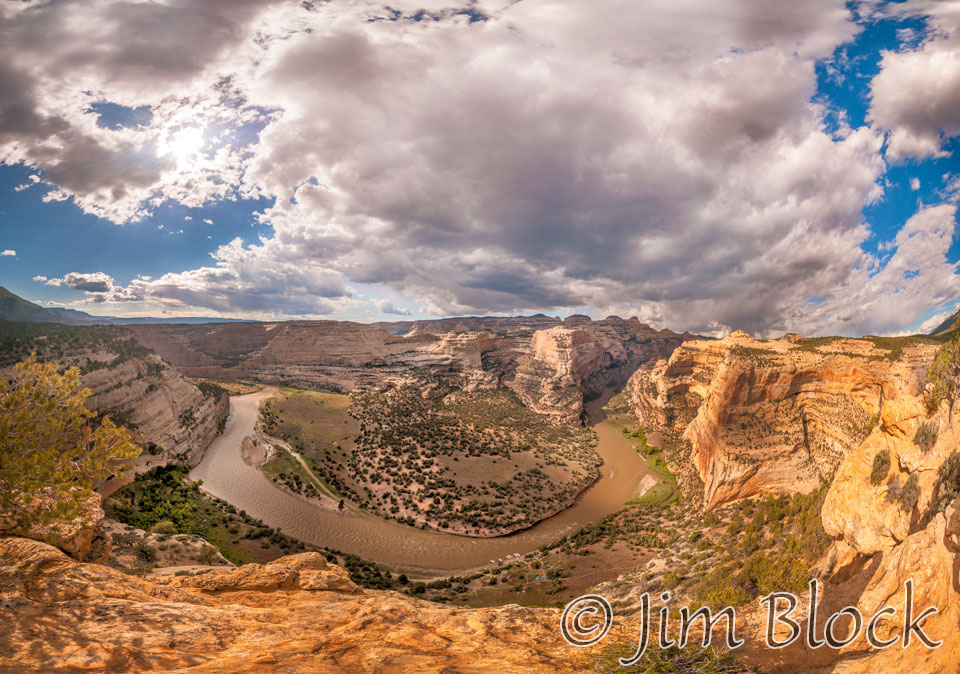 It was difficult to leave such a spectacular spot, but we had to get back for dinner.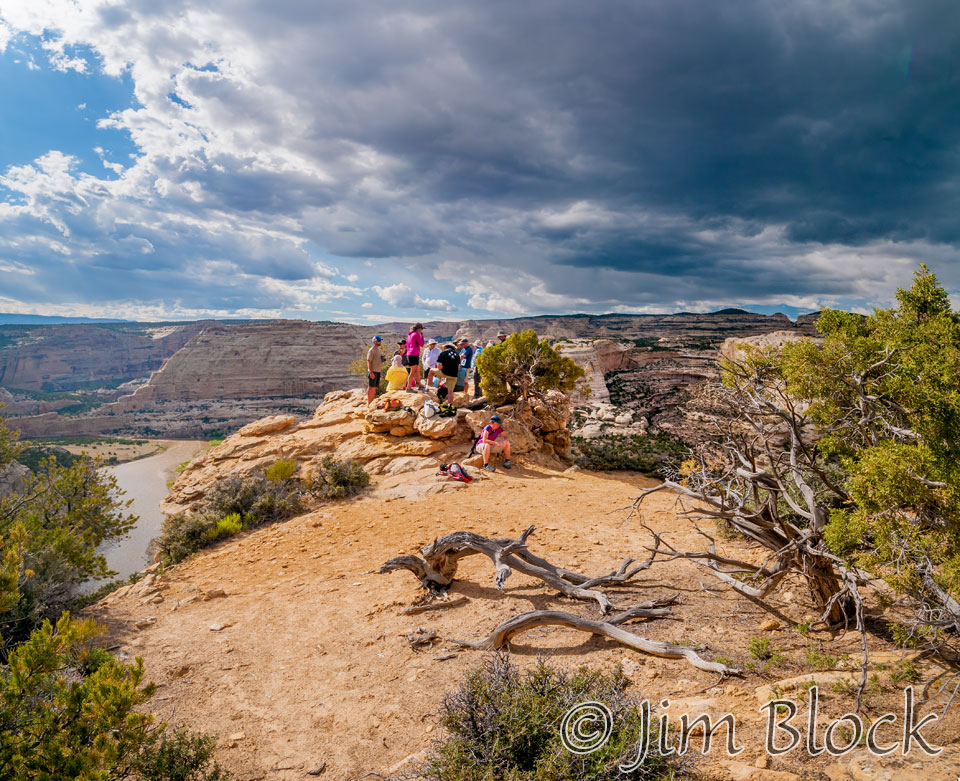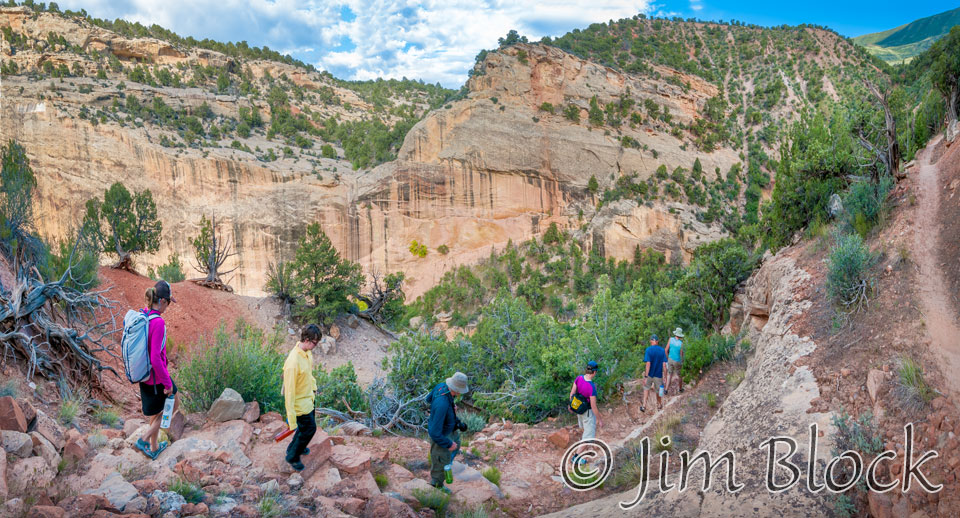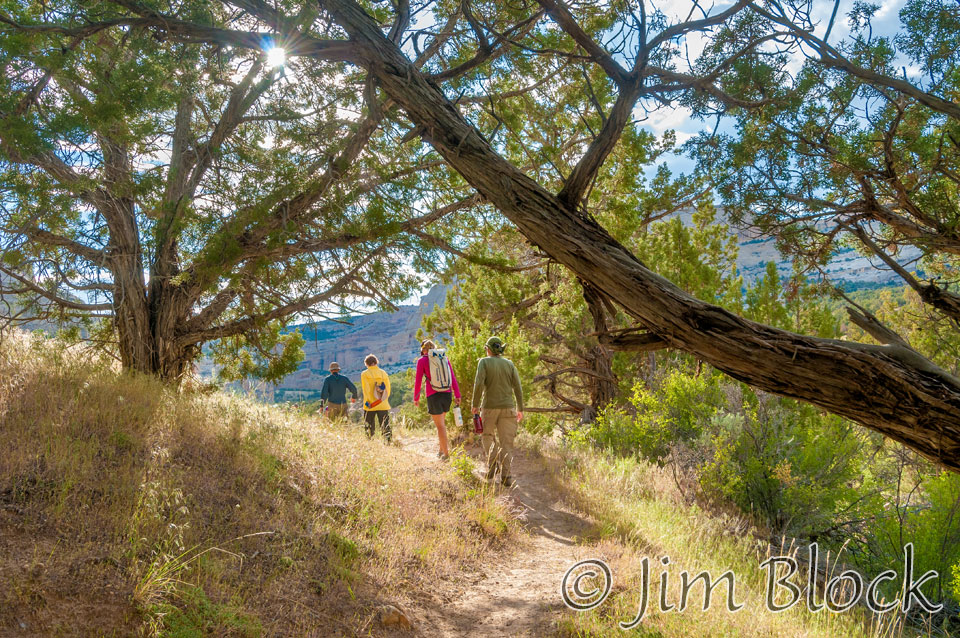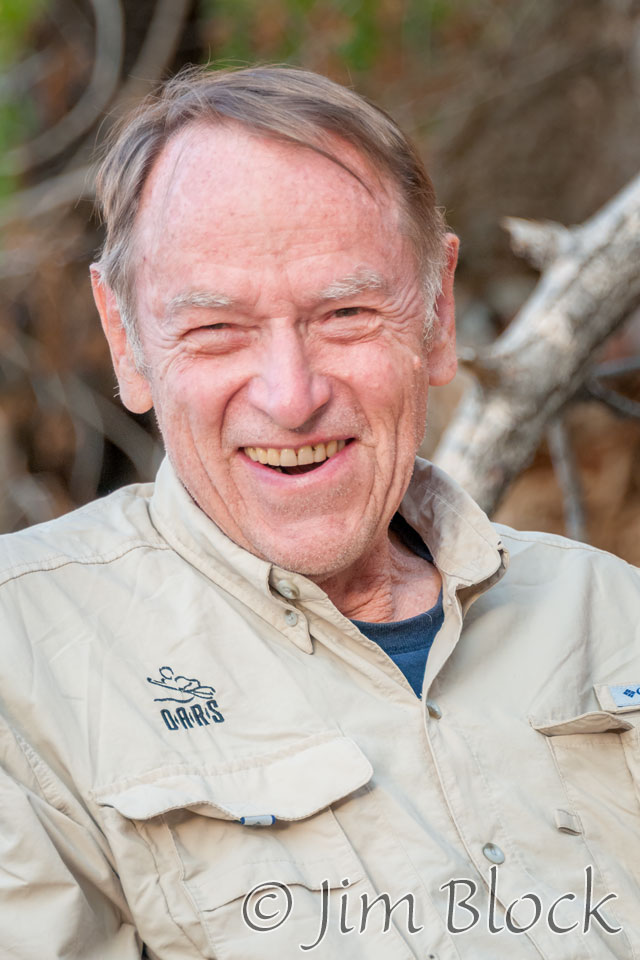 George Wendt, Founder and President of O.A.R.S., joined us at Harding Hole Camp. He missed the first day and a half of the trip so he could attend the graduation of his granddaughter. He hiked in from the road that passes near Wagon Wheel Point, down through Bull Canyon.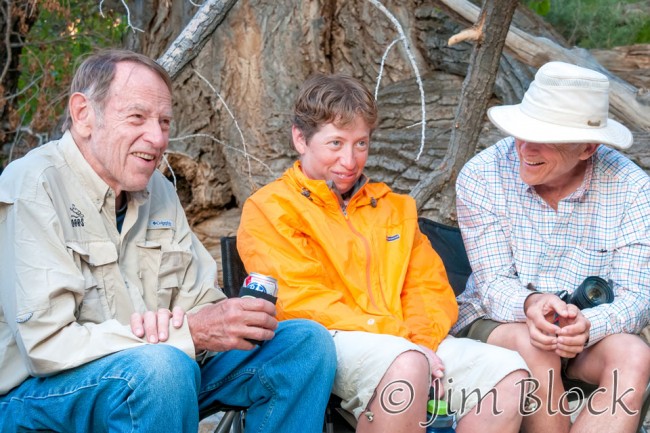 It was certainly good to meet George after many email exchanges over the preceding 4 months. I was honored that he chose me to photograph what was a very historic and sentimental trip for him coming 50 years after he barely survived a boulder and debris slide that created the huge rapid at Warm Springs.
We would run Warm Springs tomorrow, and then the next morning visit the site of the cabin where he and his friend since childhood, Bruce Julian, took shelter during an intense rainstorm. After a while in the cabin Bruce said, "We are already soaked. Let's go down to camp." A short time after they left the cabin, a massive boulder slide obliterated it.
Josh cooked and served dinner.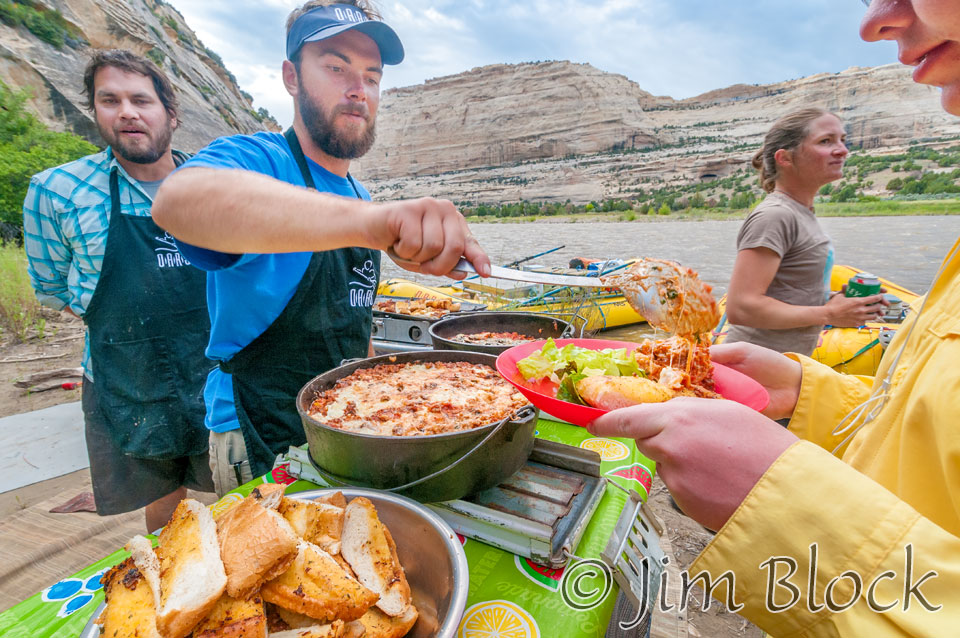 In contrast to my previous trip down the Grand Canyon, we had few colorful sunsets along these two rivers. And the ones we had were not nearly as dramatic as the one at Galloway. Perhaps our best one came at Harding Hole. I'm not sure anyone but me noticed it.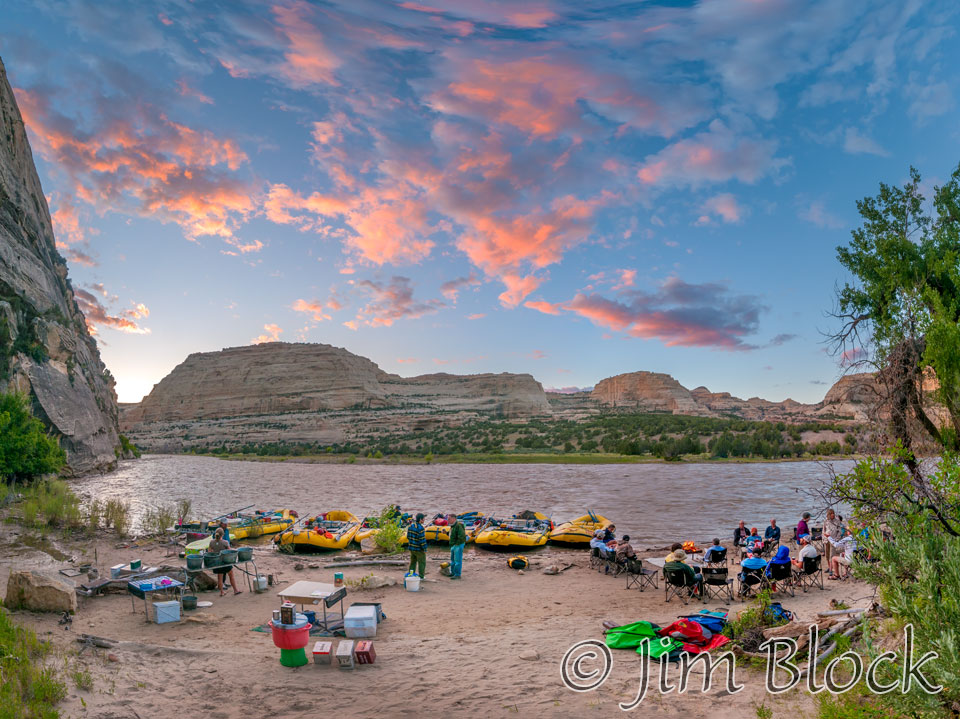 Shortly after midnight I was able to take my first Milky Way photo of the trip. The image turned out to be much rarer and special than I imagined.
The full moon of the previous week prevented Milky Way photos on the Green River, and our first night on the Yampa was overcast. So Harding Hole was my first opportunity. Down on the beach, I got the photo below. What is the pink glow in the part of the sky that is due north from where we camped? (The image is a 10-shot panorama, so the field of view is considerably more than 90 degrees.)
I cannot conclusively prove it, but I am convinced it is the Aurora Borealis. As far as I can determine, there is absolutely no town of any size north of Harding Hole for hundreds of miles. Bozeman and Billings are about 350 miles away. In addition, I found a video on the web that was shot June 8, 2015 from Washington state. It shows a pink/red glow in the northern sky from 12:23 to 1:42 AM Colorado time. This panorama was made at 12:45 AM.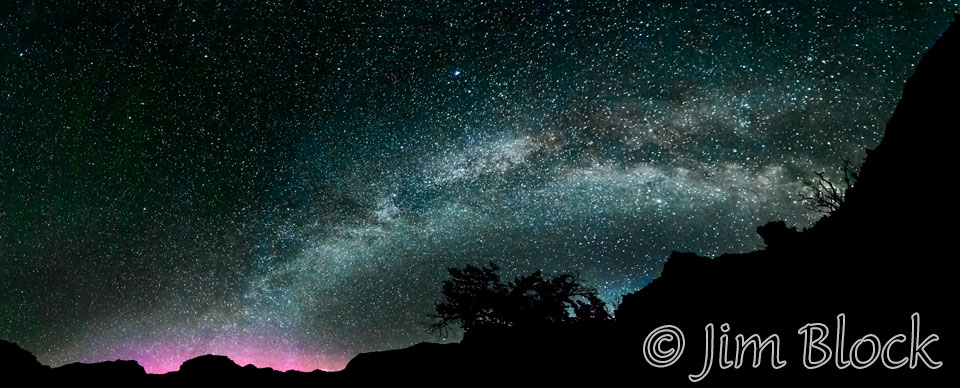 At Harding Hole I got very lucky to capture the Northern Lights and the Milky Way in the same image. Can luck like this happen twice in a lifetime? Apparently so. I had previously captured this combination of the Northern Lights and the Milky Way exactly one year earlier from Lake Sunapee in NH.
A side note. I believe the slight glow to the right of the tree near the middle of the image is the moon starting to rise. That is consistent with the time the photos were taken. So an hour later the Northern Lights would have faded and the moon would have obliterated the Milky Way.
For those who care about such things, below is a Google Earth view of Harding Hole with our camp site marked.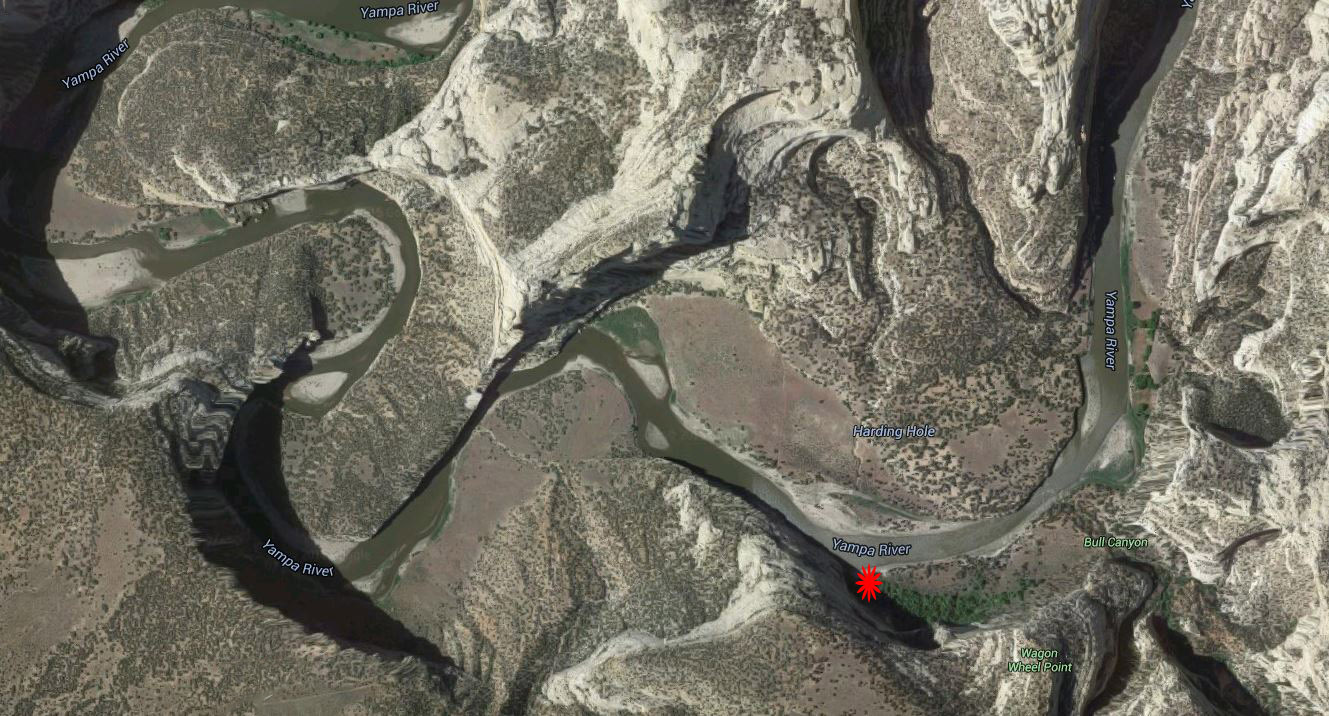 Here are some of the other photos I took during another great day on the Yampa River.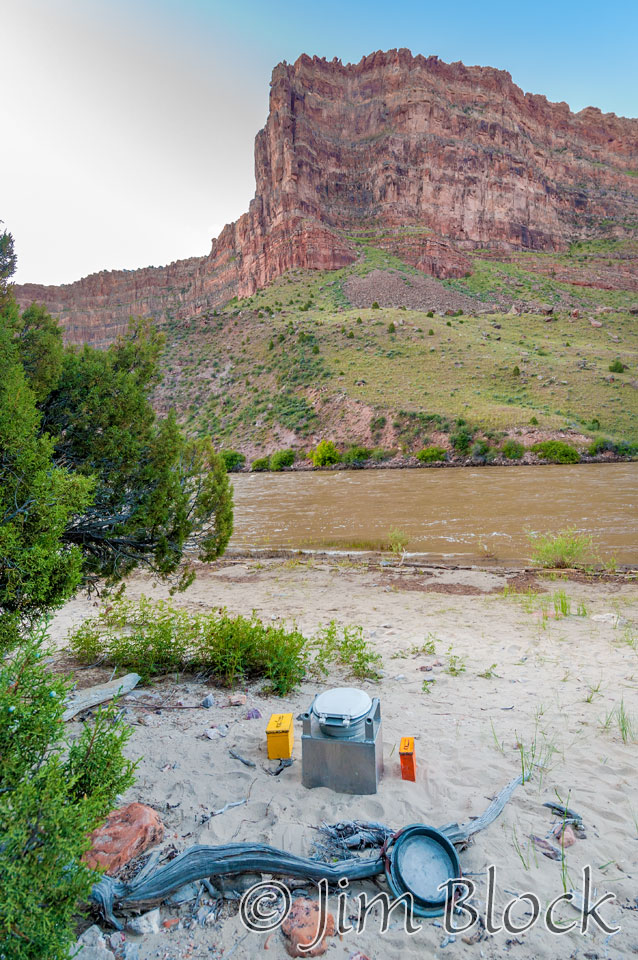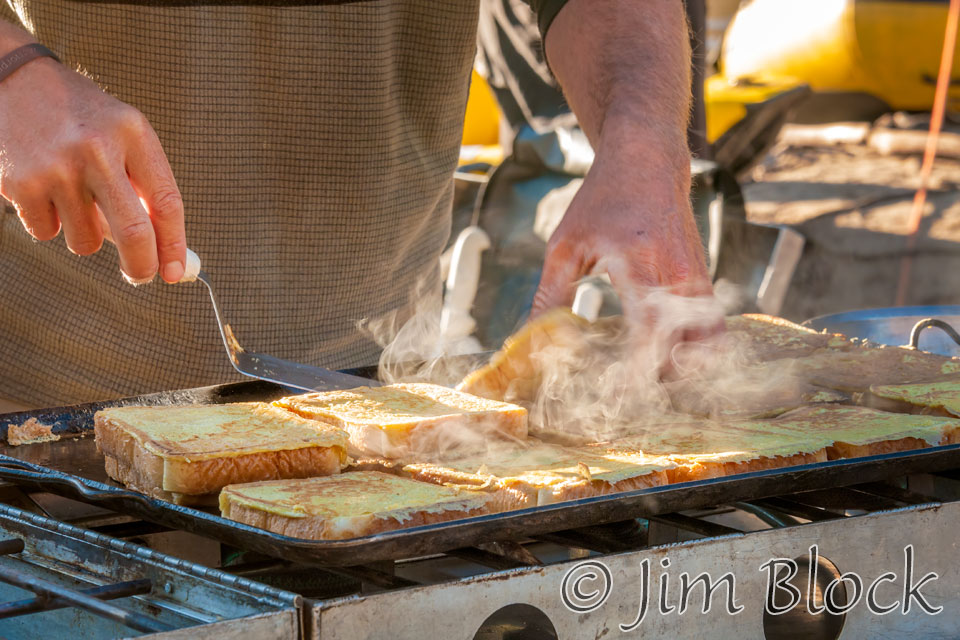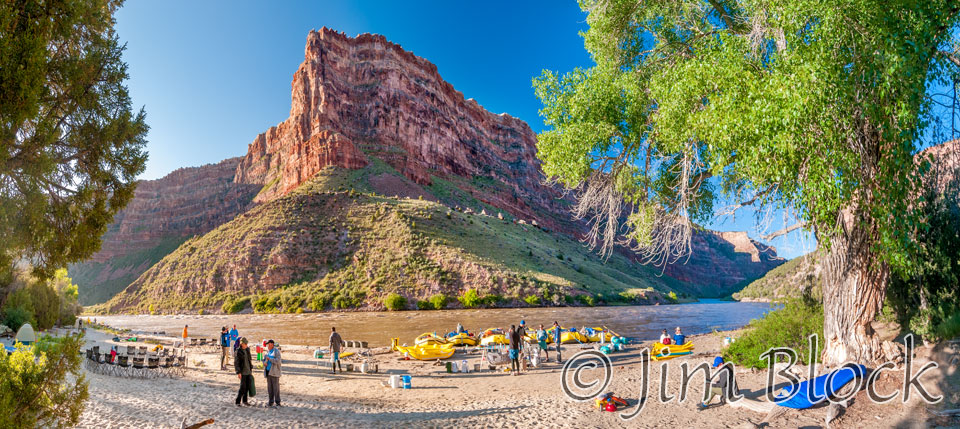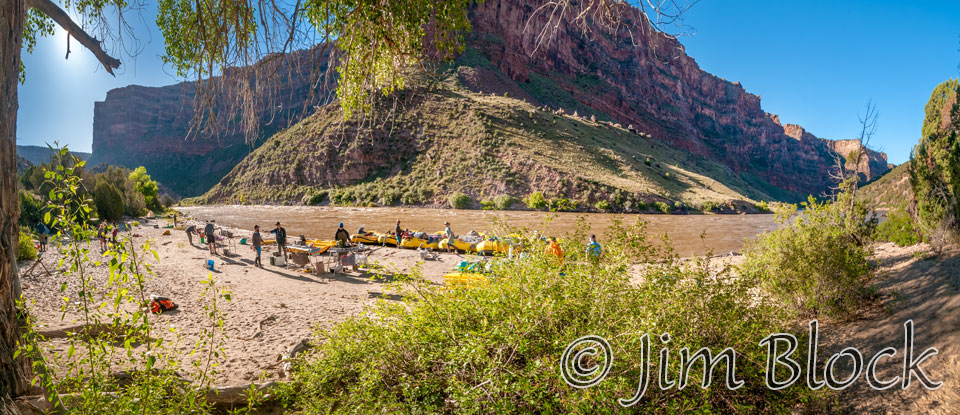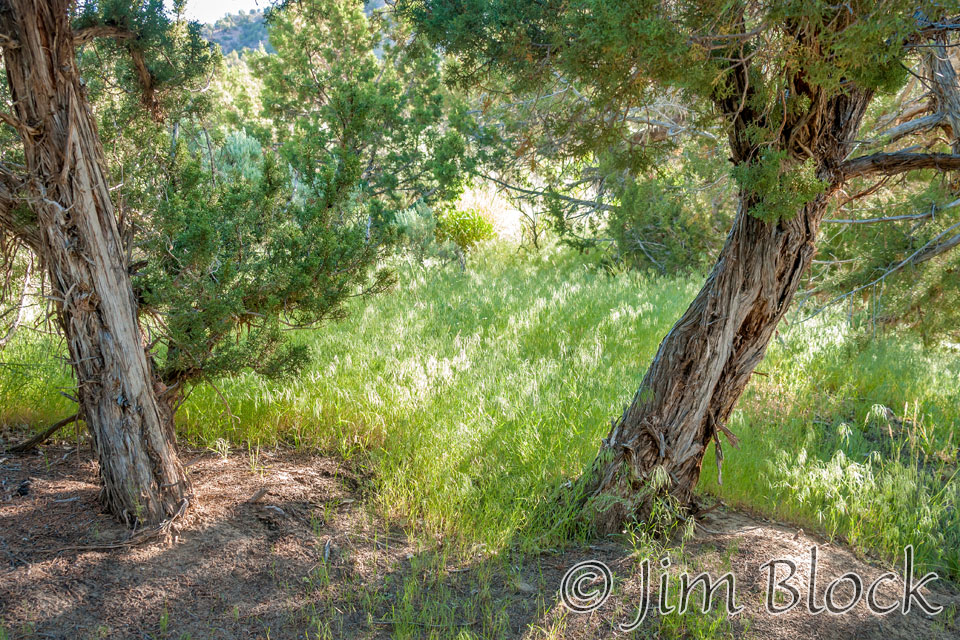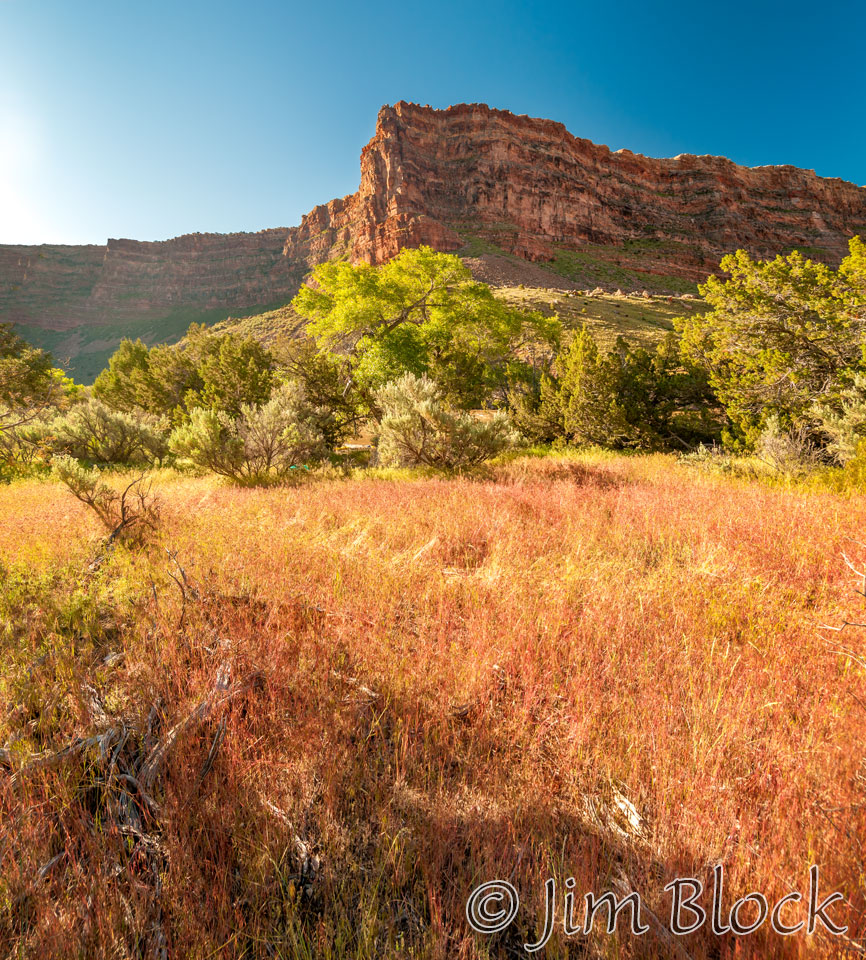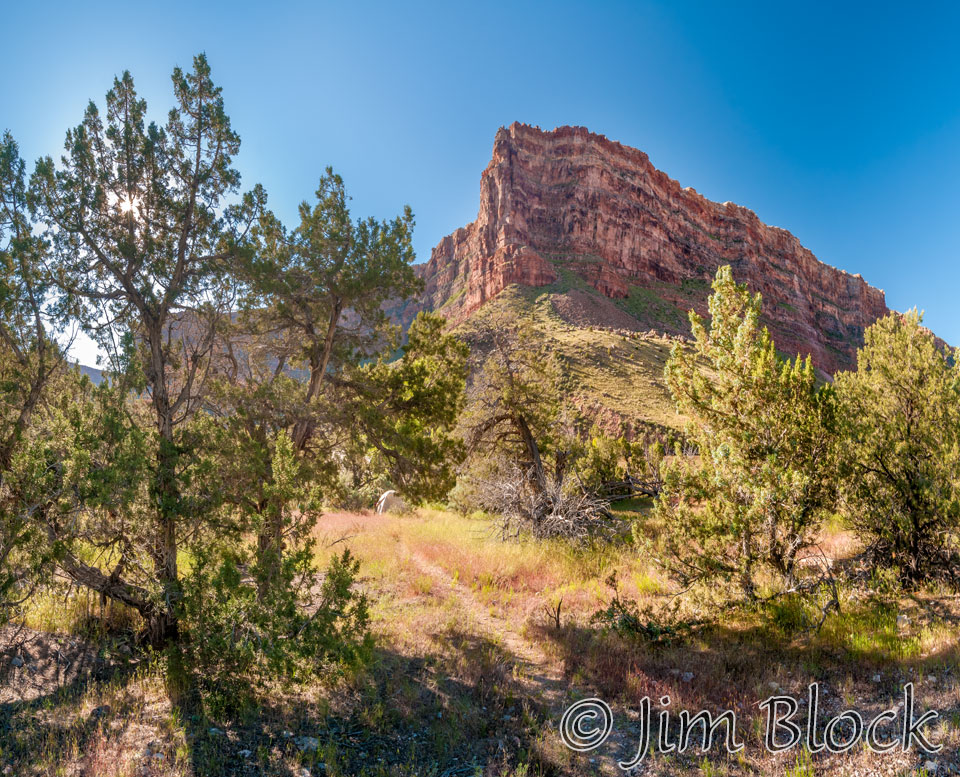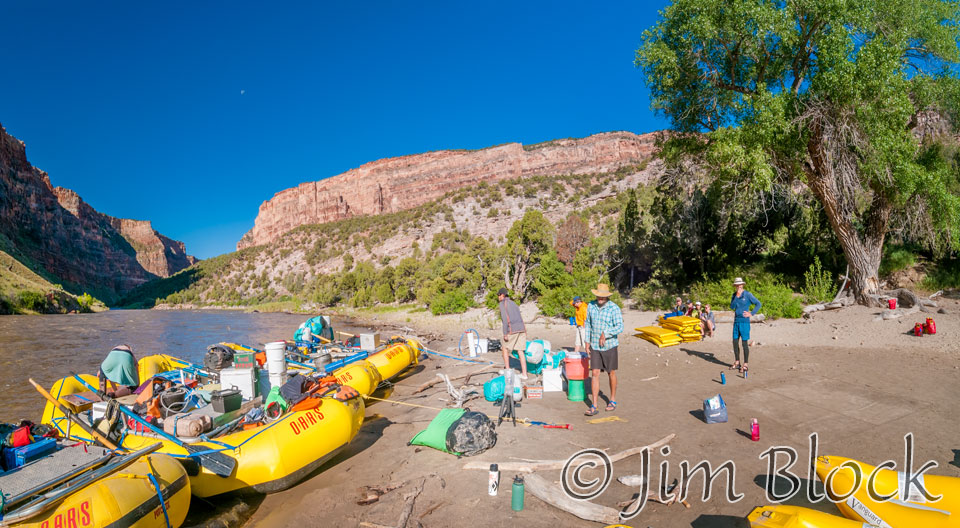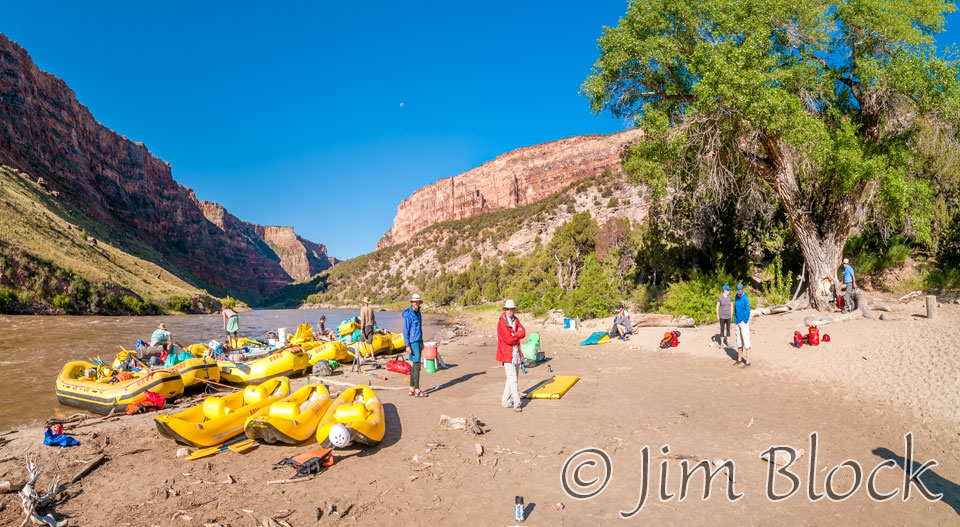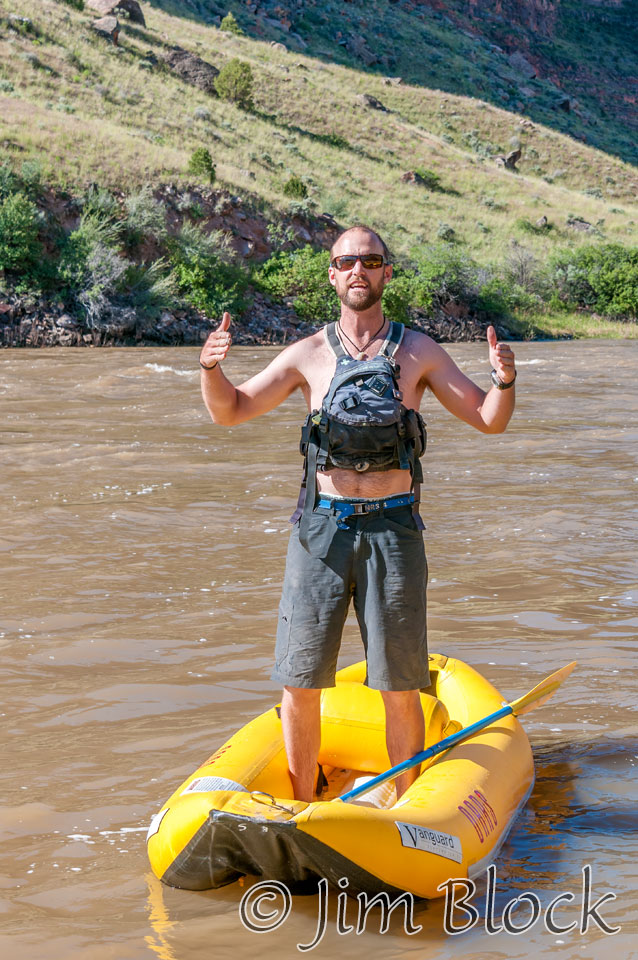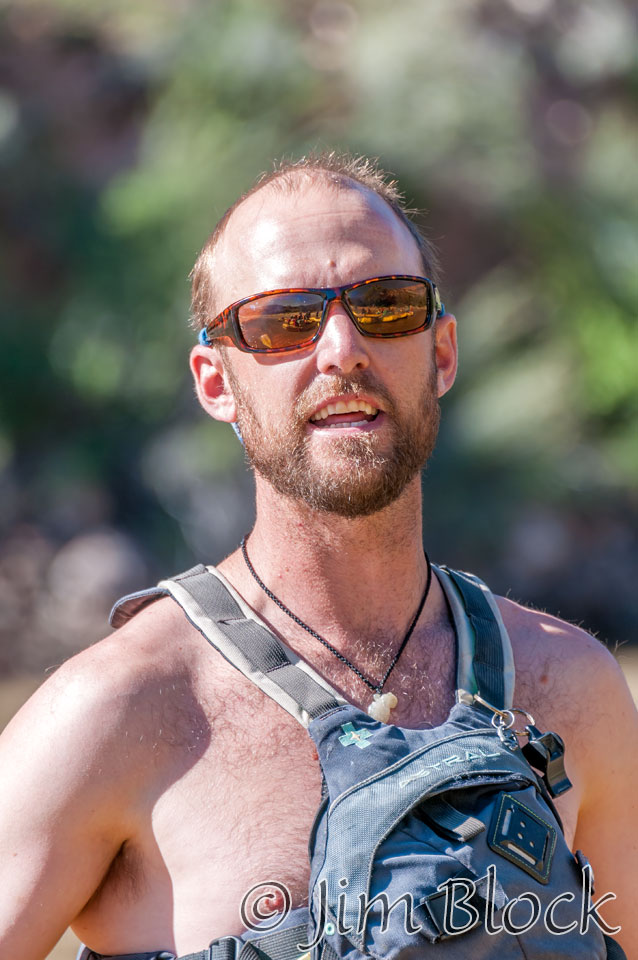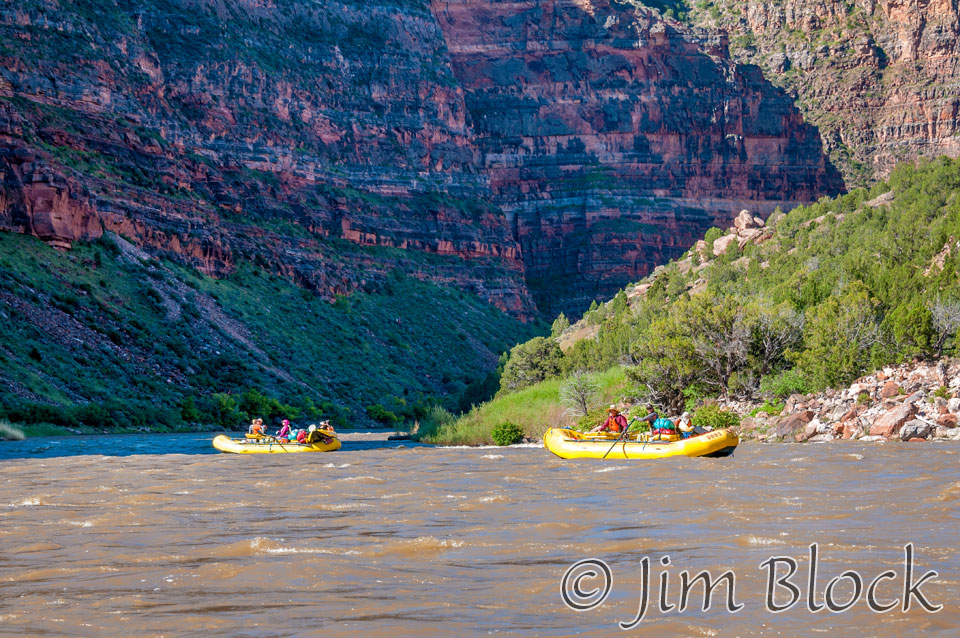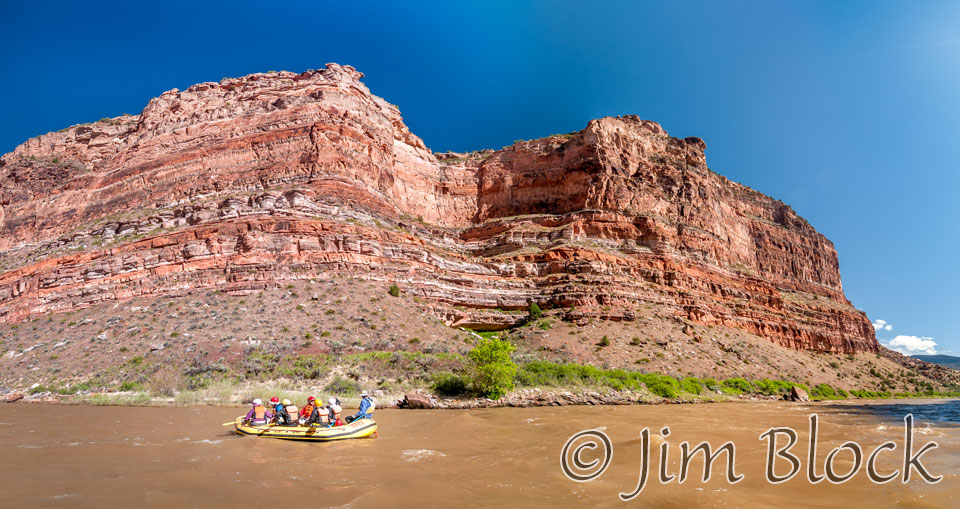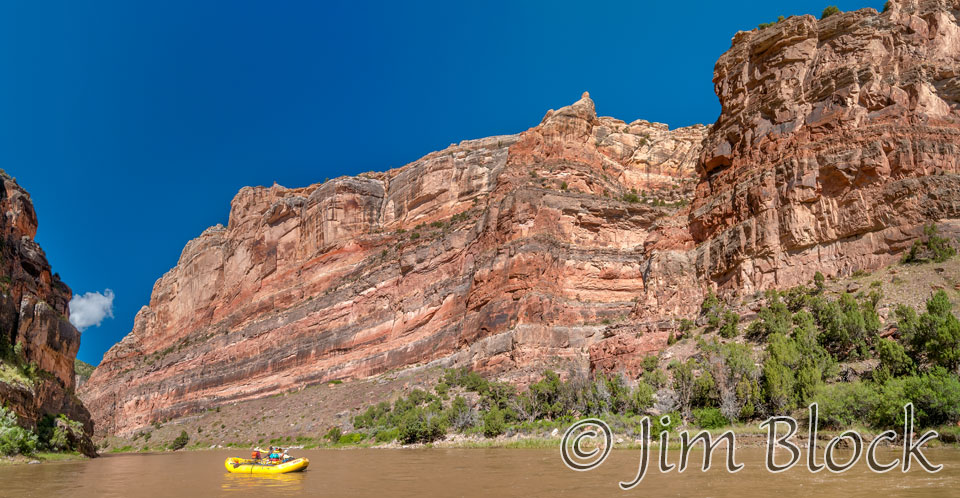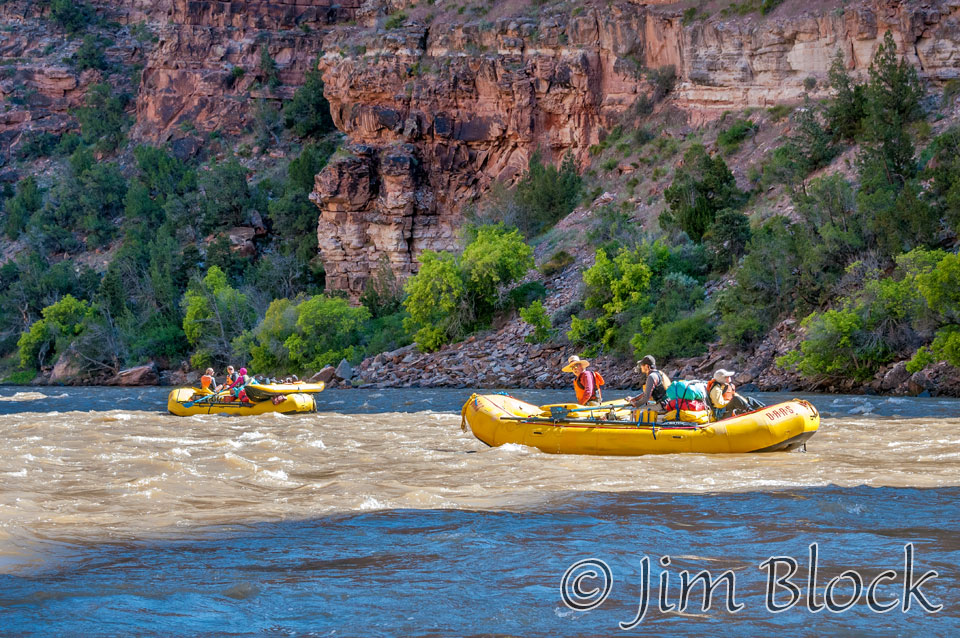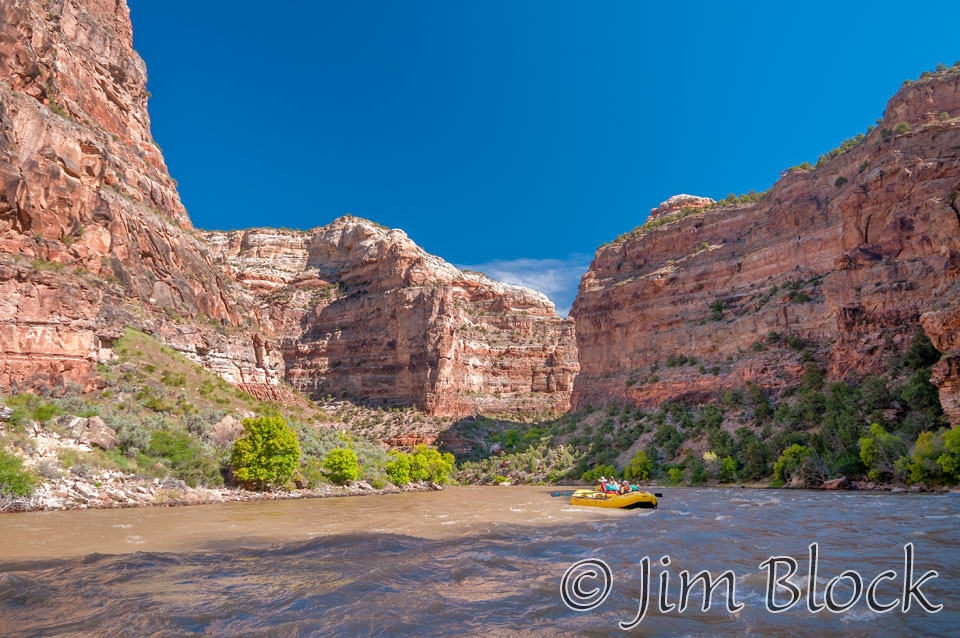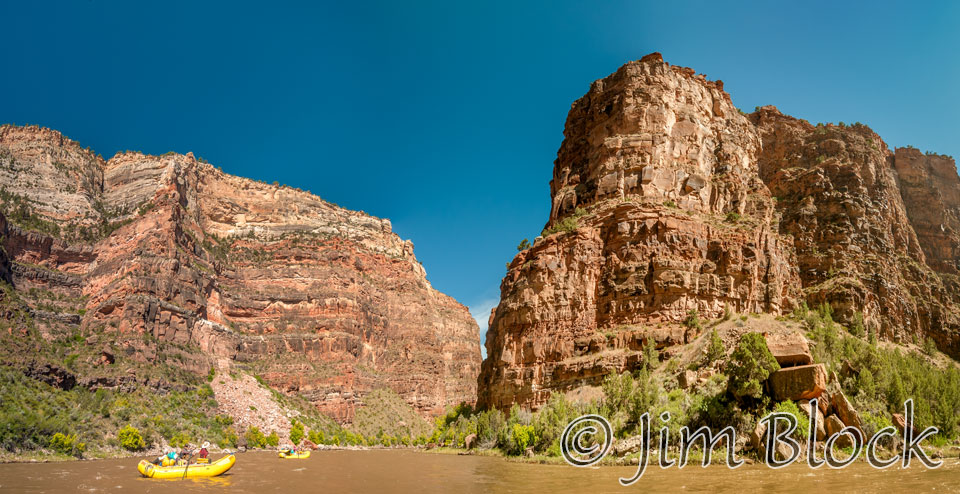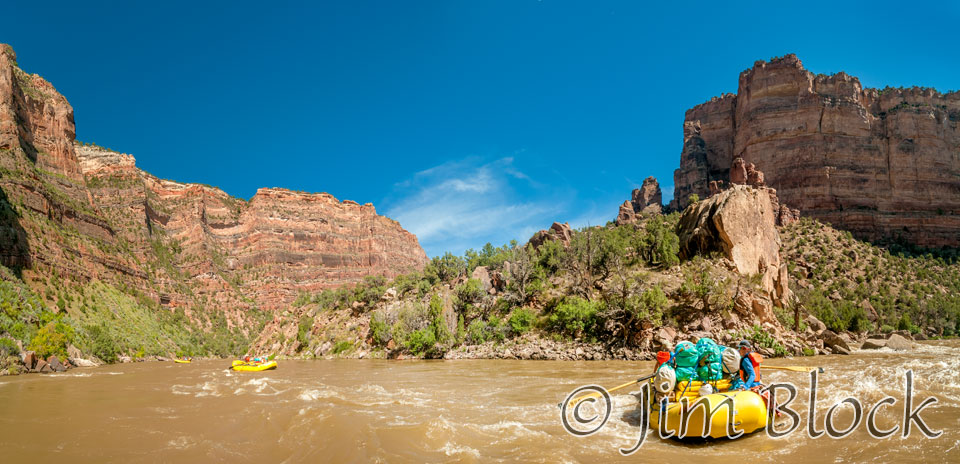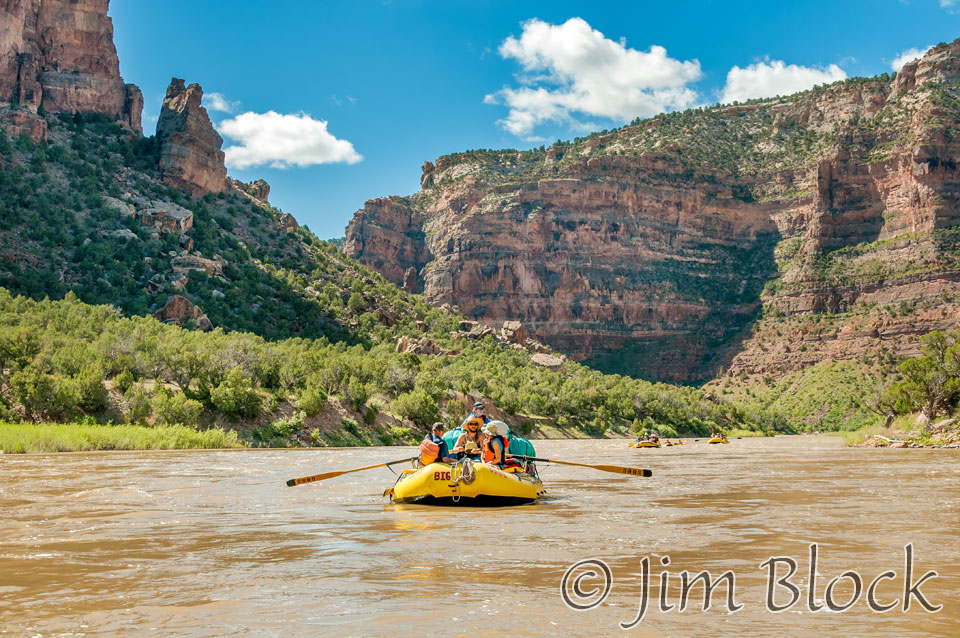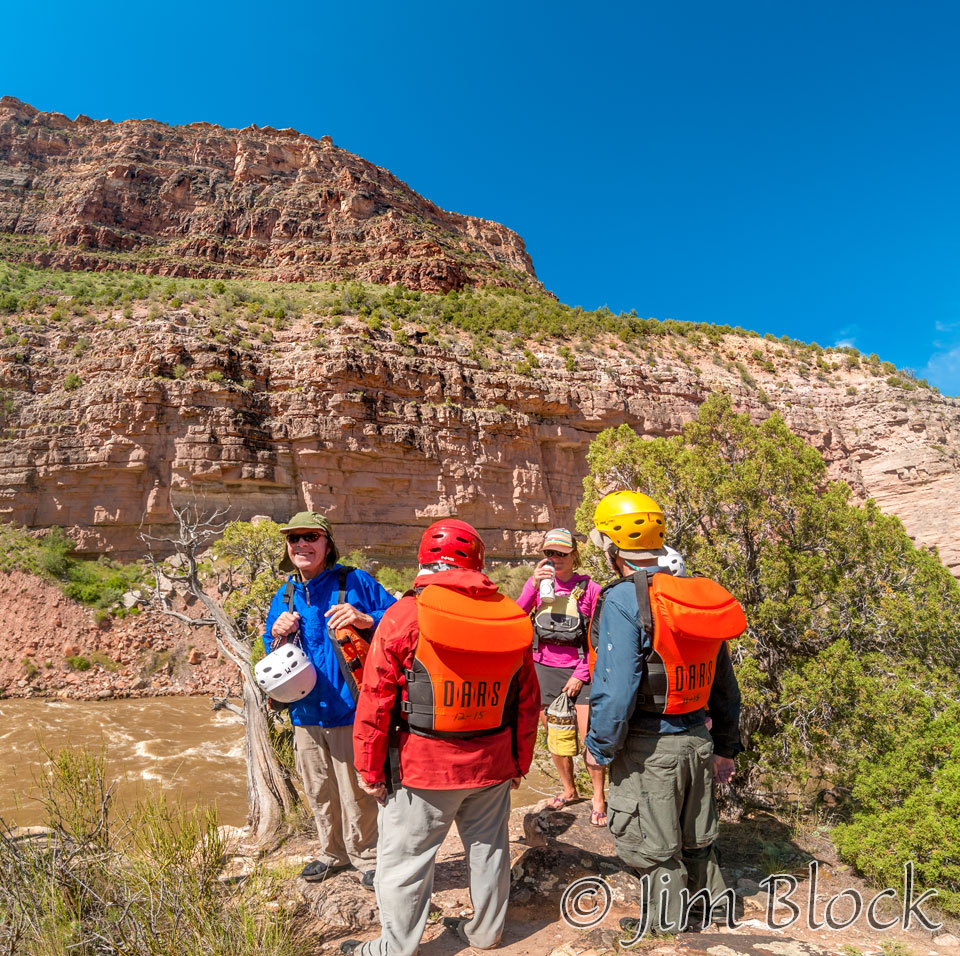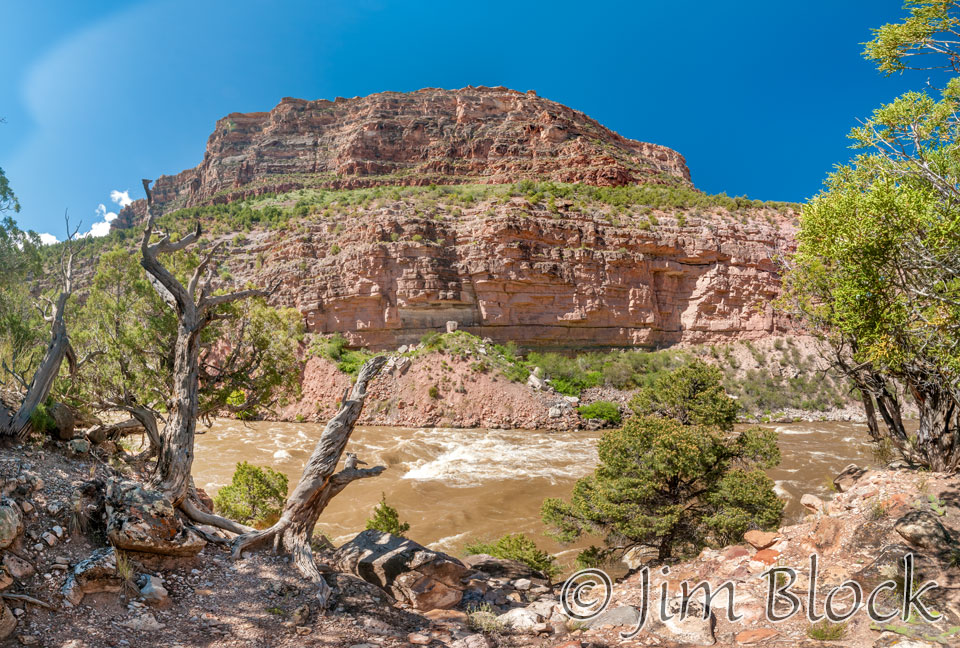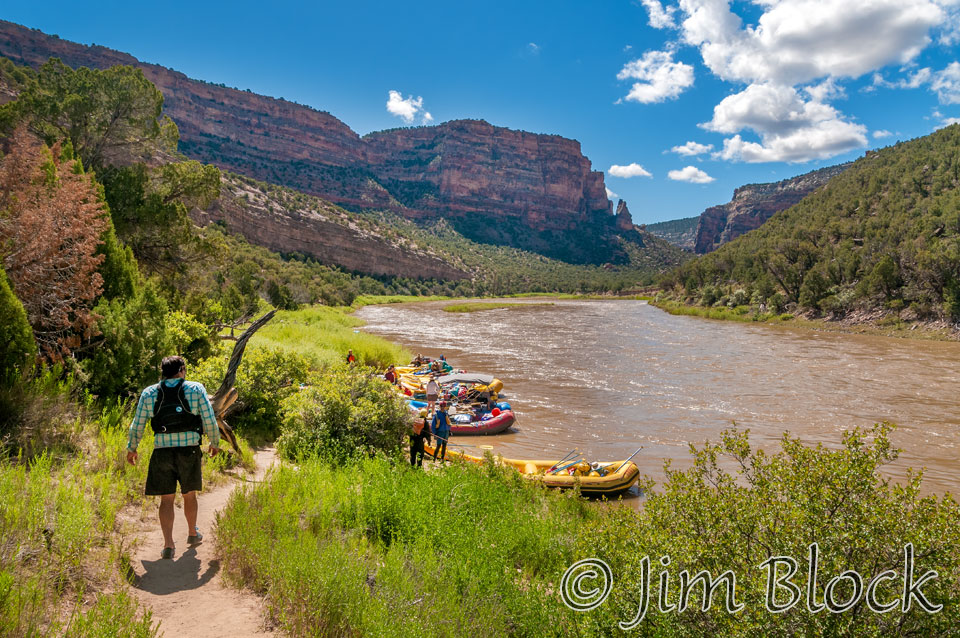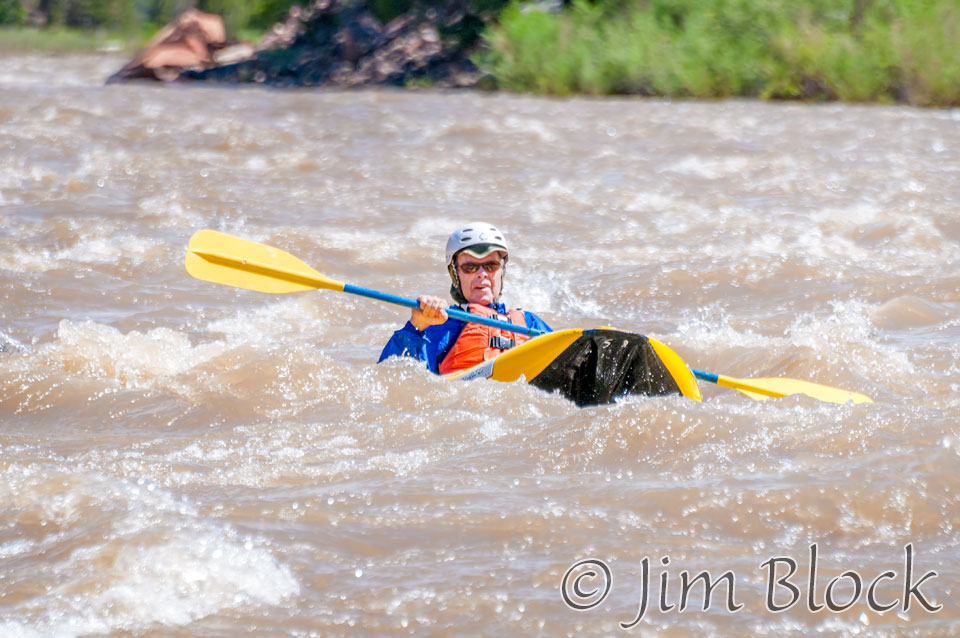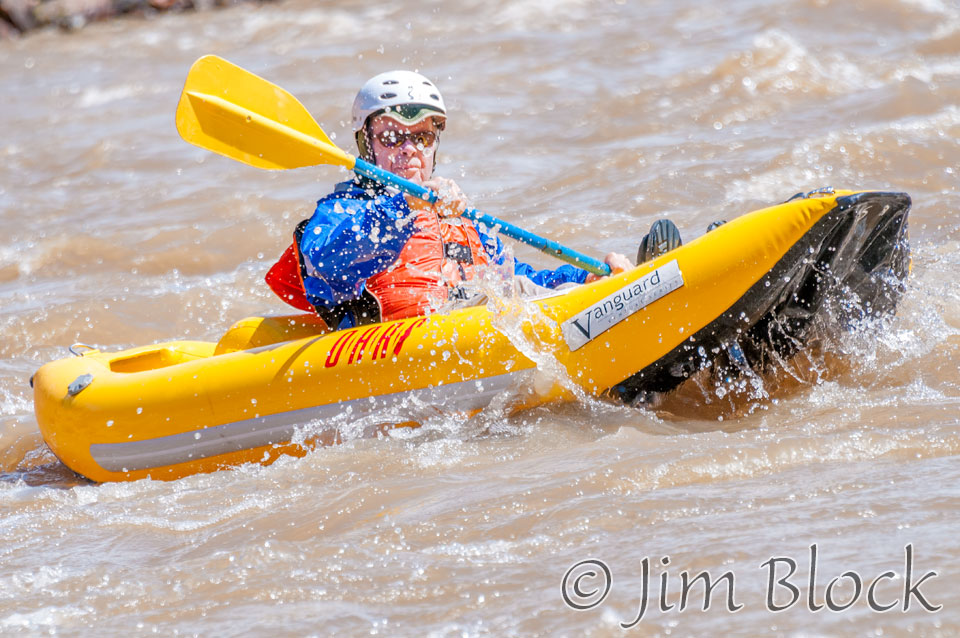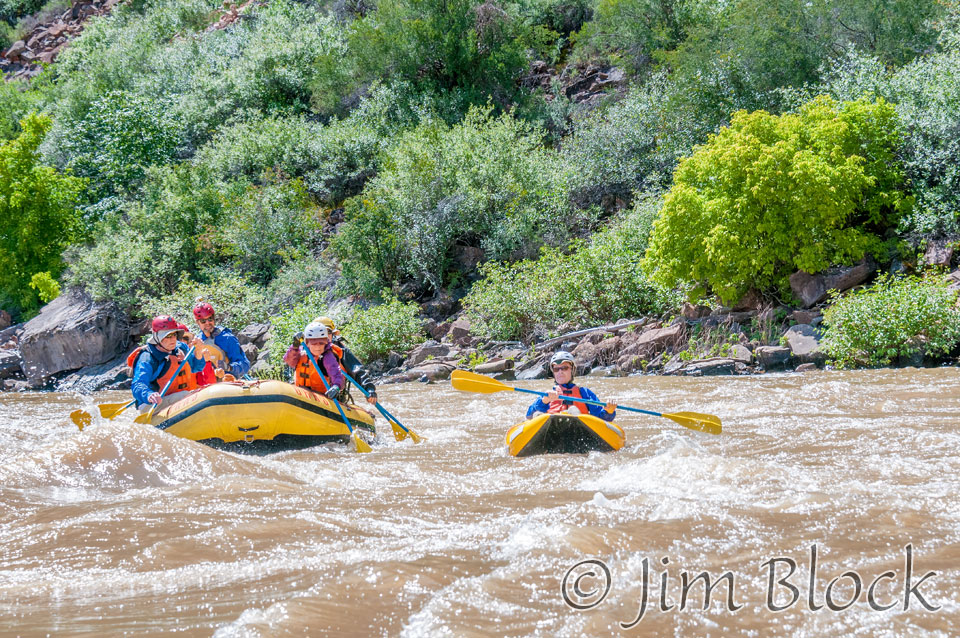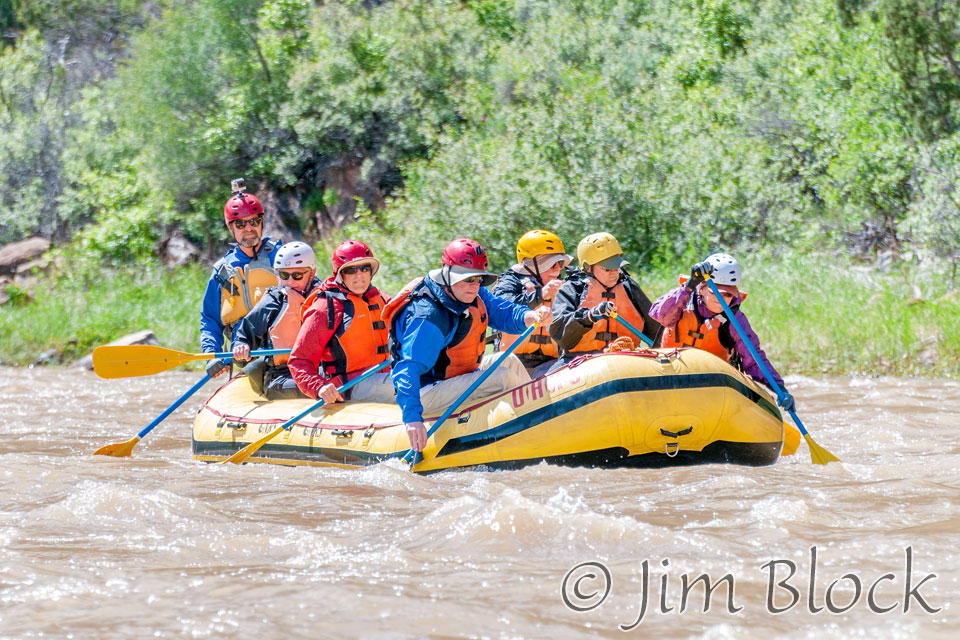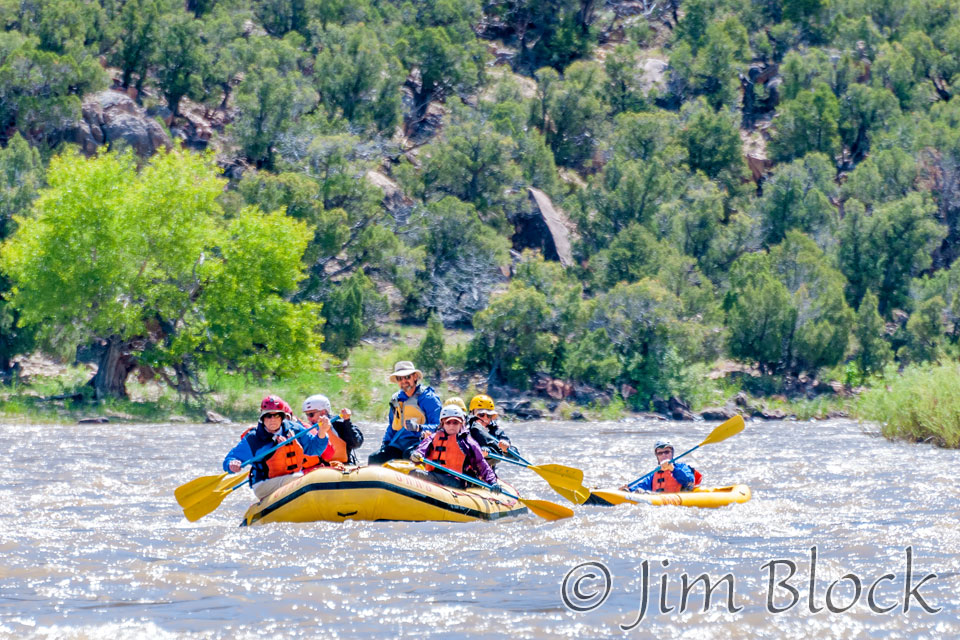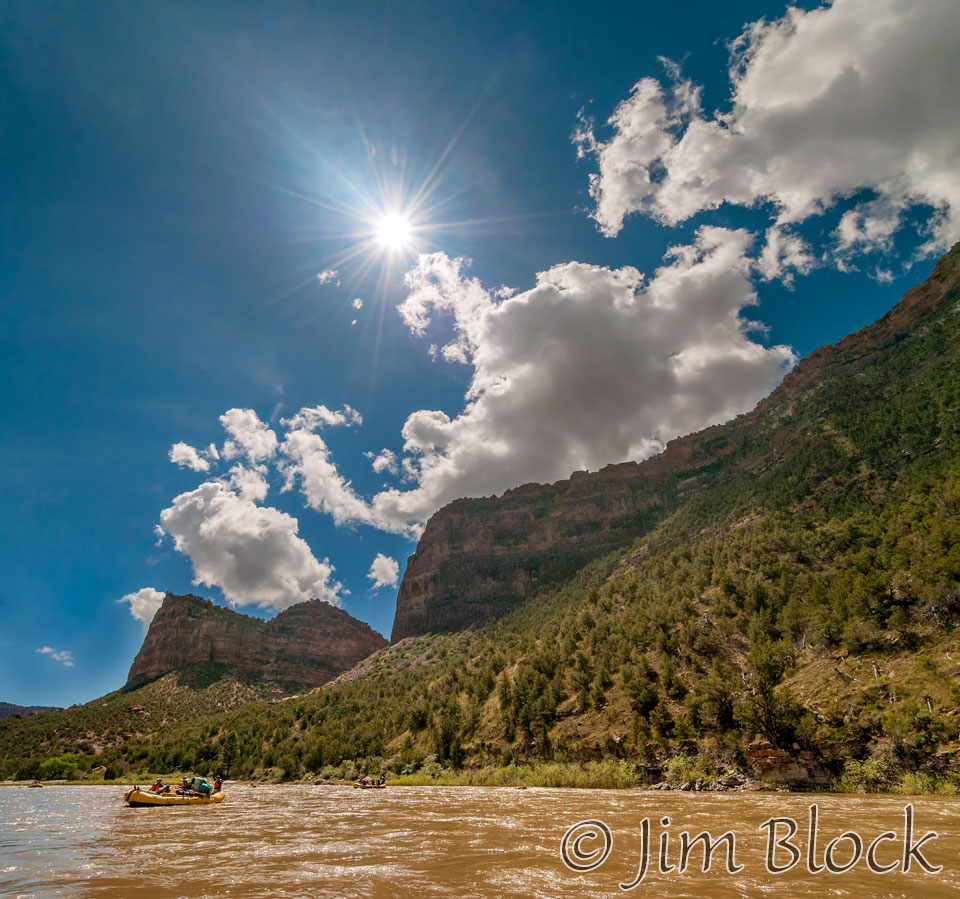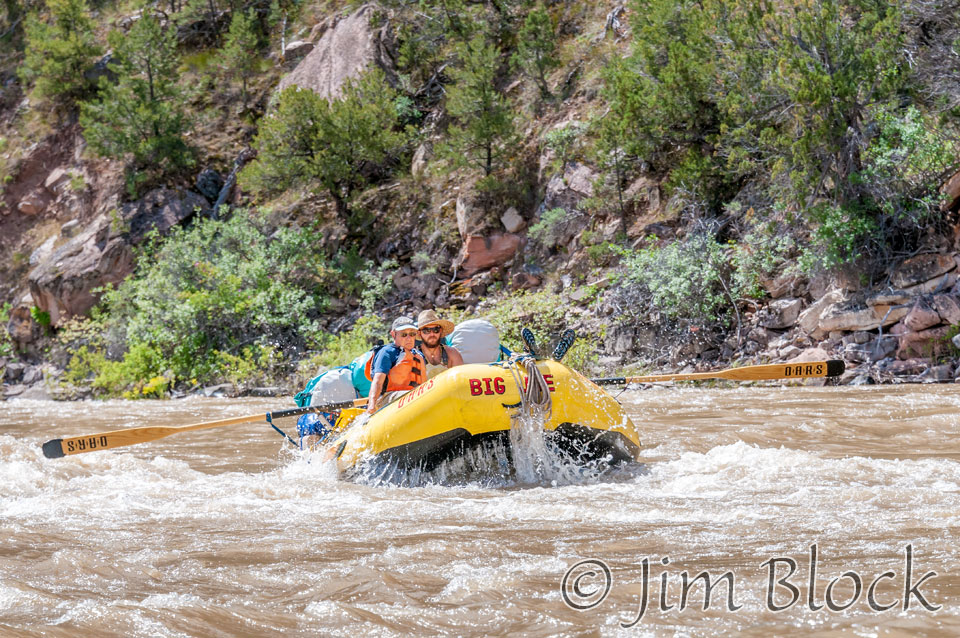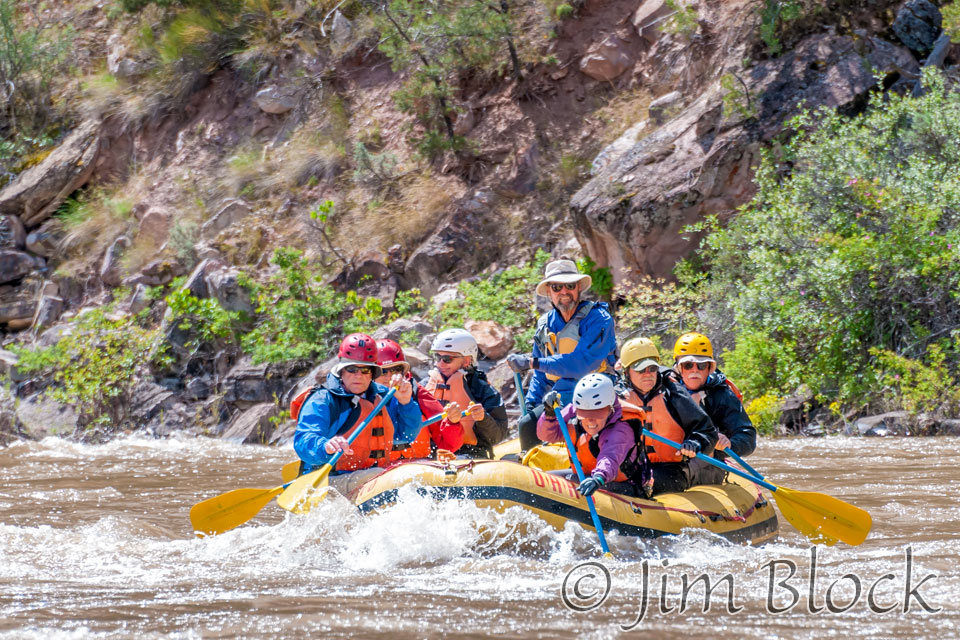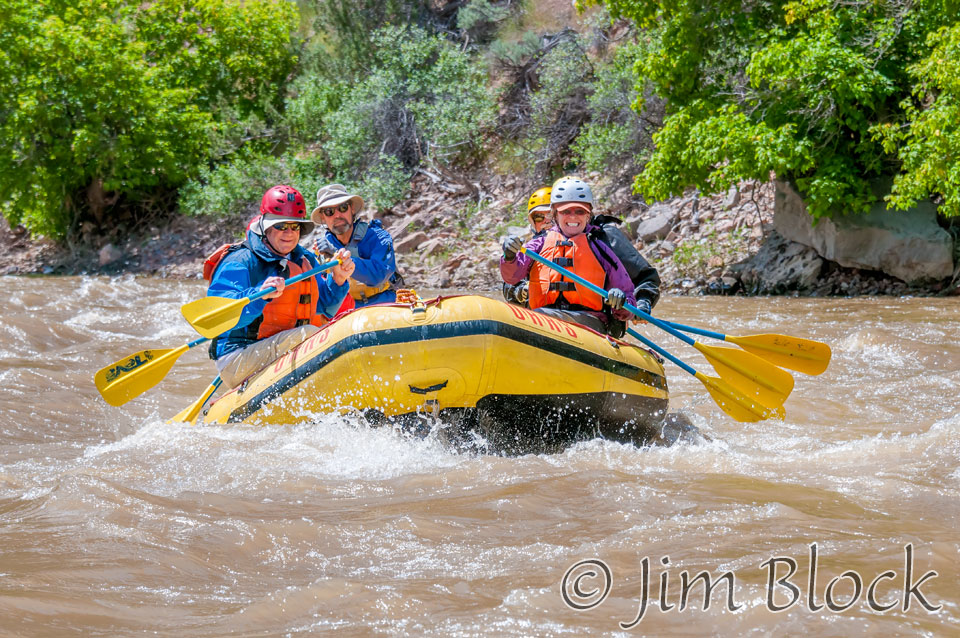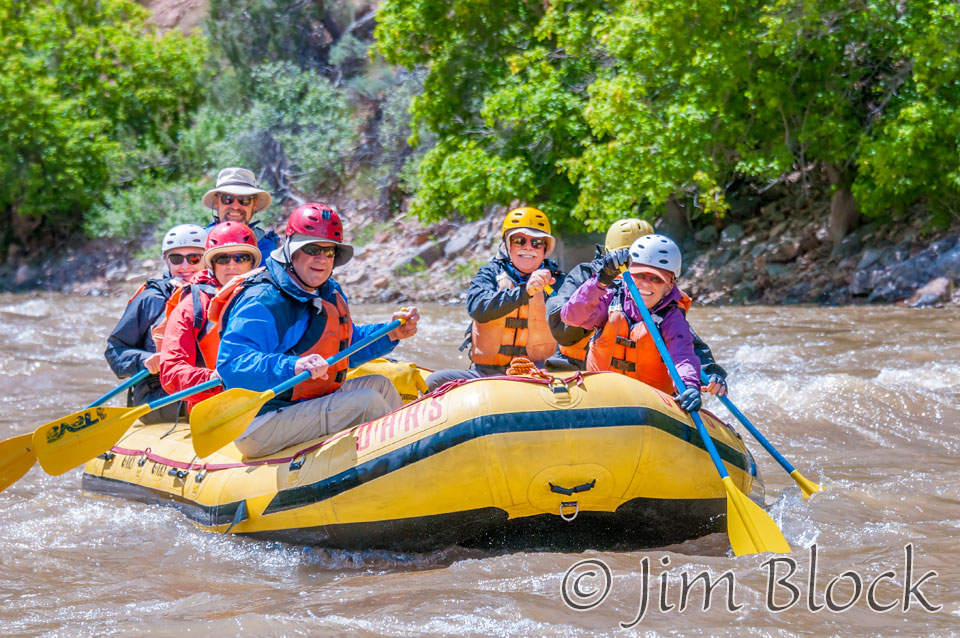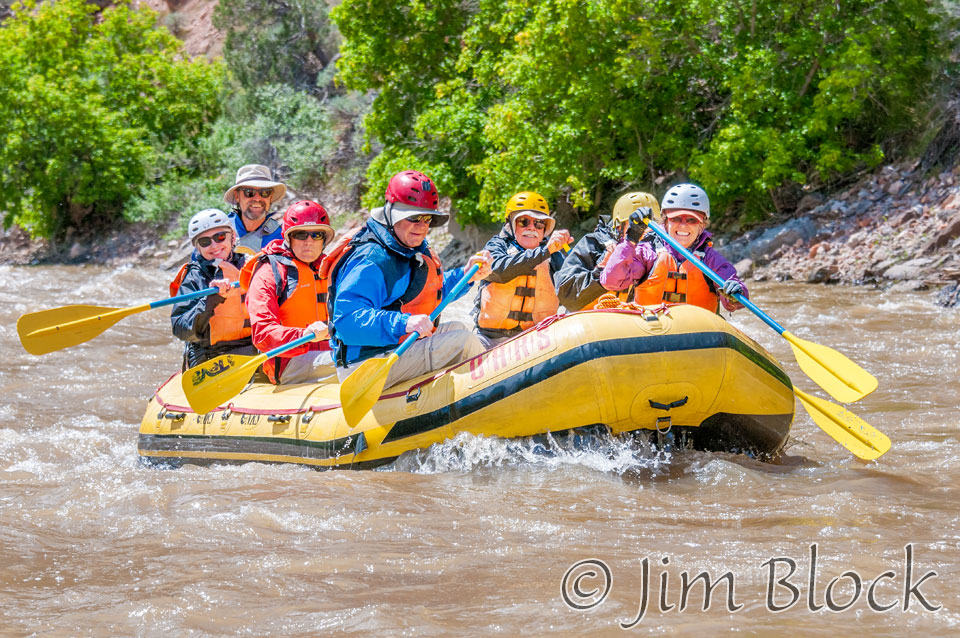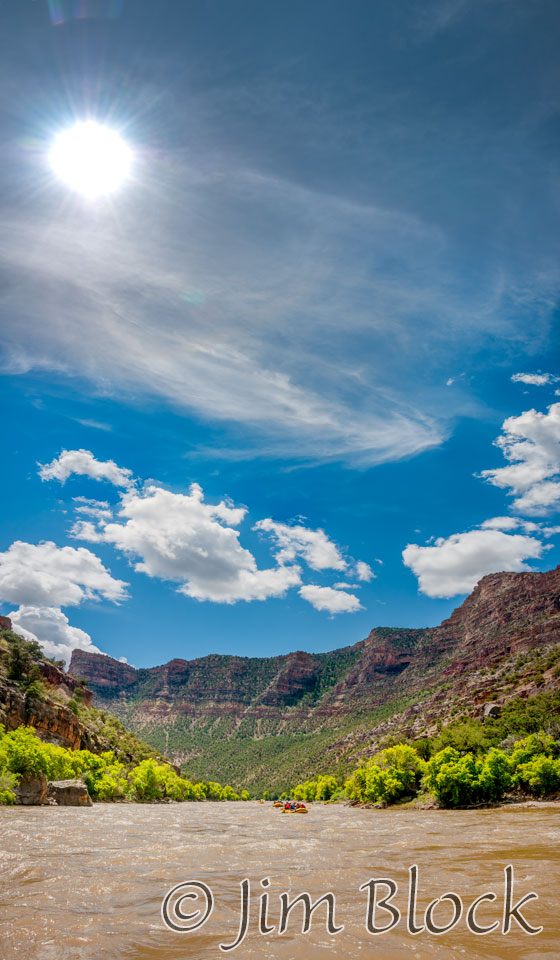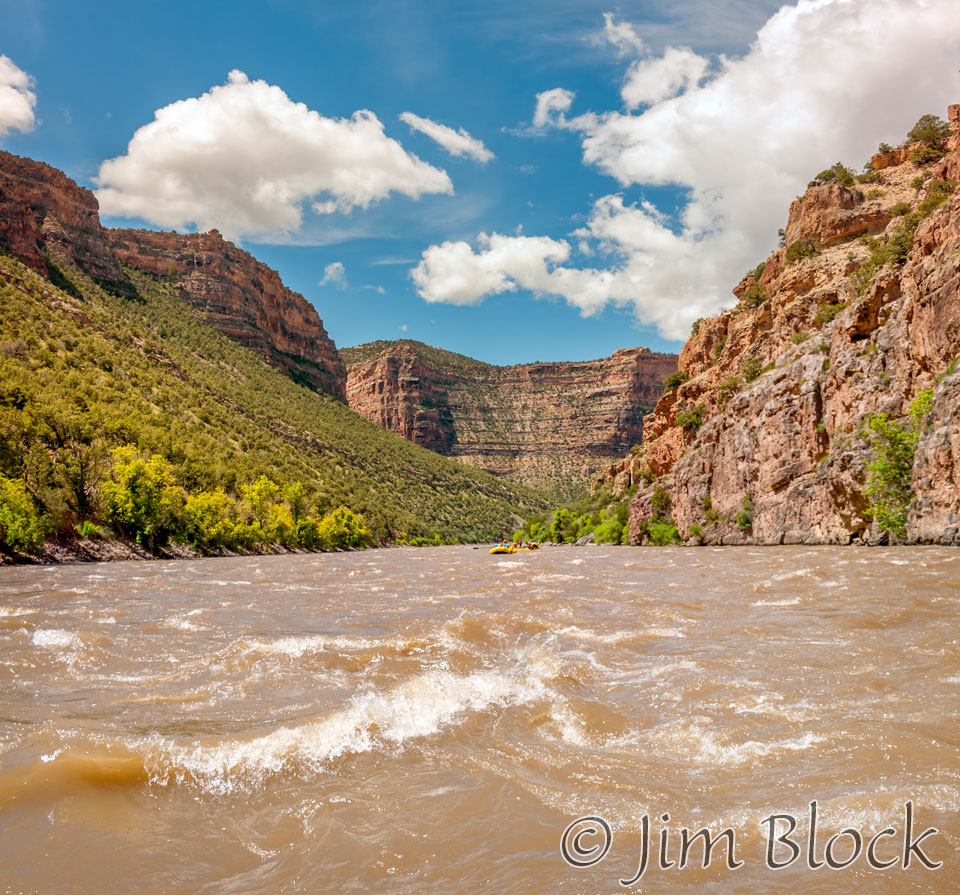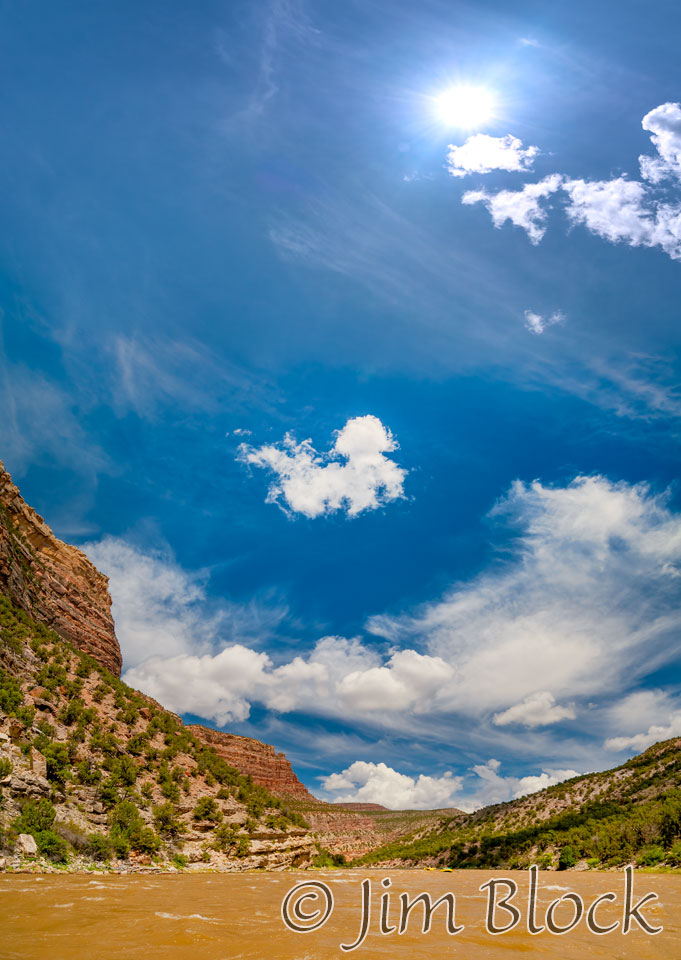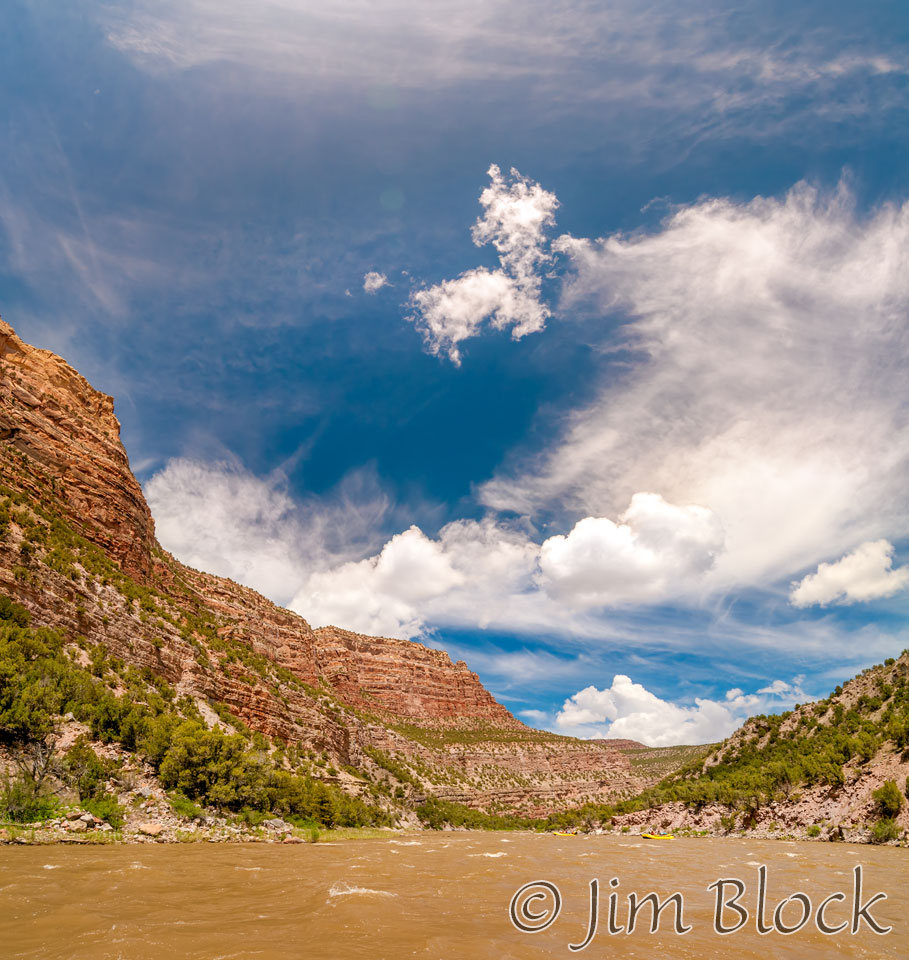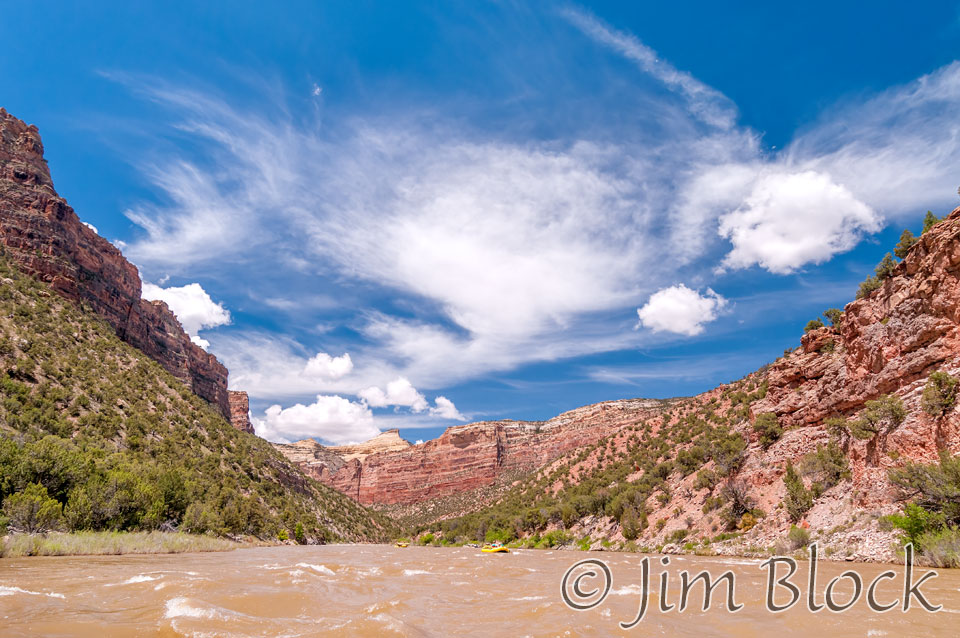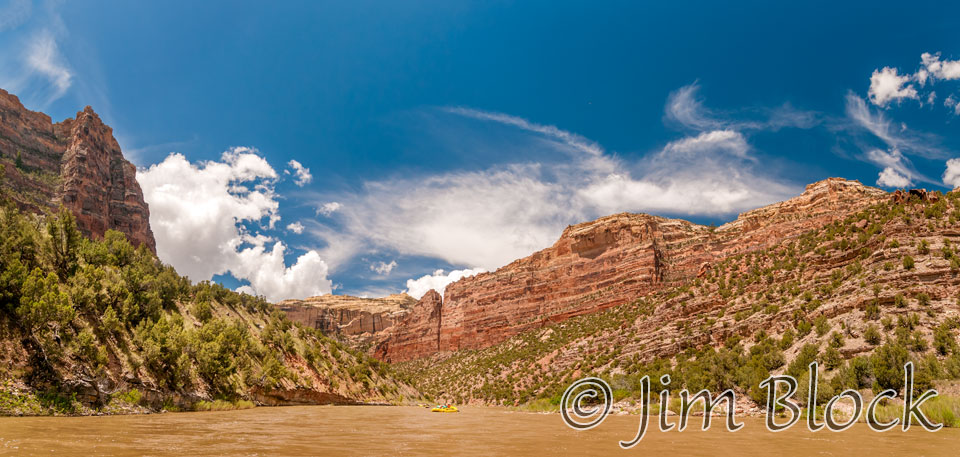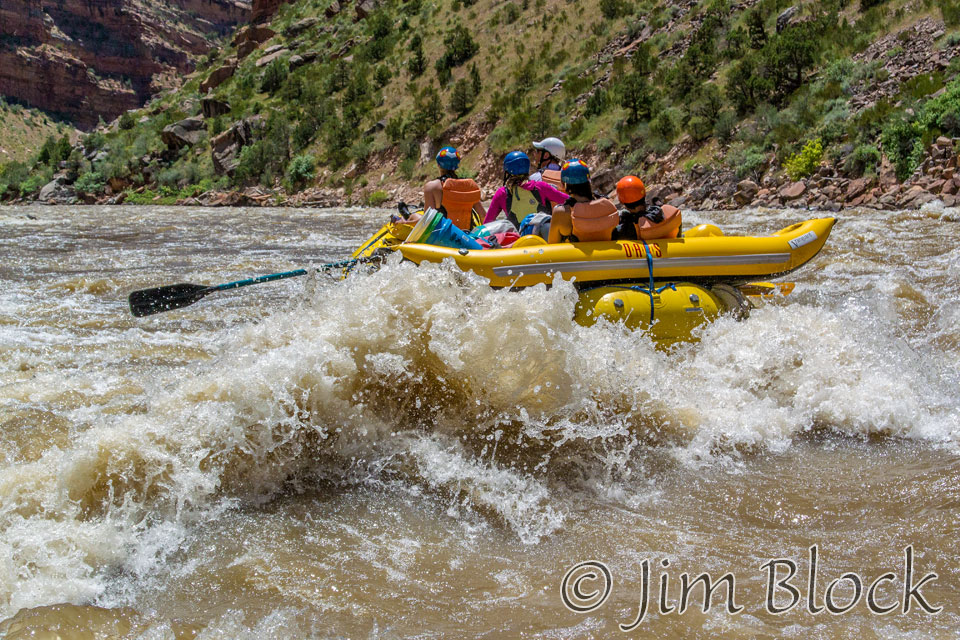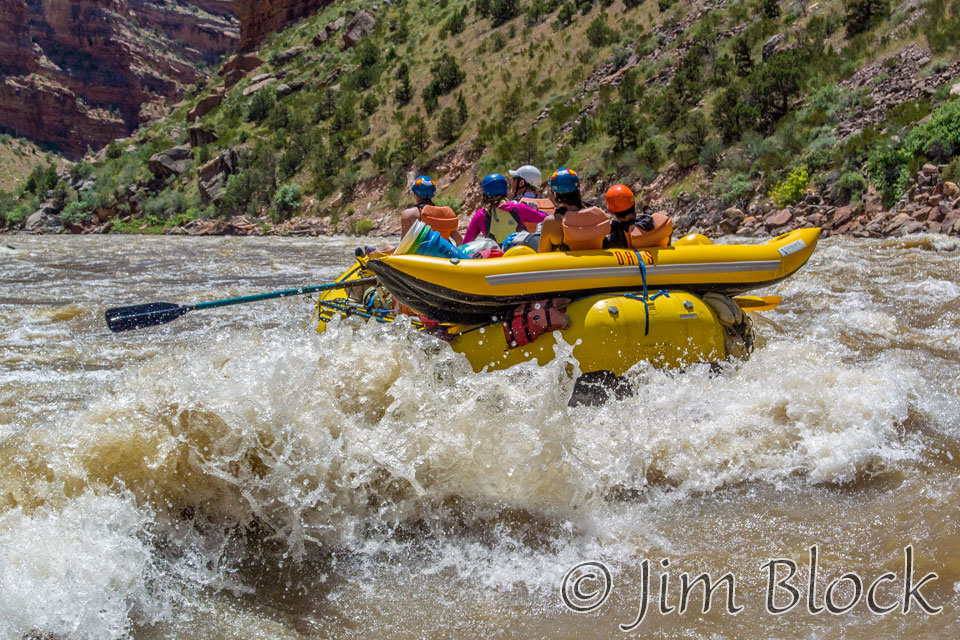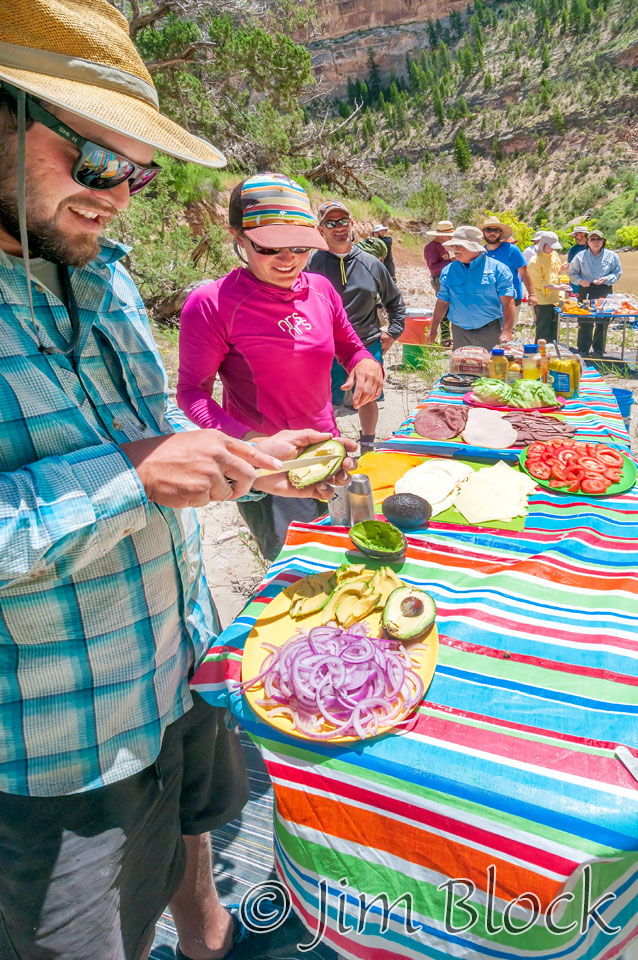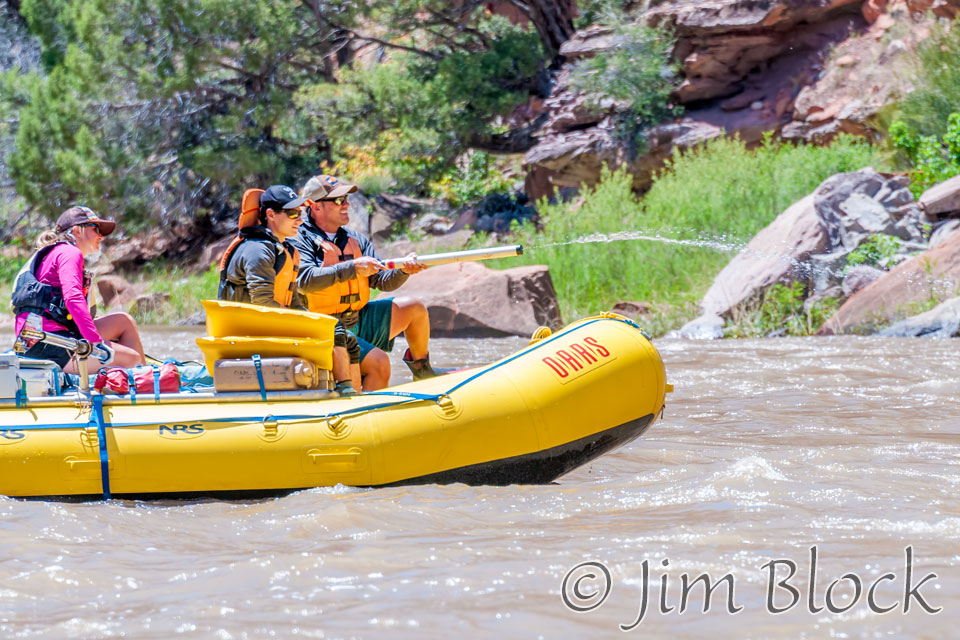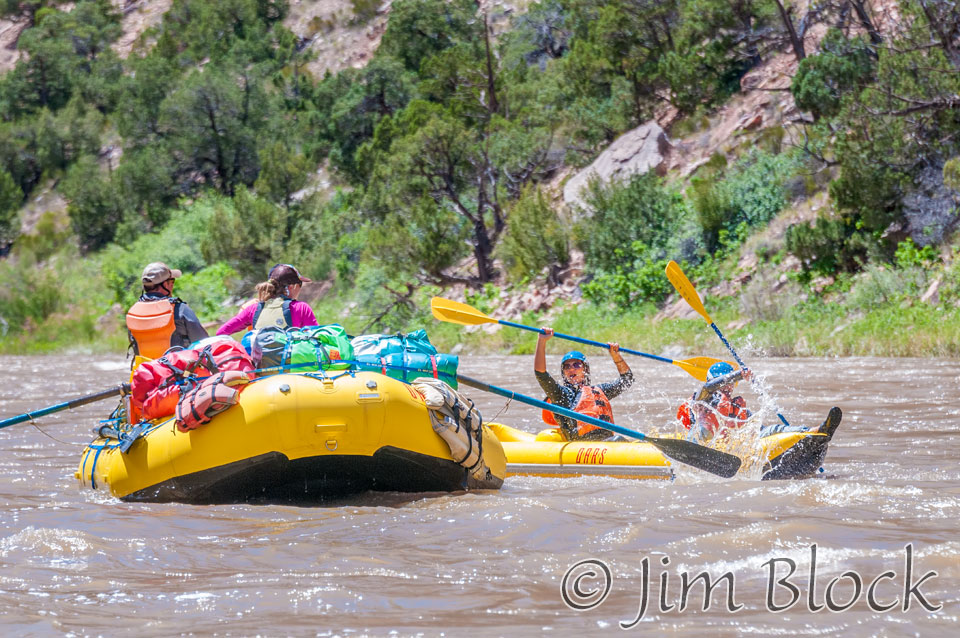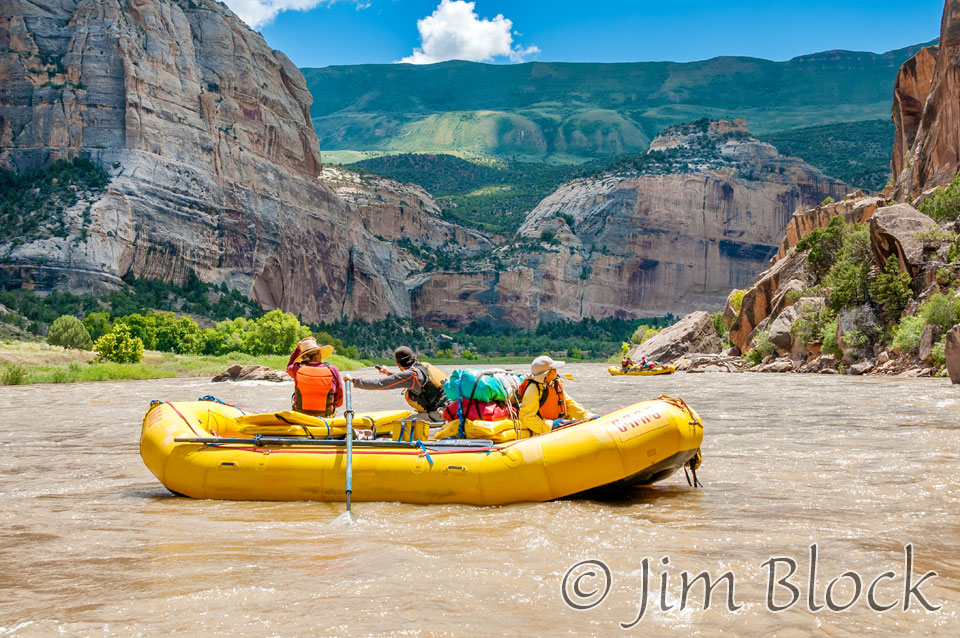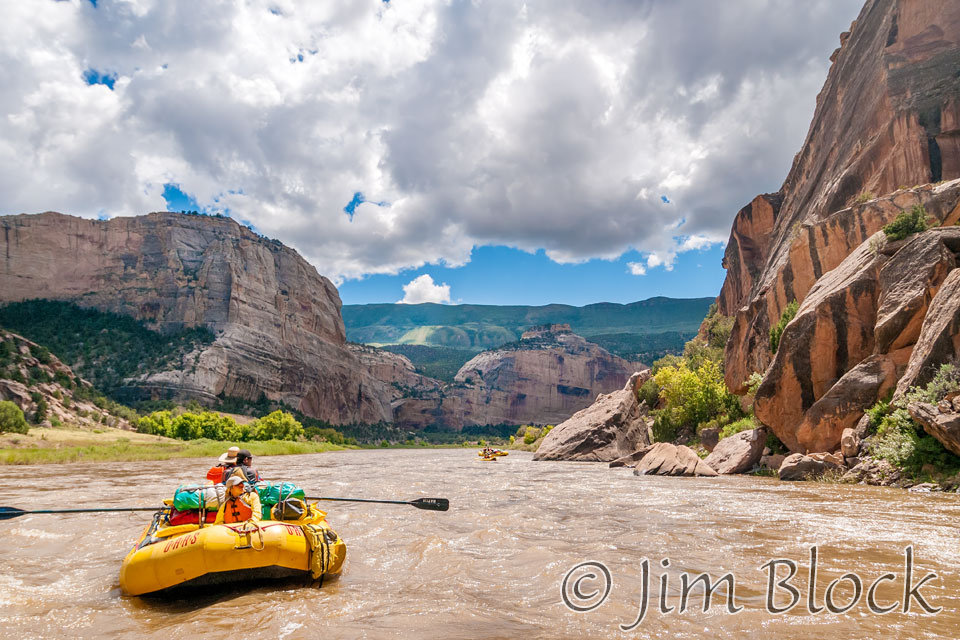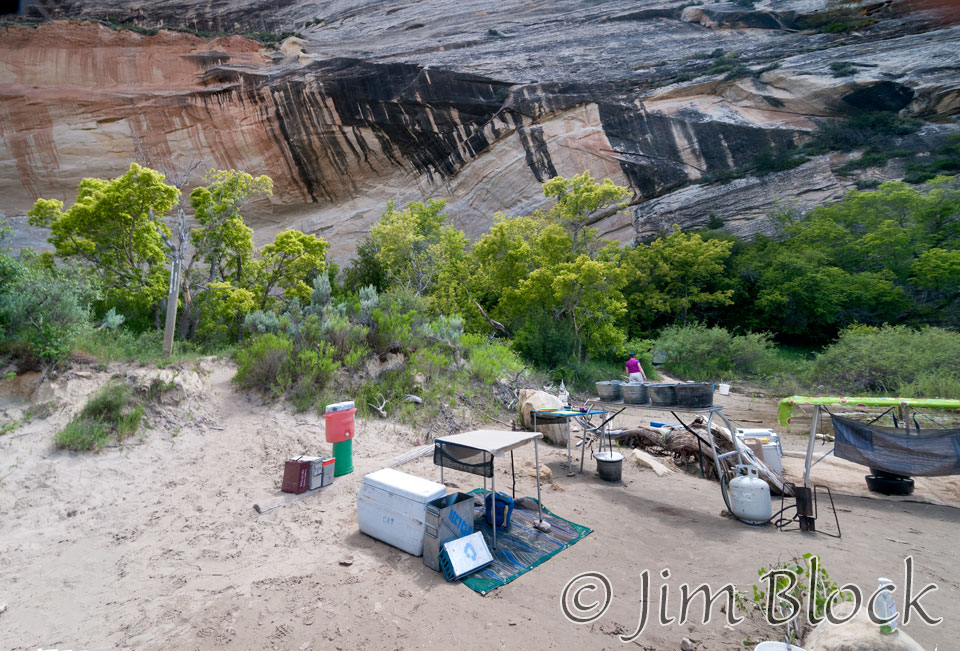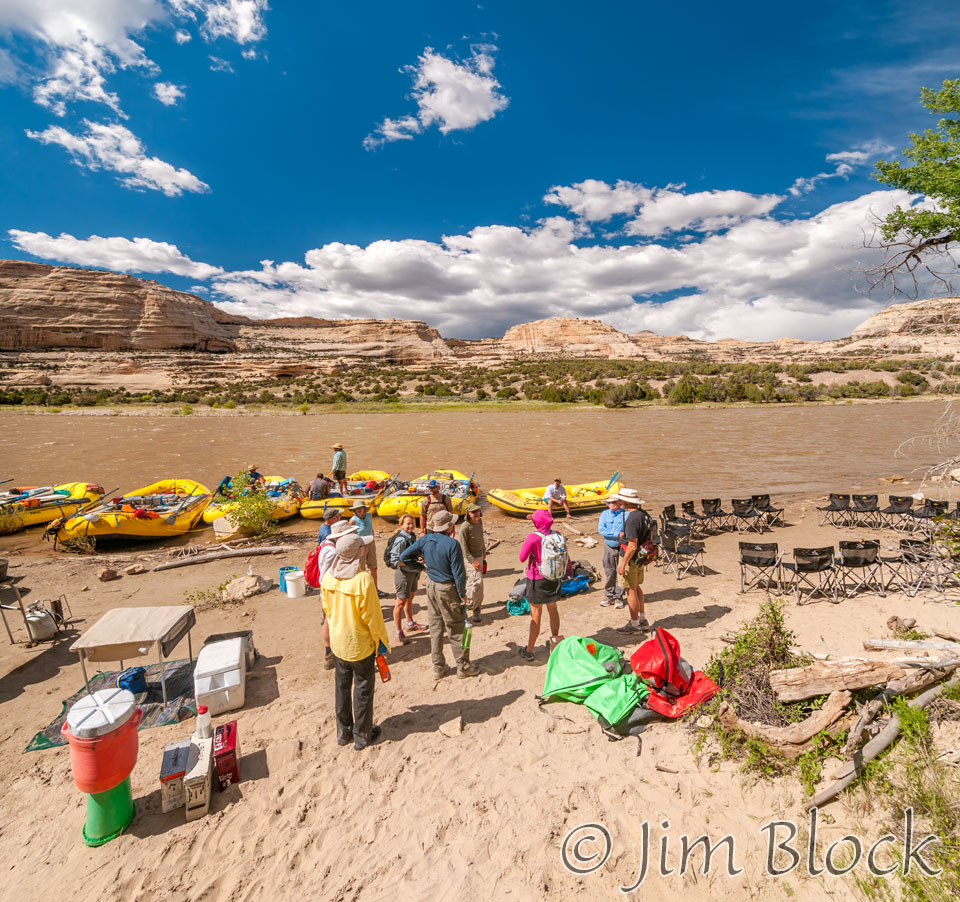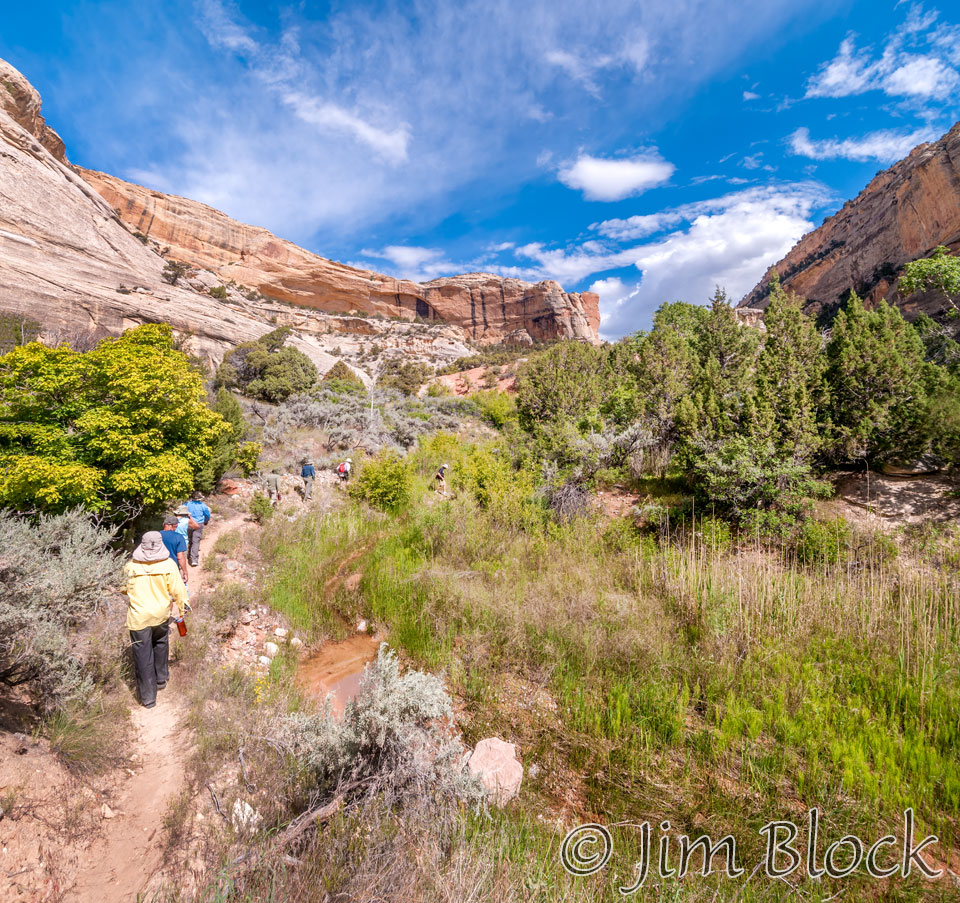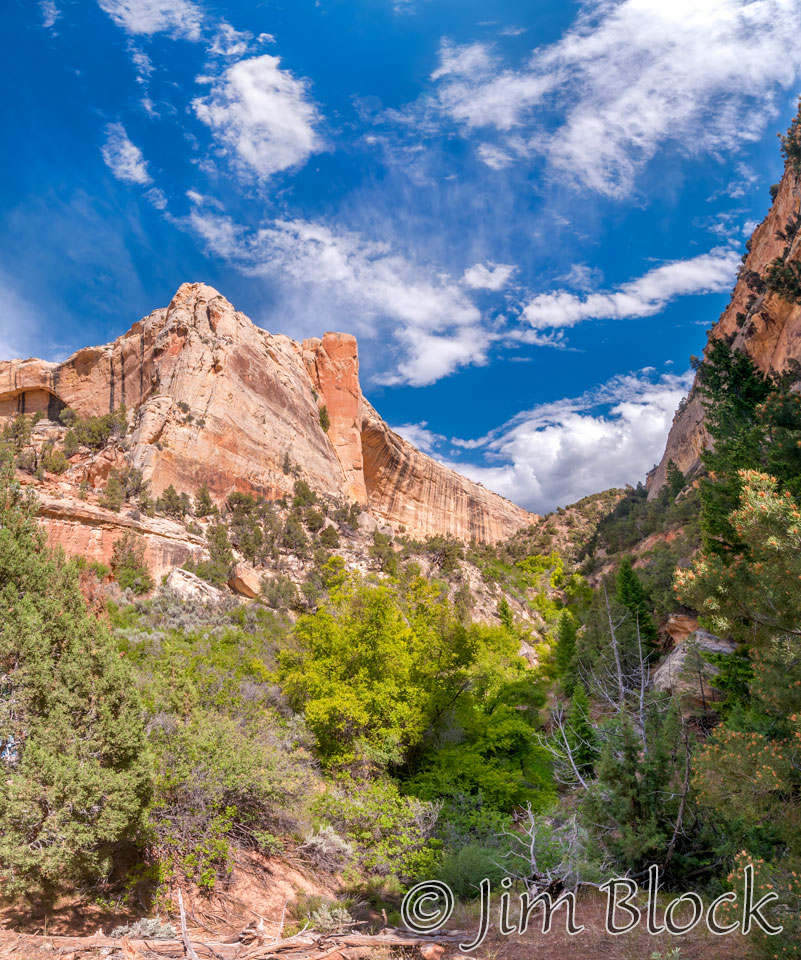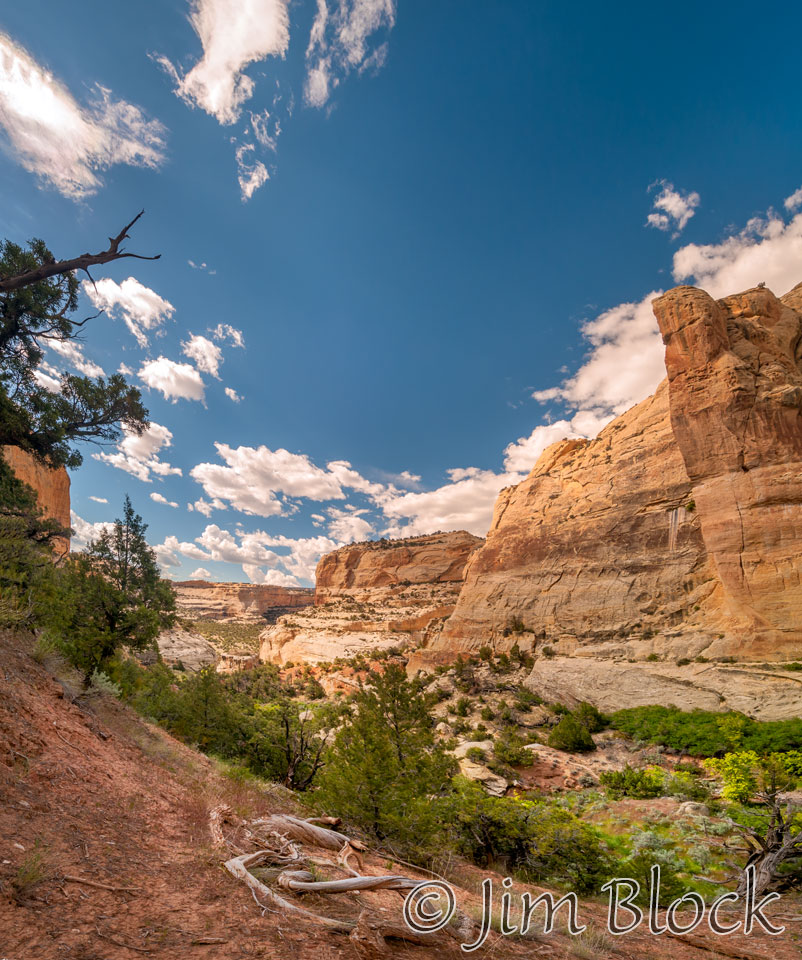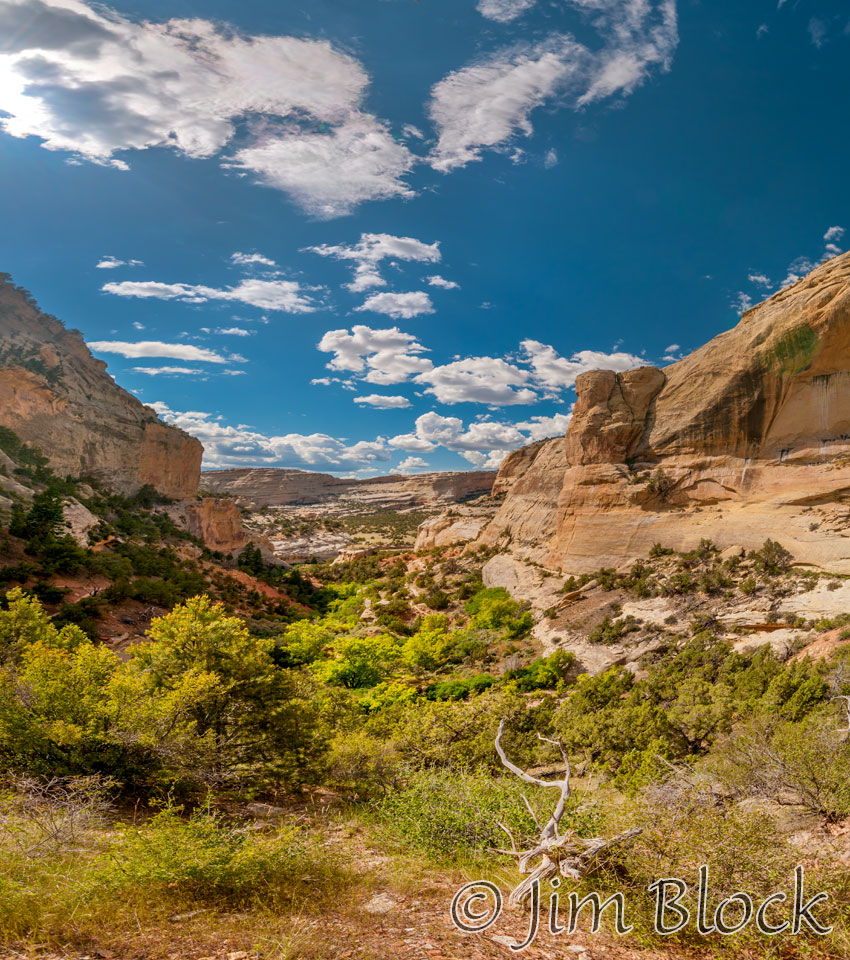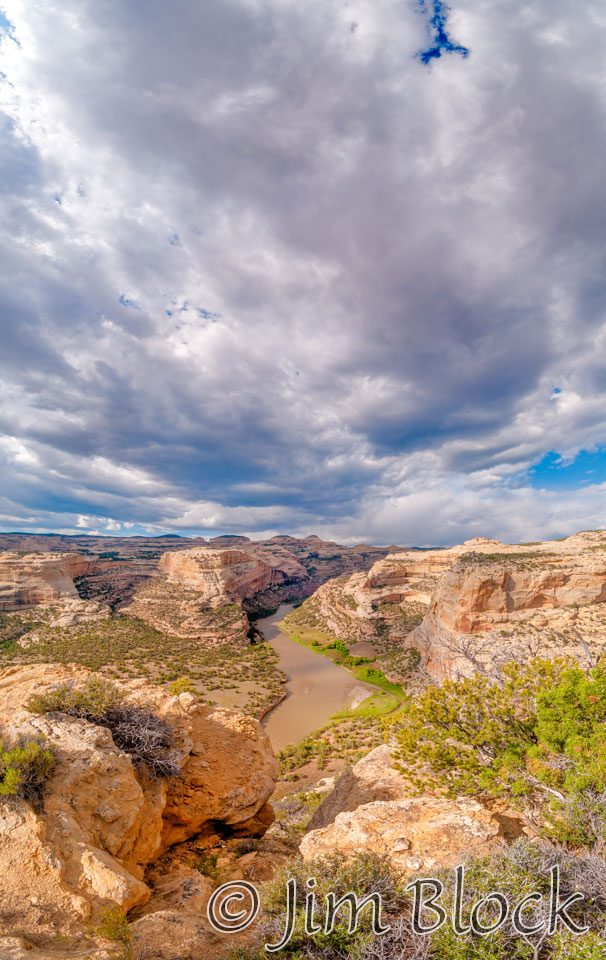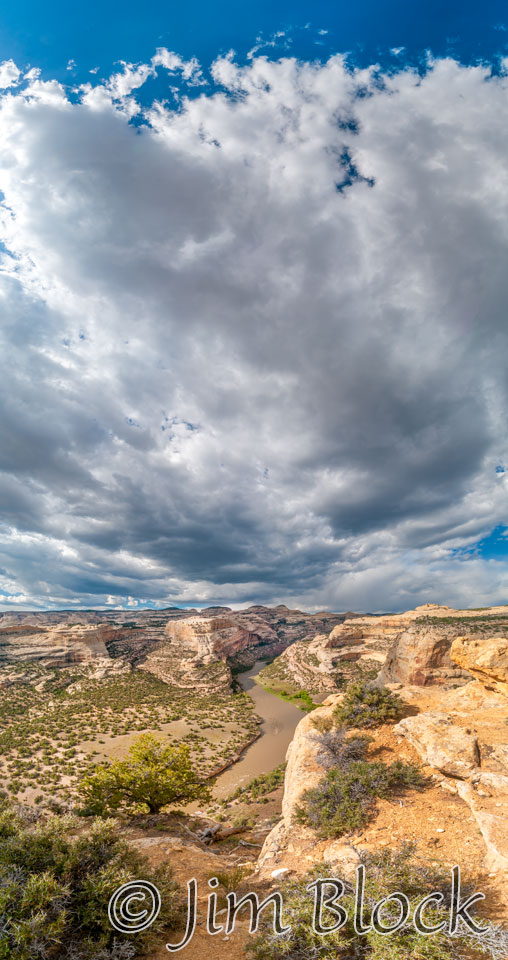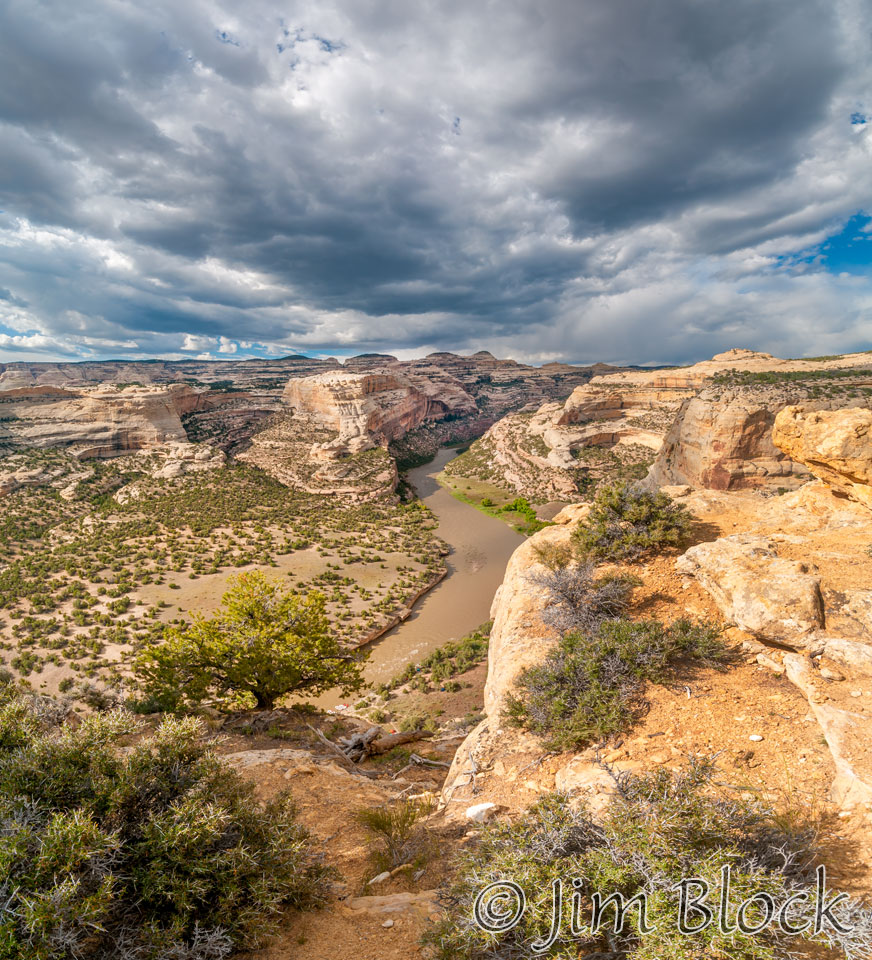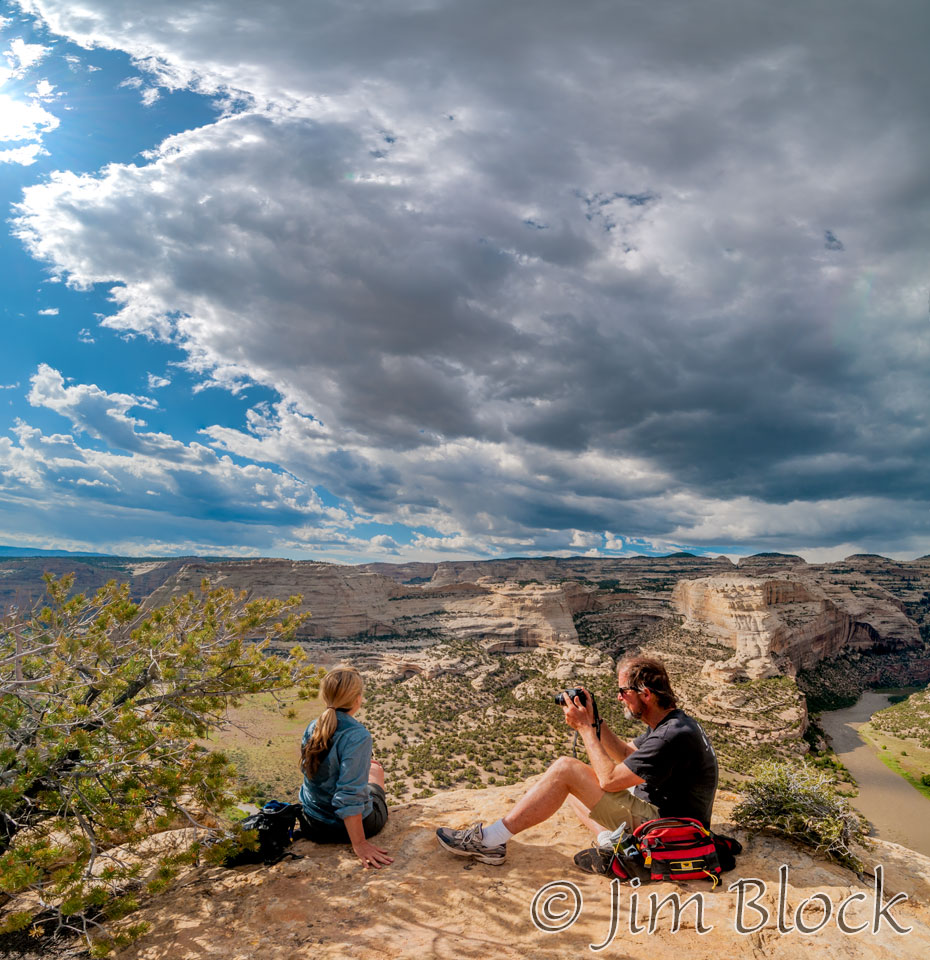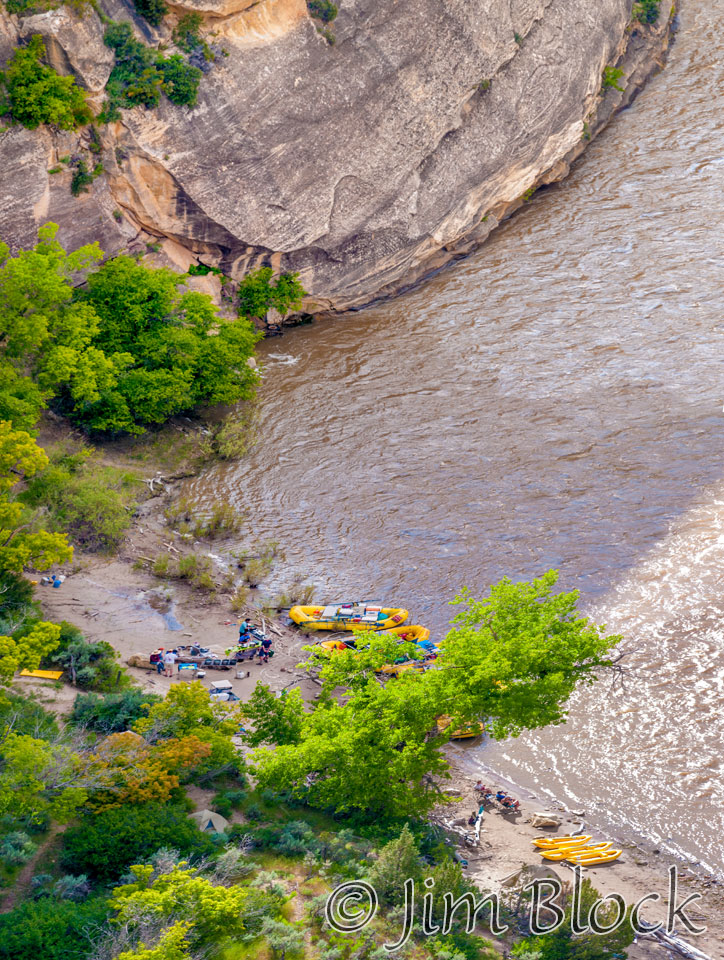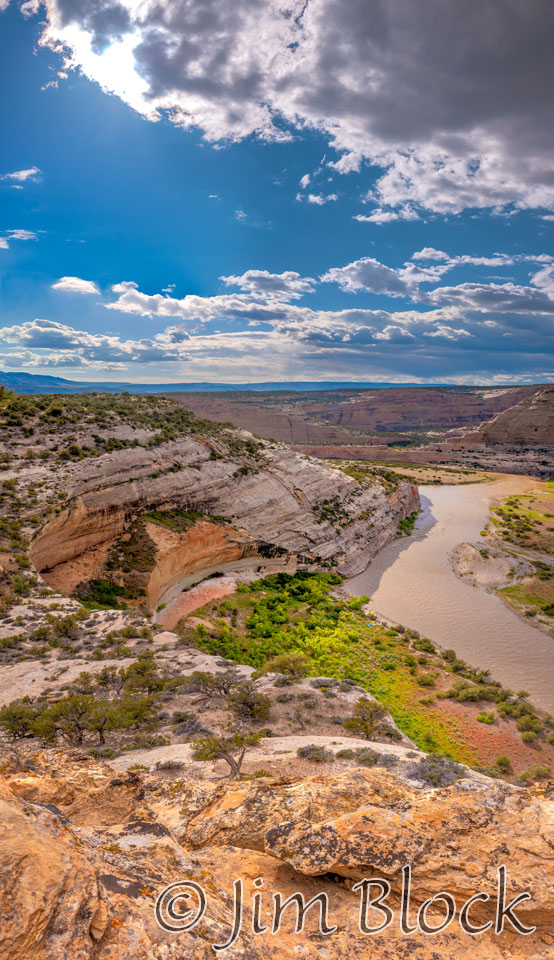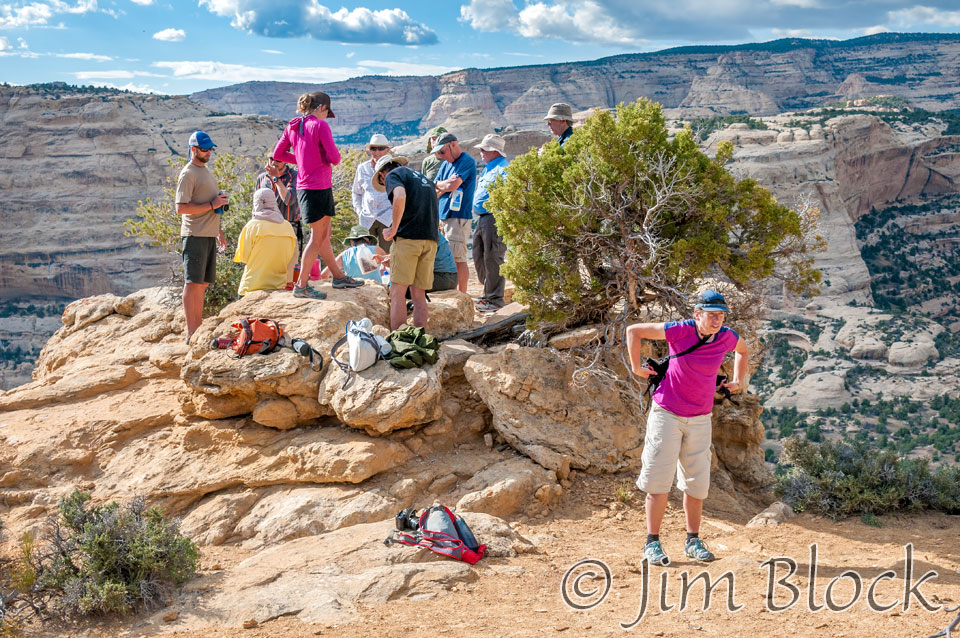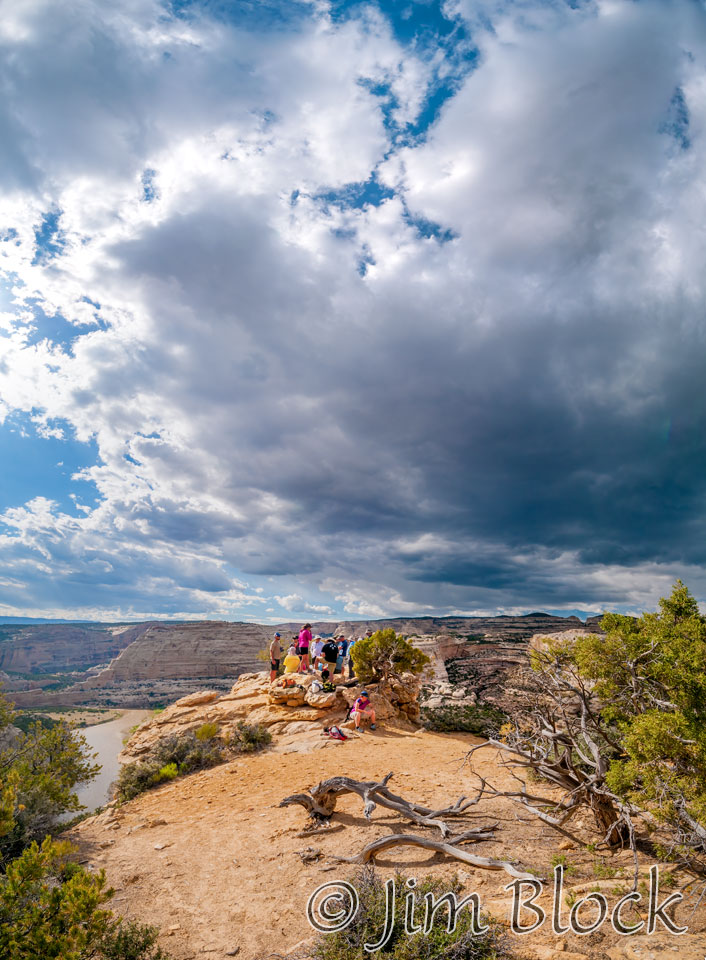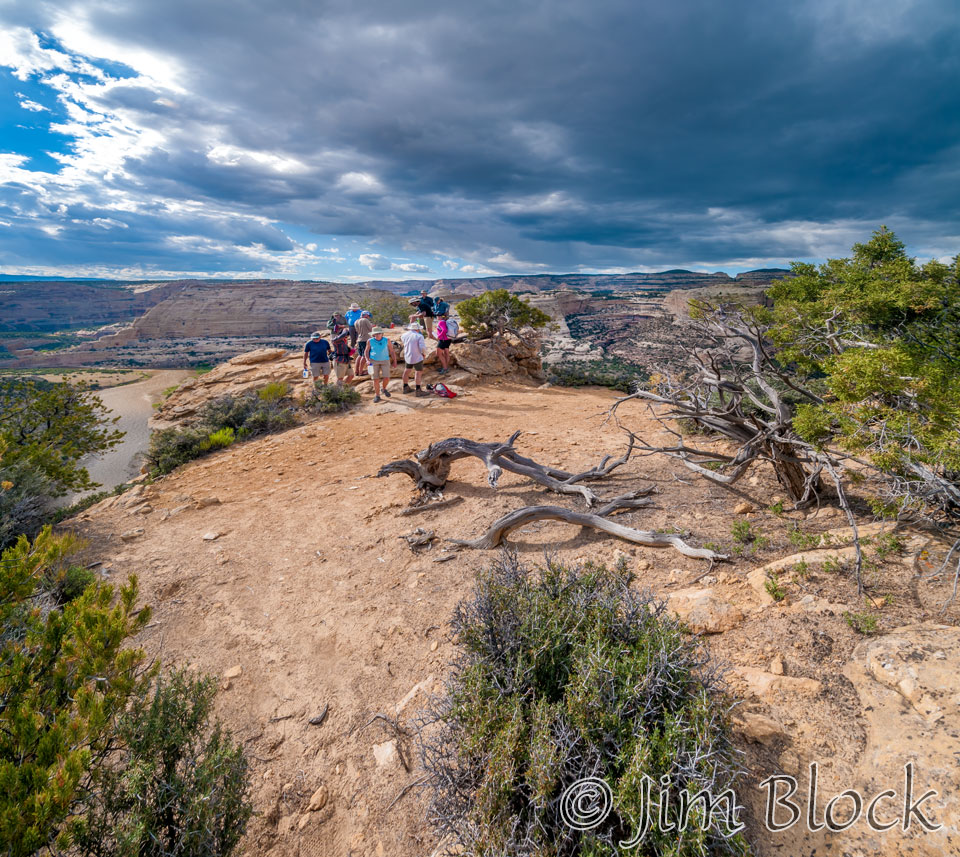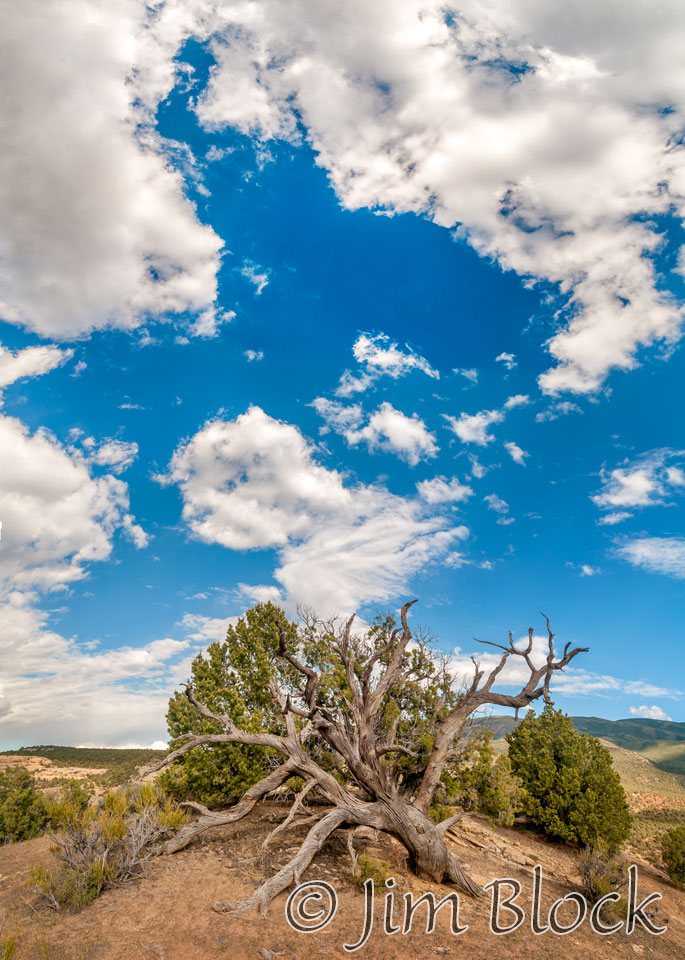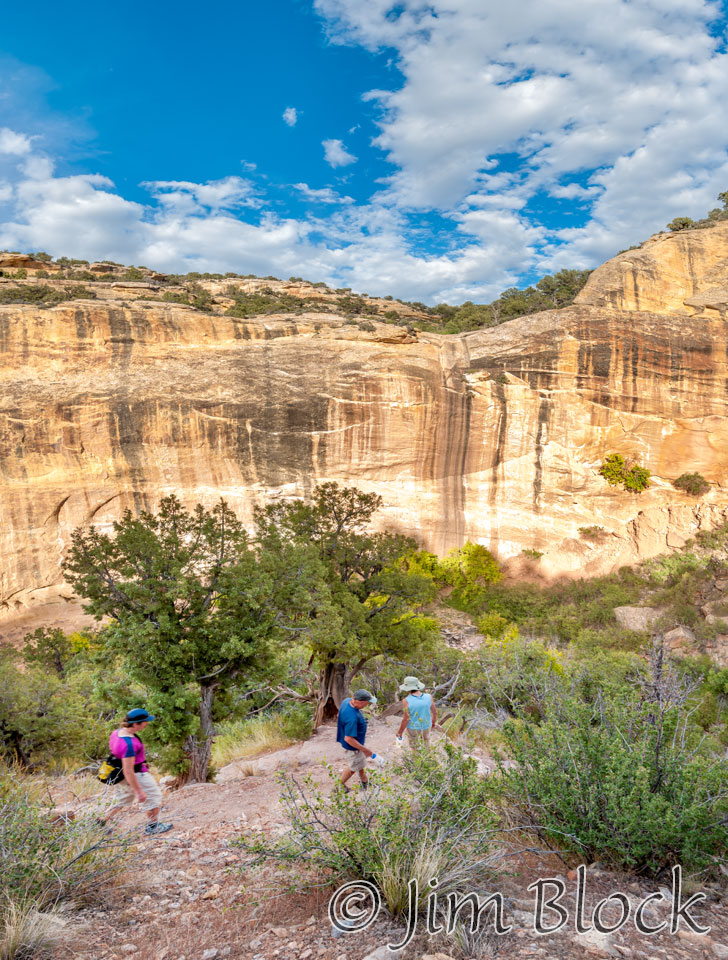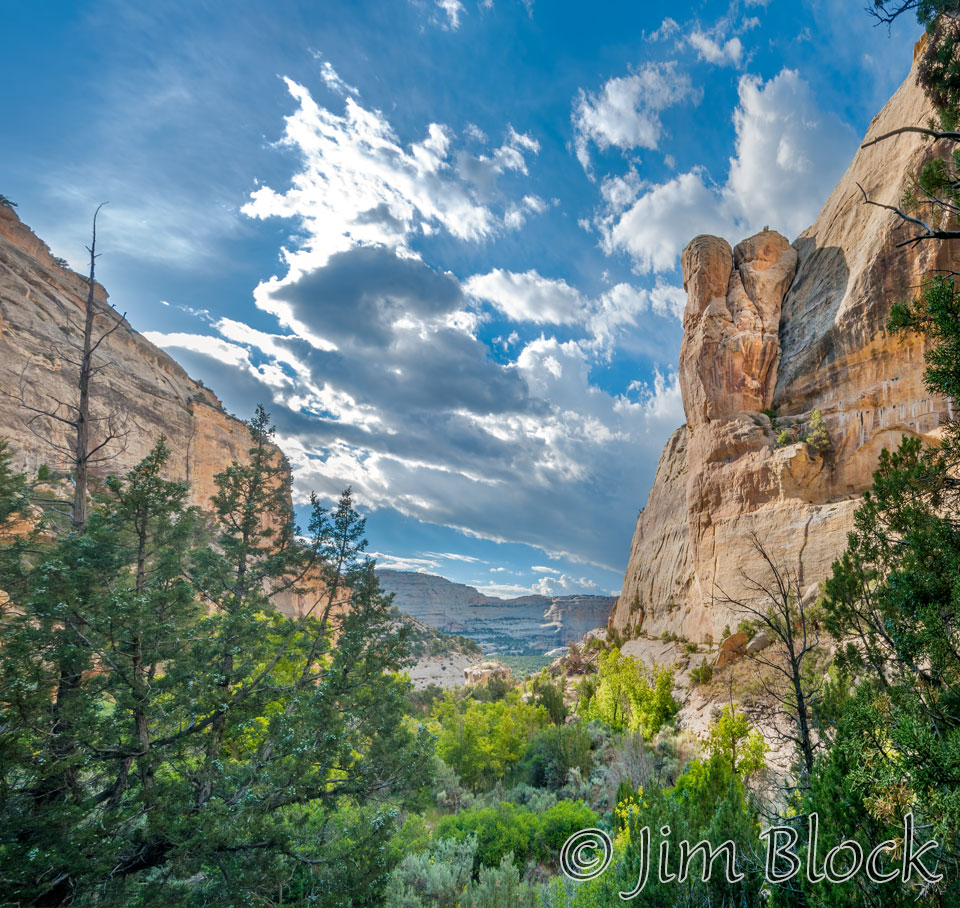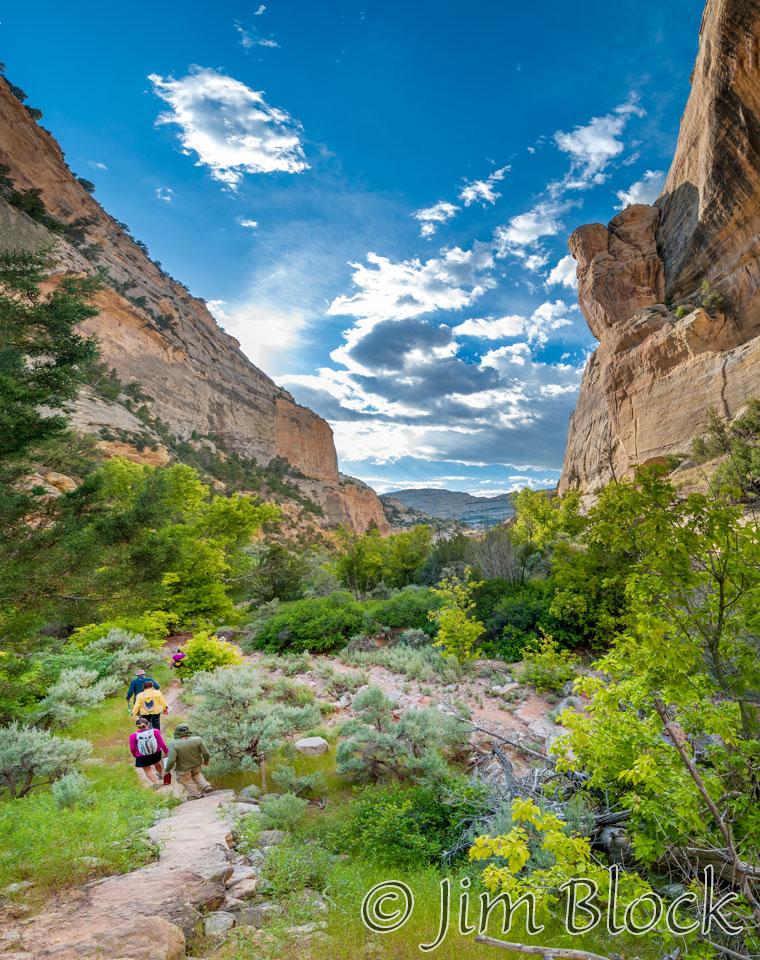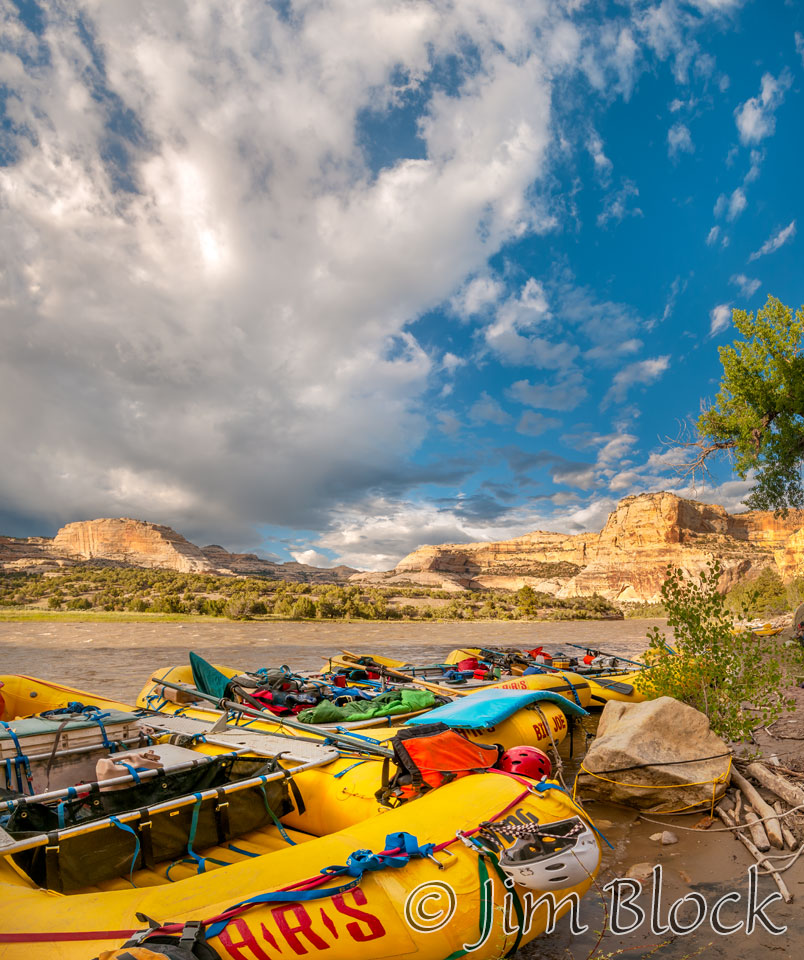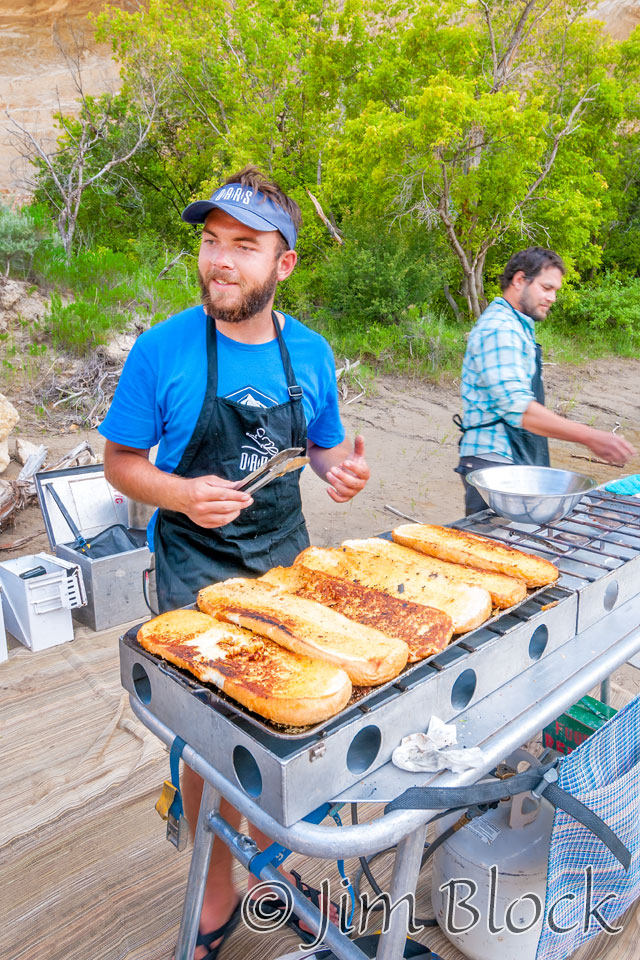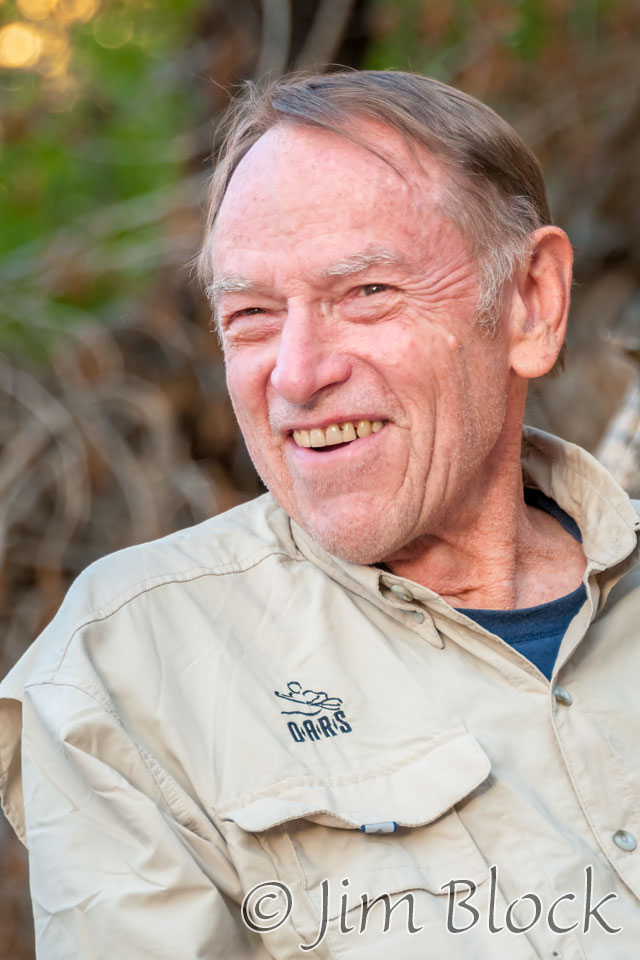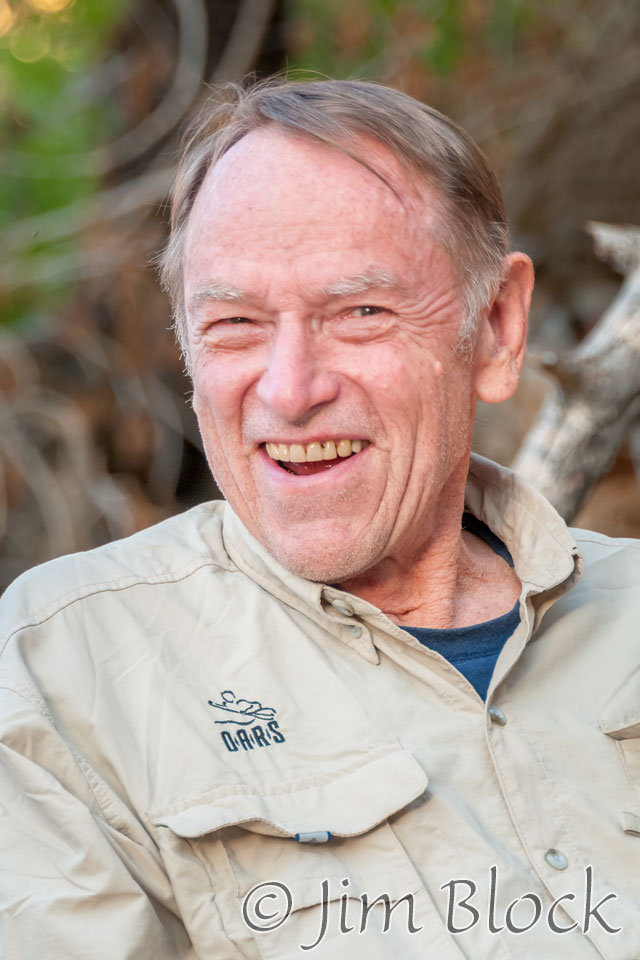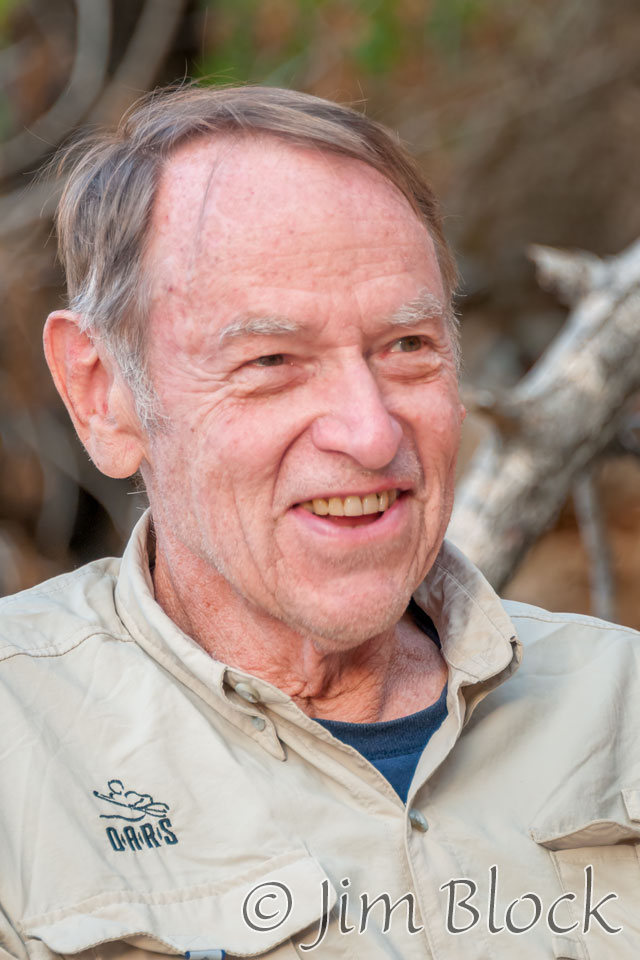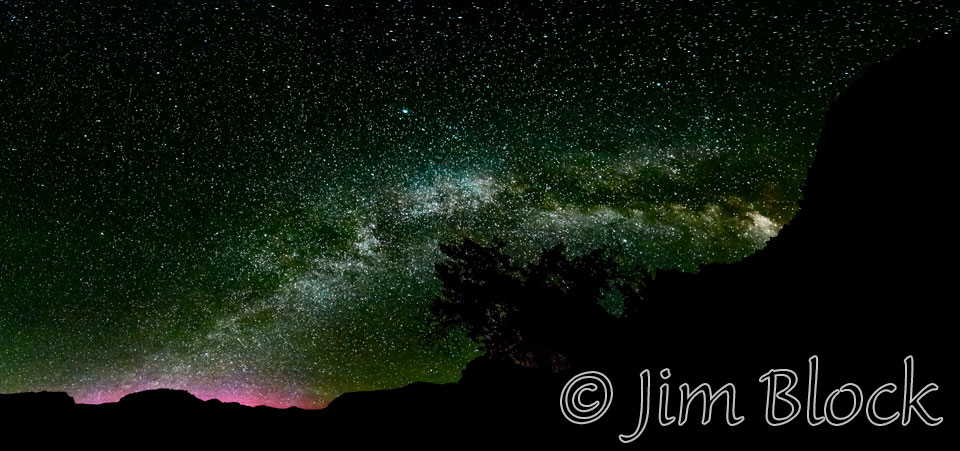 Here are some links to aid in navigation.
Panoramas: