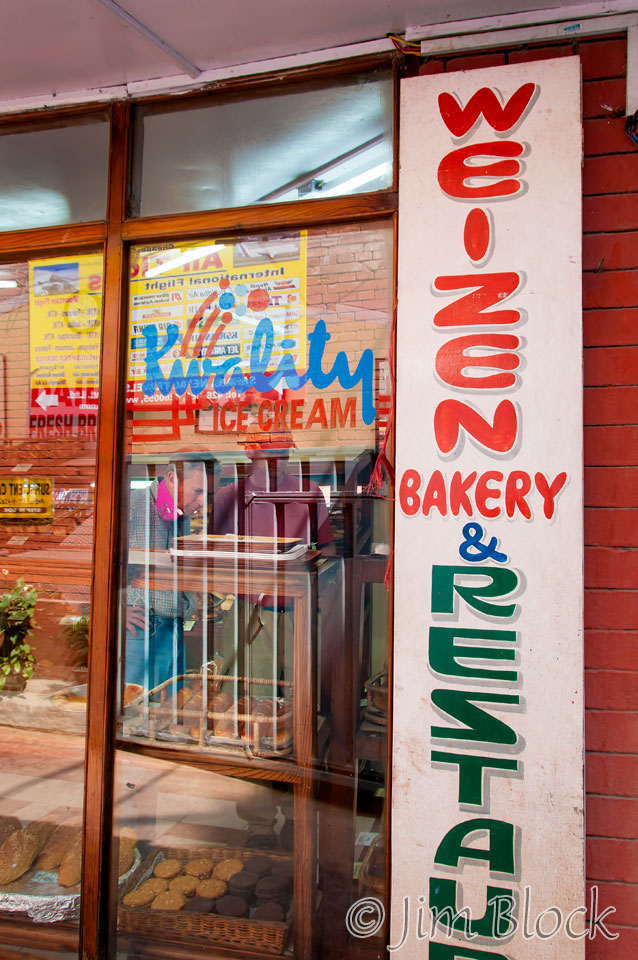 I toured Thamel in Kathmandu the afternoon of the day we visited Bhaktapur. Then the next day, the morning of our flight home, I hiked to Durbar Square in Kathmandu. I also saw most everything in between these areas and the Hotel Tibet, as my paths were not straight lines.
Stephen, Keg, and I hiked to our favorite bakery in Thamel, the German Weizen bakery. On a previous trip Stephen and I had circled Thamel for over an hour looking for it after each of us had found it independently previously. We found it then and we found it quickly this day. If you look carefully in the window of the photo on the right you can see Stephen and Keg. I had a wonderful lunch of apple strudel (75 Rs) and spinach quiche (80 Rs) which together set me back around $2.
Thamel is the main tourist spot. It is filled with tiny shops, each selling similar things. Almost every other shop sells Pashmina or yak wool scarves and blankets. The Pashmina is much more expensive, but I love the soft feel of yak wool—and so do our cats. I loaded up with yak wool from various shops. When I bought some small jewelry beads for Jann the nice woman took pity on me and gave me a large bag to hold all my other bags. Since I overbought, the bag was quite heavy so I took a rickshaw back to the hotel. We agreed on 50 Rs but I gave him 100 Rs, a real splurge.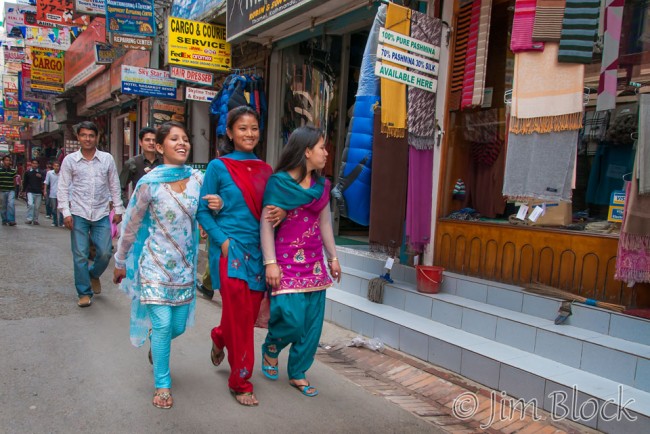 Thamel also has many rickshaw drivers, some with fancy vehicles and some with more marginal ones. They constantly ask if you want a ride, unless they are sleeping or visiting with friends. They earn a meager living taking people to the "Monkey Temple" or back to their hotels. Sometimes they even transport families or tourists with heavy bags of yak wool blankets.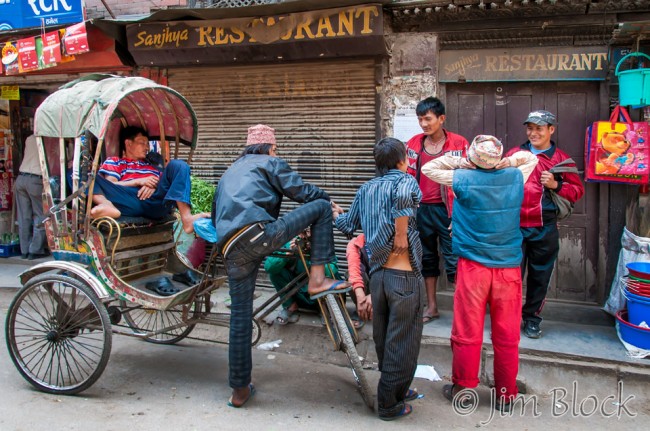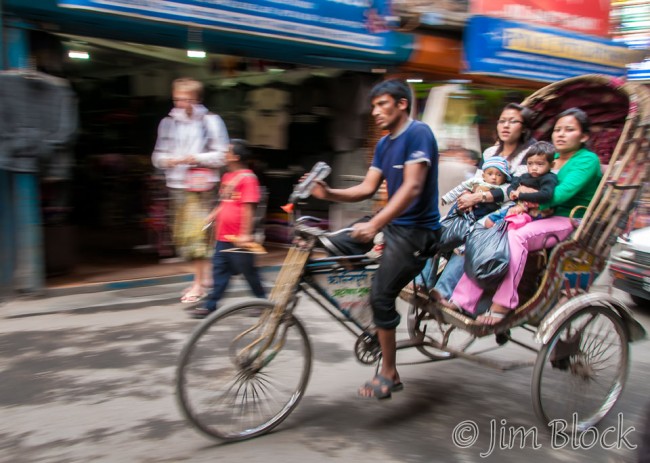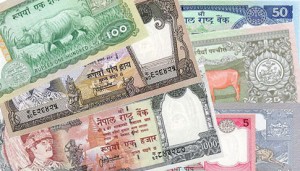 Late that afternoon I found another great fair trade store, Mahaguthi, in the other direction from my hotel. Thamel, and most everything of interest, is to the left where the small lane to the hotel meets the main road. And a short distance along is my favorite store in Nepal, Folk Nepal, a fair trade store. I normally visit it several times. It is the last store I visit in Nepal—its the place I go to spend my remaining Rs (Nepalese Rupees). But I found that if one turns right there is another fair trade store also selling locally hand-made products at reasonable fixed prices. I bought a very nice, very colorful, fleece-lined, yak wool, hooded winter coat that I did not need for 1150 Rs (about $16). How can one go wrong?
Motor cycles are the main mode of transportation in Kathmandu, besides walking. The driver, but not the passengers, is required to wear a helmet. The wife and kids seem expendable. Seeing three on a cycle is common. On my first visit I photographed five on one—a father was driving his kids to school. That photo still hangs in my home. Here are two photos from the afternoon of our next-to-last day. It is very uncommon to see bare legs as in the photo on the right—except on the occasional tourist. I left all my shorts at home, though there were some hot days I wished I had them.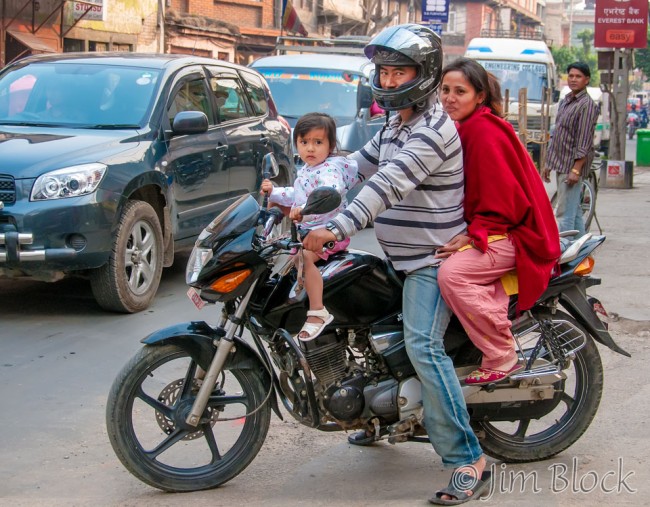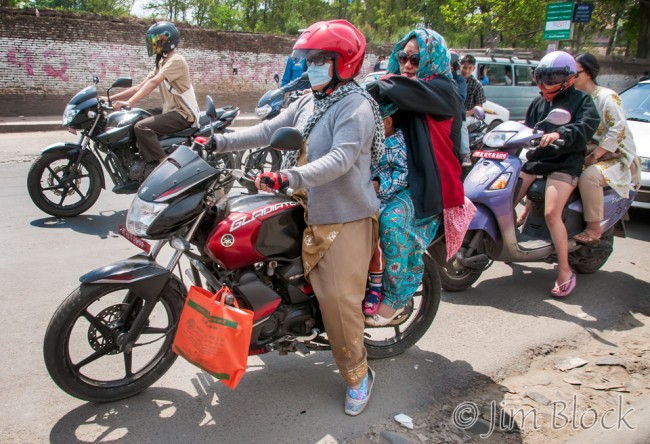 That evening after dinner we all walked to a nearby Baskin Robbins. I had a double scoop of banana chocolate and black currant. Nice way to end the day.
My last day in Nepal was a very long one—to prepare for an even longer flight ordeal, I guess. I left very early and hiked the several miles to Durbar Square. I wandered the streets to Kathmandu until 3 PM, mostly soaking in the sights and people and making photos.
Walking down the very busy street along the walls of the old palace I looked up and saw many cattle egrets carrying nest material. So I paused to take some photos of these beautiful and very adaptable birds found all over the world, well almost.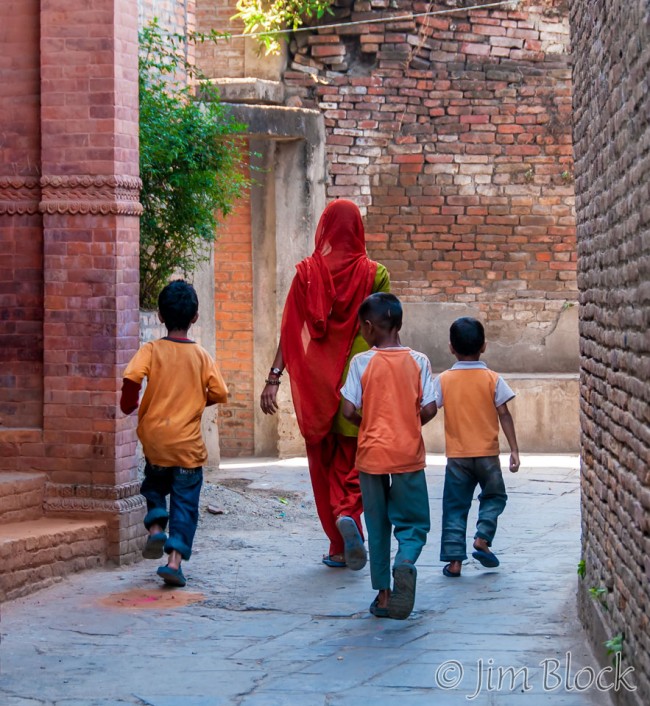 Durbar Square is the generic name used to describe plazas opposite old royal palaces in Nepal. Before the Unification of Nepal, Nepal consisted of small kingdoms, and Durbar Squares are most prominent remnants of those old kingdoms. I have visited, several times each, the three Durbar Squares in the Kathmandu Valley belonging to three former kingdoms: Kathmandu Durbar Square, Patan Durbar Square, and Bhaktapur Durbar Square. All three are UNESCO World Heritage Sites.
As I hiked to Durbar Square most of the streets and lanes were lined with food and dry goods sellers who set up shop each day on blankets or plastic. The food vendors were colorful with their neatly laid out vegetables, beans, and spices. Some fried corn pastry; others sold mushrooms.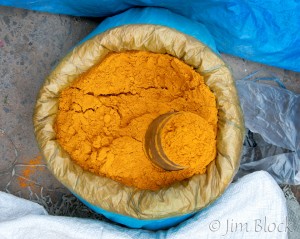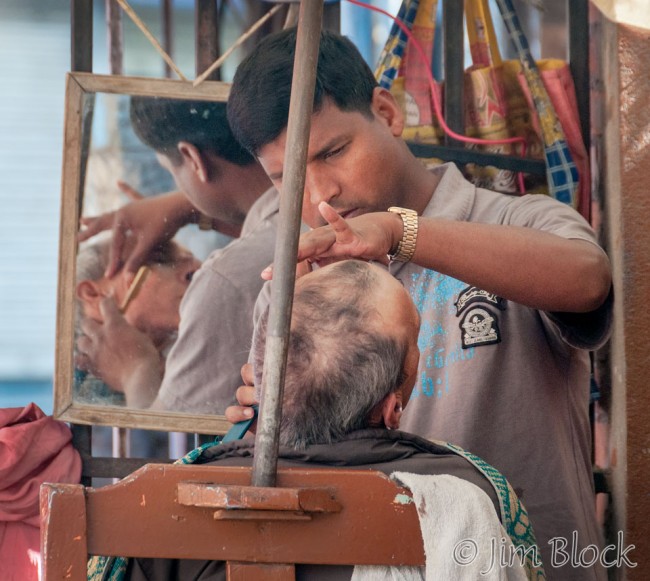 Nearing the main temple square, I paused to photograph a man getting an open-air shave. Then I took one of my very few photos of an old building.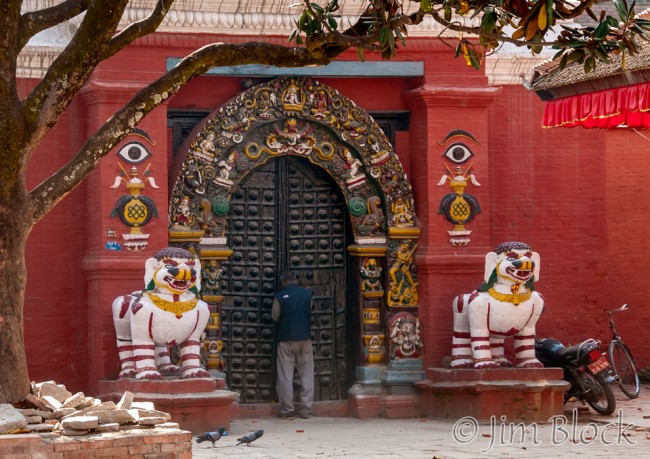 One of the main temple sites was filled with cows and pigeons.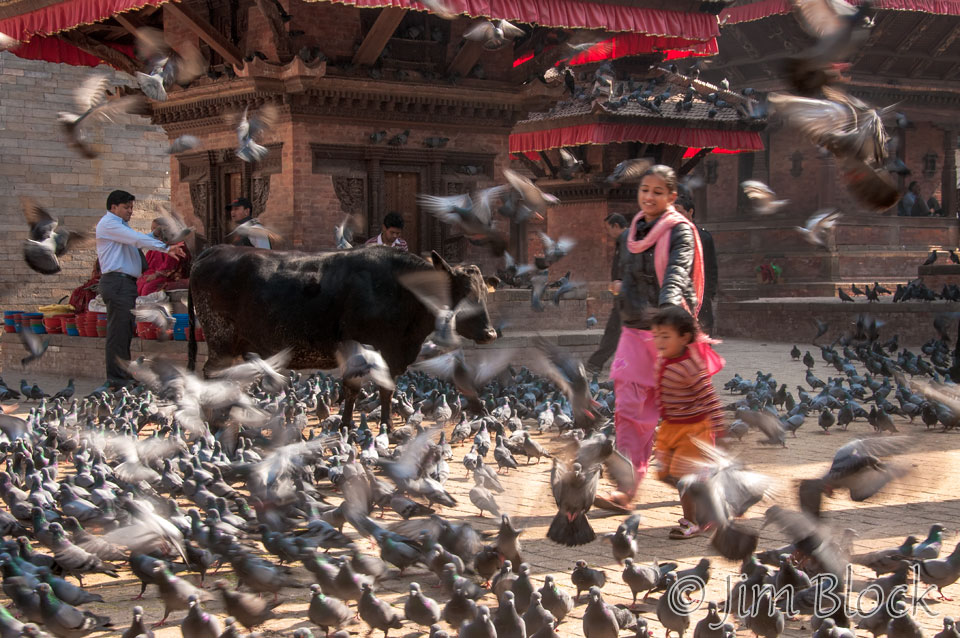 Heading back toward Thamel, a group of children posed for me. Then it was a stop at Weizen Bakery for another spinach quiche for a late lunch. They were out! But fresh ones were being made. I waited, photographed them being loaded onto a woven platter, and enjoyed one slowly.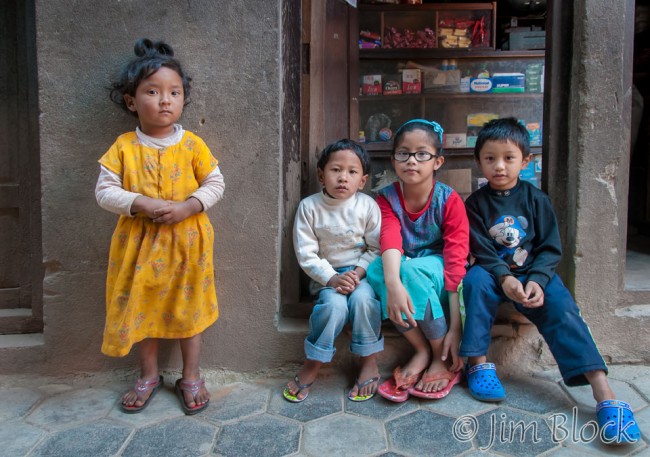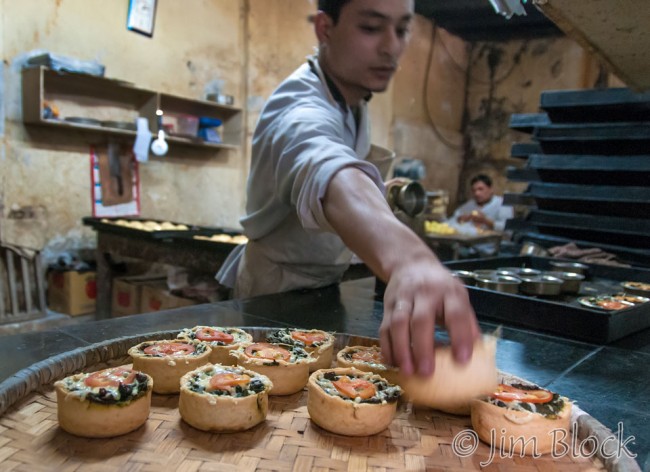 Back at the hotel we said our final good byes. Chhongba had already left with Carolyn, Milt, and Lisa to fly to Lukla. Also flying with them was their porter, Mila. It was his first plane ride and what a ride into the short runway on the edge of a cliff that is Lukla at 9200 ft.
The trip to and from Nepal is never fun and this one was, I think, the worst. From when we left the hotel to when I arrived home almost 40 hours had passed—fairly normal. We traveled through Paris for the first and only time in 4 trips, and I had a tiny $6 espresso to try to keep awake. Instead I got hit with my first and only illness of the trip, some intestinal problems. Not a fun way to spend the last long flight home. We got to Boston safely but Tim's bags didn't, and neither did mine. We would eventually get them back three days later. My belief is they spent a few extra days in a dirty corner of KTM airport. The saving grace of the trip home was being met at the airport by Ralph and Martha, Stephen's wife. Dartmouth Coach is fine, but a private car is better.
WAIT, you are not done yet. There is a slide show of my last day and a half in Kathmandu below and then two more pages: Faces of Bhaktapur and Faces of Kathmandu. I really enjoy photographing the friendly and happy people of Nepal.