Full moon in Boston, lots of walking at Heathrow, but even with a "tight" connection and some slow lines, we made it with plenty of time. I did some "Duty Free pans" in Bahrain—panoramic photos of the amazing and very high end duty free shop—managing to dump a large coffee on the pristine floor in the process. Here is a view of Bahrain as our plane approached.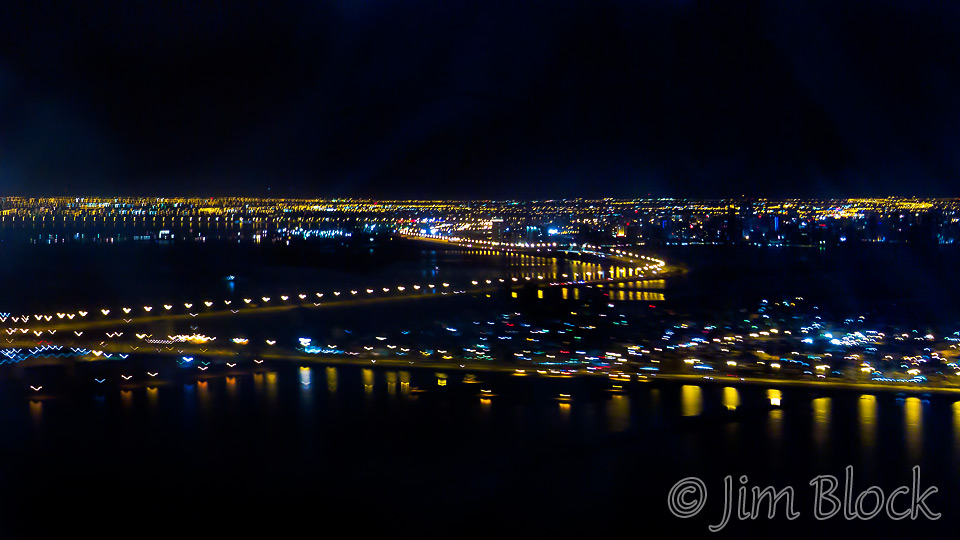 I met Khari Rinpoche at Hotel Tibet and gave him "THE BOSS of Khari Gompa" T-shirt I had printed for him. This shirt resulted in a comment he made in NH the summer before when I asked him what he really did in his "position". He replied, "I am the boss of Khari Gompa". It is fantastic that a person who has dedicated himself to building a home and refuge for Tibetan nuns can view himself with humor.
That afternoon I limped the short distance to Folk Nepal for a Pashmina scarf and some small bags for Jann and worried how I would handle the trek since I could not walk without considerable pain. I had pulled a muscle in my left leg a few weeks before the trek. Sitting for many hours on the planes did not do it much good.
I learned from our guide the next day that Pashmina is not cashmere—although it is often called that. It is the fur from the front of the neck of a mountain goat.