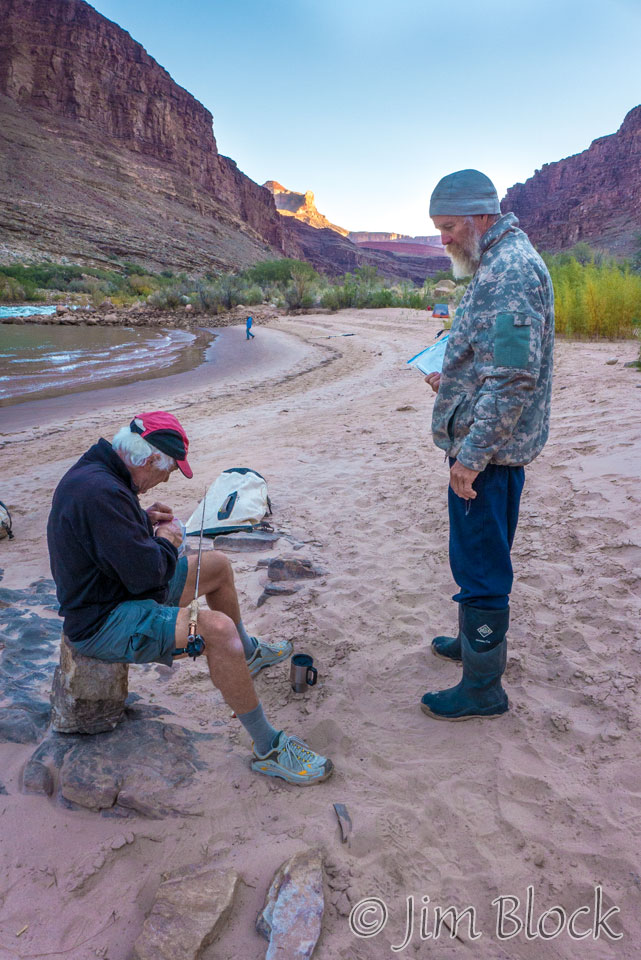 Another night shot to start this day. This one was taken at 4:30 AM after a long nights sleep.  Still 2 hours to wait for coffee. Earlier would have been nice. The bright thing in the sky is the moon, not the sun.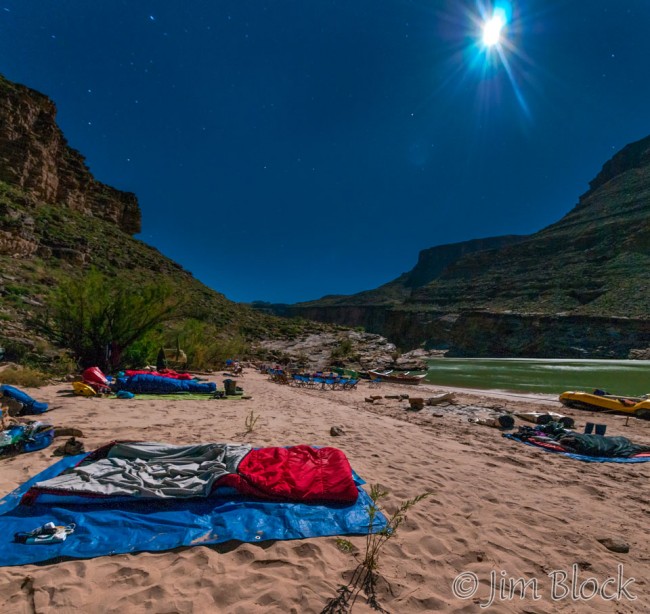 Jake planned to do some fishing but Roger first had to check his license.
I wandered around camp and on the ledge above to make some photos of roots, rocks, and plants. You can see more of these in the slide show that follows. The early light and reflections in the river were quite nice.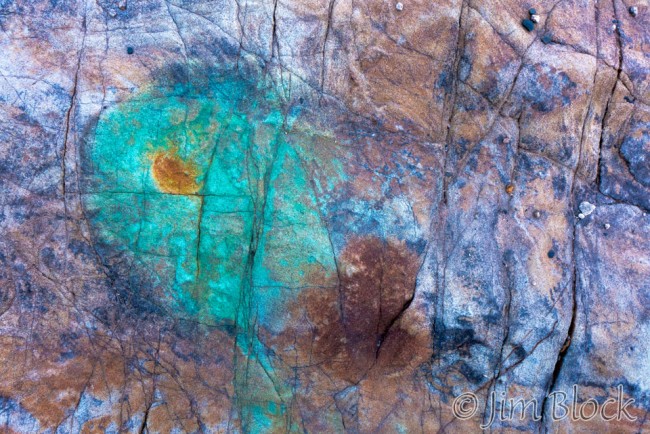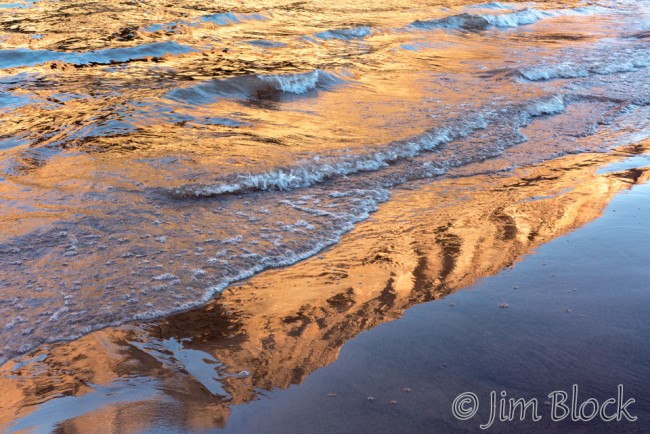 The river was still low so we took a hike after breakfast waiting for it to rise. There was the rocky and challenging Hance Rapid just ahead. We hiked the Escalante Trail into, where else, Escalante Canyon.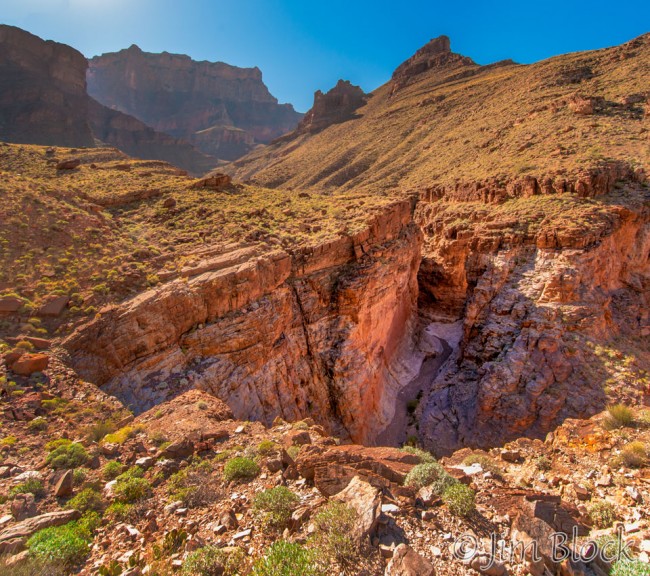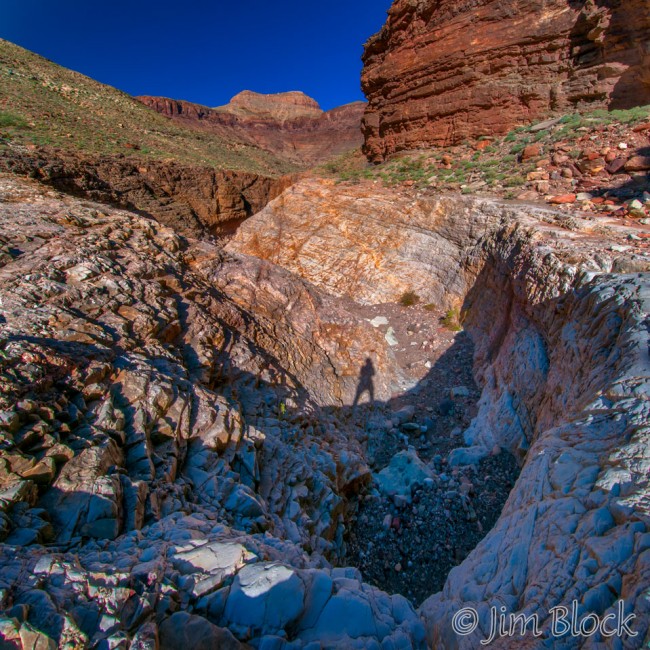 We finally launched at 11:25 AM and had a wild ride through Nevills Rapid and then hit some beautiful reflections as we approached Hance. This is where Hatatai Shale first appears. It is the beautiful red stuff in the photo below.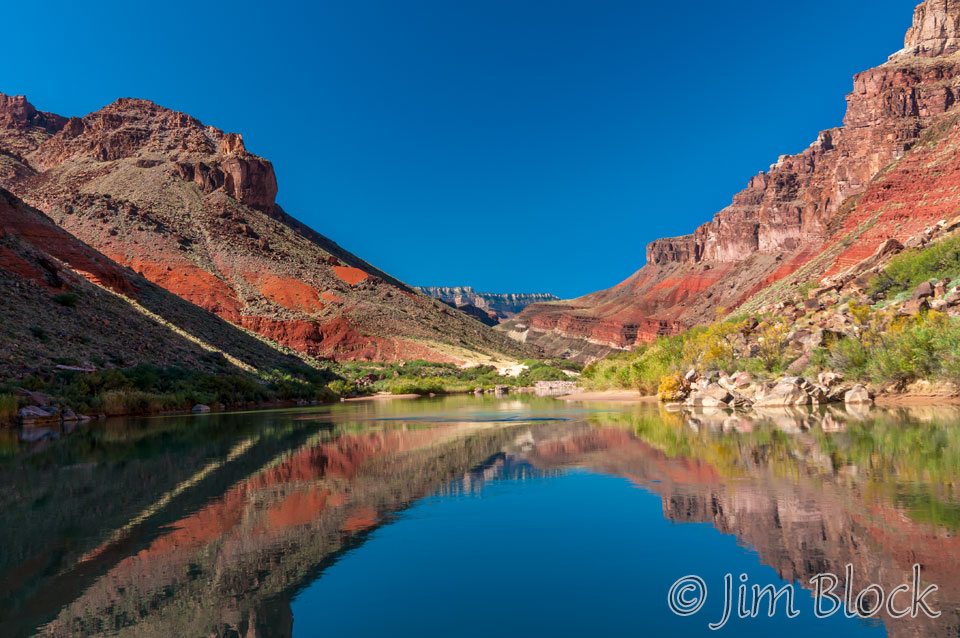 We stopped to scout Hance. The crew decided the river was still too low and hence the run through the rapids too rocky to navigate with full boats. So we walked while the boatmen ran it with empty dories. This gave me a chance to get some action photos.
Here are the two Dales running Hance. It in interesting to see how often the dories are travelling backwards.
While Uncle Roger and Nephew Duffy watched, Nick and Rondo ran Hance. At one point Rondo decided to see how it might work with only one oar as seen in the shot below.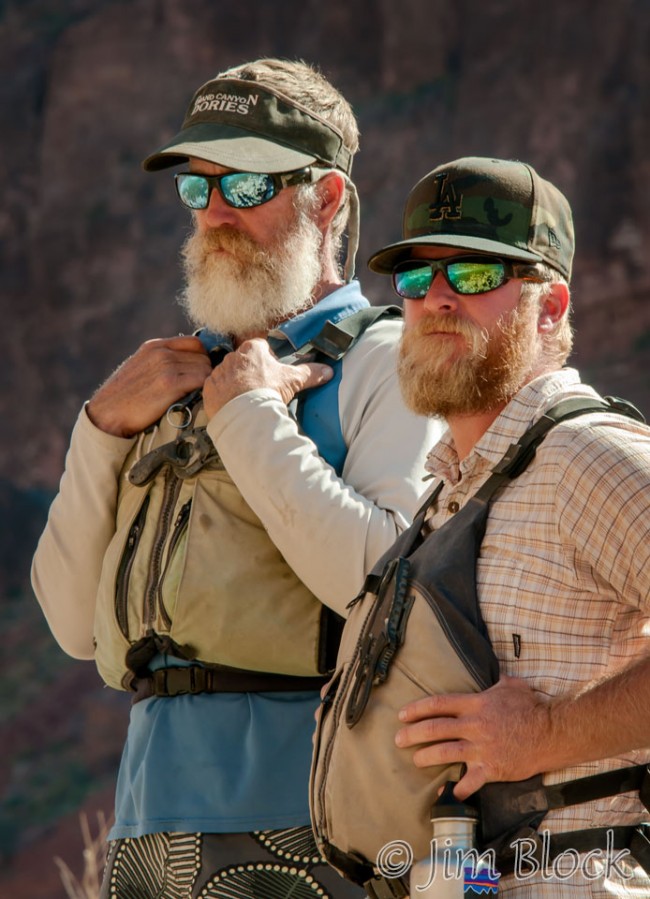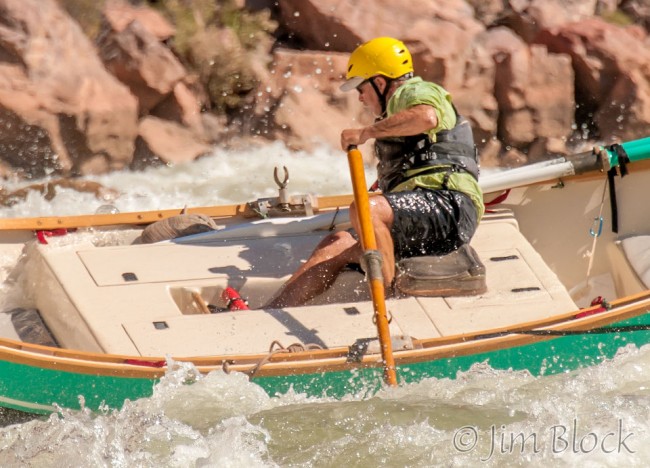 The rafts had to run Hance too — fully loaded. Here are photos of Charlie, Stefanie, and Sean making it through Hance Rapid without flipping.
The Hance Rapid didn't look so bad from a distance now that "we" were through it. However, it does drop 30 feet overall. In the photo below of Hance you can see a massive basalt dike in the Hakatai Shale. The dike is in the center of the photo.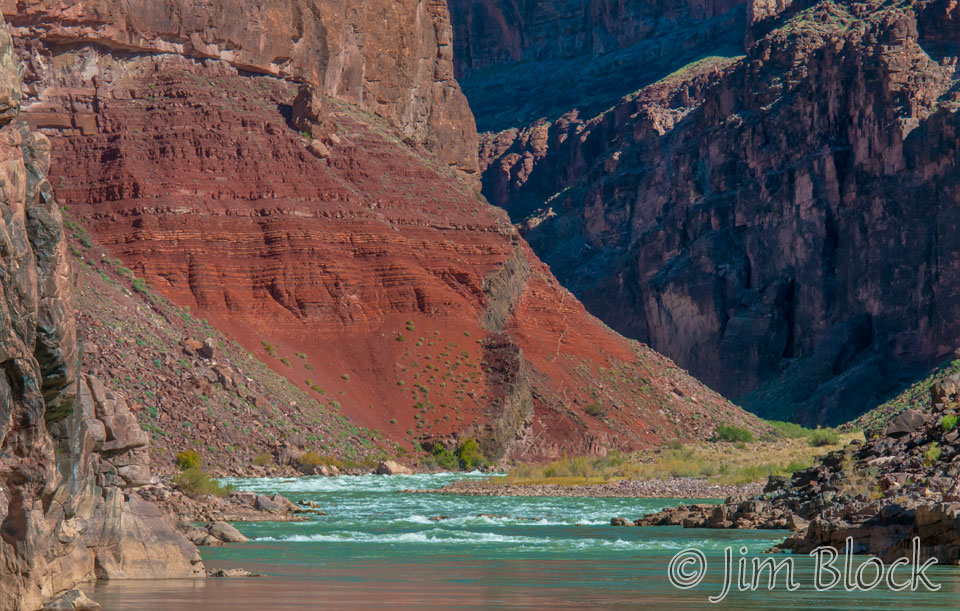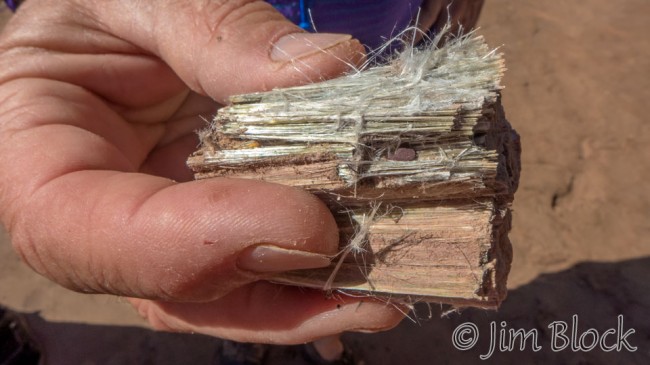 We stopped for a late (2 PM) lunch just downstream of Hance. We found some asbestos, perhaps from John Hance's mine across the river from our lunch spot. We were at the start of Granite Gorge and the walls were closing in on us. After lunch we had some big rapids to run, Sockdolager, Grapevine, 83 Mile, and Zoroaster, before camping just before Phantom Ranch.
This is an area of both Vishnu Schist and Zozoaster Granite. The boatmen instructed us, "don't take your Schist for Granite". (Schist is black and Granite is pink.)
I was in the stern of Roger's boat so getting photos downstream was difficult. Instead of struggling with that I used my LX7 (a small compact camera) to photograph the canyon walls as we cruised through the calm parts. Here are two of the photos. A few more are in the slide show at the bottom of this page.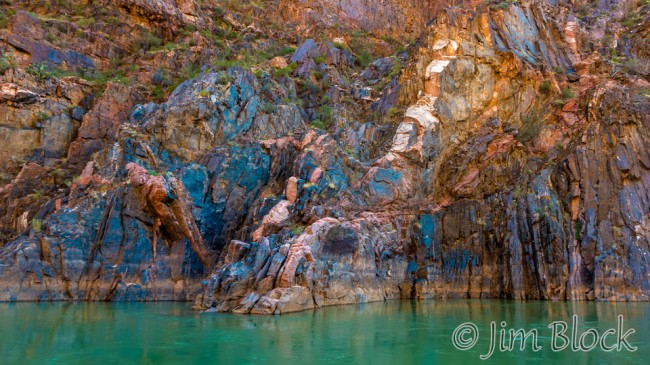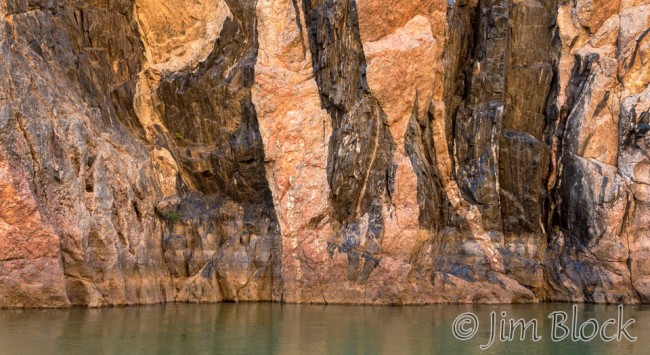 Roger ran Grapevile Rapid first and stopped in the downstream eddy. This gave me a good opportunity to photograph the others running these rapids. Here is a series of Nick paddling with Mark and Jill in the bow. Jill, a veteran of the river, is really enjoying the run. Mark on the other hand…
We had a relatively calm stretch before the 83 Mile Rapid. Here are looks upstream and downstream from this area.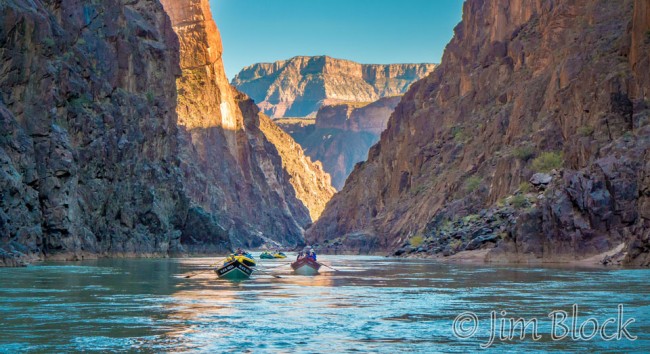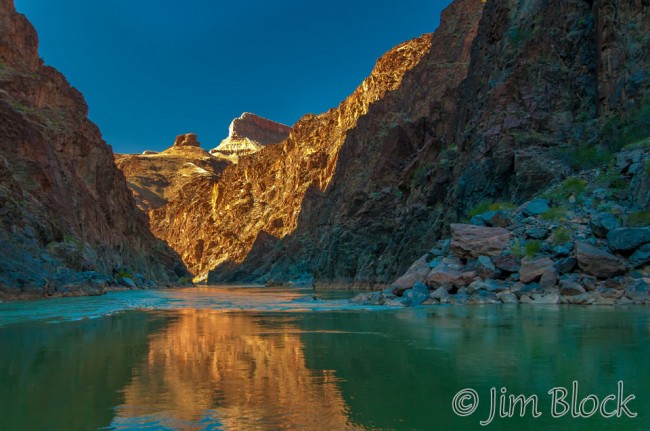 After we ran the 83 Mile Rapid I was able to get some photos of Duffy's boat with a slightly panicked-looking Sarge in the bow.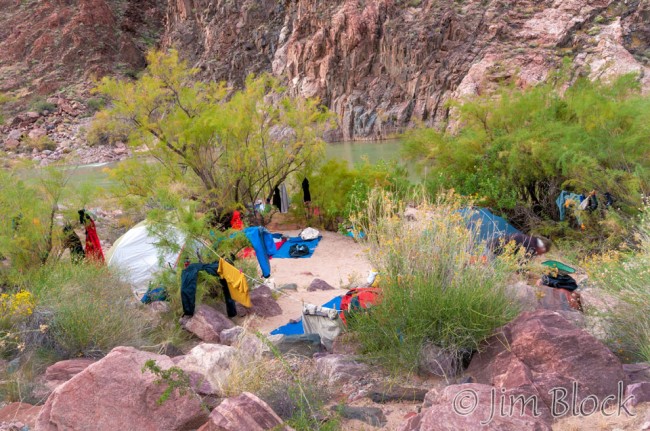 Our campsite for the night at Upper Cremation had only a small beach, but it had perfectly adequate spots to pitch a tent or toss a ground cover and bag.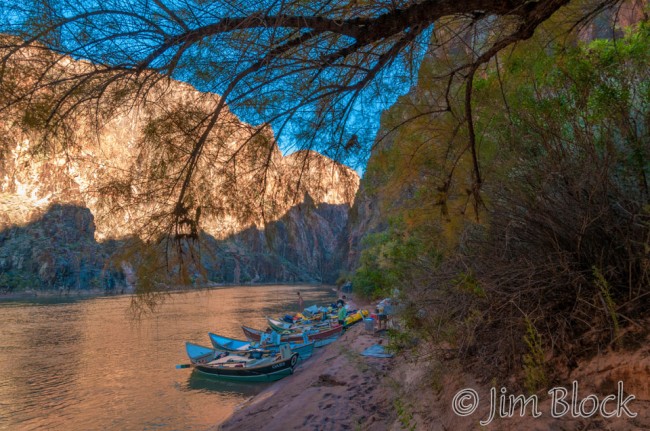 I was able to get a Milky Way photo under a not too dark a sky. There was only a short window between sunset and moon rise. But conditions for sky photography would improve later in the trip, until some clouds moved in.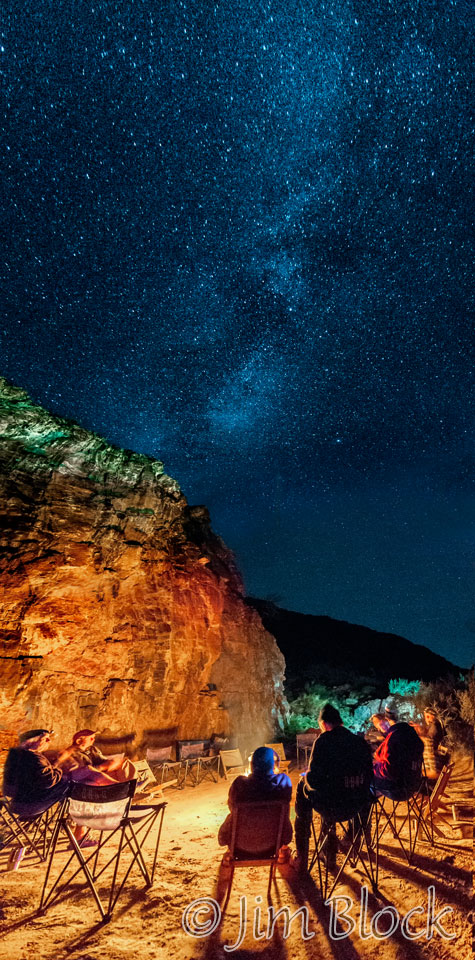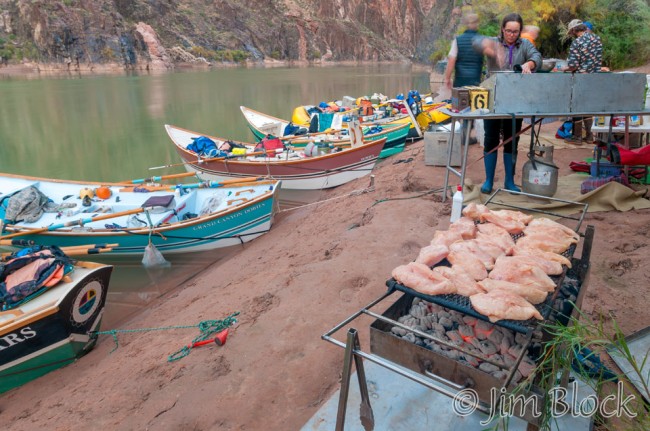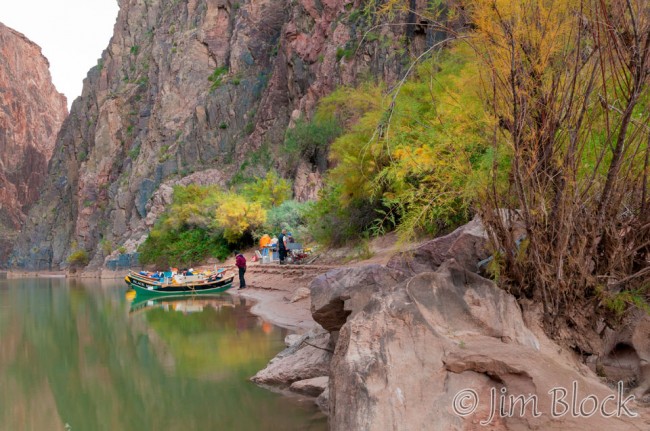 Tomorrow would be a transition day at Phantom Ranch, a place my wife and I visited for two nights in early March many years ago. There was 16 inches of fresh snow when we left the South Rim. At the ranch we wore T-shirts and shorts when we hiked Bright Angle Canyon.
Tomorrow we would lose 7 members of our group — 5 planned and 2 unplanned. Rondo would also leave us being replaced by Lew. Five new adventurers and Nick's girlfriend, Cassie, would join us. So our group of dory riders would go from 15 to 14.
Please enjoy the slide show that follows with more photos from Day 7.