After an exciting time in Cortina, a beautiful hike around Tre Cime, and a nice afternoon in Dobbiaco, I had a good nights rest in a beautiful hotel. I was up early with bags packed for our nine-day hike. The red bag contained a photo backpack with camera and lens, a small backpack that I used in the towns and for our hike around Tre Cime, and some extra clothes. It also contained a few of Jim Gold's items. It was transferred for us to our hotel in Belluno where we would spend a night after the hike. The hat, shirt, camera, and backpack went with me on the hike.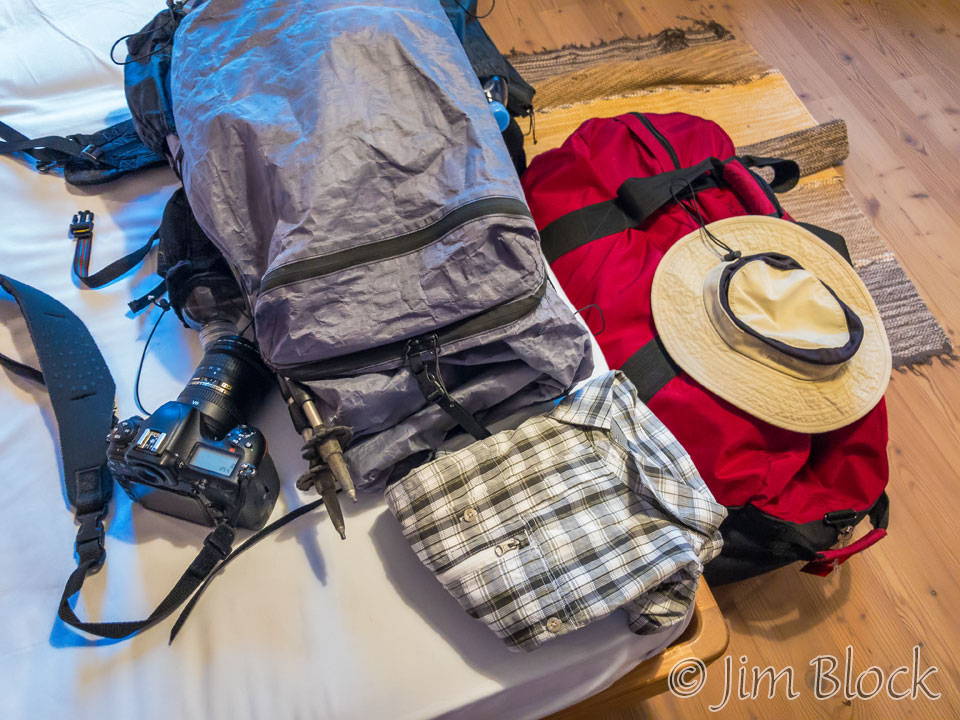 I had asked at the hotel if I could eat breakfast early in order to catch the 8 AM bus, and they agreed. The normal time for breakfast was 7:30. After I knocked and entered the dining room they locked the door so others would not take early advantage of the fact that food was already out. I couldn't sit at any table — I had to sit at the one reserved for my room.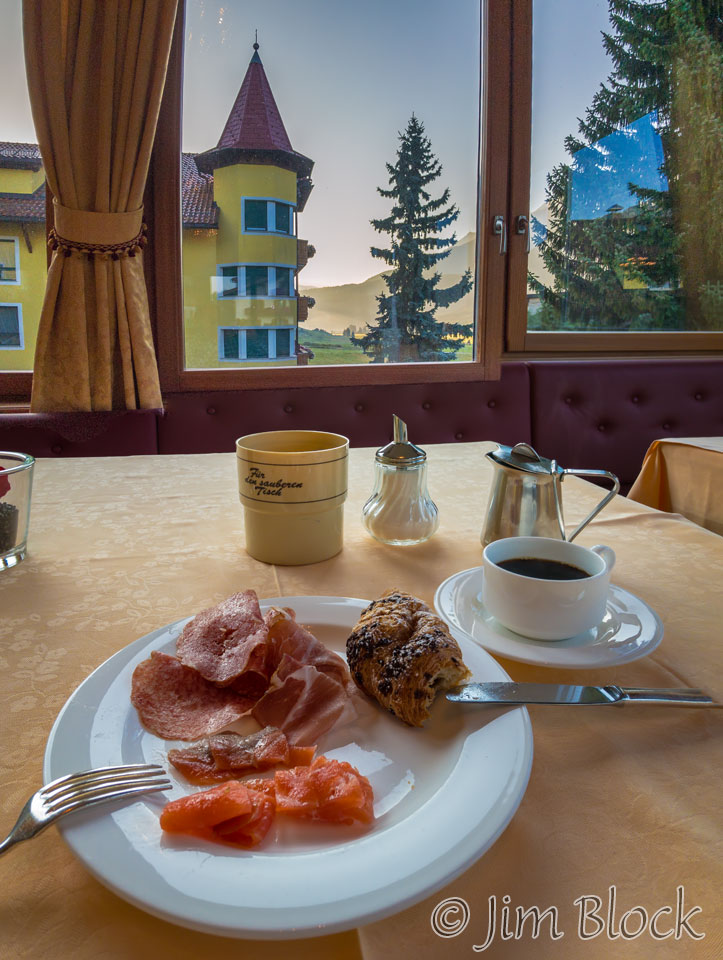 I walked the short distance to the bus stop and awaited the arrival of Jim and Stephen. Because I registered for this trip somewhat after they did, I was in a different hotel this one night. They actually had a longer walk to the bus station. My backpack contained all that I would be carrying, except for my camera.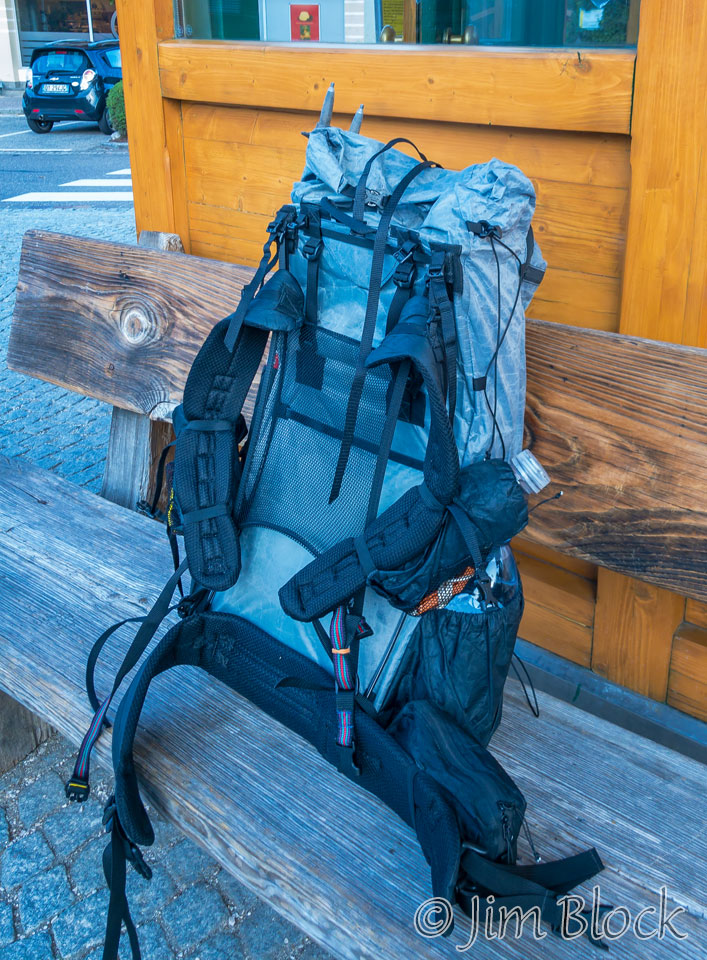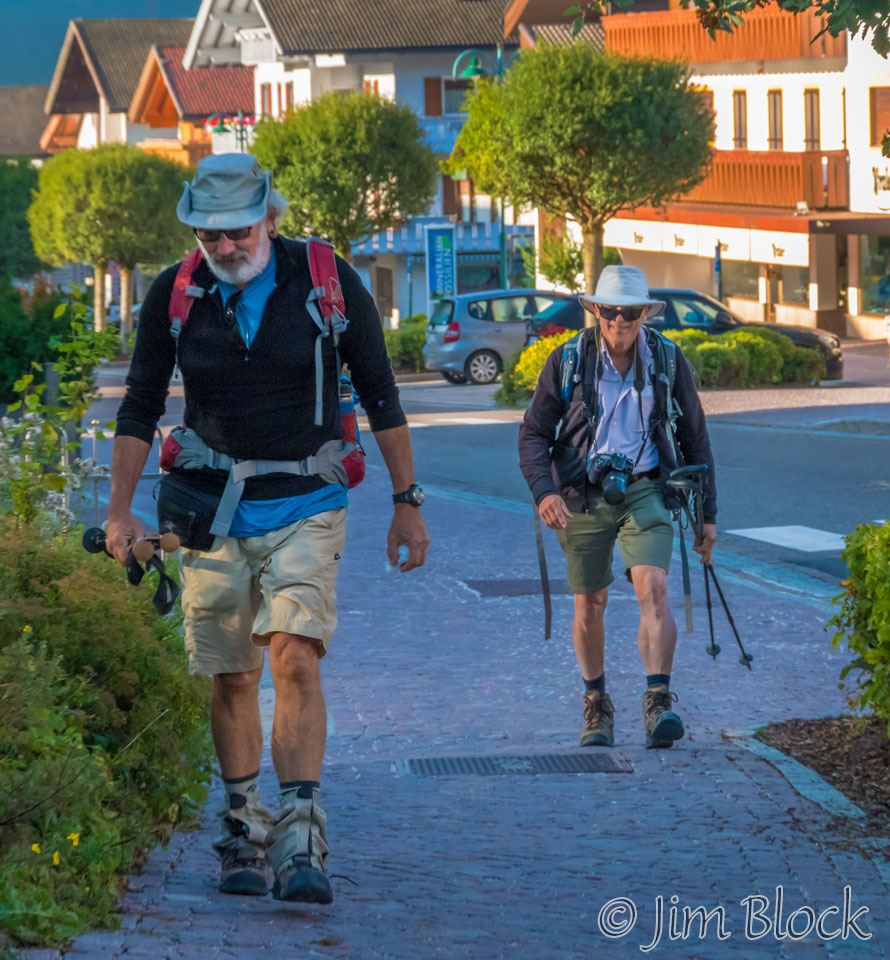 The bus left the station right on time — buses in Italy seem to be very punctual — and the ride went smoothly until there was a slight miscommunication. Jim hopped off the bus and we followed only to realize after the bus pulled away that we had gotten off at the wrong stop.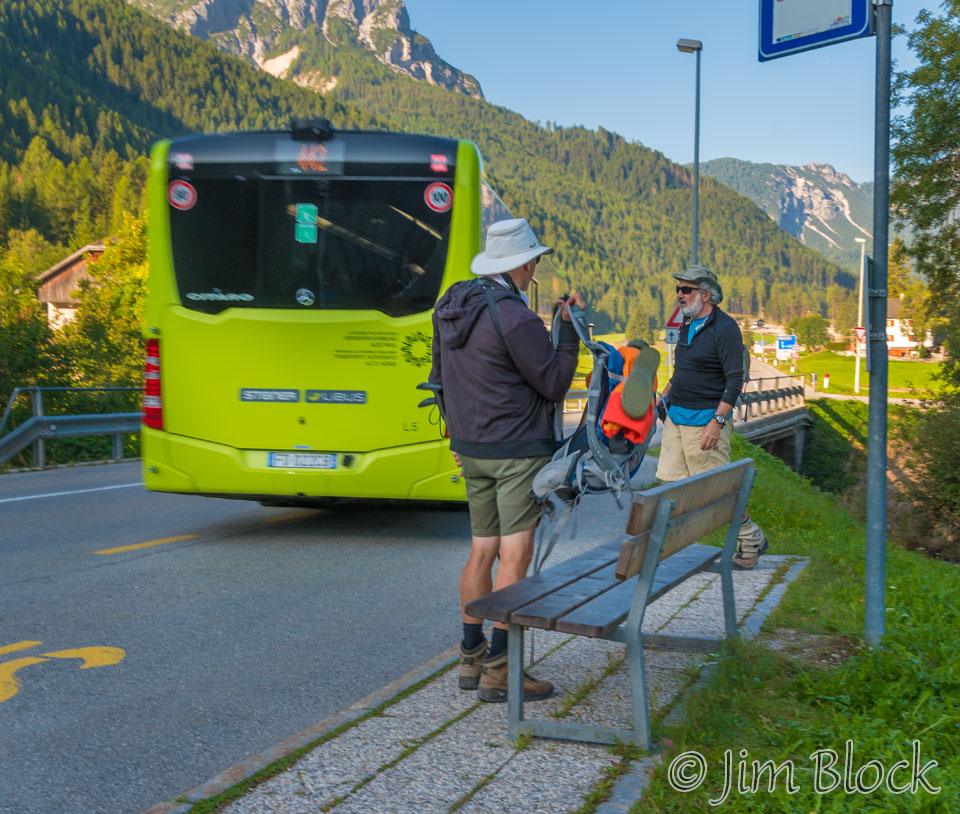 We started walking up the road thinking it might just be a short distance more. After a bit Stephen checked our position on his phone and realized we had approximately 7 km to go. Not the best way to start a long day's hike.
We walked about 2 km to the next bus station. (We had already walked about a kilometer when we discovered how much farther our destination was.) We managed to talk our way onto the next bus without charge as I still had the ticket that we received for the three of us. But we were certainly willing to pay if needed.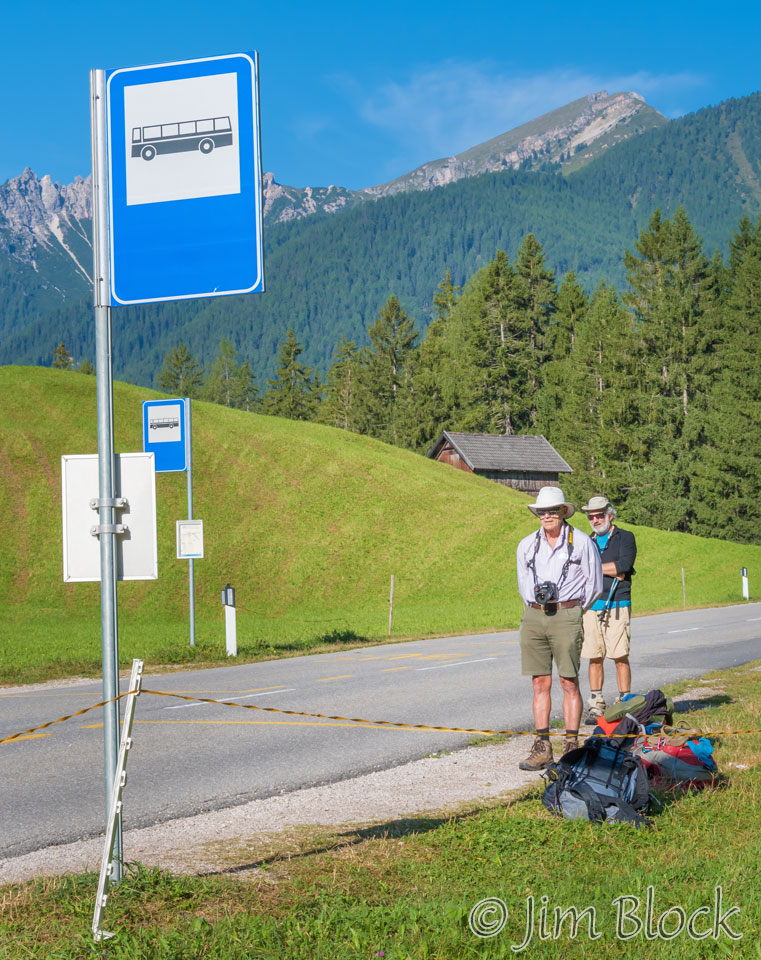 We exited the now much-more-crowded bus at Lago di Braies, the official start of our hike. We didn't know it at the time but we would spend many days and evenings with Martin shown in the photo below. I hiked with him the first part of one day and the last part of our last day.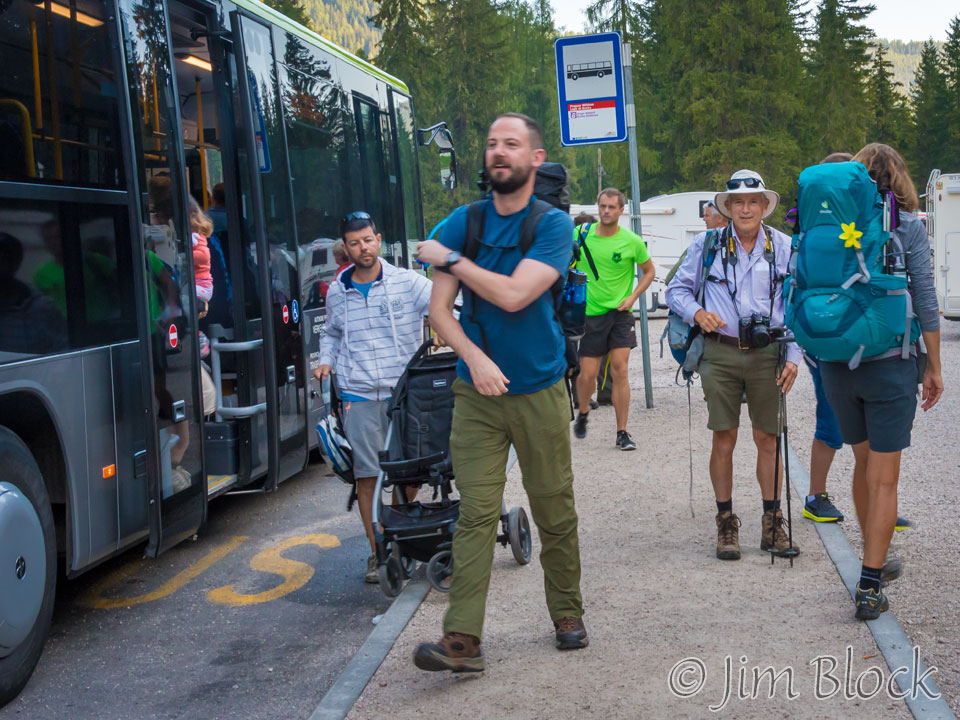 Below is a photo of a display of the various ski trails in the area. There are thousands of ski trails in the Dolomites. It is very much a winter playground. I have labeled 4 spots on the map. "A" is where we exited the bus. "B" is where we caught the next bus. "C" is where we began our real hike. Just below the left-hand side of the "D" is our first forcella.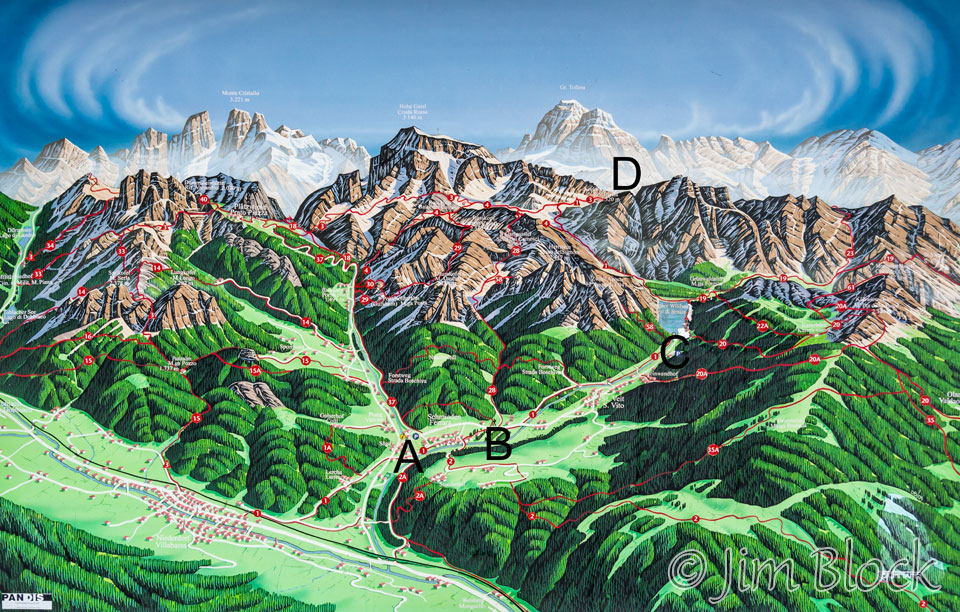 A saddle point is where the land falls down in two directions and up in the other two. This spot has many names: forcella, col, passo, and pass. They all refer to fundamentally the same thing.
Above and slightly to the left of the "D" is Tofana which is the mountain we ascended by three cable cars followed by a hike during our full day in Cortina. We would spend our third and fourth nights of our hike fairly close to Tofana.
We were basically hiking Alta Via 1 (the "high road"), although we were mostly on trails that had different numbers. Most of the time the trails were fairly easy to follow.
We hiked along the beautiful Lago di Braies. In the photos looking across the lake you can see our path up at the back left corner of the lake.
Several weeks before we arrived there were very strong and uncharacteristic rain storms in the area. We learned before we left for Italy that parts of the first day trail had been washed out and had 5 m deep gullies. We were a bit concerned, but after arriving in Italy we had several sources of information that told us that the trail had basically been patched up so it was fairly easily passable again. Below you can see a bit of the washout. Stephen is in this photo at the far right, partly for scale.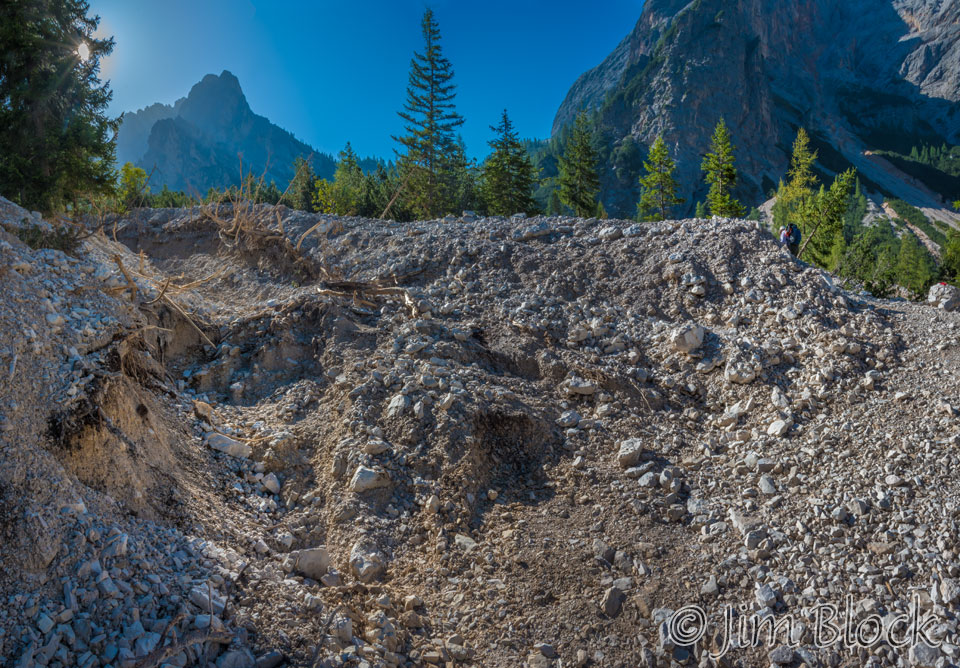 We climbed higher and higher above the lake passing several slightly hairy sections along the way.
Finally we could no longer see Lago di Braies.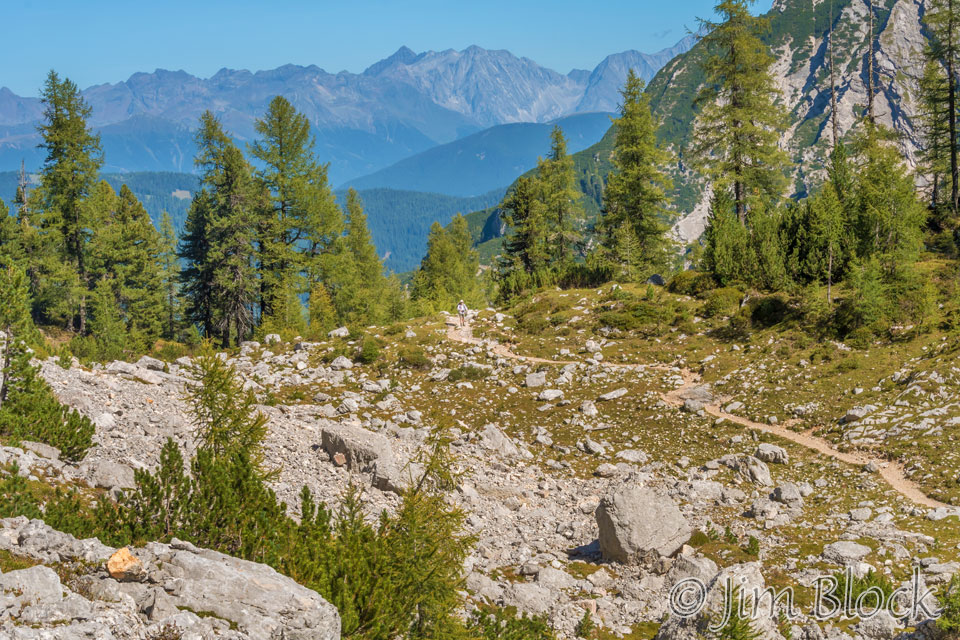 Our path ahead is shown in the photo below. The trail climbs and curves around and to the left of the butte you can see at the top part of the photo. You might be able see a few hikers along the path in the middle of the photo.
Looping around the butte we found a bit of via ferrata. Via ferrata or "iron road" refers to sections of the trail which are moderately to severely dangerous and "iron" in the form of pegs, ladders, cables and the like has been inserted into the limestone. We met a number of folks who were doing trails that were extensively via ferrata. They did them with helmets, harnesses, and carabiners, which were required, for safety. This small section was very mild compared to some of the other places that these folks do for fun.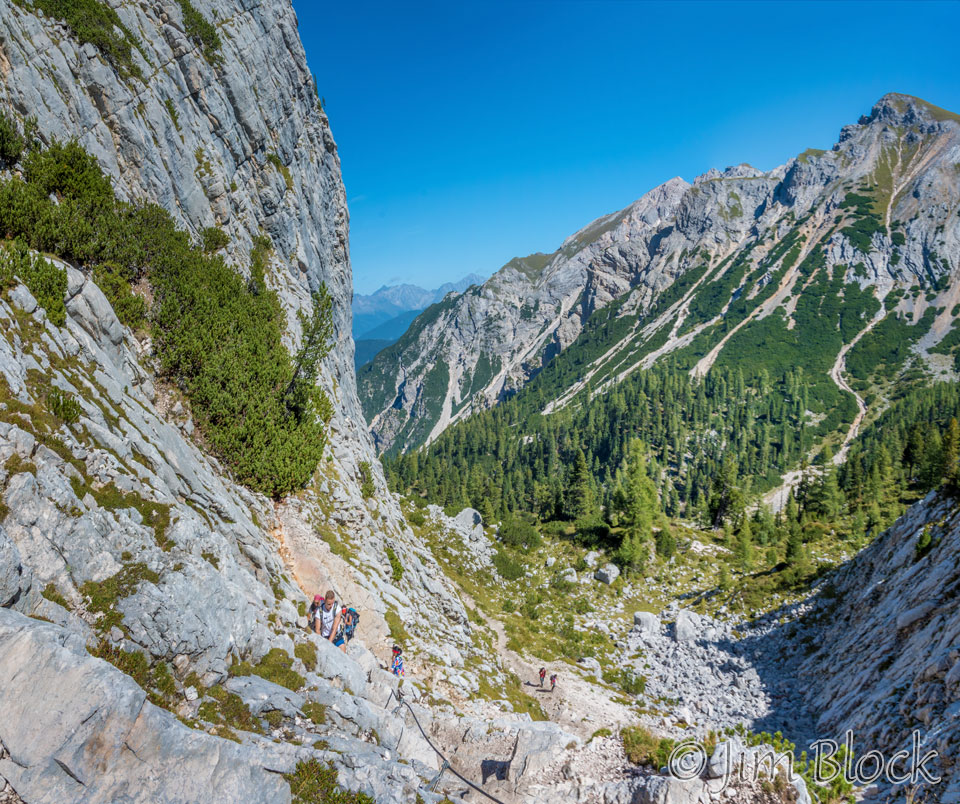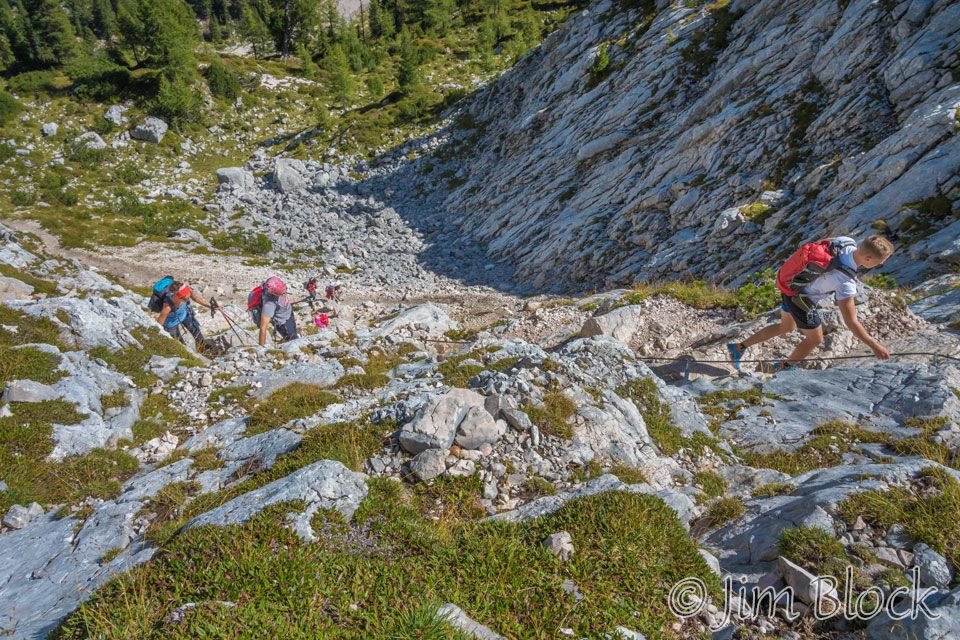 At this point I was walking alone. Jim Gold had raced far ahead, and Stephen was somewhat behind me. I didn't realize it but Stephen stopped to have a bite of lunch. I reached Forcella Sora Forno and had my own lunch and waited for Stephen to catch up. Here are a few panoramas I made at the forcella.
From this forcella was a side trip up to the top of Croda del Becco which Stephen had been looking forward to since well before our trip. It was a good two hour up and back with some "exposure". Below is a view of this peak with some close-ups of folks scrambling up the trail.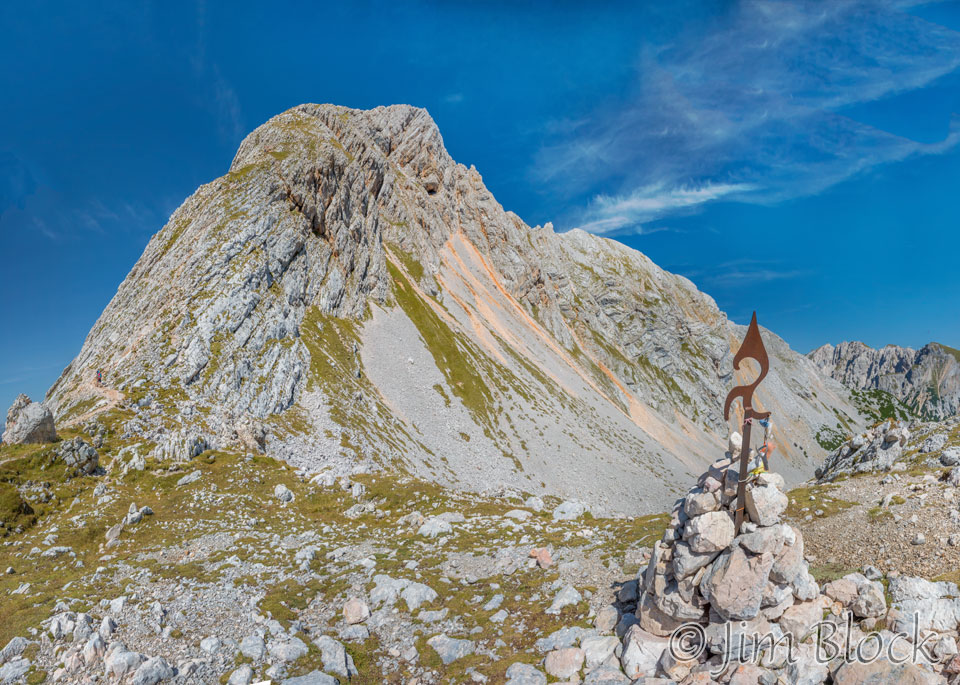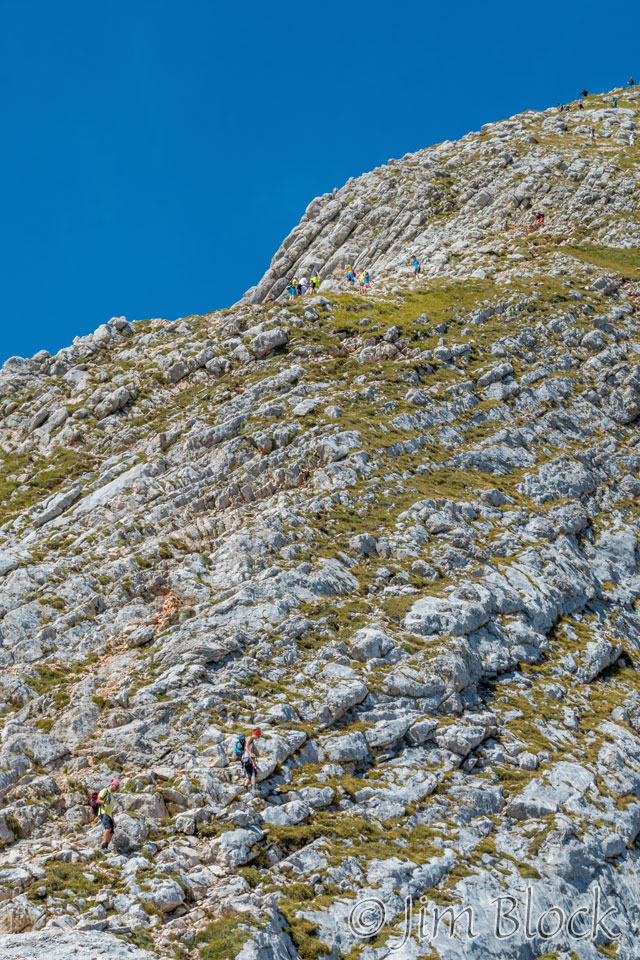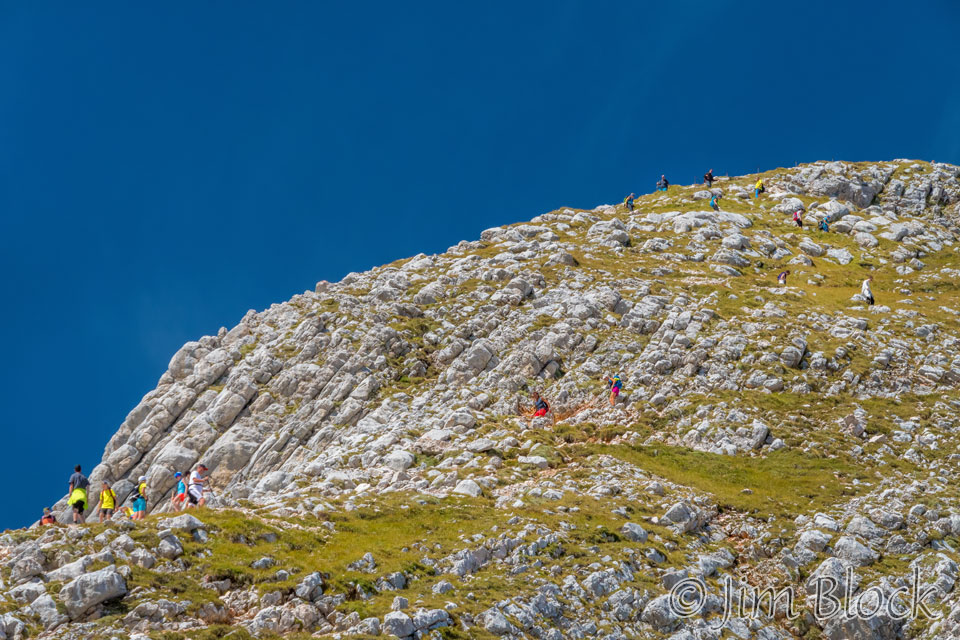 While waiting for Stephen I met a couple from Australia, Anne and Patrick. They used my camera to take a photo of me, and I took a number of photos of them.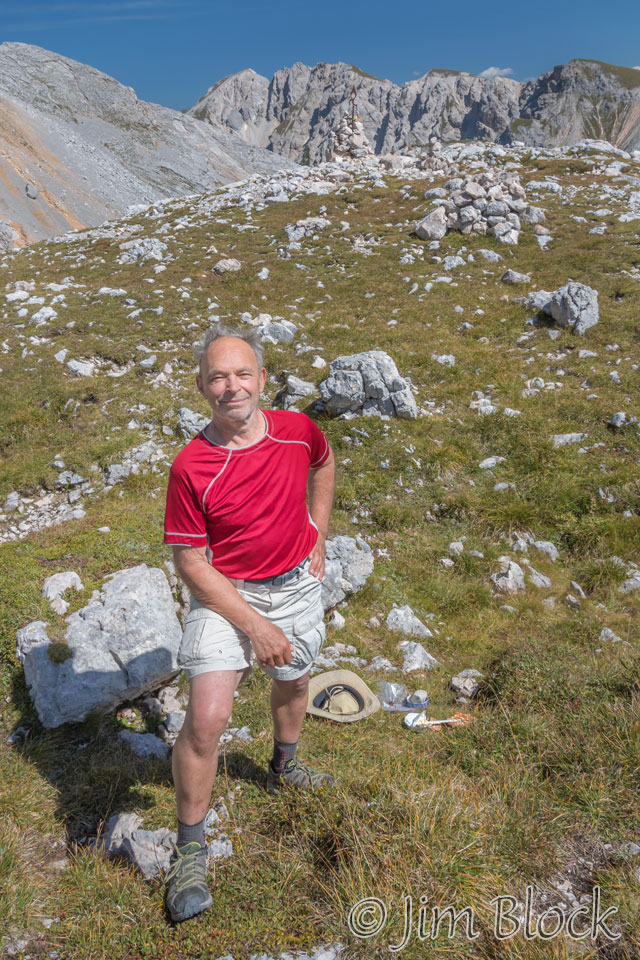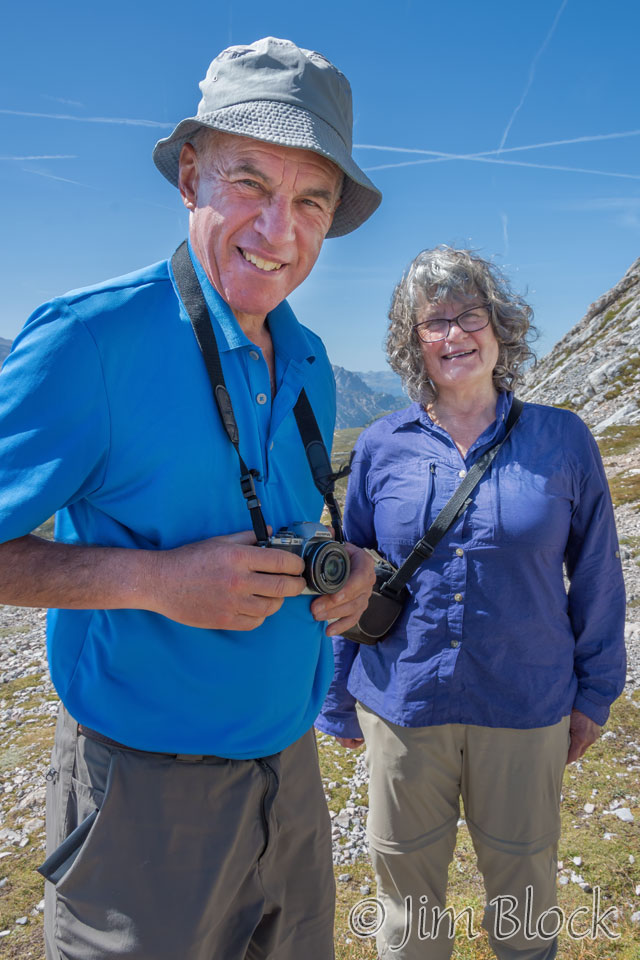 We had lunch and enjoyed the view looking over the Dolomites that we would cross in the coming days.
Stephen finally arrived around 1 PM. I was prepared to hike Croda del Becco with him, but he felt too exhausted to attempt it and decided it would be best to do on our next trip to the area. I was secretly pleased that he did not want to hike it as I found the hike to this point fairly tiring also. It was uphill for 3035 feet elevation gain. This is compared with the hike up Mount Washington along the Ammonoosuc Trail which is only 765 feet more elevation gain. The altitude at the col was 7835 feet. The top of Mount Washington is only 6289 feet.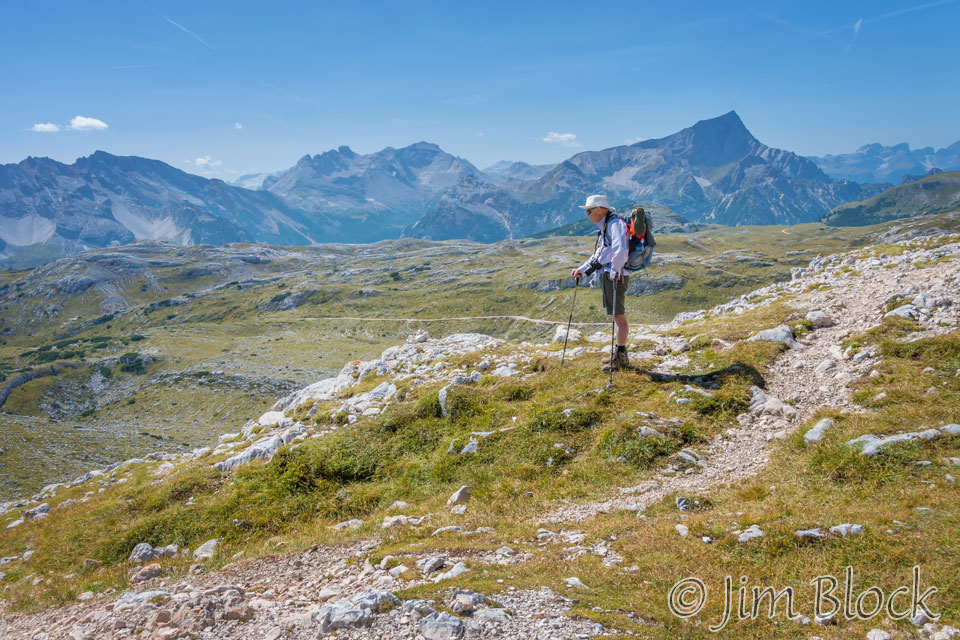 Below us was Rifugio Biella. Jim was waiting for us there.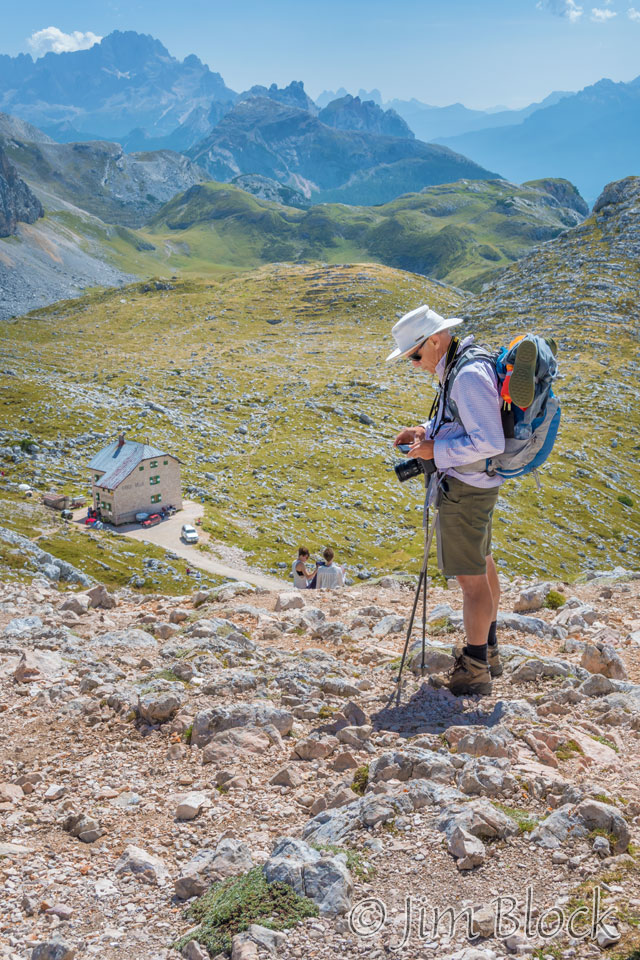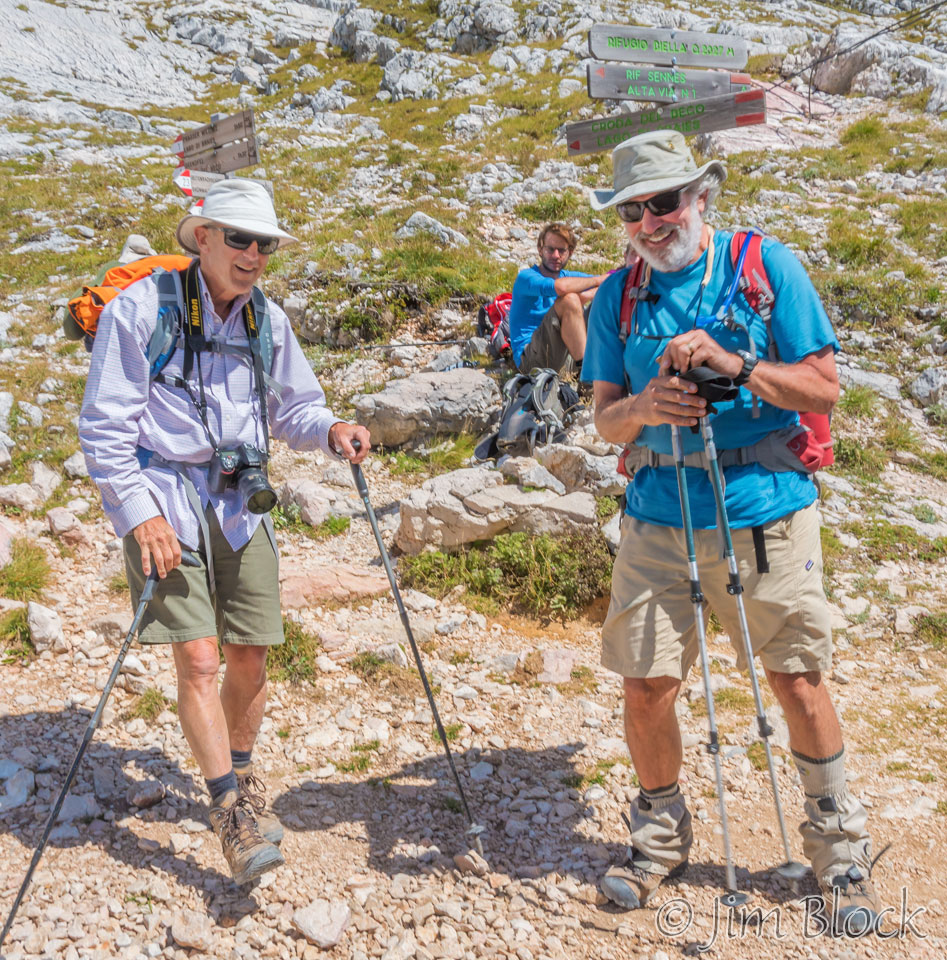 The remainder of the day was mostly downhill. We had some beautiful views back at Croda del Becco.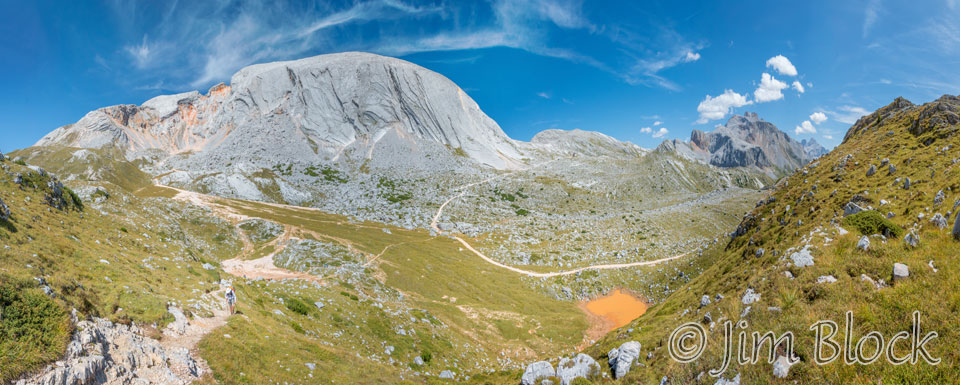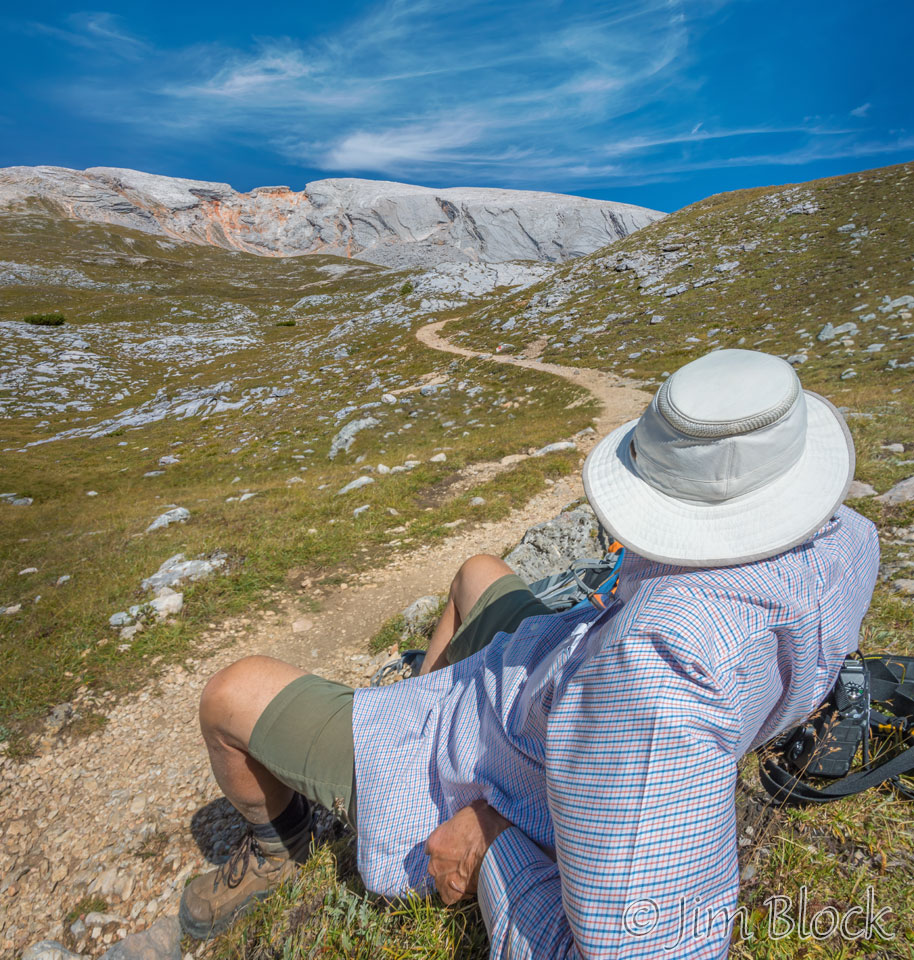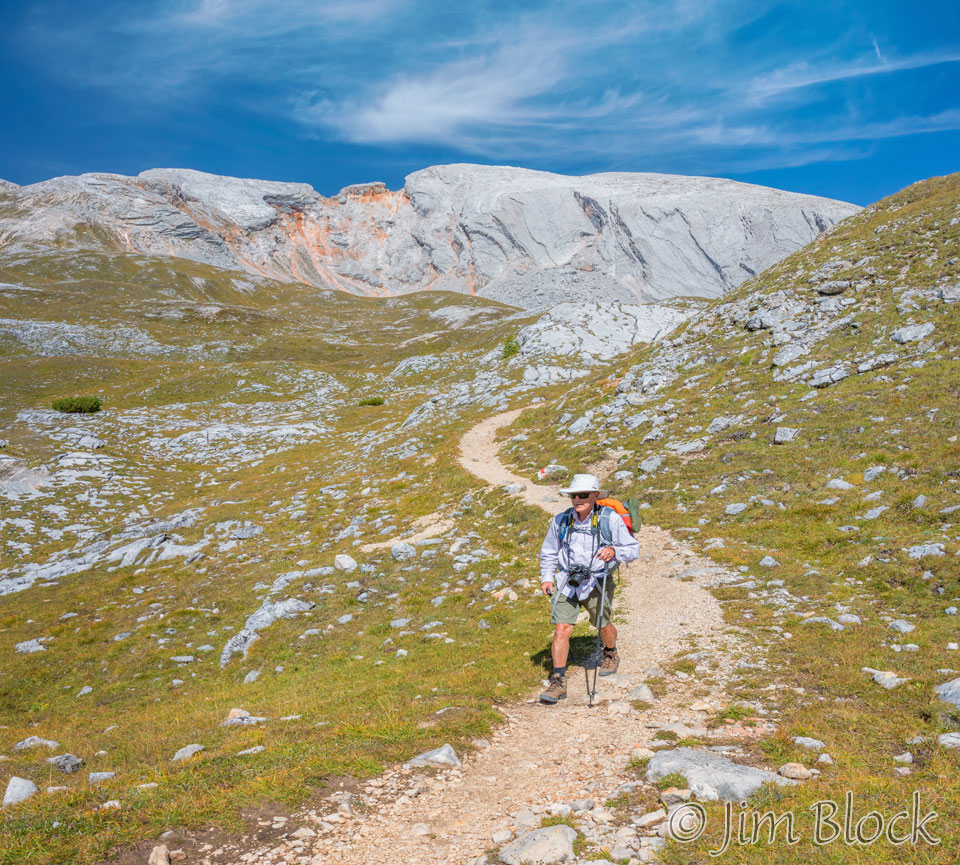 We walked to Rifugio Sennes with Anne and Patrick, stopping at one point to compare compasses.
Sennes was a beautiful rifugio with wonderful food and nice views to some of the local peaks.

From the patio one could view down a grassy runway which was where we would be heading the next day.
Although Rifugio Sennes lacked an Internet connection, it made up for it with excellent food.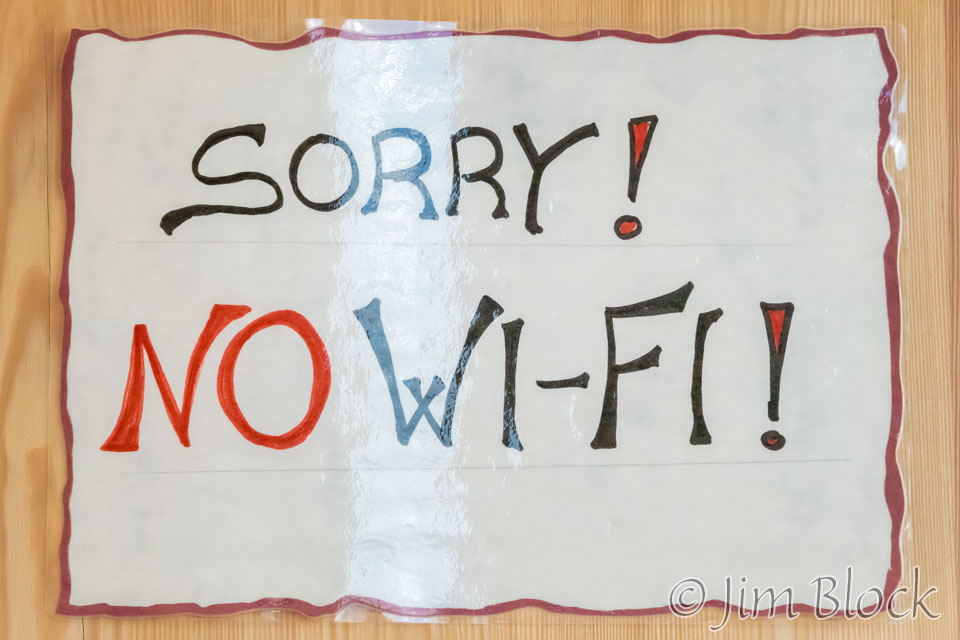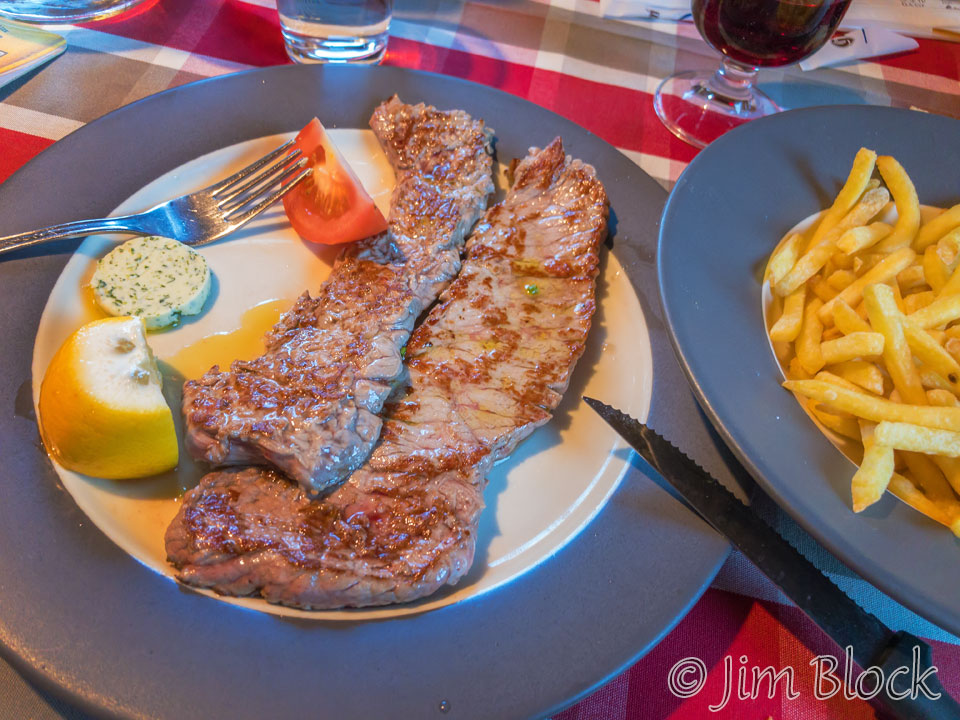 It also had some very interesting stools in the bar.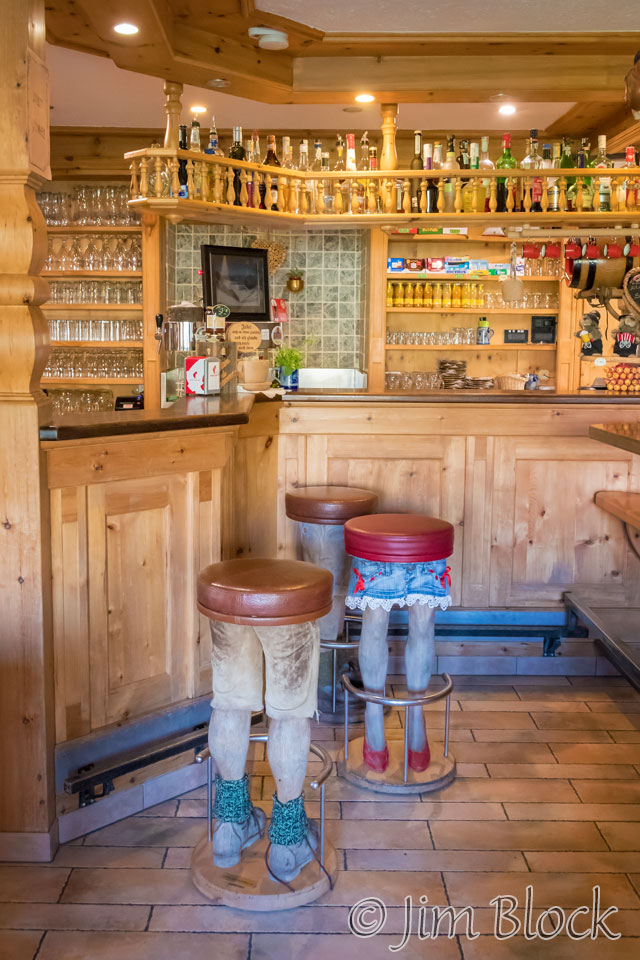 Before bedtime I got a photo of a bit of alpenglow on the mountains to the east.