After five gloriously warm and sunny days in Italy, this day was very overcast with a light drizzle. We would be walking in a light rain the entire way from Rifugio Fanes to Rifugio Lagazuoi.
Before we set off I took two photos on the patio of Fanes. The photo of the wet patio on the left was taken with my DSLR. All of the other photos between Fanes and when we reach the inside of Rifugio Lagazuoi were taken with my iPhone. It is more waterproof then my DSLR and, with a much smaller lens, it is easier to keep water drops off. Many of the photos on this page are multishot panoramas with the iPhone. Some are as large as 28 individual images.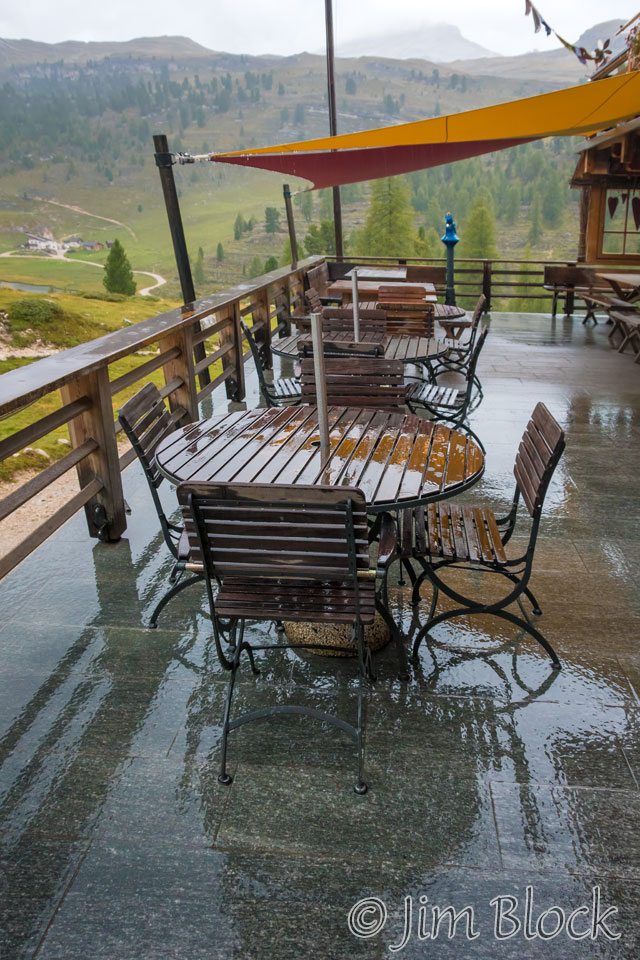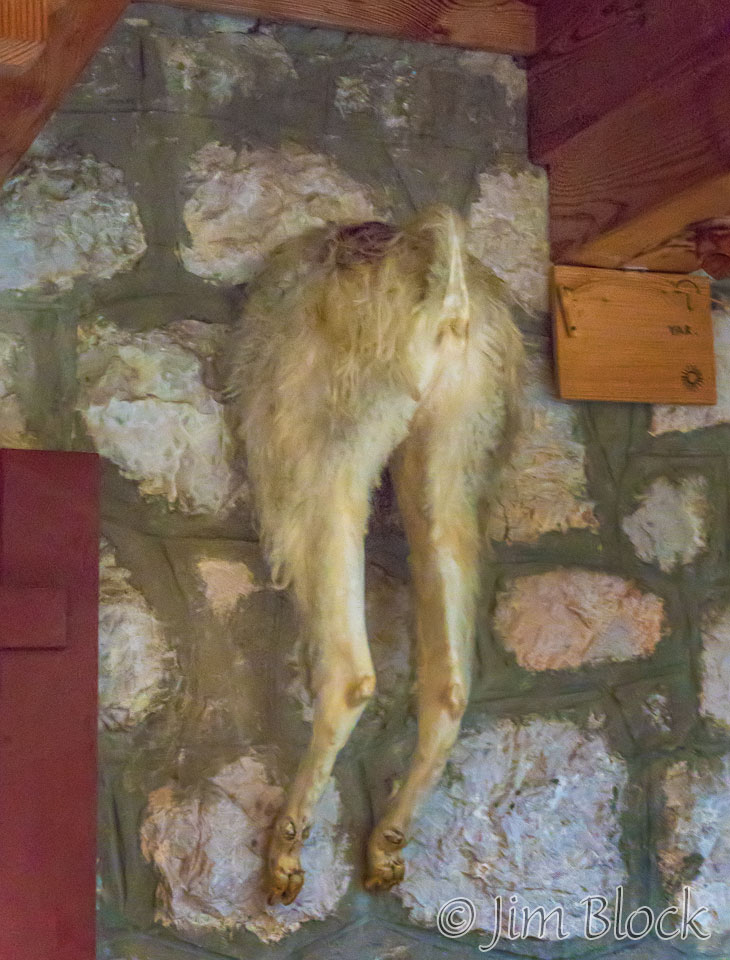 Shortly before we departed I photographed this view from Fanes.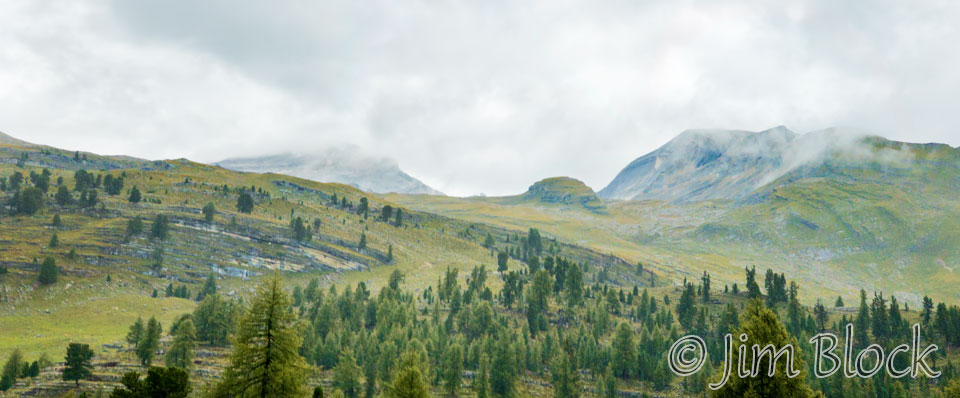 We climbed to a high plateau which is Passo Tadegh.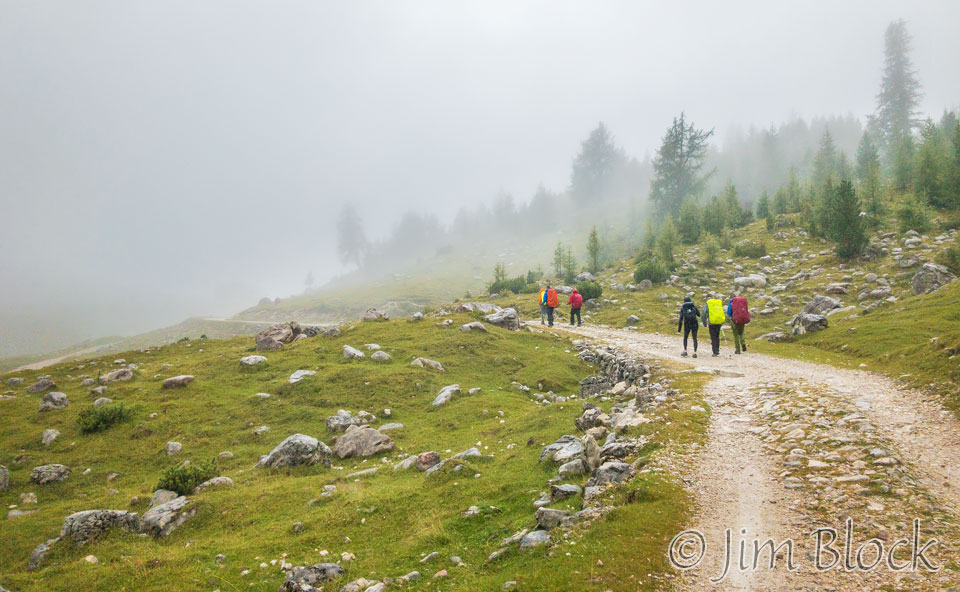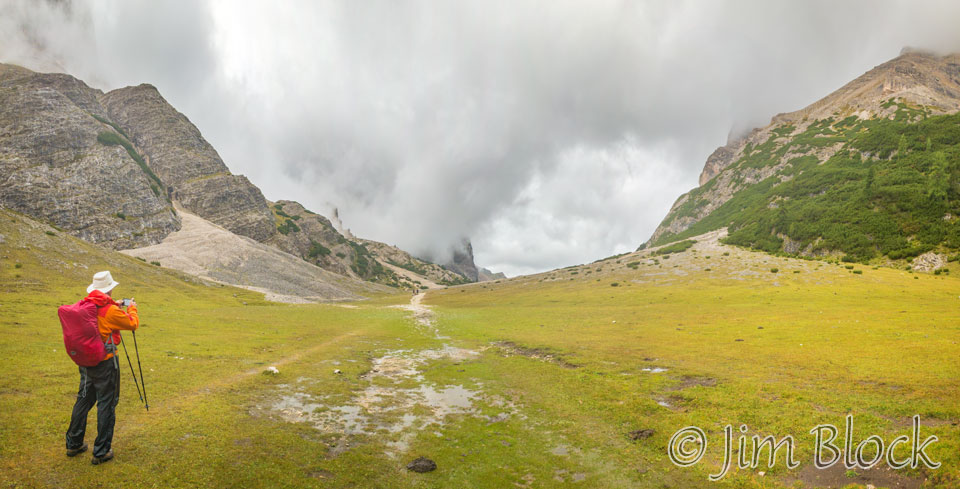 After a while we turned and started a long uphill to Forella de Lech.

There were some sections of this climb above the valley where one wanted to be careful not to step off the path.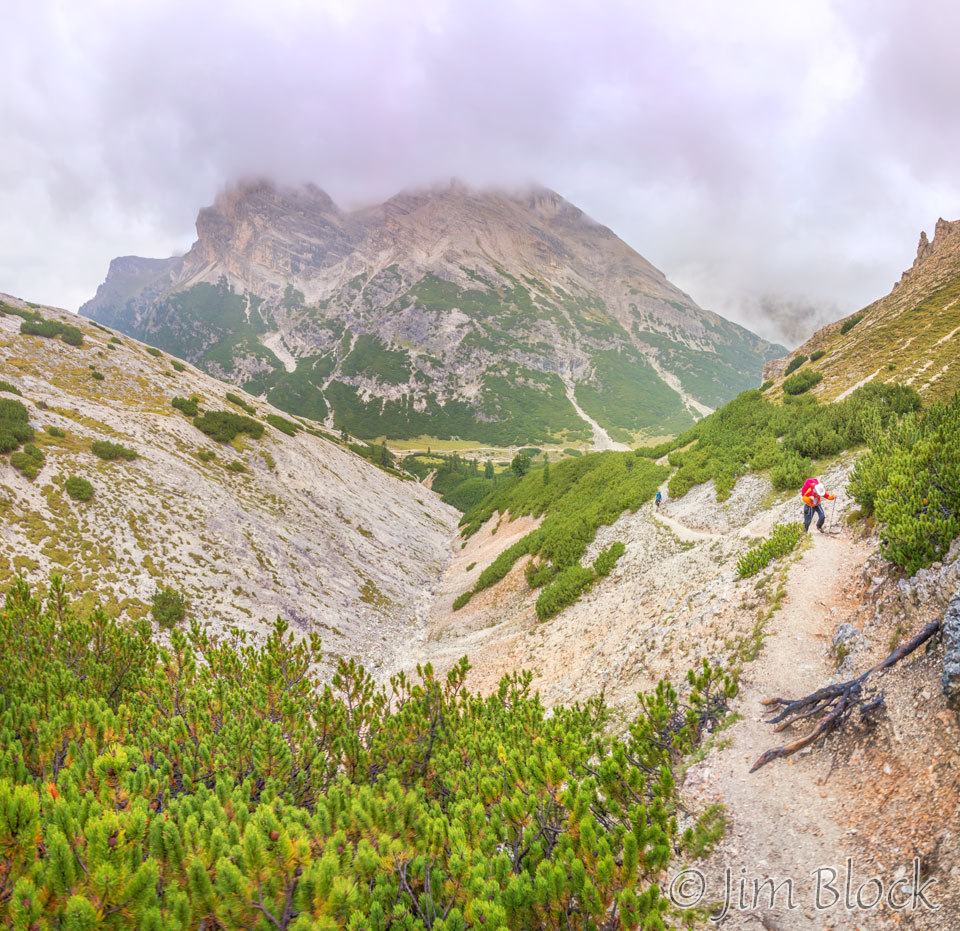 We climbed higher and higher in the fog and light drizzle.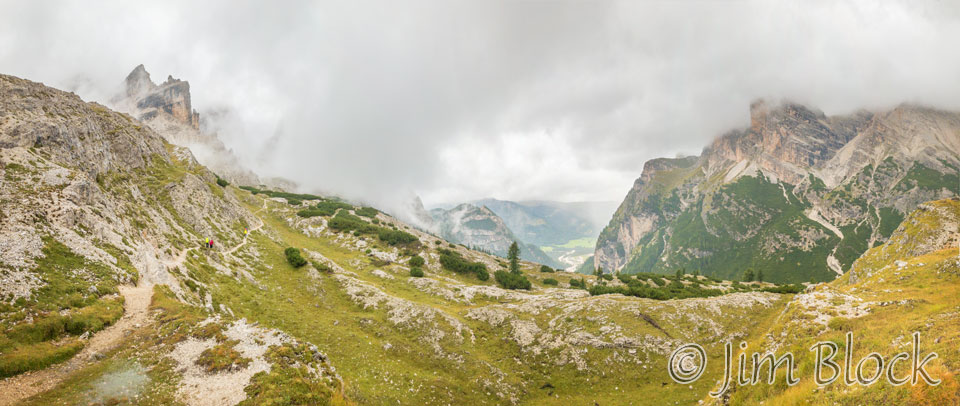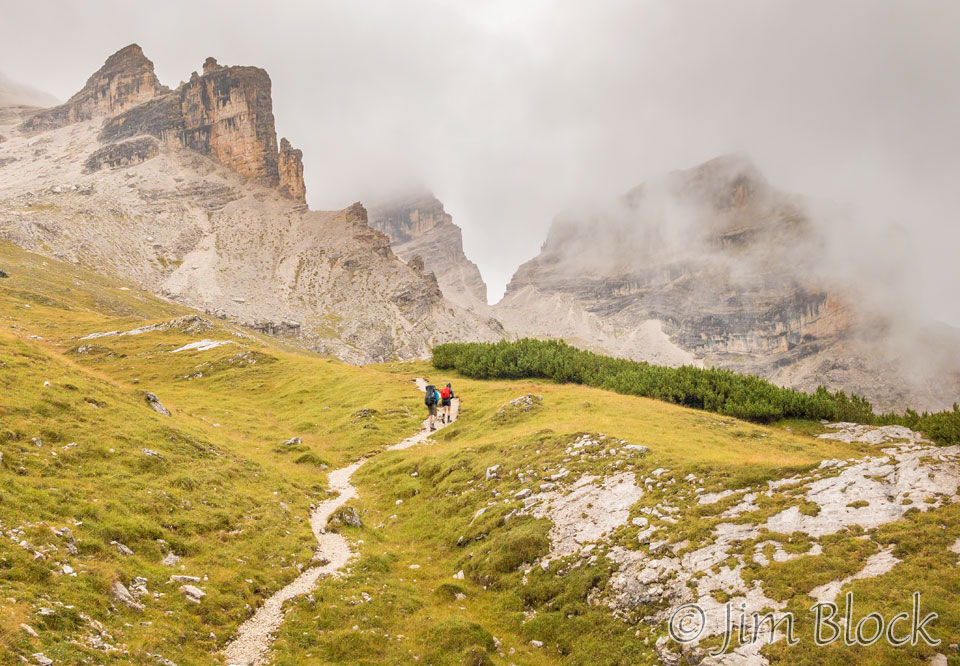 In the photos below you can see Stephen at Forella de Lech. The top image is a 20-shot pan while the second image is a cropped version of a small portion of this panorama.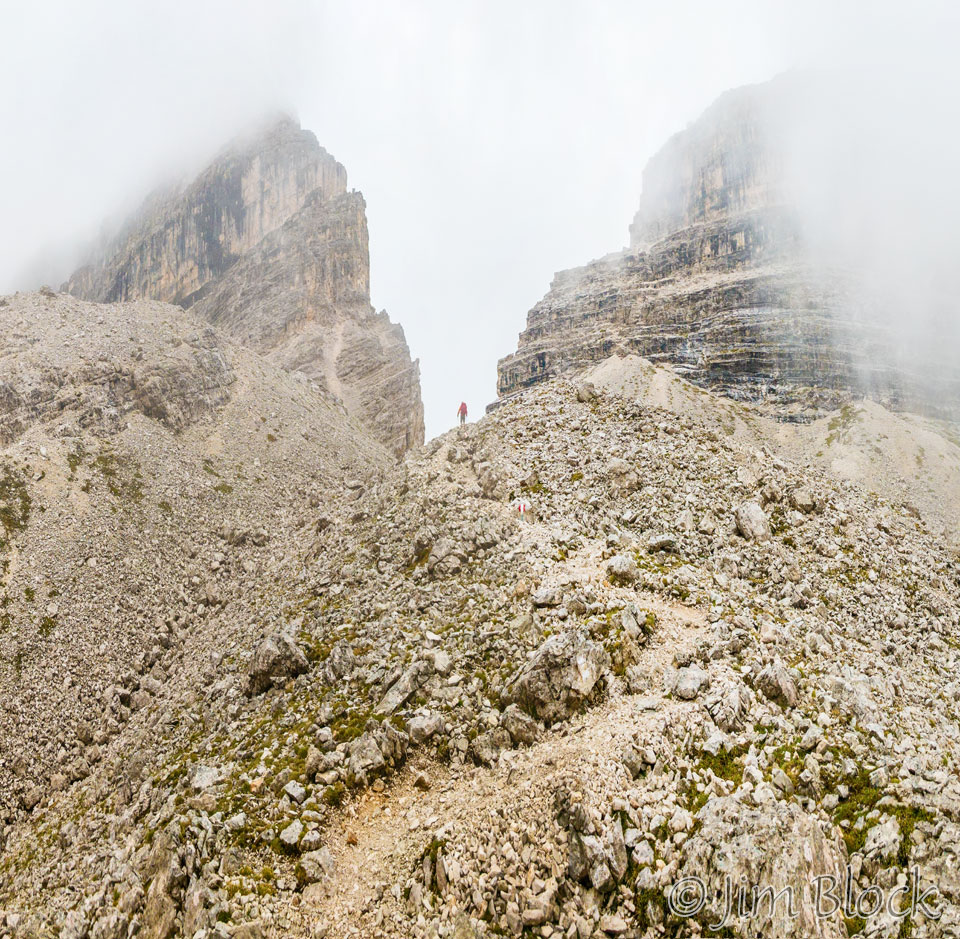 Here is Stephen standing at the forcella.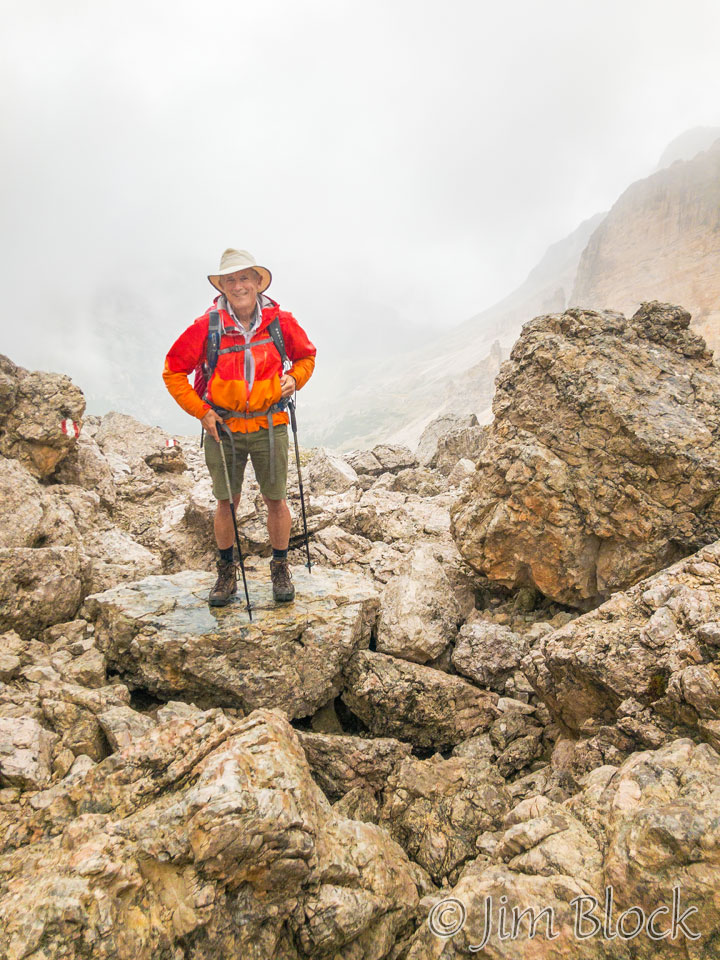 The view down the trail was impressive and slightly scary. The route cards warned us to take an alternate route in or after heavy rain because of loose gravel. In the image below you can see part of our route up to Rifugio Lagazuoi. That rifugio is somewhere there up in the clouds.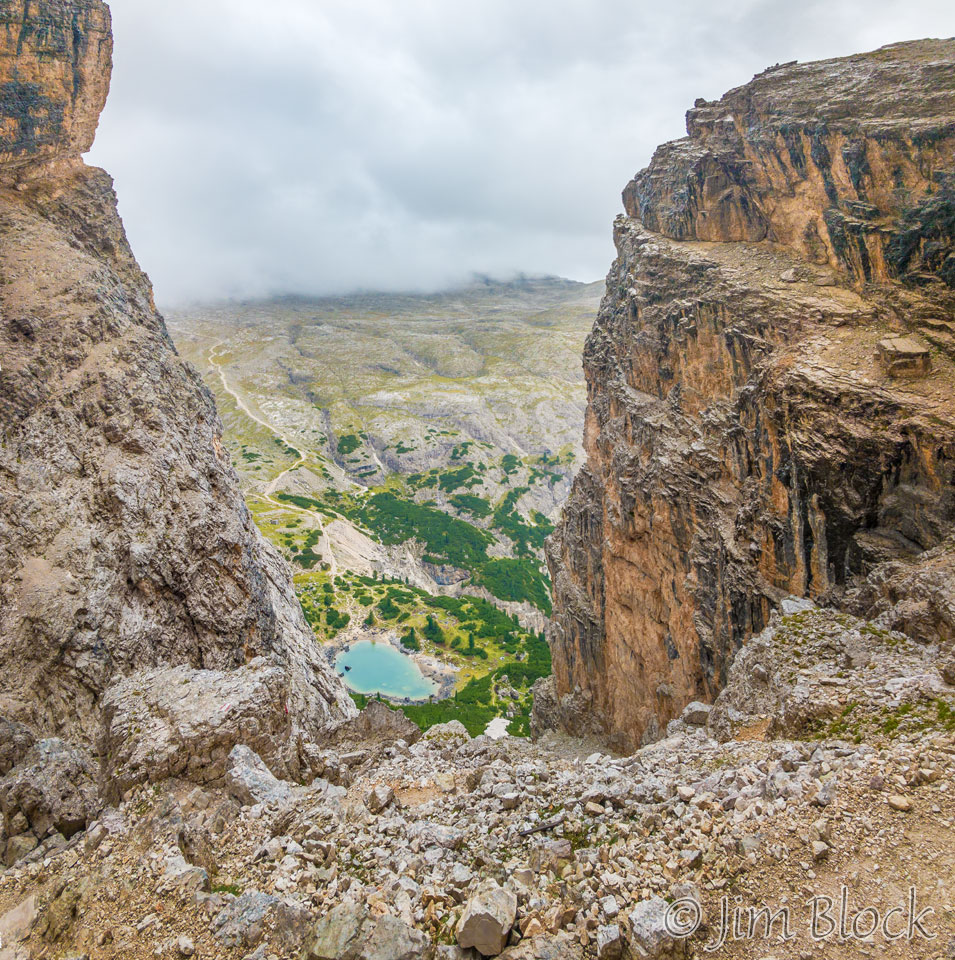 Fortunately the trail was basically dry and well constructed with many switchbacks. Here is Stephen about to head down after taking a photo. You can see my trekking poles at the far right of this image.

At this point we were hiking with Violetta and Tim . You can see them just beyond Stephen in this image. But we soon lost track of them.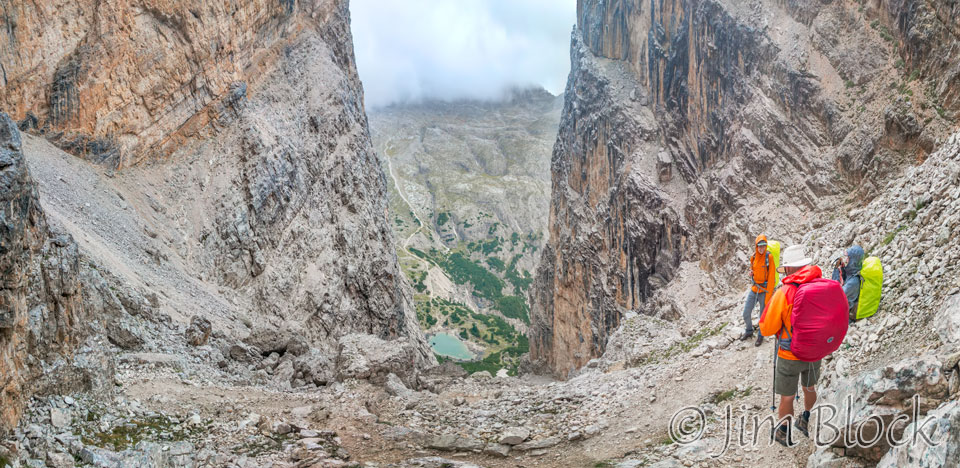 Here are a series of photos taken as we descended from Forella de Lech. In one of them you can see trail "20B" painted on a rock. Strange that they put it here because if you were on the wrong trail at this point you'd be in real trouble.
The 14-shot panorama below shows our trail down and our future trail up to Rifugio Lagazuoi.

The photo below is a cropped version of the previous one showing the lake and the trail up to the left into the clouds where we were heading. We had climbed a long way up to Forella de Lech, then survived a long steep downhill, and now we're going to have a long slog up to Rifugio Lagazuoi.
We had talked with a couple at our charming hotel in Cortina about this section. They were doing what seemed to be common – having a rest day in Cortina after the first three hiking days. They said they could see Rifugio Lagazuoi all the way up this trail but they never seemed to get there. We did not see it until we were within, perhaps, 10 yards of it.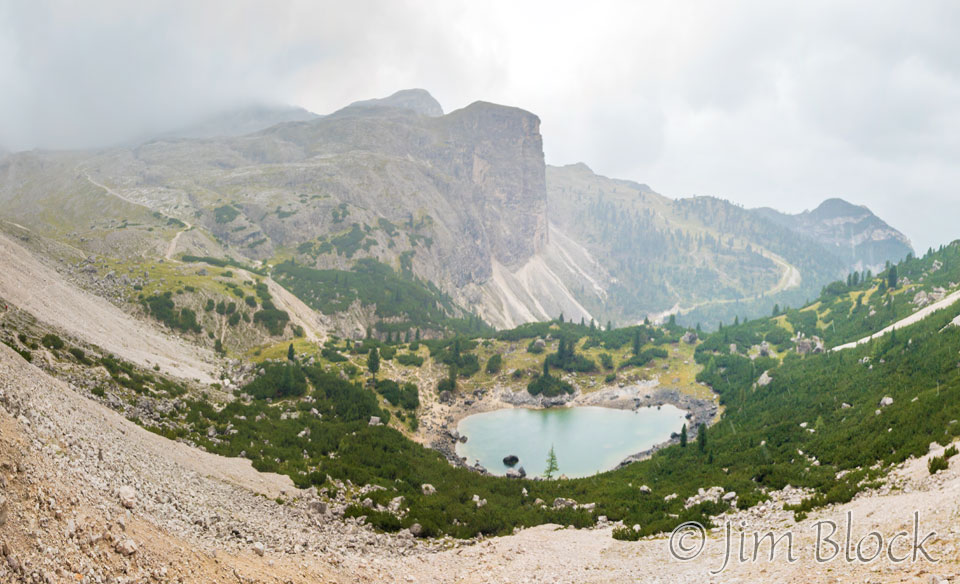 As we climbed higher and higher above the lake I made a couple of large panoramas. The image below is a view back at where we came from. It is composed of 28 individual photos taken with my iPhone.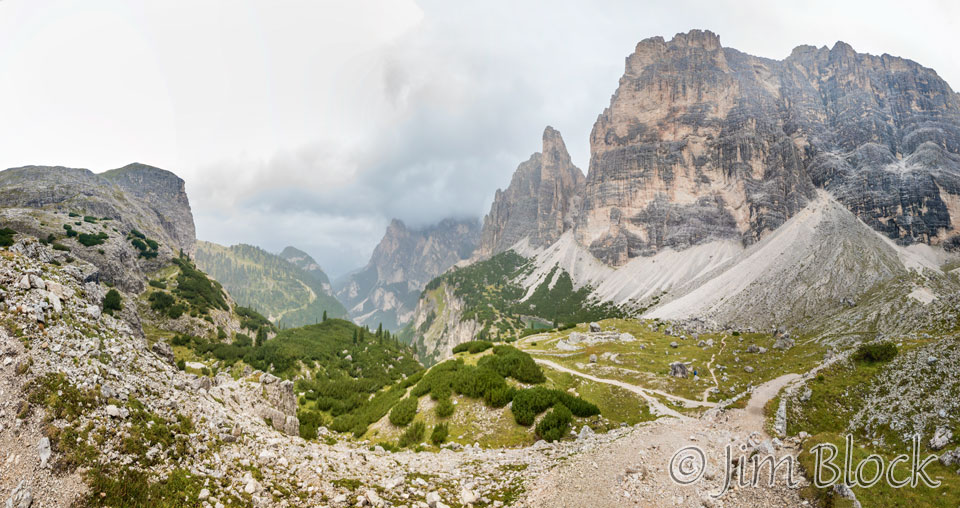 The image below is composed of 29 individual photos taken with my iPhone from a slightly higher viewpoint than the previous image.

Here is a slideshow of some of the images I made as we hiked up to Rifugio Lagazuoi. Some look back toward where we came from, some look forward, and one of the larger panoramas, composed of 33 individual photos, looks in both directions at once. The route card says that for this section "the buildings at Rifugio Lagazuoi are nearly always visible on the horizon above." Well I guess nearly always doesn't mean always because we surely couldn't see them.
We got to Forcella Lagazuoi where the route card said, "the view is revealed to the mountains to the South". Sure, maybe on some days. We needed to make the correct turn or we would miss Rifugio Lagazuoi. We turned right as the route card instructed and passed some sheep.

Soon we began to see the World War One tunnels which have been left as an outdoor museum commemorating the wartime history of this area. Here is a somewhat distorted view of encampments with sandbags on a wall. The images is distorted because this is an 18-photo panorama looking in two directions at once.

Here is the slideshow of some of the other tunnels and encampments we saw.
Suddenly Stephen cried out, "Lagazuoi!" I thought he was seeing a sign, but in fact he was seeing the beginning of the rifugio complex which included the top station for a cable car. We made it. We were tired and a bit damp, but we did not have to walk through the thunderstorm that was possible based on some weather predictions we saw. And since we kept moving during the hike because of the rain, we made "record" time, or at least one hour shorter than the route card listed.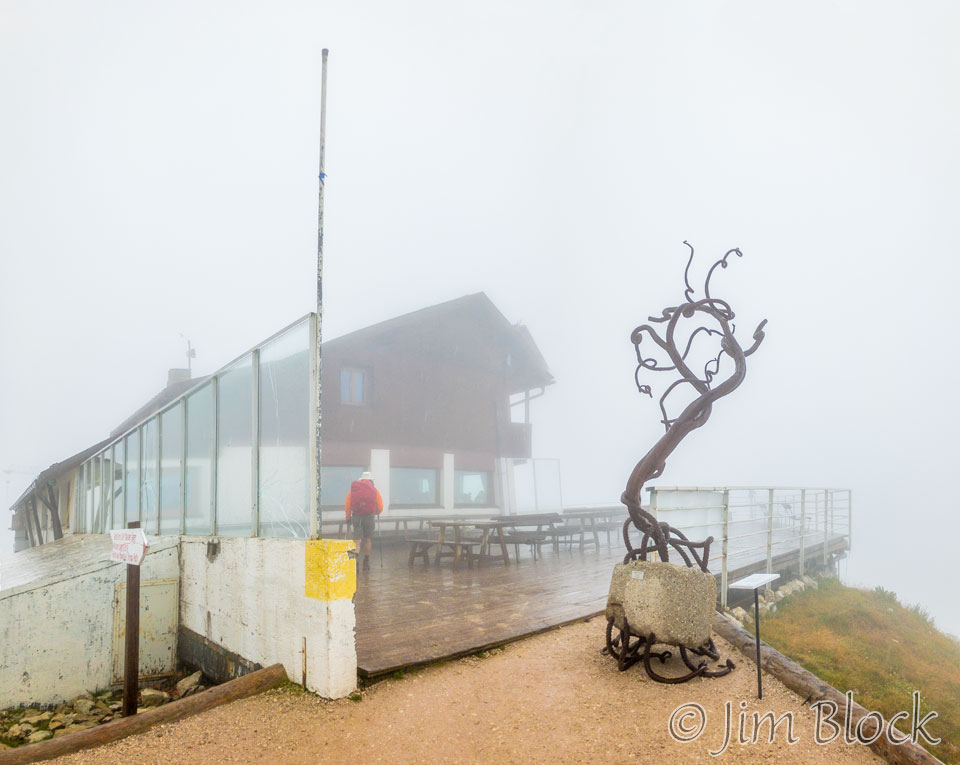 We had a six-bed dormitory in a small room at Lagazuoi. Here is my bed with my gear spread out. I have now switched to my DSLR for the remaining photos on this page.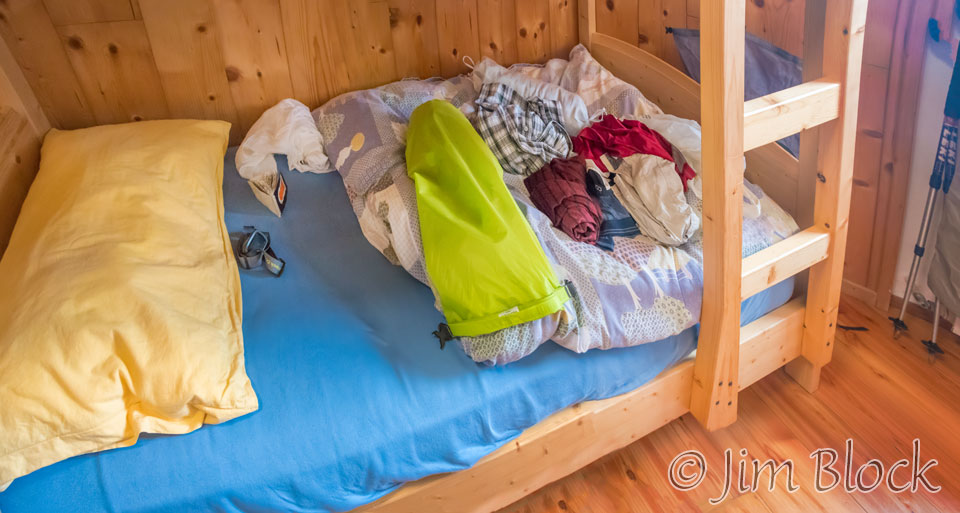 Lagazuoi had a wonderful boot drying rack with forced hot air blowing through the yellow tubes you see. It also had some racks to hang wet socks. In the morning I remembered to get my boots (actually lightweight trail runners which worked great the whole trip) but forgot my socks. I had a spare pair of socks and these were on my feet, so I did not think about the socks on the rack. Maybe the only reason I even remembered my shoes was because they were the only ones I had. When you are at such an exciting place, it is sometimes hard to focus on minor details.
During the day my small photo notebook got somewhat damp. I should have put it in a plastic bag but for some reason I didn't. Again, attention to minor details was sometimes lacking. There were hairdryers in the washrooms. I used them to salvage my notebook. Fortunately a lost pair of Darn Tough socks (wool socks made in Vermont and really built to last) and a wet notebook were the biggest "tragedies" of the trip.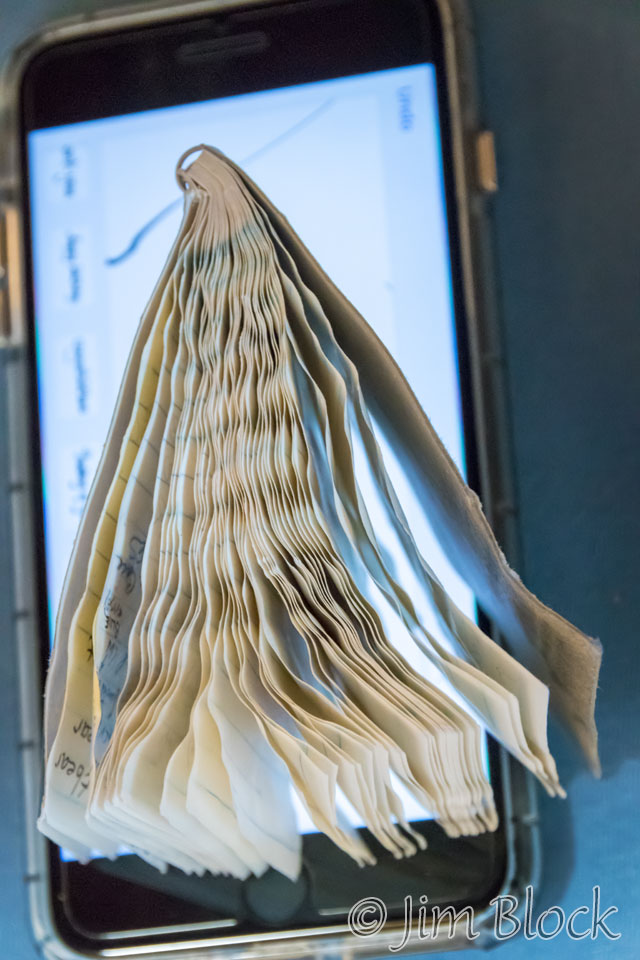 Mid-afternoon we sat at our assigned table and enjoyed some bread and liquid refreshments. The place names on the table refer to the two parties that were sharing both the table and the bunkroom. The Seufert party was a father and two sons from Germany. They were doing challenging via ferrata routes. Rifugio Lagazuoi at 2752 m (9029 feet) was the high point of our trek.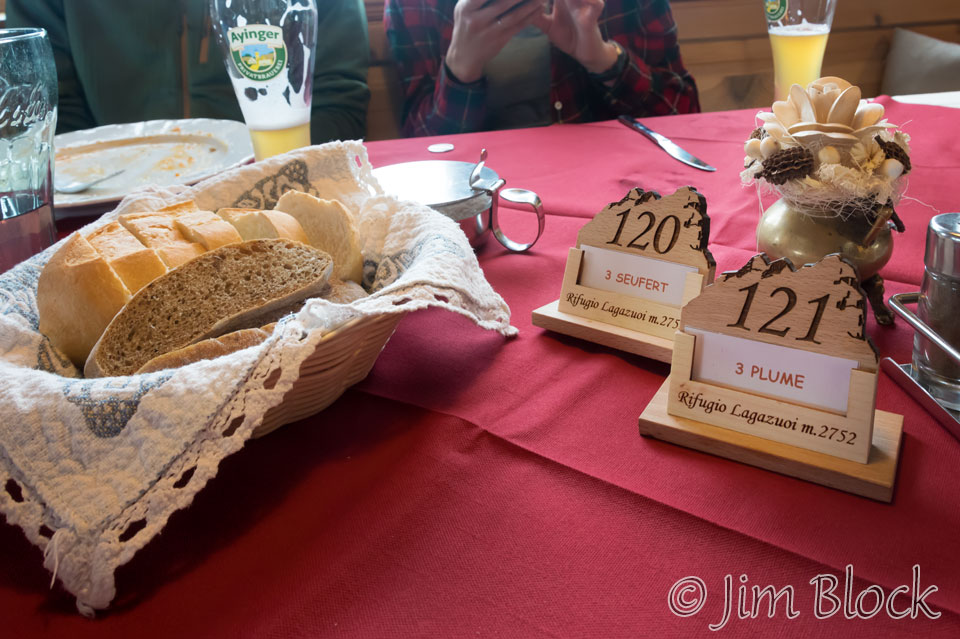 Below is the view out of our dining room window and a view of the deck.
I was sorting my gear in our bedroom when Jim Gold came down to get me. (The bedrooms and showers were on a lower level than the dining room and deck.) He said I really had to see what was happening outside. Suddenly the fog had cleared and the view in all directions was pretty spectacular. Here is a 17 image panorama I took at 3:49 PM.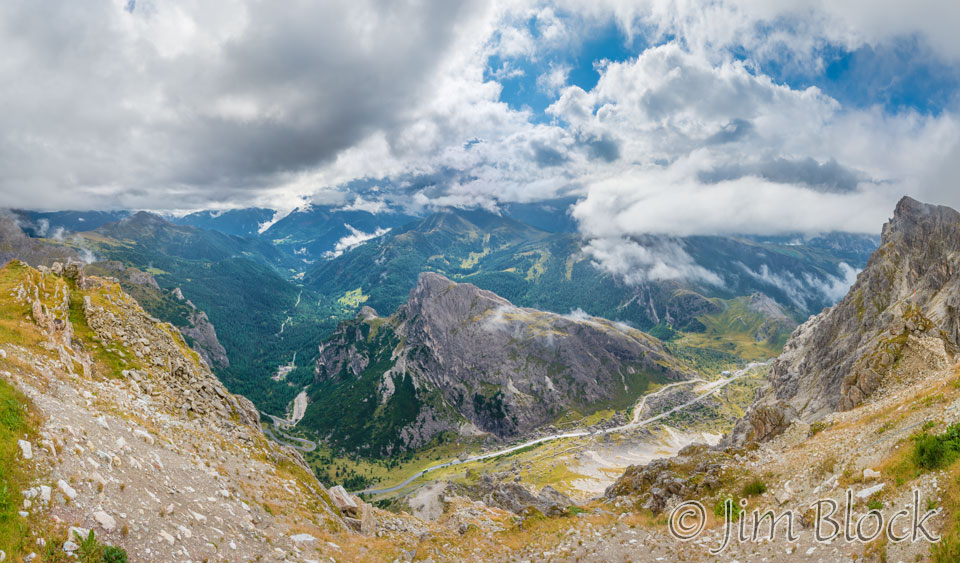 The following slide show contains 18 images taken between 3:48 and 4:19 PM. The person in two of the photos is Jim Gold. The bird in the photos is a Snow Finch, also known as a Snowfinch or a White-winged Snowfinch. In one of the photos you can see Martin with his cell phone at the far left on the deck. In another photo he can be seen with his phone outside getting a photo of the valley far below. We met Martin on the bus the first day. I hiked with him for parts of several days. We traveled with him on the bus to Belluno and in a taxi to Venice at the end of our hike.
I walked somewhat down to the top station for the cable car. From there I got a nice view looking east. I did not realize at the time but I was photographing the area where we would walk the next day and the rifugio we were heading toward.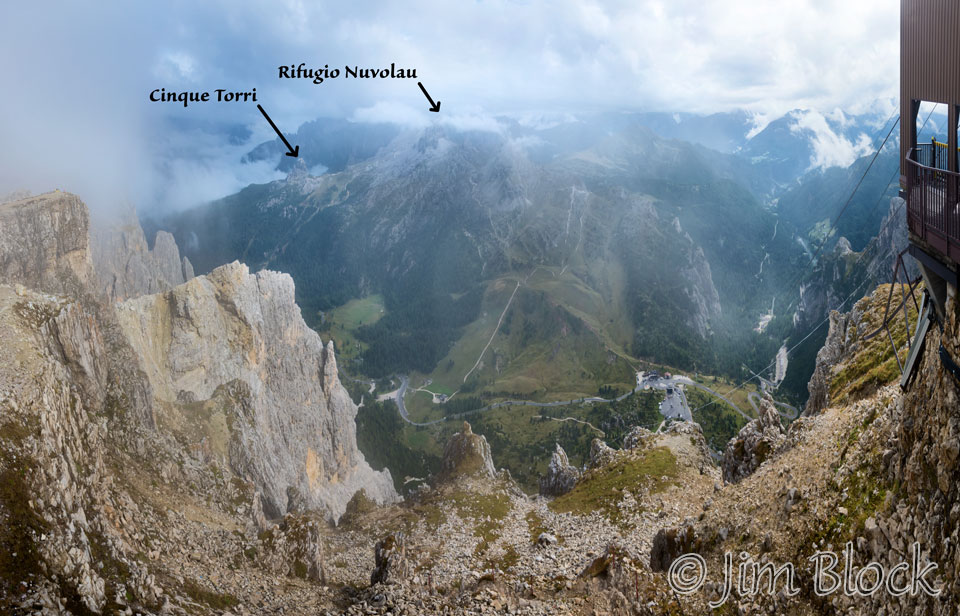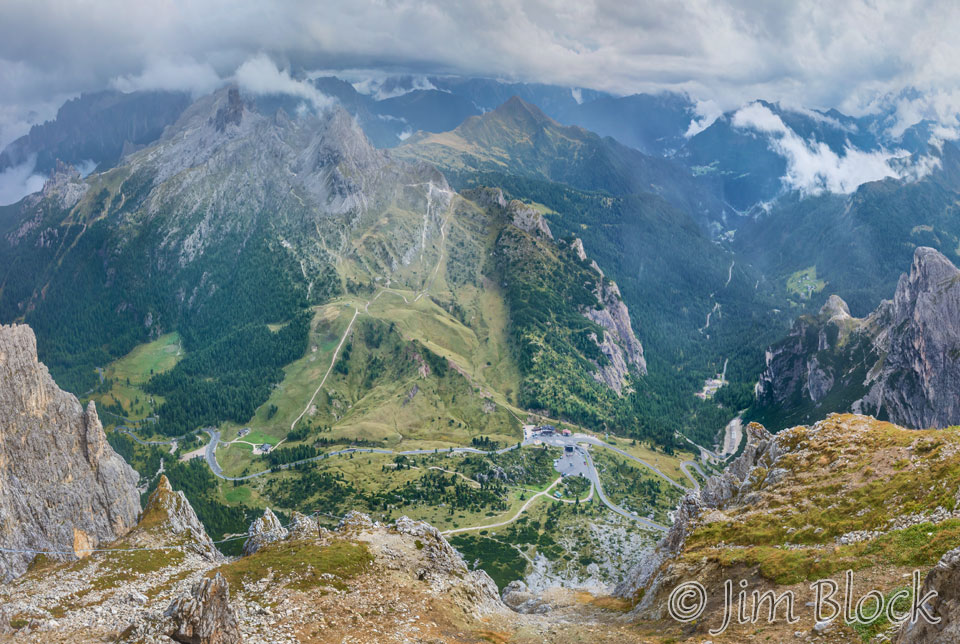 When I got back Michael Seufert had arrived and was showing where he and his sons had hiked up via ferrata trails.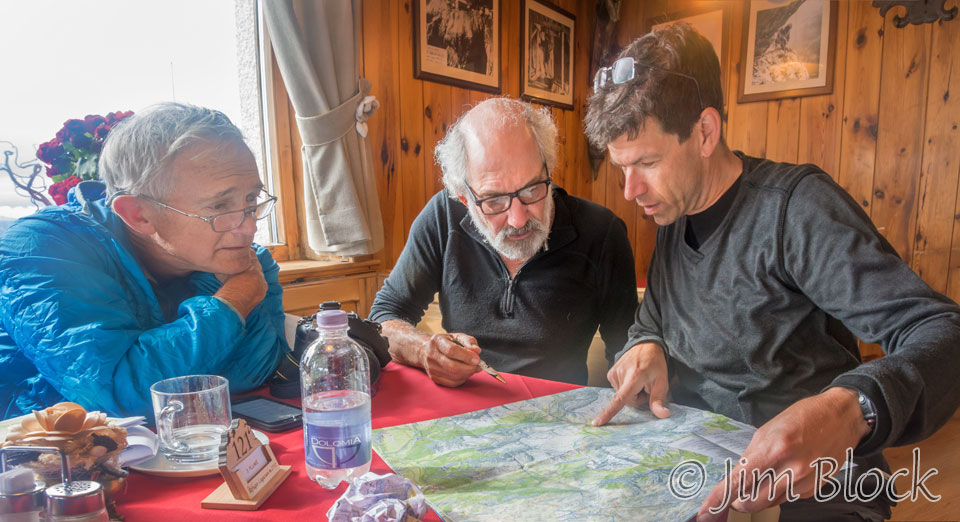 But things were happening quickly outside as the clouds moved through the valleys below us. Here is a photo of Cinque Torri ("five towers").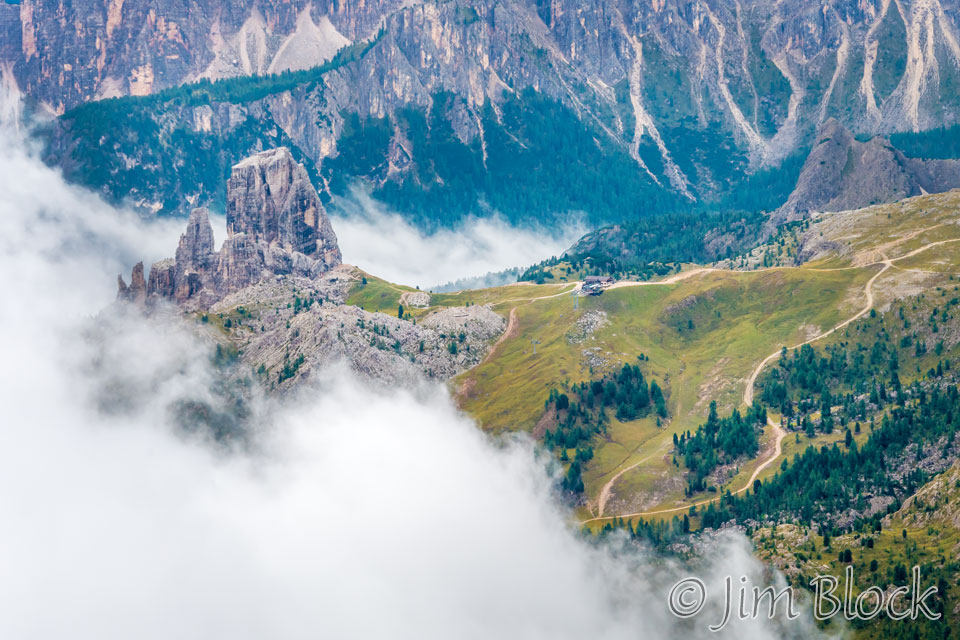 Here is a clearer shot of Rifugio Nuvolau than shown previously. You can see it is right at the top of a very dramatic peek. To the left you can see Cinque Torri.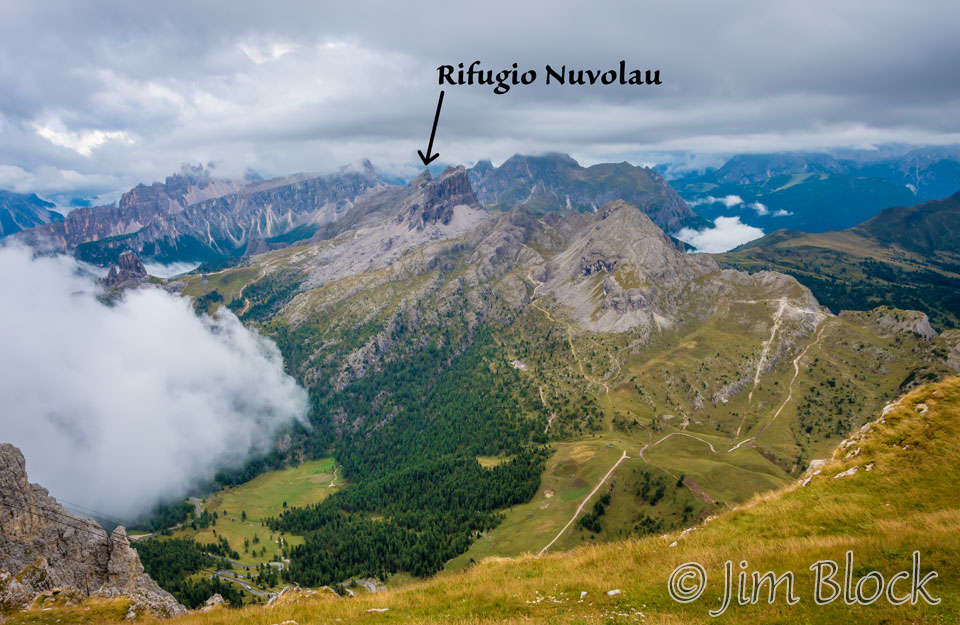 This photo shows Cinque Torri in the foreground, the Lastoi de Formin mastiff in the middle ground, and the jagged peaks of Croda de Lago in the back.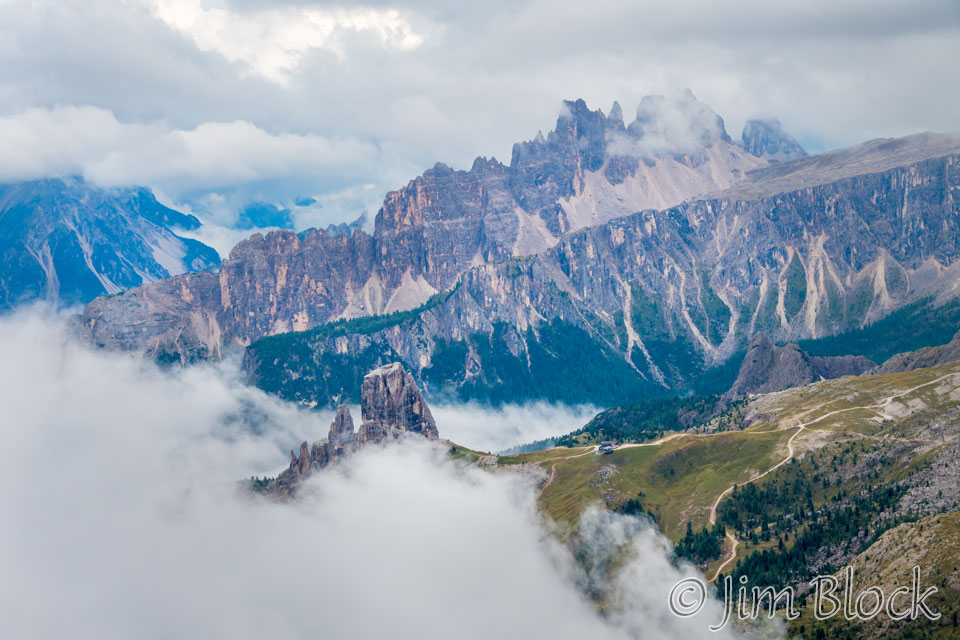 There were some interesting black birds around so I walked out to the point where Michael was in a previous photo. These birds are Alpen Dohles.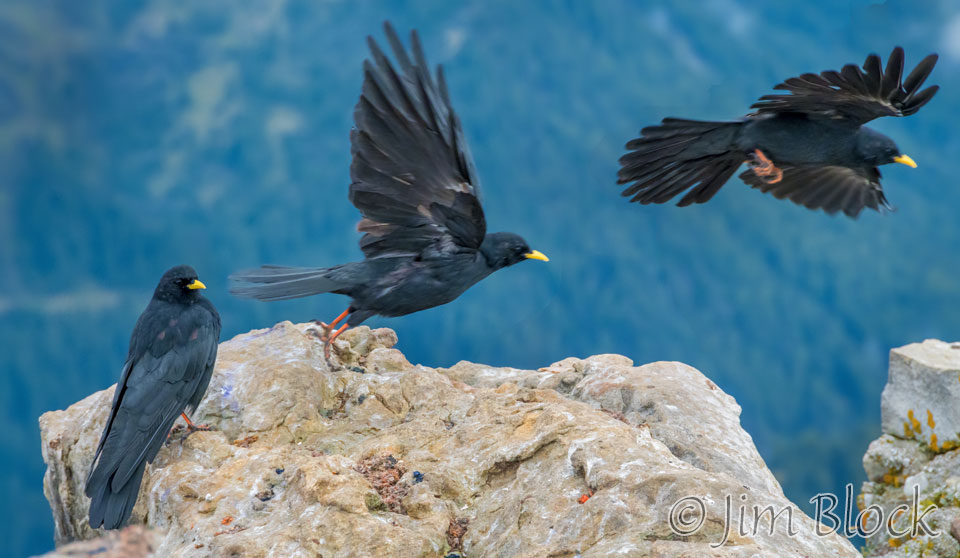 Below is a view looking southeast showing the trail up to Rifugio Nuvolau and also Cortina at the far left of the image.

The seven shot panorama above shows some of the mountains and features that we could view looking east from Lagazuoi.
Here is a closer up view of Rifugio Nuvolau and its neighbors.
Another photo from the deck of Lagazuoi taken just before 5 PM.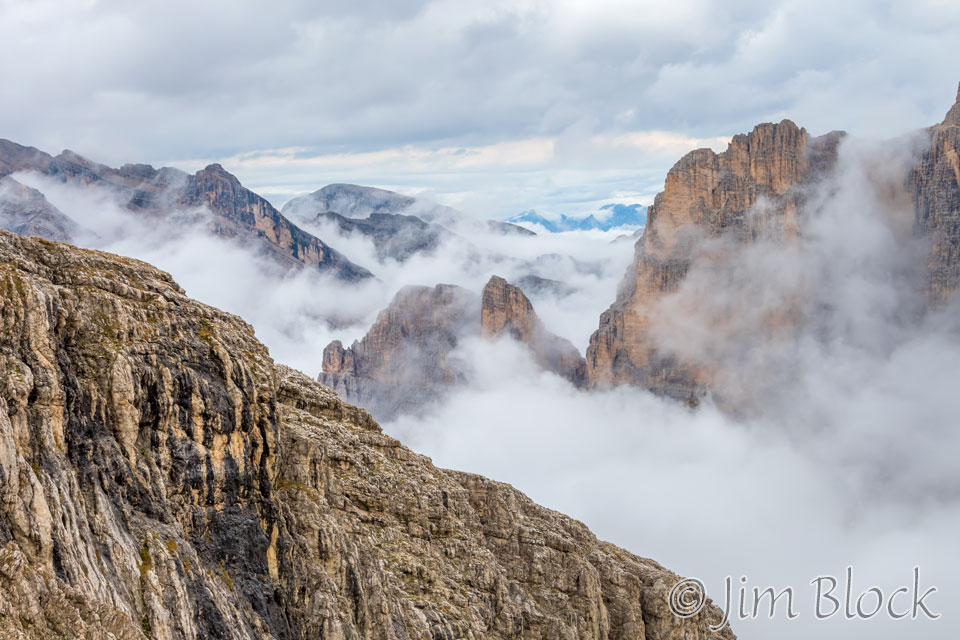 A bit before dinner Michael and his two sons Felix, on the left, and Benedict, on the right, joined us at our table. Felix had been doing via ferrata with his father since he was eight. All three were hiking with helmets, harnesses, and carabiners along somewhat challenging and exposed trails.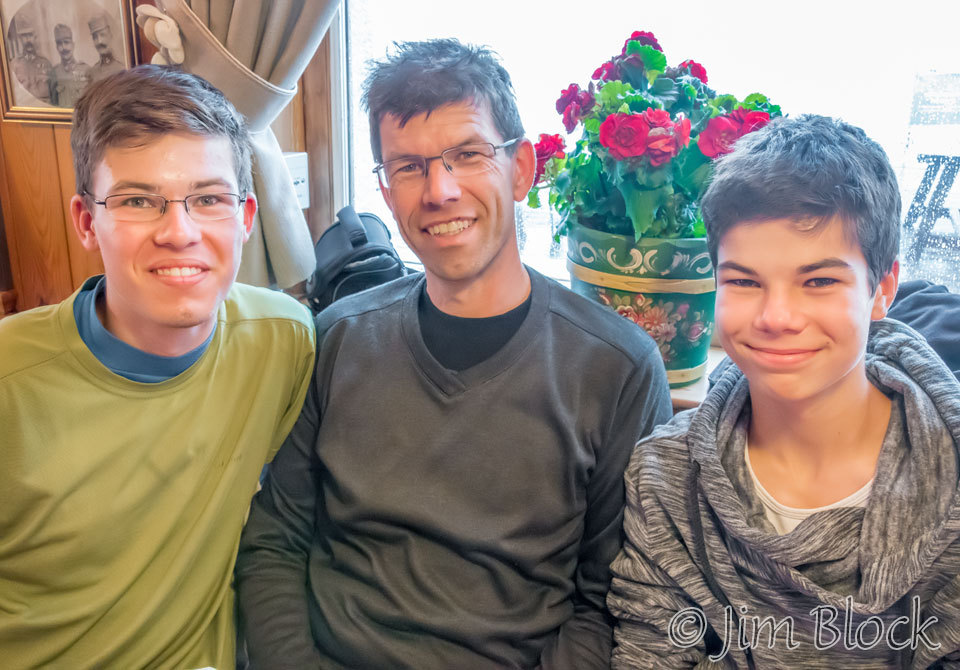 As the sun started to set, the scene became even more dramatic. Here are some photos taken between 6:30 and 6:43 PM.
Around 6:50 PM a dramatic rainbow appeared to the southeast between Cinque Torri and Rifugio Nuvolau.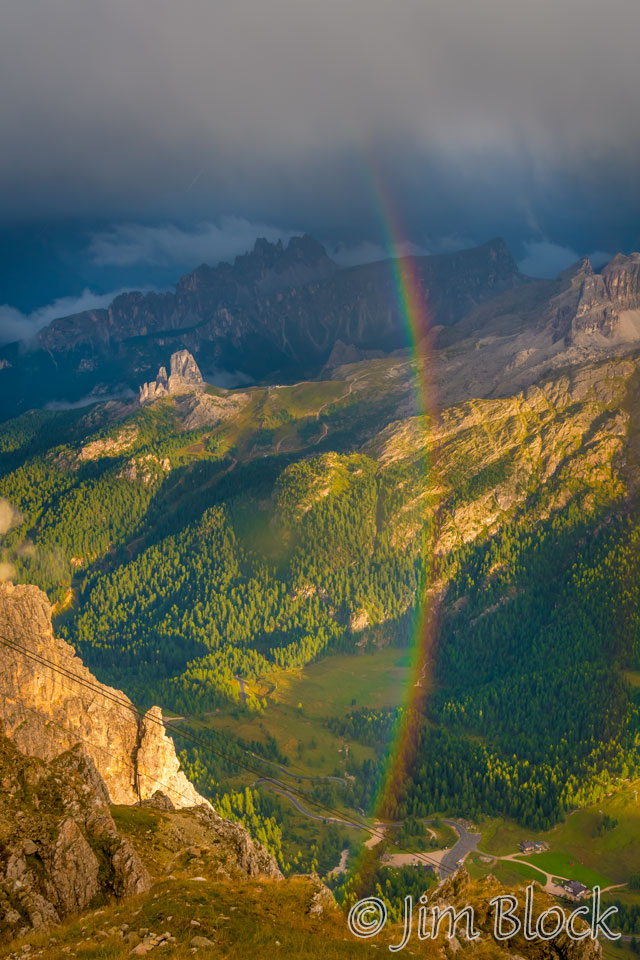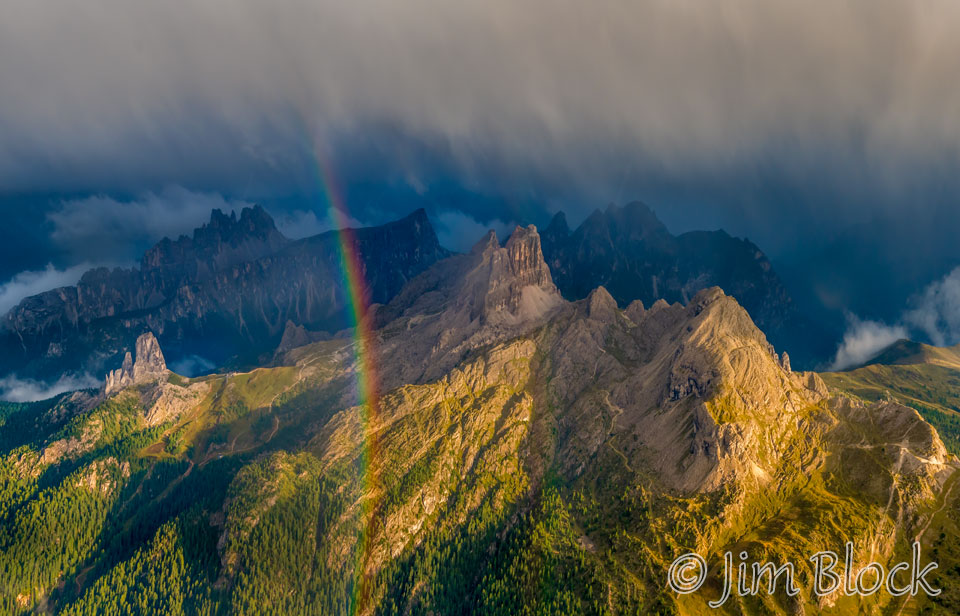 Over the next hour the drama in the sky continued. Here's one panorama.

And a slideshow of other photos taken during this hour.
Here are three more panoramas, the first taken at 7:33 PM and the next two at 7:51 PM.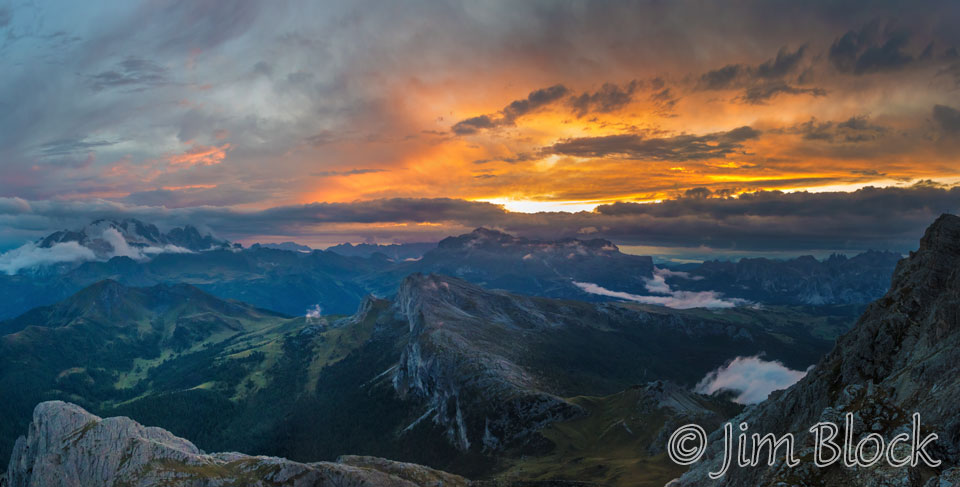 My lamb dinner was delicious. For the quality of the food and the excellence of the location, Lagazuoi was my favorite hut on this trip.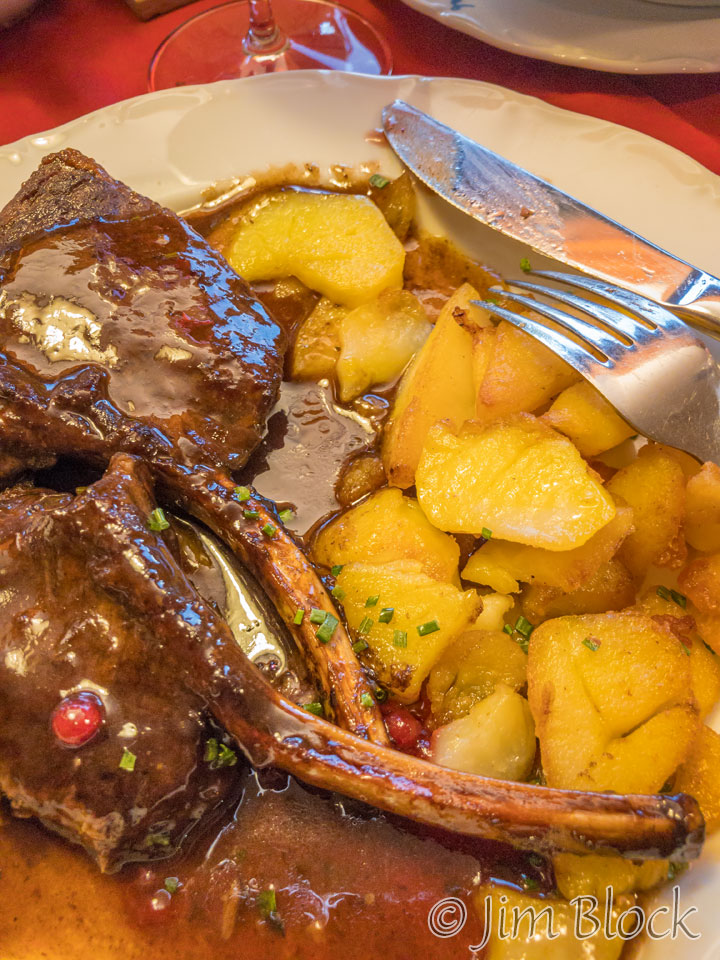 At dinner Michael took a photo of us – the "three white hat" troop, a nickname someone gave us early on. Here is the photo with a blowup of it to better show what he captured. You might be able to see that I have a lightweight down jacket on at dinner. That was because I kept running out during the meal to get photos of the drama outside.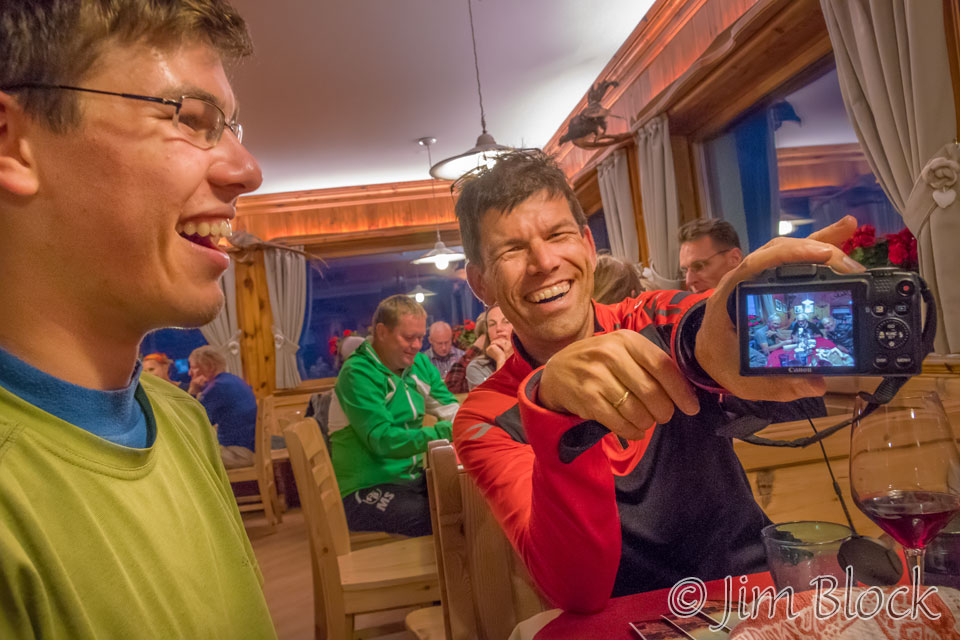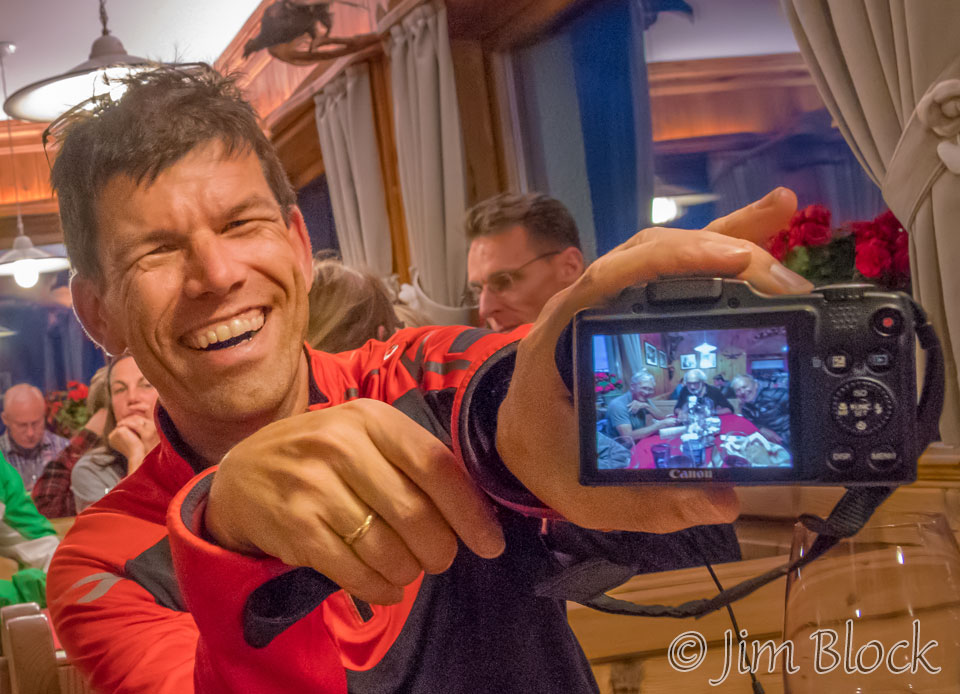 We said goodbye to Anne and Patrick. They were headed down the next morning to Passo Falzarego to catch a bus to Cortina for two nights. We would thus be two days ahead of them and not see them again the rest of the trip.
Shortly before 9 PM Jim Gold again (for the second or third time) alerted me to the drama outside. He was an excellent photo spotter this afternoon and evening even though he is not a photographer himself. What was happening was lightning over Rifugio Nuvolau. Here are several photos of the lightning taken with my camera braced on the deck railing. These are 30 second exposures. The light on the peak in the distance is coming from Rifugio Nuvolau. I thought that it must be an interesting place to be in a lightning storm. I did not know what was in store for us the next day.
This was certainly an interesting and dramatic day. But there was more to come. Please check the next page for some additional drama in the Dolomites.