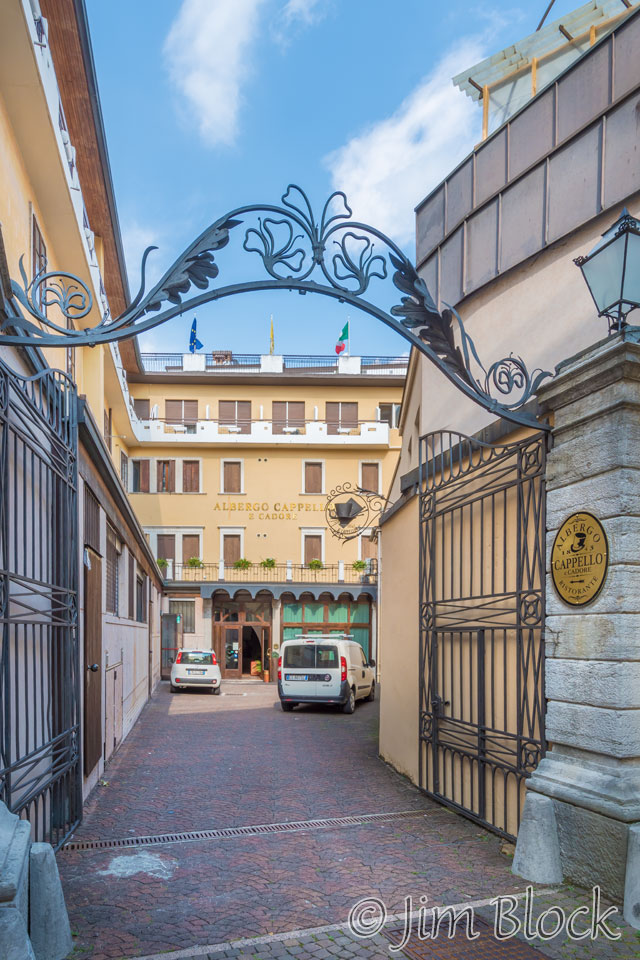 At the conclusion of an amazing nine-day trek, Jim, Martin, and I caught a bus to Belluno. Stephen and Young just missed the bus and had to wait two hours for the next one.
We spent the night at a very nice hotel, Albergo Capello e Cadore. I was pleased to see my transfer bag containing an extra camera and some clothes was waiting for me in the lobby. Here is a view of the front entrance of the hotel.
My room was small but very serviceable. Below you can see one of my T-shirts drying in the sun. I couldn't figure out a good way to hang it by the window.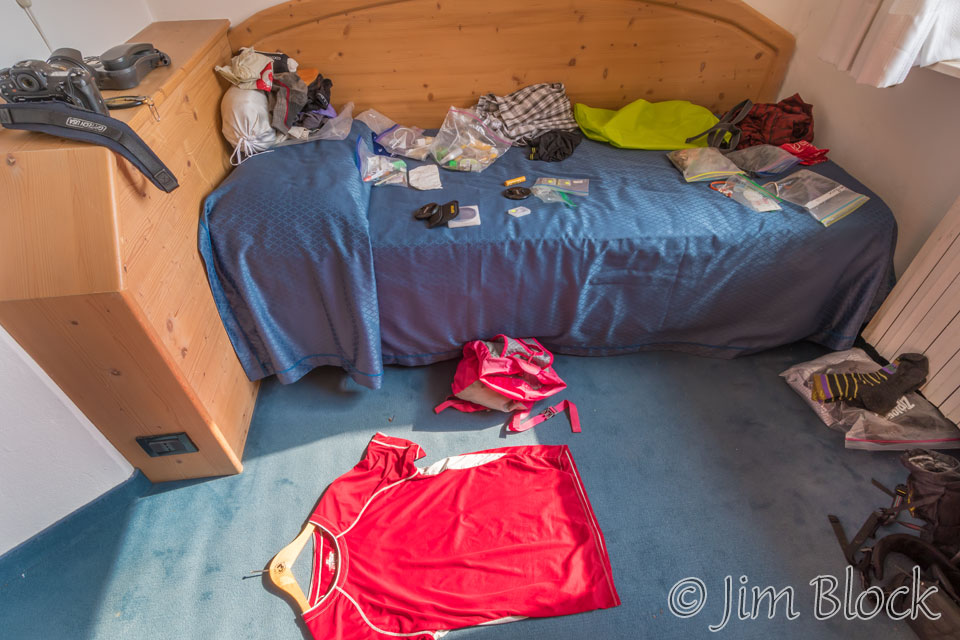 Belluno is a beautiful and very interesting old town, established around 200 BC. It has a population of 36,000.
Near our hotel was a plaza where people could gather and walk among flowers.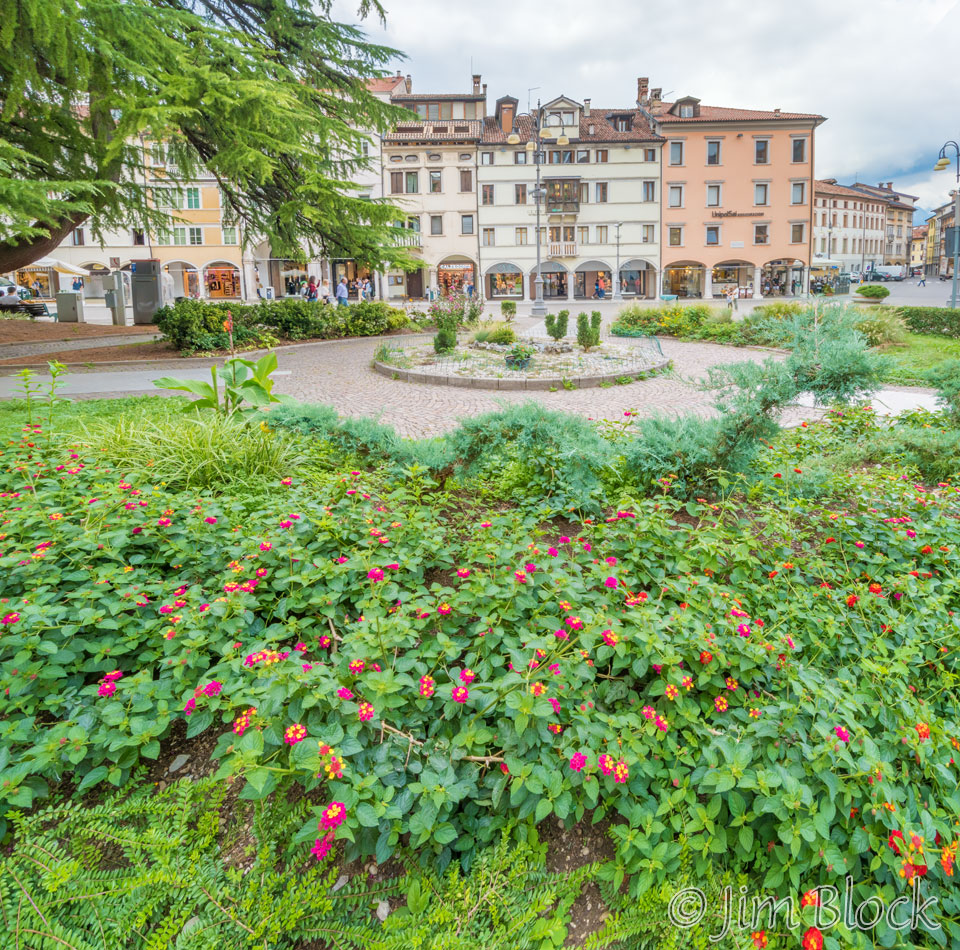 Also, not far from our hotel was an amazing gateway with some massive wooden doors. The gateway is shown in the two photos below. You can see the huge open doors in the photo on the right below.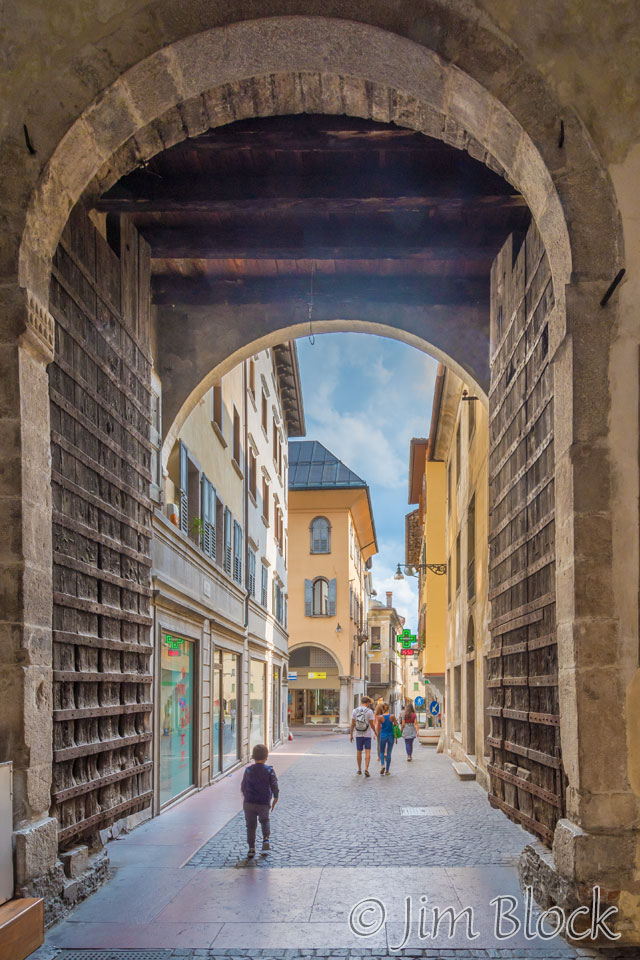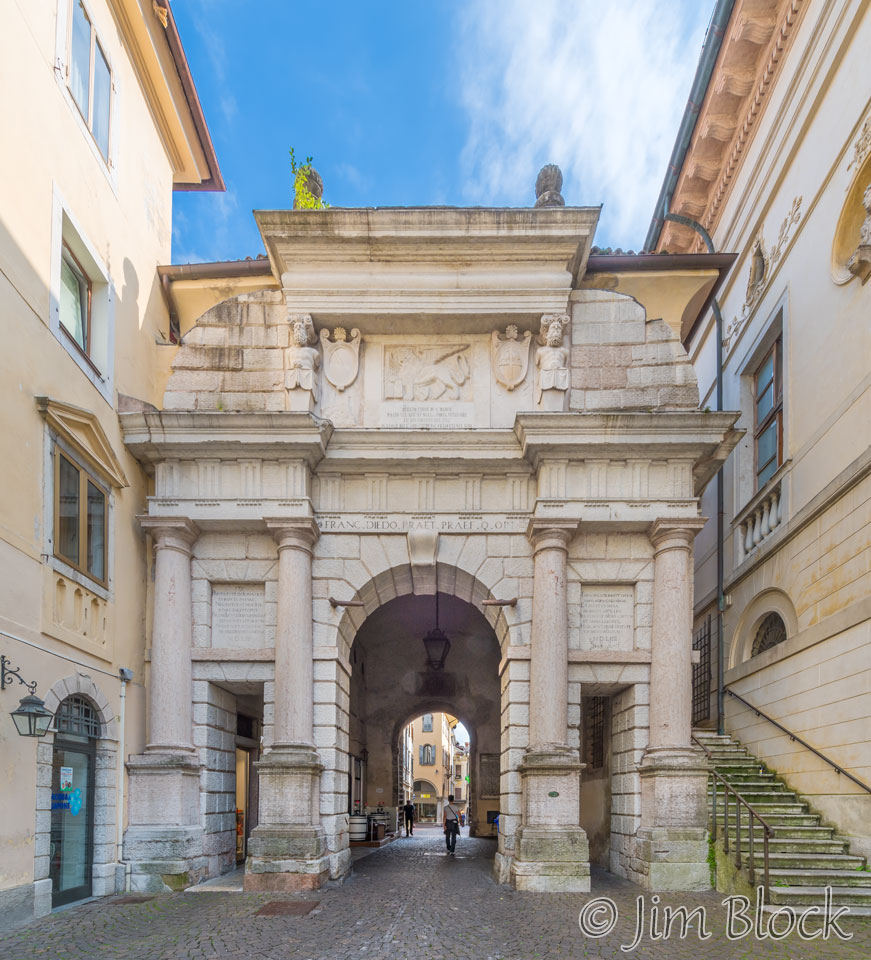 The 6-photo panorama below shows one of the massive wooden doors in a somewhat distorted image. The wall to the left and the wall to the right of the door are actually parallel to each other.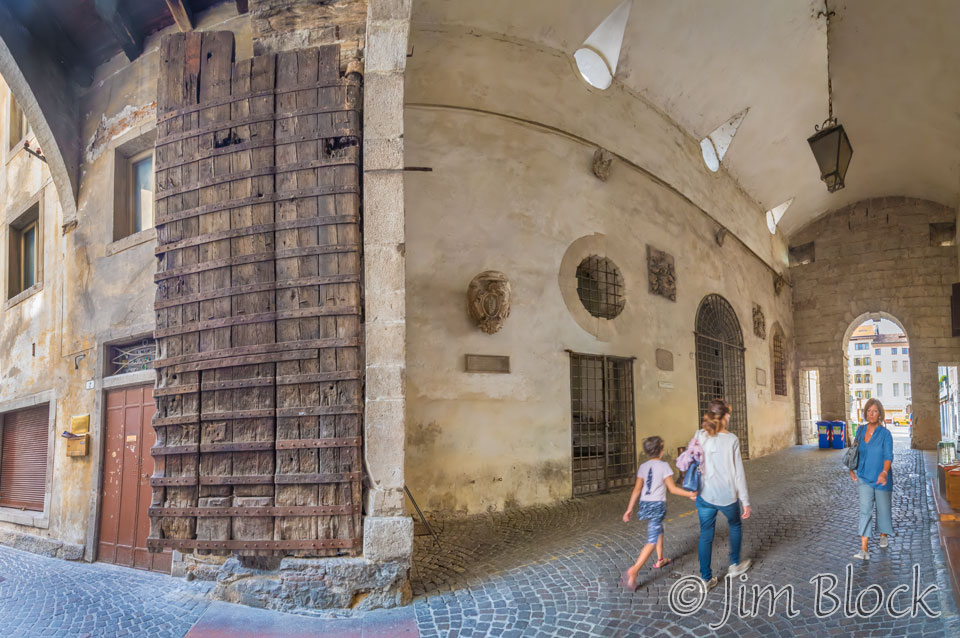 Jim and Martin were relaxing at an outdoor café. I would have joined them, but there were photos that needed taking. My time in Belluno was short — just a late afternoon and early morning — and I wanted to use it to the maximum for photography.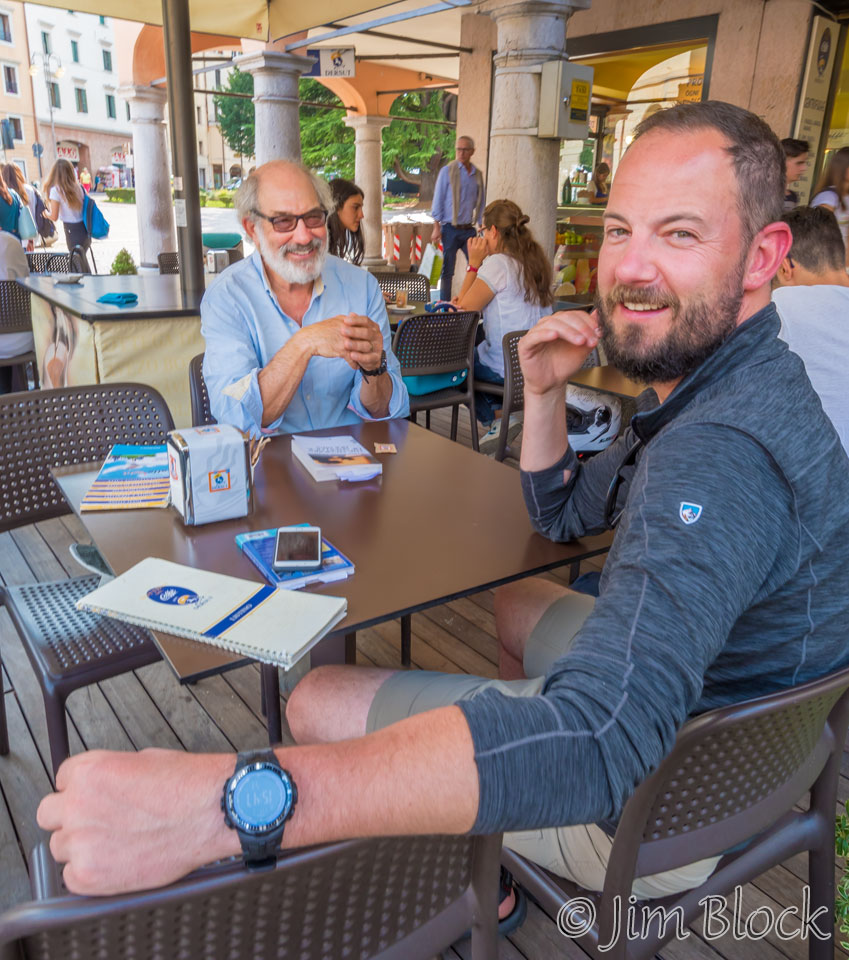 I wandered the narrow streets and alleyways photographing the city, at least the part of it near our albergo (Italian for hotel or inn).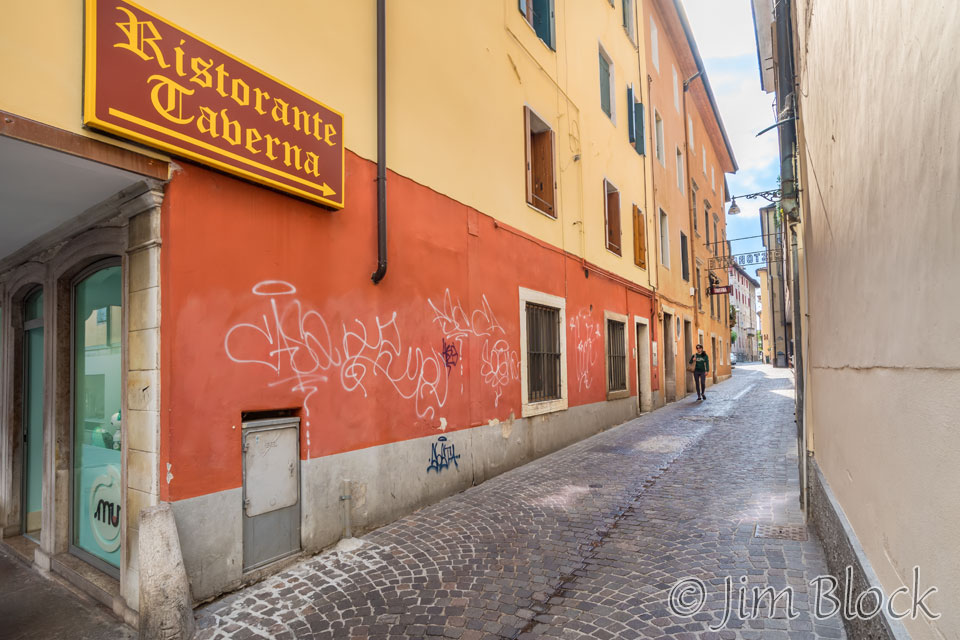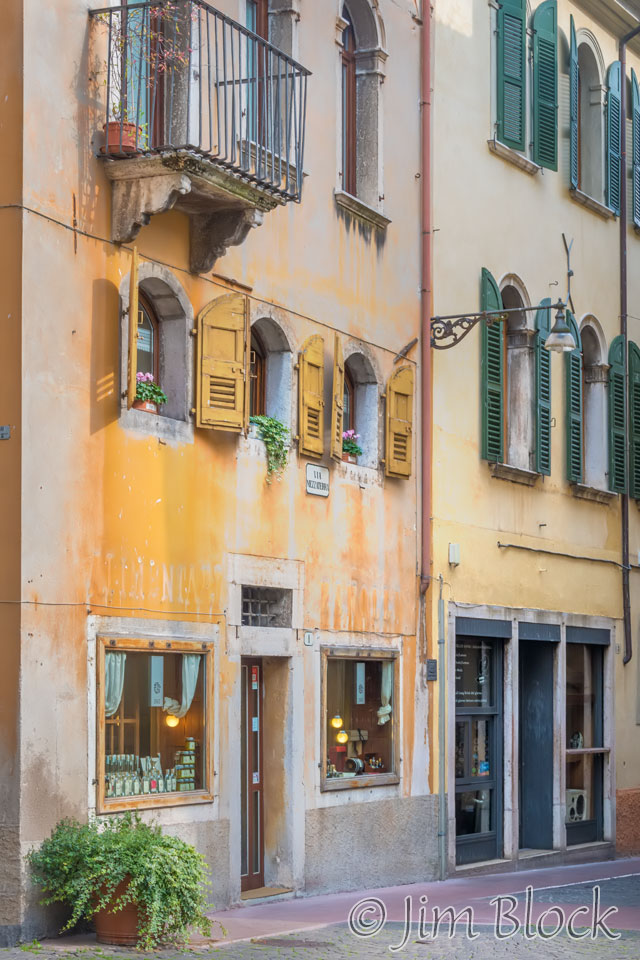 The Cathedral di San Martino is seen below.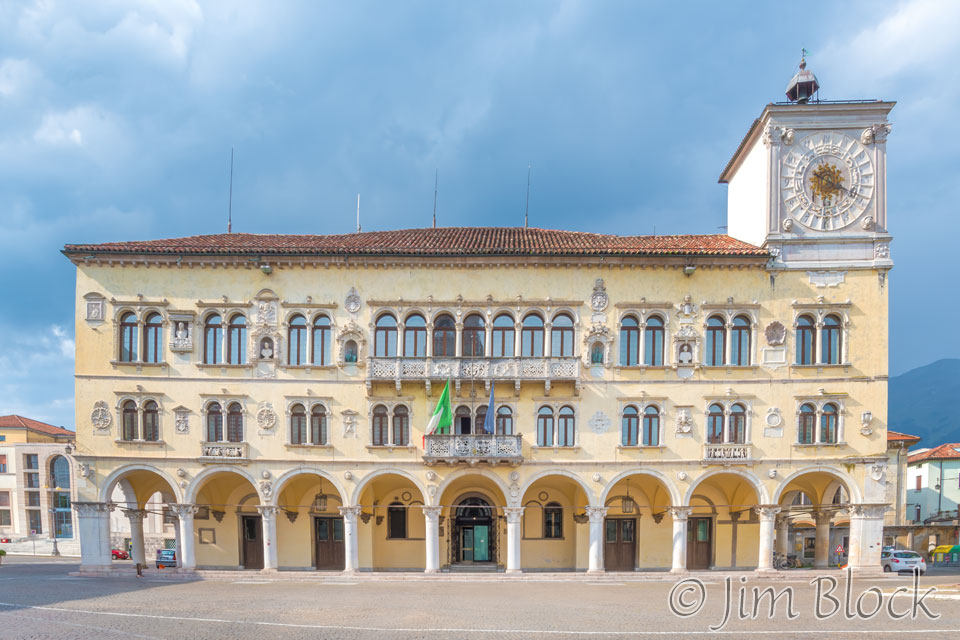 On the left below is a view down the front of the cathedral. Nearby were some interesting plaques and sculptures on the walls.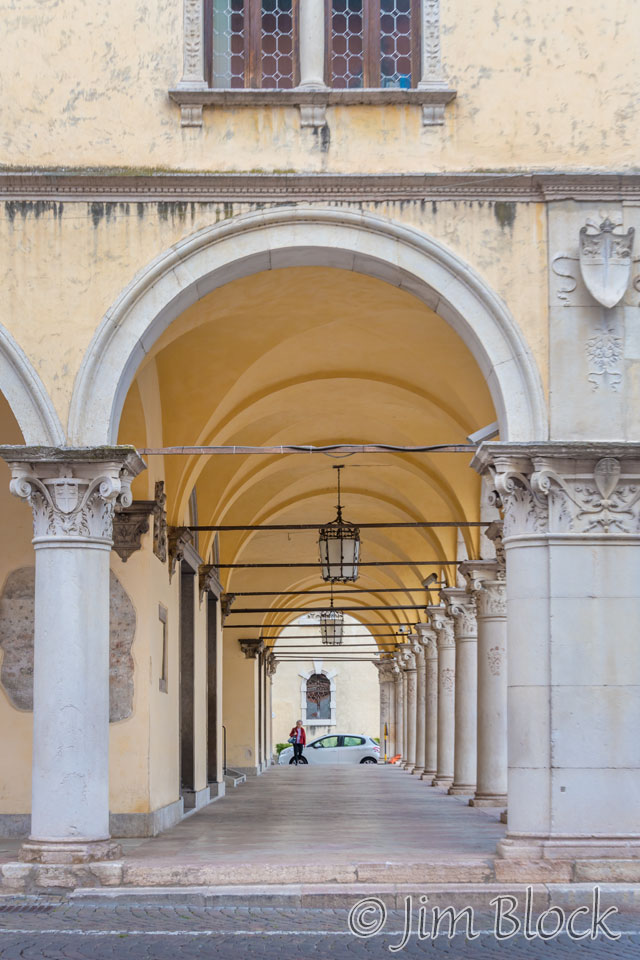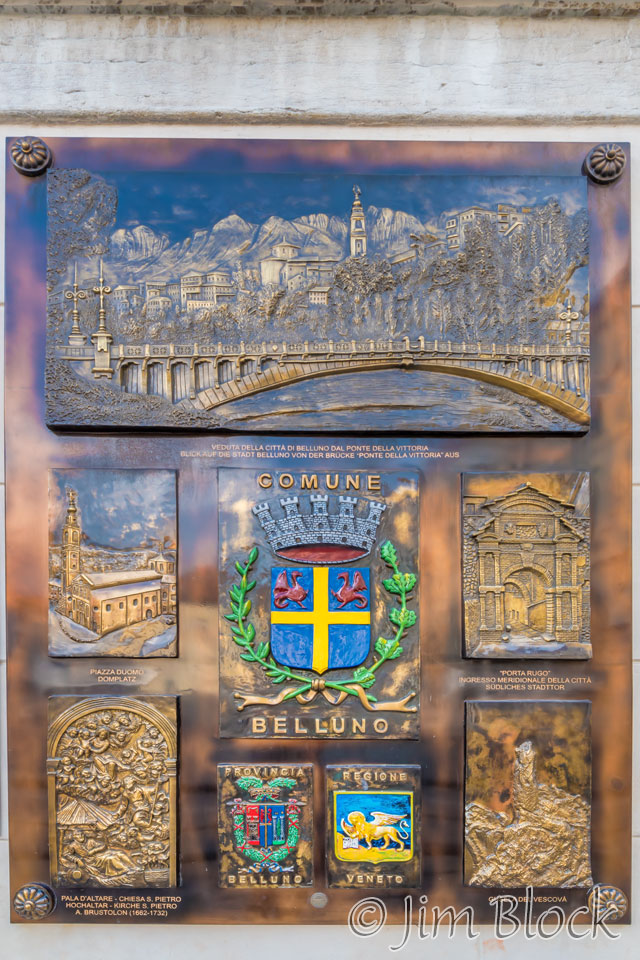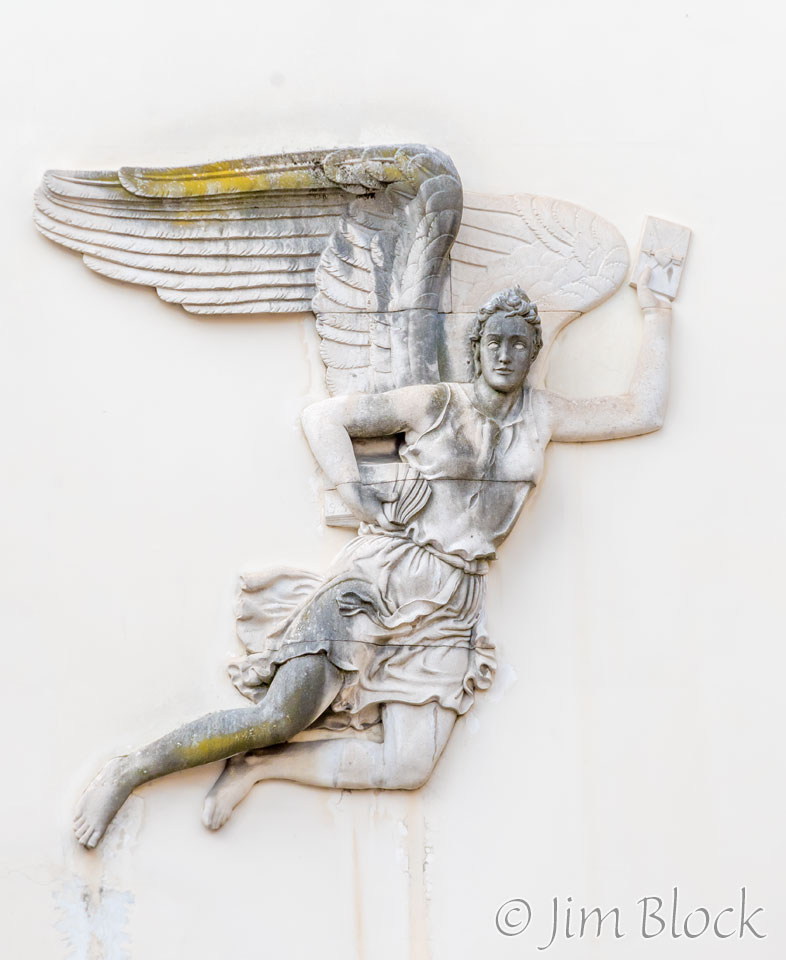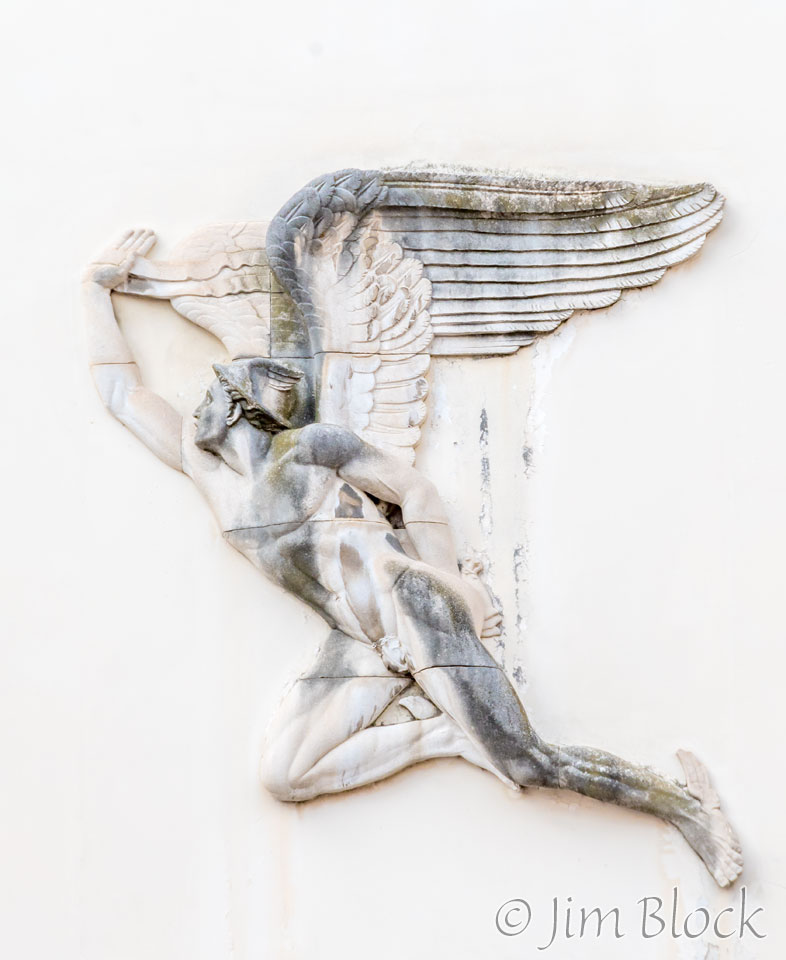 This spot provided a nice view of the valley below the city.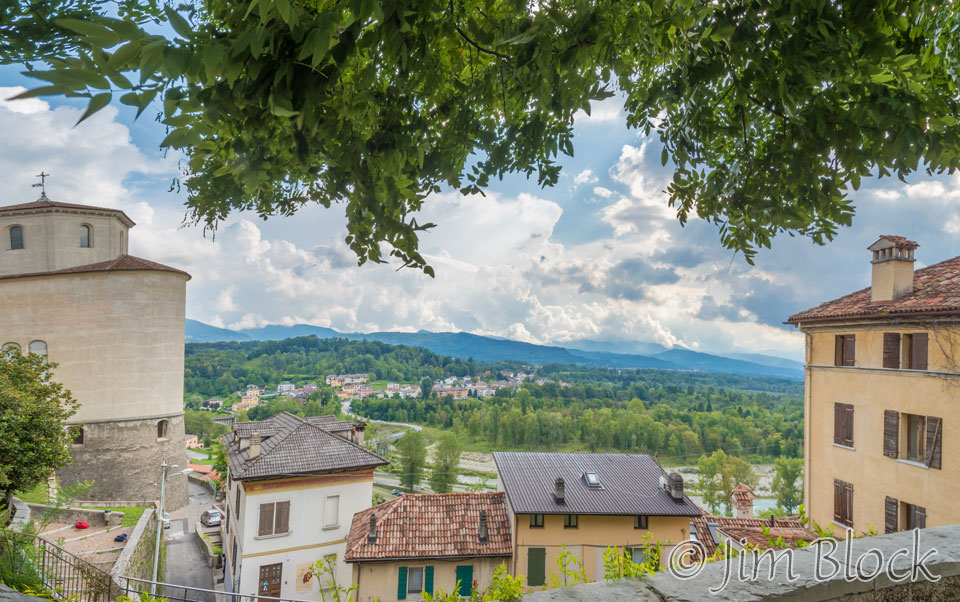 The city was colorful. I liked the way they arranged plastic buckets to convey material from an area that was apparently being renovated.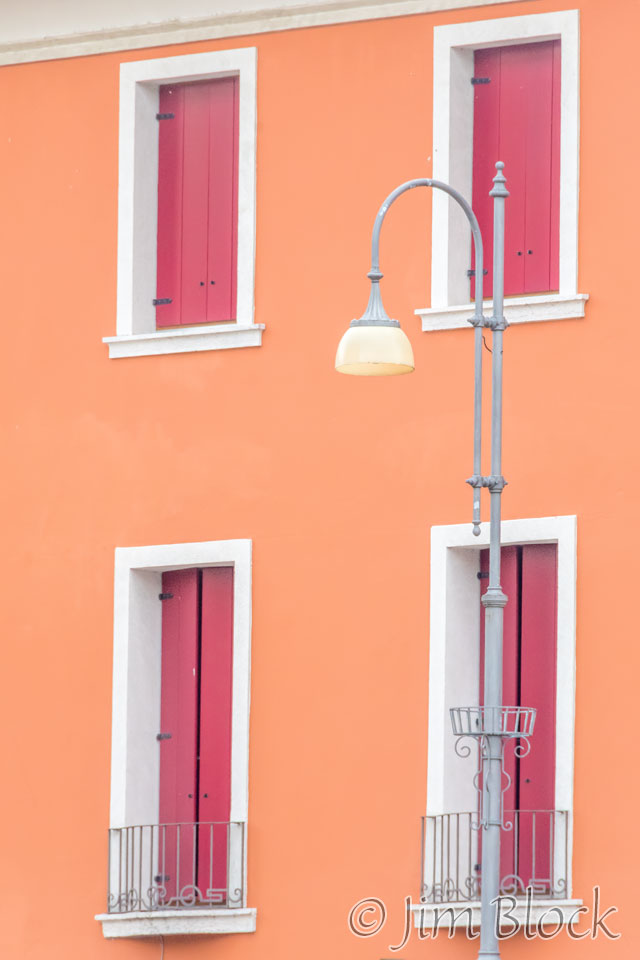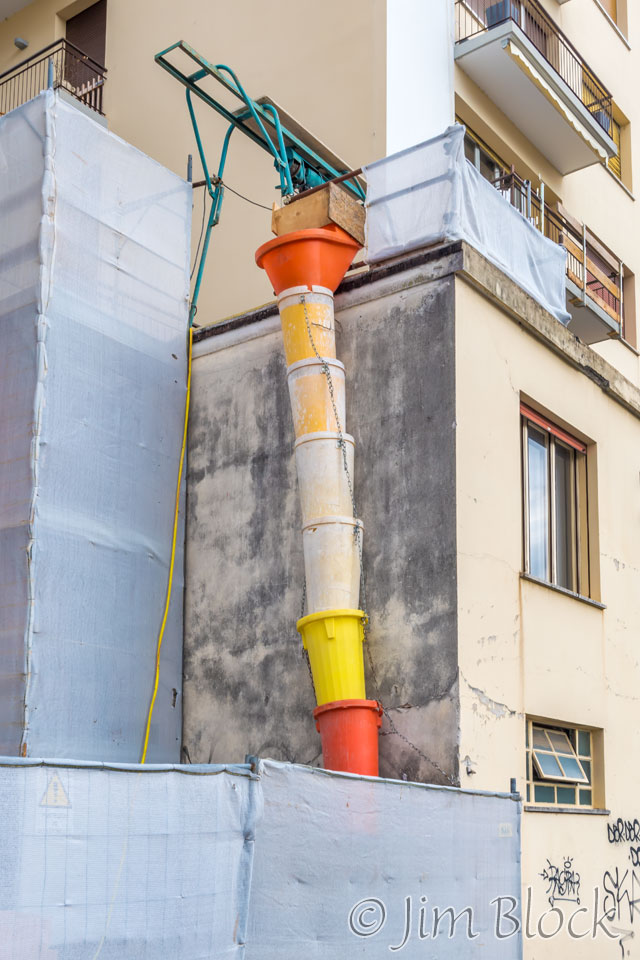 Below left is a typical street scene. There were lots of young people around, and most of the people I saw appeared to be natives rather than tourists like in Venice.
On the right below is a sculpture which perhaps depicts something from the wars.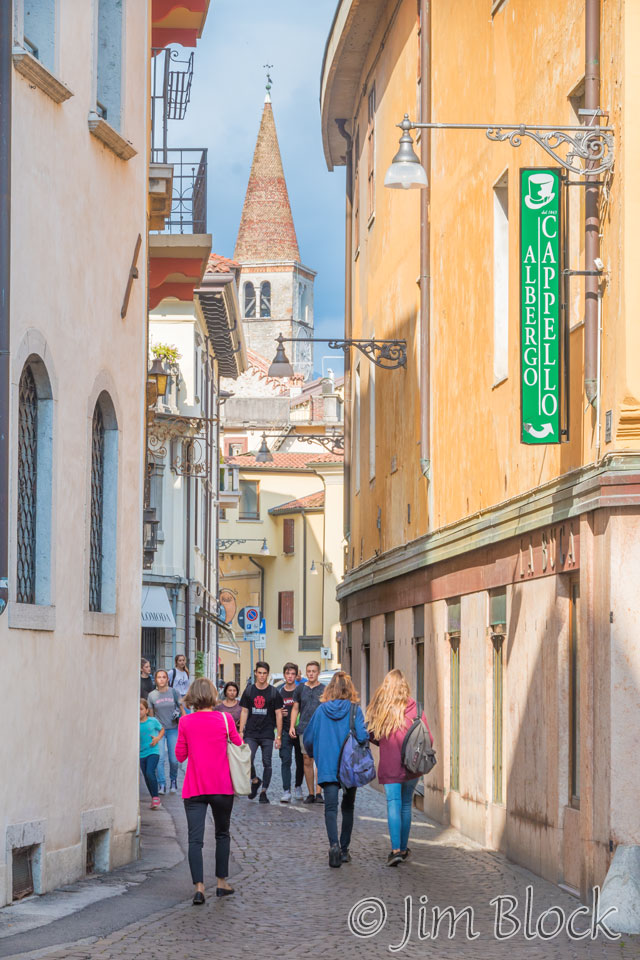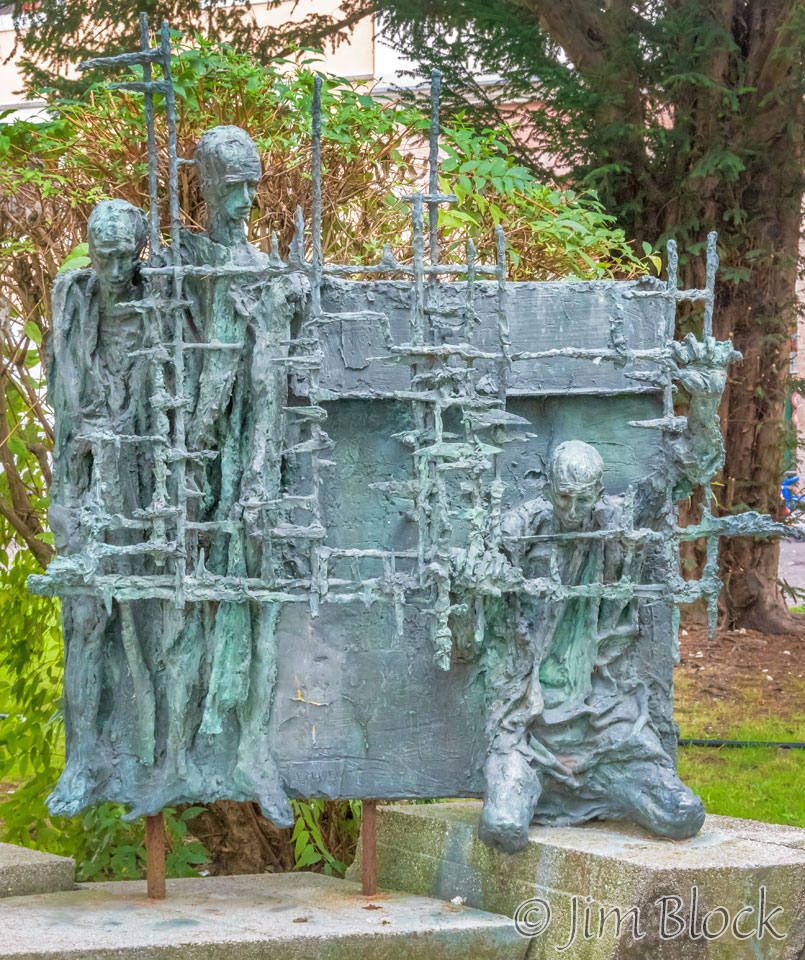 The pizza in the window of this bakery looked tempting, but I resisted.
Below right is a view from my hotel room looking at the now-crowded courtyard below. Motorcycles and cars were parked so nobody but the last car could get out. I believe they all left the keys at the hotel lobby because the cars were gradually released in the morning.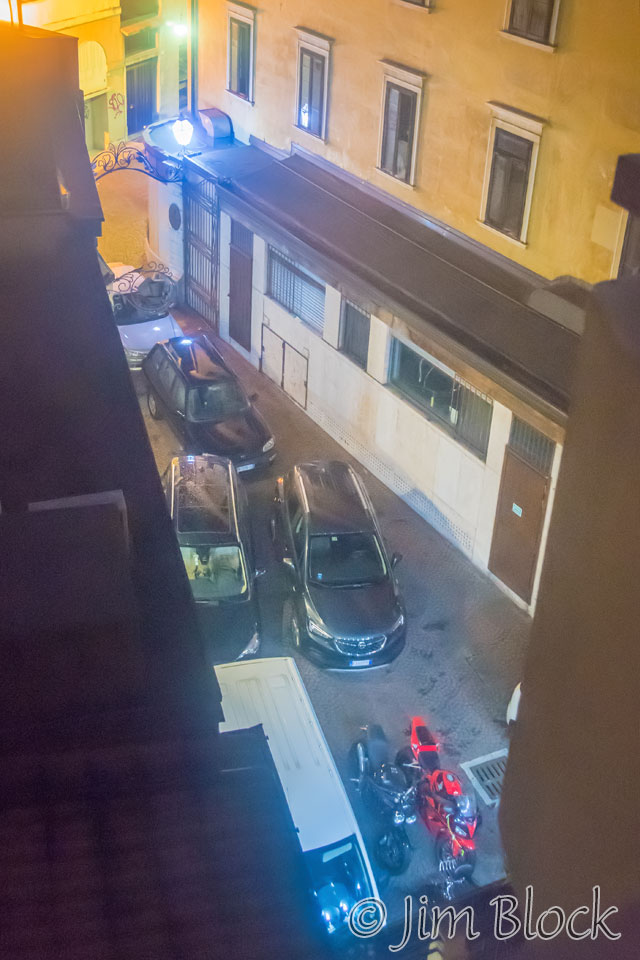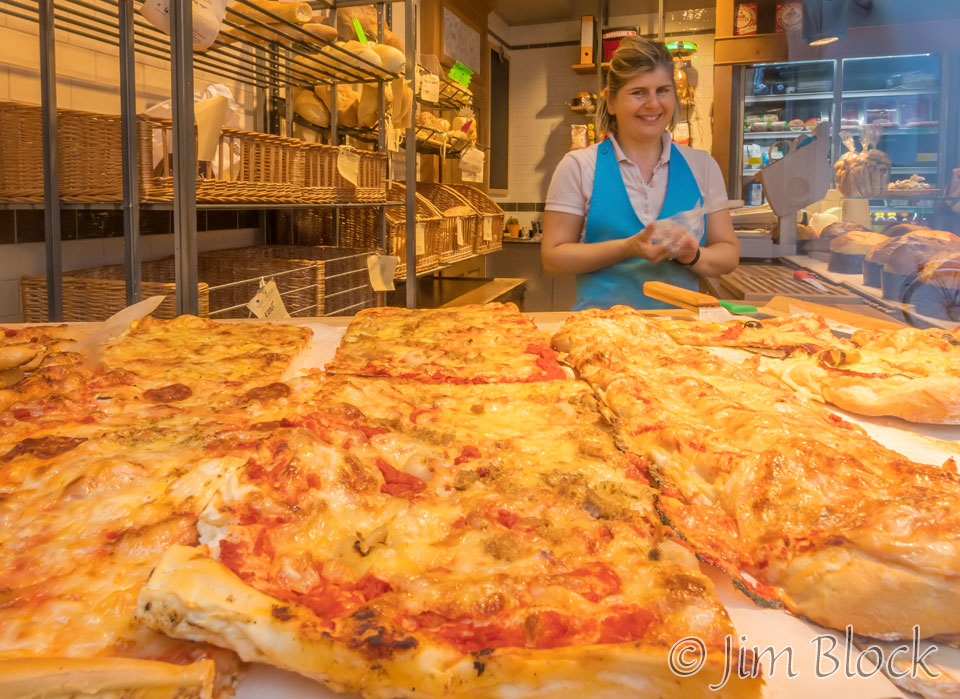 At 5:45 AM I awoke after a great night's sleep. This was the first time I had a bedroom to myself since Dobbiaco. But I certainly did not mind sharing dorm rooms with Jim and Stephen, and, half of the time, a number of others.
Below is a view of the courtyard early the next morning. It is a distorted view because it's a panorama composed of eight different photos.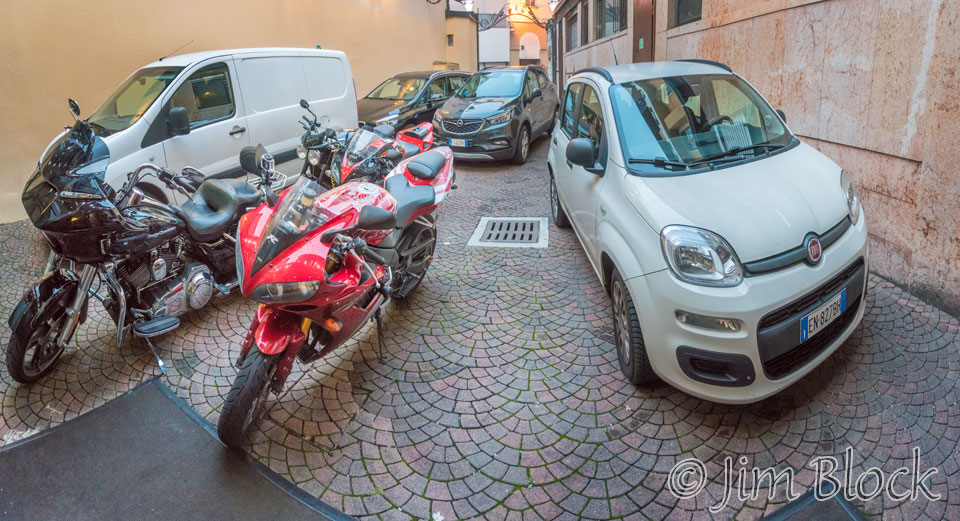 Below is the scene just outside the hotel entry gate.
At 6:40 AM I took a photo of folks buying something for breakfast.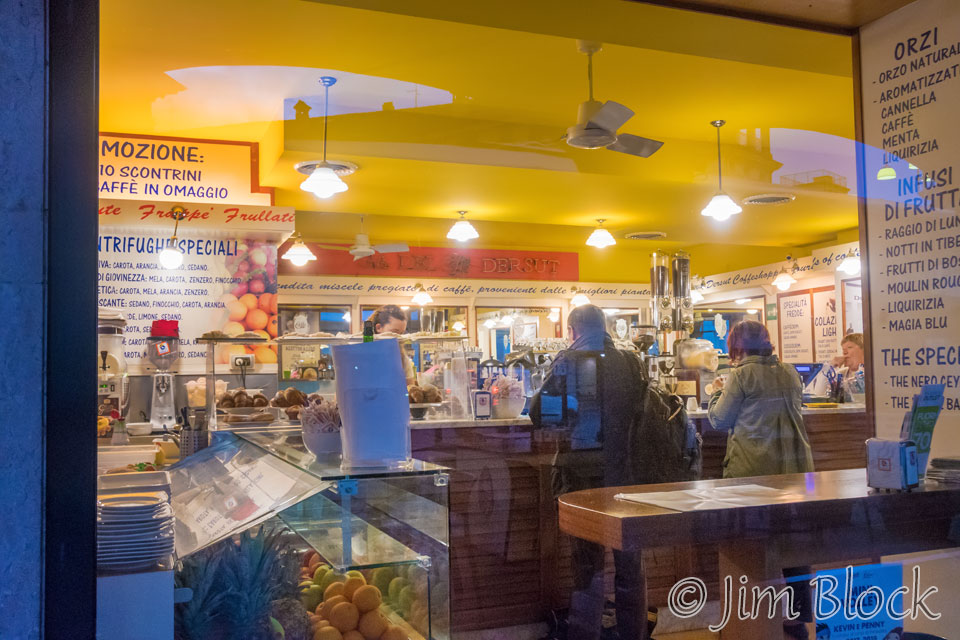 This is what the street looked like at this hour.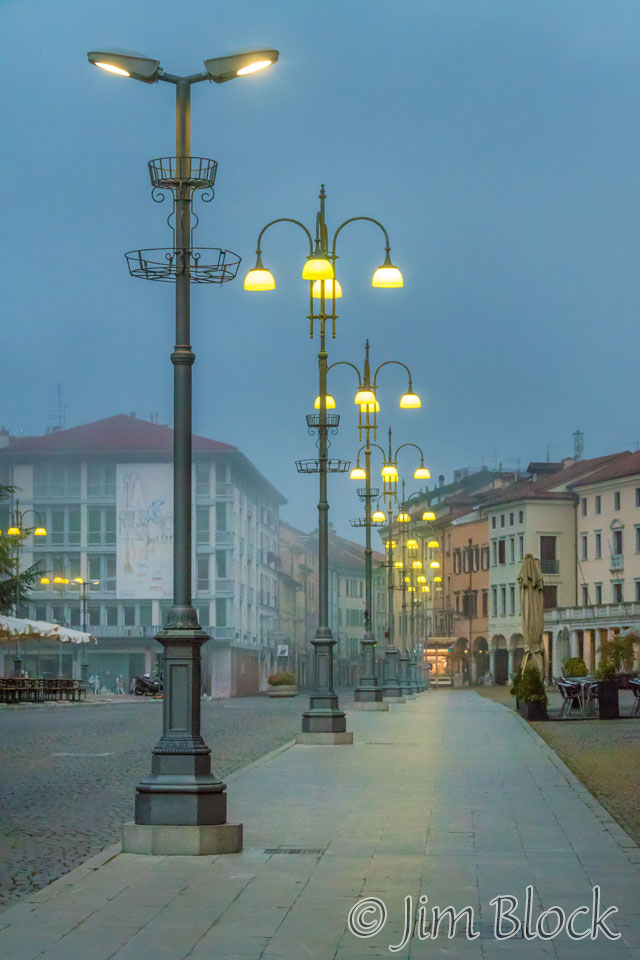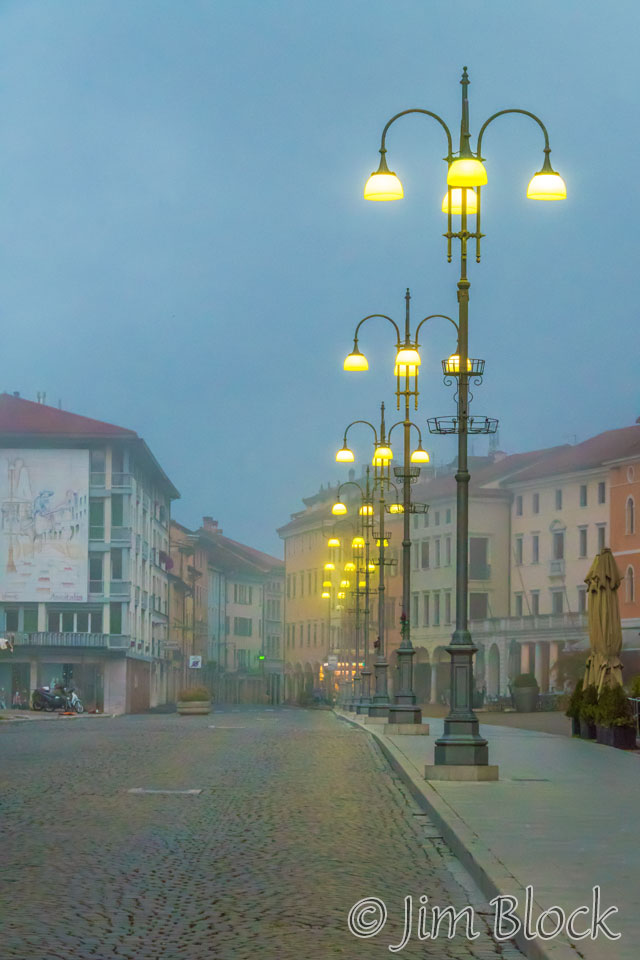 It was still before 7 AM when I took the two photos below. The first one is a 17-photo panorama. The second is two images stitched together showing the valley beyond.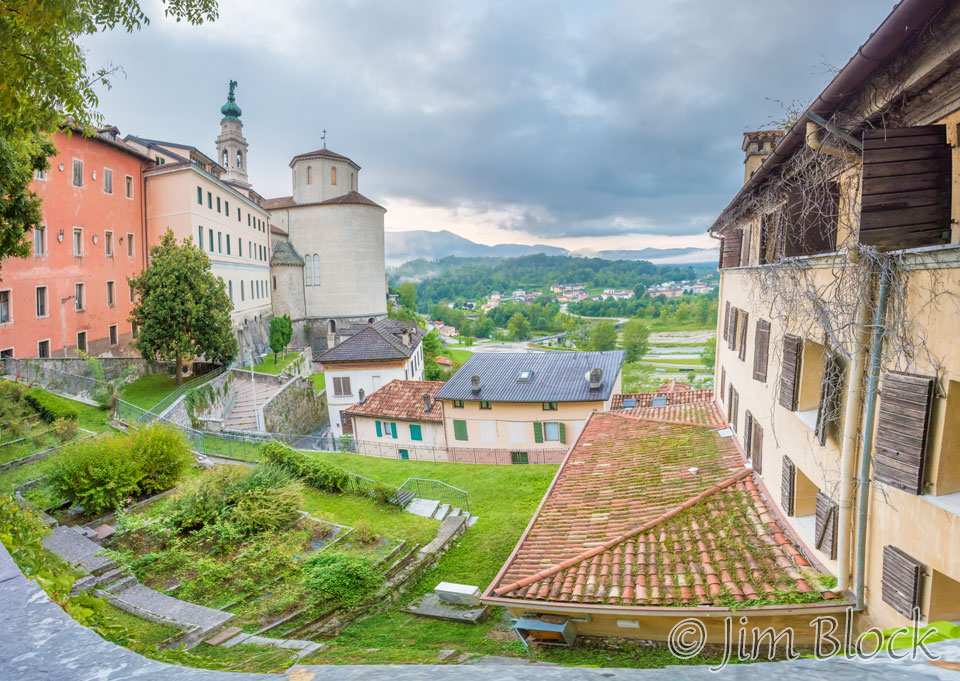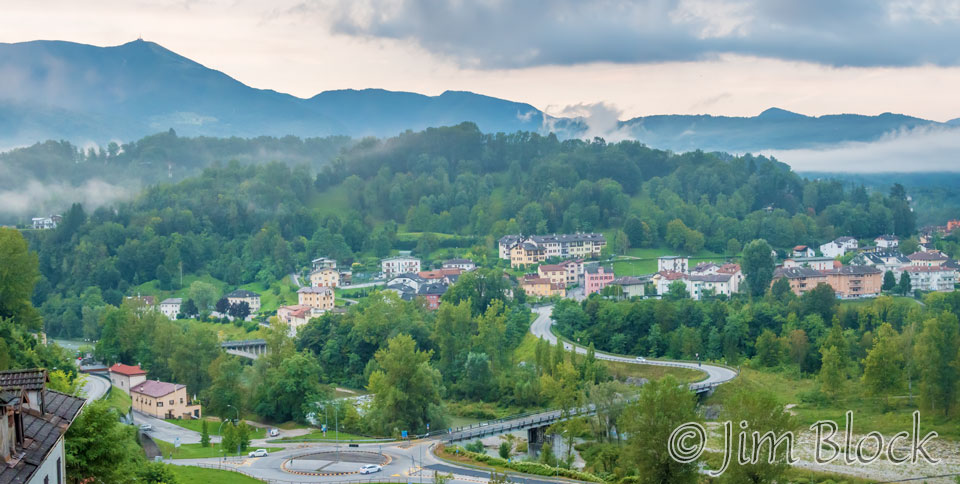 Breakfast was served around 7:30 AM. Here is Jim in the dining room making a friend. He has a very easy time meeting and speaking to strangers, as does Stephen.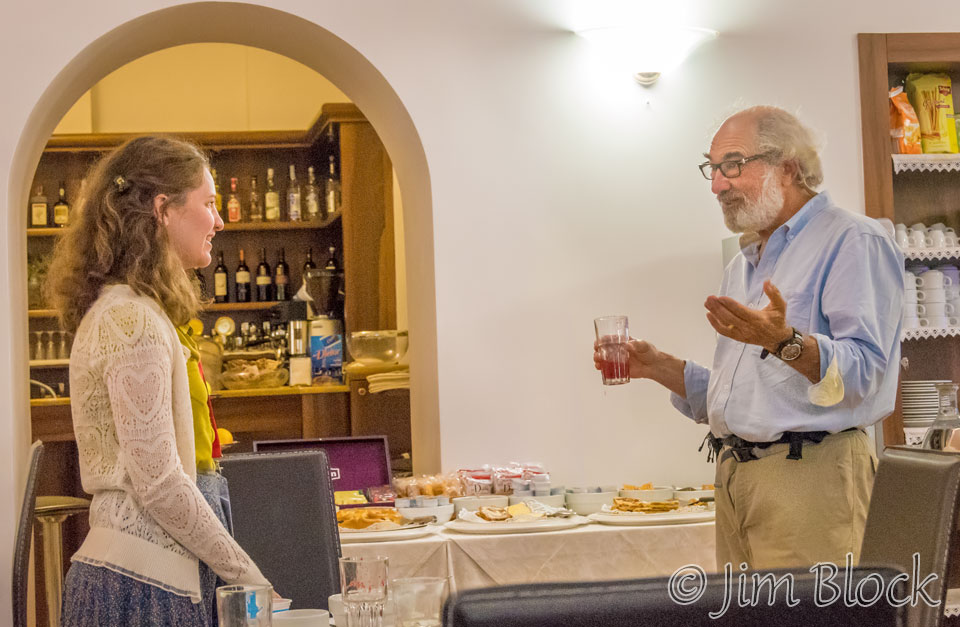 We had hired a cab to take us to Venice, but it wasn't due until around 8:30, so I had some time to make some more photos.
This news stand was near our hotel.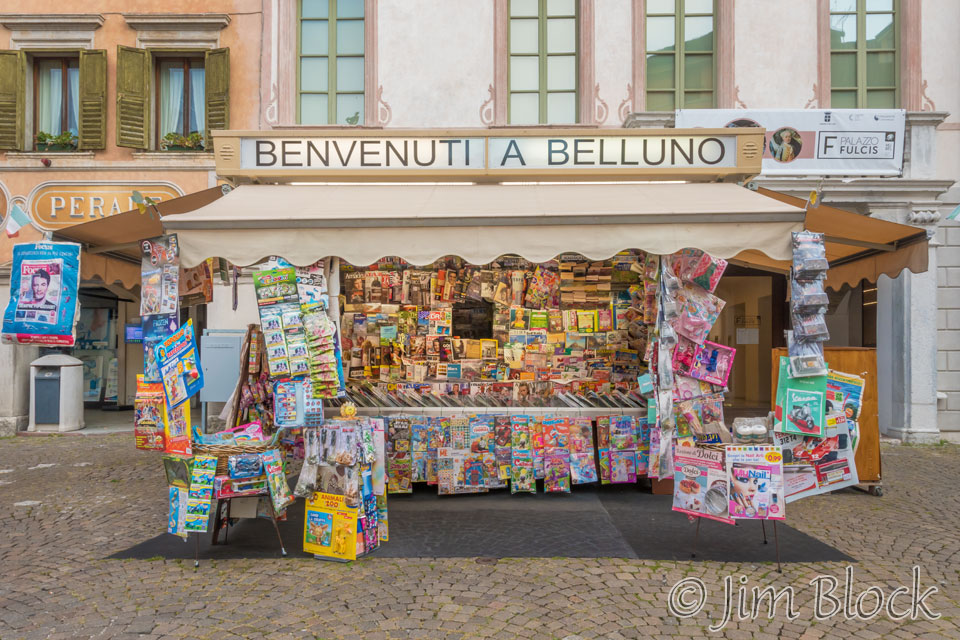 Below is a 360° panorama composed of 13 individual photos.

The three images below are cropped portions of the panorama above.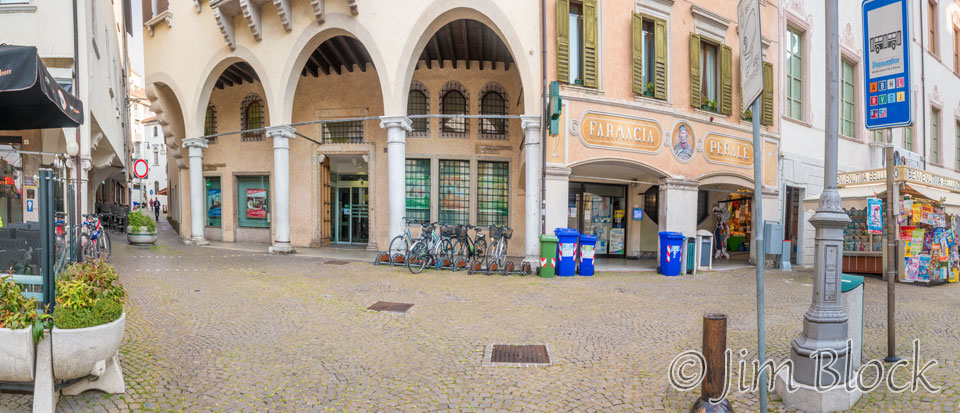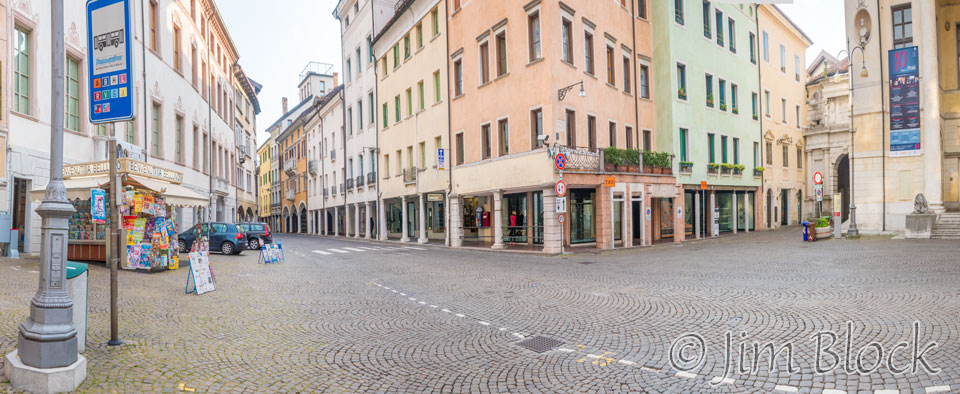 I came upon a beautiful glass-lined passageway which begged to be photographed.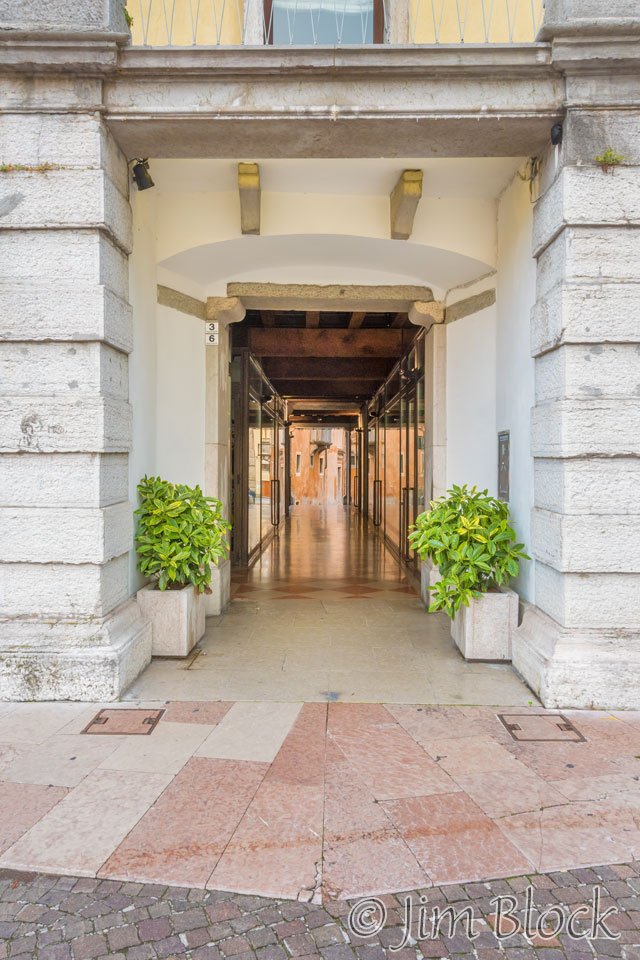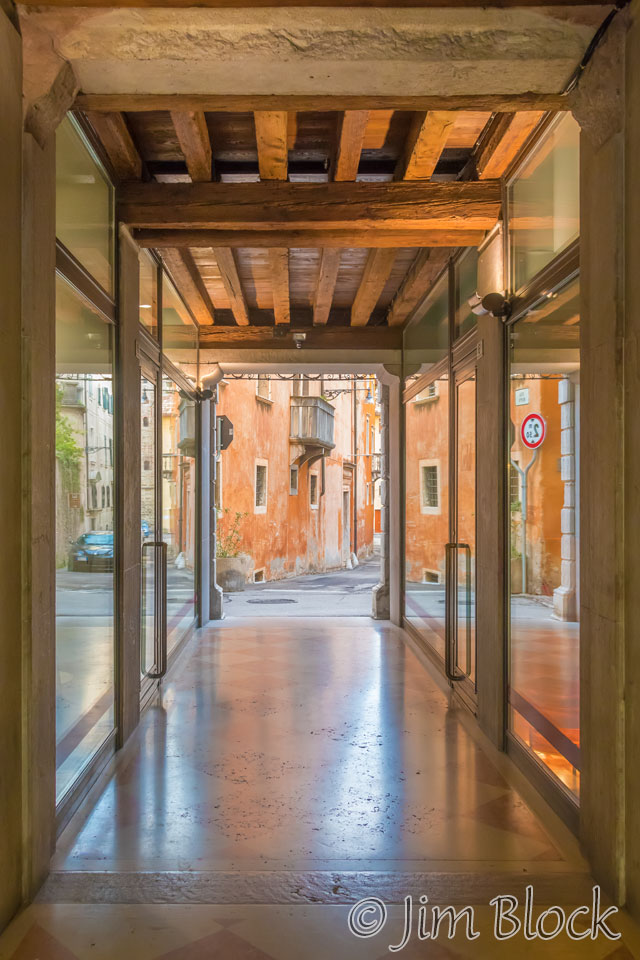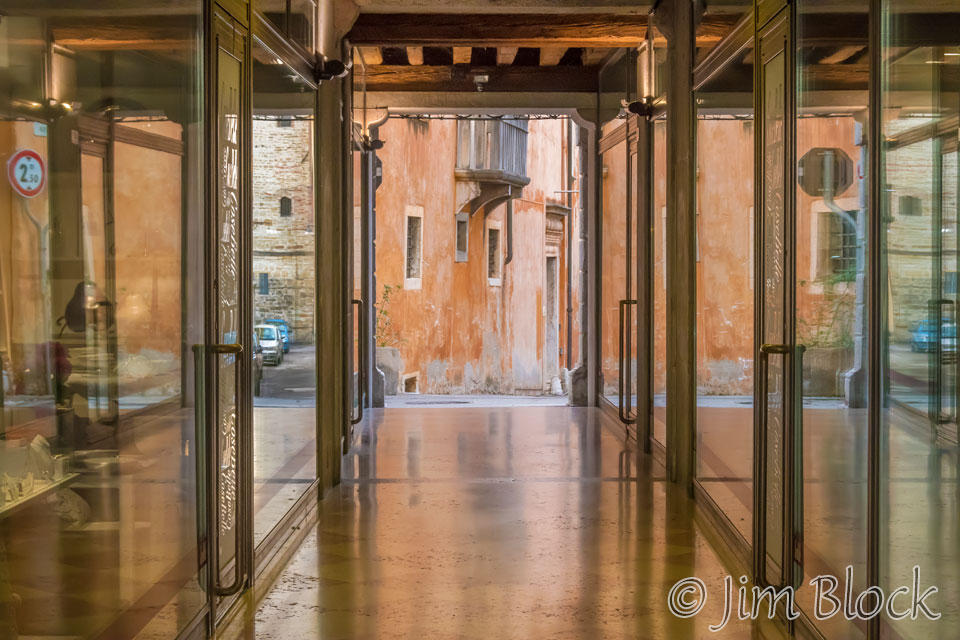 Below are two 360° panoramas taken with my iPhone. Phones have gotten amazingly good at making photographs.

The slide show below has additional photos I got between 8:00 and 8:15 as I wandered the streets of Belluno.
I captured a man riding his bicycle as he sped by me.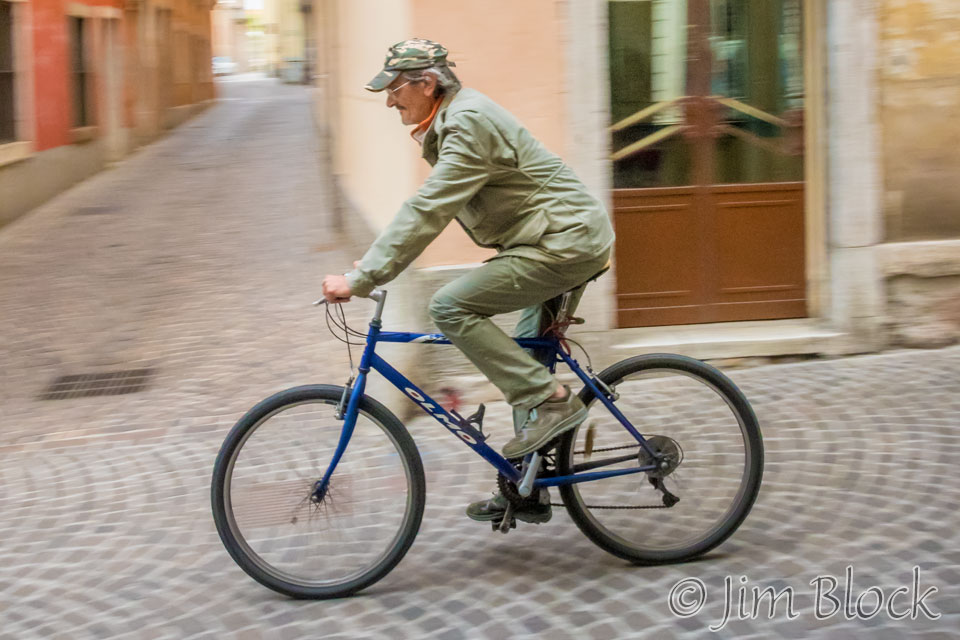 Outside our hotel the courtyard was slowly getting unclogged as cars were being moved out. There was a group of bicycle riders preparing to head out for their day's ride.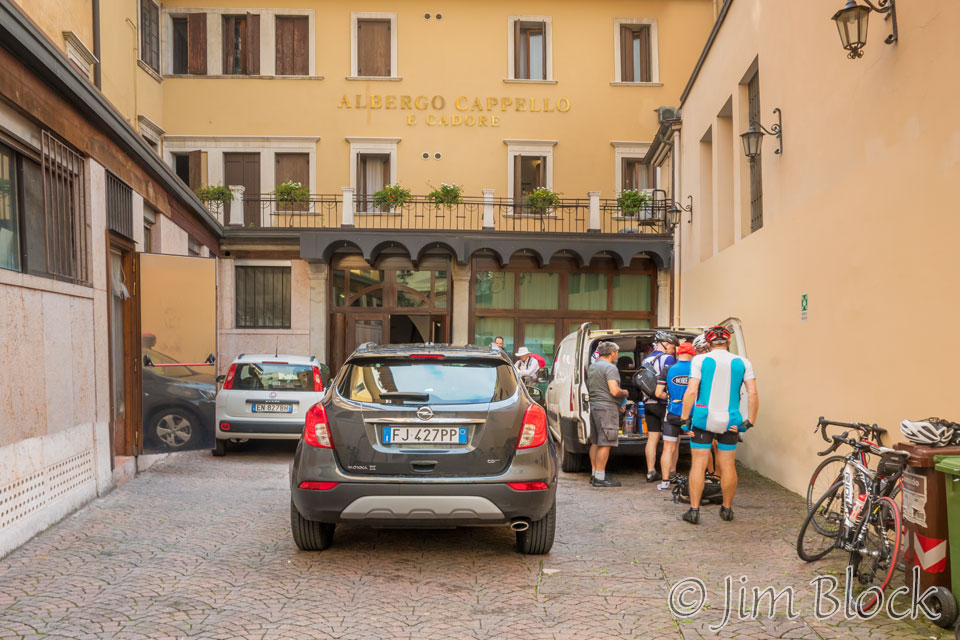 There was also a group of motorcyclists who had parked in this area and were staging to leave.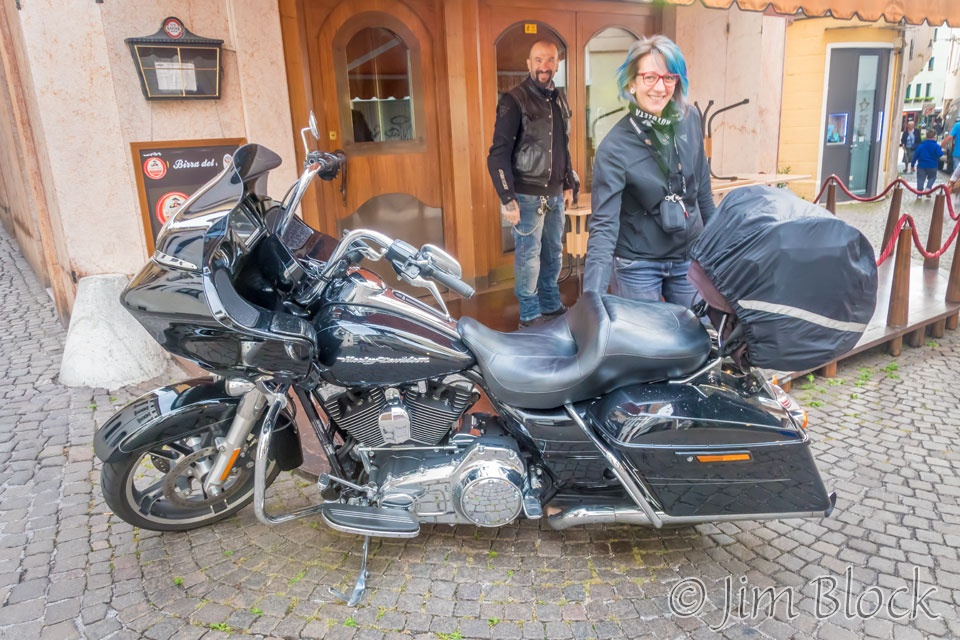 One of the women allowed me to get a nice photo of her.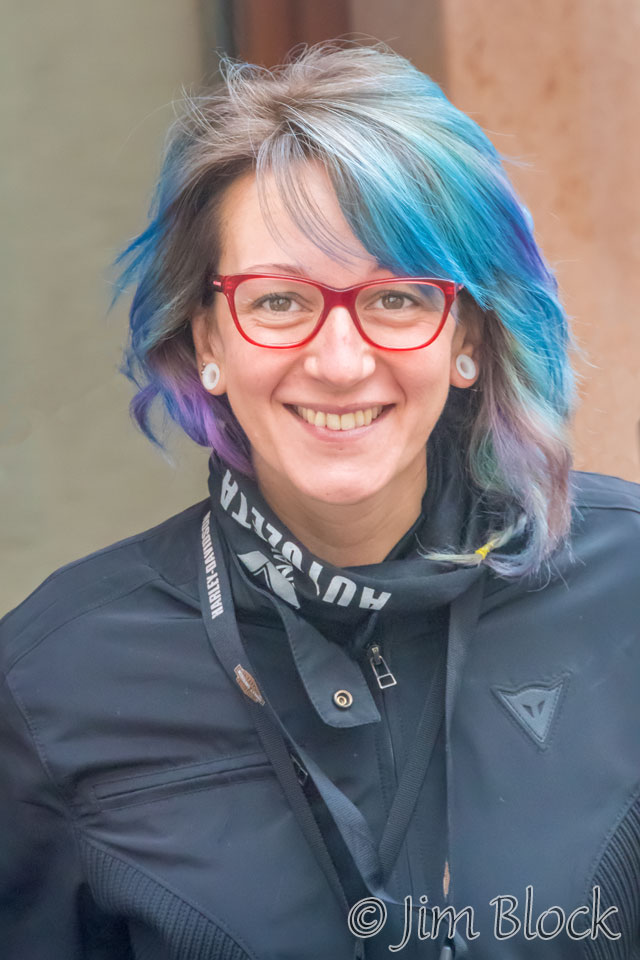 Below is a slideshow of photos I took of people in Belluno. It was interesting to see how many young women were wearing very ripped jeans. It must be the fad.
The streets of Belluno were paved with bricks in very interesting patterns. I was fascinated by them. Here are photos of some of them.
The taxi arrived and we were off toward Venice. Martin was sharing the cab with us. He would be dropped off at the airport. Jim would spend the night at a hotel near the airport so he could catch an early morning flight to Scotland to do some more hiking. Stephen and I would spend two nights in Venice before we flew home.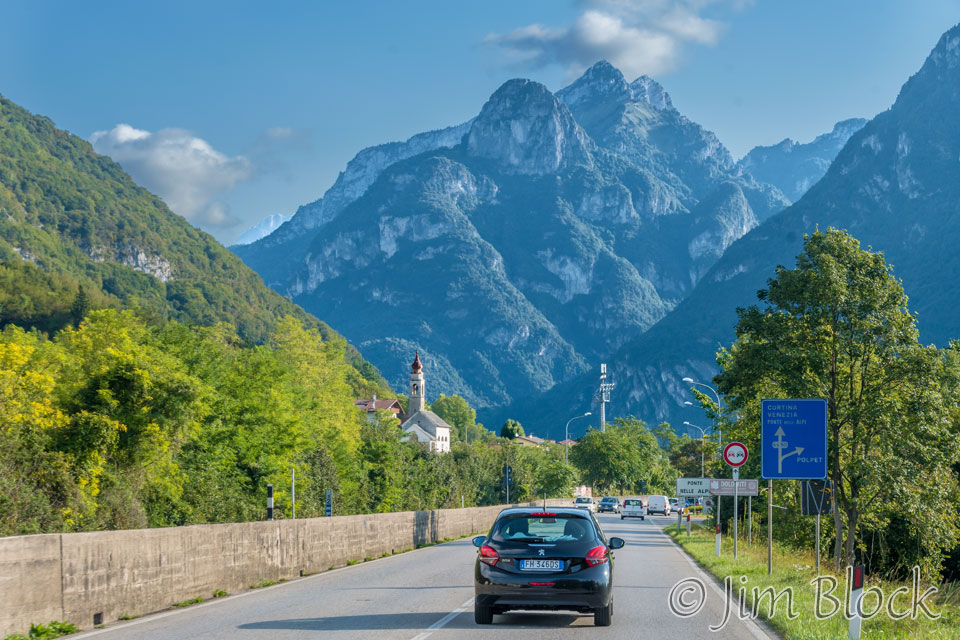 I took a photo of my scruffy beard reflected in the rearview mirror of our taxi.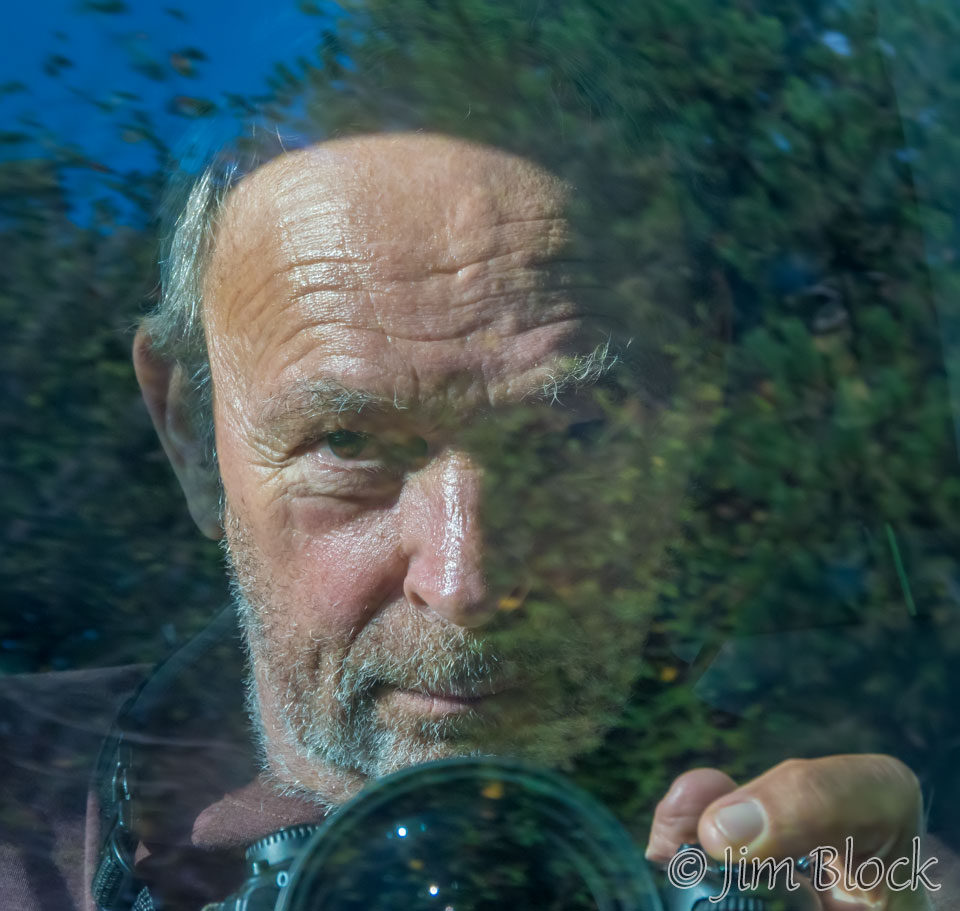 Belluno is a beautiful and peaceful city located in the mountains. It was quite different than the crowded excitement of Venice that was to come.