Taktsang, informally known as Tiger's Nest, sits on the edge of a cliff at 10,236 ft around 3,000 ft above the Paro valley.
Dhamey took us on a tour of Drukgyel Dzong early in our trip. To get there we passed Taktsang. It could be seen in the distance from the road. We stopped to get a few quick photos. That afternoon the light shining through the clouds cast a spotlight on the monastery in a very unique way.
In this photo I have tried to approximate the path to the Tiger's Nest monastery. Note that one climbs to an elevation above the monastery and then drops down past a waterfall before a steep climb up to the main structures.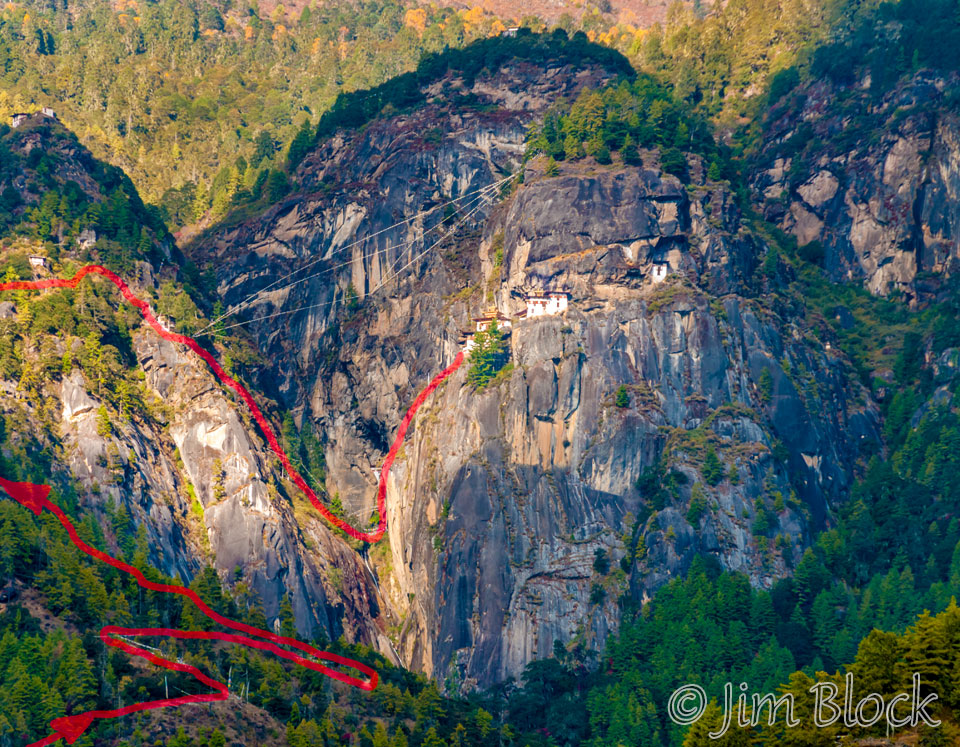 We skipped breakfast so we could hike up before the tourists and horses. This had pluses and minuses. The biggest negative was the early fog (and possibly also smoke from a nearby fire we saw the previous day) hid the monastery early on and partially hid it the whole morning. So I had a lot of work to do to make my photos look halfway decent. Even without the fog, the best light on Taktsang appears to be in the late afternoon.
We started up at 6:30 am accompanied by a crowd of local dogs. When we got back down shortly after noon, the tables in the background of this photo were filled with woman selling trinkets, jewelry, and other items.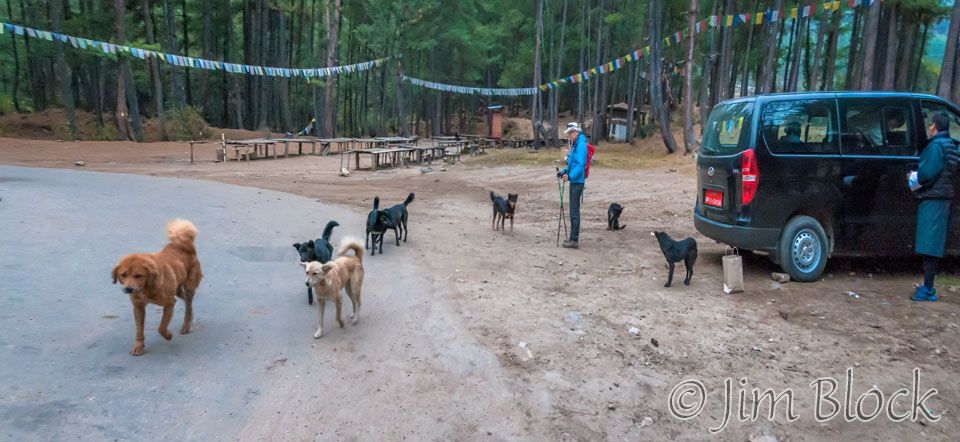 Less than an hour up we stopped for a bit of a snack of cookies by a huge prayer wheel. One can normally see Tiger's Nest from here as will be shown near the end of this page.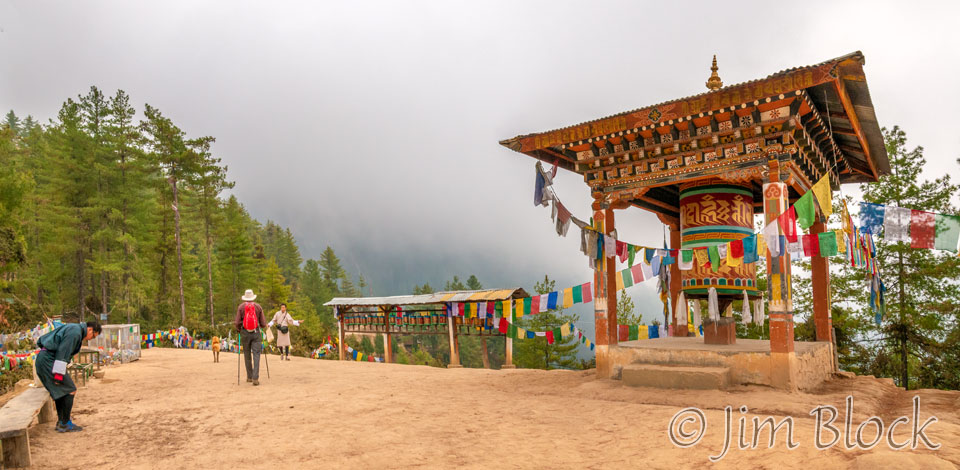 Kencho encouraged the dogs by sharing our cookies, not that they needed any encouragement.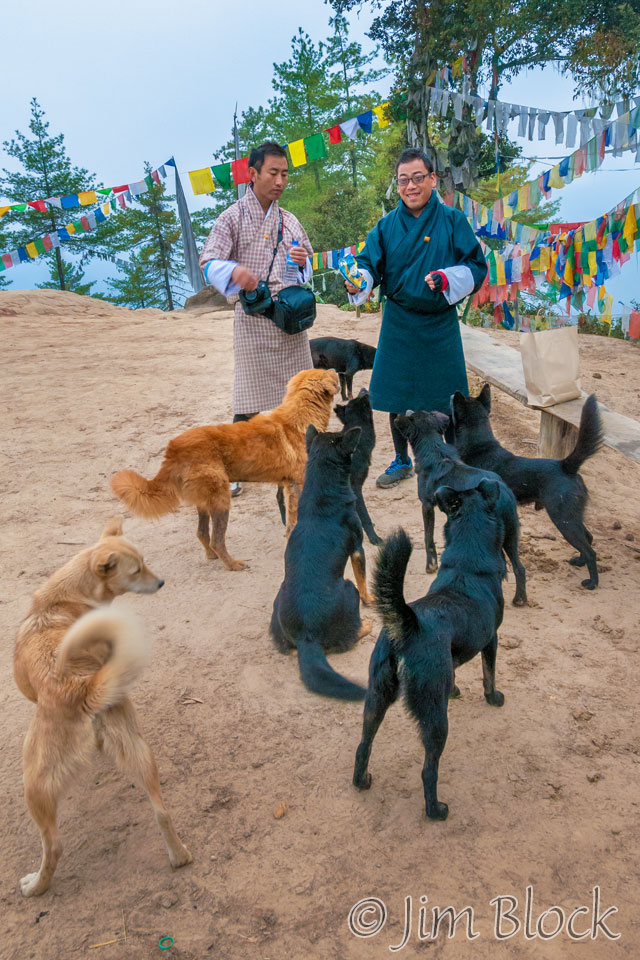 There was one advantage to the fog — the soft light made the forest quite beautiful.
Here are a pair of photos of our first view of Tiger's Nest. One "as shot" and one edited to increase the contrast.
Fifteen minutes later I was able to get this photo.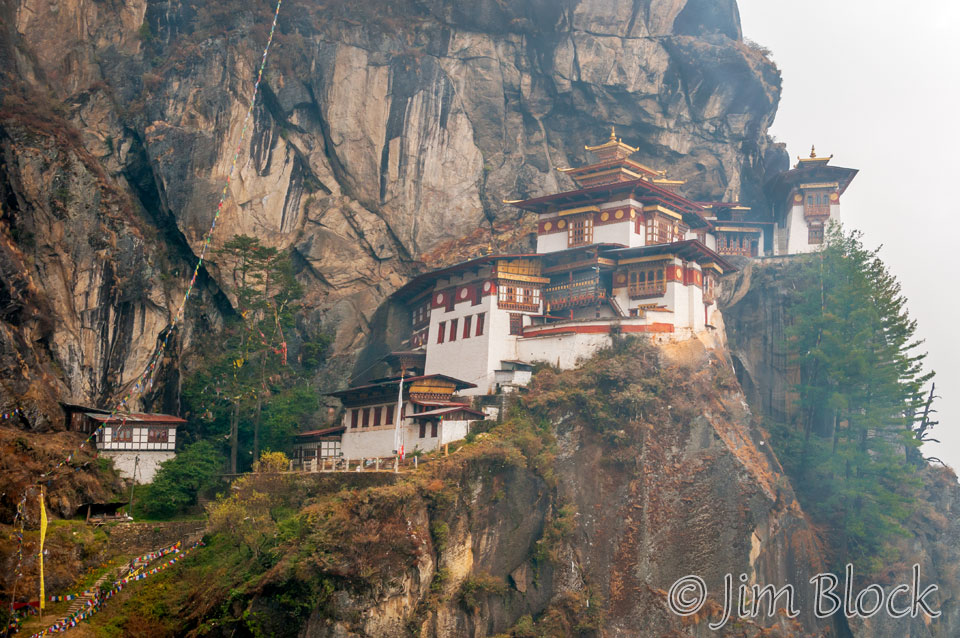 Here is another view of Taktsang in the fog taken a few minutes after the above photo. You can explore this image in more detail. You can double click to zoom way in and use the left mouse to pan around. You can also use the + and – keys to zoom and the arrow keys to scroll. Please wait for the resolution to download.
We reached a long set of stairs that led down to a waterfall. The stairway was filled with prayer flags which were also strung like telephone wires across huge distances.
We had to leave our packs, cameras, and phones at the entrance to the monastery complex. Like other temples and museums in Bhutan, no photography is permitted. It is a shame — there is so much beauty to show to the world. Before we could enter we were patted down. They are more serious here than any other spot we visited in Bhutan.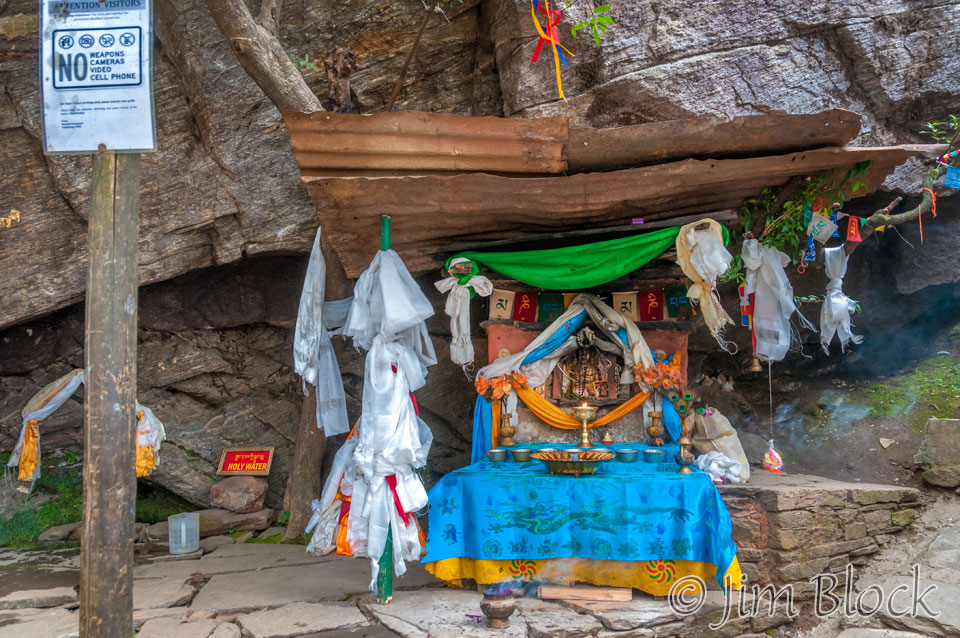 After our visit we ascended the stairs and I made a 10-shot image that you can zoom into and explore. If you zoom to the stairs below the temple you can see that others had arrived and are already departing — it was starting to get crowded. In the image below you can double click to zoom way in and use the left mouse to pan around. You can also use the + and – keys to zoom and the arrow keys to scroll. Please wait for the resolution to download.
Below are two more photos from the top of the stairs that you do not have to zoom into. You can see people near the monastery.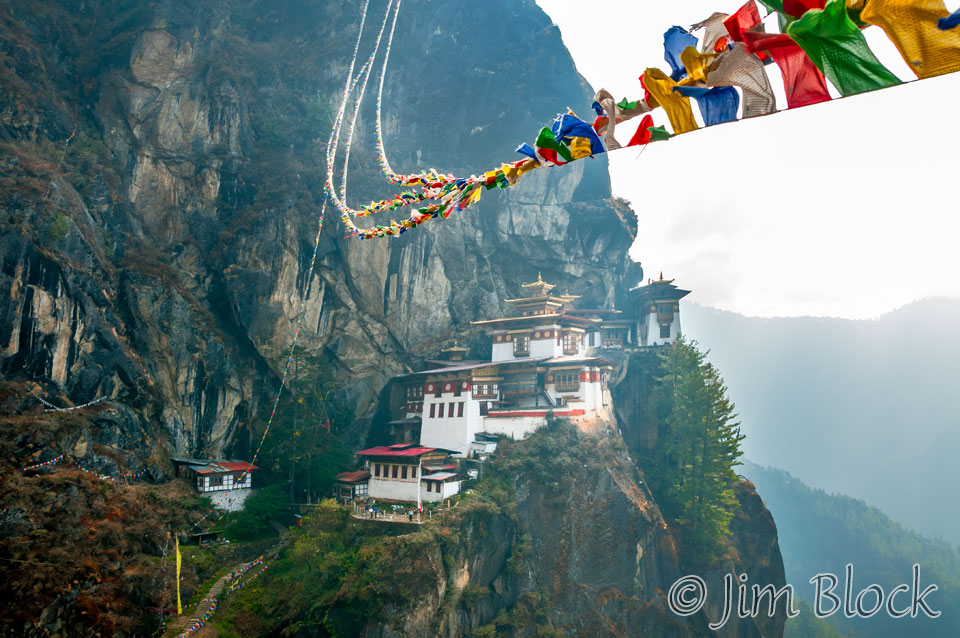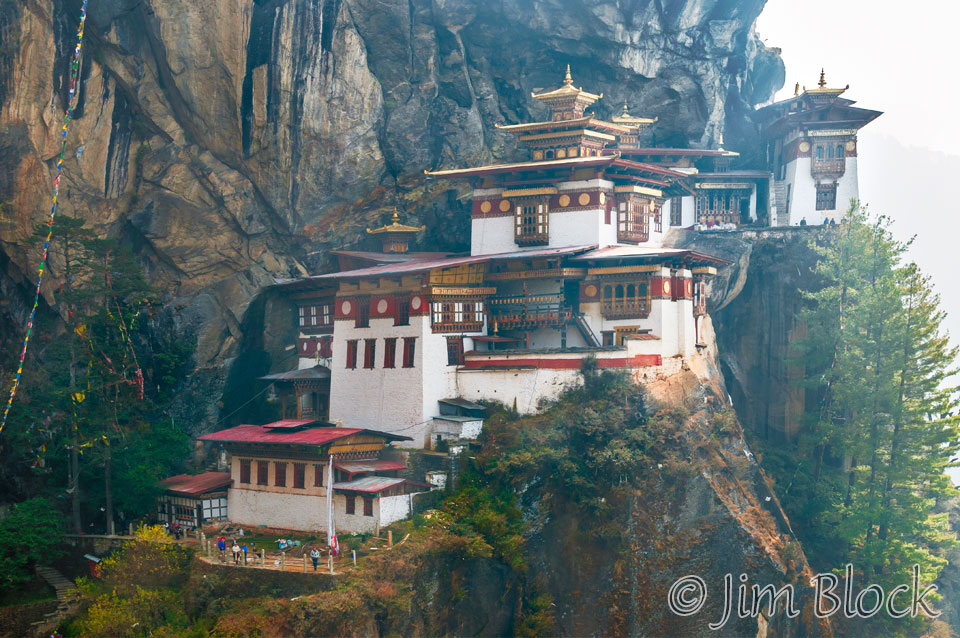 We took a different route back which gave us a view of Tiger's Nest from above. Unfortunately, this caused us to miss another vantage point that might have given clearer photos with less fog as it was beginning to clear.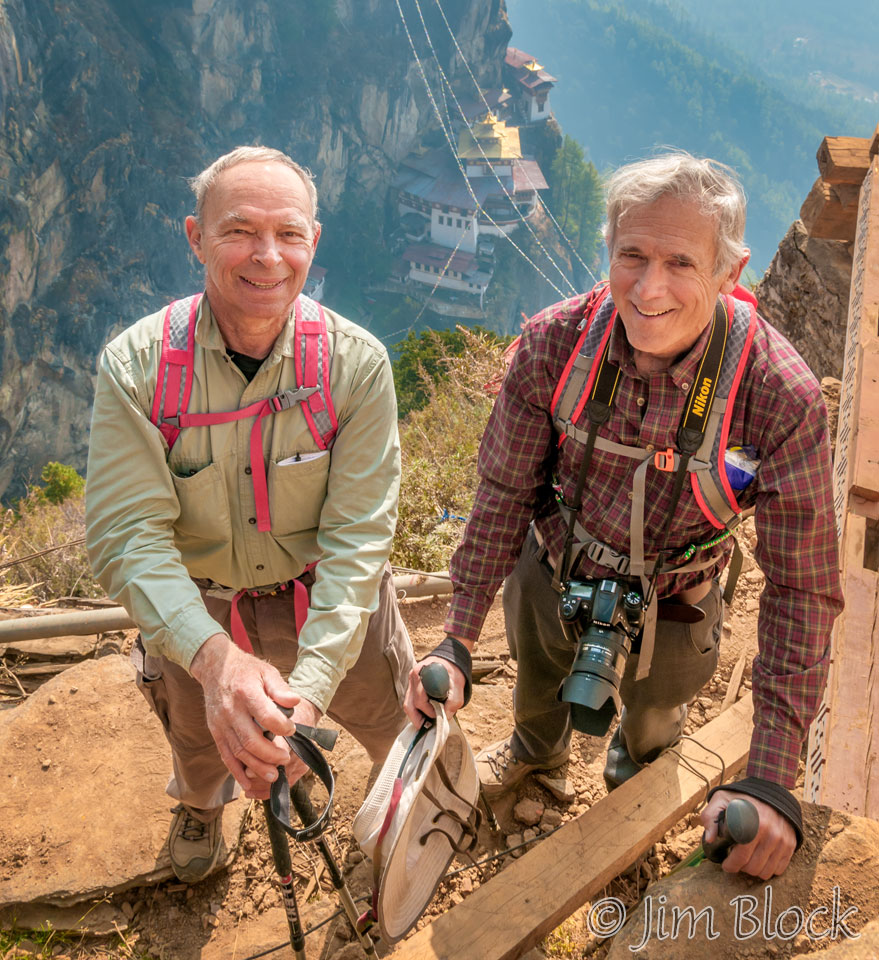 We were at an upper temple that was being rebuilt. This gave us a chance to witness the construction of compacted mud walls common in Bhutan.
We reached the main path and headed down as the sun was breaking through.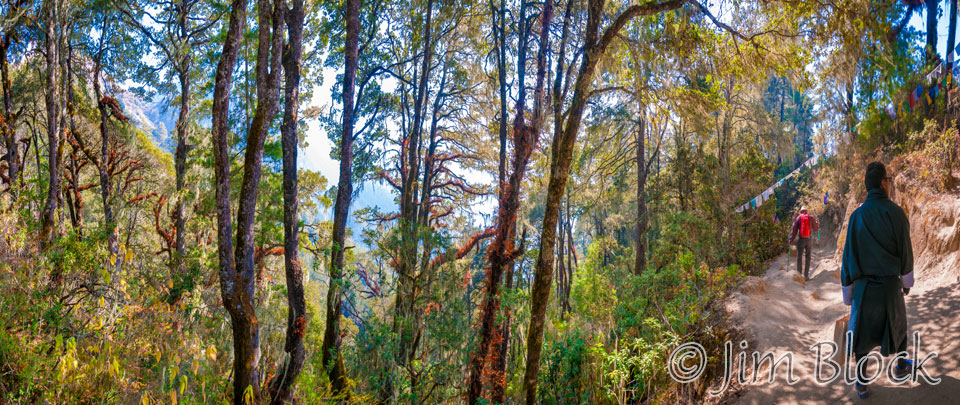 We met people travelling up by horseback. The horses just gets them to the top of the long stairways. From there they are on their own. The horses travel back downhill without passengers.
I got a final photo of Tiger's Nest from part way down.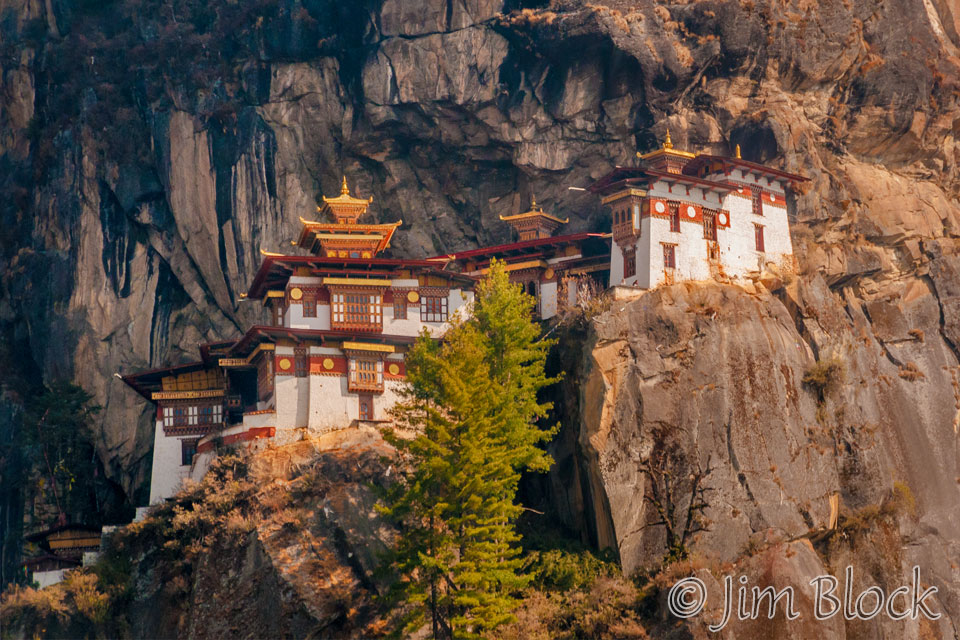 Tiger's Nest sits on an impressive cliff. Near the bottom of the path we found a nice waterfall.
We visited Tiger's Nest on the last full day of our trip to Bhutan. We had spent many days at altitudes above 12,000 feet and had hiked as high as 16,000 ft. So the 10,000 ft altitude of Tiger's Nest was no problem for us. But many tours foolishly take their clients up to Taktsang the day after flying from sea level. When this happens people with altitude sickness might need special help, as seen here.