The Hanover Conservancy, the Hanover Town Library (aka, the Etna Library), and the Hanover Historical Society co-sponsored two outdoor programs about the historic Wolfeboro Road. This road was first laid out in 1772 for the convenience of Governor John Wentworth so he could travel across the Province of New Hampshire from his summer home in Wolfeboro to Hanover for a Dartmouth commencement. The second of these programs was held last Sunday.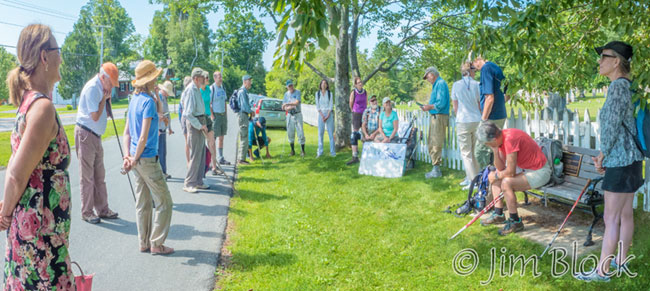 We met on the Hanover Center Parade Ground where historian Ed Chamberlain recounted part of the fascinating story of Stephen Burroughs, an infamous counterfeiter and con man. He was also a schoolteacher, library founder, horse thief, and author. Robert Frost wrote a preface to the 1924 edition of his memoirs. Stephen Burroughs grew up on a farm in Hanover Center where Ed has lived for almost 50 years. In Hanover, Burroughs was know as "the worst boy in town". Ed is at the far right in the photo below.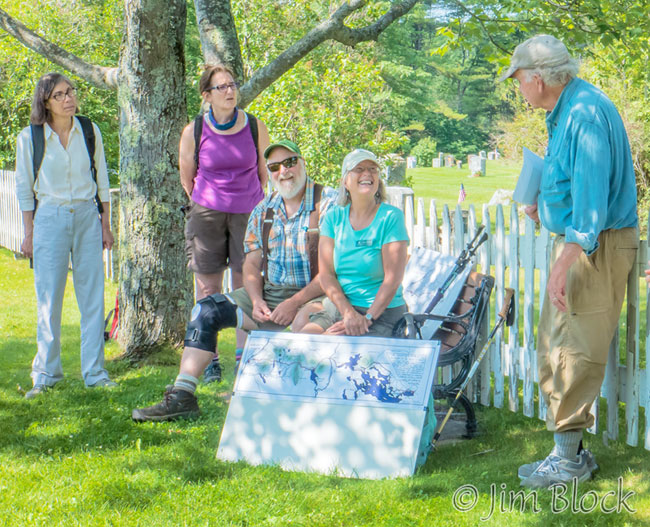 After Ed finished his entertaining talk, we set out to hike the sometimes-muddy Wolfeboro Road over Moose Mountain. We visited Ed's beautiful yard and headed uphill past his Upper Valley Land Trust Conserved Alswell Farm land.
We had lunch at the col where the Appalachian Trail crosses just below North Peak. Our leader, Adair Mulligan, Executive Director of the Hanover Conservancy, asked if I would take a photo of the group. The light was terrible — very sunny all day and very contrasty in the woods. Nonetheless, I set up my camera on my backpack and, in jest, told the group they would have to stay in place until a cloud covered the sun. About 15 seconds later … a cloud covered the sun! Sometimes one just gets lucky. Here are the dozen of us that crossed the mountain.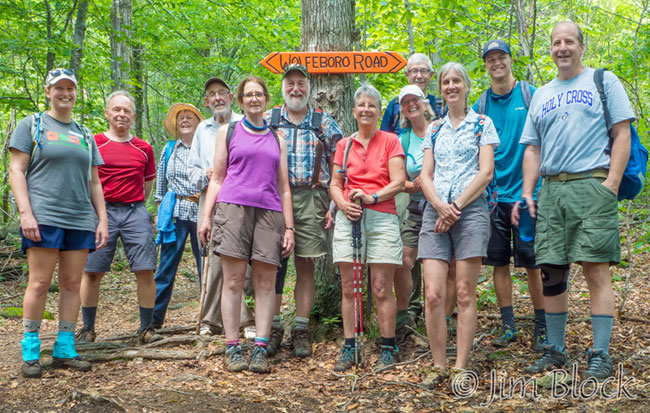 We headed down a steep, very wet, and muddy road with deep ruts and boulders everywhere. Then we heard the sound of a jeep coming uphill toward us. We couldn't believe it and certainly could not believe it could travel up to the spot where we stopped to watch it struggle up hill. But it did make it past us. And then came another, and another. I believe there were 8 in all. Here is a brief slide show of the craziness. They do it because they can, but maybe they should not be able to do this here.
We detoured off the road a bit and found some cellar holes from long-ago inhabitants. At the spot of the second photo below, two of us got hit by a bee, or similar. I got the photo quickly before warning others away. My leg was swollen for days.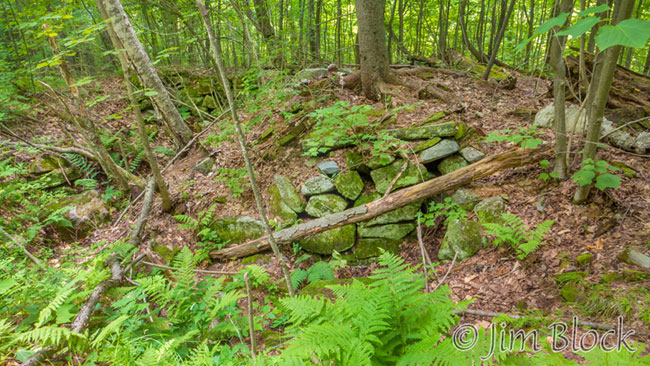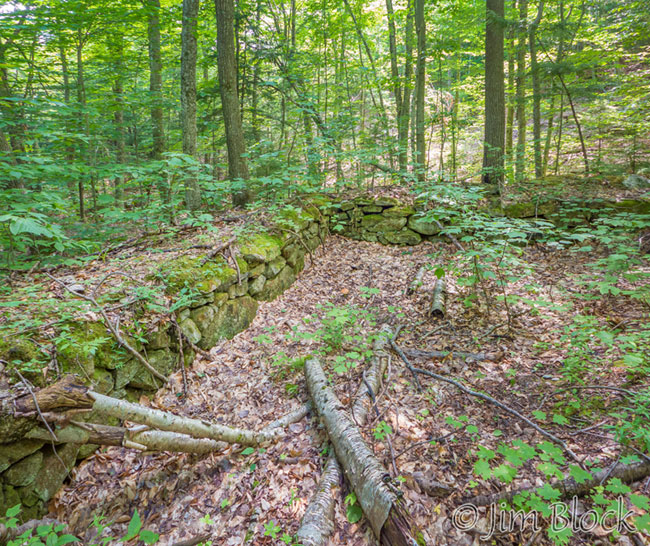 Reaching the part of Wolfeboro Road that can be readily navigated by normal vehicles, we visited a farmhouse owned and beautifully restored by Barbara Fildes and Keith Quinton. They also own and have restored the historic Tunic District Schoolhouse that we would visit next. Our shoes were way too muddy to go inside but I got a photo of the farmhouse room from the doorway.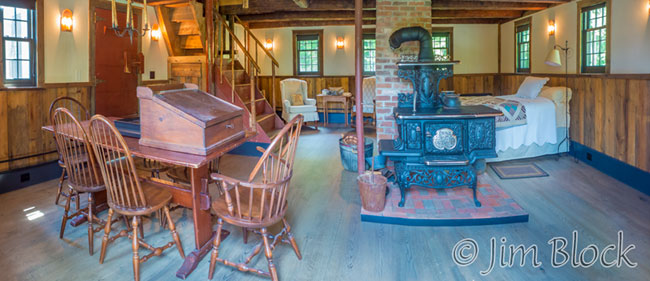 Barbara showed us a few things she recovered from this room before the restoration. One was an old penmanship course, something that is not taught anymore.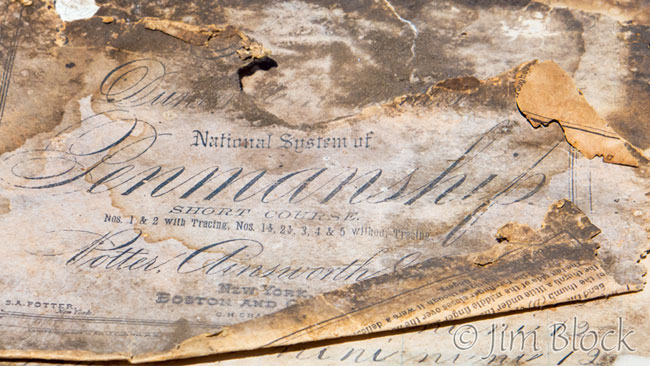 We walked down past the old cemetery to the schoolhouse.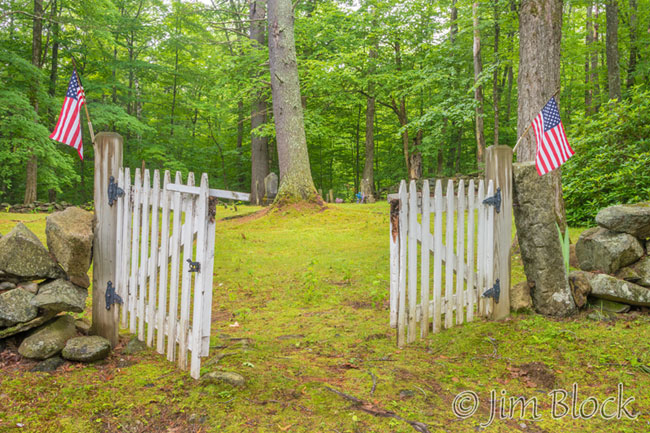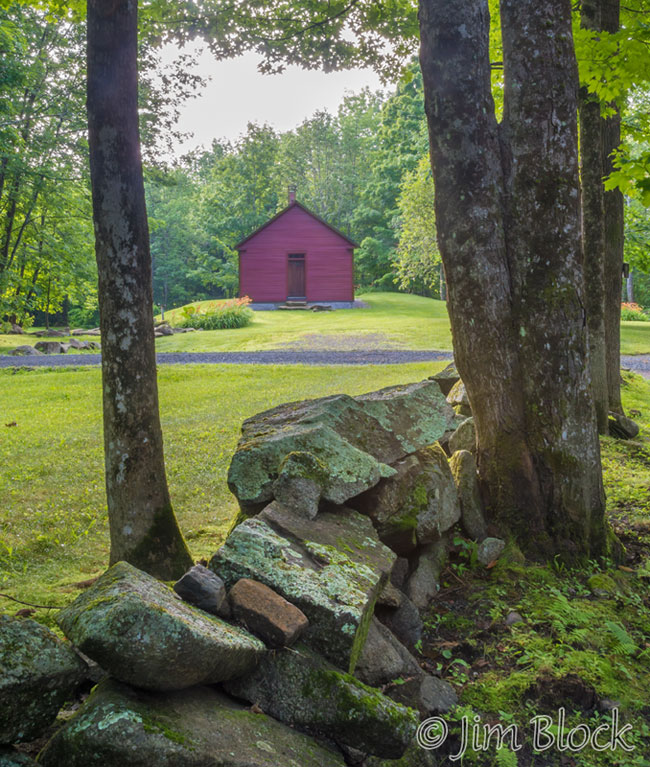 Tables, chairs, lemon water, and delicious cookies awaited us out back.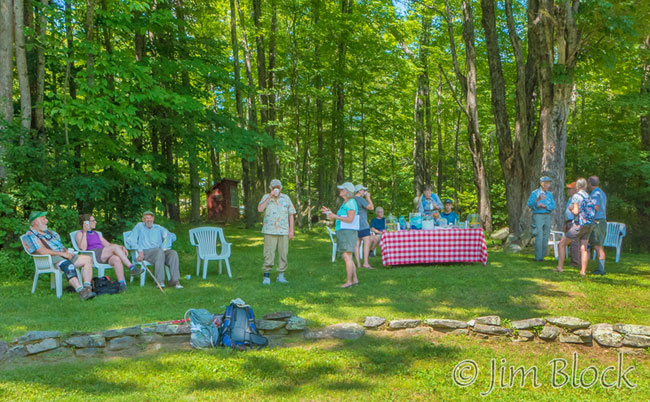 Here are more photos of the restored Tunic District Schoolhouse. You can click on any image to stop it and then step through them at your own pace.
And here are a few of the cemetery.