Late morning yesterday while driving along Route 11/103 in Newport, NH, I spotted Hooded Mergansers in the Sugar River. I parked, carefully crossed the busy road, and slowly approached the two pair.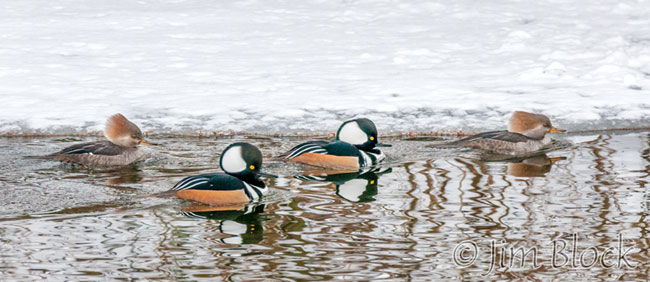 They swam back and forth with one female normally a bit away from the others.
Eventually I must have gotten too close, so they moved a bit upstream.
Early afternoon while heading home I spotted two Red-tailed Hawks sitting right next to each other in a tree near Route 4 in Lebanon. This is the same area where I have often seen one the last few weeks above the fields between Ruddsboro and Ice House Roads. Unfortunately, before I could get a photo of the pair, one flew. Here are distant, highly cropped photos of it departing.
But one remained and I was able to get a photo of it. This is the first time I have gotten a relatively clean shot of the hawk in this area. Other times the hawk has been hidden behind branches.
Speaking of hiding behind branches, earlier in Etna I found this turkey working on the crab apples in a tree.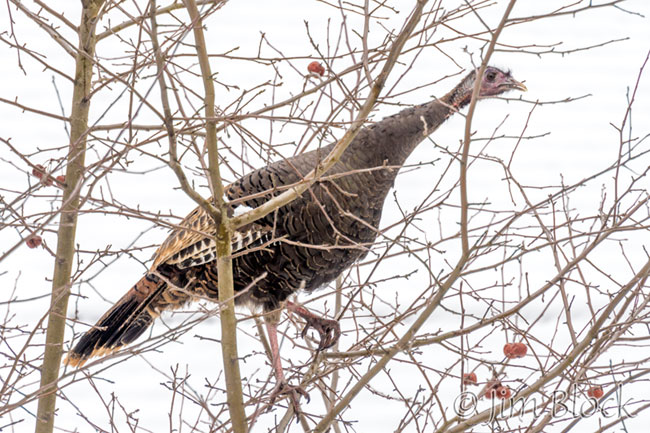 If you want to learn a bit about how your mind can fool you into "seeing" something that differs from reality, click on the Blog below on Perspective and Light.