Although many were disappointed with the colors this year, I thought the 2017 fall foliage season was quite colorful, at least in the parts of NH that I visited. Here are samples of the photos I took during a nine day stretch between October 3 and 11, 2017. Some of the days were filled with travel and photography while others days I just made a few photos of where I happened to be — sometimes on walks with Jann, my wife.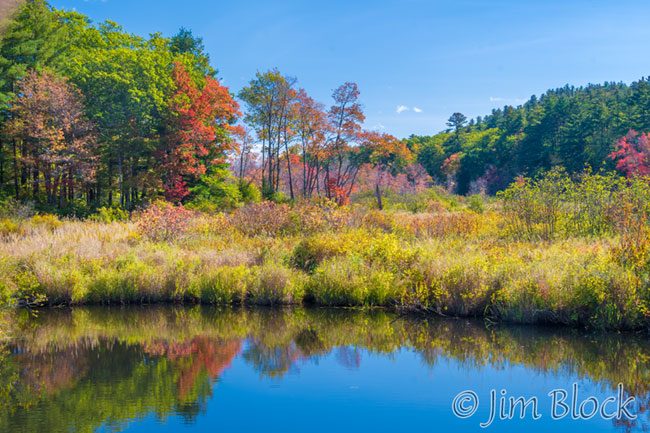 Tuesday October 3
For example we planned to visit Muster Field Farm in Sutton to purchase some vegetable and used this opportunity to hike around Lake Kezar. Above is a photo of Lyon Brook about a half mile before it enters the lake. Near the end of our loop, I took this photo of the sun over the lake and its one large island.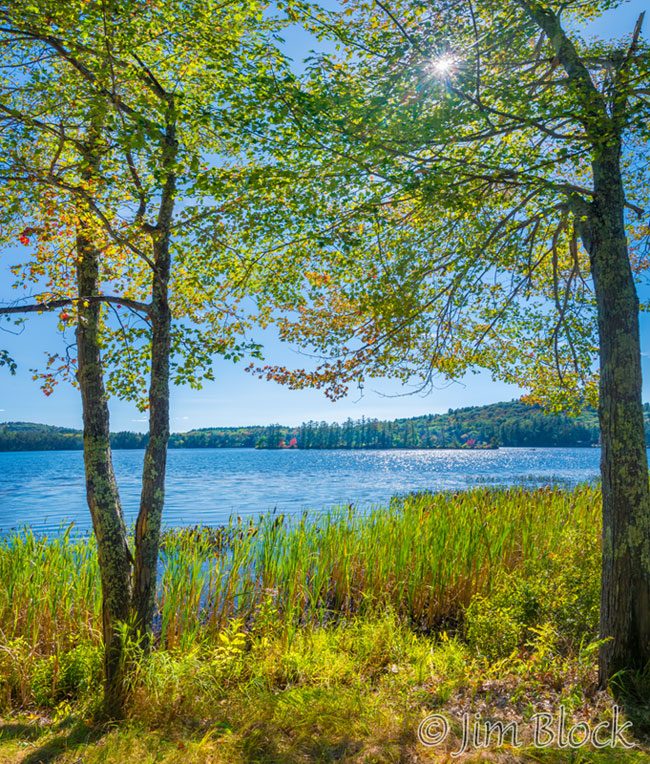 There were quite a few Monarch and Painted Lady Butterflies at Muster Field Farm. I'm happy to see Monarchs are making a comeback. Here are a few photos of these two species.
Wednesday October 4
The following day also just consisted of photography during a local walk. I photographed a farm with fog in the early sunlight and noticed some color in the clouds. I was seeing iridescence in the clouds.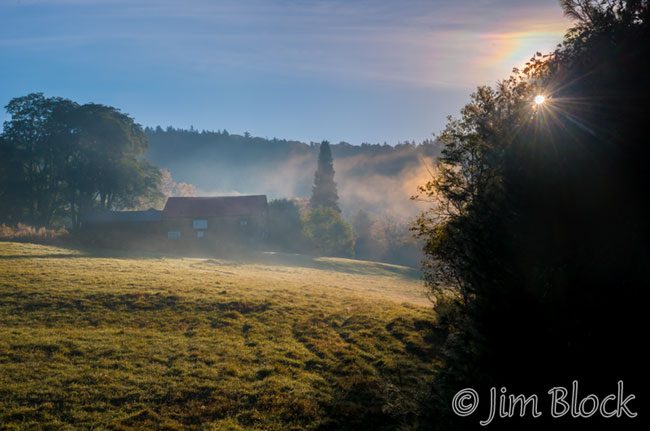 Iridescence is a diffraction phenomenon caused by small water droplets or ice crystals individually scattering light. The colors are usually pastel pinks, greens, and blues arranged in smudges or orderly bands, especially at the clouds' edges. The colors can sometimes be vivid as they were this morning. Here is a closeup of the clouds.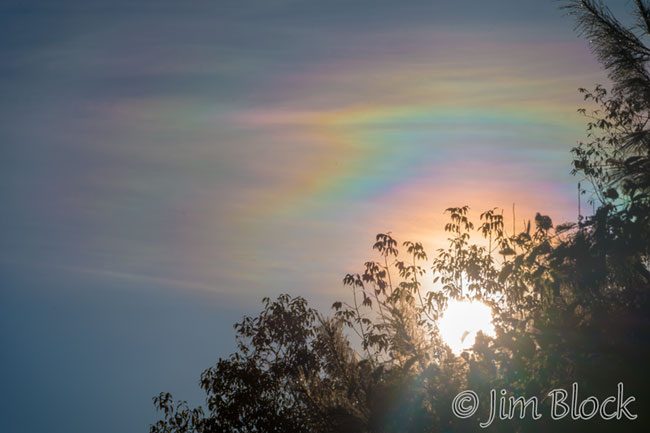 Thursday October 5
Another day started with a local hike with Jann. And again a scene that interested me was fog just as the sun hit the tops of the trees.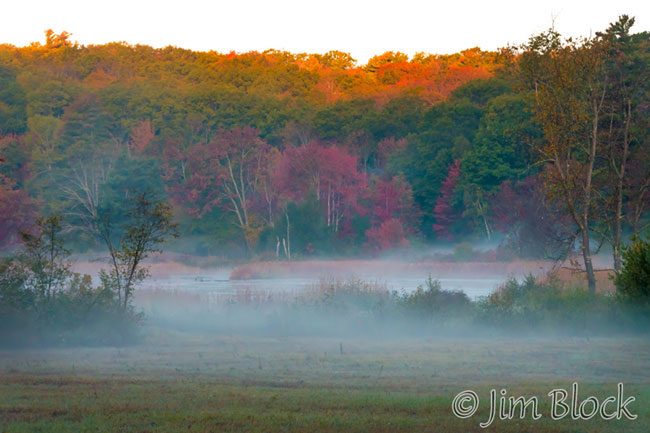 Even though it was a sunny day, often not the best time to photography foliage, I ventured out mid-afternoon. I got the photo below at 4:30 at the Danbury Bog.

Also at the bog I took a few 10-shot multiple exposure photos. Here are three of them.
Below are a few more photos I took the afternoon of October 5.
Friday October 6
The forecast predicted clouds so I set out well before dawn hoping for a nice sunrise at a favorite pond in Kinsman Notch. As I approached the pond I was greeted with a sign that said, "Fire Scene Ahead No Stopping". So much for that plan. So I hustled east through Lincoln only to be delayed by many cars with flashing lights going very slowly. Eventually I was able to pass. They were protecting folks riding to raise money for cancer research.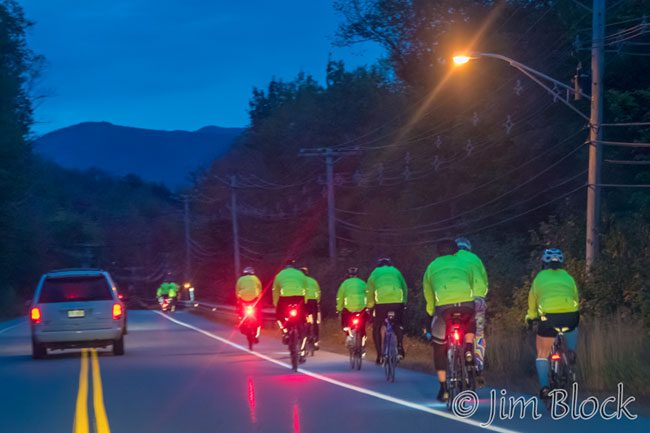 I finally arrived at the first good east-facing lookout along the Kancamagus about 30 minute later than I would have liked. I much prefer to arrive for sunrise well before the sun rises above the horizon. But I made the best of it.

There was another photographer present. He set up his tripod and only moved it once the whole time I was there. I decided to work the scene and see what I could get from different spots and with different framing. Here are a few of the photos I took.
I made my way down to Lily Pond and got this image.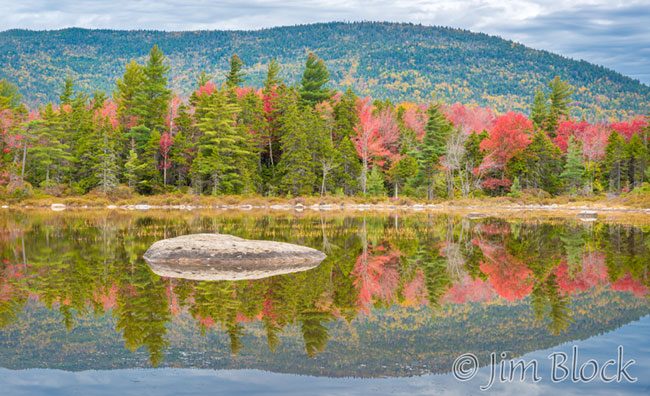 The Sugar Hill Vista provided another nice, though common, place to stand. I prefer to find my own spots and not take photos from where other photographers do. Nevertheless, I was there, so here are a few photos I took.
I stopped at some of the "tourist spots" along the Swift River and made some photos. Here are a few.
The tour buses were starting to arrive. I headed to the Albany Bridge area, but since I'm not all that into covered bridges I only took a few photos. Here is one.

It started to rain and I foolishly headed to Conway. I have learned from experience that the road from Conway to North Conway can be stop and go and stop. I got some coffee, checked a weather app on my phone, saw the band of rain was moving SE, and decided to head NW. I went back the Kanc a bit and then up through Bear Notch. I certainly was not going to try to get to the Crawford Notch through North Conway — that could have taken all day.
Along the Bear Notch Road I got a few photos of the Crawford Notch area.
In Crawford Notch I took a few photos most do not see or just pass by.
Then I took a photo of Willey Pond where almost everyone stops.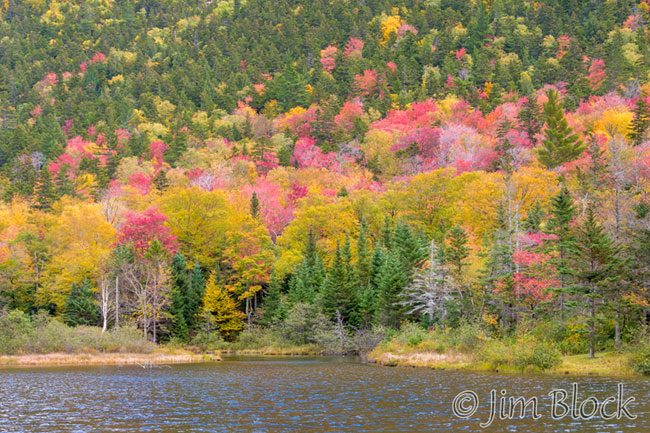 And another of Silver Cascade, a beautiful spot even when there is little water in the cascade.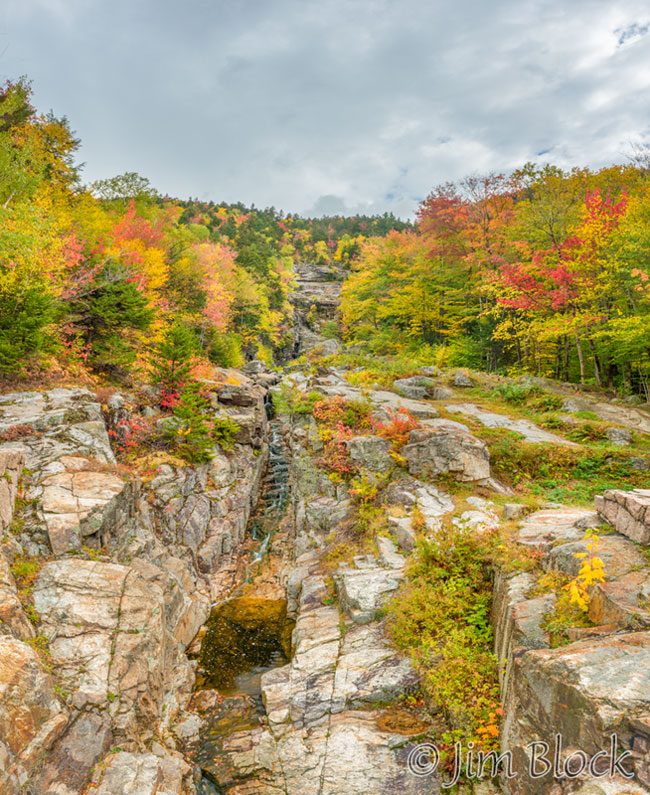 Then it was on to one of the most fun, and most dangerous, swimming holes in NH. I dived in many years ago with my family and then found our car would not start. A good soul gave me a ride to Twin Mountain. After some help, we drove home, picked up our second car, drove to the car repair place, dumped the car, and headed home. We hoped the car with the bad starter did not stall during the process.
Here are three photos of the Upper Ammonoosuc Falls area.
About 3 miles downstream are the Lower Falls of the Ammonoosuc River. They are not nearly as dramatic, but nice none-the-less.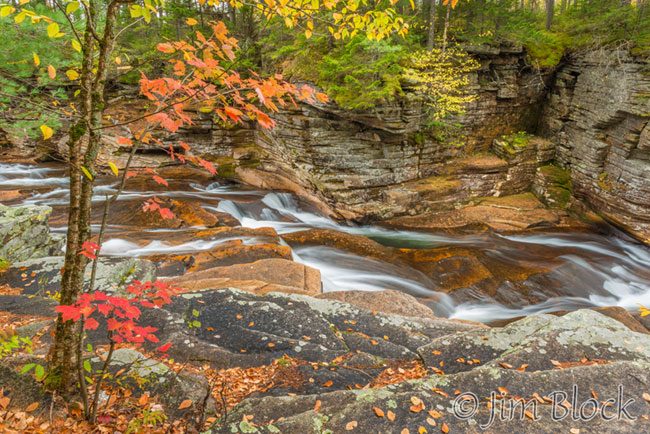 The final stop for the day was Coffin Pond in Sugar Hill. This is a beautiful spot that I only discovered a few years ago.
Saturday October 7
I was scheduled to hike the Sunapee-Ragged-Kearsage Greenway with a group this day. But since we were not meeting until 9 AM in Andover I used this opportunity to make some photos along one of my favorite roads for fall foliage, Route 4A. Here are three favorite spots.
In Andover I took some photos of the Blackwater River, all taken well within a mile of 4A.
We hiked SRKG Trail 7 over Bog Mountain. This is a favorite hike of mine on the Greenway. It has a great variety of habitat and is quite beautiful. The day was sunny so I took few photos in the woods. Here are a few I took on our hike.
Sunday October 8
This was a day to take an early walk with Jann and then try to catch up on editing my photos from this fall, a September 9-day hut-to-hut hike in the Dolomites, and a May trip to Iceland. So far I have only gotten to less than 25% of the photos from those trips. I played with some more multi-exposures during our walk.
Monday October 9
Another day staying close to home and taking a few photos during our walk — this time in the afternoon.
Tuesday October 10
The third day in a row with just a walk and a lot of trying to get caught up editing images. One shot of a tiny falls on Mink Brook.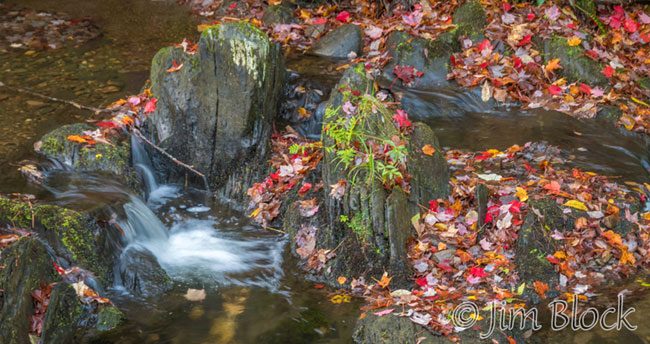 Wednesday October 11
I finished this nine day period in great style — some early photos at Lake Mascoma, a leisurely drive to Haverhill, NH, and a great hike up beautiful Black Mountain.
I did not need to arrive at the trailhead for the hike up Black Mountain with an old friend and a new acquaintance until mid-morning, so I headed to Lake Mascoma hoping to get some sunrise photos. I was not disappointed.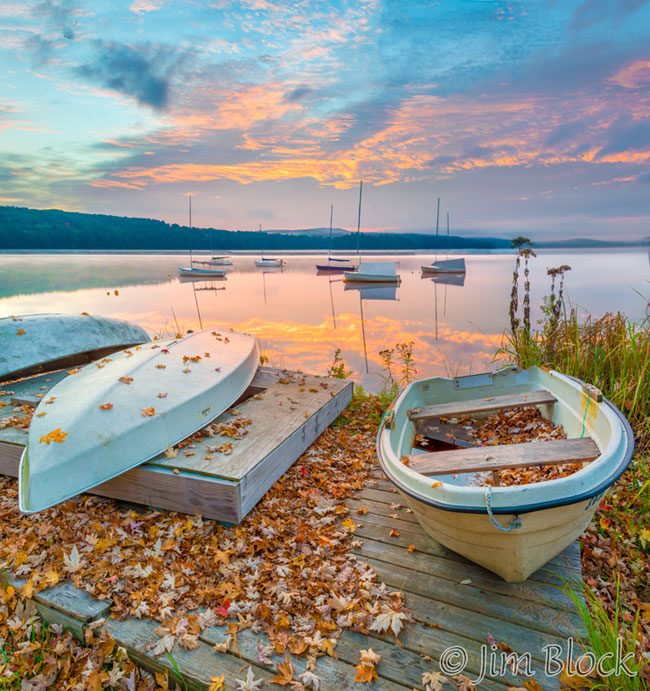 After a few photos, I heard voices down the shore a bit. It was four photographers who had parked a big black car with NY license plate in the lot. They set up in one spot and did not move the whole time I was there. I guessed they liked the scene of just the sailboats and the sky as the light changed.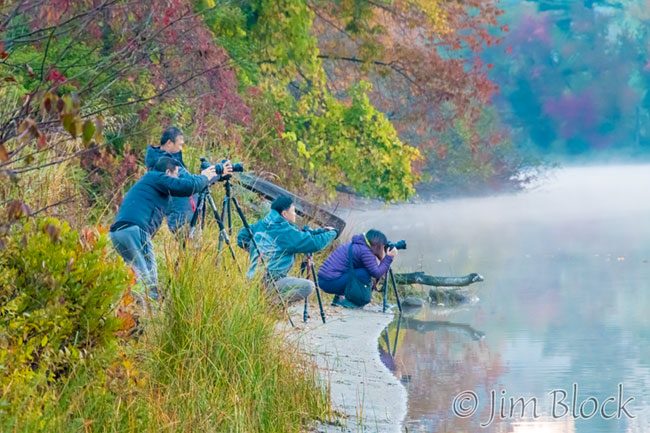 But I like to work the scene and get a variety of different photos. So that is what I did. Here are some of the ones I took during the 15 minutes I was there.
I had an hour to spare on my drive to Haverhill, so I stopped occasionally to take some photos. I'm not that into barns, but it seemed I got a bunch on my drive.
I got to the trailhead with still some time to spare. My hiking partners were running 15 minutes late. So I put a note on my car window and headed to the old Lime Kiln that is in this area. This was the third time this year I hiked Black Mountain, but the first time it wasn't sunny. I wanted to get photos of the kiln under less contrasty conditions. Success. And I got back to my car just in time to meet the other two.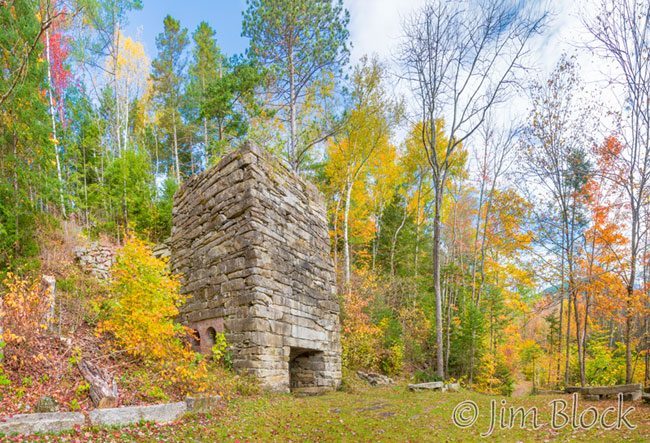 The Chippewa Trail up Black Mountain is a 1.8 mile hike to the summit with 1700 feet of elevation gain. It features a beautiful forest, a number of lookout points, and some interesting geology (neat rocks and ledge). Here we are at the first viewpoint looking south.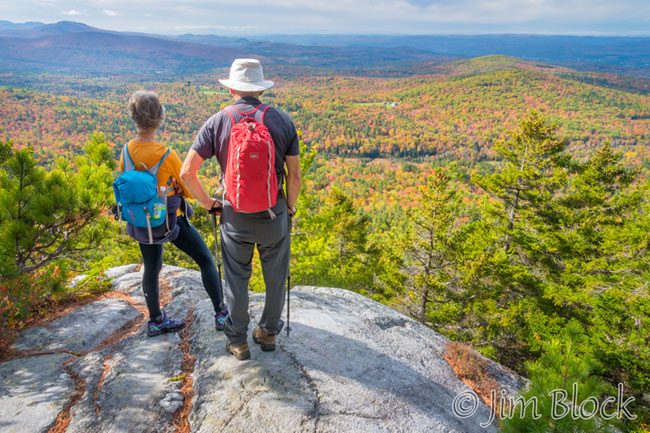 From the next viewpoint, which looked west, I zoomed in to North Haverhill to get a photo of the farmhouse of friends. You can see a piece of a huge oxbow of the Connecticut River at the top right. The very top edge of this photo is NH, but the green fields on the left just below the top are in VT, and the rest of the image shows NH.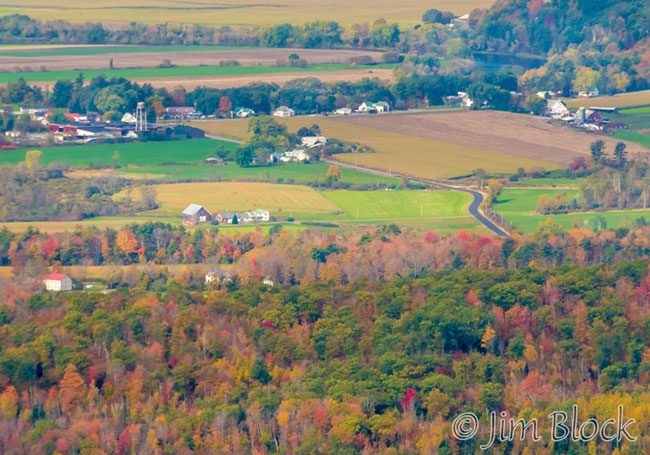 There are a lot of blueberry bushes on Black Mountain and they were in their typical fall color — blaze red. The distant mountains at the top left are (L to R) Moose, Smarts, and Cube. The Appalachian Trail crosses all three.
The photos above and below were taken from a large broad viewpoint a short distance below the summit. The broad mountain in the back of the photo below is Moosilauke at 4,803 feet, often considered the southern most of the White Mountains the Appalachian Trail crosses.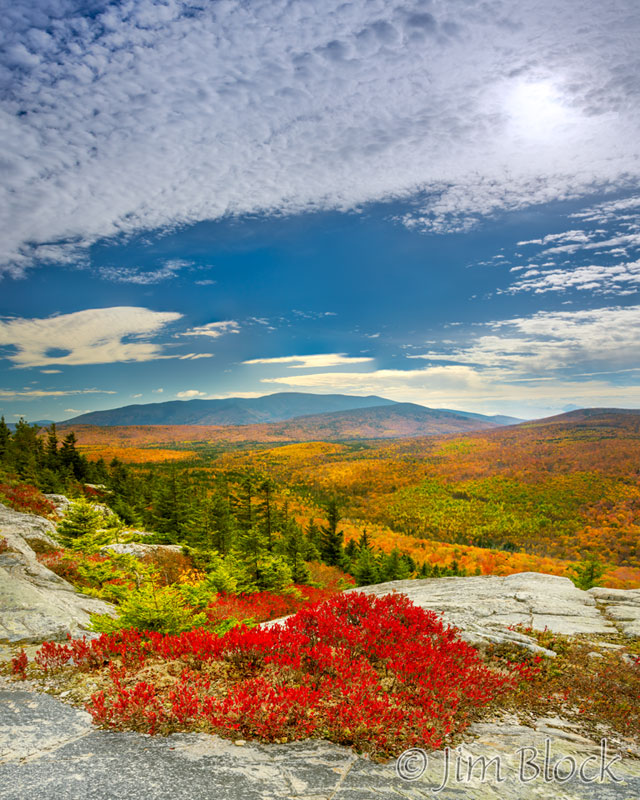 The photo below from the same lookout shows the summit of Black at the top left and Moosilauke at the top right. One has to drop down into a small notch before again ascending to reach the summit.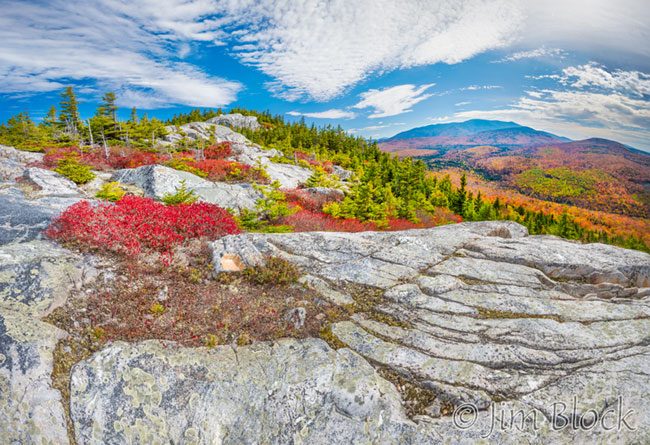 When we reached the summit we had a few minutes of dramatic light. I zoomed in on Mount Cardigan in the distance.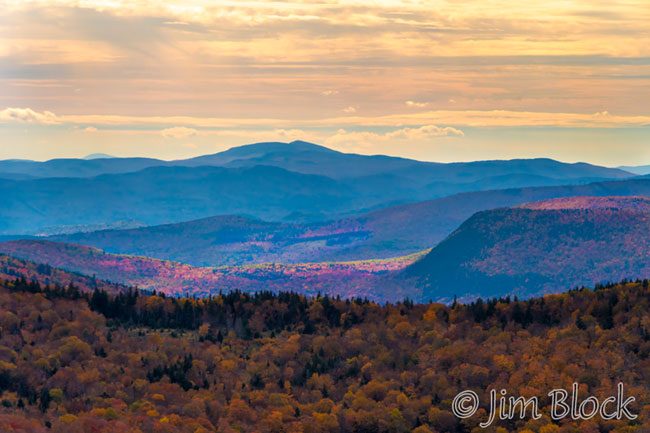 The view from the summit goes from northeast to south. The photo below was taken from the summit during an October 2, 2017 hike.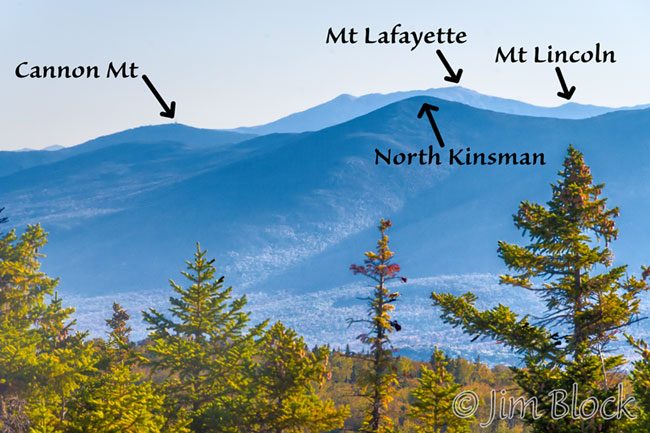 Also from October 2, this view is from just below the summit.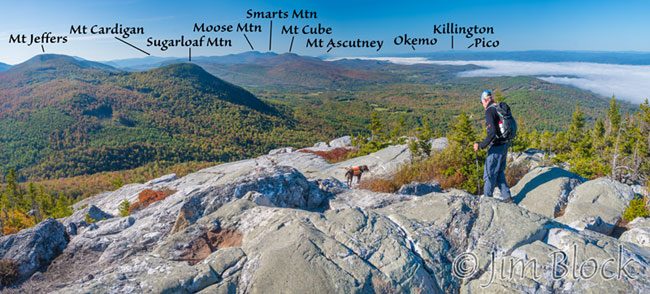 If you read this far you might enjoy seeing my blog on the Last Week of September along Route 4A.