At 8:43 pm on August 5, 2015, Brian Boland, balloonist extraordinary, set an amazing record. He surpassed 10,000 total hours aloft in a hot air balloon, somewhat after the sun set behind the Vermont hills. He is possibly the only person to ever achieve this milestone.
This is a belated account of Brian's record-setting flight. I did not post it earlier because I needed to wait until the pictures I took during the event for a magazine assignment were published.
The magazine story I was assigned to photograph was not actually about this flight – they didn't even know it was going to happen. Neither did I, until around noon the day of the flight. Plus, I was over 90 minutes away from the Post Mills Airport in Vermont when I learned about the possibility of Brian reaching 10,000 hours.
I arrived at the Post Mills Airport at 5:35 pm expecting that Brian was preparing a balloon to lift off around 6 pm. My assignment for the Upper Valley Life magazine was to get a few photos of Brian with his balloon and, if possible, photos of him launching with some paying passengers. Brian had no clients that evening but he did have an apprentice, Jordan, who had just earned his ballooning license, and Jordan's girlfriend, Hillary. Brian said they could pose as passengers for me to photograph when they lifted off. During our early afternoon phone conversation, Brian mentioned his upcoming 10,000 hours aloft and said it would either happen that evening or the next morning.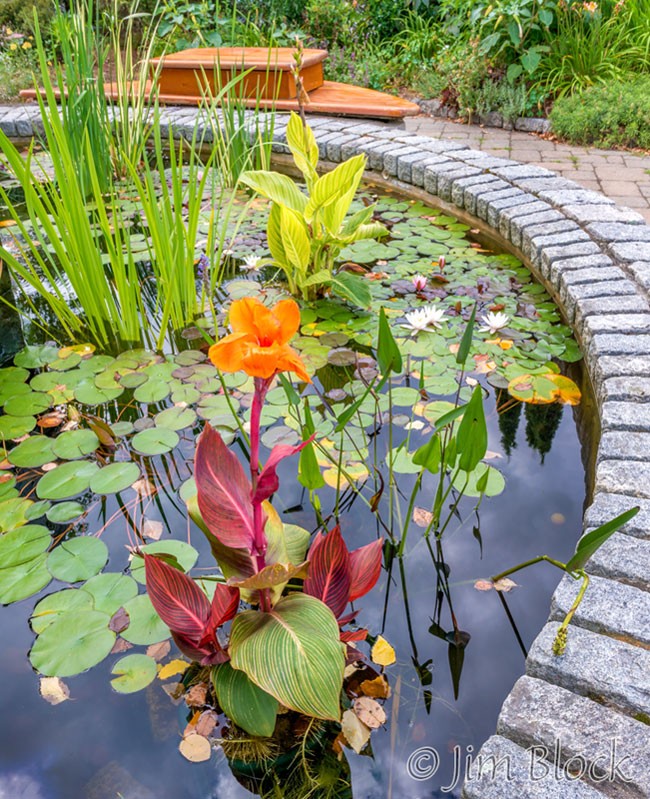 Earlier that day I had driven from Sunapee, NH to Hanover to photograph a Dartmouth professor for a magazine article. I was back in Sunapee and feeling a bit tired – photography is exciting and somewhat draining. I pondered that perhaps a trip to Post Mills the following morning would be fine. My wife, Jann, was unequivocal, she said, "Go now!" Of course, she was right. Plus my habit is to take advantage of opportunities as soon as they present themselves.
I drove to Fairlee and made good use of the few hours I had before I needed to get to the airport.  A local resort had wanted me to come to get some photos of their gardens for their web site, so that was my first stop. On the right is one of the photos I took there.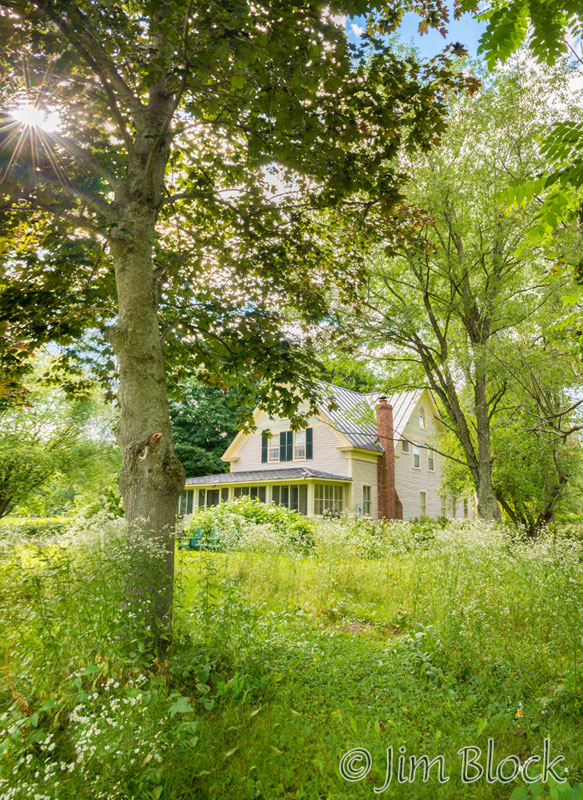 Next I stopped at a local country inn to photograph the first half of the magazine article on balloon vacations. That went well and I had a bit of extra time. I stopped by the shore of Lake Fairlee and had dinner – a small bag of nuts, if I recall correctly. Then I headed to the airport.
I got to the airport at 5:35 pm and nobody was around. I had seen a vehicle pull out just as I was arriving, but I didn't quite know what to make of that. So I waited somewhat nervously. Perhaps this was going to be a total bust. But I had driven this far, and I wasn't going to give up.
I spent the next 80 minutes taking some photos around the airport and along the road – basically killing time.  Below is the "Vermontasaurus", a whimsical sculpture constructed with scrap wood in 2010 by Brian and friends.
If you have not been to this airport and picture high fences and security guards, you will be in for a surprise. If you look closely at the photo above you might be able to make out the two young women who rode their bikes to the structure which sits at the edge of the runway.
I photographed this old barn across the road from the airport while waiting.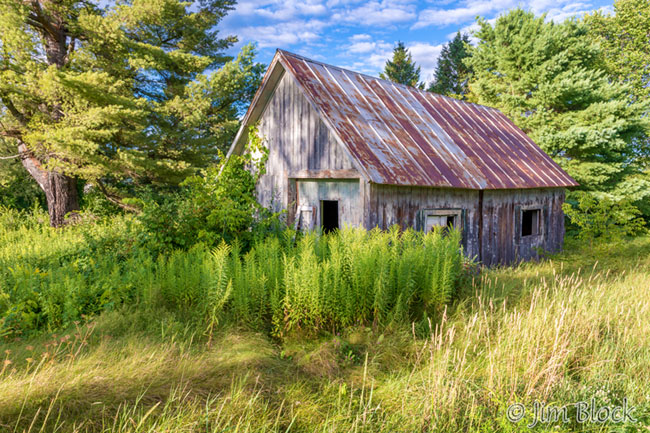 Finally at around 6:55 pm a car pulled in.  It was Brian and two young people just returning from a take-out dinner. Brian asked them to prepare a specific balloon – he has many – and disappeared inside. They carried out the balloon, stretched it along the ground, and attached the basket. The basket was rather small. I was wondering how the three of them would fit. I took a few photos.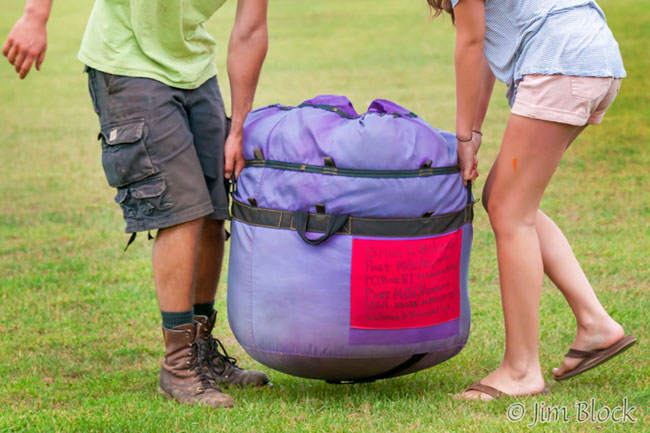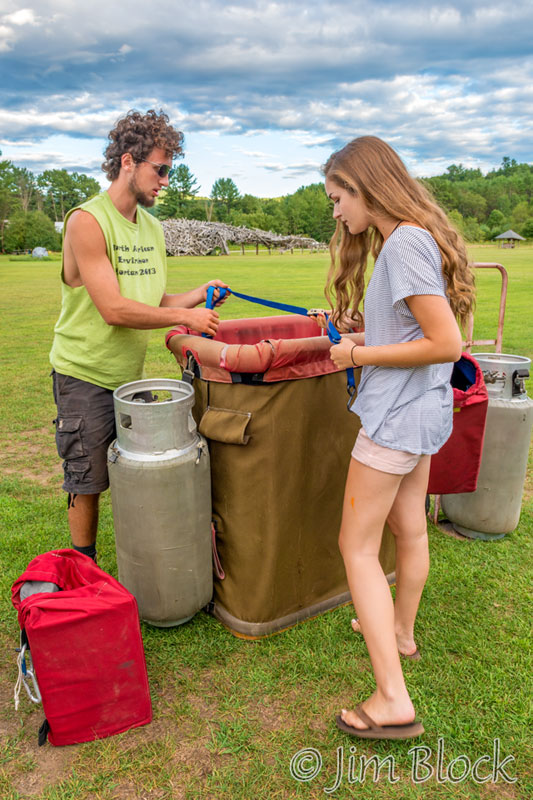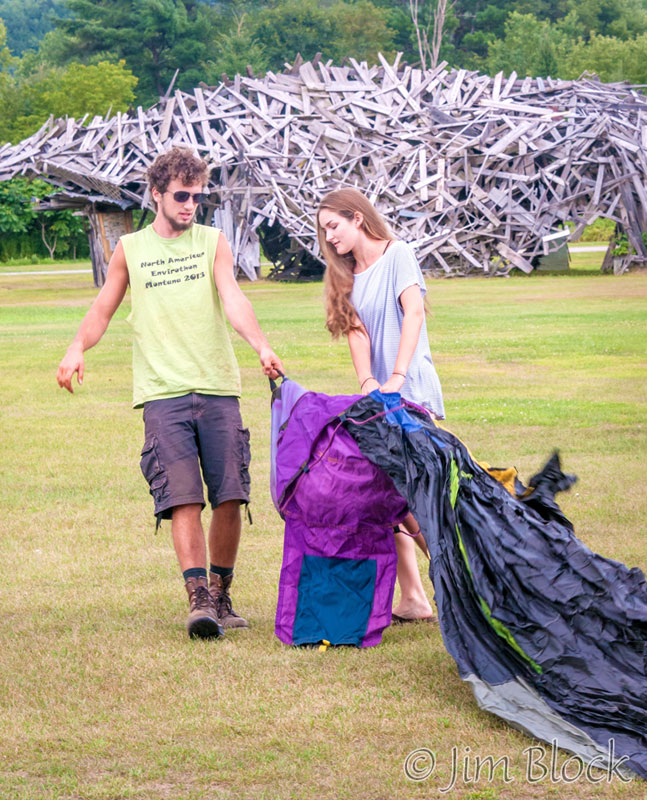 Brian reappeared and started inflating the balloon.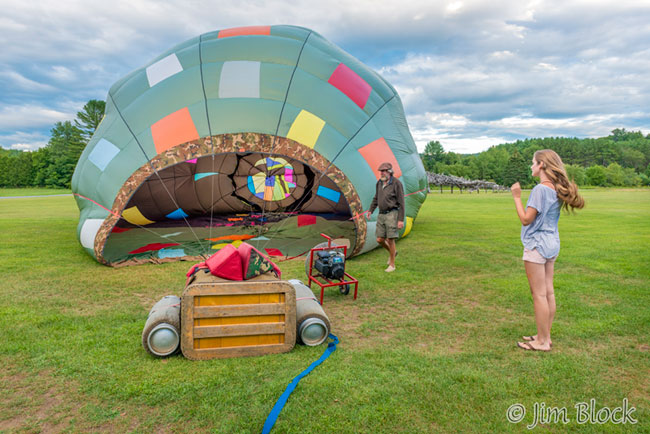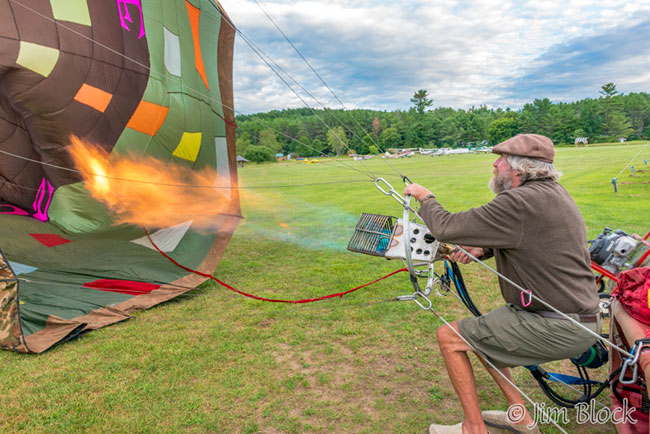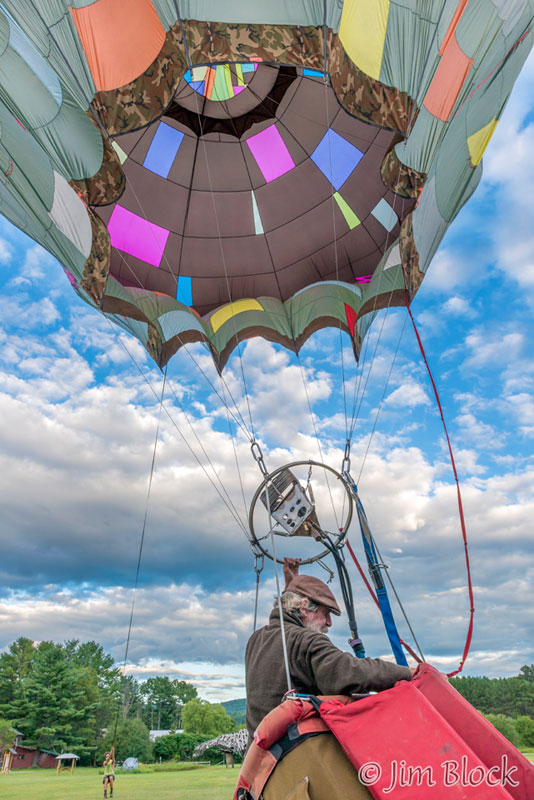 I took more photos while waiting for the young couple to hop in so I could photograph them with Brian. After all, that is what I came for and expected would happen. That was when Brian pointed at me and said, "You're coming with me."  I asked if I should grab a jacket, and he said it would probably be a good idea.
I ran to my car, grabbed a jacket and a second camera body with a longer lens, locked the car (unnecessarily), and hurried back. In hindsight I wish I would've carried the jacket instead of wearing it because the burner that kept the balloon aloft also kept me quite warm. But I did not dare take the jacket off while aloft. The basket was quite small and I feared dropping a camera.  If I set a camera on the floor of the basket, I'm not sure there would have been enough room for me to bend down and pick it up. Plus even if I could juggle my two cameras, I'm not sure I could have gotten the jacket off in the tight quarters.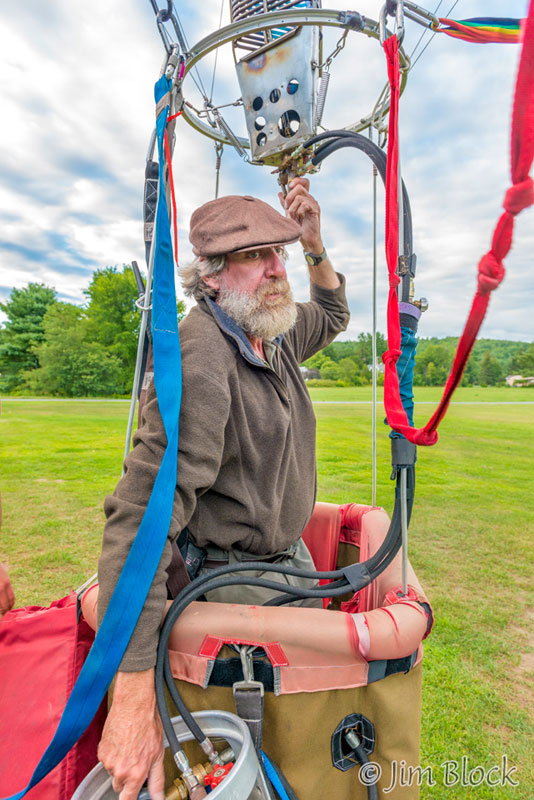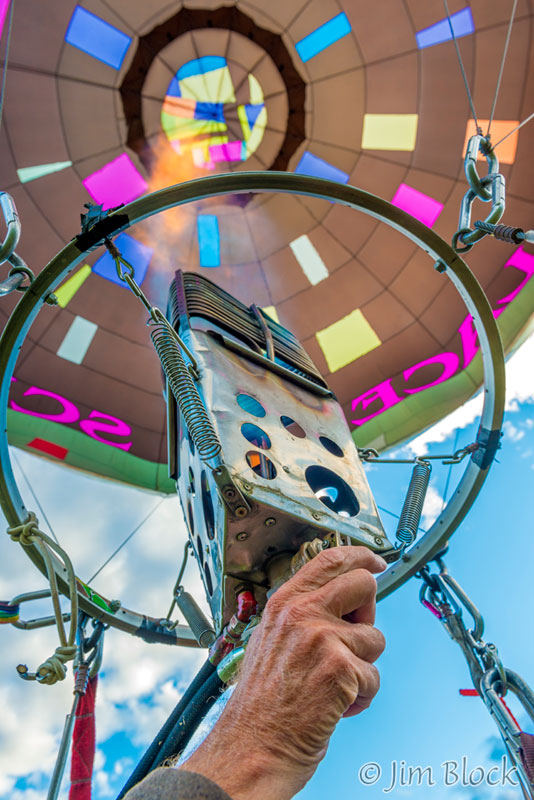 We launched at 7:14 pm, my first time ever up in a hot air balloon. I sure hoped I wasn't going to join the people in the field below me.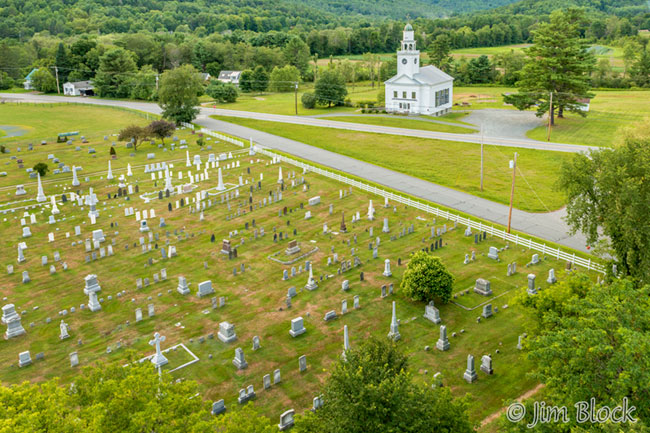 We drifted quietly and smoothly westward.  Brian said we would soon start moving east. This path gave me a good look at the airport and the surrounding area.
Below is a view of the airport and Lake Fairlee from a position somewhat west of the airport. You can see Brian's home and museum at the bottom left. The museum at the airport is very special — definitely worth a visit. Across the grass runway 3 gliders and 3 tow planes are parked. Other gliders are folded up in the 11 long tubes to the right of the visible gliders. To the left of the gliders is Brian's Vermontasaurus.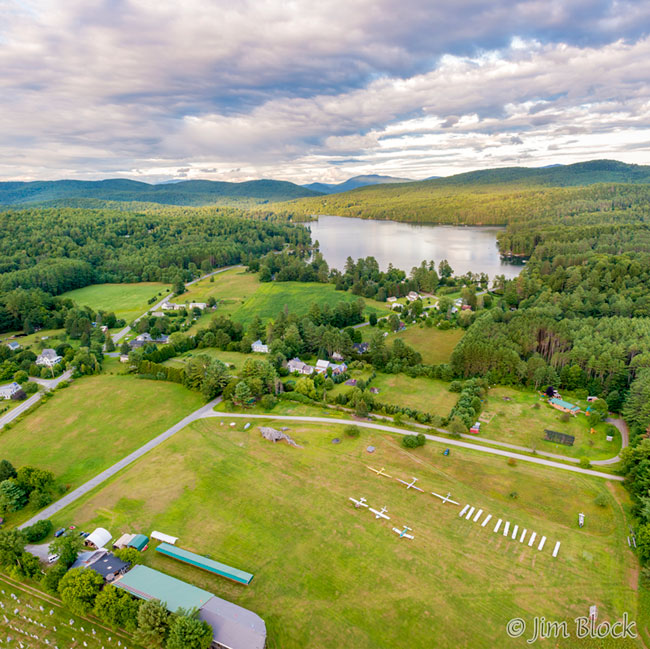 Below is Lake Fairlee. This view is looking northeast.
We were gaining altitude and starting to drift eastward. Below is a view back at the airport. You can see this is a wonderfully rural area.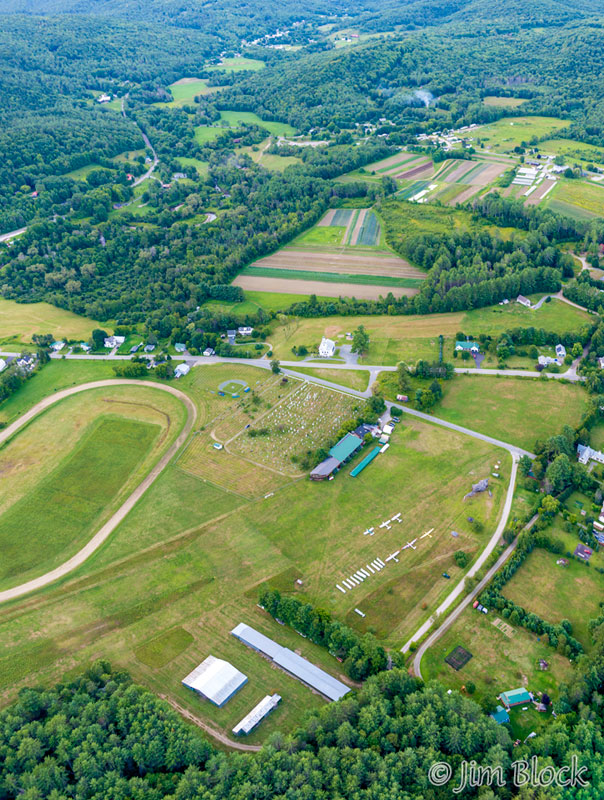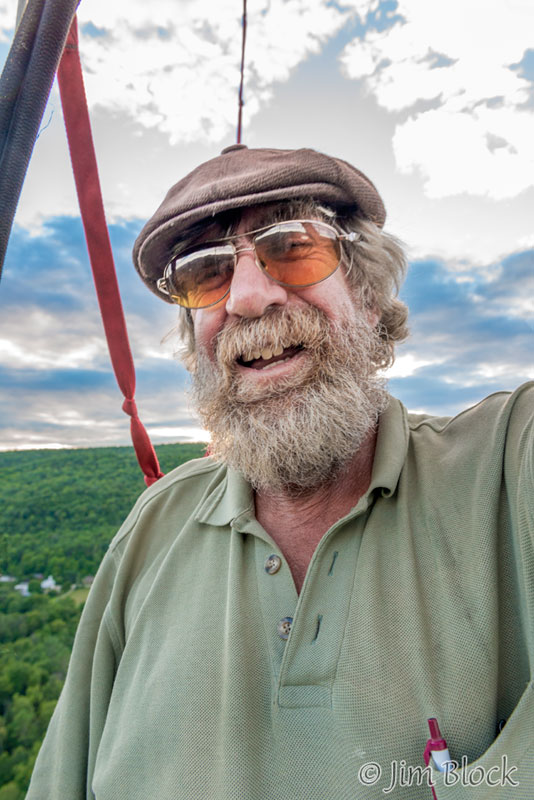 Brian Boland is a colorful character, and his ballooning accomplishments are extraordinary. He built his first balloon as a Master's thesis project 45 years ago, had one short flight, and then put it aside. When his students heard about it they badgered him and finally convinced him to take it up again, and he became hooked.
Brian taught art and had the most popular class in the school – on balloon building! It started as a club for interested students. Then Seventeen Magazine got wind of it and called the school about their balloon class. So the school quickly scrambled to create one.  He has built 162 balloons, some very unique.  He has ballooned all over the world.
Brian hosted eight Experimental Balloon and Airship Meets at his Post Mills Airport in Vermont before taking a 13 year hiatus. I photographed the resumed event in 2014 and again in 2015.  You can click these years to see those two events. My blog from 2014 also shows a small part of Brian's amazing museum.
We cruised slowly east toward New Hampshire as the sun sank lower over the Vermont hills.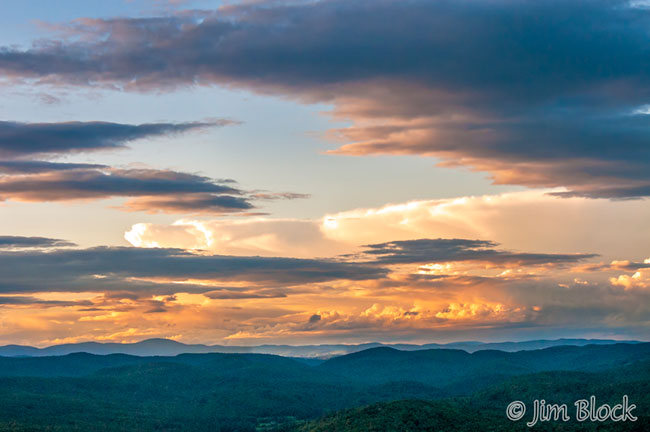 Below is a photo looking northeast toward Mount Moosilauke in NH. It is the larger and more distant mountain on the right side of the photo.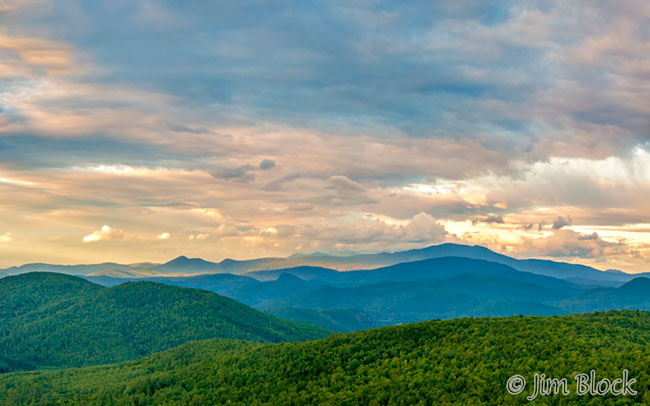 I could see it was raining over Mount Ascutney far to our south in Vermont.  I zoomed in for a closer look.  The tiny white spec on the lower left is Baker Library of Dartmouth College in Hanover, NH.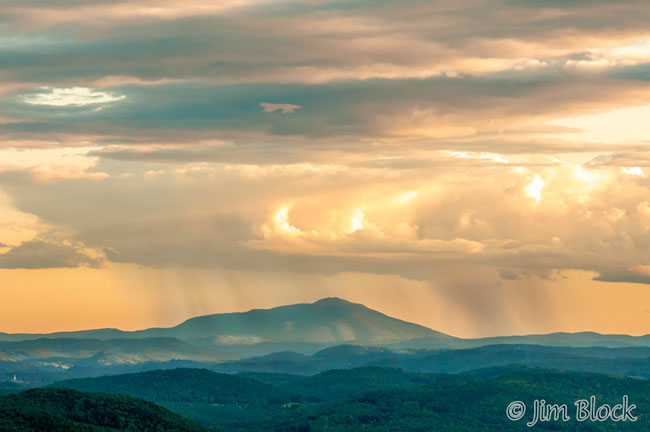 I was madly taking photos. Brian checked his watch.  He said he needed a bit over an hour more to reach his goal. That was when it hit me that he did not plan on landing until he had surpassed 10,000 hours. I got another photo of Lake Fairlee. The airport is that tiny patch of light green at the far left.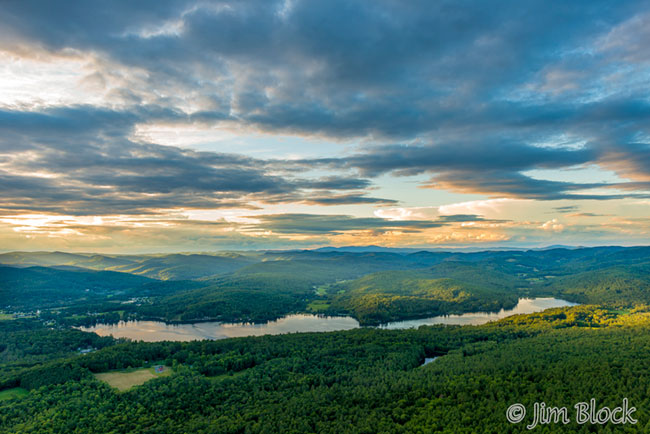 I started to see the Connecticut River which divides Vermont and New Hampshire. The river cuts a sinusoidal path as it meanders through the Upper Valley. This is a very special place to live and work.
An oxbow of the river can be seen at the left in the photo below. The large mountain in the distance is Mount Moosilauke. The buildings at the lower right are Britton Lumber in Ely, VT. The river runs just above it in this photo. The red buildings in the sun are the Tullando Farm in Orford, NH. Incidentally, Ely is part of Fairlee and Post Mills is part of Thetford.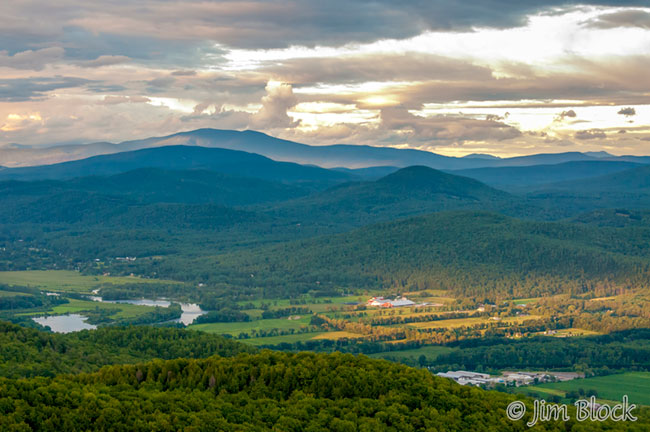 In the photo below you can see pieces of the Connecticut River and near the center of the photo the Samuel Morey Memorial Bridge, a beautiful bridge connecting Farlee to Orford.  To the left of the bridge are cliffs where peregrine falcons nest. The largest mountain in the center background is Black Mountain in Haverhill, NH.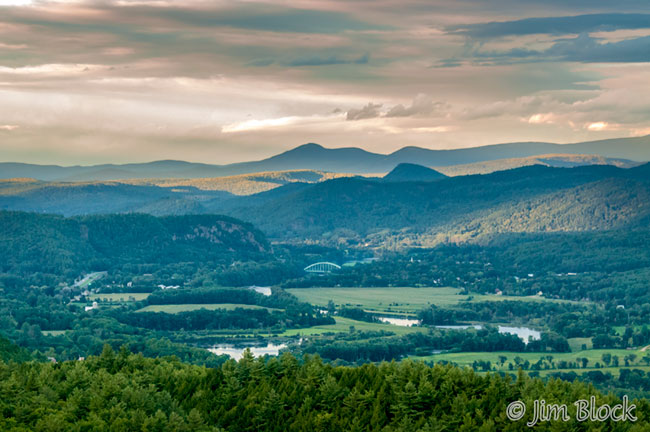 As we approached the river I got a shot of a small farm in North Thetford.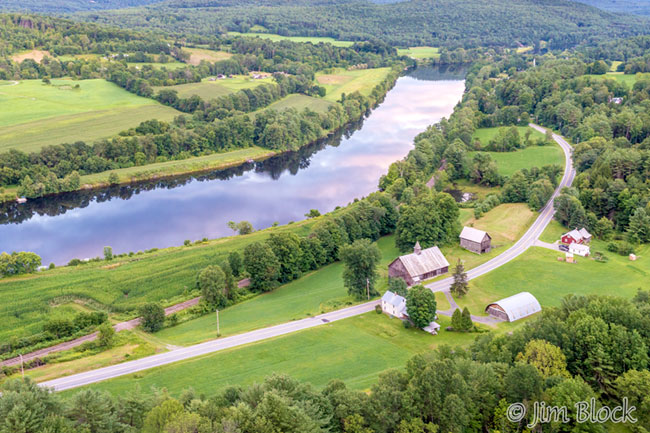 We reached the Connecticut River and headed into New Hampshire.  The same North Thetford farm can be seen at the lower right in the photo below. In the far right center of this photo is a straight line that is I-91.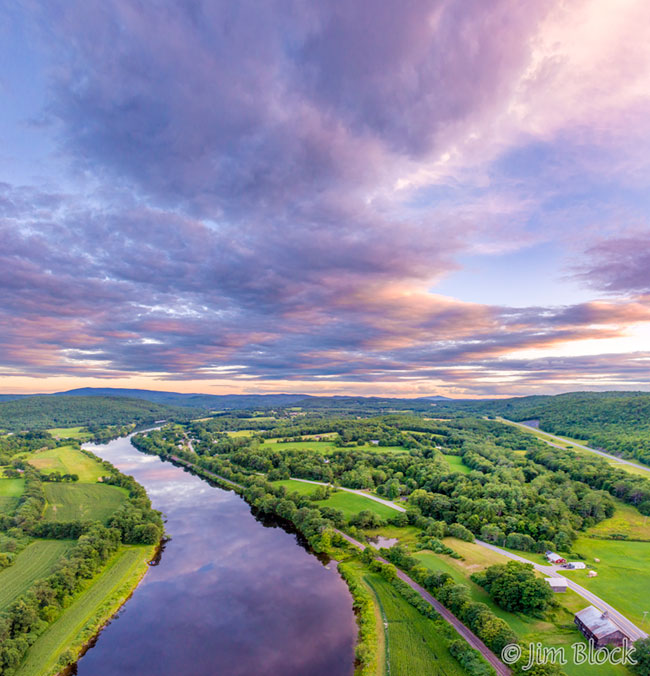 We came in low over a couple in a party boat, chatted with them, and wished them a pleasant evening. That's when Brian decided to scare me by brushing our basket into some trees on the New Hampshire side. Here are photos of the couple and the trees.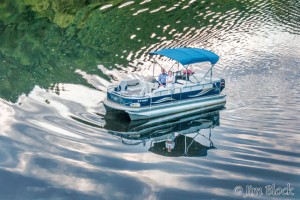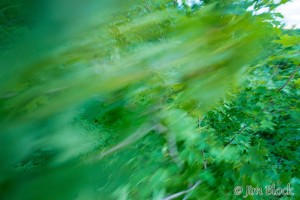 Brian kept checking his watch. The NH fields were stunning.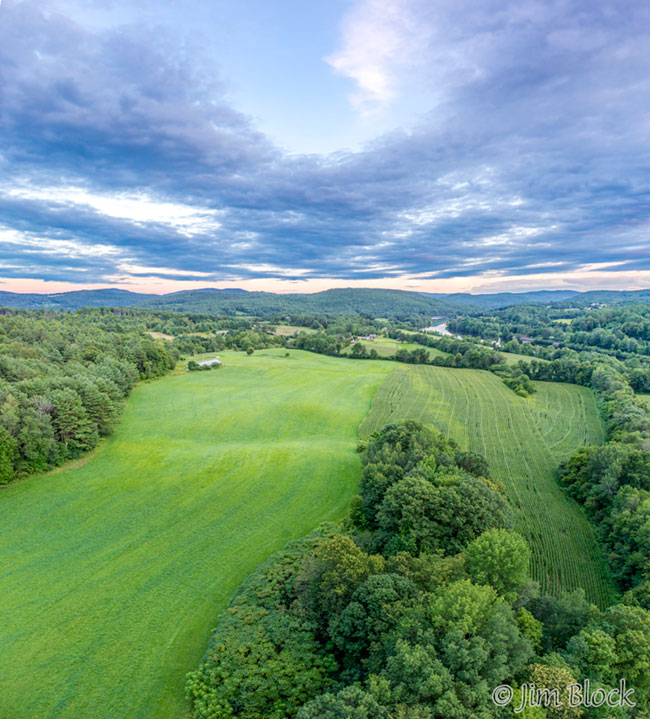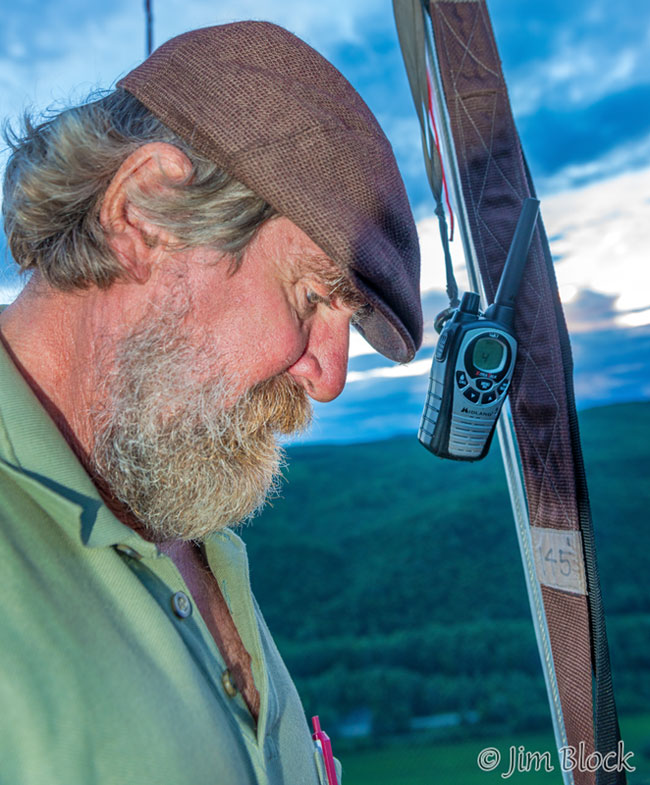 At 8:10 pm Brian lowered position lights from the baskets thus legally flying in the dark. It got darker and colder as we drifted over Lyme, NH.  This was certainly going to happen tonight. Brian kept radioing his chase crew, Jordan and Hillary, sending them first along Route 10 in Lyme, NH. The two photos below were shot at 8:18 and 8:28.


I spotted our chase car. On the left it is parked across from Tony's Auto Body along Rt. 10 a bit north of our eventual landing spot. On the right we see it 4 minutes later 1000 yards south. It turns out these spots formed two of the points of an equilateral triangle with our eventual landing spot. But as they say in New England, "You can't get there from here."
We were almost directly over Route 10 at this point. Brian predicted we would drift back westward as we got lower, and of course he was right.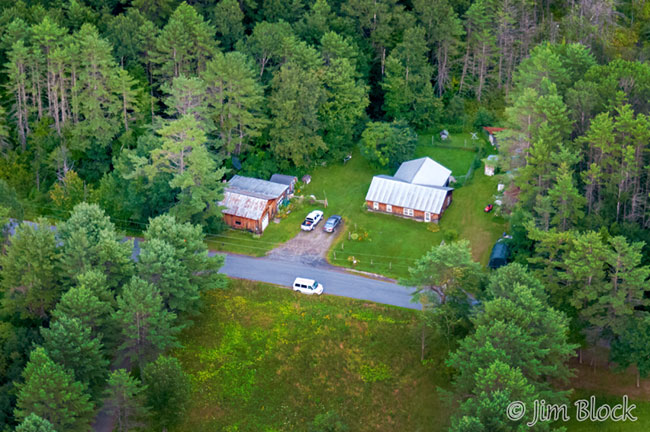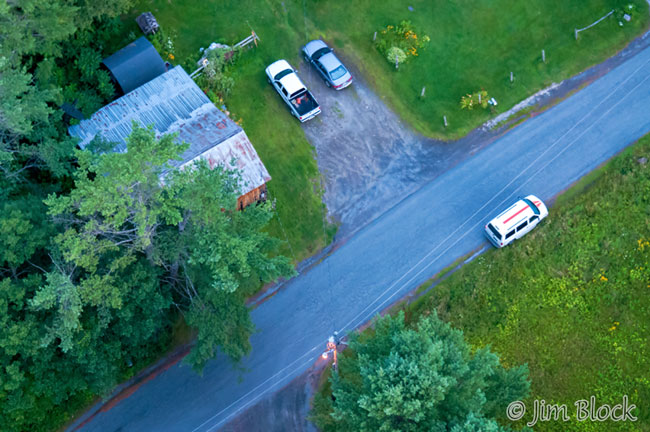 I took the photo below of a farm along Breck Hill Road about 15 minutes before Brian reached 10,000 hours. It turned out this farm was only about 200 feet west of our landing spot. The photo look bright but the sun had already set.
Brian thought we might be able to land in the field shown below. There was a nice farm road down from Rt. 10 that Jordan and Hillary could take to pick us up.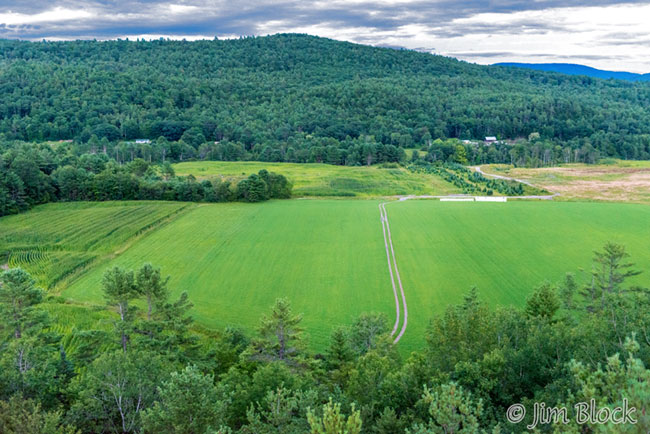 But then we drifted north and Brian did not want to set down in the middle of the crops in the photo below. Our eventual landing place was the field at the top left of this photo on the other side of the trees.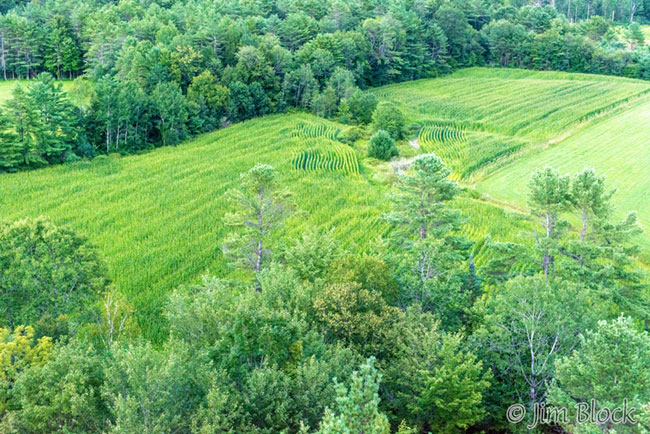 I wasn't sure where we would land, but it was getting dark and close to the magic mark.  At 8:43 pm Brian surpassed 10,000 hours and remained aloft for 5 more minutes to be sure and to land in a field rather than in trees. Here is Brian just after passing the 10,000 hour mark.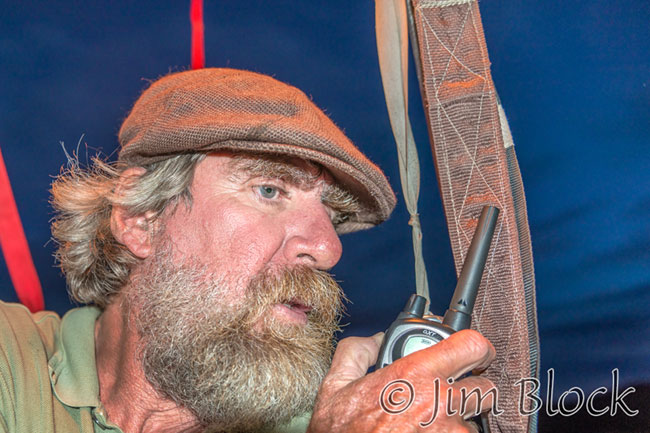 Brian sent his chase crew north to River Road, then South on River Road through a covered bridge, then east onto a private road just before Breck Hill Road to an estate along the Connecticut River. The photo below was taken just as we were about to touch down. His cap looks bright orange from the fire above him. Brian later blamed the slightly bumpy landing on the fact that the flash from my camera kept going off in his face.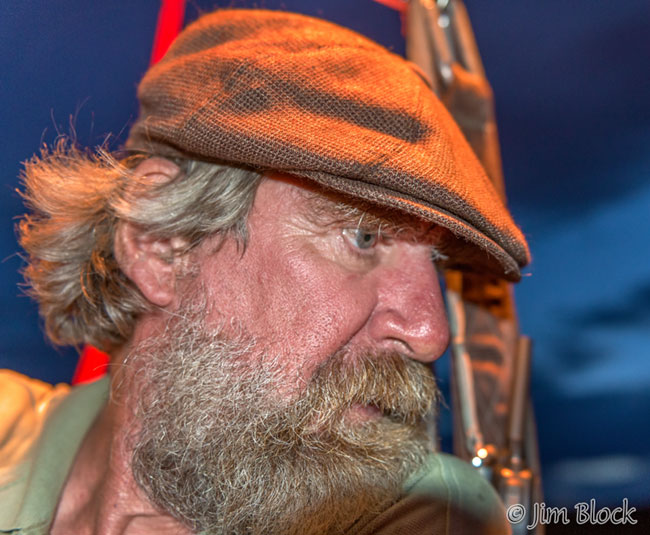 Seeing the balloon glowing in the darkening sky, a full-time groundskeeper, Ben, and his girlfriend, Carol, met us in the field. You can see their vehicle approaching in the left photo below. I thought it was our chase car, but Jordan and Hillary didn't arrive until a bit later. In the photo on the right Ben and Carol are admiring the balloon which was still inflated.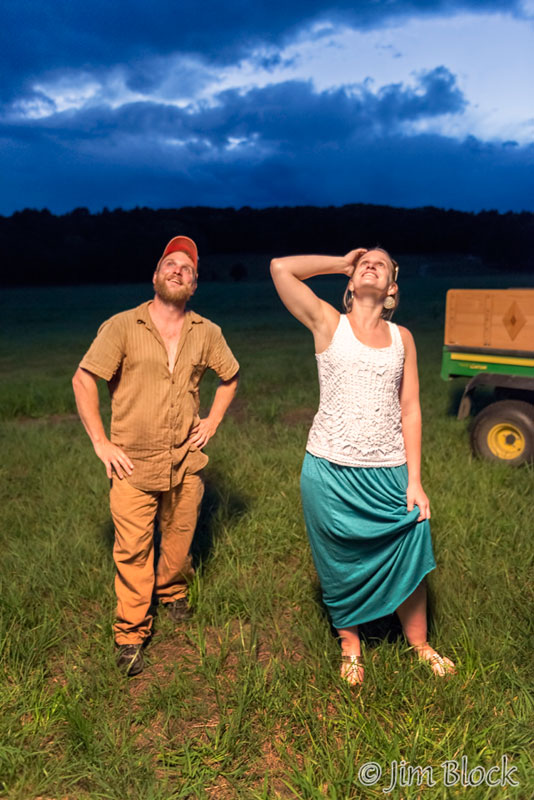 Brian gave Carol a short, tethered ride.  The photos here were shot hand-held at 1/5 sec, ISO 3200.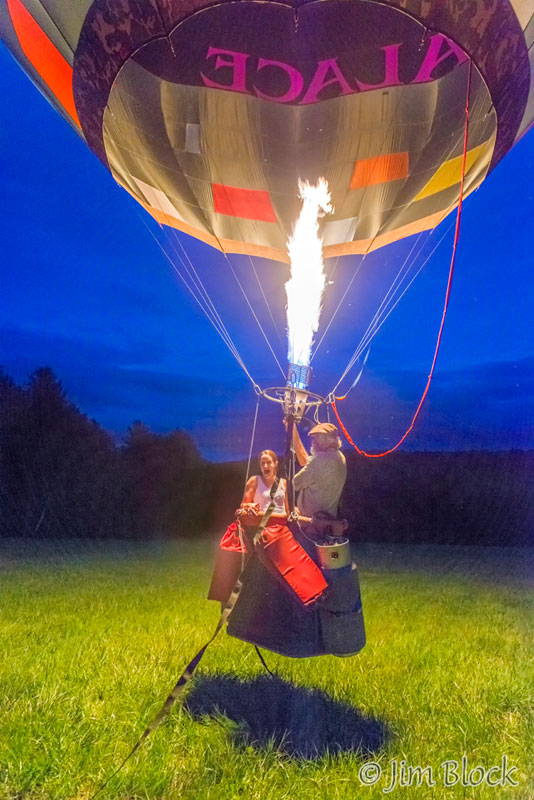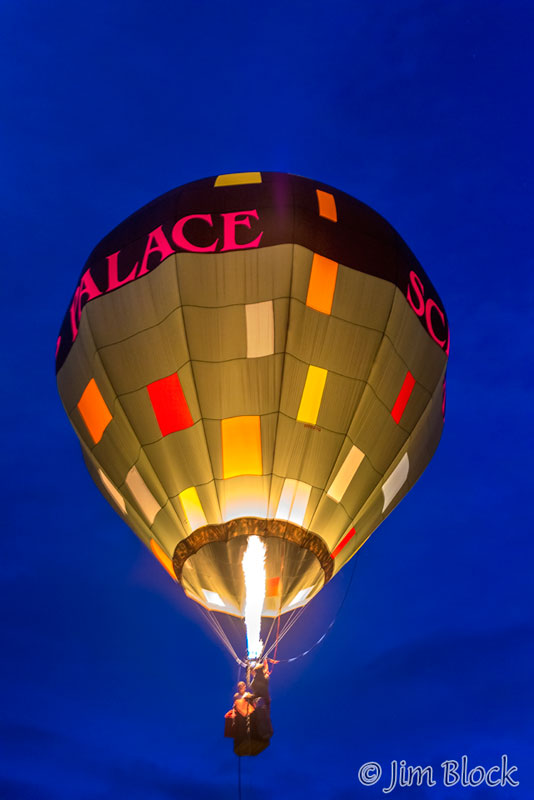 Brian didn't bring the customary champagne to celebrate, but we all enjoyed a can of Genesee Cream Ale. We packed up the balloon and finally got back to the Post Mills Airport around 10 pm. What an evening for Brian – and me!
Here is a Google Earth view of where we landed. Also shown in the second image is the approximate route of our flight.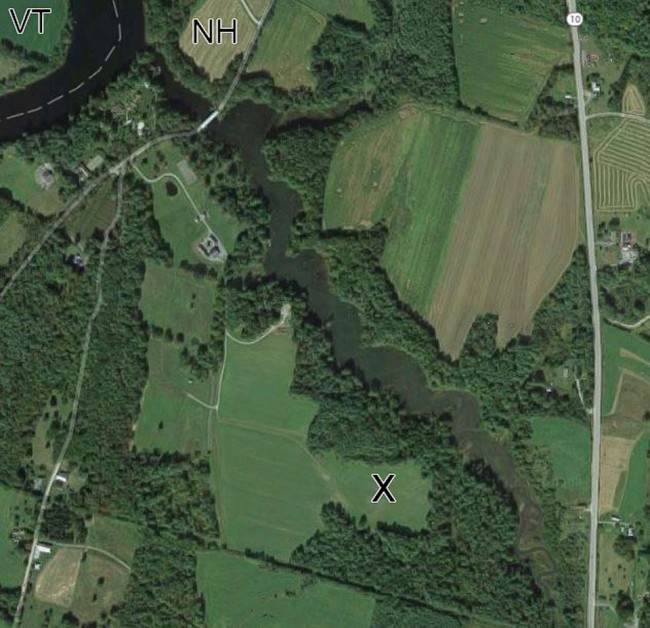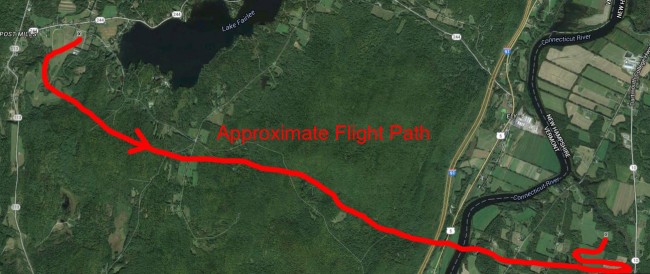 Here are some of the other photos I took this memorable evening.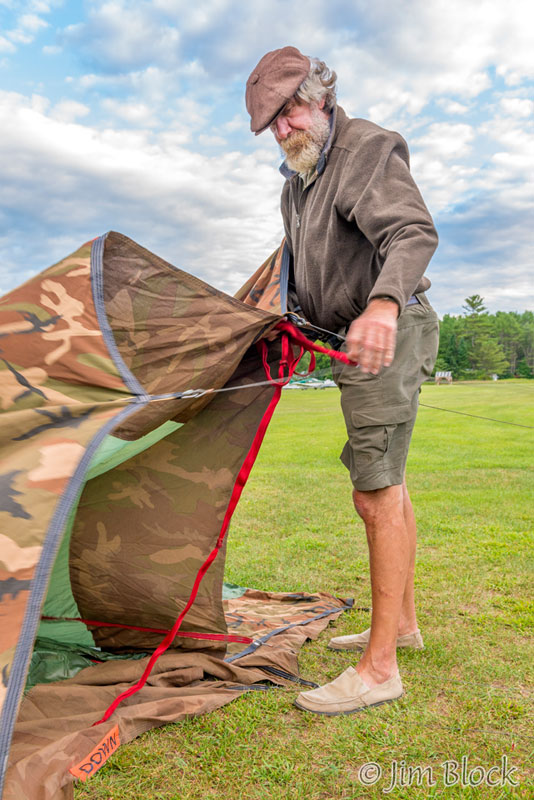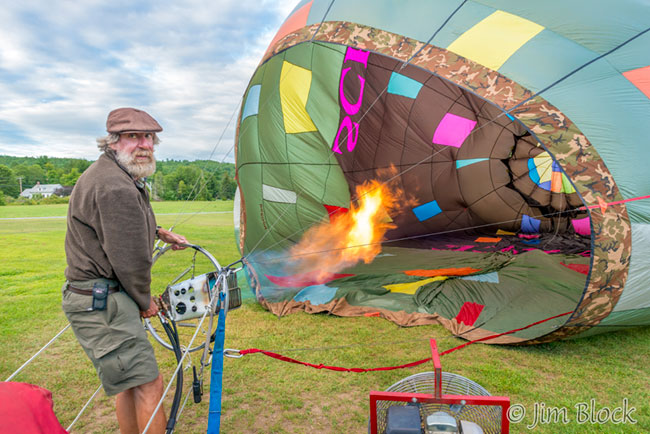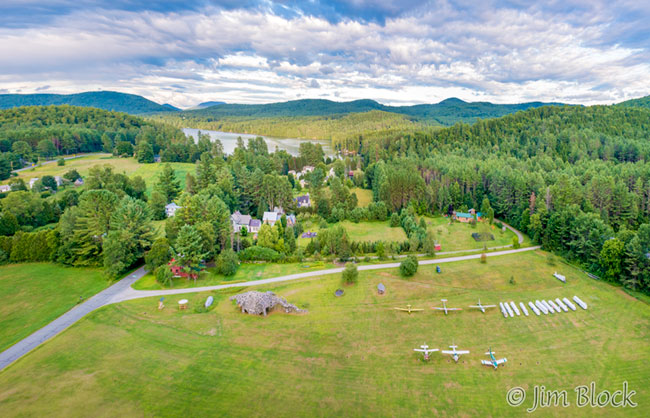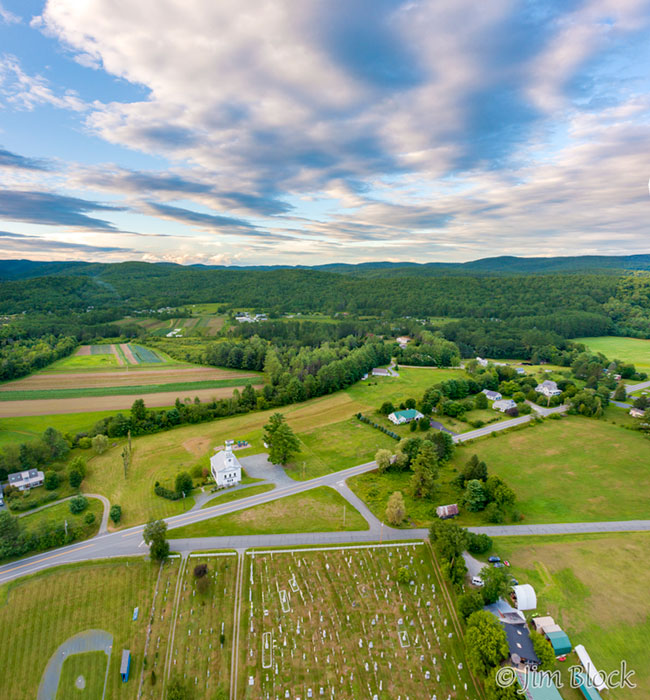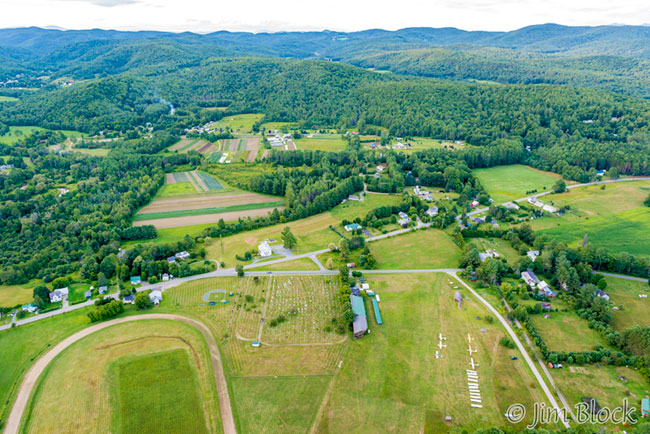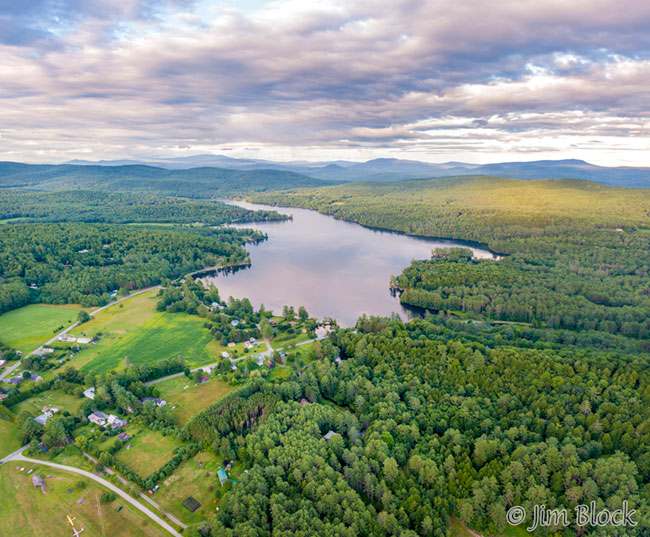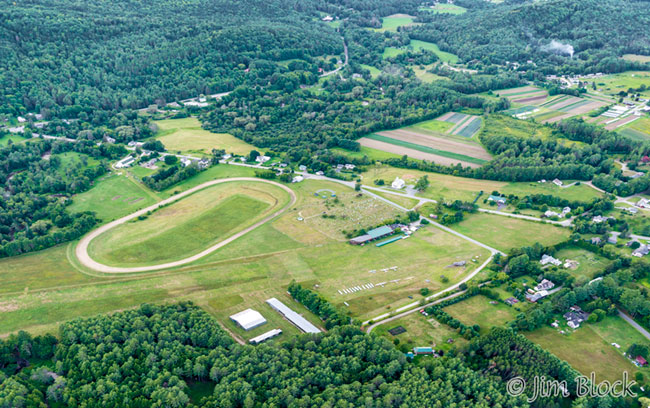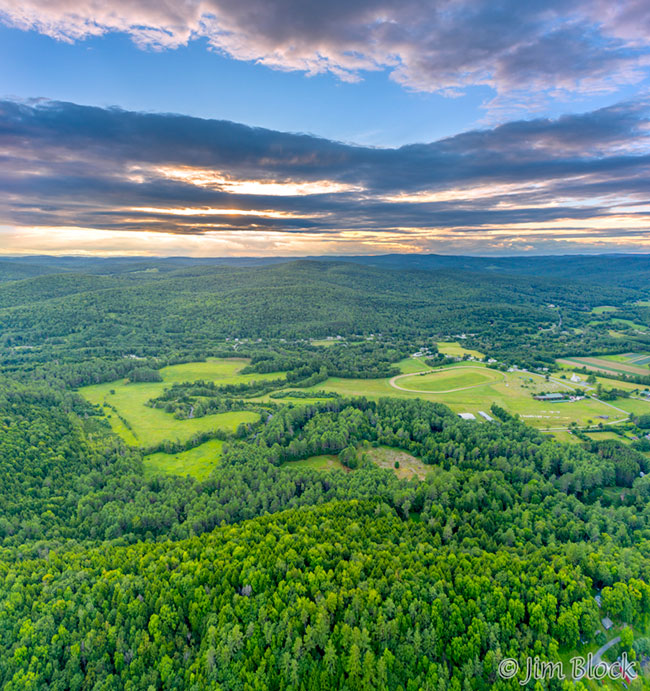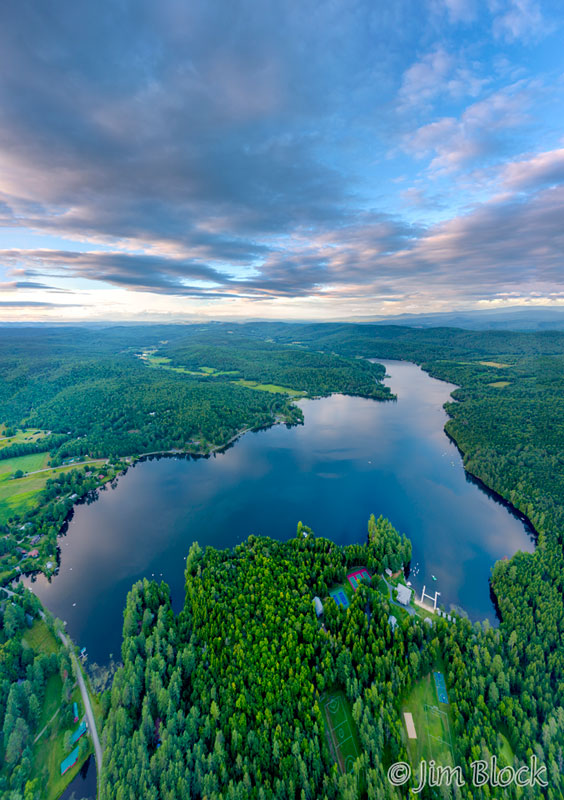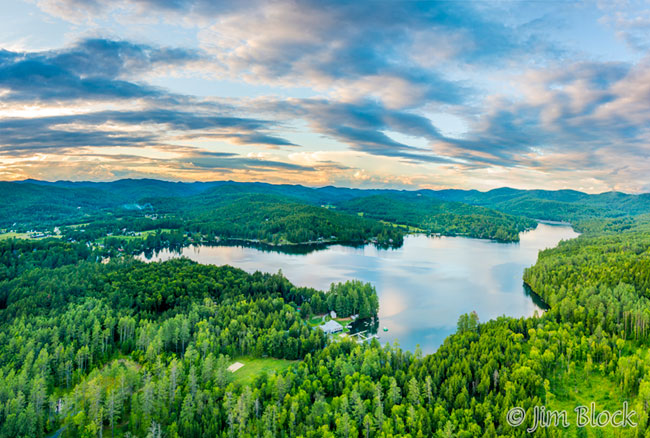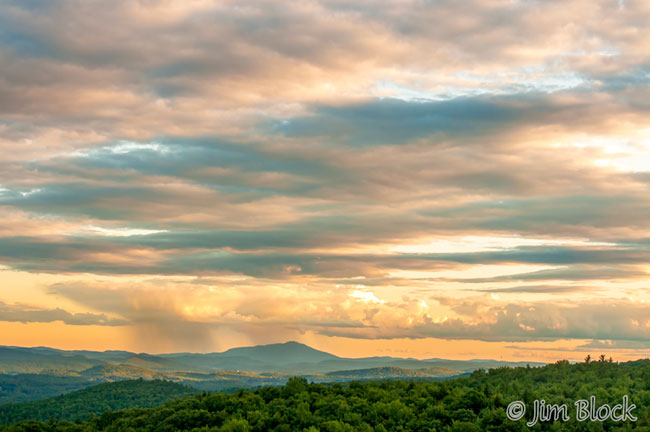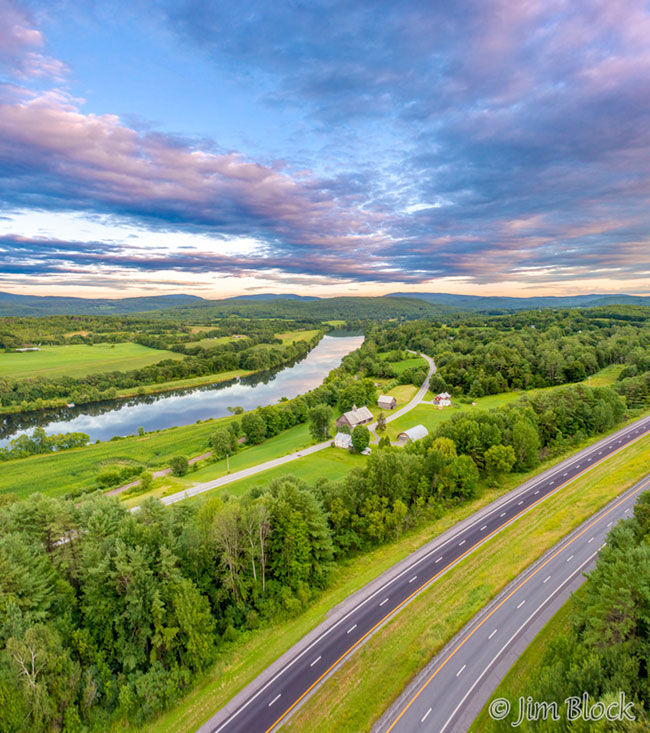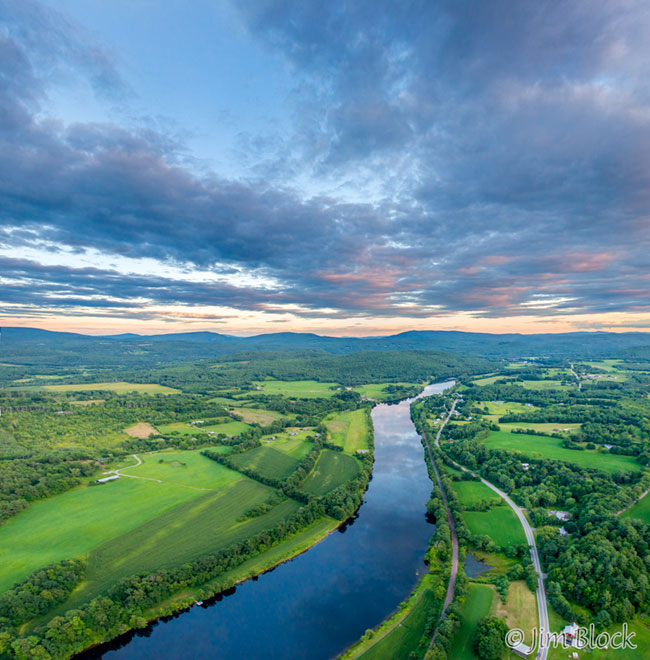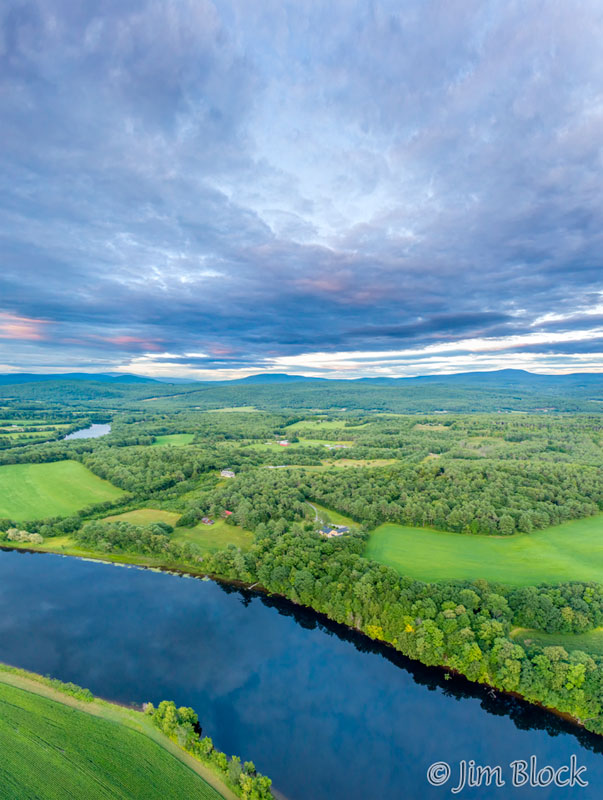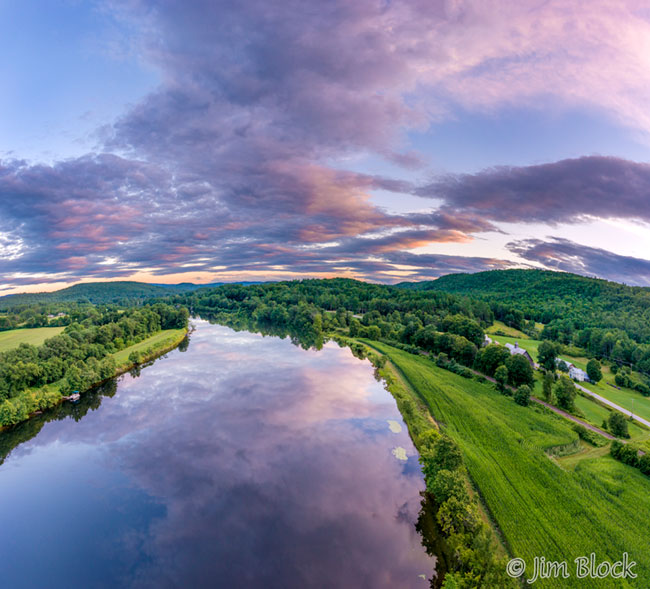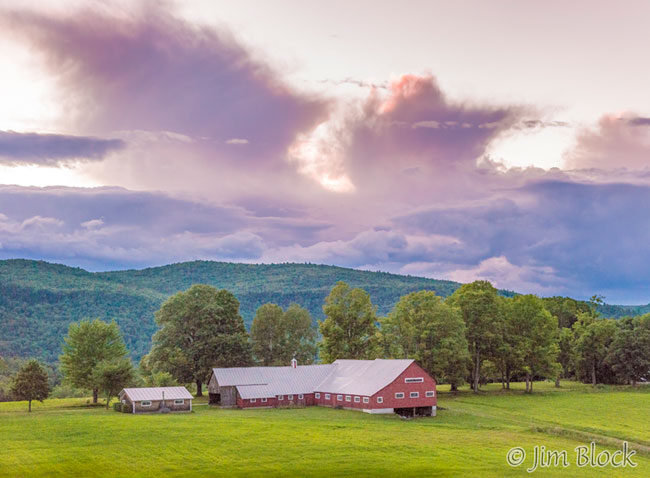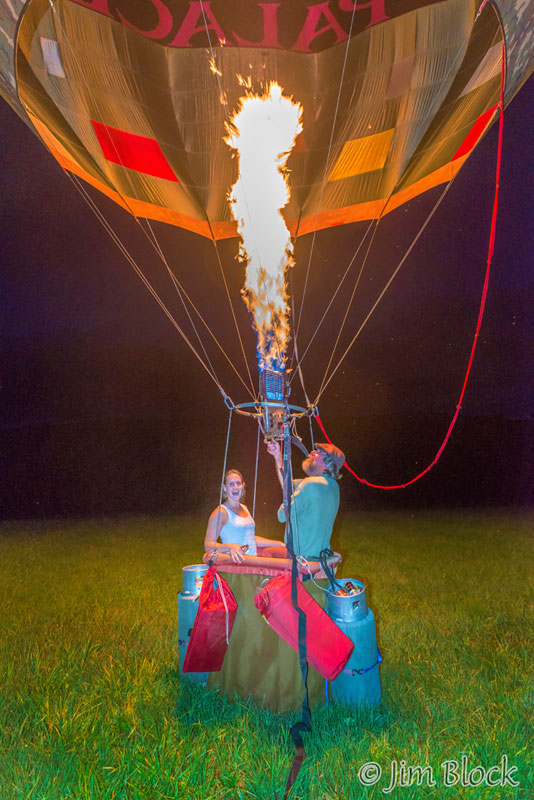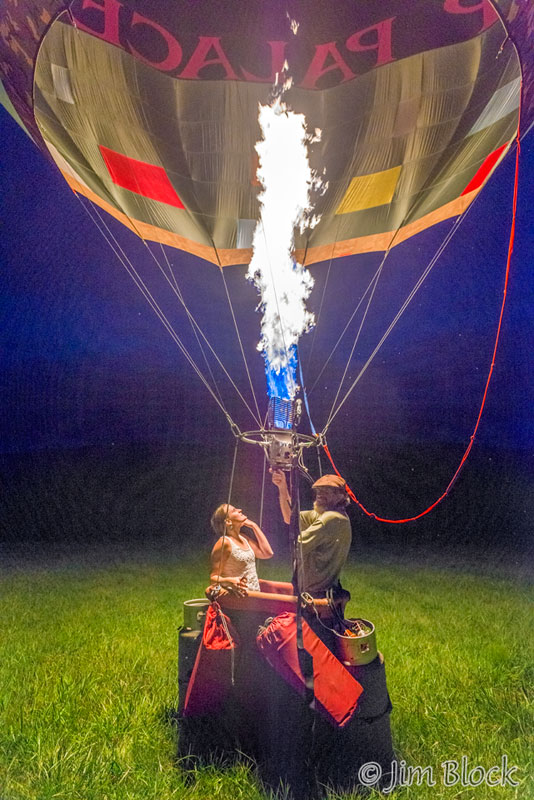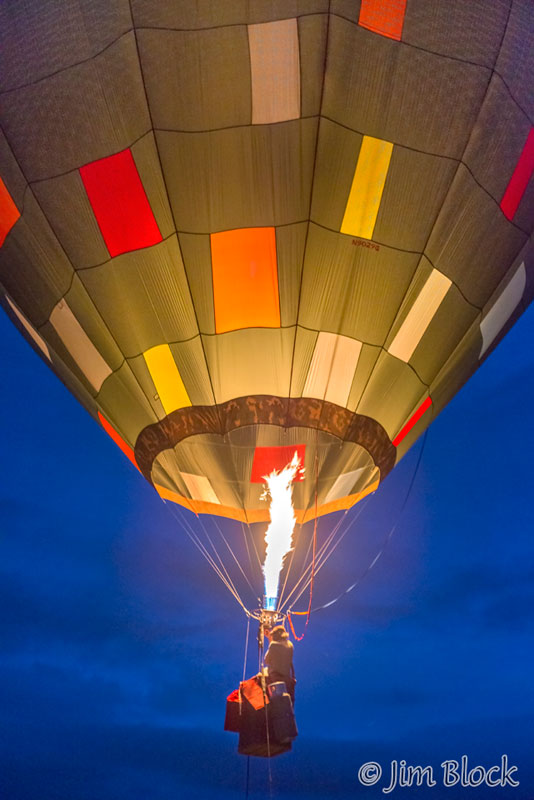 I'll see you at the 11th Experimental Balloon and Airship Meet in Post Mills May 20-22, 2016. It should be a blast.